Yearning for the Erne.
Yearning for the Erne.
It has been a while since I wet a line, and an invite from an angling mate Simon Gibson saw us heading for the Erne in County Fermanagh in search of Pike, hopefully on the fly.
A large fish would be sweet, but to be honest, I am at the stage so far this year where any fish and any size would be more than welcome!
Simon recently bought himself a wee boat, it's fast and stable and easy to fly-fish or cast lures from and on this day, we did just that. Nice not to be in the skippers' position for once, and able to just relax and fish, although anchor duties up at the bow were my role for the day.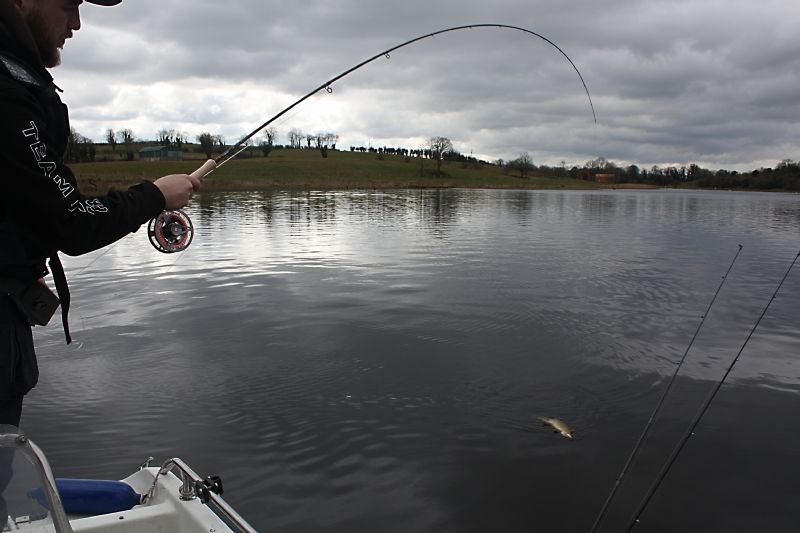 Simon tempts a wee "Jack" on the fly
As it turned out, weather conditions weren't promising; with east and north-east breezes forecast which usually put paid to active feeding spells, but nothing ventured nothing gained. Forecast was correct on arrival; the biting breeze would cut you in two as we sped down-river in search of Pike haunts and ambush points.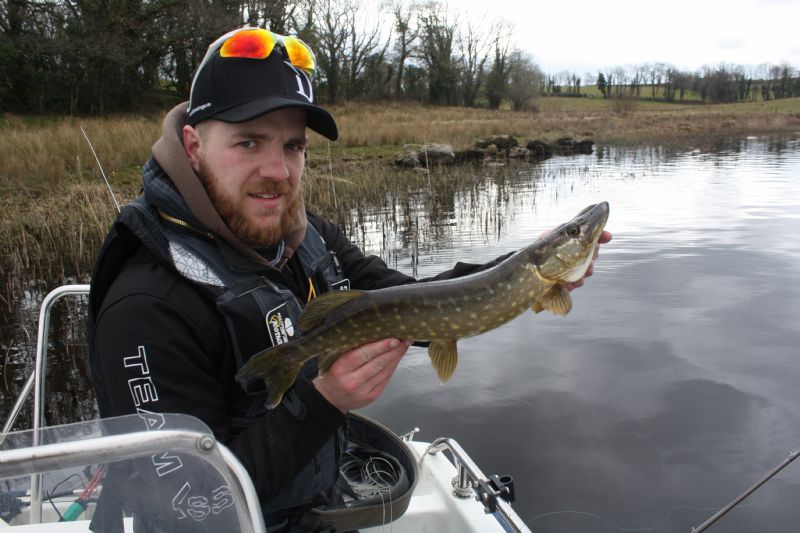 Although we primarily wished to use the fly rods, we brought along a drop-shot rod, a lure rod each and a couple of dead-bait rods, the latter especially handy if conditions turn nasty and shelter behind a headland is called for!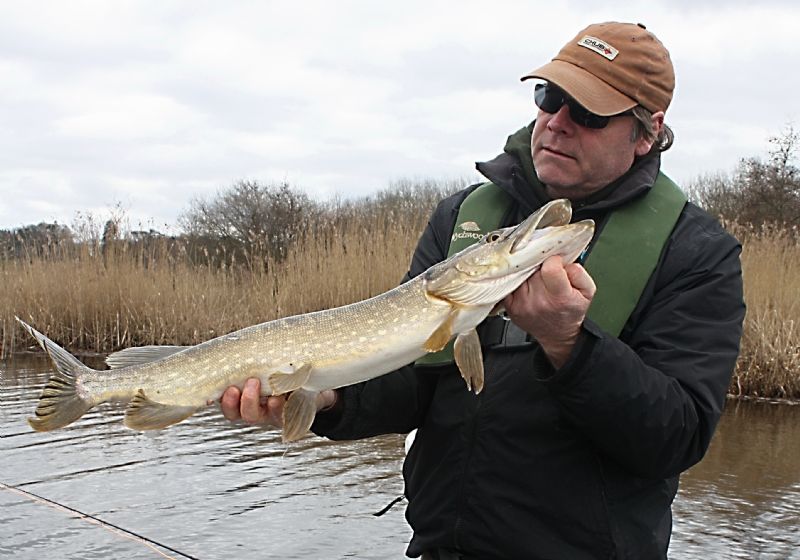 Always great fun on the fly rod.
Casting and moving, casting and moving, our tactics began to pay off. All "Jacks" between two and six pounds so far, but thrilling to feel the "slam" of a fish smashing into a home-tied creation once again, and the aerial antics that ensue in their bid for freedom is amazing on the fly rod.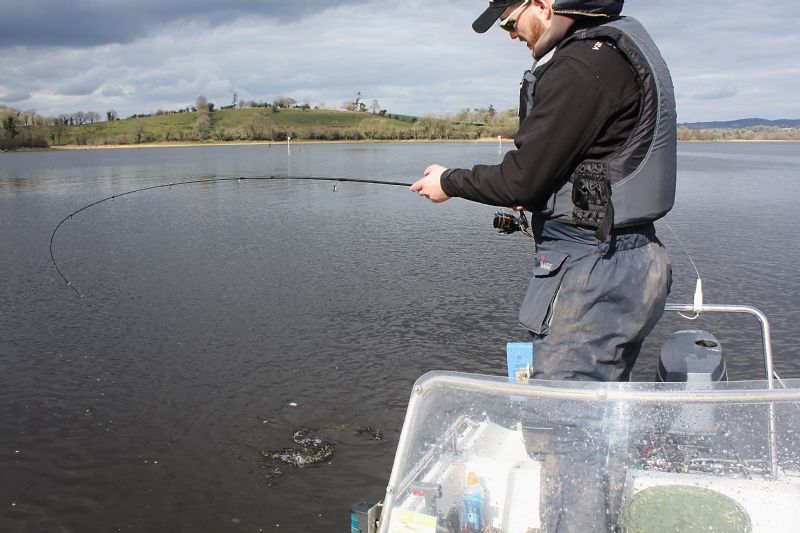 Trying for a Perch on the drop-shot gear but Pike had other ideas!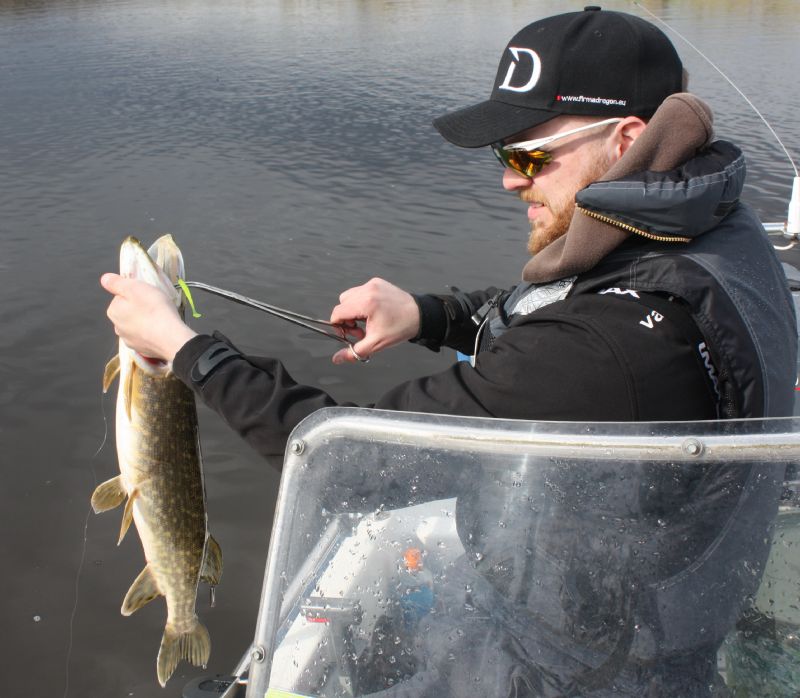 Safe and fast un-hooking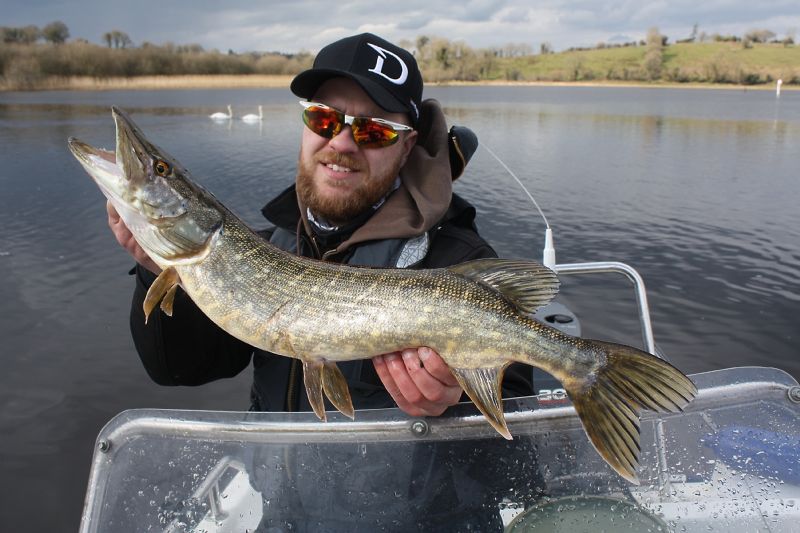 A quick photograph for posterity (or this blog!)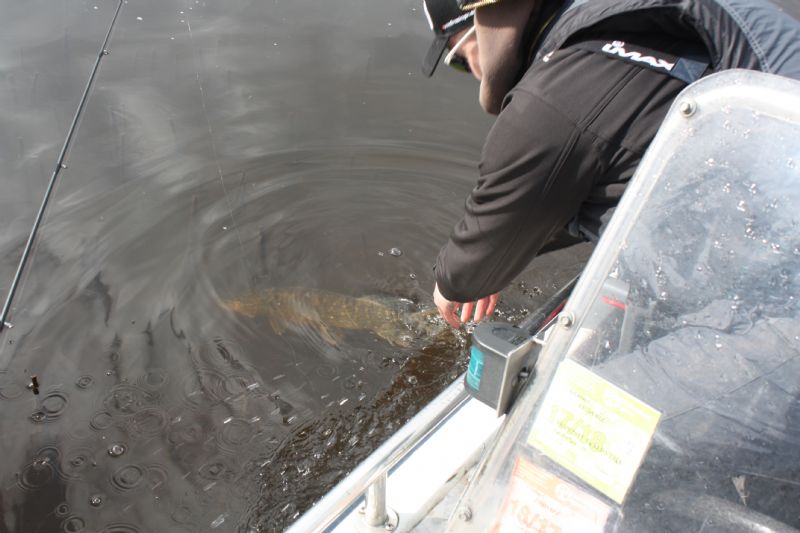 And careful release. CPR. Catch.photo, release.
A "cloud" of bait-fish showed on the finder, and Simon tried out the drop-shot gear in the hope of a decent Perch, but ended up battling another feisty Pike. It's a method much over-looked by many and can be devastatingly efficient at times. I remember chasing Perch on small lures and drop shots with Glenn Drennan, and to be honest, we never had so many Pike on the tiny soft plastics. Wrong species at the time I know, but a hell of a lot of fun.
Hardy Zephrus in action, loving this kit, stunning rod for Pike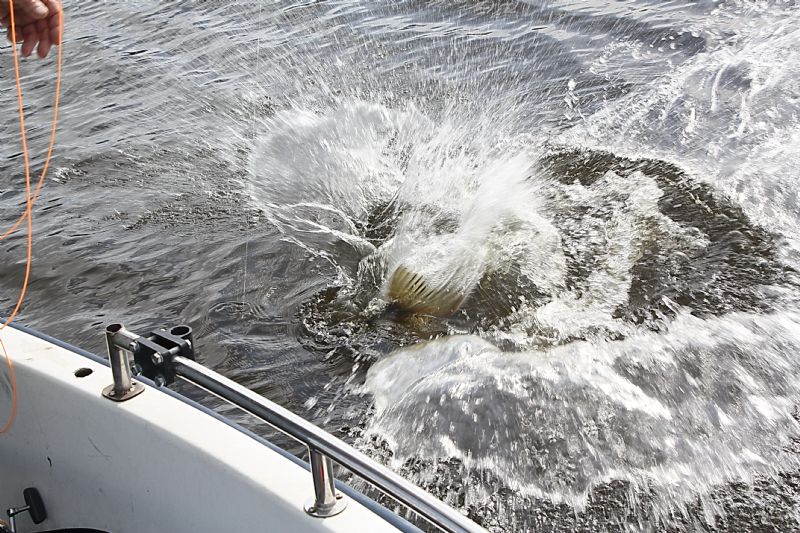 She's not ready to be "chinned" just yet!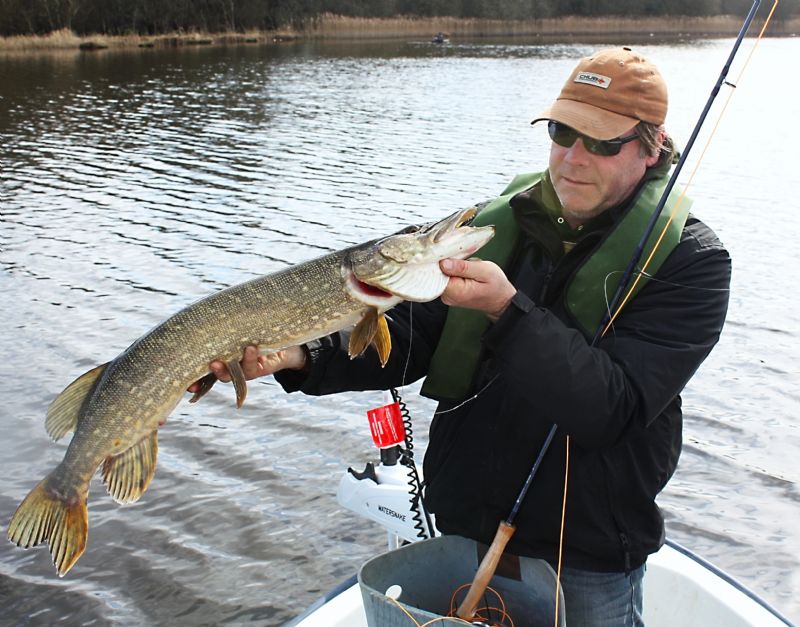 Not a monster, but really good fun
A few boats passed during the day, a friendly wave as they trolled by. Obviously this is another method worth trying on a cold day such as today, seeking out fish that are sulking in the deeper areas of river sections. It can be a very successful method, but neither I nor Simon can bare the inactivity of trolling. We both prefer the fun of casting to structures, reed beds and bays, constantly active, reading the water. Horses for courses I guess!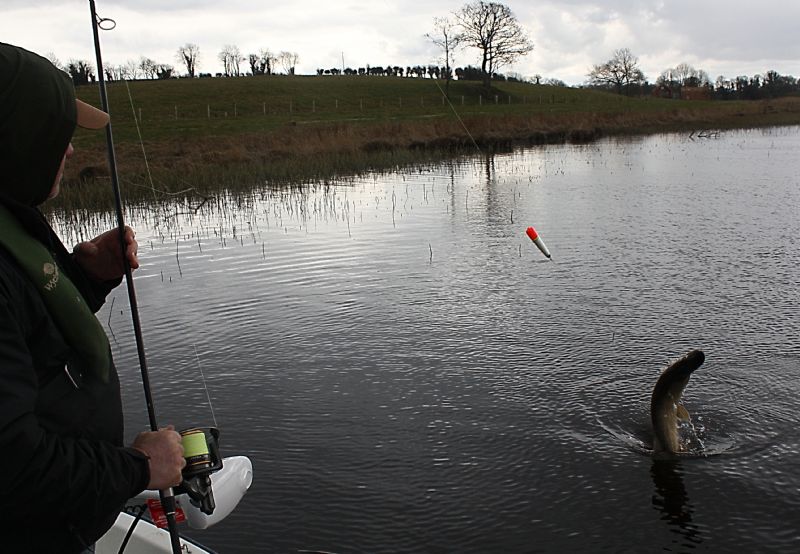 A switch to dead-baits produced another couple of fish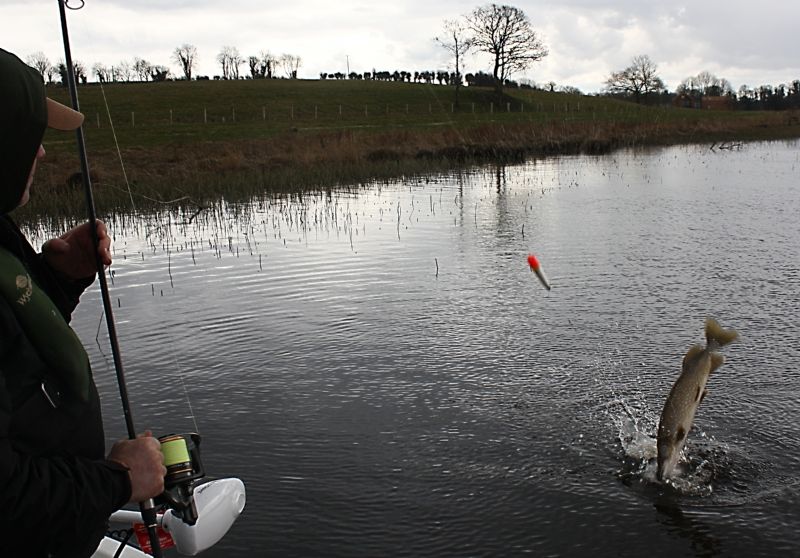 Now that's just showing off!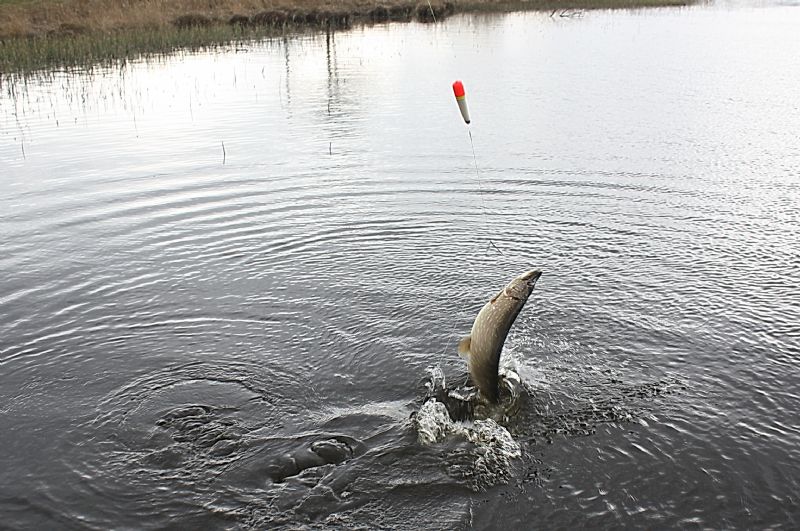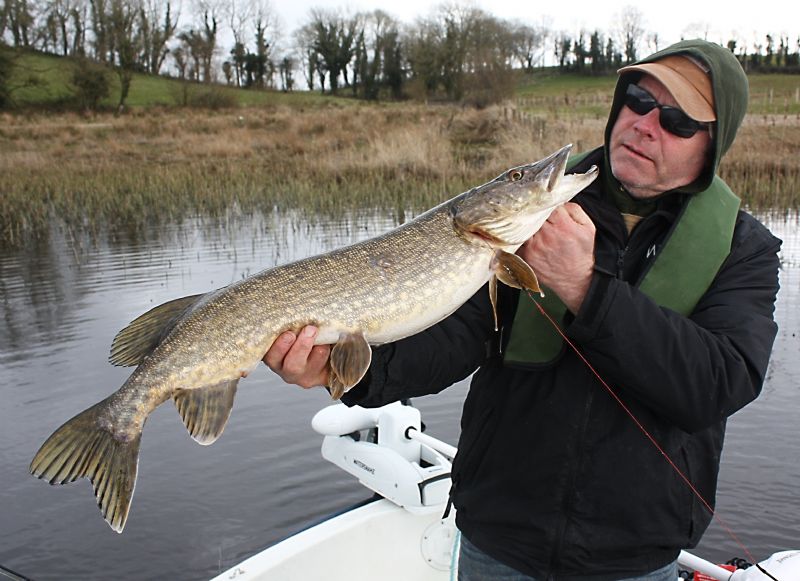 Finally, we see eye to eye!
By late afternoon, the Pike lost interest and stopped responding. I have no idea if this is due to a drop in temperature as the sun dipped, or possibly light fading. With that, we dropped anchor in a small bay and cast dead-baits over an inviting under-water ledge and pulled a couple of bonus fish for good measure. It usually pays off to try every trick in the book whenever possible.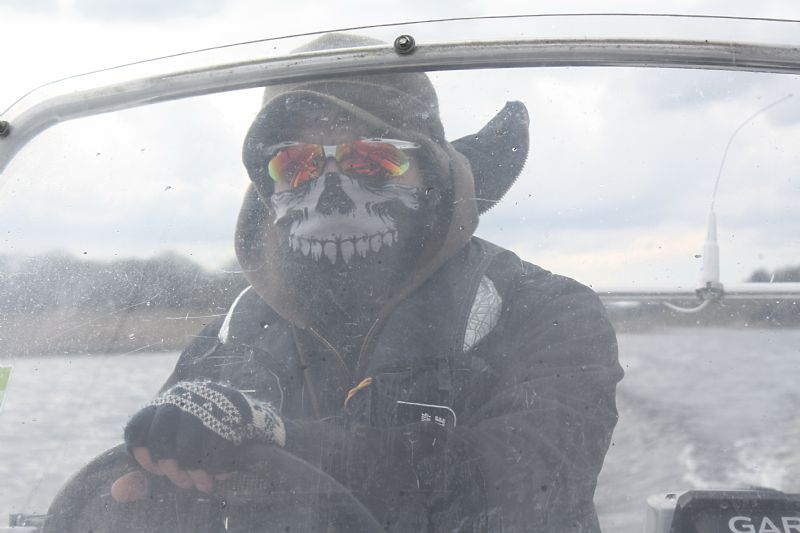 Yep, it really was that cold!
As the day drew to a close, and the temperature dropped uncomfortably, it was time to head back to the slipway. Our tally totalled twenty fish including two small doubles, and at least a dozen missed hook-ups. Tough going and every fish hard won. It wasn't until we talked to other anglers and realised that the average on the day was two or three fish per boat. This made our efforts a great deal more satisfying; I guess we must have done something right!
Back