A Lucky Dip
Terry's Travels
A Lucky Dip
Back over the border to the Southern tip of Ireland on yet another sea angling adventure.
As we march on through the crisp weeks of spring, and feel the temperature rise of early summer, many angling doorways open up for the angler prepared to travel. At this time of year, one of my best mates, Sidney Kennedy, relocates his boat from Cork to Kerry for a few weeks, always in search of new species and hot fishing marks.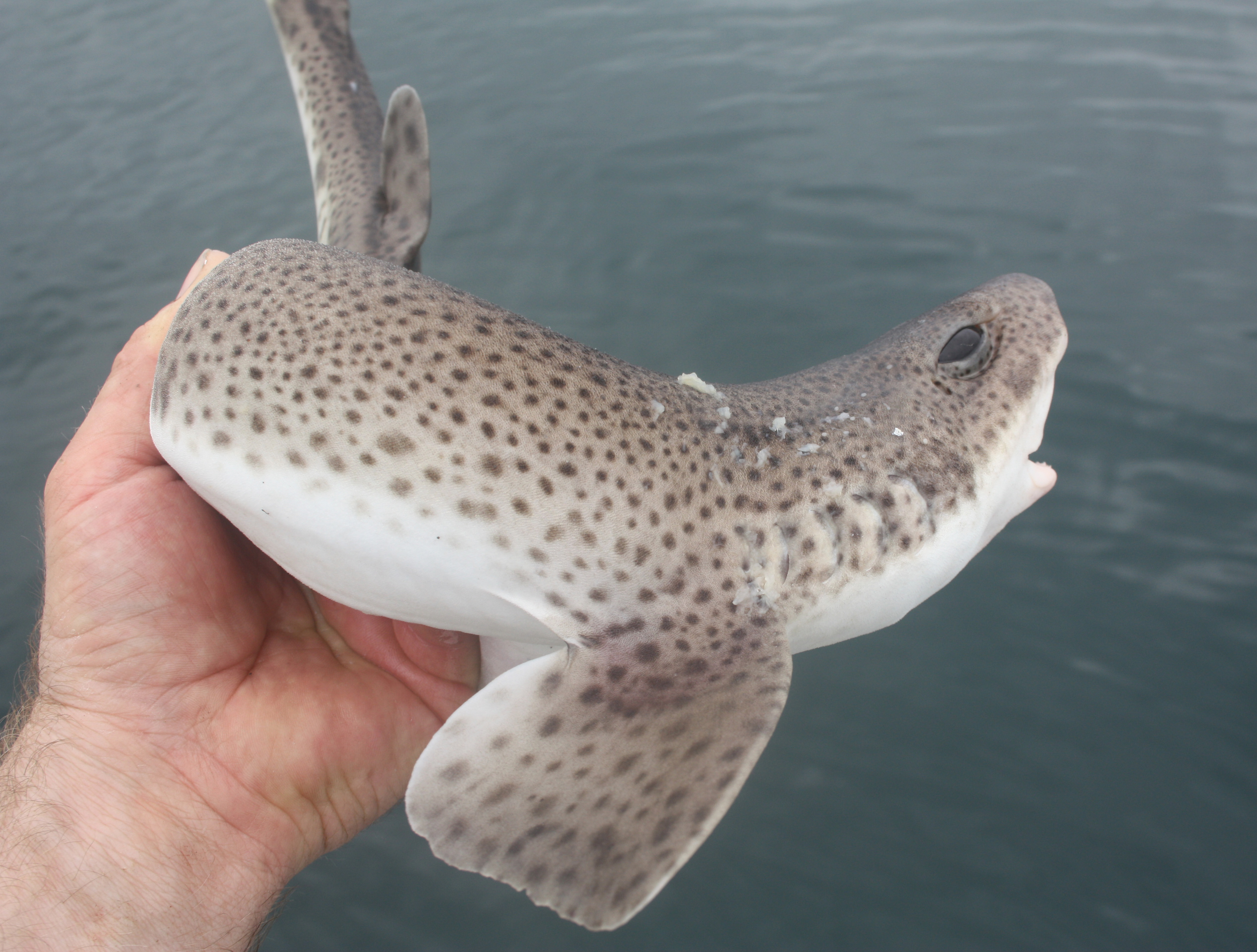 Hopefully there are other species about than the ever present Lesser Spotted Doggy
Thankfully, he throws an invite my way, and it's a case of drop everything and head down as soon as the weather window of opportunity gives us the green light. On this occasion, it looked increasingly like we might even squeeze three days angling on this particular adventure, but as always, calm and pleasant conditions would be wholly in the lap of the gods!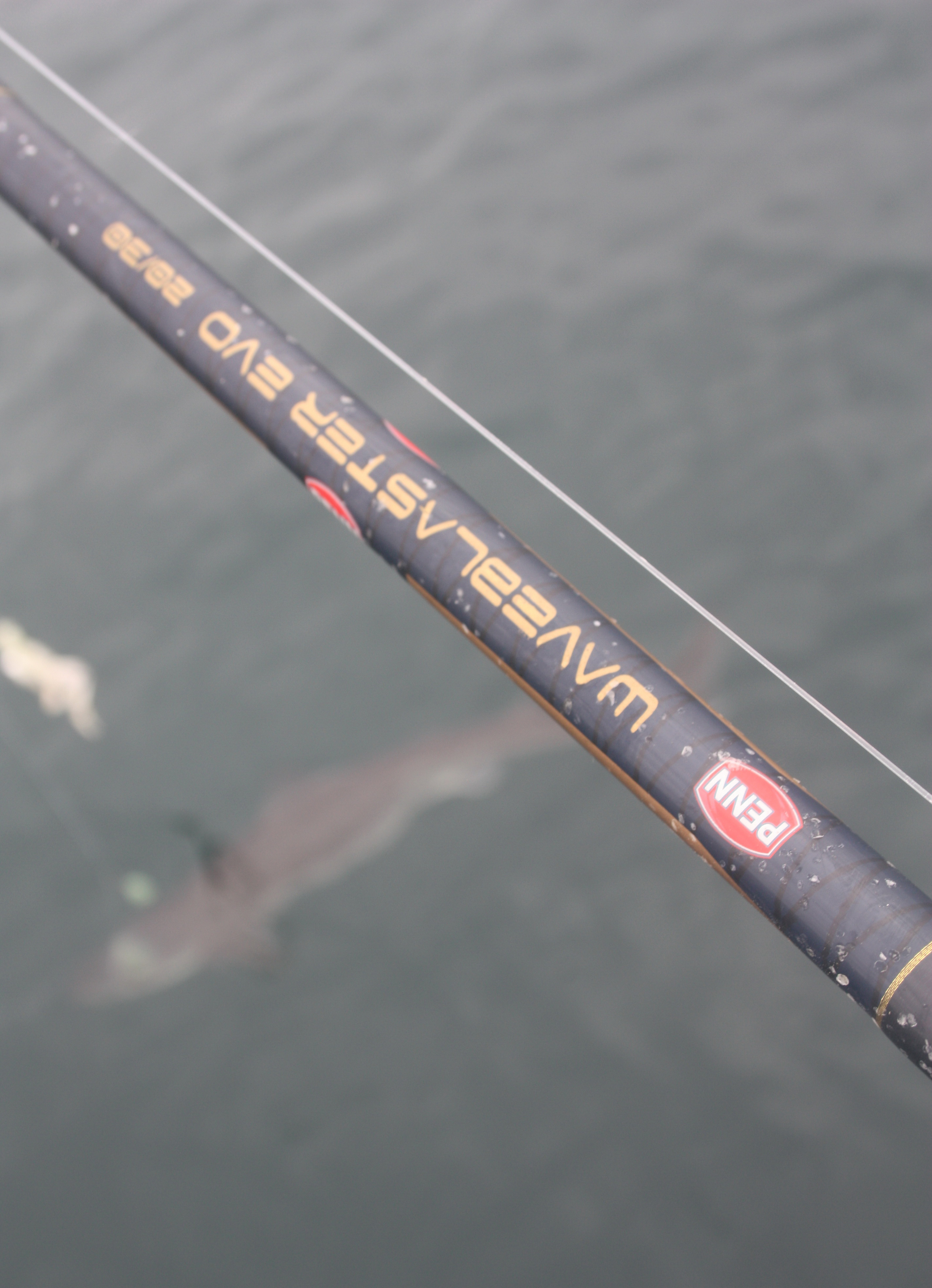 My trusty old Penn Waveblaster, so many specimens have fallen to this rod over the years
The trouble with these exploration adventures, is that you (or at least I) tend to pack way too much tackle, enough to cover every reasonable eventuality that may arise. For instance, the boat mark may produce Tope, or rays. That's easy, a twenty class boat rod will suffice. But what if there's Skate about? Will have to bring the big guns, or at least one rod to cover this discipline. If there's Wrasse or Pollock about, the twenty class will suffice, although a twelve class would be nicer. Maybe there's Blue Shark beyond the Blasket Islands, or Porgies tight to them....more tackle.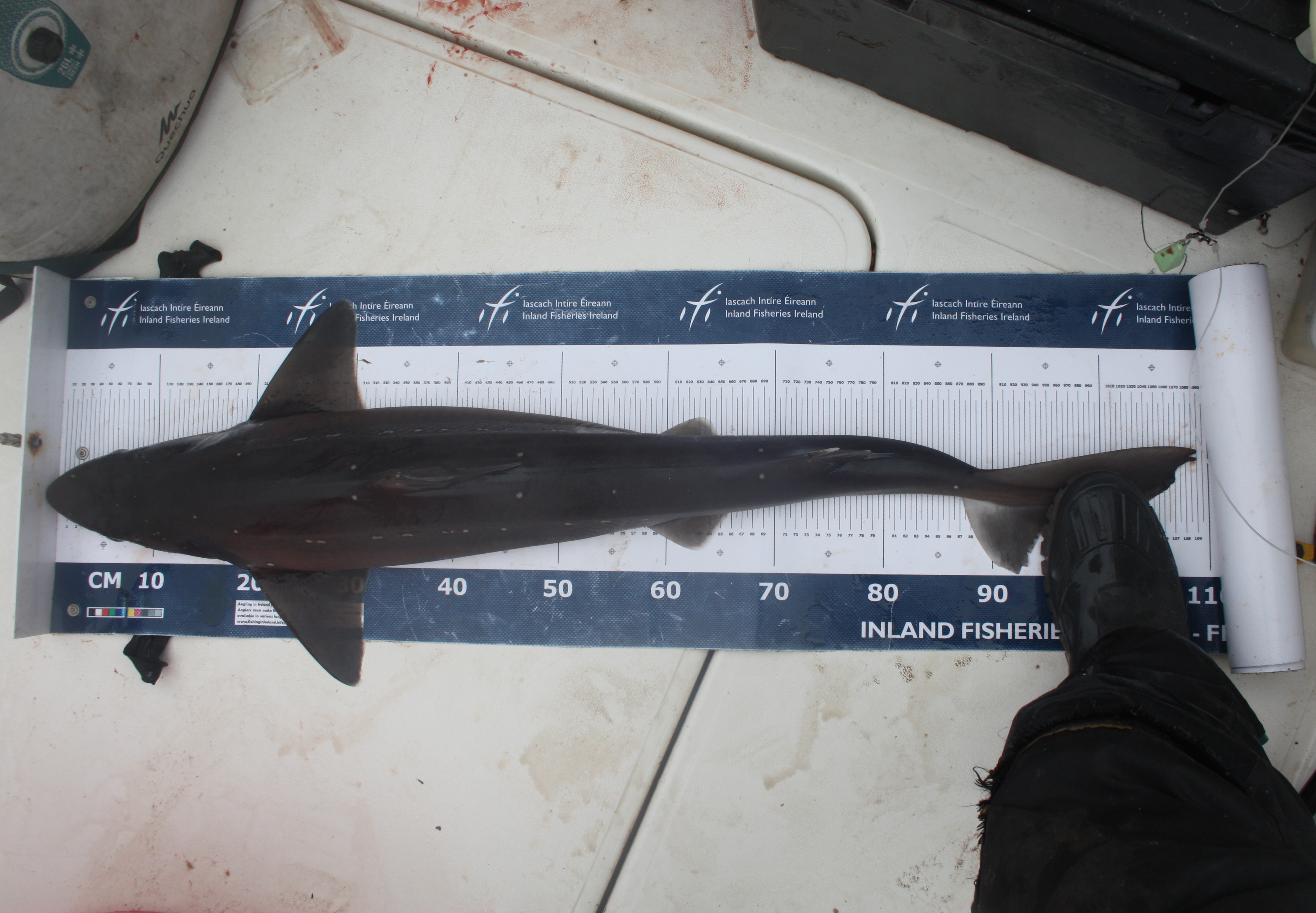 Gentle foot pressure, before anyone starts shouting!
But what if bad weather puts paid to any boat trips? A three hundred mile journey is too far to turn and head home! Shore gear obviously, with a couple of beach rods, suitable rod rest, headlamp, shore rigs. Might need a decent spinning rod for Wrasse or Pollack off the rocky headlands, and I remember seeing some Mullet shoals knocking about the last time I was here. Isn't this area known for Bass? And so it continues......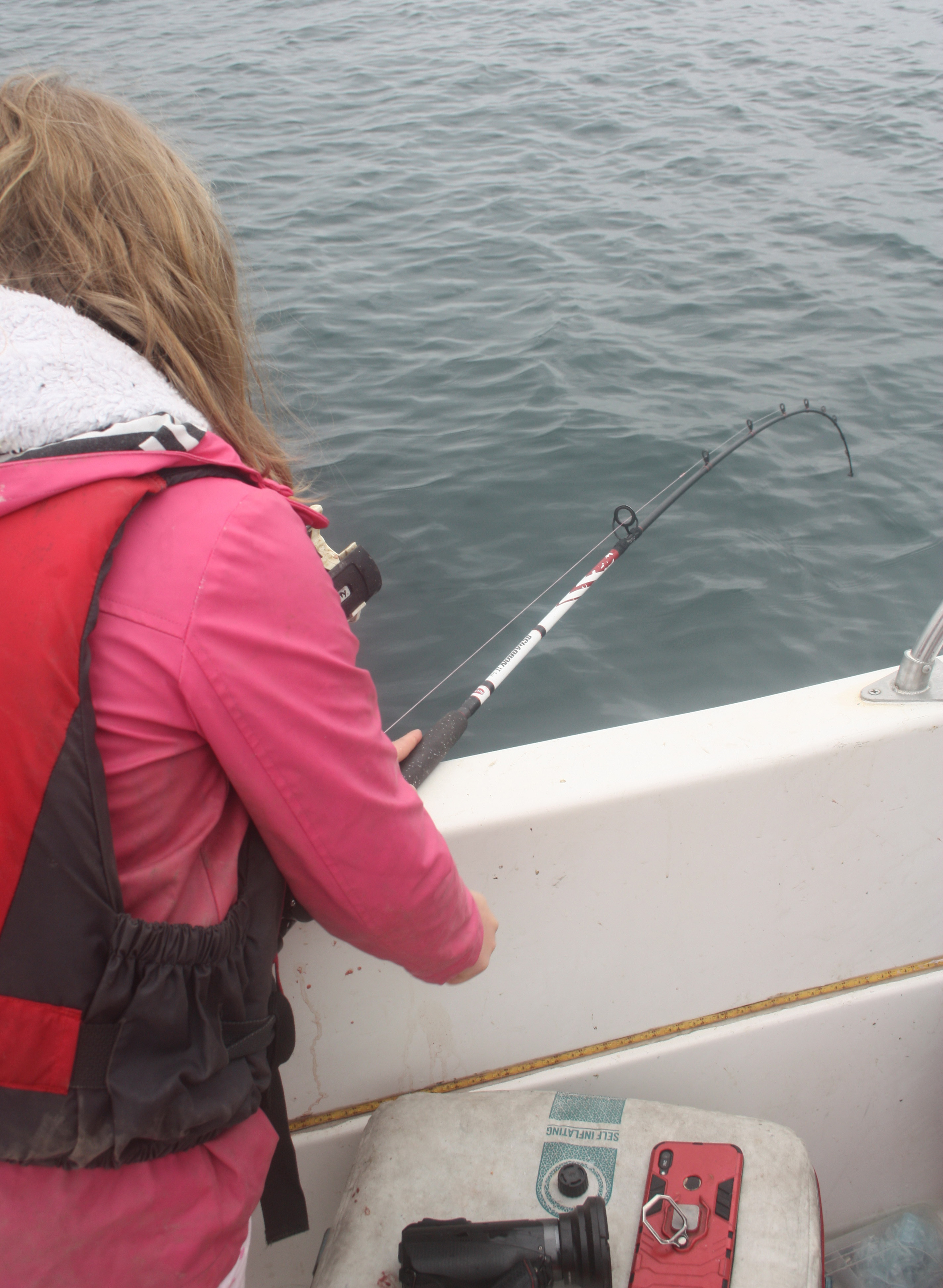 Amy, putting the Penn Squadron through it's paces with a specimen Spur
Having tangled my brain tighter than a multiplier reels birds nest, I finally decide on a Skate rod, an all-rounder 30lb class, and a pair of up-tide rods that will double up as light shore rods, Bass, Pollack and Wrasse rods. Mullet can breathe a sigh of relief on this occasion. You have to draw a line somewhere!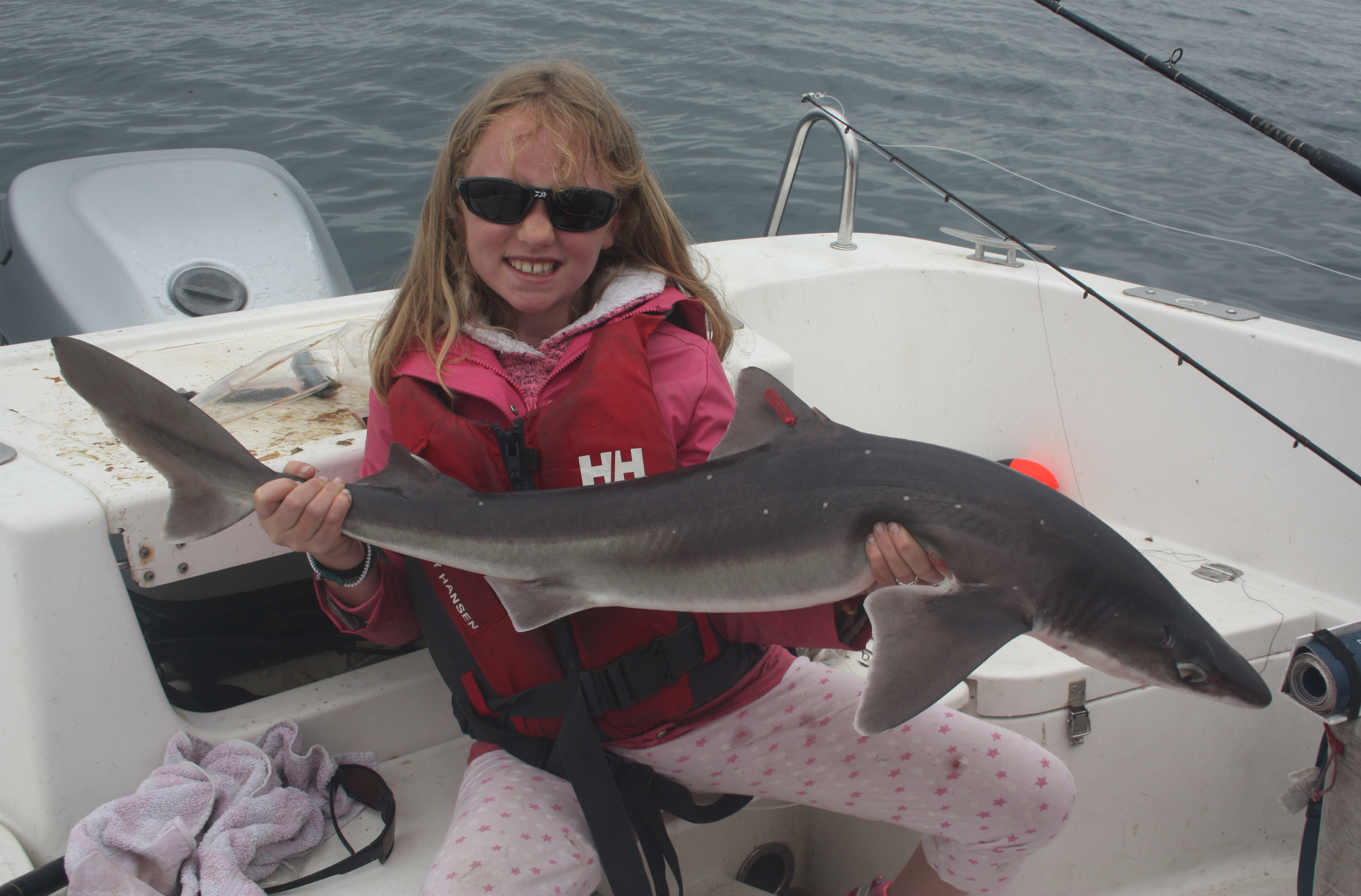 A quick measurement, a rota tag in the dorsal, and back overboard
We met in Kerry, thankfully with calm waters to greet us, conditions not often seen in the South Atlantic! It would be a crew of three, myself, Sid, and Amy, his ten year old daughter. She's nearly as tall as me now. I remember when she was about as tall as a peanut, time has flown so fast, and in that time this little lady has amassed somewhere in the region of fifty Irish Specimen fish, an enviable tally! A testament to Sid's teaching skills.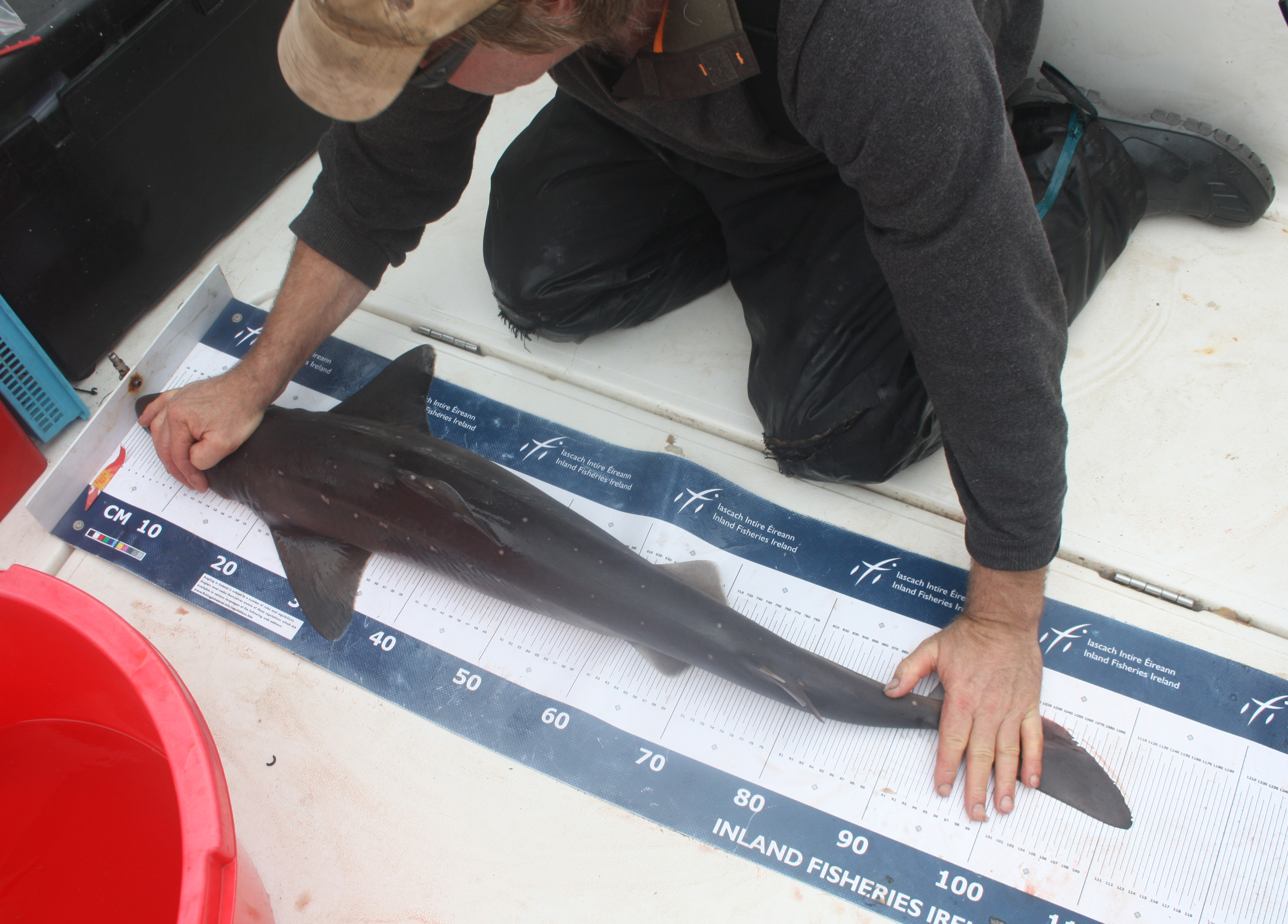 Measuring for a length-based specimen makes things much easier, for angler and fish
So now we are at the venue, what to do? Boat fishing for Stingray close to shore was an obvious option in this area, but they can be targeted in almost any weather, it would be silly to waste a chance such as this not to cover a few miles and see what lies beyond the normal radius from harbour. Decision made, we headed for the horizon.
Eventually, we slowed the pace approaching a deep underwater gully, it looked interesting and certainly worth a try. There are so many features around this part of the Irish Coast, and most un-fished, several life-times would not be enough to do them justice.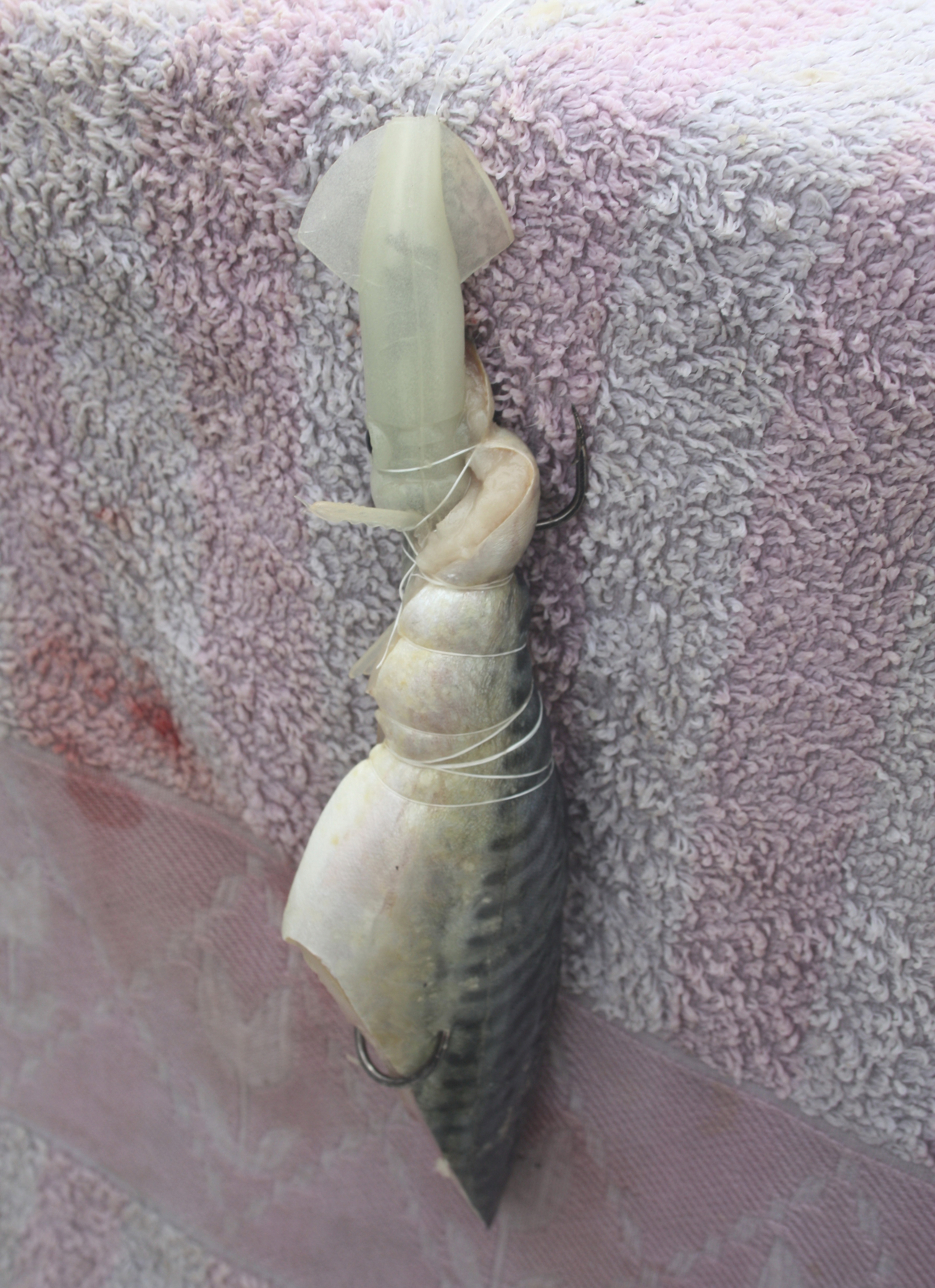 Spurdog baits do not need to be over complicated, make sure the hook point is visible
Up-tide, and with anchor down, Sid carefully positioned the boat over the deeper end of the feature, and we baited up and dropped down to the sea bed. Almost instantaneously, rods buckled, and we were all into decent fish. The fight felt familiar, one I have experienced so many times over the years, and sure enough, a sizeable Spurdog broke the surface.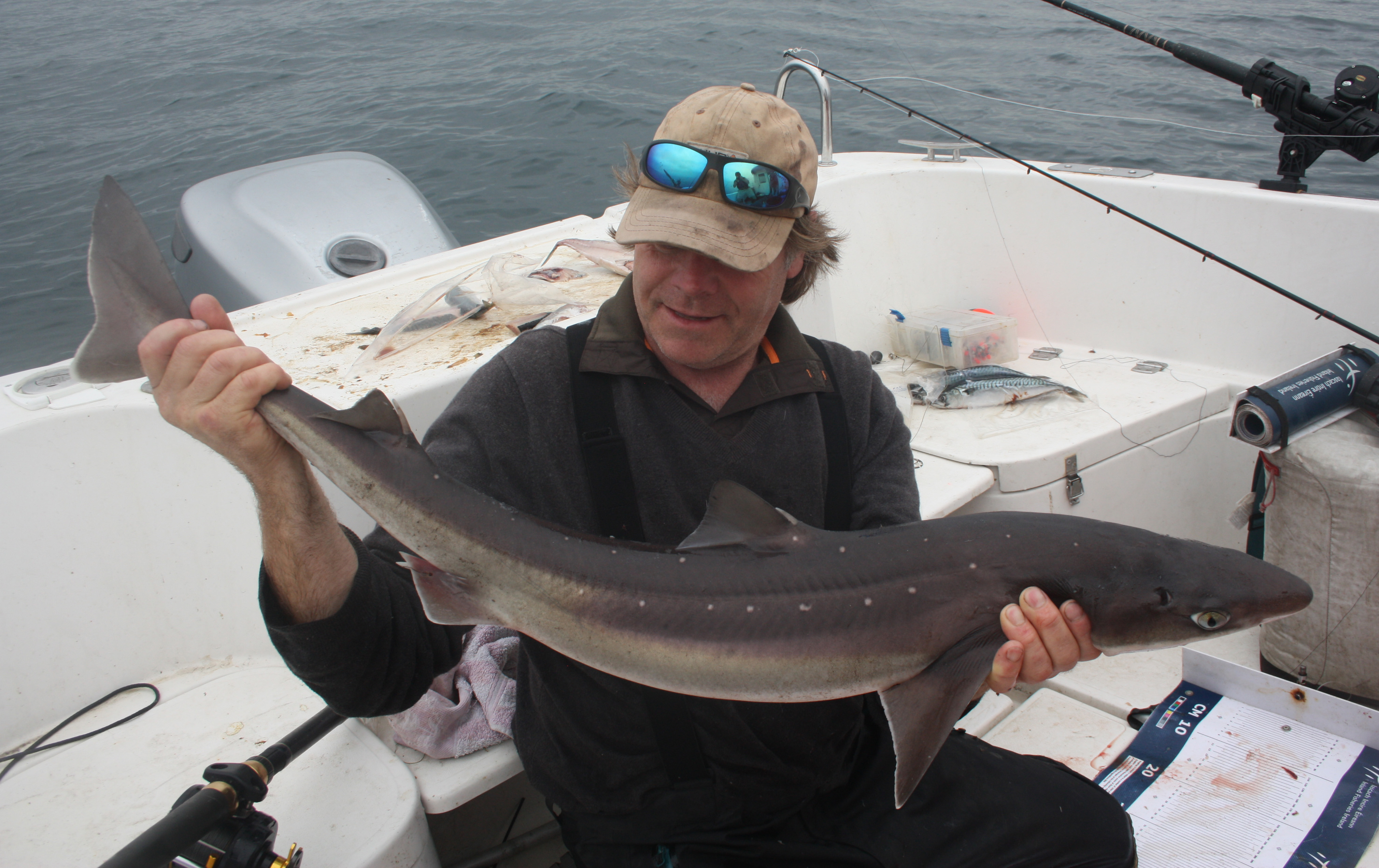 Delighted to see my first Spur of the year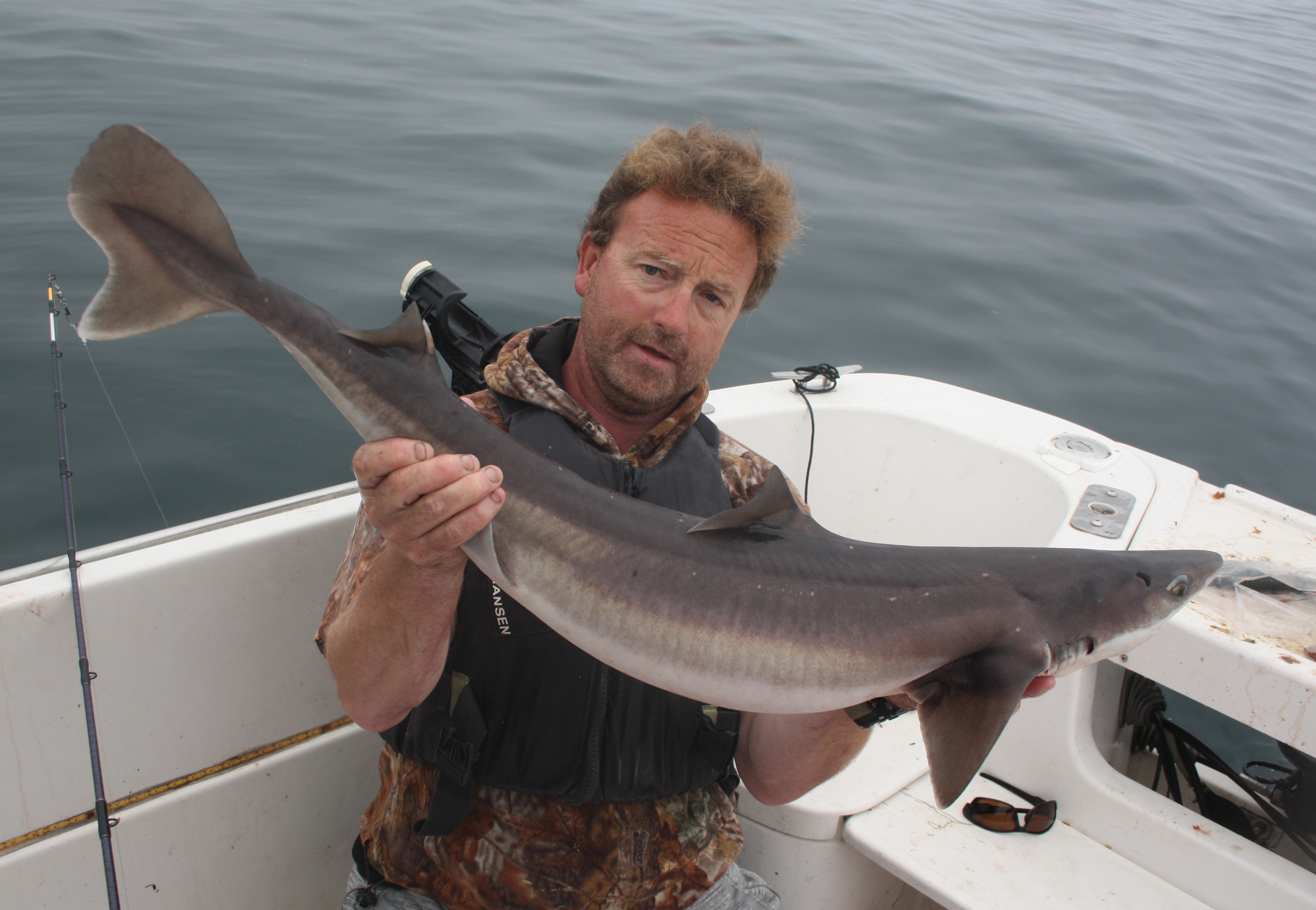 Of course, Sid wastes no time in finding a specimen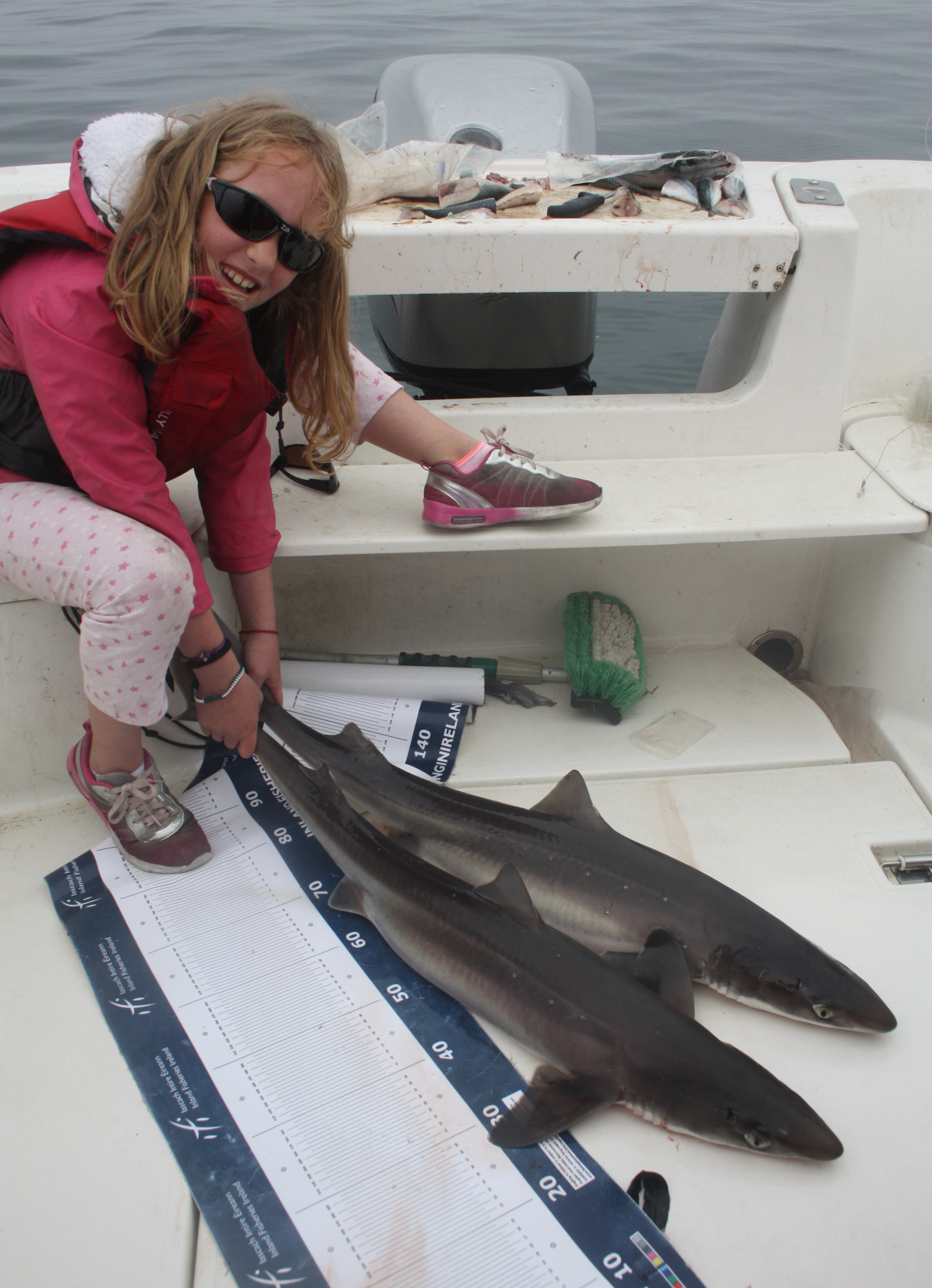 And the apple rarely falls far from the tree! Amy with a double shot
Somewhat bemusing, to travel three hundred miles from my own Spurdog marks in the North, and the first fish I land down here in the Kingdom of Kerry....is a Spur! But still, these were double figure fish which is always pleasing, and in far shallower waters than I'm used to. This allowed for smaller leads, lighter rods, a better scrap and by the look of our first drop, a great chance of a specimen.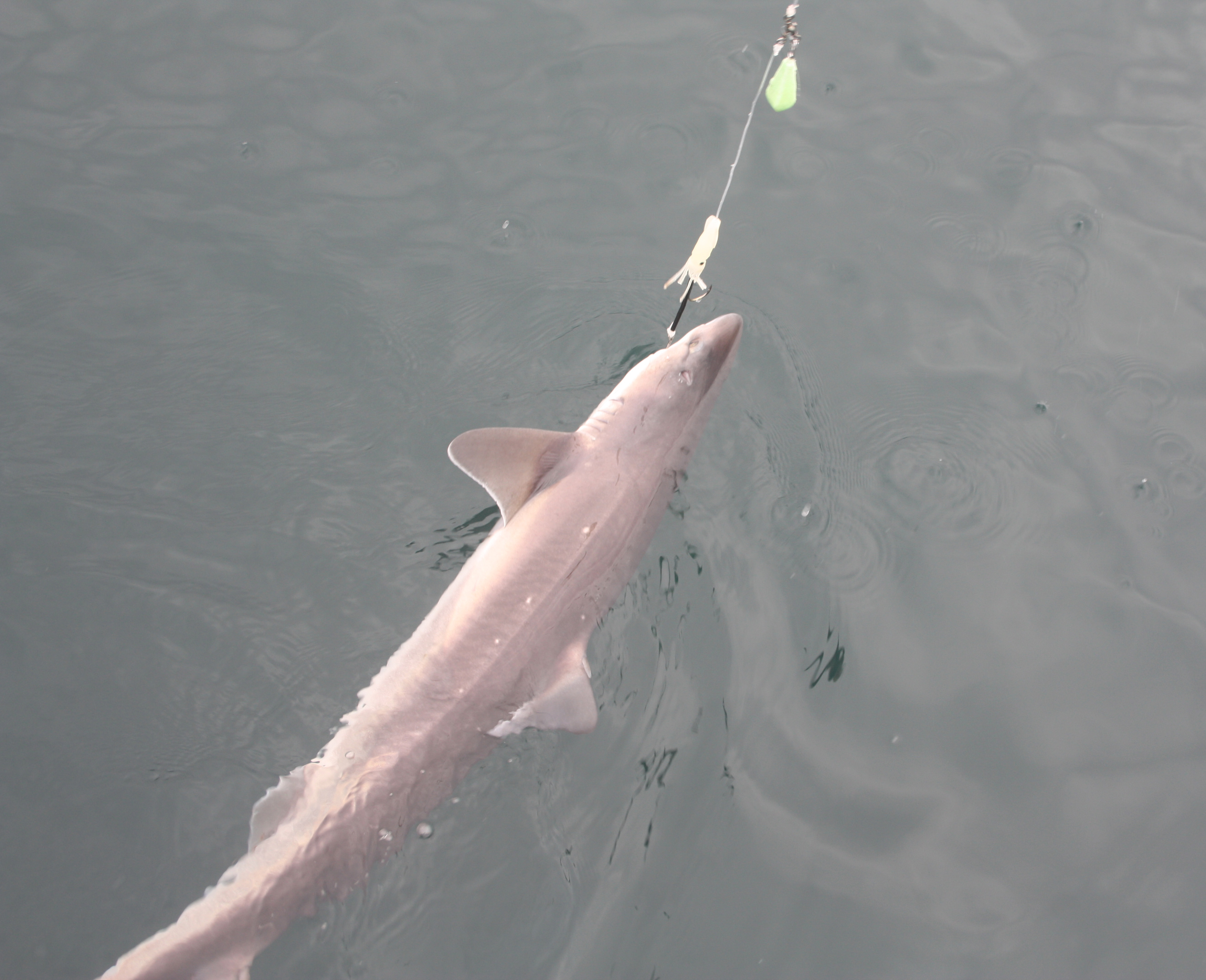 No real finesse required with rigs, just make sure they are "bite-proof"
We spent the day on this mark, I guess we should have explored further, but it was extremely enjoyable angling. You know the old saying....."never leave fish", and we didn't. I honestly lost count of the amount of Spurs hooked and landed, and we continued until all three of us had our specimen quota of three fish each above the 105 cm length based threshold. How fabulous to run into a large shoal of Spurs, heartening when you think how close they actually came to extinction around the Irish Coast. It shows what a little protection can do.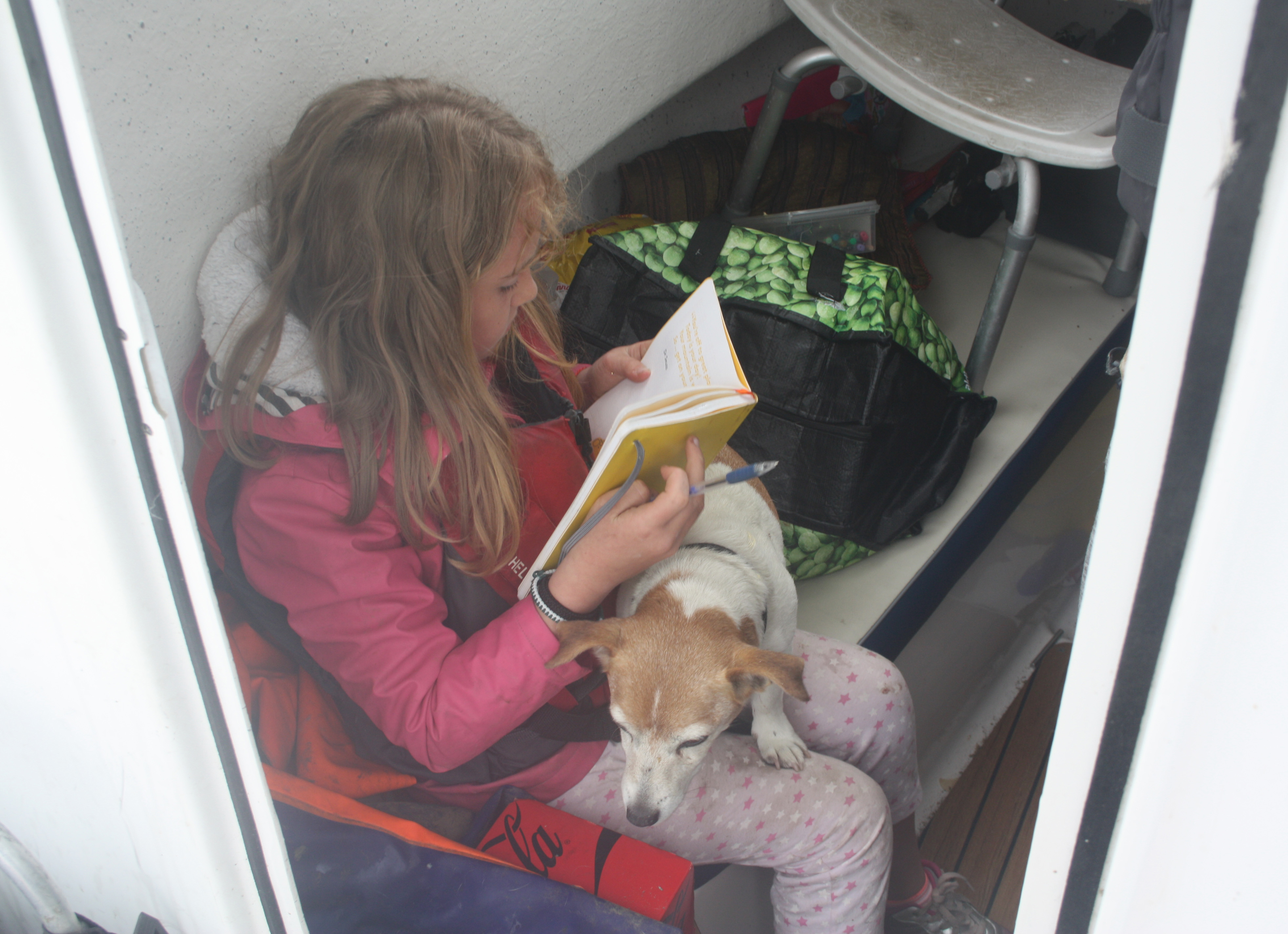 Ok, I've got my three specimen quota, can we try for something else now?
It was amazing to witness numerous times, four or five Spurdog following the hooked fish to the surface. We kept promising to take some action shots of this, but we were all too caught up in the moment of high activity to actually put a rod down and lift a camera. On several occasions, what we initially thought was a huge Spur joining in, turned out to be a Tope of around twenty pounds coming up for a look!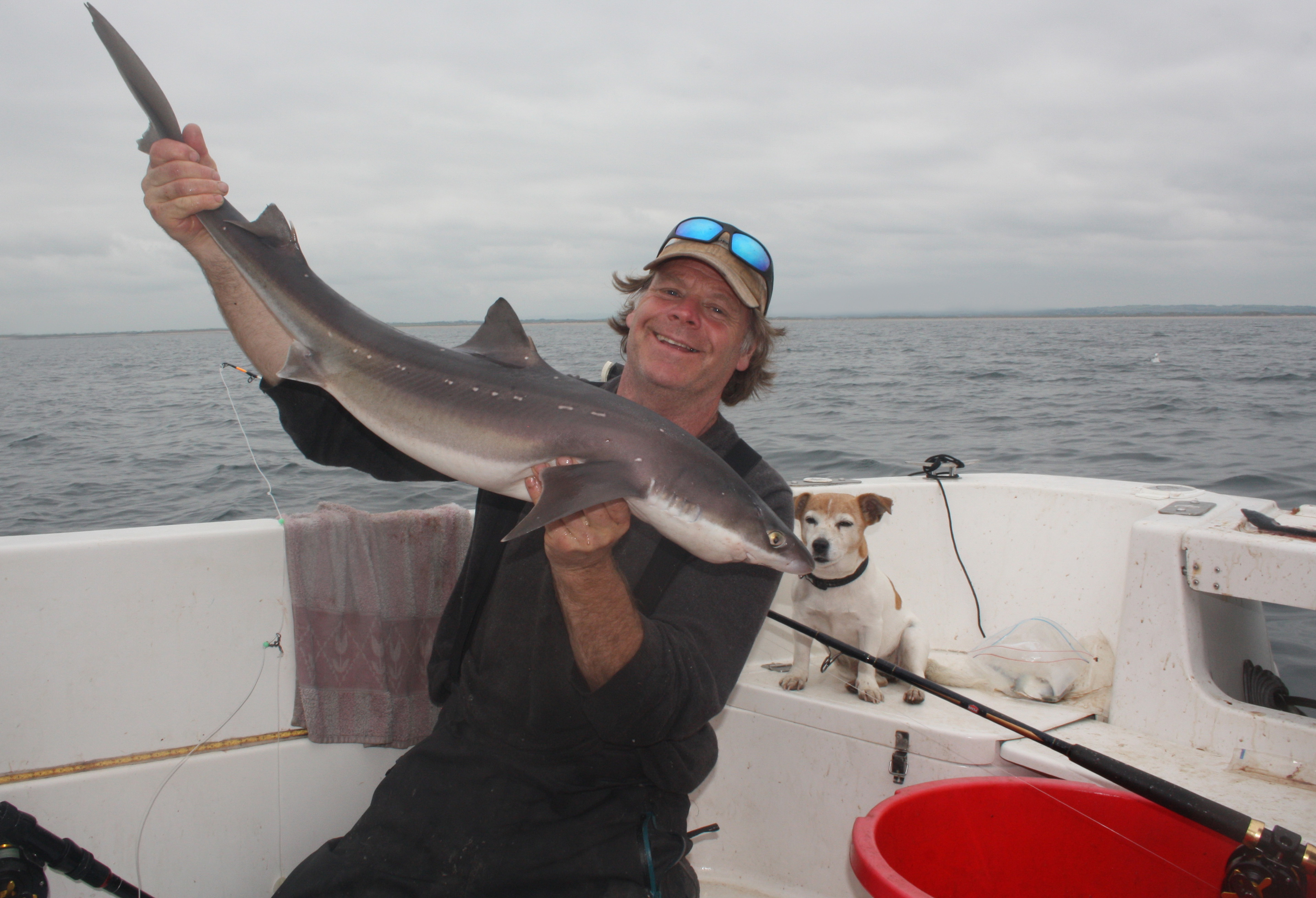 I'm delighted but Skip's obviously bored by this stage
By afternoon, I was exhausted, fished-out! A pleasant complaint to make. We were in danger of using up all the frozen Mackerel fillets, and with a long steam back to harbour, decided on calling time on our unexpected Spur session. On the way back, Sid suggested we have another crack on that mark the following day, if the weather suits. "Not bleeding likely" was my reply, "I'm cream-crackered! How about a leisurely try for the Stingray, where I can put out a rod, and wait an hour or so for a rattle". So that was the plan for tomorrow.....but that's another story. Tight Lines for now.
Back