A Mullet Grand Slam in West Cork
A Mullet "Grand Slam" in West Cork
For a challenging Mullet "grand slam" I had the notion to target all three Grey Mullet varieties during one adventure.
However, to push the boundaries a little further, how about adding that they would all have to be over specimen size!
The three species in question (omitting the Red Mullet found offshore) are obviously the "thick-lipped", the "thin-lipped" and the smaller and much prettier "golden-grey". A tall order I know, especially as I have never been lucky enough to catch the Thin-lipped species as yet, never mind one over the magic specimen threshold!
My angling mate and well known specimen hunter Sidney Kennedy had found his first Thin-lip a week previous, but by time I could make it down to West Cork, they had all but vanished. This is the age-old and extremely frustrating ordeal with Mullet shoals, as large numbers of any particular species can show on one tide, and quickly disappear on the next.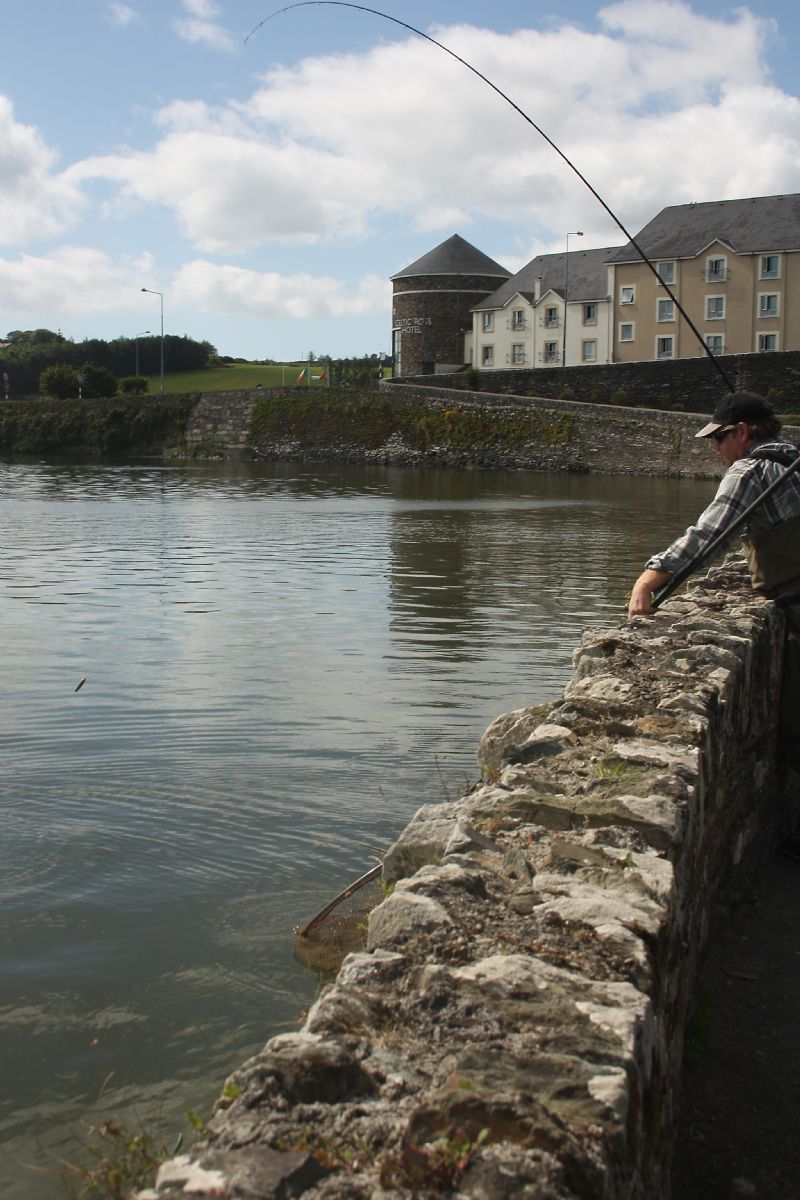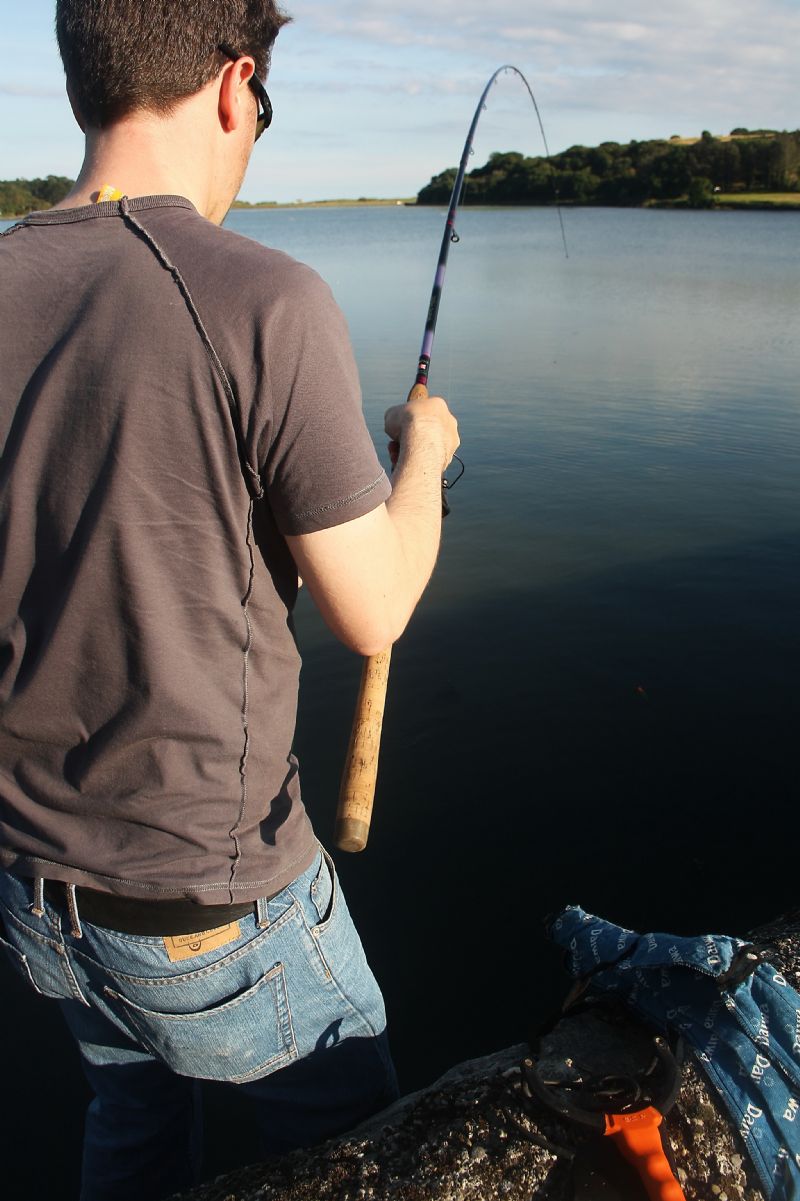 Both Andy and I were soon hooked into West Cork "Thick-lips"
With the hope that the Thin-lips were still somewhere in the near vicinity, Andrew Wolsey and I headed south yet again, in search of wild Irish fish and new species' to track down. We were able to dedicate four days angling on this occasion, so hopes were high in finding a specimen or two. The "Goldies" were a thorn in Andrew's side, having failed to catch one on our last trip the year previous, and he was determined to rectify this, my hurdle was the elusive Thin-lip!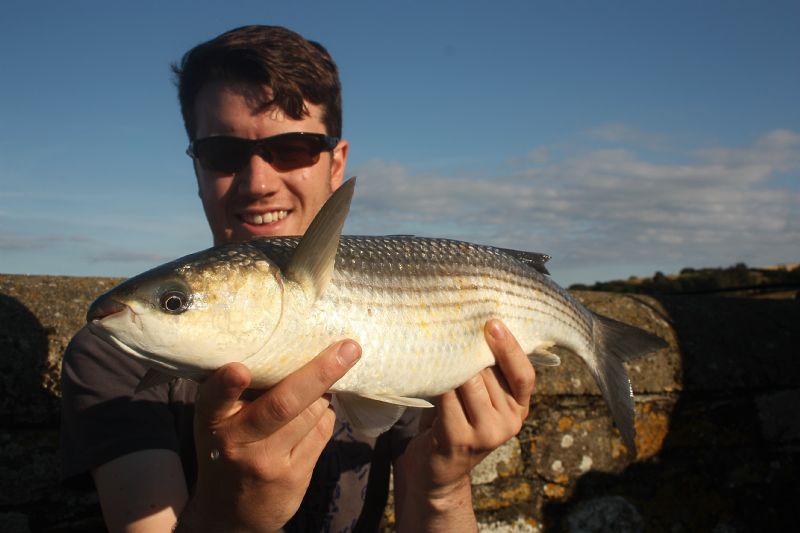 Nice start, just under specimen size
On arrival late afternoon, and at high water, we had missed the opportunity to dig a few "maddies", the small harbour Ragworm that work so well for "Goldies" and Thin lips. But for now, the time could be filled chasing the larger Thick lipped Mullet, loaves of bread are always readily available!
We checked out the usual haunts, and could see a few "cruisers" feeding at distance. Andy was first in, and after a fabulous scrap, landed a pristine fish just under five pounds. A great start to the trip, and I soon followed suit. A couple of "missed" opportunities and some smaller fish later, it was time to pitch the bivvy, make some grub and crash out for the night. Before doing so, and with the tide dropping, we dug a good supply of maddies in preparation for an early start the following day. Goldies and Thin lips were the main quarry, as these aren't available on our local waters and it made sense to concentrate on these.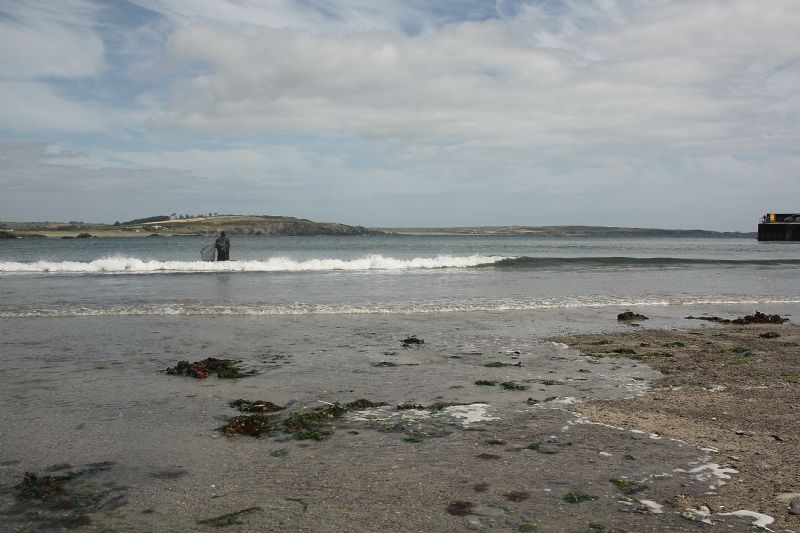 Waiting in ambush, hopefully for shoals to pass heading for the estuary
After breakfast, we began our search at the mouth of the estuary. Fish were noticeable by their absence, but any shoals wishing to head up-river would have to negotiate past us first. It was concerning how few fish were present, and the stories of hundreds of tonnes recently taken commercially were starting to sink in! One day Ireland will realise that revenue from sustainable angling would easily far exceed the mindless devastation from commercial over-fishing, unfortunately that day will come too late I fear!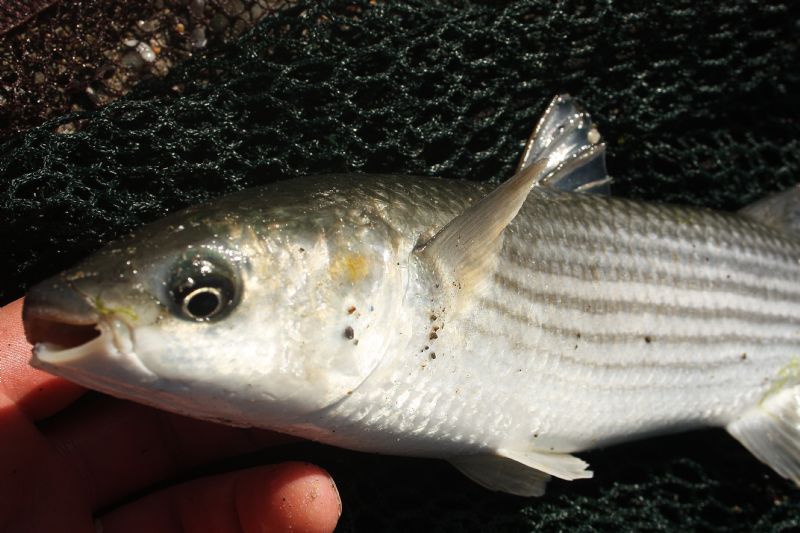 Part one of the challenge achieved, a specimen Golden Grey ticked off the list!
Persevering through the in-coming tide, a few small shoals showed themselves, and I managed to tempt a Golden Grey Mullet, the delicate and smaller of the three species. To the weighing scales it managed to equal the specimen barrier of 1.5lbs and although it was the only fish taken before we were pushed off the mark by the tide, it was part one of my three fish challenge, and a positive result.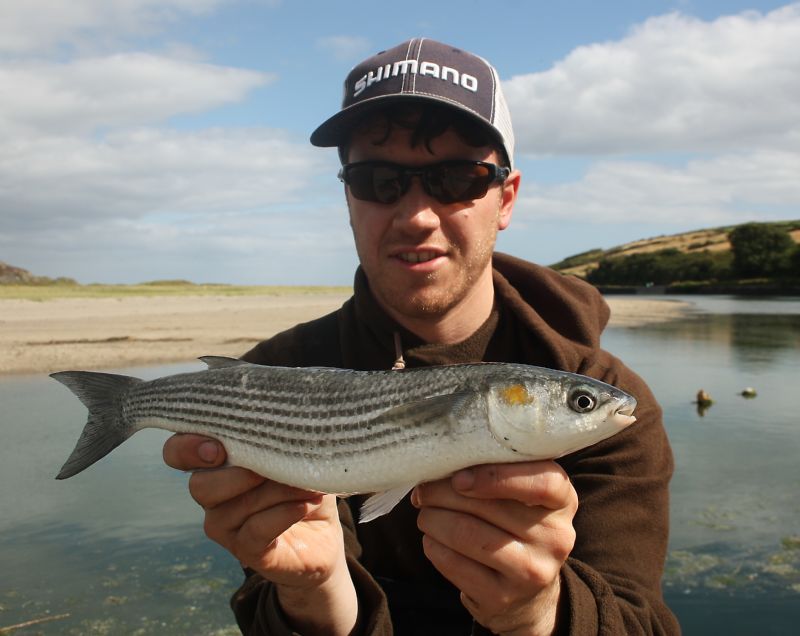 Andy with his first ever "Goldie"
As we followed the small shoals upstream, the high banks giving a great vantage point to pick out larger fish, Andy tempted his first Golden Grey and beat the glitch that had troubled him since last year. At 1lb 7oz it nudged the specimen barrier, but he was now confident of better things to come.
Over high water, the shoals, as you would expect, dissipate and work their way over the sand bars and gullies, and become a great deal more difficult to locate. We went through the motions of stalking, and this worked reasonably well, finding numerous Thick lips and the occasional Goldie. When things seemed quiet, we took breaks for lunch, and drove around the coast in search of new marks and feeding shoals.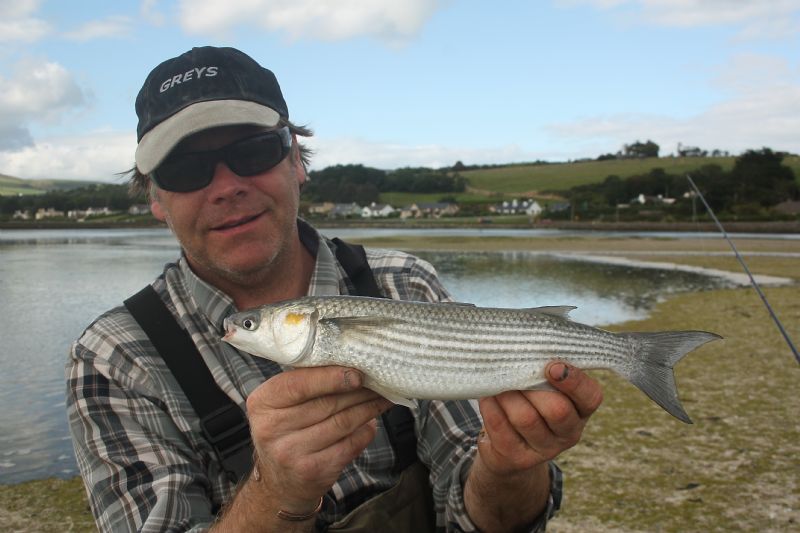 Another cracking Goldie, but where are these elusive Thin-lips?
Chatting with local man and Mullet expert Patrick Lombard, he kindly divulged information on some local areas that had been producing well. We checked those out, and found small shoals of large fish, but with the weather deteriorating and the surf building, found it impossible to reach them safely. I gave up when I took a wave over head-height and soaked through! These will be marks for future investigation, Patrick; you are one of angling's gentlemen, thank you.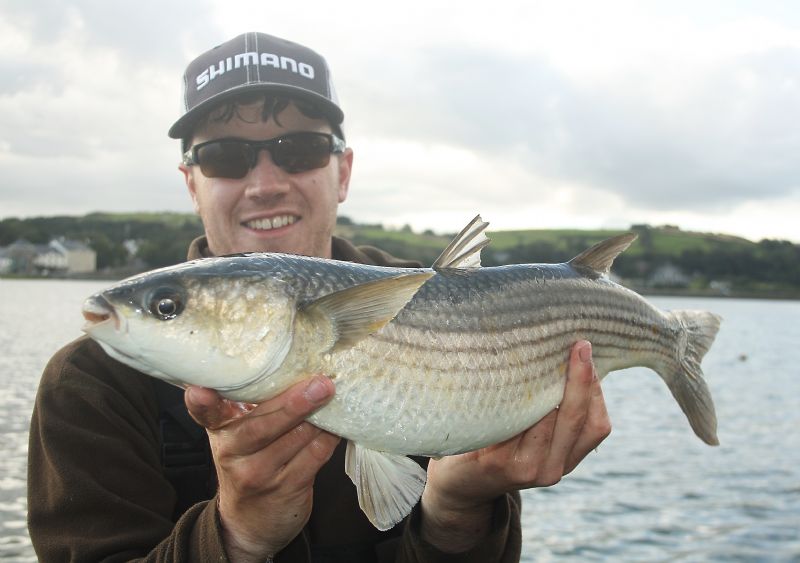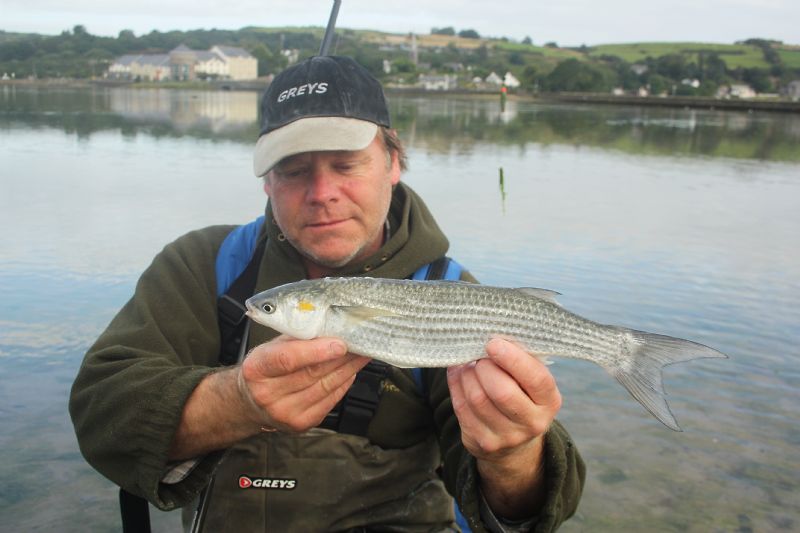 A specimen Golden-Grey and a specimen Thick-lip, the grand slam challenge continues
By the end of day three, we had notched up quite a few fish, persisting with spoon-baited maddies, casting and retrieving along the surf and working our way up the estuary. Among these, both Andy and I tempted a couple of specimen Thick-lipped Mullet. We were actively avoiding these for now in our search for Goldies and especially Thin-lips but gaining another specimen managed to fulfil part two of the challenge, with one more to find. Changing to float fished maddies in shallow water, Andy picked up a specimen Golden Grey, and was absolutely delighted to notch up another new species over specimen weight. Both of us now required a Thin-lip specimen for the grand slam.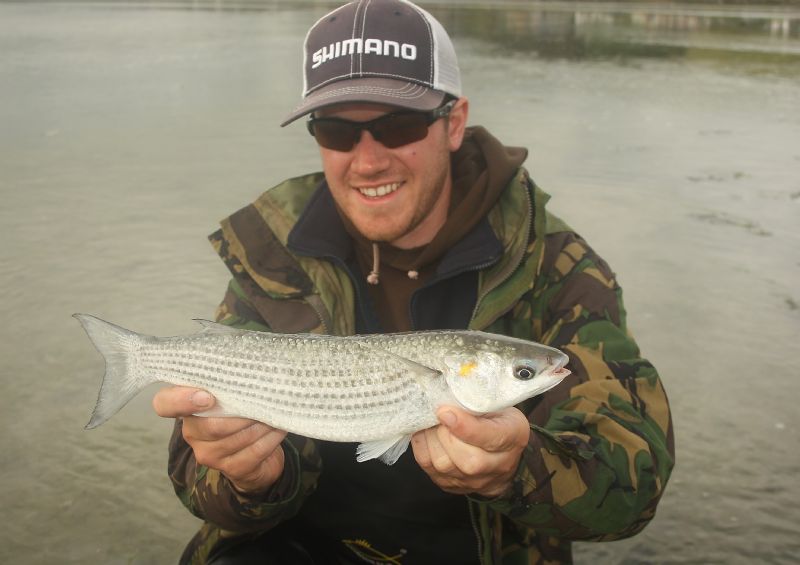 Golden-Grey. A new specimen catergory for Andy, and he's delighted
By this stage, we ran into two great lads, Damien ("Damo") and Glenn "Dubs" that we first met through Sidney Kennedy whilst targeting Painted Rays last year. They were also down this way on a Mullet hunt, and Glenn was riding high on his first specimen Mullet taken the night before, a beast at 7lbs. He will take a while to beat that PB! They mentioned seeing some Thin-lips in a nearby lagoon over high water, and it was worth a shot the following morning.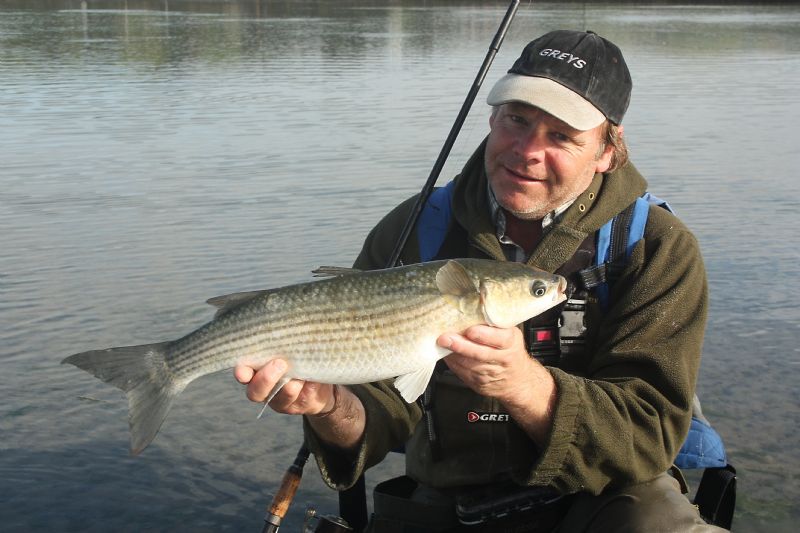 With two species out of three over specimen size, we needed a Thin-lip to complete the grand slam
We fished the remainder of the tide down, dug another supply of maddies, re-tackled for one last shot and hit the hay, hoping that our last day would be kind to us. At 5am, I awoke to the chatter of sea birds and in-coming tide and followed the small shoals upstream, leaving Andy to catch up on his beauty sleep. I had a few "follows" and the odd missed "take" but caught nothing. The weather was changeable with a distinct drop in temperature, it seemed like the elusive Thin-lip had beaten me again. I worked the entire length of the estuary to no avail, and returned somewhat dejected to the bivvy for breakfast.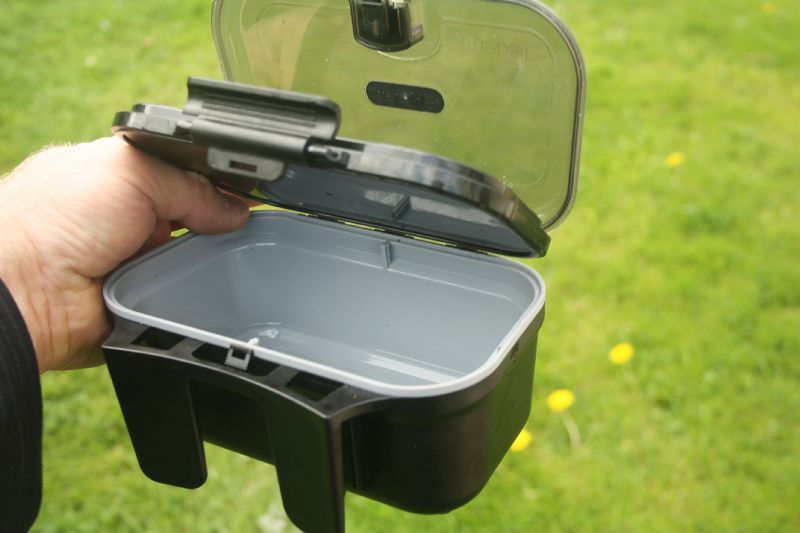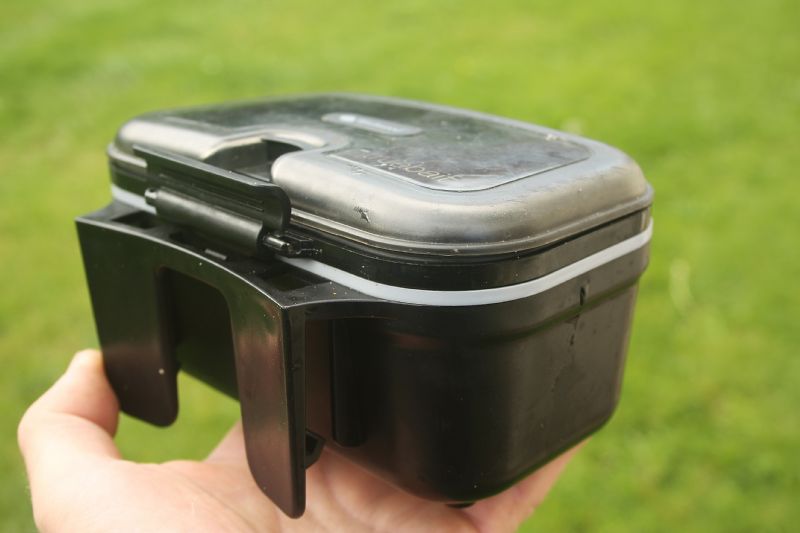 The Wychwood Bait Caddy was extremely handy for storing maddies close to hand
more info...Wychwood Truebait Box
As this was our last day, there was just enough time to pack away the camping gear and head to the flooding lagoon, acting on Damo and Glenn's information. There was now enough water to hold fish, and although there wasn't that many by normal standards, I could see the odd flash of flank below the surface. A cast beyond the shoals to avoid disturbance, and slow retrieve took an immediate hit. The usual battle commenced and finally a Thick-lipped came to the waiting net. Yet another Thick-lip, but still, how can an angler be disappointed with the spirited fight these guys give on balanced tackle, they really are an awesome species that should be wholly protected and promoted as one of Ireland's leading sports-fish.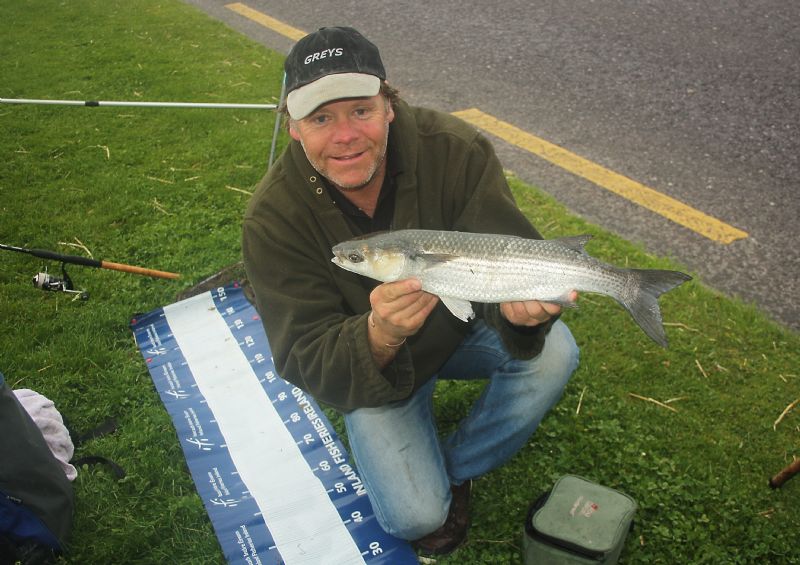 The elusive "Thin-lip"! After four days of constant angling, I'm exhausted but absolutely ecstatic, grand slam nailed!
"Its' our last day" I thought, let's just enjoy what's on offer. Another cast and "thump"! This fish wasn't messing about! Instant hook-up and line pulling against the clutch, fish regularly breaking the surface, it felt a little different than normal. Gut instinct had me thinking, I slackened the clutch a little more than normal, not wanting a hook-pull on this occasion. With adrenaline taking over, and hands shaking, I guided my catch towards the waiting net. Damo had a sneaking suspicion I reckon, as he had already lifted the landing net and was waiting in the wings.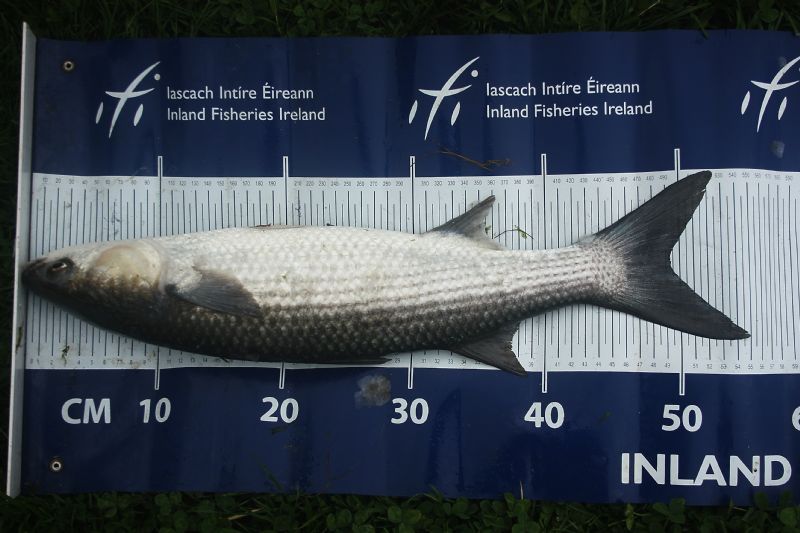 Easily achieving specimen size, a challenge met
Once the net was in my hands, cheers went up. The elusive Thin-lip had been tempted and beaten, and it looked a good size. I remembered what Sid had told me, the Thin lips weigh heavy for their size. With scales zeroed to the weigh sling, she pushed the dial round to 1.7 kilos, and beyond the 1.5 specimen weight. I was absolutely over the moon, my first new specimen for two years. As each species over specimen weight is achieved, the list becomes harder to target. Obviously my thanks go to Damo and Glenn, their keen observation and willingness to share the info made this challenge a reality.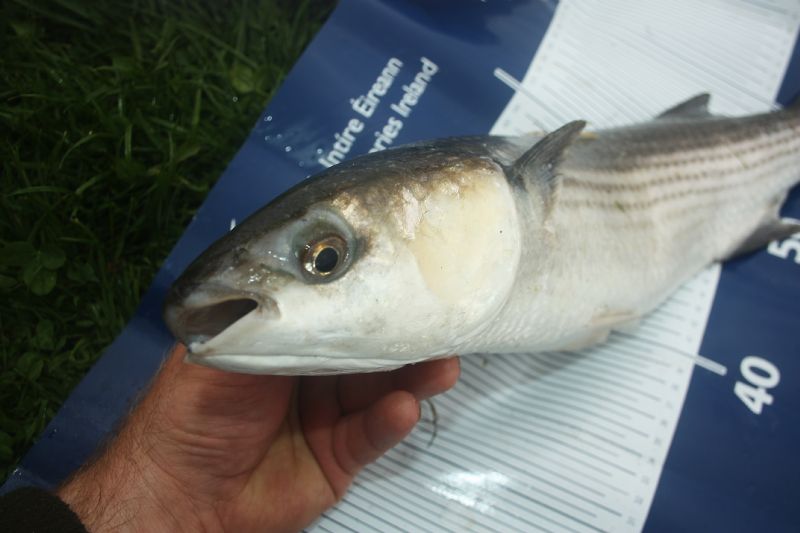 Smaller or thinner top lip, large eye and torpedo-like body, my new favourite Mullet species!
On our journey down, four days ago, I remember saying to Andy that if I were only to catch one fish, please let it be a specimen Thin-lip. Although conditions were tough and fish were in small numbers, I not only realised this ambition, but also met the "grand slam" challenge, probably something I will never be able to repeat.
To the Irish Authorities, and also the North, please think about offering protection to this amazing species. To the commercial sector, it's a quick buck, but to angling-generated tourism, our Mullet shoals, along with Bass and Gilt head Bream could be a huge source of sustainable revenue. This revenue could be easily shared among all associated businesses in the area, accommodation, guiding, dining, fuel etc. Even the commercial guys that net the areas could put away the nets and offer chartering or guiding for tourist angling. Please, do not let our inshore angling for Mullet go the same way as many of our other species. Even protection of estuaries and bays will go a long way to sustaining this angling goldmine!
For hundreds of angling stories on all disciplines and species, check out www.angling-ireland.com
Back