A New Challenge, Part 1, Portbradden
Terry's Travels
A New specimen Challenge
Part 1, Portbradden
Over the years, the Irish Specimen Fish Committee have added new targetable species to the list as particular Irish species become increasingly popular.
Recently, mini-species such as Gudgeon, Scorpion Fish, Corkwing Wrasse and Shore Rockling have come under the specimen hunter's spotlight. Although small in stature, the challenge of finding a sizeable specimen can be great fun. New methods, venues, baits, rigs and of course, approach brings added diversity to the Irish angling scene and personally, keeps the interest going. From my perspectiive, this takes me to new and beautiful parts of Ireland, bumping into old friends, and meeting new acquaintances. Having successfully targeted Corkwing Wrasse in 2021, I will be turning my attention towards the other new species over the weeks and months.
A three hundred mile drive to find this little Corkwing over specimen size
With this in mind, my old angling hombre Glenn Drennan and I took a spin up to the Antrim Coast, to the tiny but picturesque harbour of Portbradden in search of Shore Rockling. I realise that mini species are hardly going to put up any kind of battle on standard shore gear, but it was just a bit of fun. There was also the chance to latch into something a little more feistier such as a decent Cod, Pollack or Conger.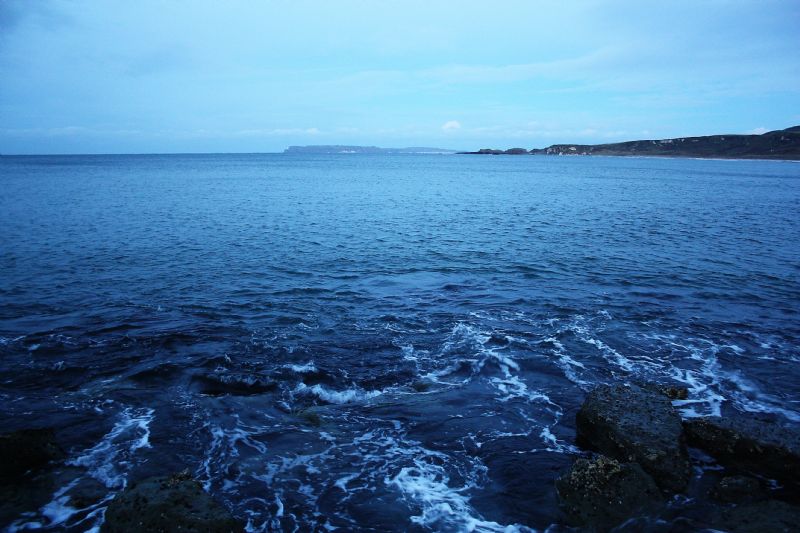 It is always beneficial to check out a new mark during daylight, for hot spots, but also safety
Also, having never tried this mark before, but always having wished to, it would be another wee box ticked on the shore angling list. I remembered from sight-seeing many years ago, just how "kelpy" this venue can be, perfect for a monster Shore Rockling, I imagined.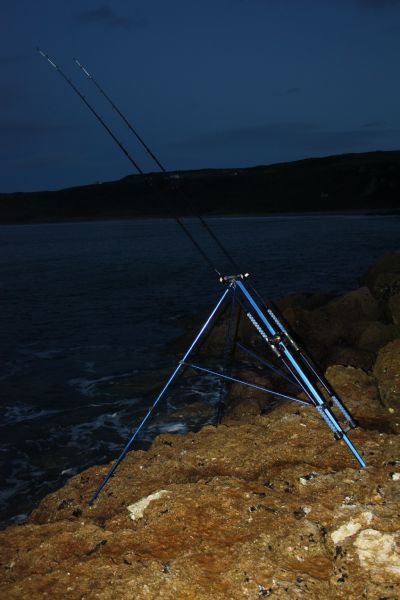 Arriving just before nightfall gave us a chance to scope the place out, and find a safe perch to set up. With Kelp beds running out over sand-shingle, a perfect ambush point for any inshore predators, all be it mini species!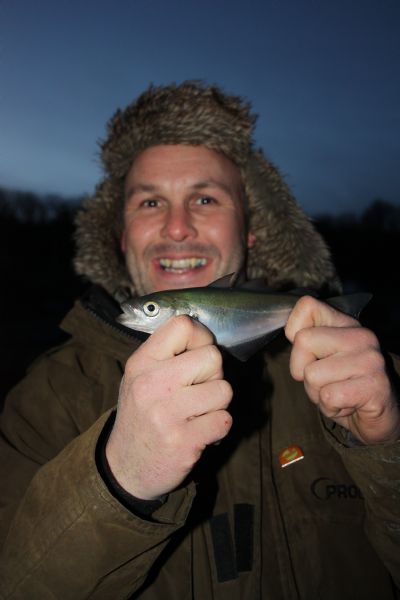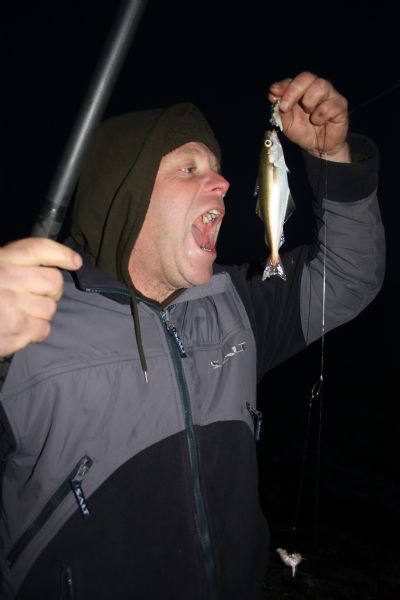 Saved a blank session at the very least
All quiet on the eastern front, until the sun set over the cliffs behind us, and with the relative safety of darkness, the mini-species came out to play. In fairness, we probably should have scaled down on line diameter and hook size, but we were hedging our bets in case a larger predator showed up. To be frank, Rockling have the ability to engulf baits destined for much bigger species, to the annoyance of many shore anglers, so we were well within the Rockling spectrum!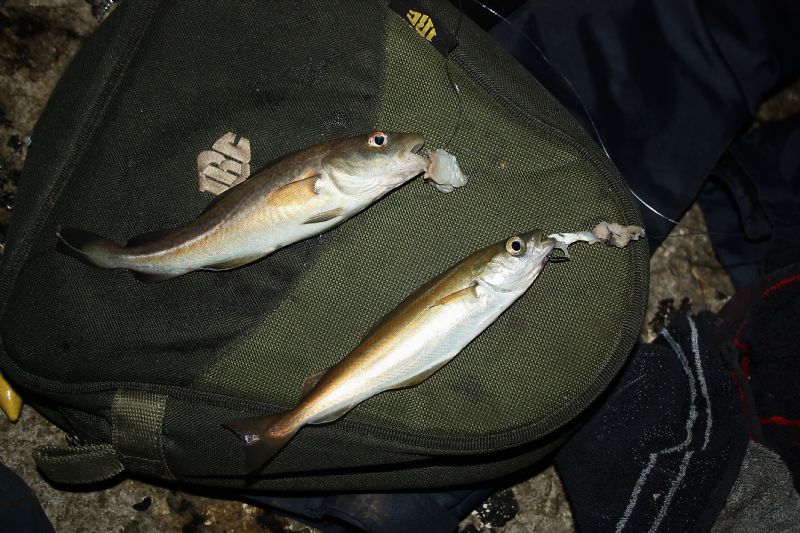 Juvenile Codling and Pollack
Two hook paternosters were the rig of choice, thirty pound hook-lengths, size one Aberdeens and frozen fish baits of Mackerel strip, Herring and Sandeel. Being mid-winter, fresh fish baits aren't that easy to procure, but good frozen stuff can be almost as deadly. The light had faded, but the rod-tip rattles were ten a penny. I'm now thinking, I hope we have enough bait for the session!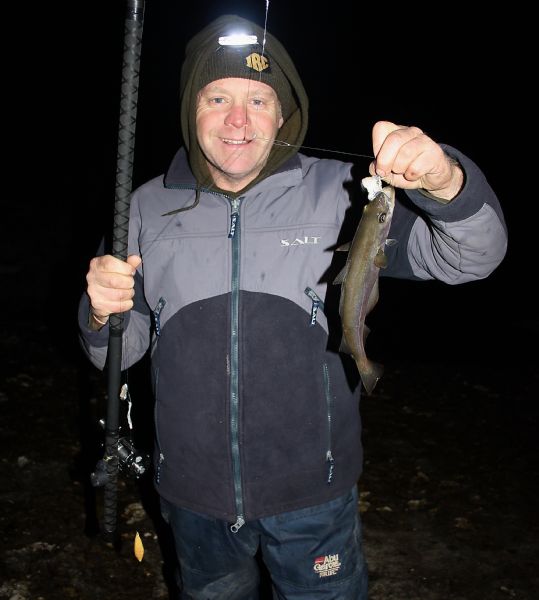 Another small Pollack, but plenty of action to keep us amused
Quivertip-style shore rods would have been much more apt for the job as it turned out, but nothing deterred the ravenous hordes of juveniles attacking our fish baits, with poor cod, small Coalfish, long-spined Scorpion Fish, and Pollack seemingly queuing to be caught.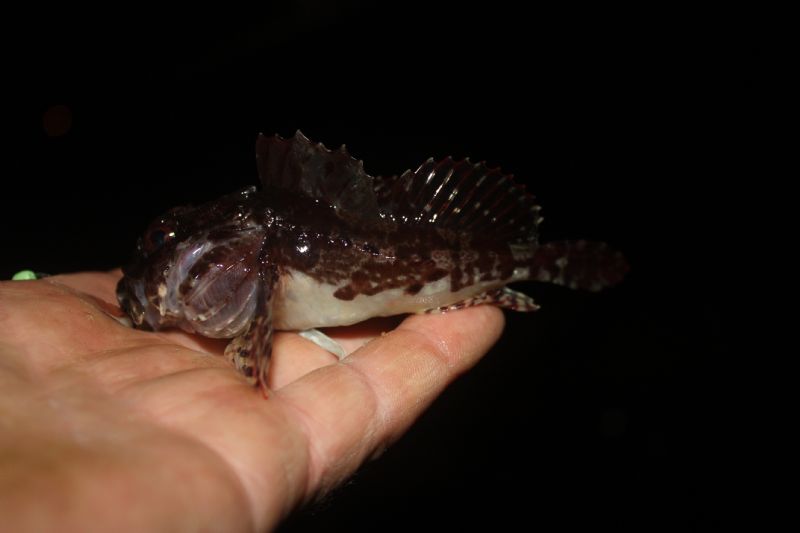 A long spined Scorpion Fish to add to the tally
On a busy wee night such as this, I can see the attraction that the LRF'ers, (light rock fishing) guys enjoy spending a few hours casting and "clocking" up the species tally. So long as I can get my boat out over deep water on a regular basis, I don't mind diversifying from time to time!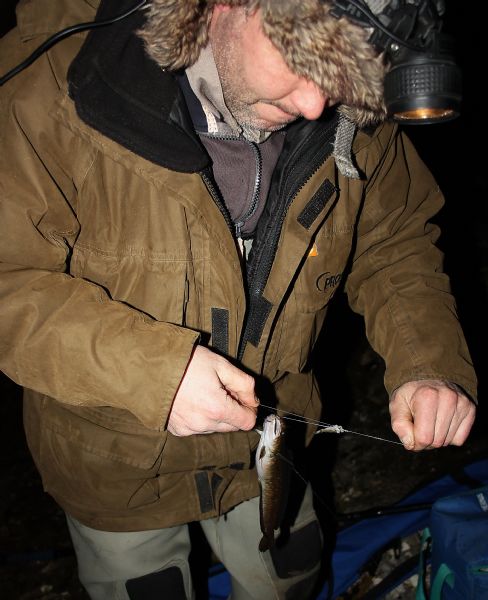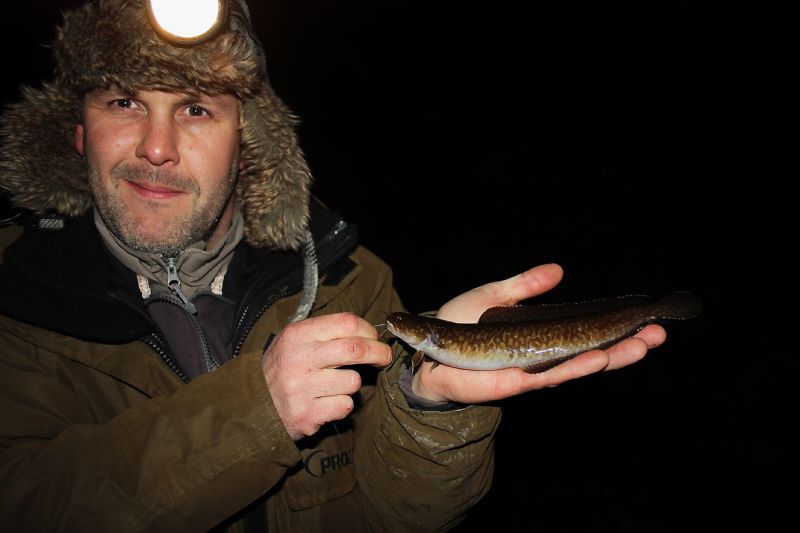 Glenn, with a Shore Rockling target species, need to find one over 30cms now!
We plodded away most of the evening, playing the numbers game. I don't know what else you can do to sort out Shore Rockling from other hungry species, only to keep dropping baits in, and systematically exploring the areas in front of you, so we did just that.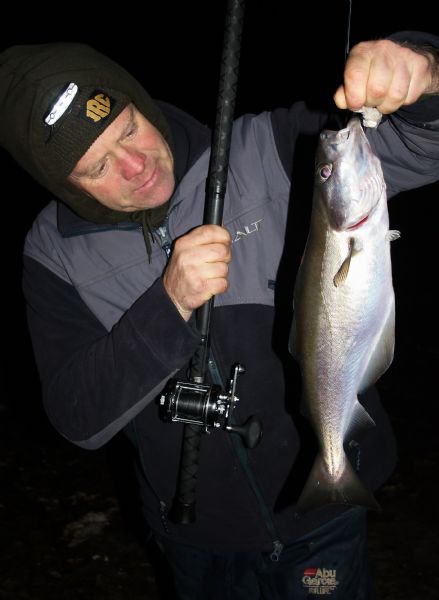 This Pollock was just about pan size, but nicer to see it swim away on this occasion
Eventually we both managed to find the target species. Nothing over the magical thirty centimetre specimen barrier, but a busy and fun evening with good numbers and range of species landed. I might be back for another bash at Portbradden, but it has definitely whet my appetite to meet the challenge. Perhaps next time I will try a bit closer to home.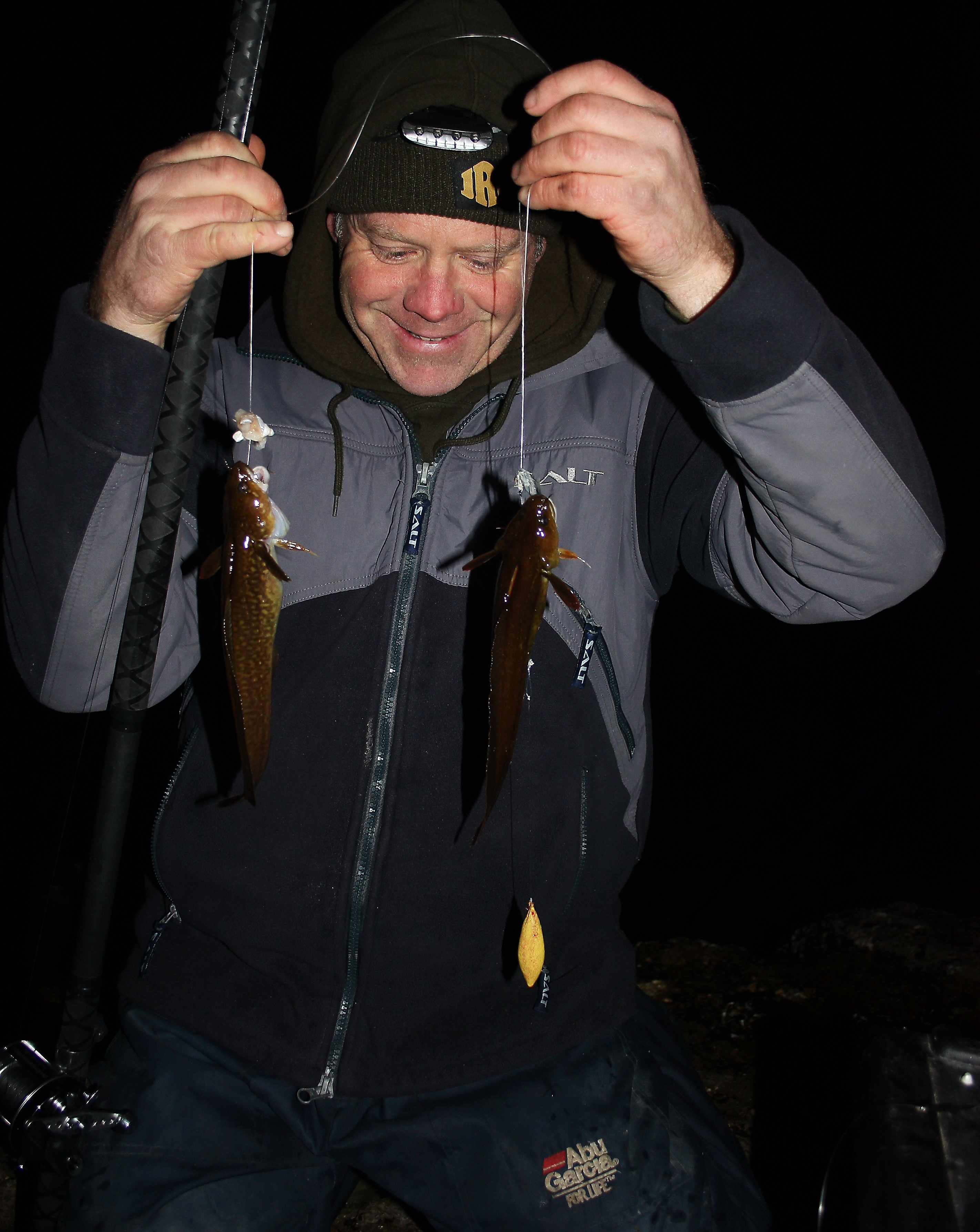 Back