A rare day out.
Terry's Travels
A rare day out.
I have recently invested quite a lot of money on a trailer rebuild. It was long over-due and I didn't fancy forking out five grand for a new one! The renovation included shot blasting and re-galvanising the main chassis, with higher load-bearing axles, brakes, flushable hubs and accessories supplied and fitted by Indespension trailers, Belfast (they offer finance which is extremely handy!).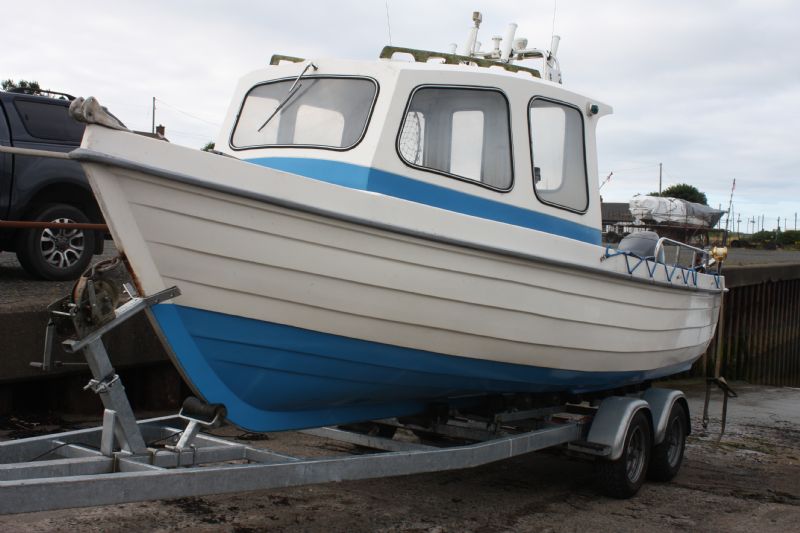 My wee Red Bay Fast Fisher and trailer looking pretty once again!
A thorough engine service by Lanarkshire Marine, Comber (well recommended mechanic) soon followed, and I spent a further six hours curled up in a ball under the helm, stripping out and re-wiring all the electronics, including two plotters, a sounder, cabin light, deck light, nav lights, windscreen wiper and VHF radio, much tidier and reliable now. Not to mention three days stripping and re-painting the anti-foul and a new keel band fitted, with deck and gunnels painted. Have you heard the joke "what does BOAT stand for"? Break Out Another Thousand! That's an under-statement! Safe to say though, she is now ready for road and sea again!
Spaghetti junction gone. All wires and connectors soldered, a labour of love I can tell you!
Deep-water or off-shore trips for the small boat owner are rarely a simple affair. There is always a great deal to think about beforehand if you wish to have the best possible opportunity for a successful trip, and most importantly, a safe and trouble-free adventure.
With the boat package hopefully in A1 condition, you then have to apply your thoughts and focus to the weather and tidal strengths and direction. Mere fishing and tackle preparation fall way down the list I'm dismayed to say! Throw work or family commitments into the melting pot and it really starts getting silly!
Mackerel, the life-blood of our sea.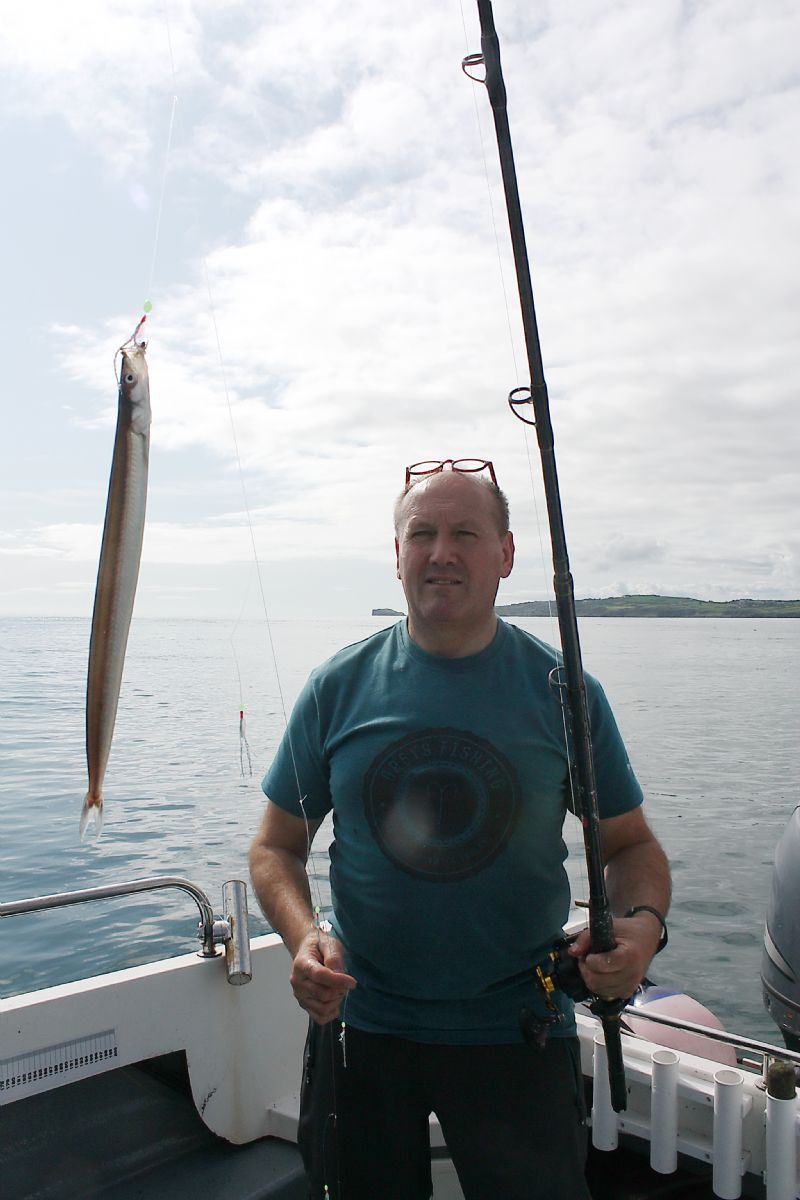 Great to see Sandeels about too.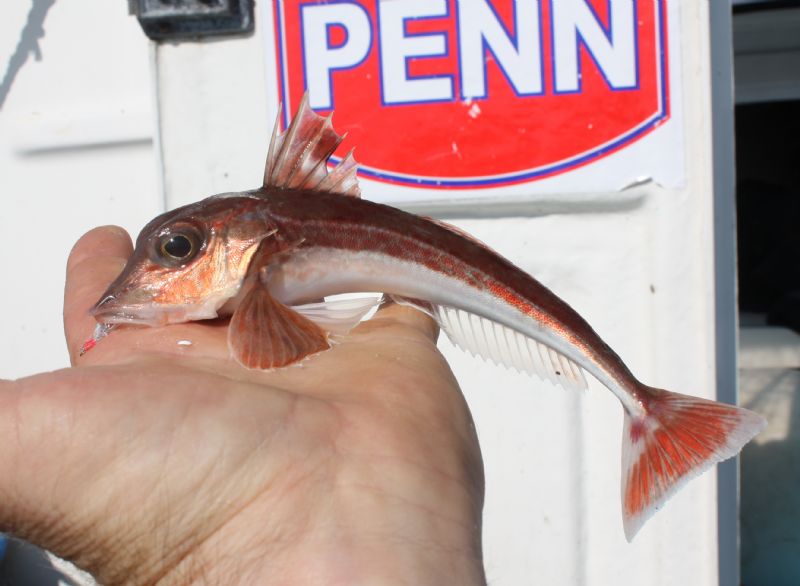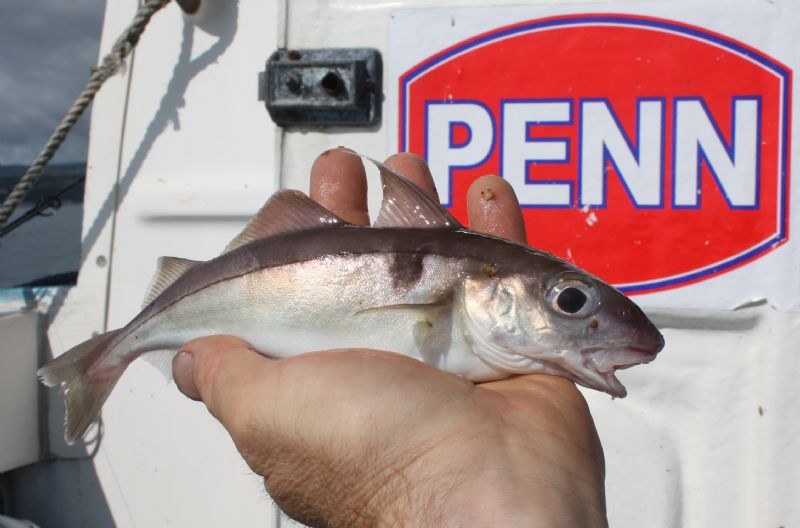 Turning into a species hunt!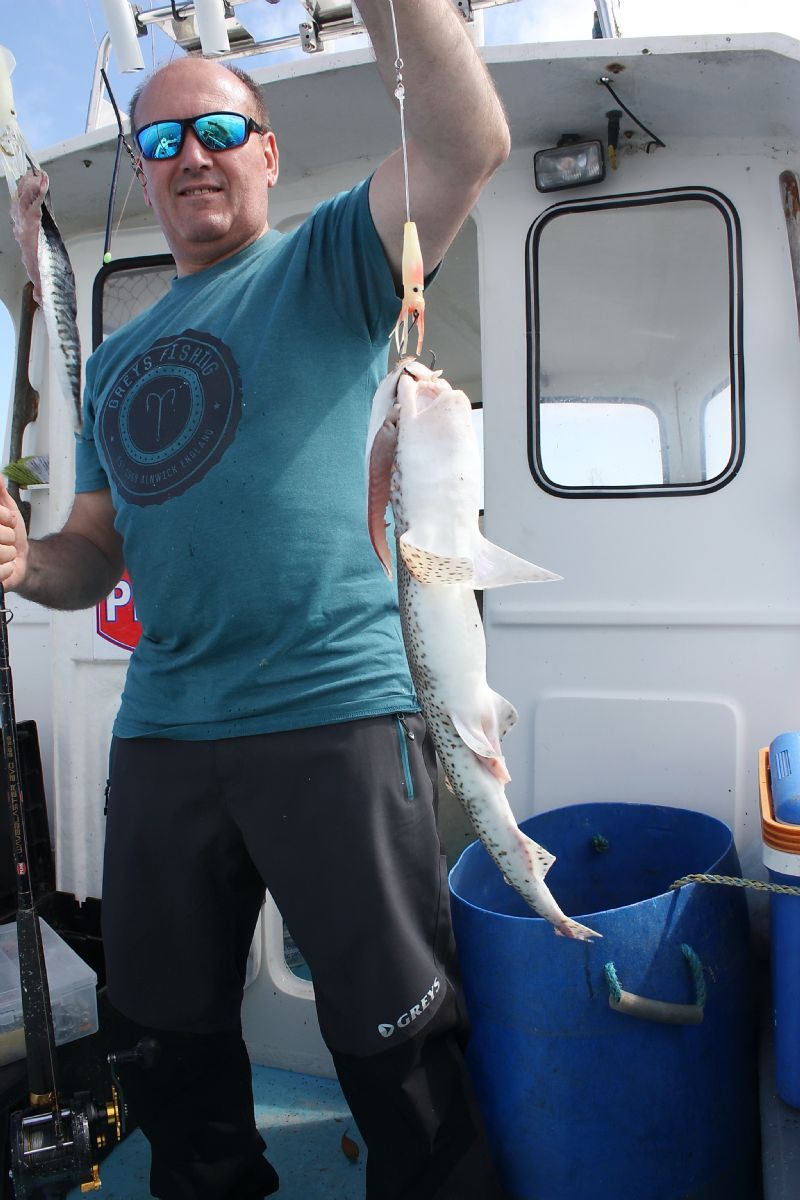 Lesser-spotted doggies, never far away
On that note, I've been trying to coax David Wilson, our Pure Fishing Tackle Agent for Ireland, out on my boat for years, but until now his work commitments have made this impossible. However......on this occasion, with weather looking fantastic, and David at a loose end this weekend, the impossible became possible. Tides weren't ideal but as Meat Loaf famously sang "two out of three aint bad".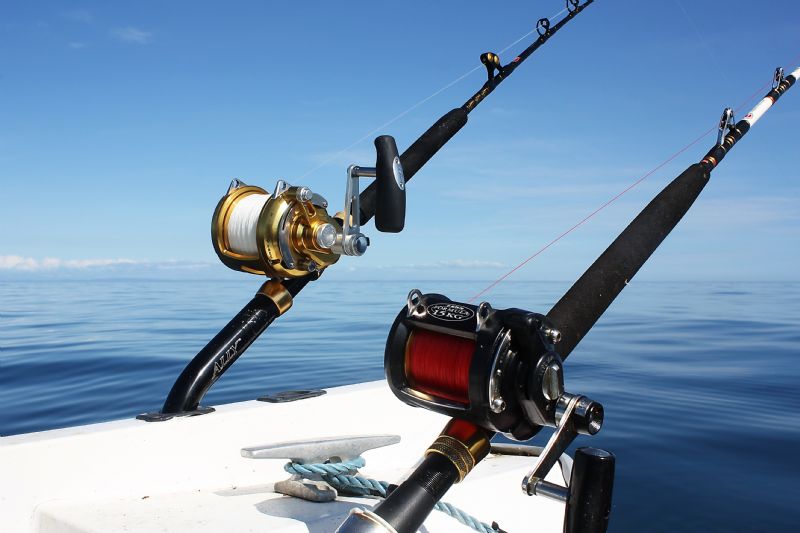 The plan was for deep-water, and bend the new Penn Tackle into some large fish, hopefully a Common Skate or two, although this can be a hit or miss affair, but any trophy fish will do for a tackle test and photo opportunity. At the very least David could see how the heavy gear works, and it works so well in deep water with these large amounts of lead involved, sometimes 4-5lbs, a necessary evil!
Fresh bait is always preferential if its available, and that was our first port of call. Thankfully, the Mackerel obliged, along with Launce, Gurnards, Haddock and Poor Cod, several species my crew mate has never caught before. With enough Mackerel to suffice, it was off to a favoured spot to drop the anchor.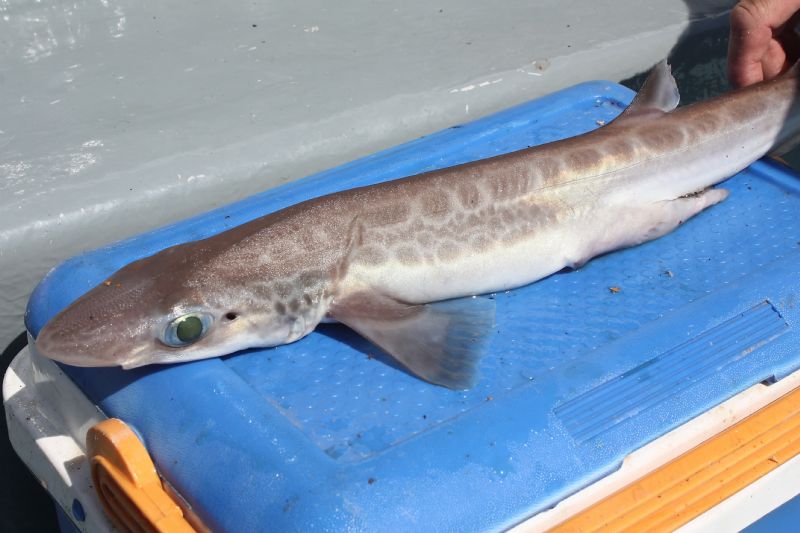 Black-Mouthed Dogfish, a deep-water cat-shark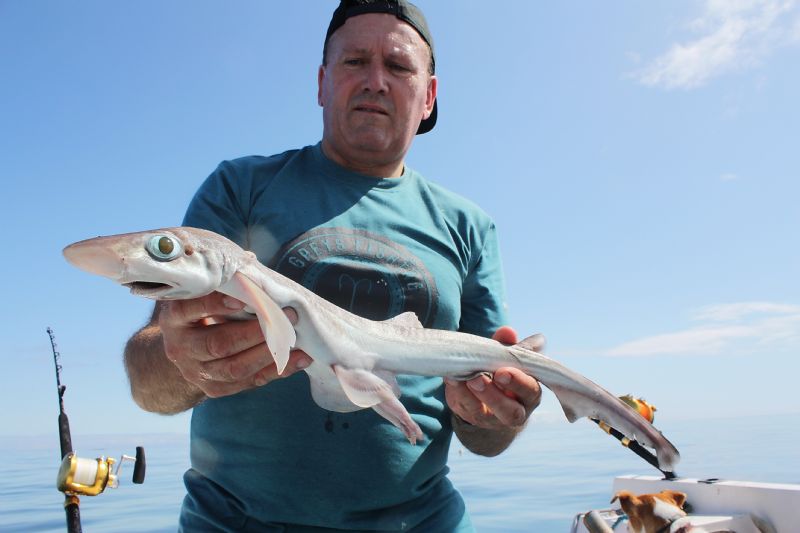 They always look like wee cartoon characters to me!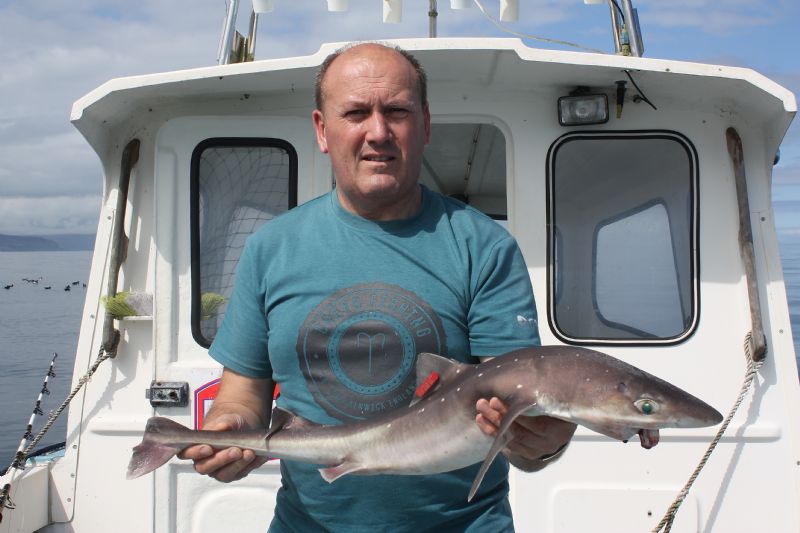 Another new species for David, a Spurdog, although this one has had its lower jaw damaged, usually by long-liners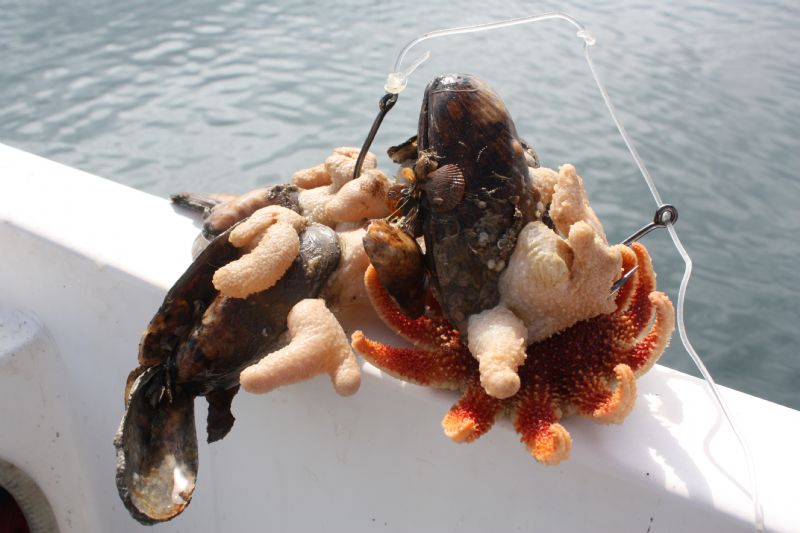 What the sea-bed looks like, 400 feet below
Something a little better, kicking back
The deep mark proved slow. Plenty of Lesser spotted dogs about, and a bonus Black-mouthed Dogfish and small Spur Dog for entertainment but no "lunkers" to put a bend in the gear. As the tide slackened towards high water, a positive nod on the Penn Ally gave us a bit of excitement, and although totally out-gunned by the gear, David had a reasonable scrap from a feisty male Tope, carefully wrestled on deck to get our trophy shot.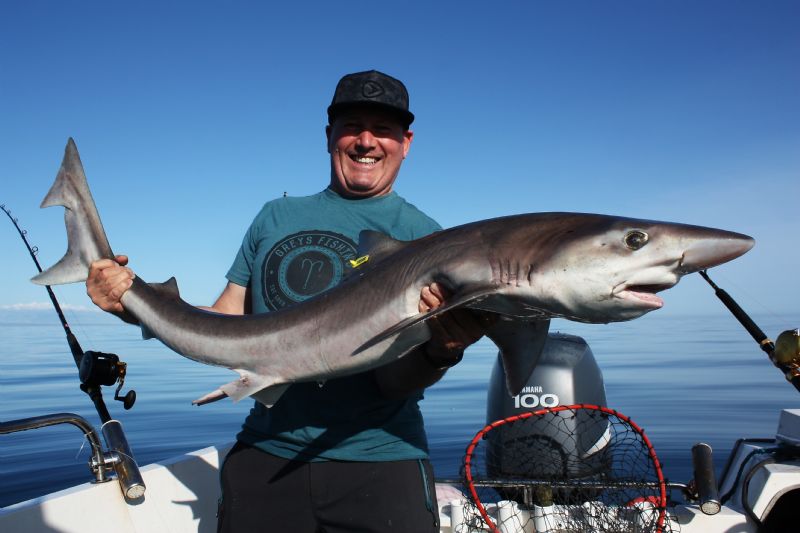 Nice way to finish the session, fine male Tope just shy of specimen size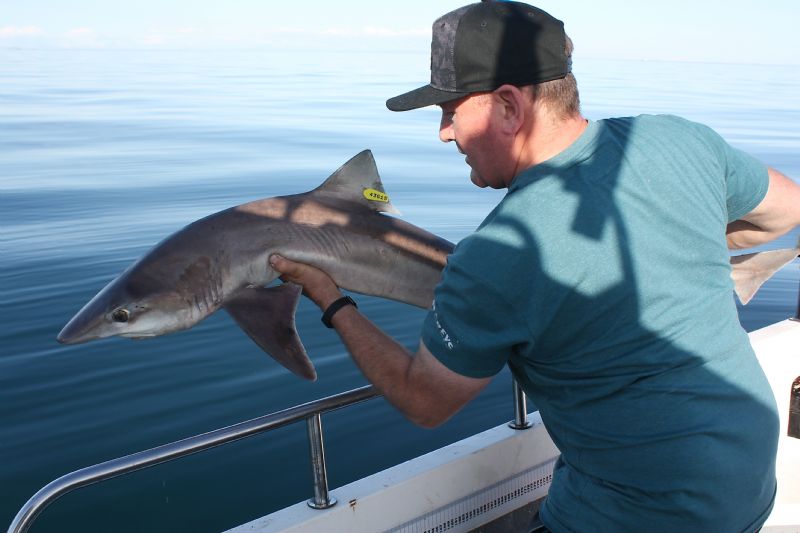 A quick tag, measurement and safe release. Another new species for David.
Safely subdued, tagged and quickly released, it was time to lift the anchor. As David had never caught or seen a Cuckoo Wrasse, I suggested the last hour of the day could be spent in search of a couple, never one to waste an opportunity! Drifting over some off-shore reefs we soon picked up the target species on baited Shakespeare Sabiki-style rigs. Size six hooks, small strips of Mackerel, deadly for these small voracious predators. Coming up from the depths wasn't doing this stunning species any favours, so we called time, not before finding a few Codling, Ling, Pollack and Poor Cod, and a specimen Male Cuckoo for yours truly to round off an enjoyable, relaxing day.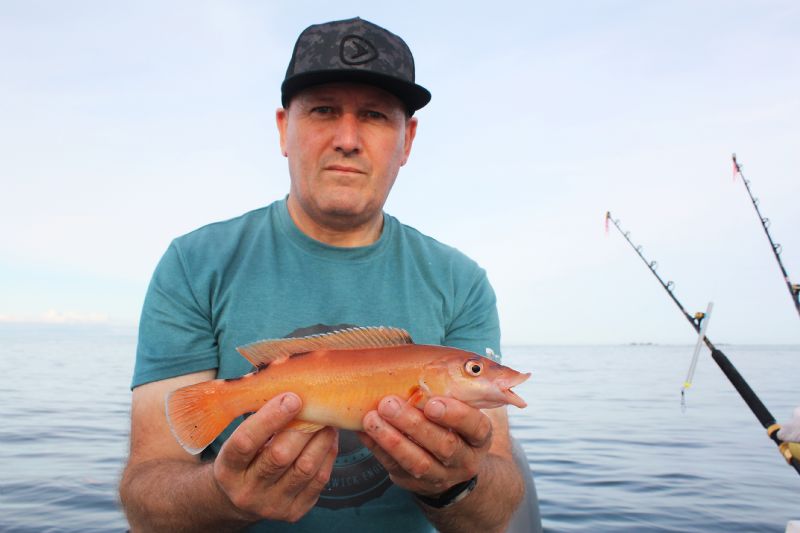 Female Cuckoo Wrasse, the new species fairly tallying up!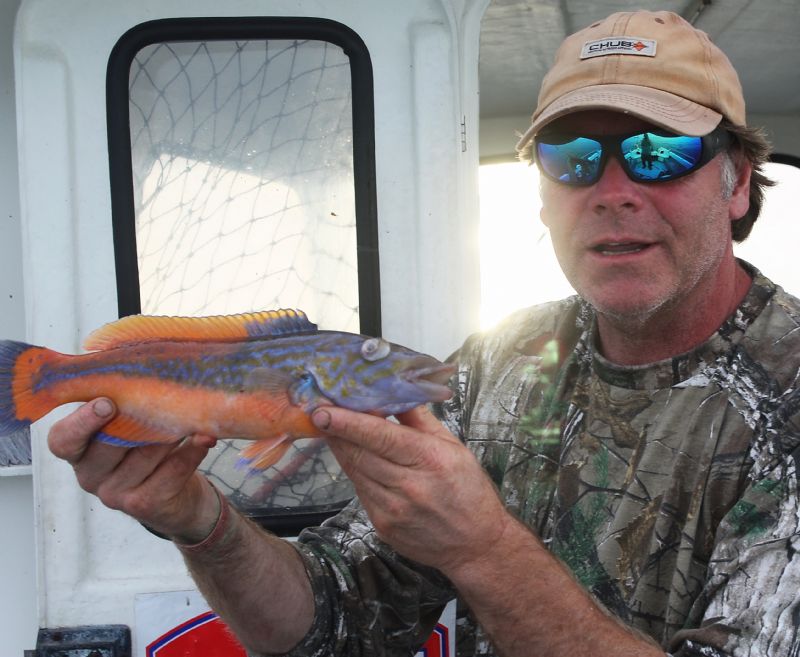 Any trip with an Irish specimen must be a good one!
If you have never heard of Pure Fishing Tackle Company, you will certainly know the brand names under their umbrella. Top companies including Shakespeare, Penn, Hardy-Greys, Abu Garcia, Mitchell, JRC, Berkley to name a few. Some years ago I was extremely fortunate to be offered sponsorship through Pure Fishing. Using only their products I have managed to notch up over three hundred ratified Irish specimens including three Irish Records. This is not mentioned as an ego boost, but to underline the huge range of some of the highest quality tackle available for every angling discipline in Ireland and the British Isles. And with the vast European Catalogue available from 2020, it gets better and better! Until the next one, Tight Lines, Tel.
Some extra pics from the day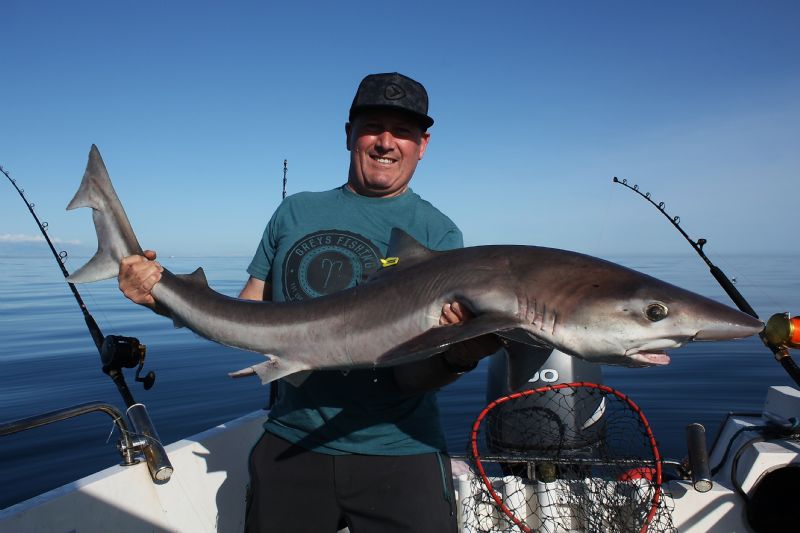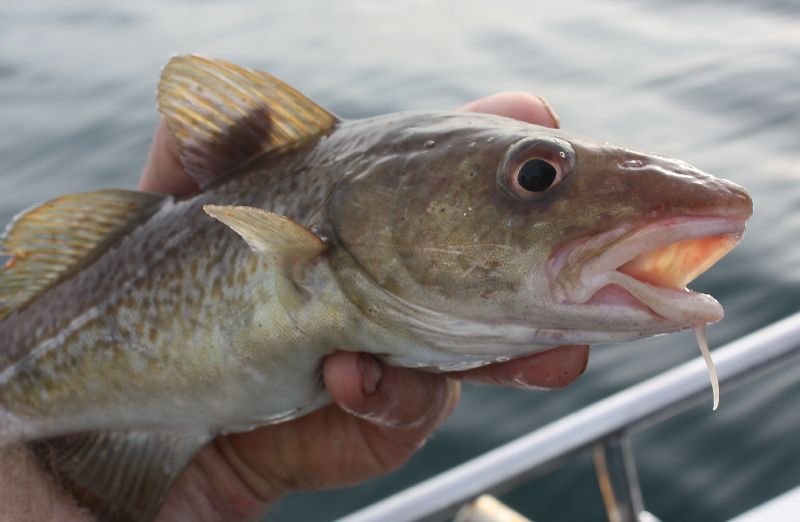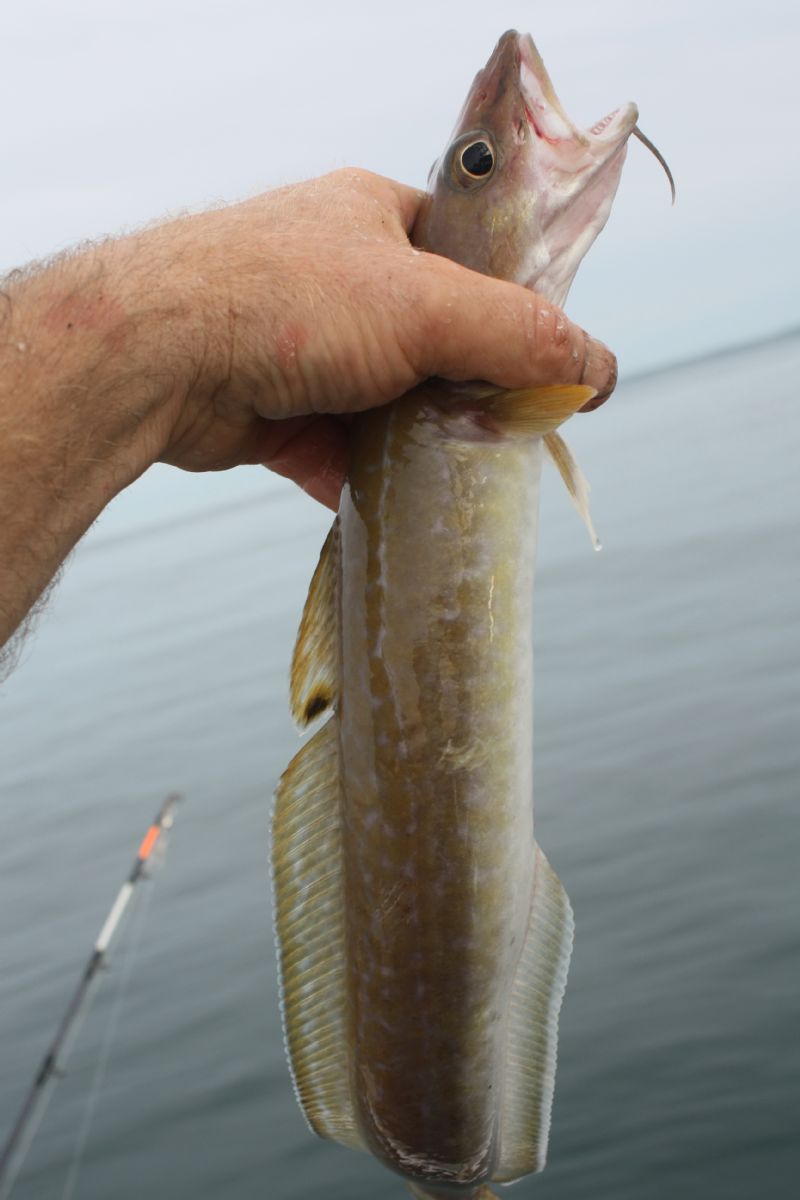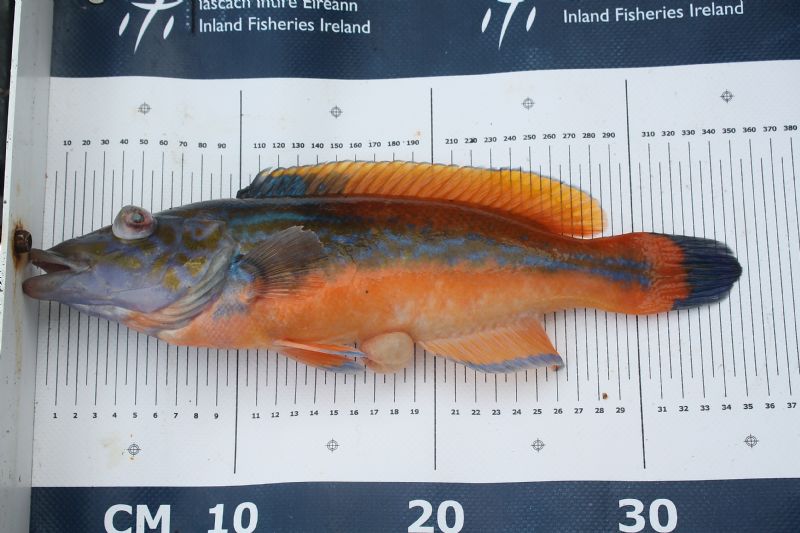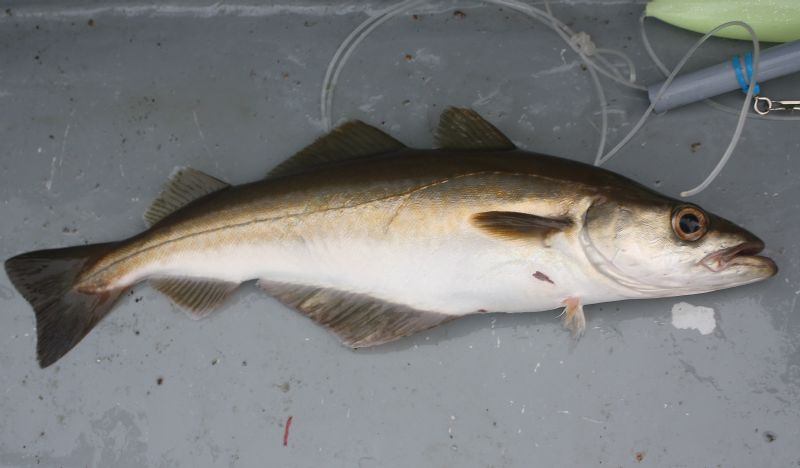 Back