Bluemouths, A ten Year Project
Terry's Travels
Bluemouth
A Ten Year Project
Having pushed hard to get Blackmouths on the specimen list some years ago, it seemed fitting that I should target Bluemouths!
Throughout my angling career, I have been fortunate enough to see the vast majority of native fish species available in Irish waters. Logistically however, there are a few that can be extremely difficult to target, despite best laid plans of mice and fishermen.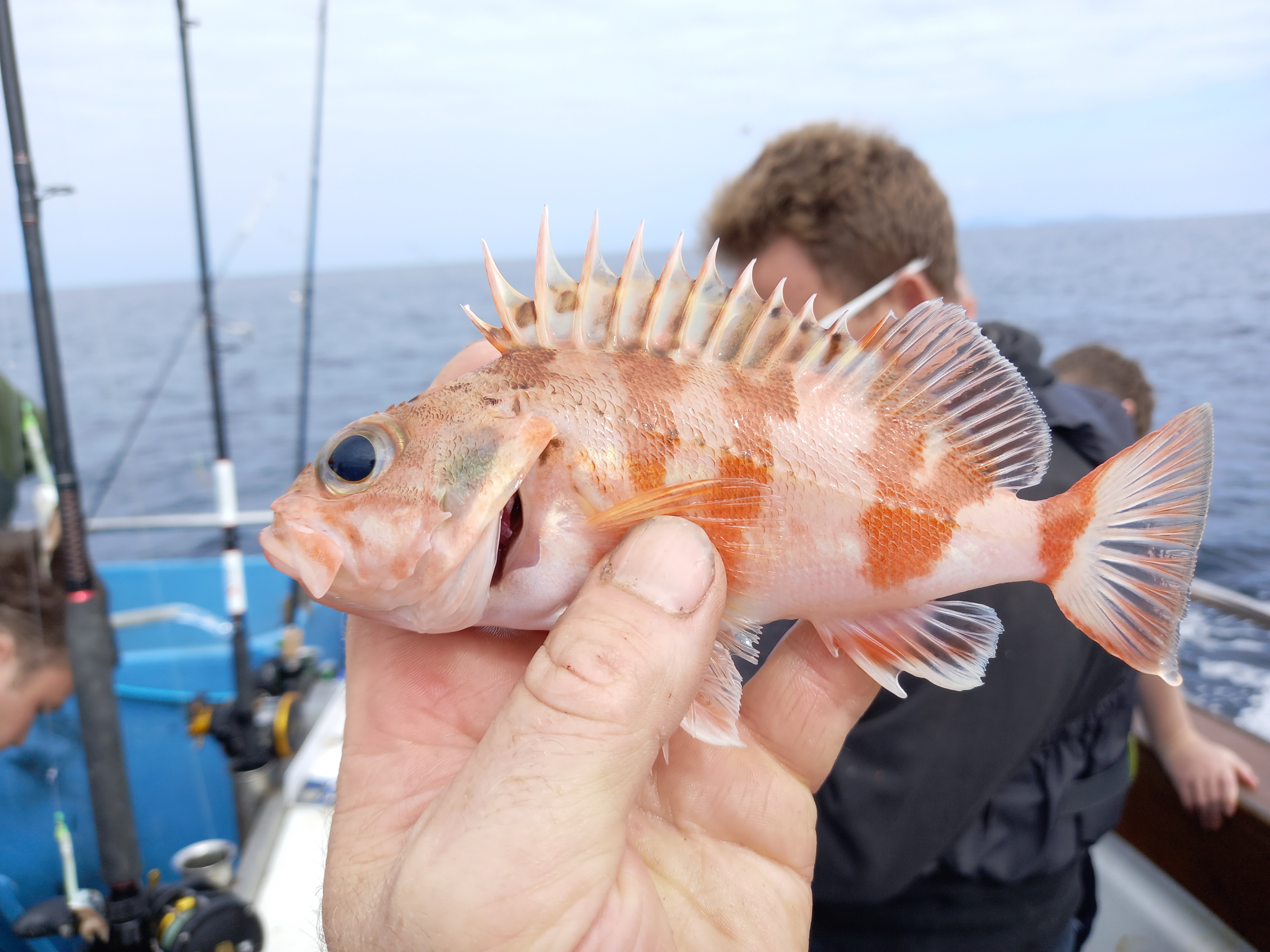 How stunning would this juvenile look in an aquarium
This difficulty I mention is due to several factors. Location and accessibility for one, obviously weather conditions, expense, and flexibility regarding time off work and family life. This can be said regarding much of angling or any hobby-sport for that matter. There are some species however, that require a great deal of luck in combining all these ingredients together at the same time. And that's simply just to catch one, I'm not talking about specimens or records here!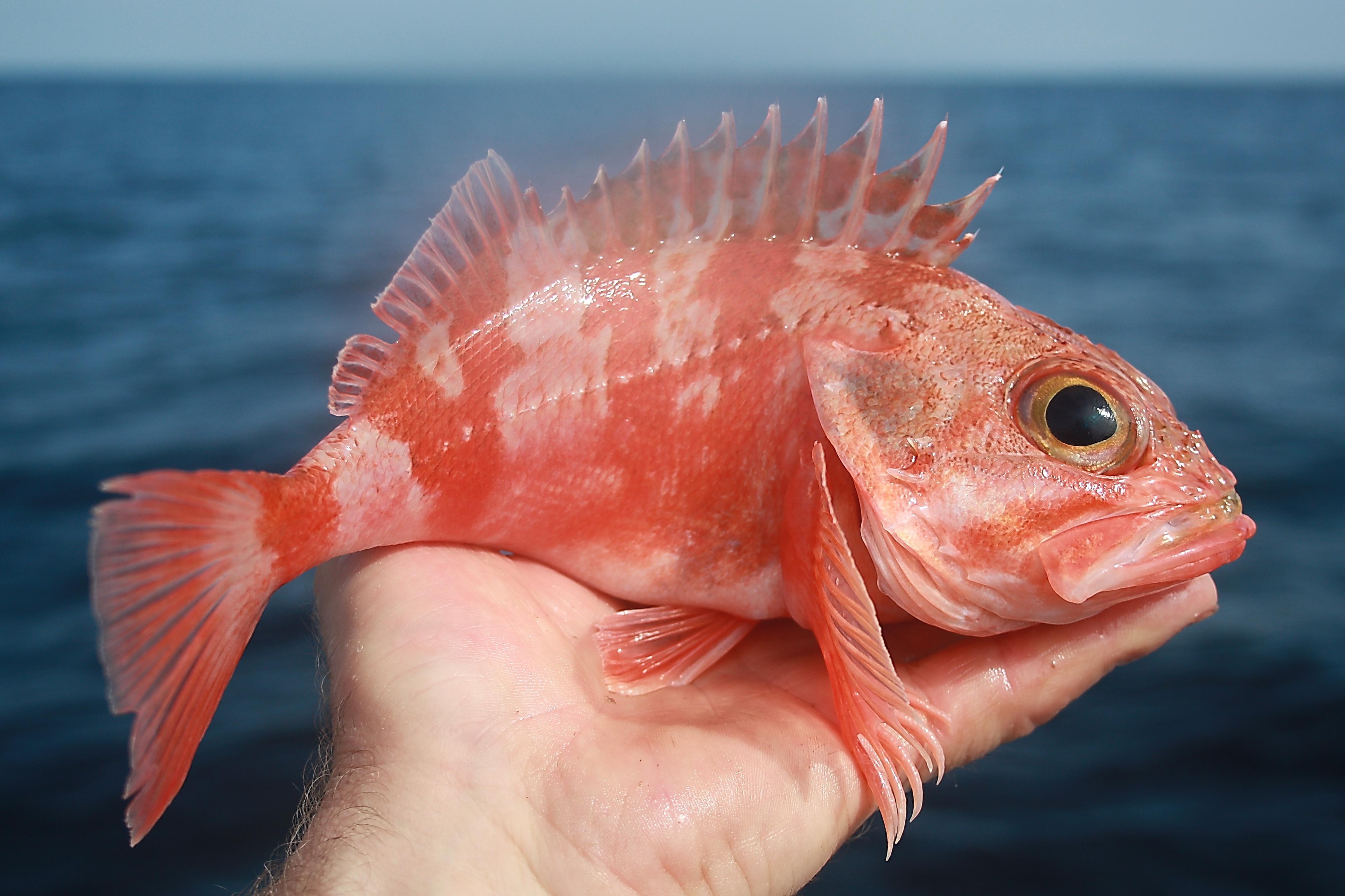 Amazing colouration, note the finger-like pectoral rays
One such species is the spectacular looking Bluemouth. Found world-wide and known by many other names, such as Norwegian Haddock, Atlantic Redfish, Black bellied Rose Fish and Ocean Perch. As far as Ireland is concerned, the majority of shoals are located in areas off-shore of County Kerry from local harbours such as Cahersiveen and Valentia. Having said that, there is anecdotal evidence of smaller shoals present off the North Coast of Donegal.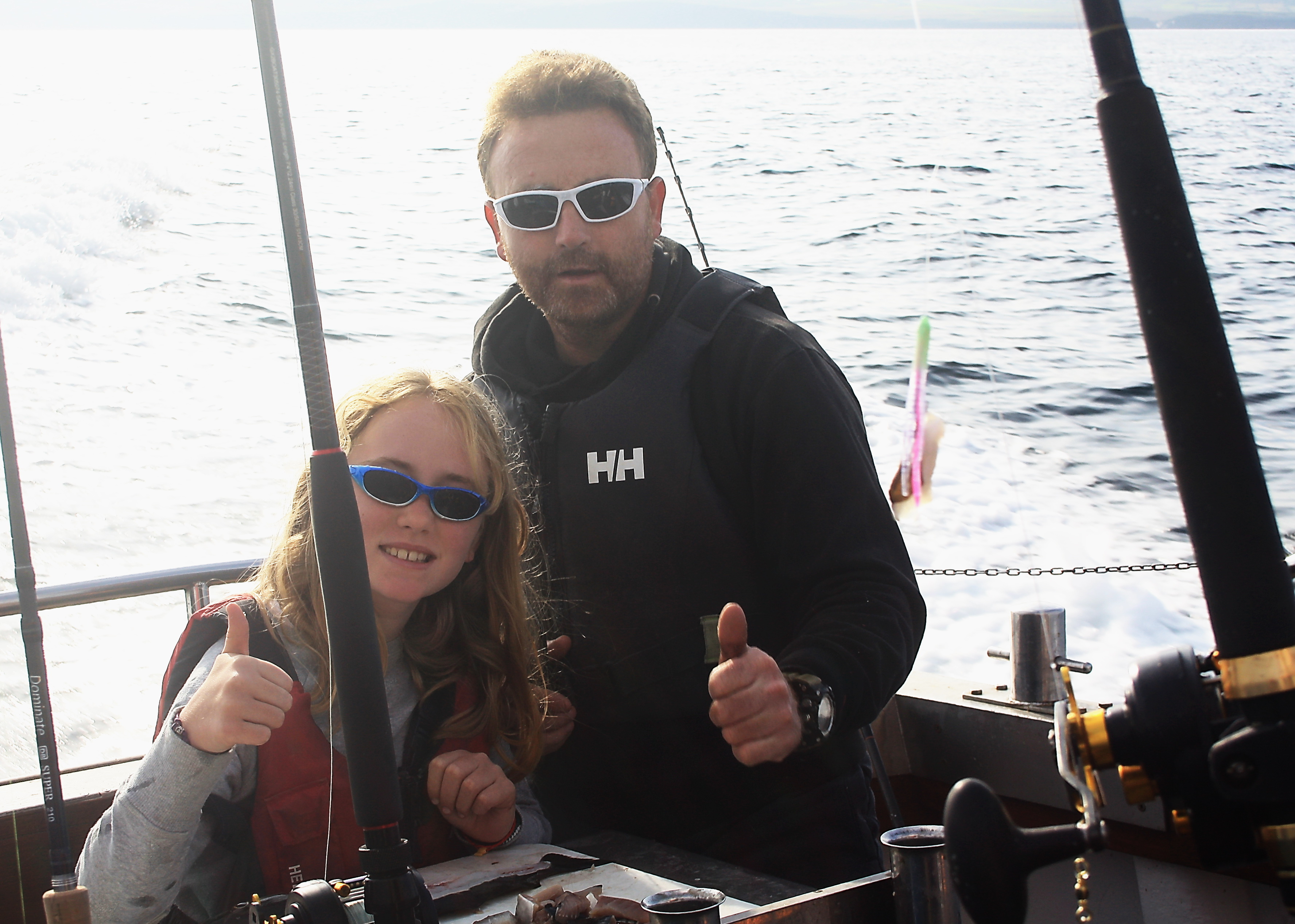 It was a bonus to get Sid and Amy on this trip too
My interest in this species as a specimen target began over ten years ago. I put out "feelers" hoping to gain some information, and I soon discovered enough to realise it would be a case of "hit or miss" in getting out to the correct mark. As the years rolled by, other more accessible species were targeted successfully, but I continued to drop the occasional Bluemouth hint on social media.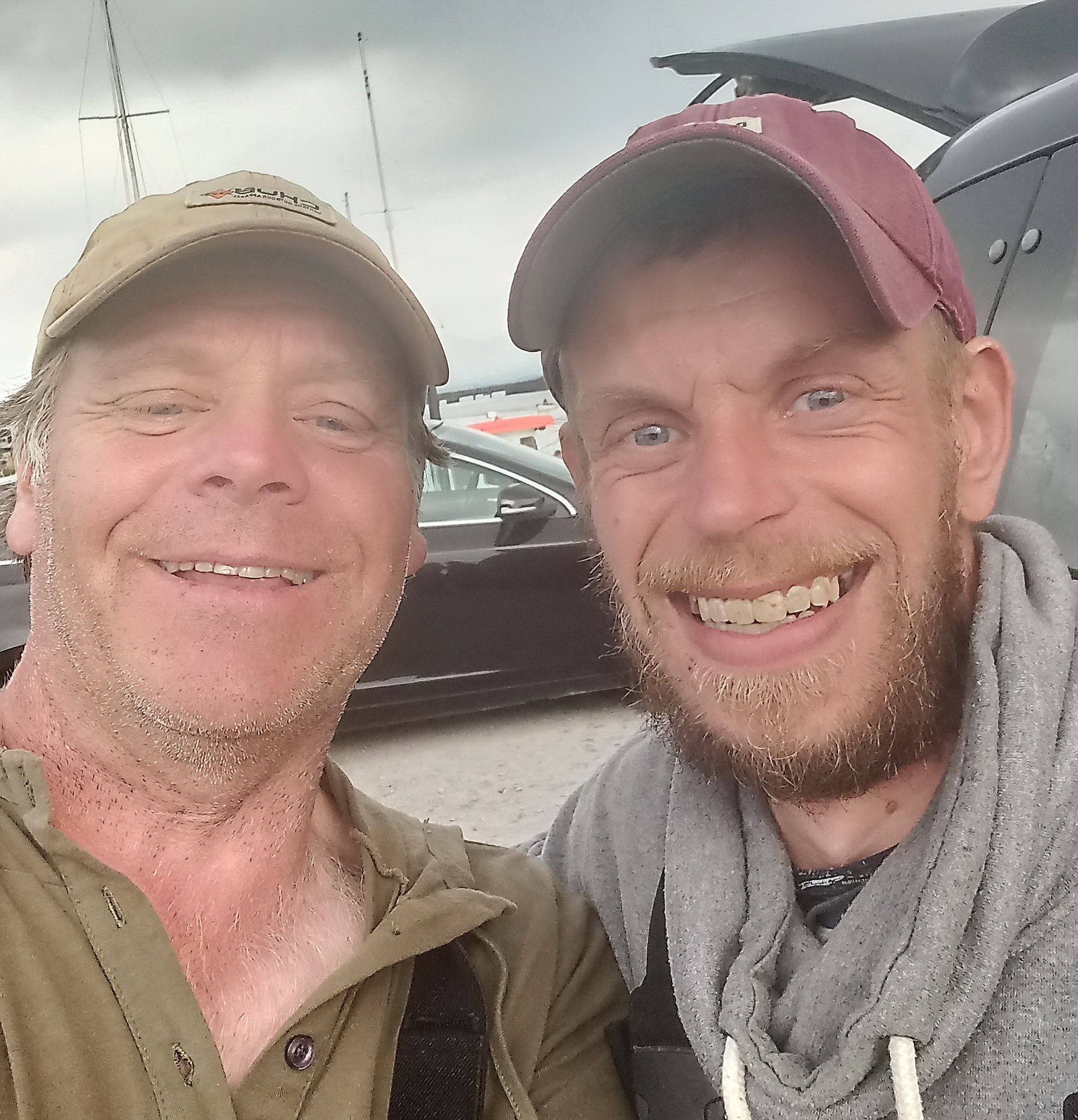 Mick O'Callaghan made the trip possible..cheers bud
Eventually a lad by the name of Mick O'Callaghan contacted me. He had targeted Bluemouths on a few occasions, and had also personally recorded several good specimens. Mick is a top guy, and promised to squeeze me on the next available trip in the near future. A man of his word, I was "pencilled in" on a charter booking the following year. This area out of Cahersiveen is known for "big" seas. All I could do was hope for the best. The good old Irish weather usually throws a spanner in the works!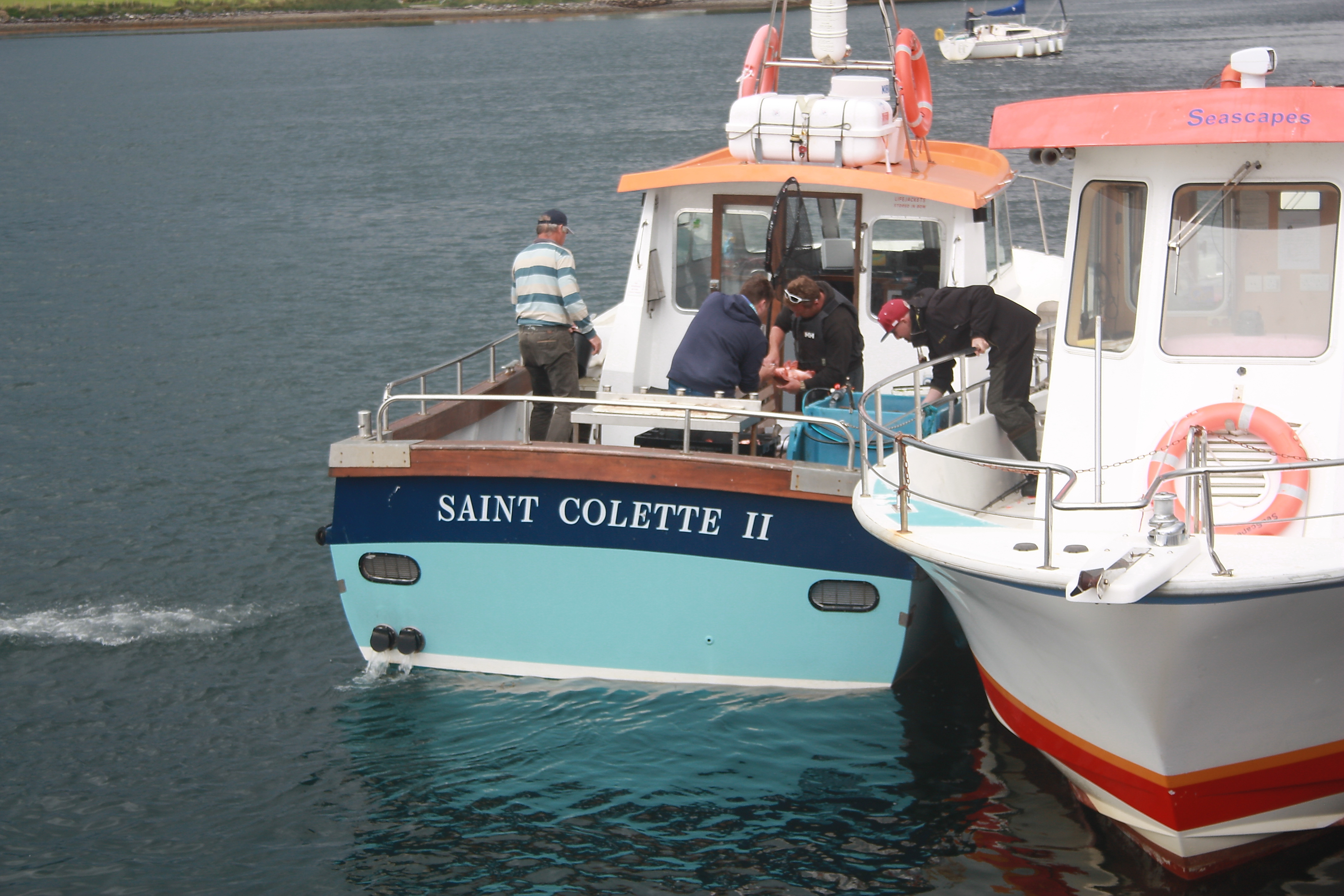 The Saint Colette, our vessel for the day
The months soon passed, and the charter trip was fast approaching. Chatting with Mick, it transpired a few lads had dropped out at the last minute. This gave the opportunity to invite my long time angling chums Sid and his daughter Amy....they jumped at the chance. Sid had managed to book a trip some years previous and landed specimen sized fish, but this would be a new experience for Amy, and me too!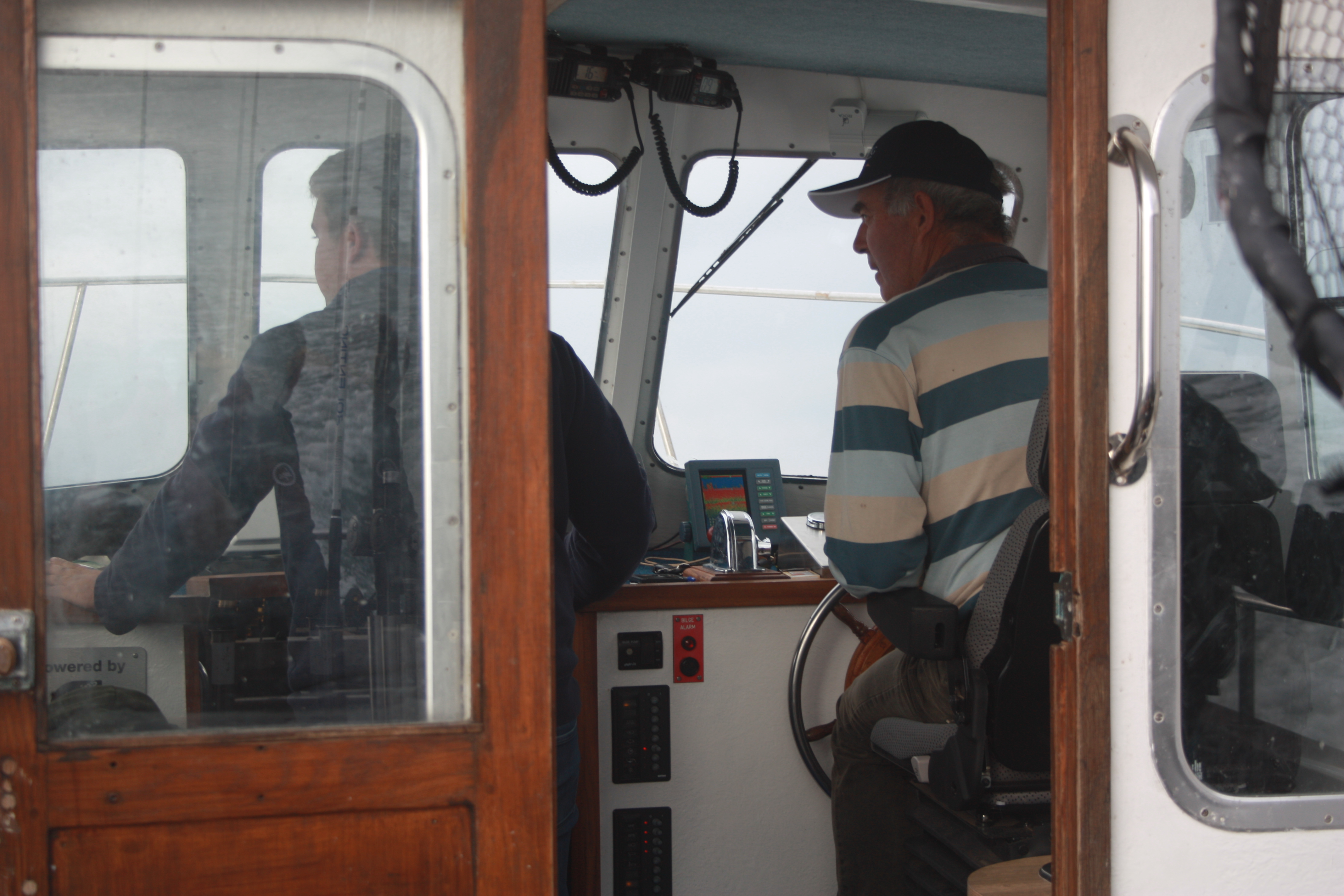 Brendan O'Connell, experienced skipper
The day was upon us, and as we stood chatting on the harbour pontoon awaiting the charter boat, it was obvious the weather gods had cut us a break. The sea was calm, the sun shone, and I couldn't wait to get out there. At last, embarking on my Bluemouth trip that was only ten years in the making!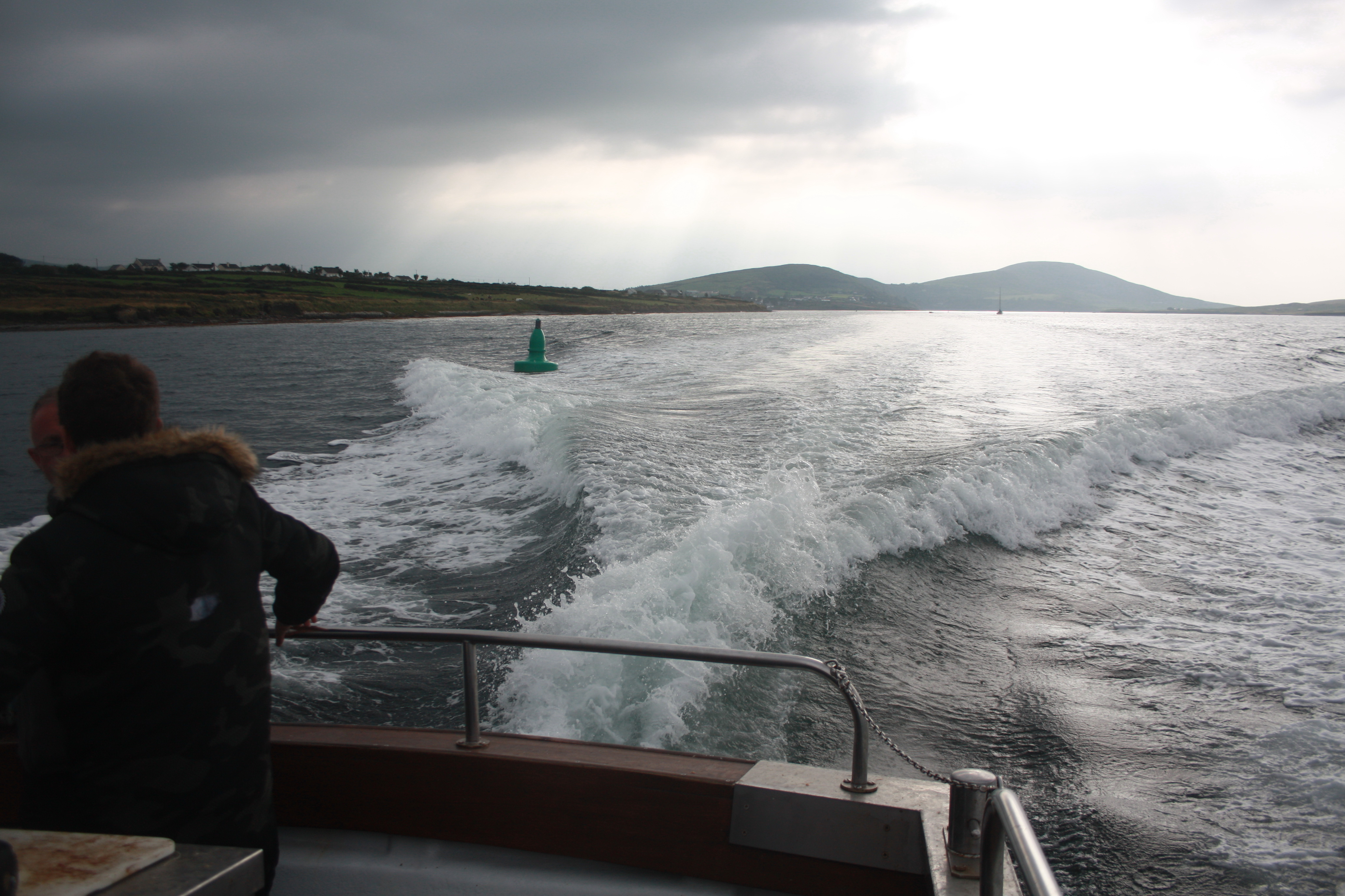 Prior to the trip, I was told "don't worry about bait, Mackerel are plentiful in this area". Yep, I've heard that sentence too many times over the years. Maybe once upon a time this could be said with confidence...but very little is plentiful these days except greed! Too much at stake with this trip, I couldn't afford to wait another decade! With that in mind, on the day before, a couple of kilos of fresh Mackerel were purchased at a local supermarket fish counter as emergency back-up.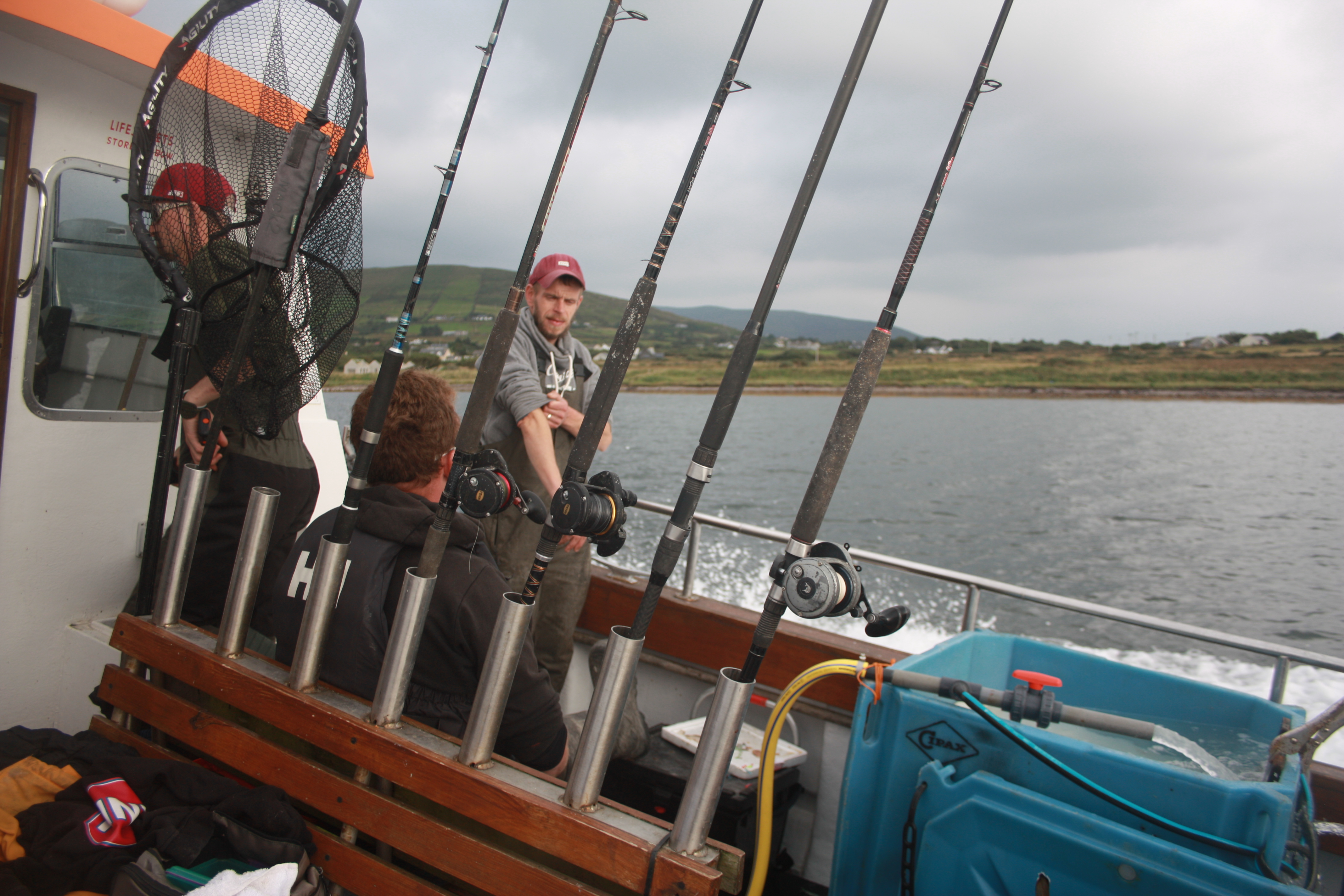 Plenty of room aboard the Saint Collette
As we left the harbour and ventured out into open water, several drops for Mackerel proved fruitless. Not quite so plentiful it seems! Only a handful of small Pollack and the occasional Ballan Wrasse obliged. The Pollack were kept, otherwise many anglers on the boat would be bait-less! Time to head on out, as this mark is tidal-specific for success, and as we all know, time and tide waits for no man.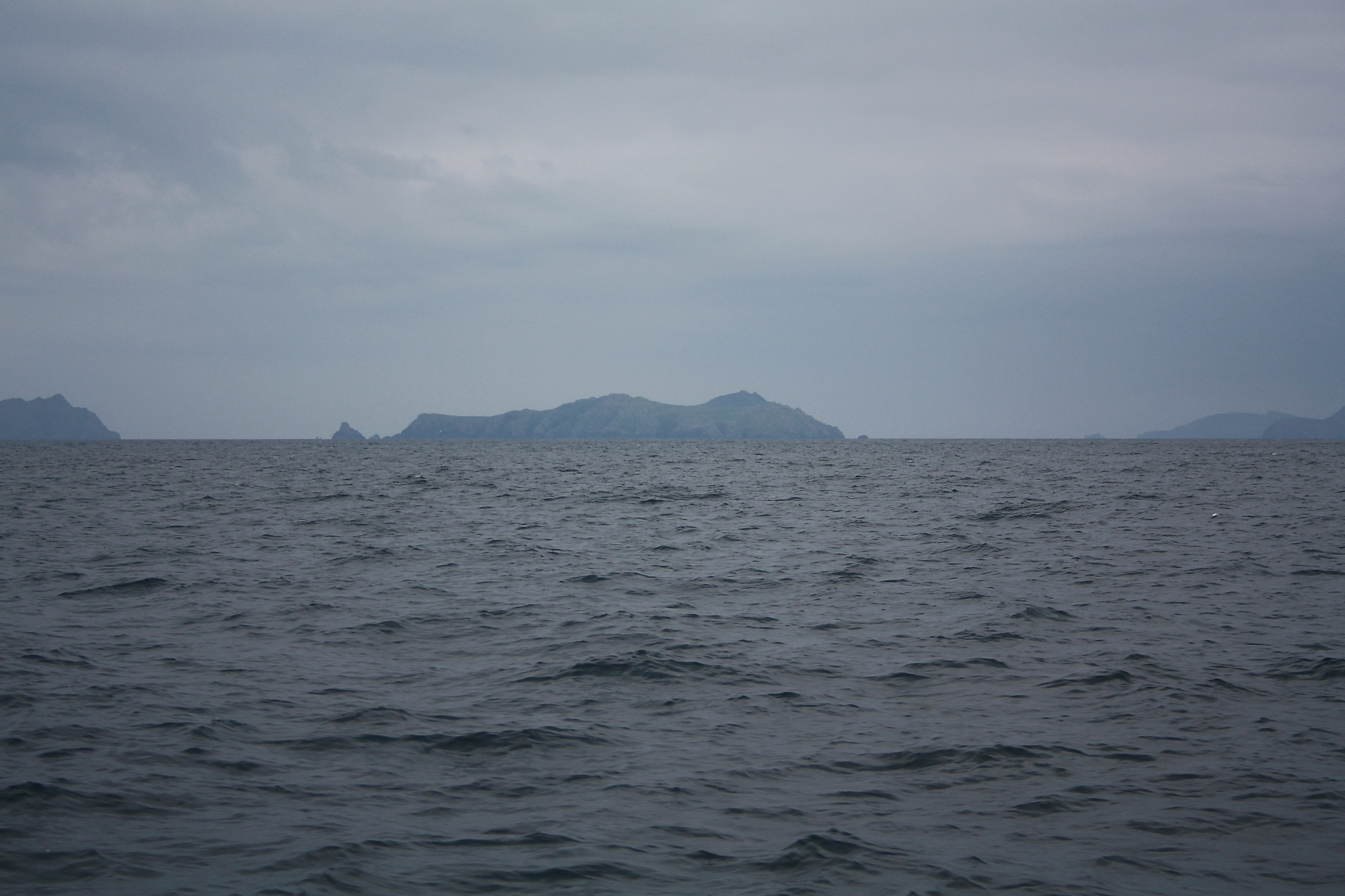 Heading out, well beyond the Blaskets
We steamed past Valentia and beyond the Blasket Islands, current home of Luke Skywalker I'm told! Better than any Star Wars film in my opinion, we witnessed Dolphins leaping through the boat wake, Tuna "breaking" in the distance, and Whales breaching, air spouts and huge tails on show. The force was with us (sorry). From the very start, our journey felt good, there was optimism on the boat. I tried to get some sleep but there was just too much going on.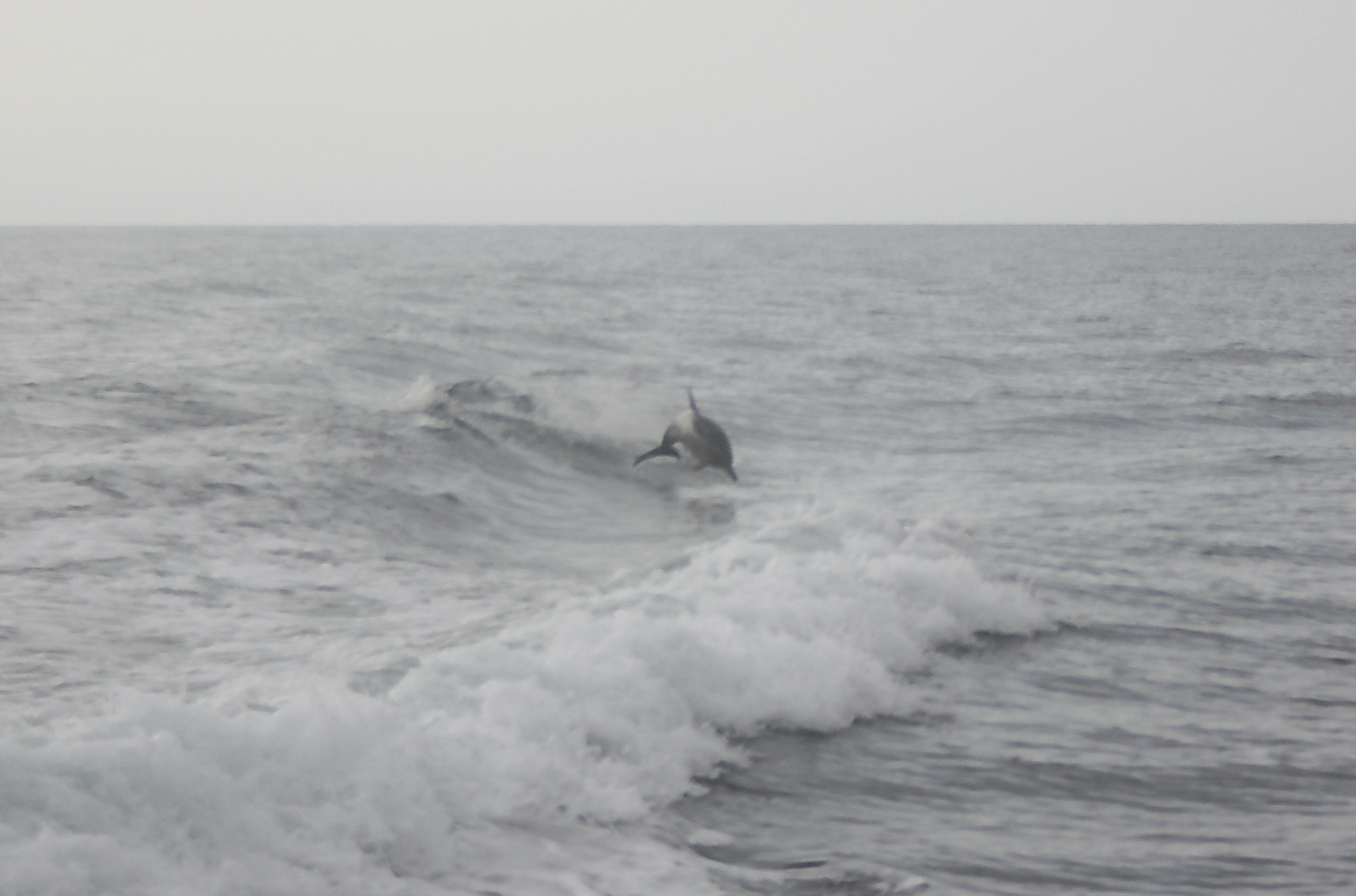 Nearing our destination, rods were set up, and rigs attached, the general information was definitely something luminous above the hook. This falls into many choices, Shakespeare Kestrels, Flatjacks, Goblins, and the Kilmore Killer selection from Shamrock Tackle to name a few. Tipped with reasonably fresh Mackerel strip, these simple rigs should be all that's required......I hope!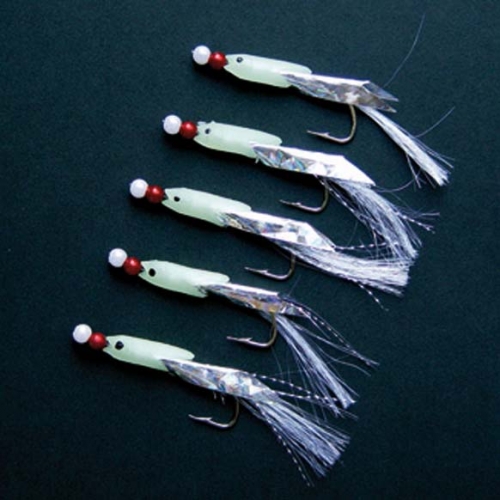 Shakespeare Flatjacks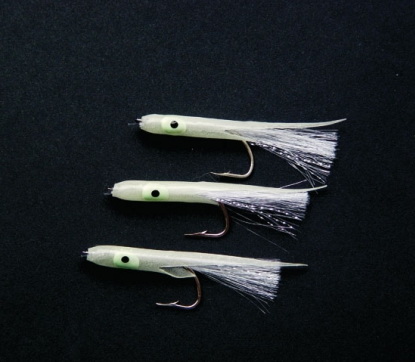 Shakespeare Kestrels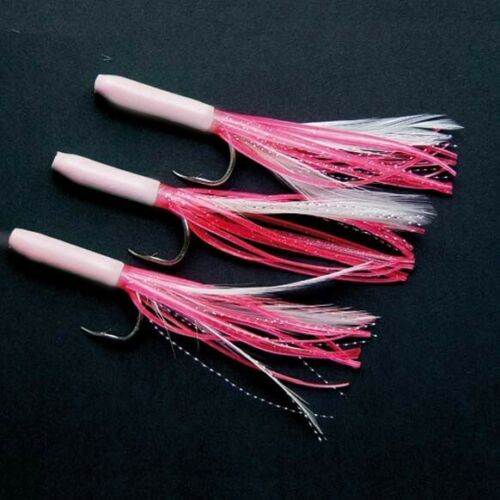 Shakespeare Pink Goblins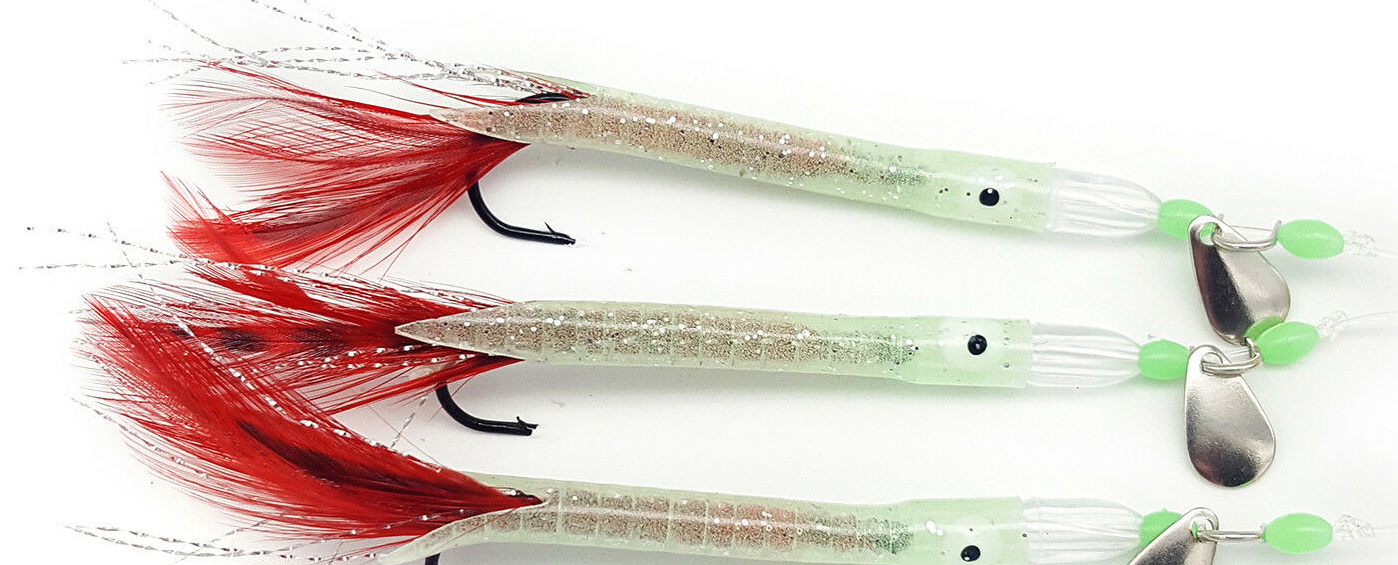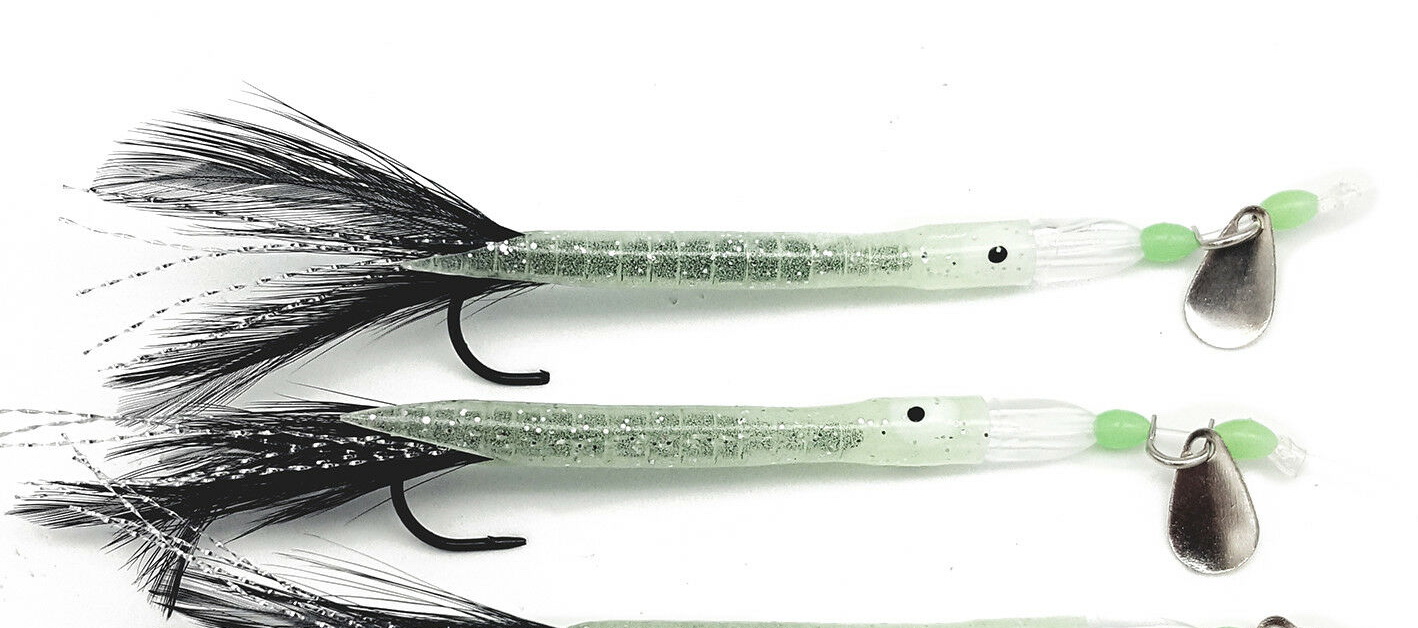 Shamrock Tackle..Kilmore Killers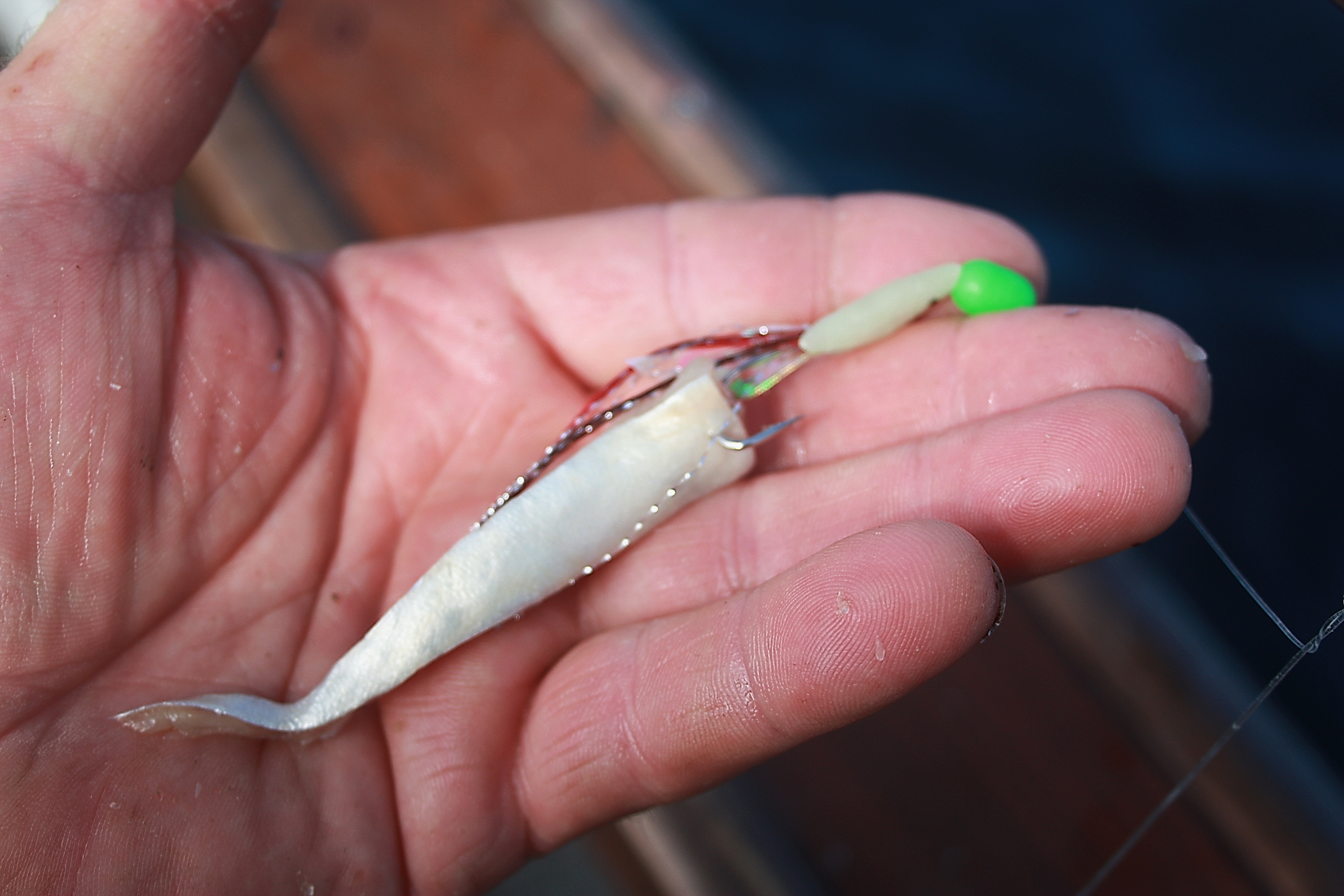 Keep it simple
Our skipper stopped us on the mark, a reef structure over two hundred feet below, and we dropped the baited hooks down. No more than twenty seconds on the reef, I was into a fish....we all were. I let the rig sit, another rattle, followed by a third. If they are this eager, no point in reeling them up one at a time! Nearing the surface, I could see an orange glow, actually three orange sub-surface blurs in the sunlight. Ten years it has taken me to do this, and I had my first Bluemouths in less than a minute!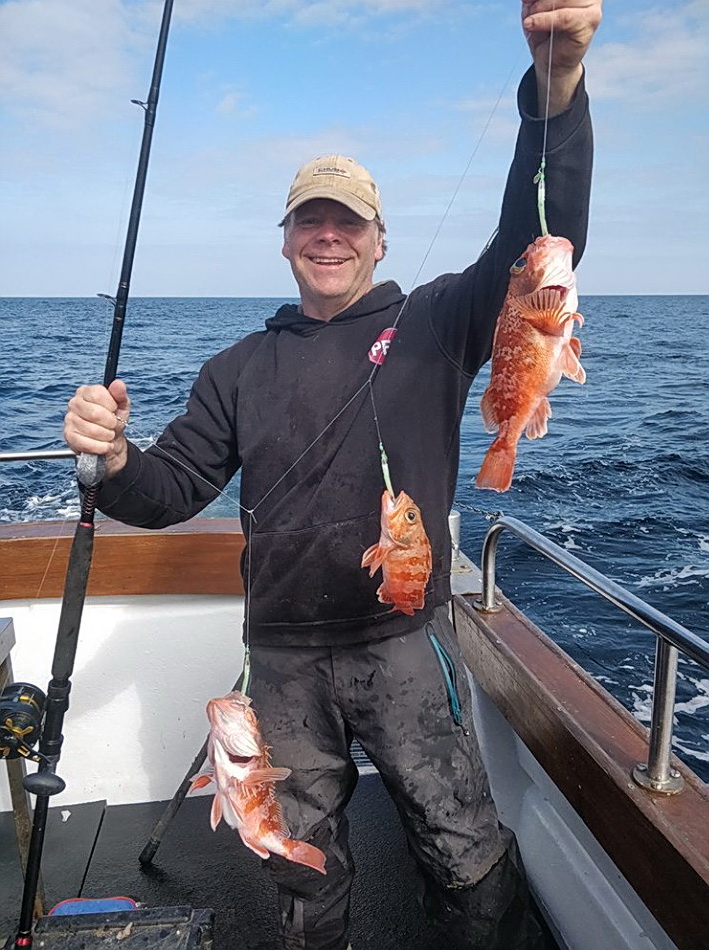 No specimens amongst them, but what spectacular creatures. Deep-water predators for sure, huge eyes and a cavernous, gulping mouth, a mini version of the Goliath Groupers from tropical climes. I had to have a look, and sure enough, the inside of the mouth went from deep hues to cornflower blue. Cool fish, well pleased to have acquainted myself with this new species.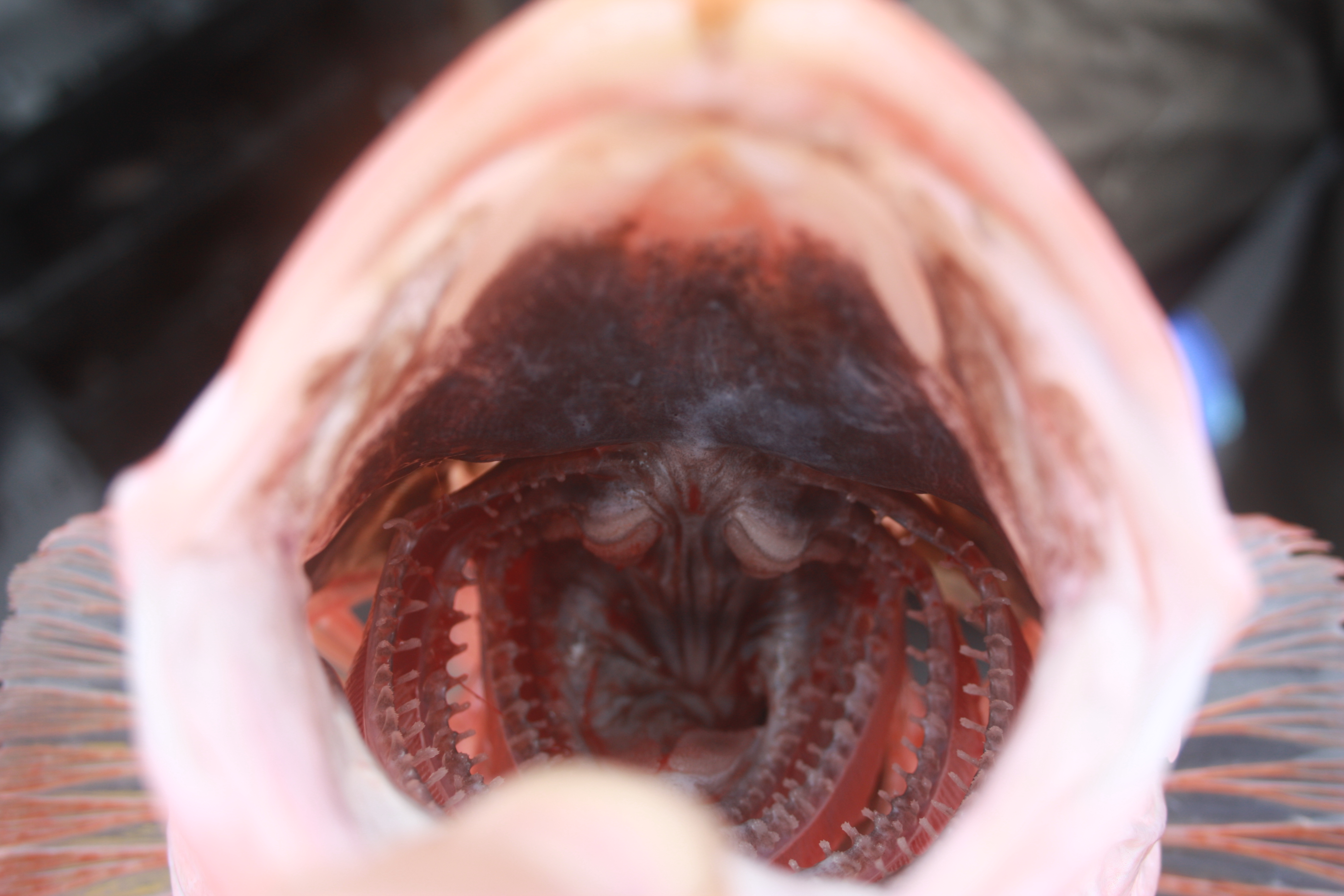 Camera unable to do justice to the blue hues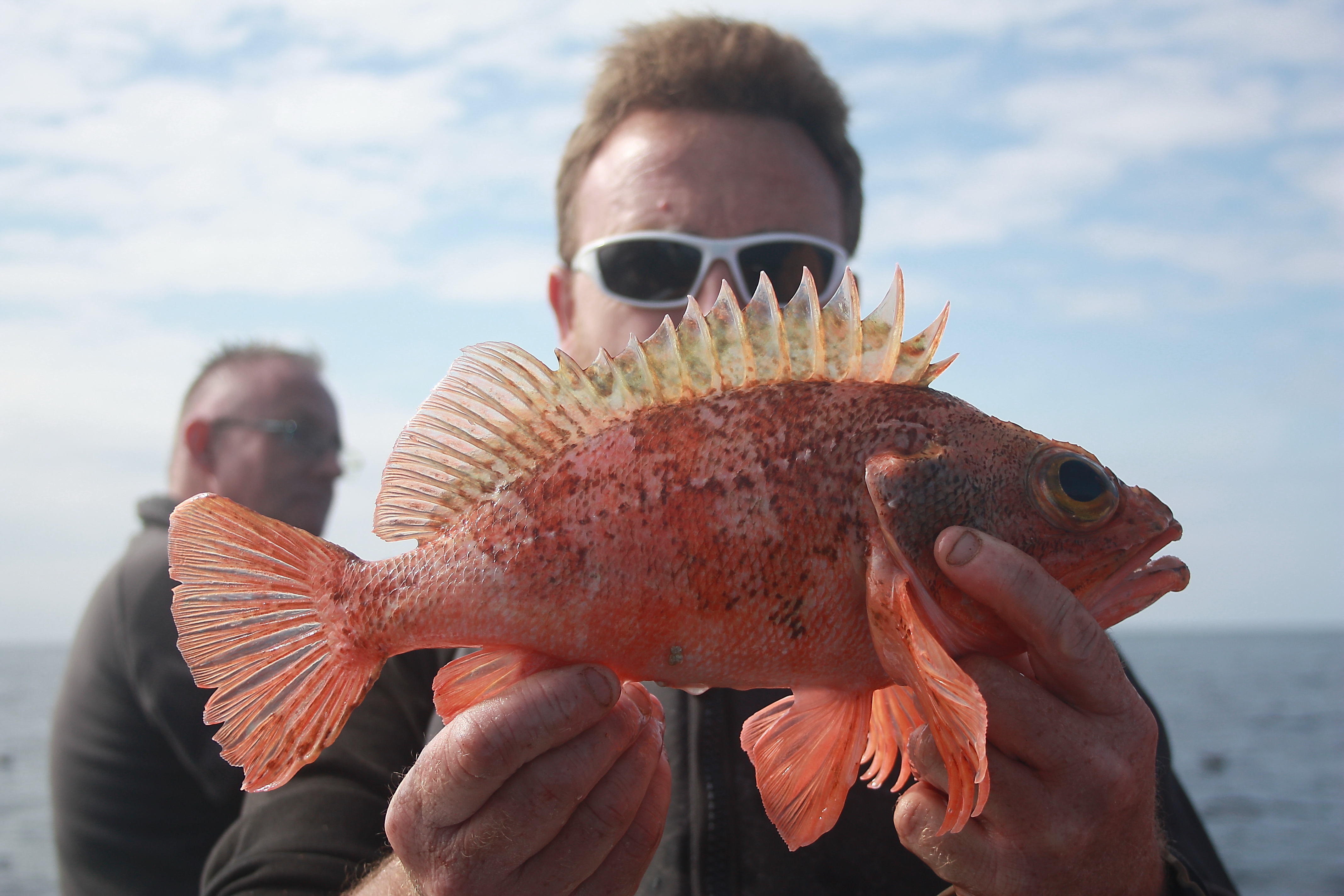 On average, we were able to achieve two drops on the reef per drift, and in the hunt for a specimen sized fish, I worked hard to tempt three fish per drop. The skipper certainly knew his stuff, and it wasn't long before specimens began to show. I had to adopt match tactics for now as this could be my only opportunity, God only knows when I could get back out here again!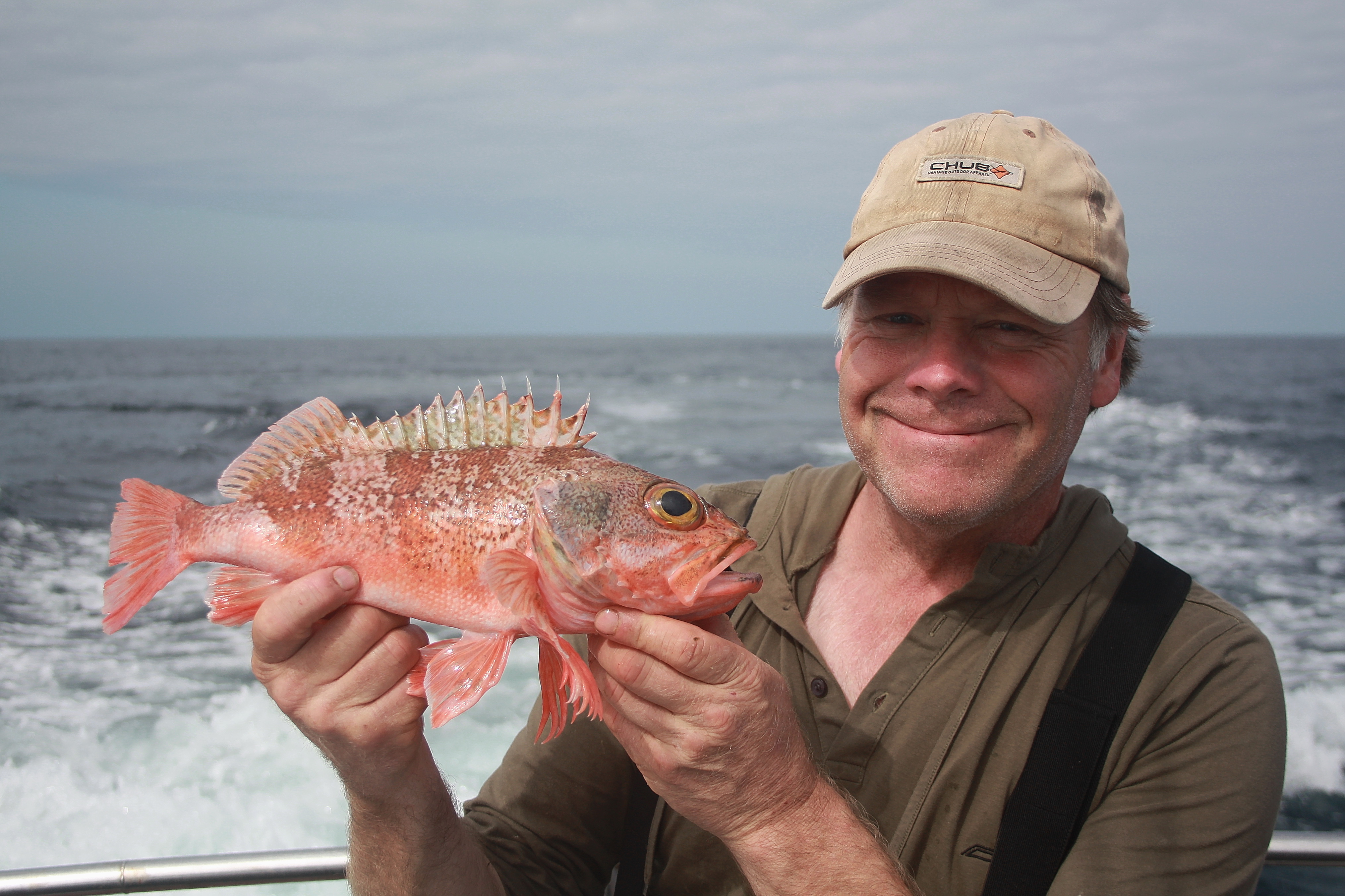 Very satisfying to land a "new species" specimen
Finally, a better fish on the line, reeling carefully, and hoping it was one decent fish this time, rather than three smaller ones. This looked better, so onto the measure mat, and over the 38cm specimen length. A cheer went up, I think everyone knew how much this one meant to me. From then on, every time someone landed a specimen, a cheer echoed round the boat.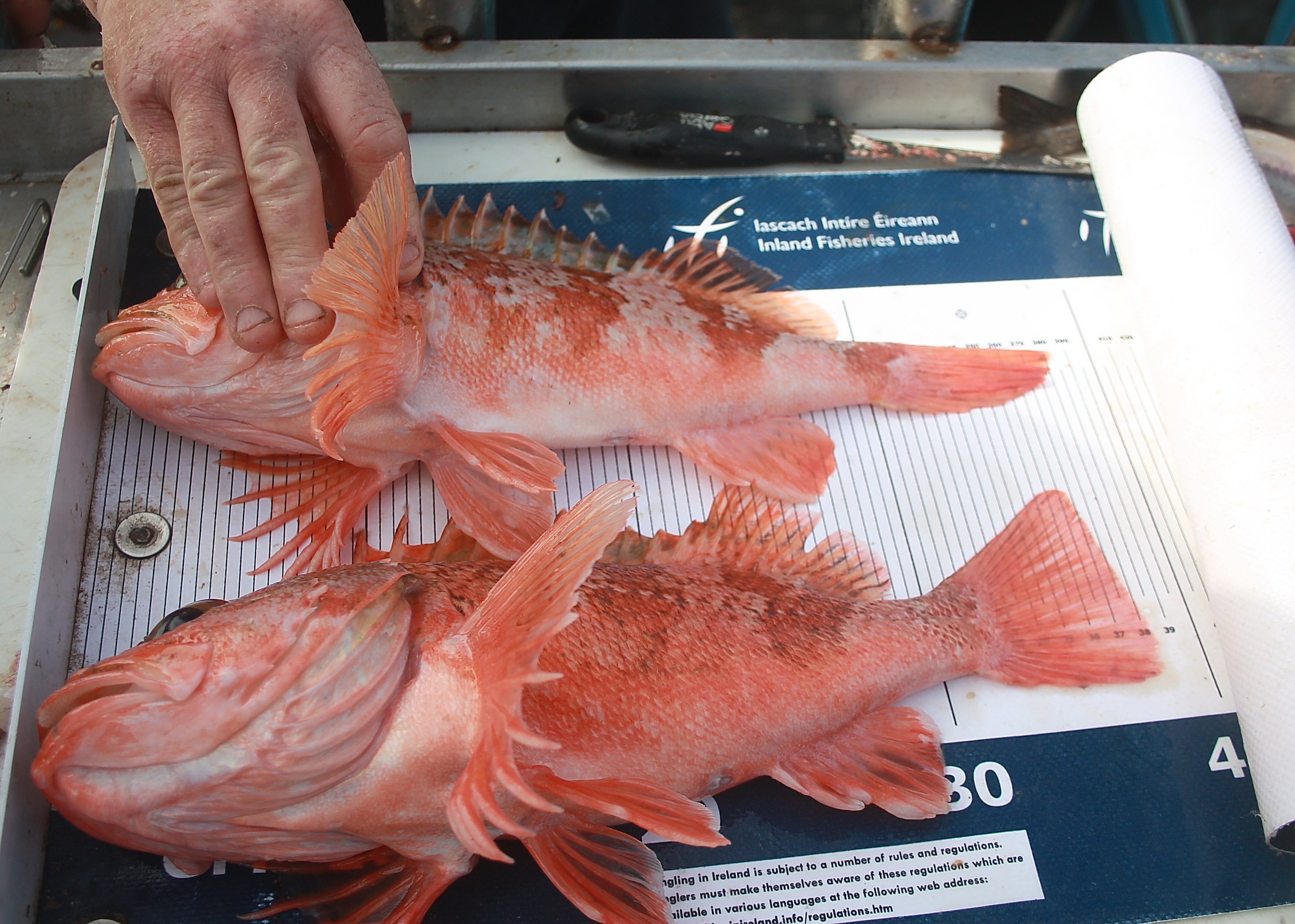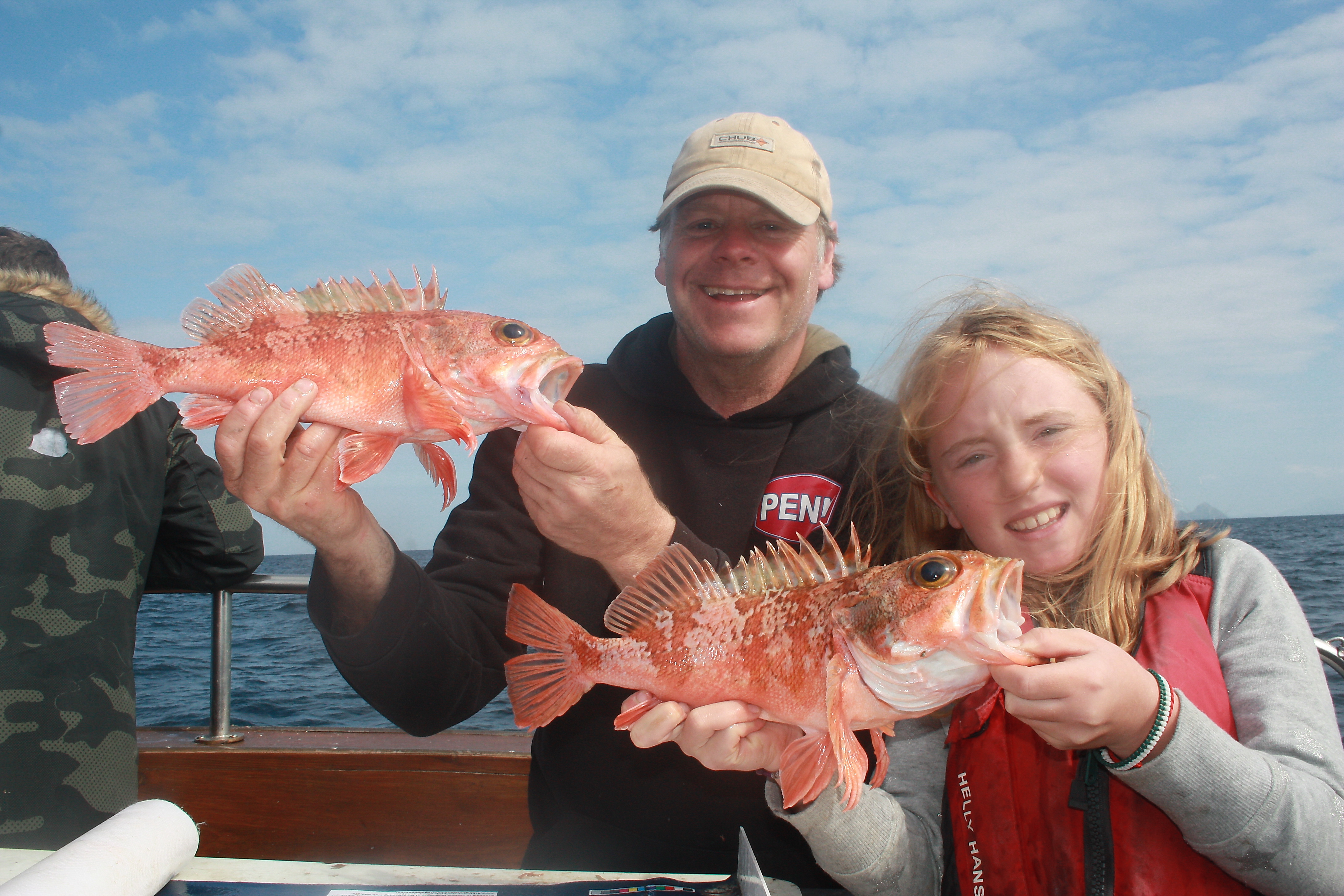 A double-shot of Irish Specimens for Amy and myself
I realise that specimen hunting is not the be all and end all of angling, and I do my best to curtail this addiction. But having waited ten years for the chance to meet this particular challenge, it can be almost impossible to halt the adrenaline from kicking in...... I'm happy to say. There's always a surge of relief soon followed by relax mode, simply enjoy the angling now and to see if you can add to the tally.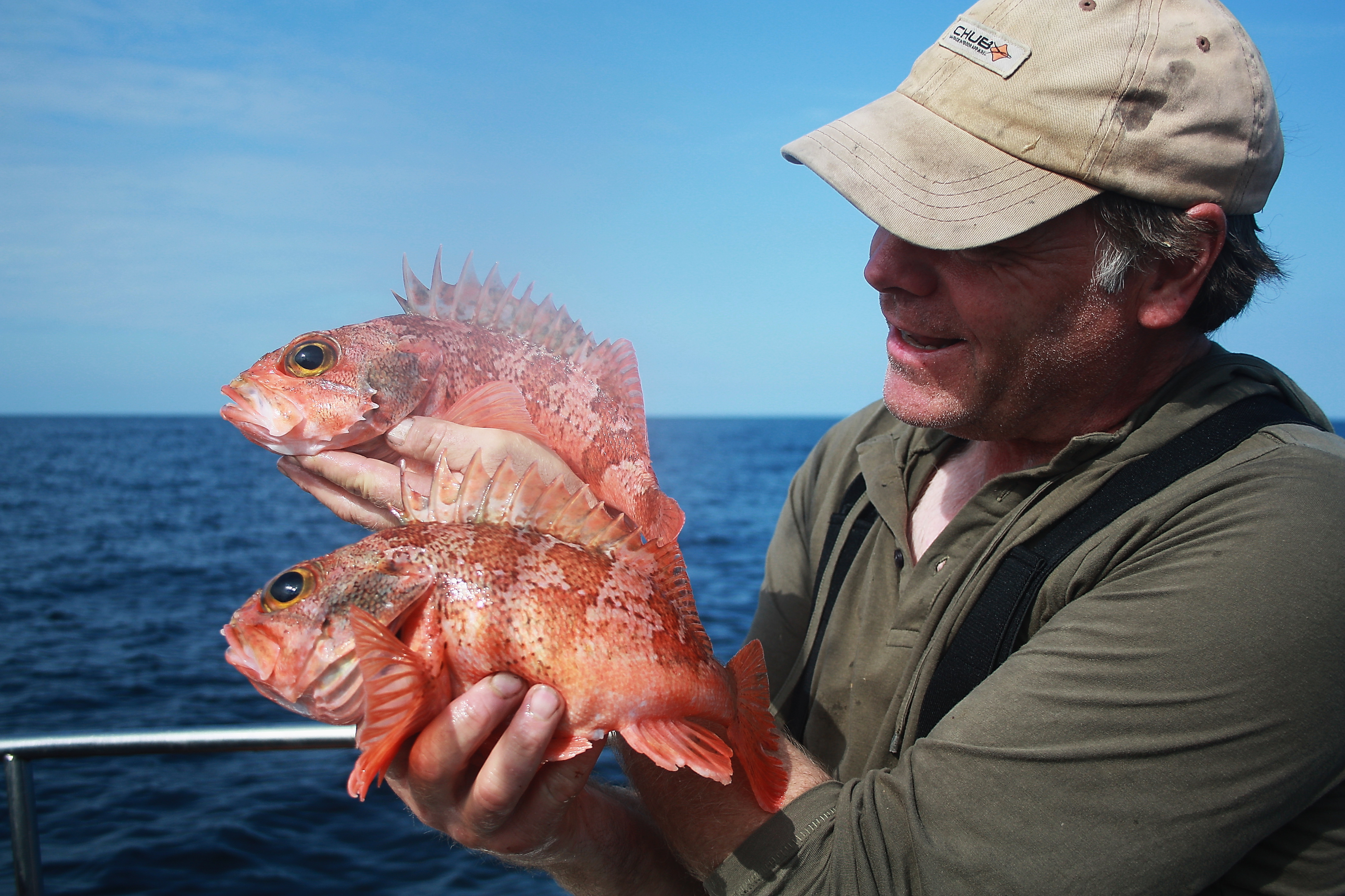 Our trip only lasted six hours, but I managed my three specimen quota, as did many on the boat, what a fabulous day on the water that certainly justified my ten year wait. It seemed a pity to be heading for harbour on such a perfect day, but then again, I have always needed someone to tell me when to stop fishing! I would like to thank Mick O'Callaghan for the invite, making it possible to scratch that Bluemouth itch that's been annoying me for so long. Cheers Mick.
For a great wee video clip by Amy O'Brien.....click here
Kristofor Im with the heaviest Bluemouth of the trip, close to record size
If you can get past the Bluemouths, there are other species present, such as Ling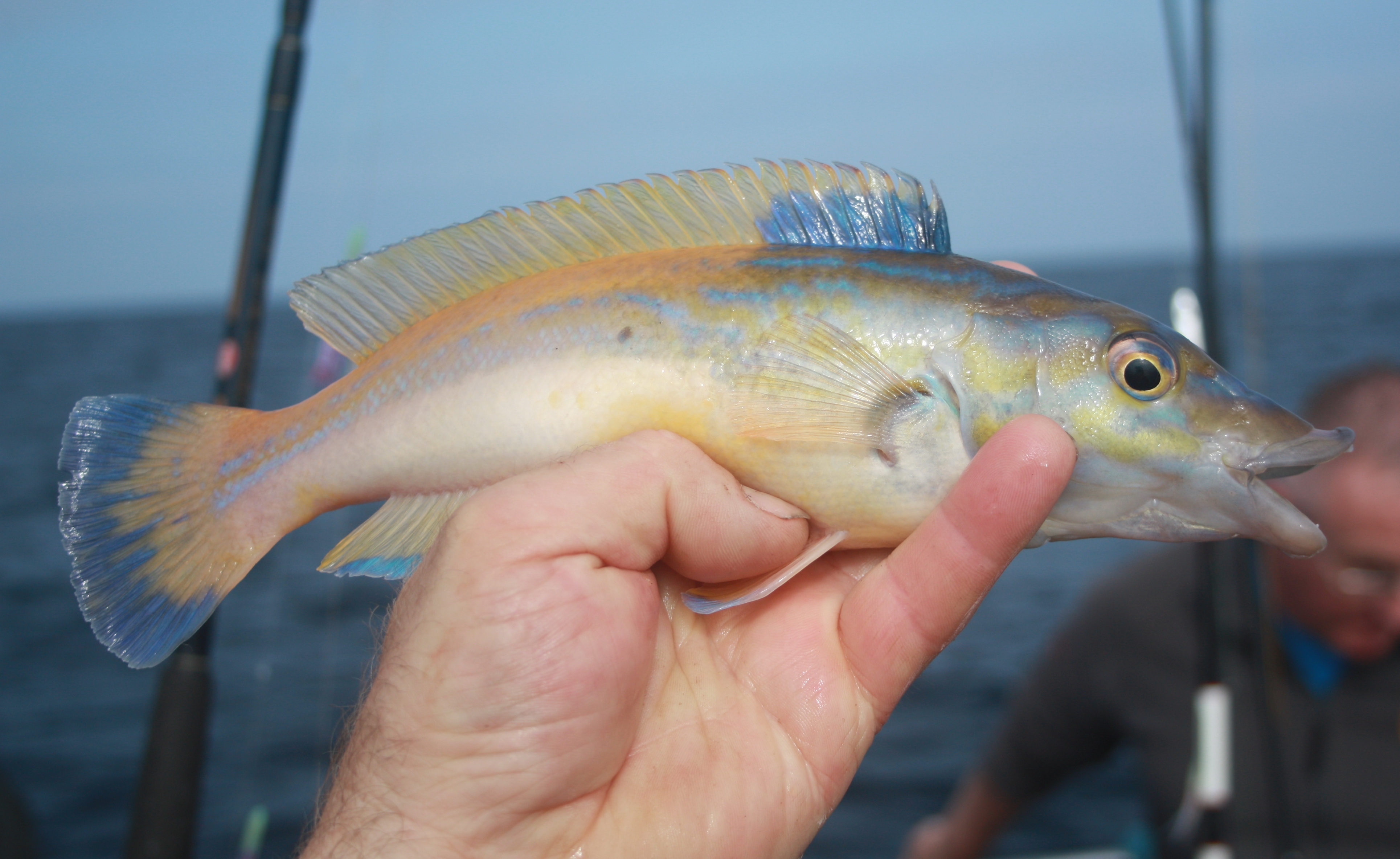 And Cuckoo Wrasse
About Bluemouths.
Bluemouths, Latin name Helicolenus dactylopterus. From what I can gather online, The Helio is a Greek reference to how the fins rotate "spirally" as the fish uses them to manoeuvre on the sea bed. Dactyl meaning "fingers", the leading edge of the pectoral fins without membranes resemble fingers.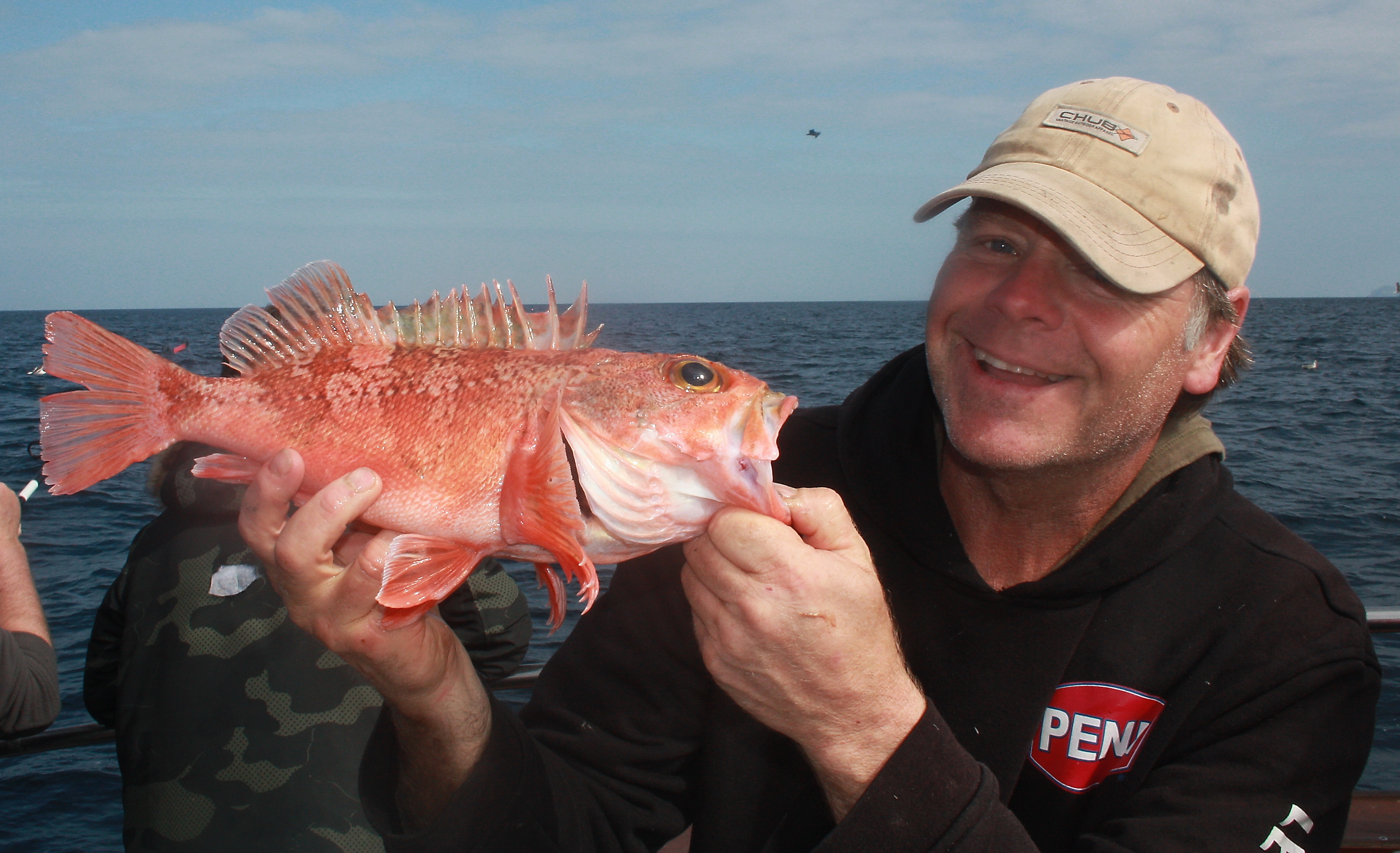 Bluemouths are closely related to Scorpion Fish and known to live beyond forty years of age. They are a typical sit and wait ambush predator, darting out and gulping whatever happens to pass by. A typical deep water species preferring reef-type habitat and feed largely on crustaceans, molluscs and small fish.
The current Irish Record of 1.32kg is held by Sue Tait, taken out of Cahersiveen on 28.07.2008 and Specimen weight is 0.9 kg, length based specimen of 38cms (information supplied by Irish Specimen Fish Committee)
Tackle
I brought along my trusty Penn Waveblaster 20-30lb class and the Shakespeare 30lb, both teamed with Penn Fathom 4/0 reels, not fully knowing what to expect, and they were excellent, but under the same conditions, a 12lb class outfit would have been really good fun. The tidal currents aren't nearly as fierce as I'm used to in the North.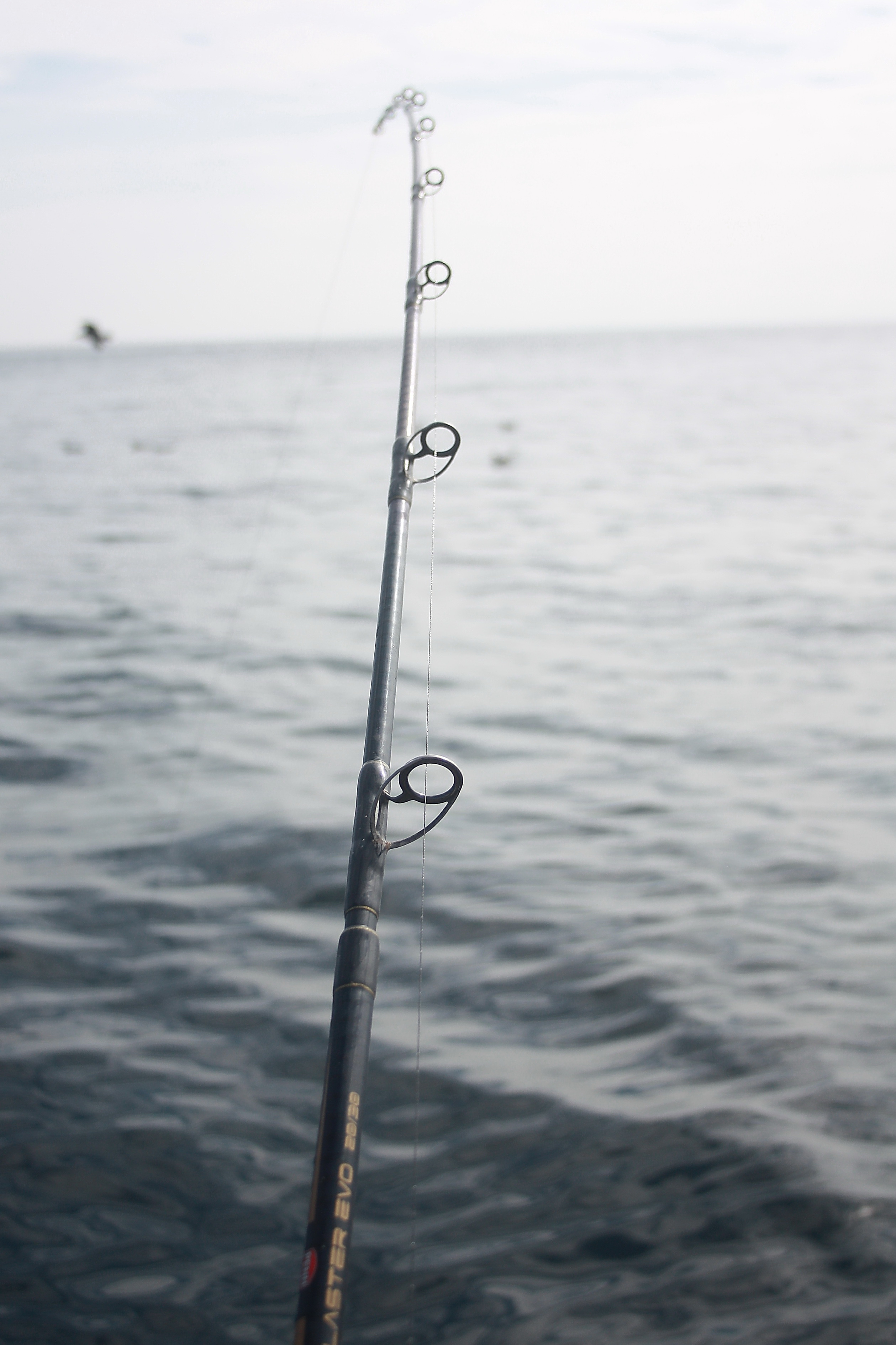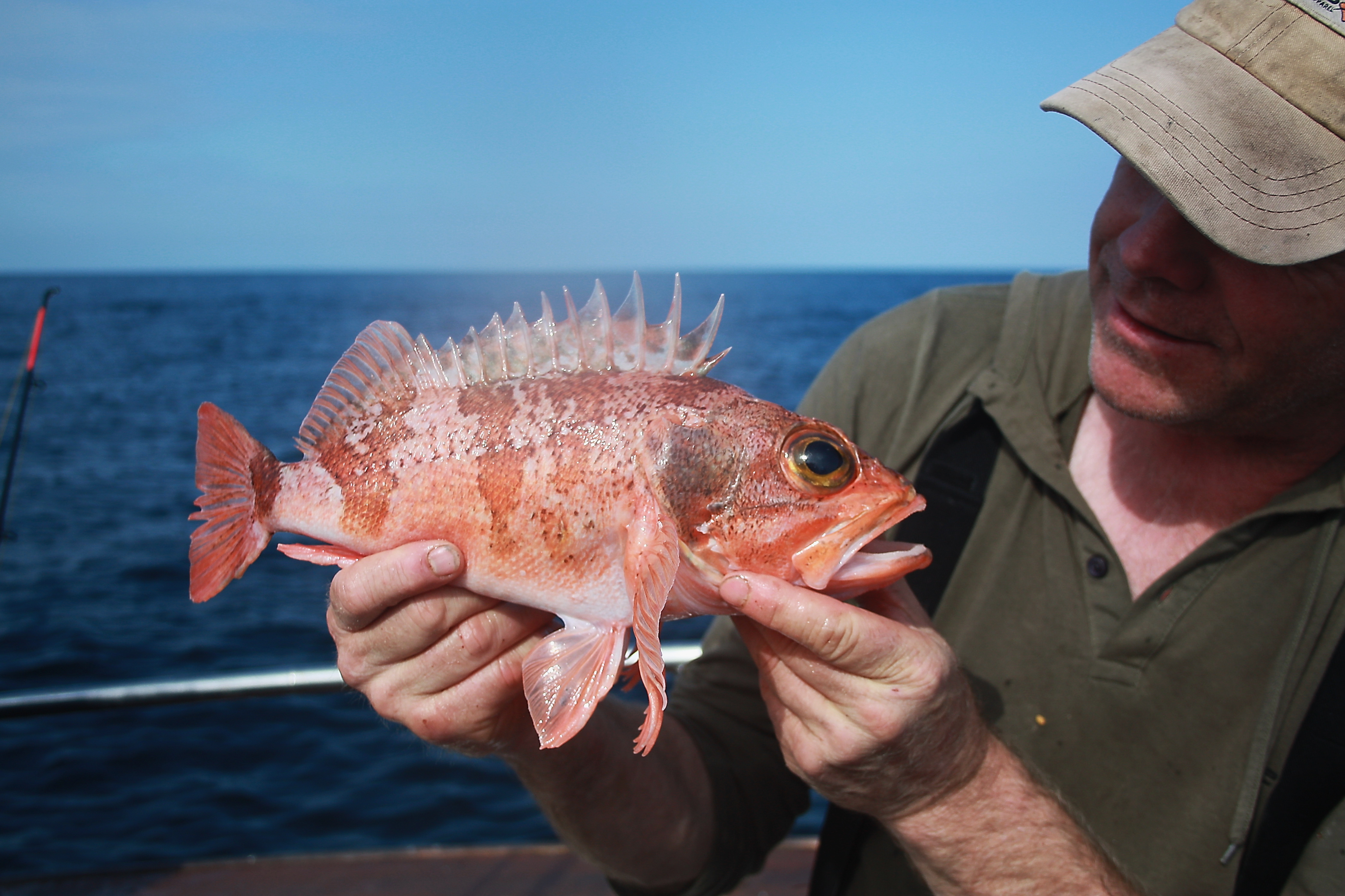 Tackle Options
Shakespeare Ugly Stik GX2 Boat Fishing Rod - Boat or Kayak All-Round Lure and Bait Rod for Saltwater or Freshwater - Cod, Bass, Mackerel, Pollack, Wrasse
PENN Fathom Lever Drag 2 Speed Multiplier - Full metal Body, Strong Saltwater Power Reel For Jigging, Live Bait and Offshore Fishing
Berkley Whiplash 8 Braided Fishing Line - 100% Dyneema 8 Strand Braid for Saltwater and Freshwater Fishing
Shakespeare FlatJack Deluxe Lures
Shakespeare Salt Sea Rig Pink Goblin Lure
Shakespeare Salt Sea Rig Kestrel Lures
THKFISH 100Pcs/box Offset Octopus Beak Fishing Hooks Drop Shot Hooks Barbs Circle Fish Hooks for Catfish 1/0 3/0 4/0 5/0 6/0
Back