Chasing Rainbows. Well, Browns actually!
Chasing Rainbows.
Well, Browns actually!
Another season, and another crack at the Ferox Trout.
This has been one tough nut to crack for me. As a dedicated specimen hunter, I have managed to tick the box with somewhere between forty and fifty different Irish species. That is, to hook, land, and have verified a species of a nominated "fish of a lifetime" size. Some have came along easily, many have taken time and effort, but the Lake Trout of ten-pounds or larger has been a particularly challenging target in my case.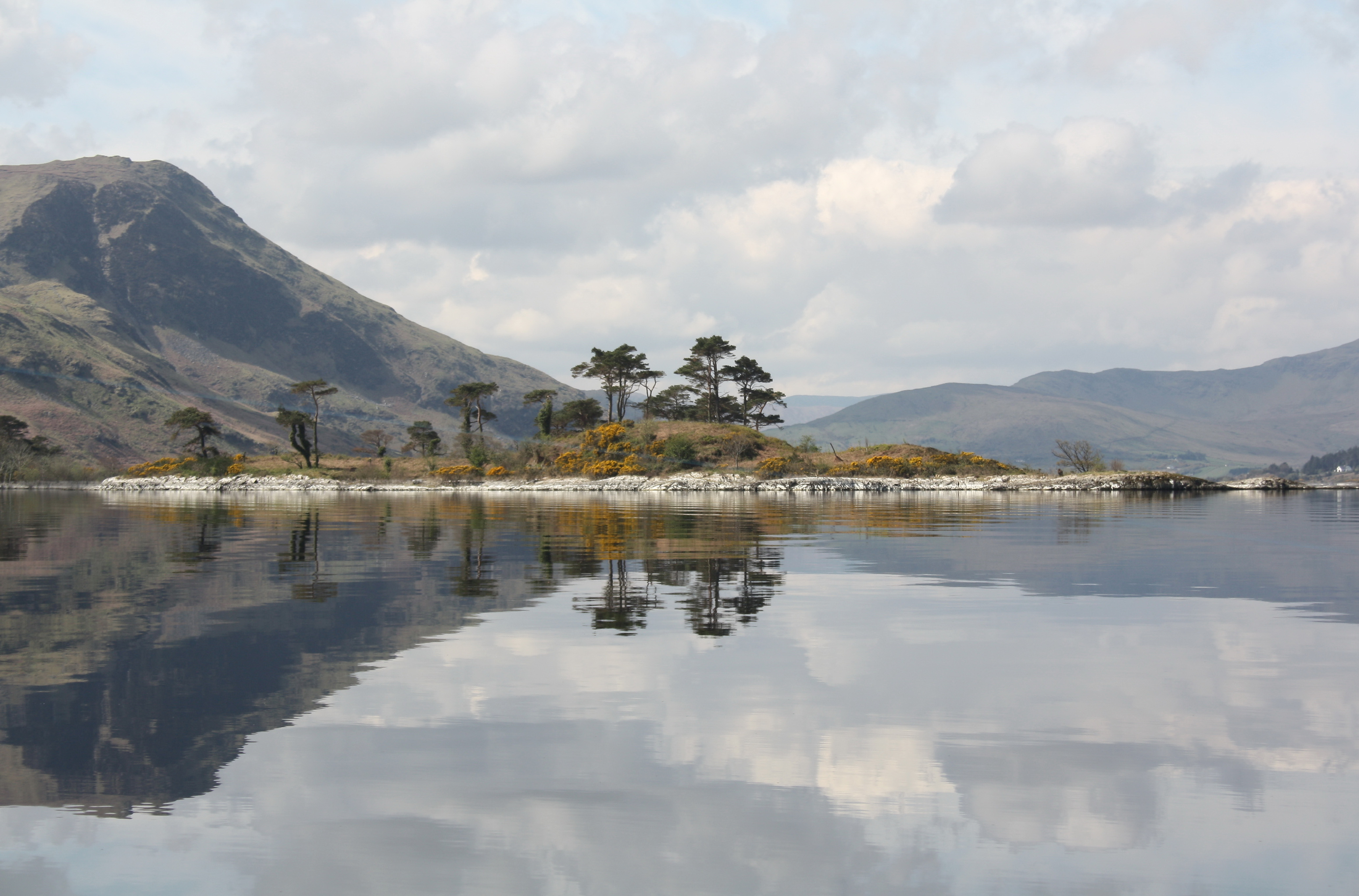 Lough Mask, a masterpiece in watercolour
On my first attempt back in 2011, a Lough Mask fish "smashed" me within seconds of hook-up, leaving me simultaneously awestruck and devastated. The power of a double figure Lake Trout was new to me at that time and something to behold. It deserved a taste more respect, which I discovered to my cost. I managed to tempt a six-pound fish later that day, which seemed tame in comparison.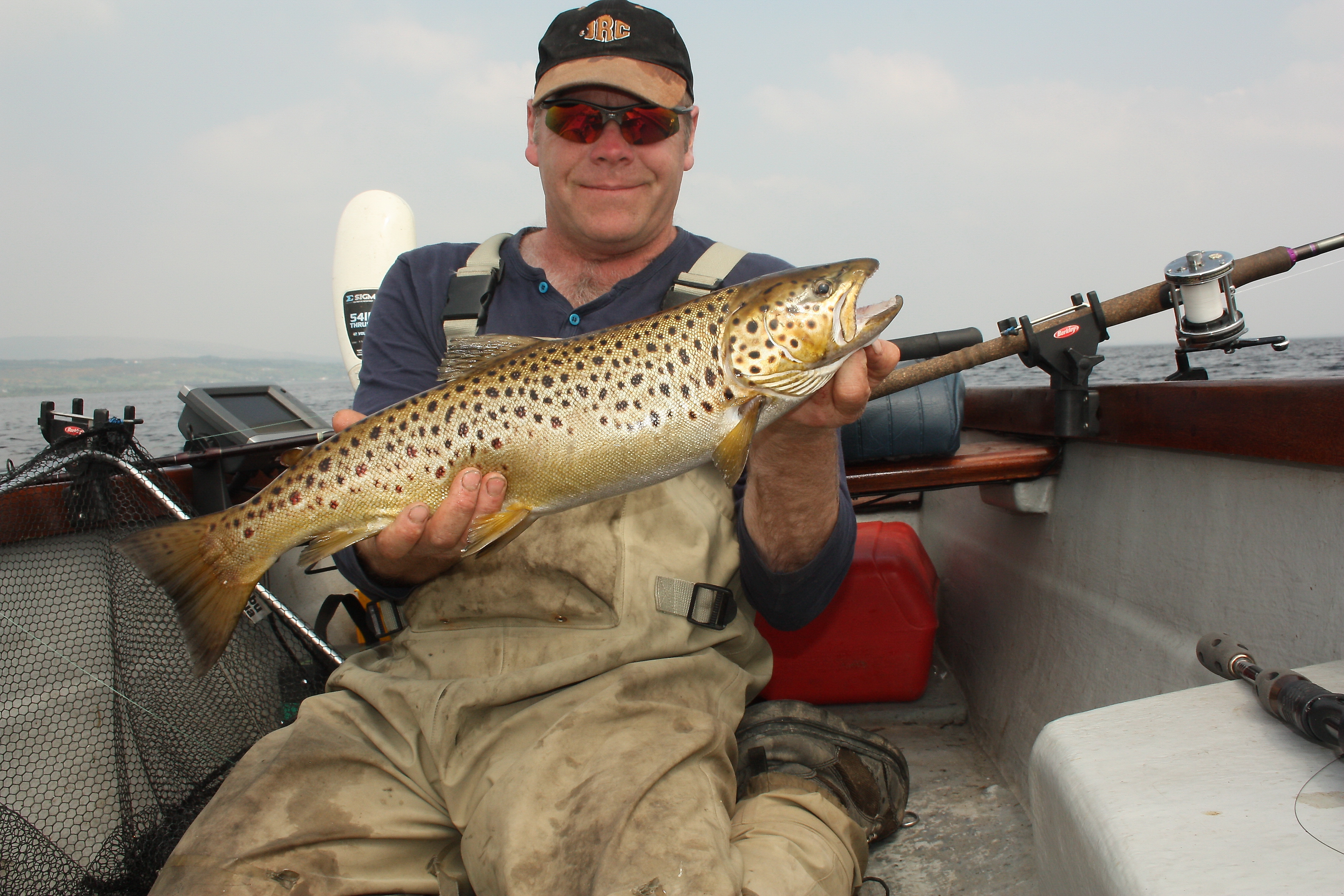 An initial attempt, fourteen years previous
Future attempts offered several near misses, and arduous hours of nothing. Stunning, almost hypnotic scenery, but small fish, good fish lost at the net and the occasional pretender in the form of low double-figure Pike plagued my efforts. I switched my attentions to the challenge of a Specimen River Trout, and achieved this on my first attempt, yet the Lake Trout remained elusive. This season, 2023, it was time once again, for another crack at it.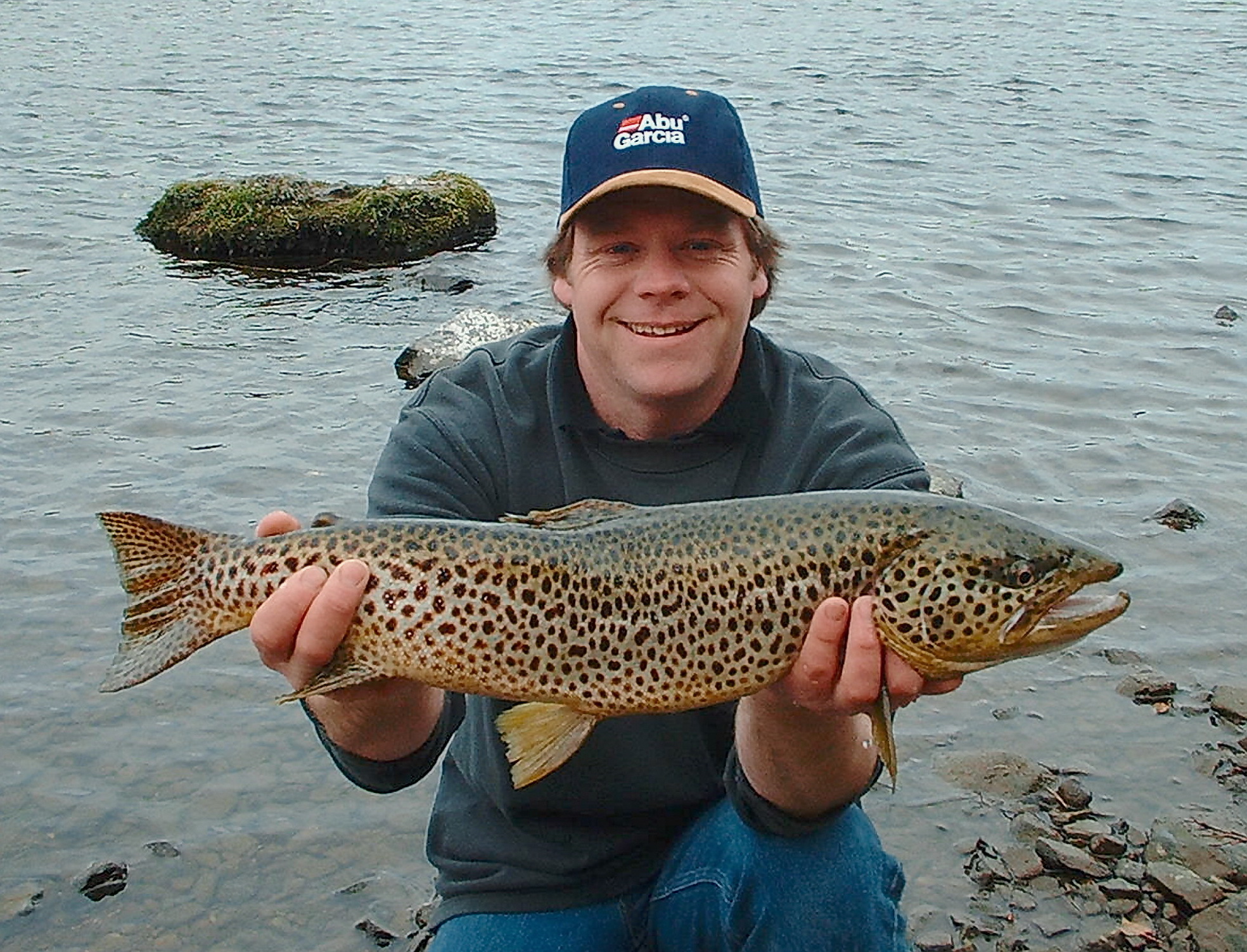 Fine River Specimen caught and released at Ashford Castle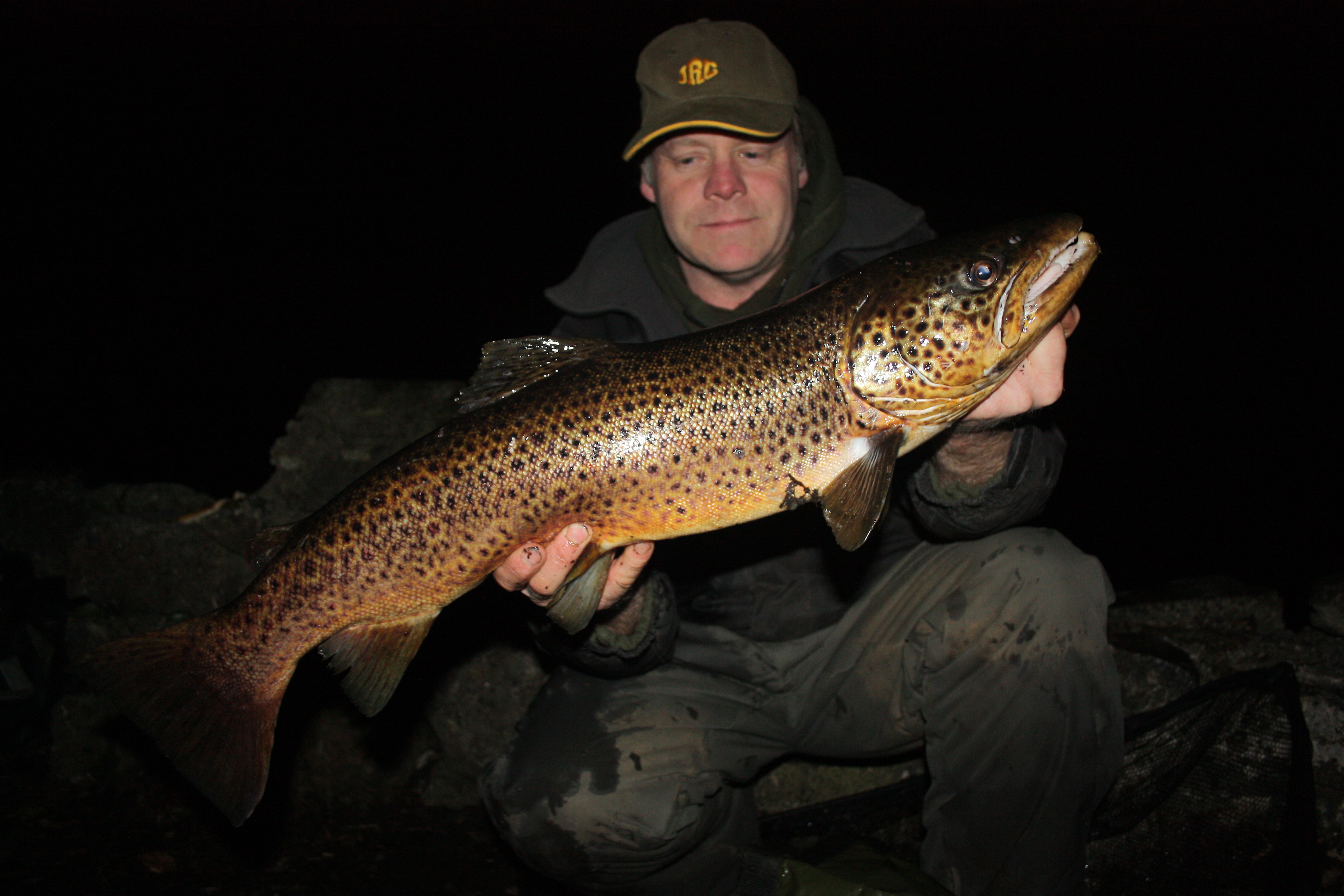 A fine River Trout specimen, but the Lake Trout eludes me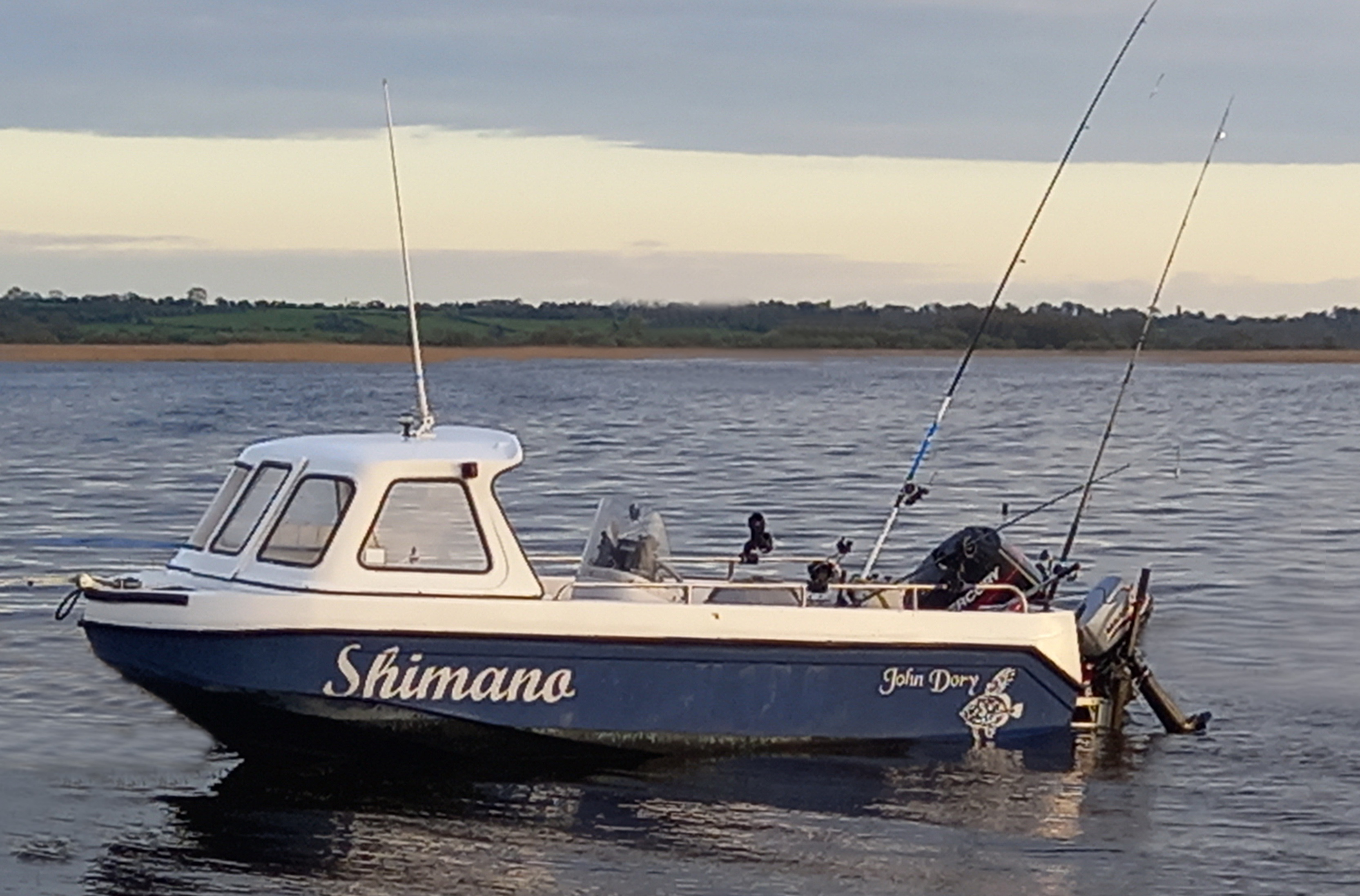 Sidney's smaller boat, perfect for lake trolling
A recent invite from one of my closest angling buddies Sidney Kennedy, was an opportunity not to be missed. Similarly, he has been instrumental in achieving many specimens for friends, but has failed to land one himself. I am convinced that the angling gods love playing games with Sid and I, especially when I consider the angling exploits and heartaches we have endured over the years.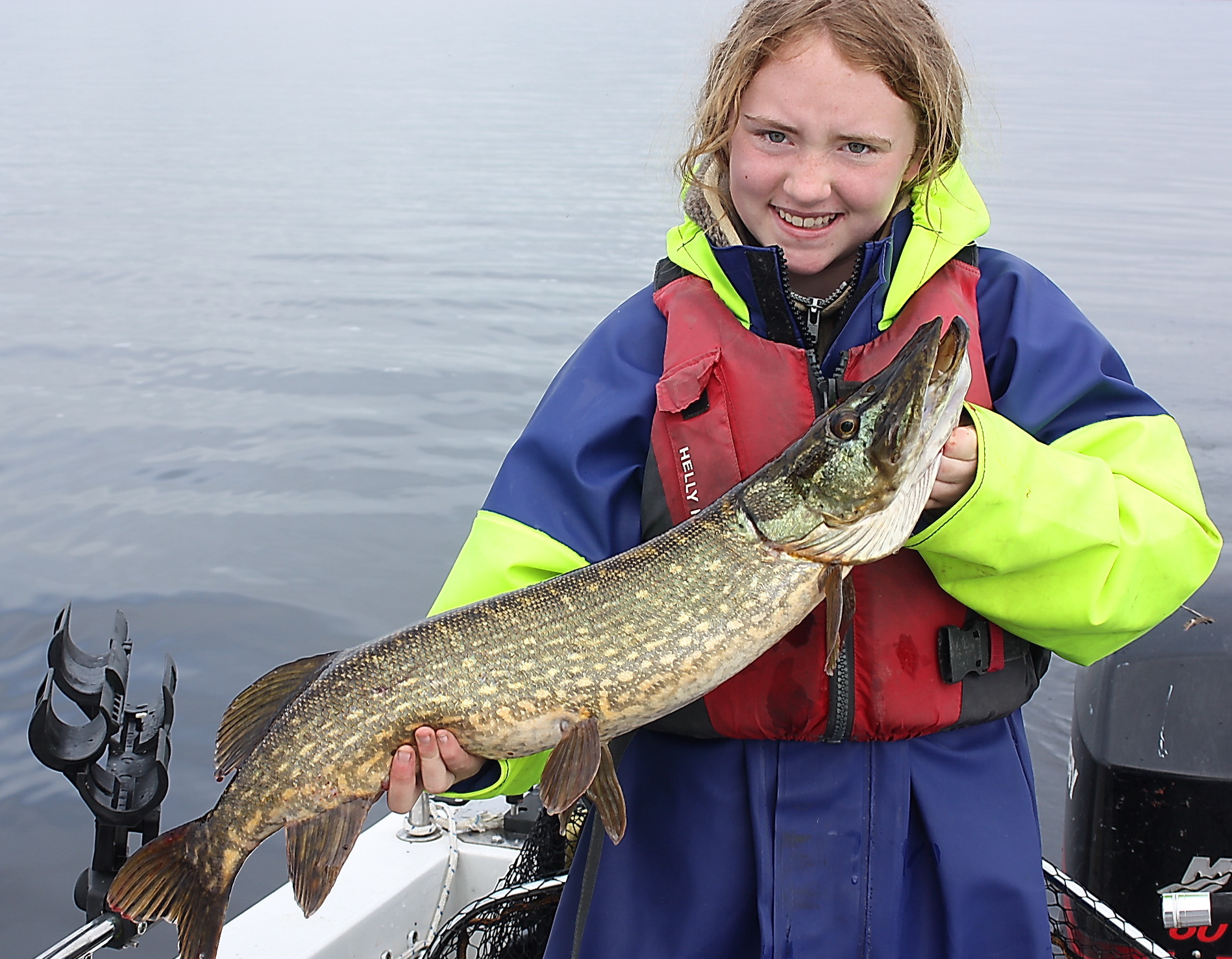 Sid's daughter Amy would be joining us today. I have known her all her young life, and she has developed into a wonderfully balanced young soul. Not even a teenager yet, her angling achievements would make most adult anglers envious. From the age of three, reeling in specimen Carp under her dads guidance, she now has over fifty recorded and verified specimens, including a Common Skate and Blue Shark. Impressive stuff.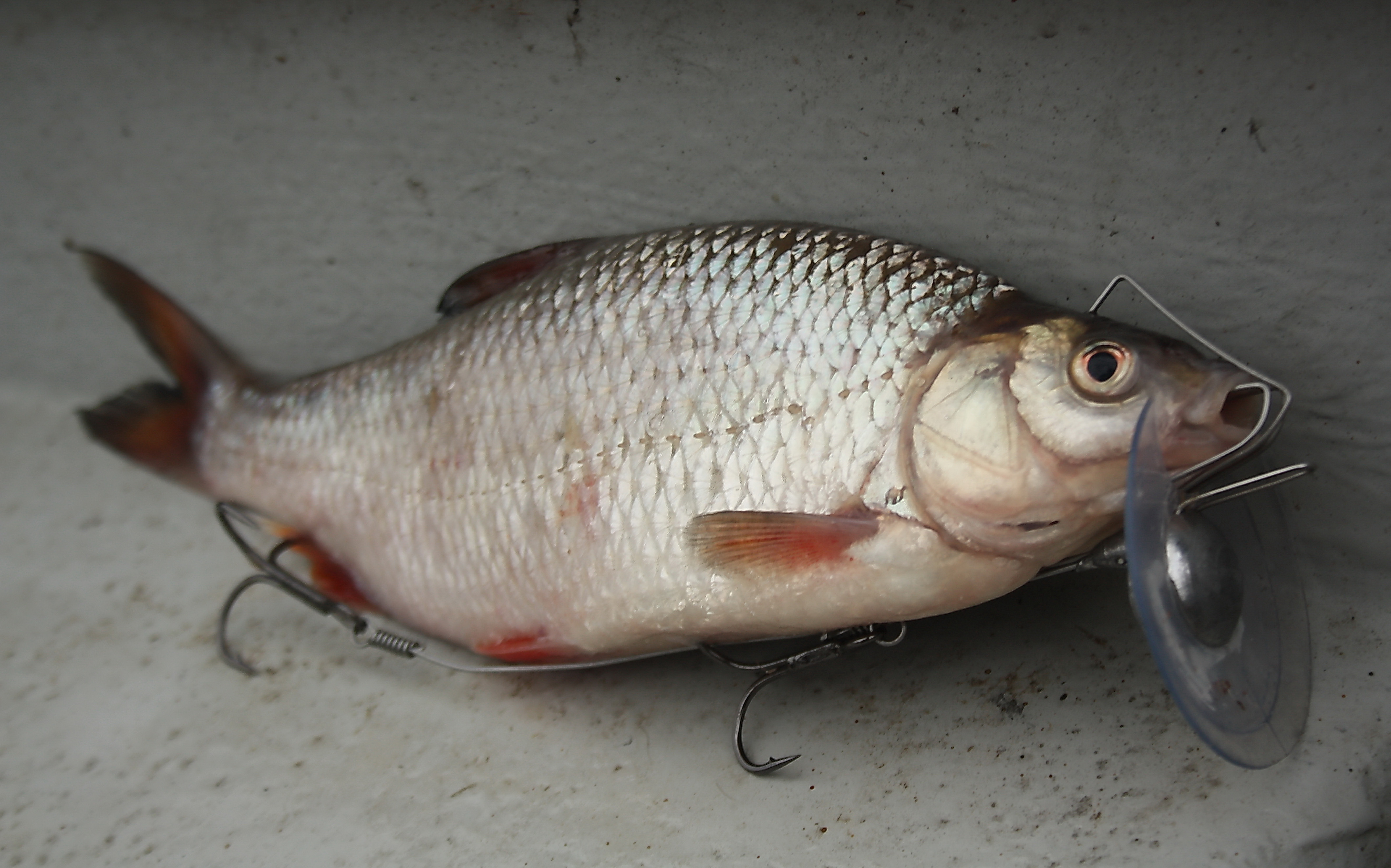 Irish Lake Trout can be tempted in many ways. Traditional fly fishing, spinning, trolling artificial lures, or bait fishing. Without doubt, the greatest odds in the anglers favour to tempt a double-figure fish is trolling dead-baits. I have learnt over my previous attempts that this is not a simple matter of hooking on a dead Roach or Perch and motoring around a lake all day, there is much more to it than that. Don't get me wrong, it is my least favourite method of angling, but horses for courses as the saying goes.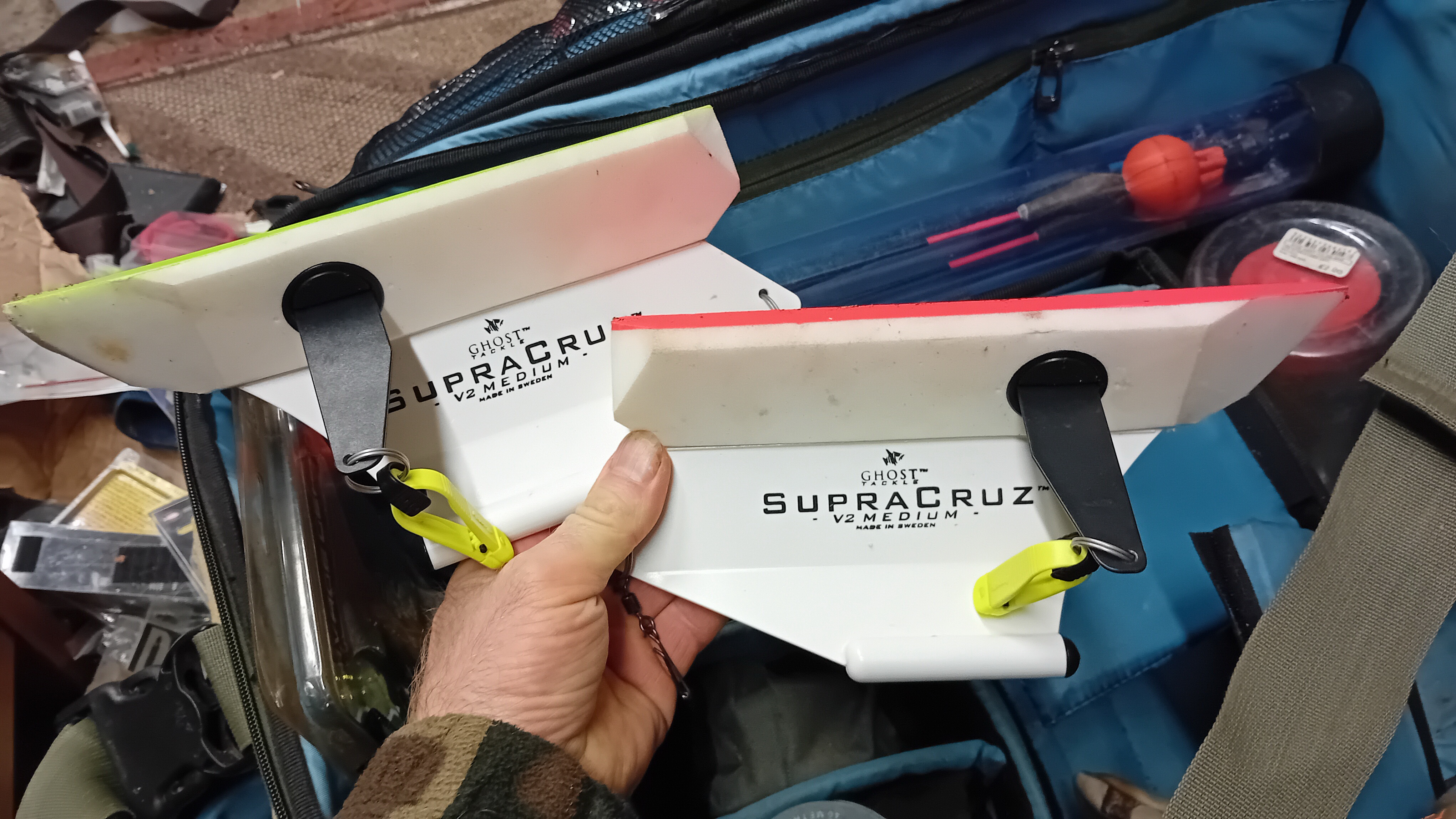 Arguably the best planing boards on the market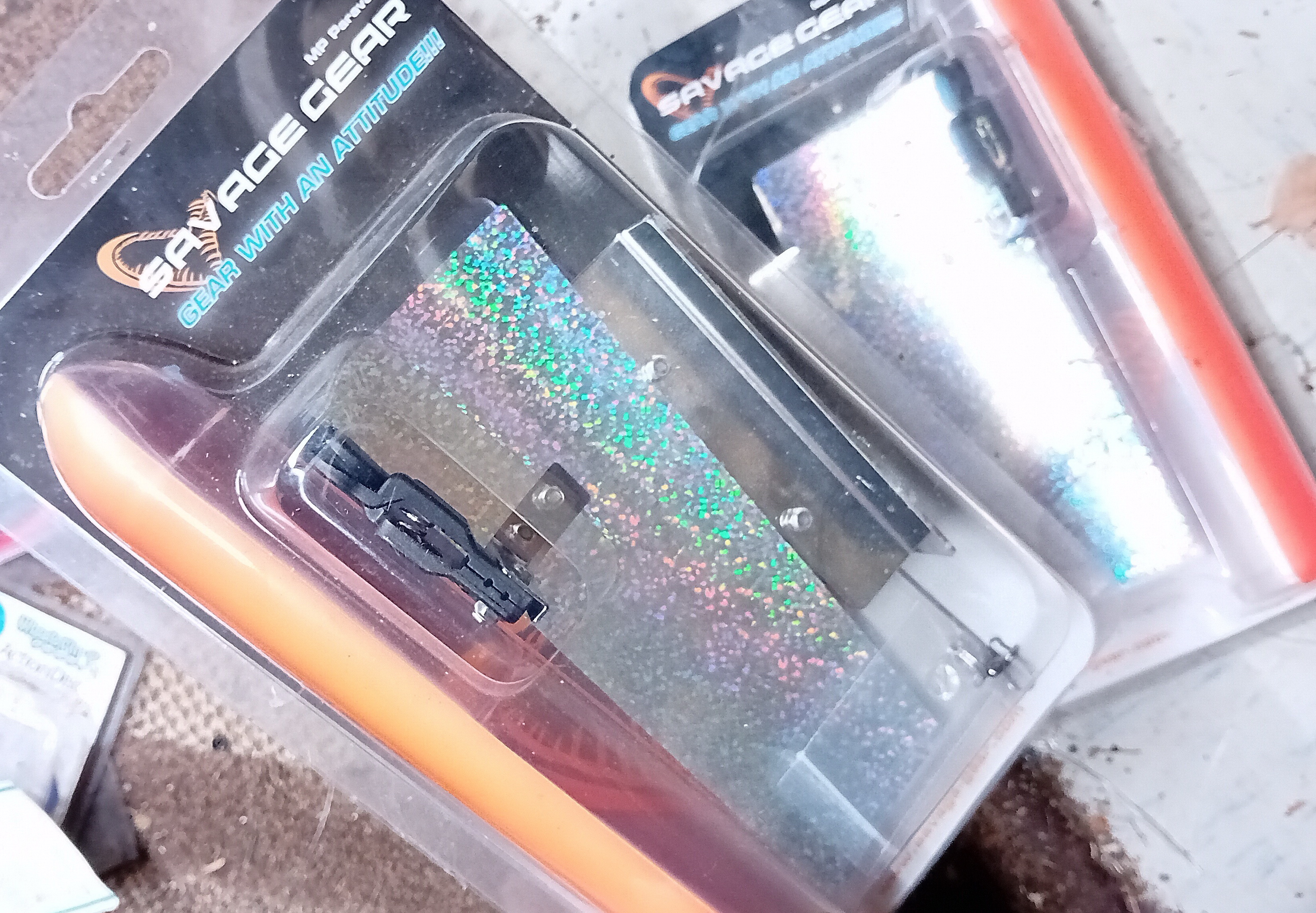 Savage Gear cater for trolling, I haven't tried these yet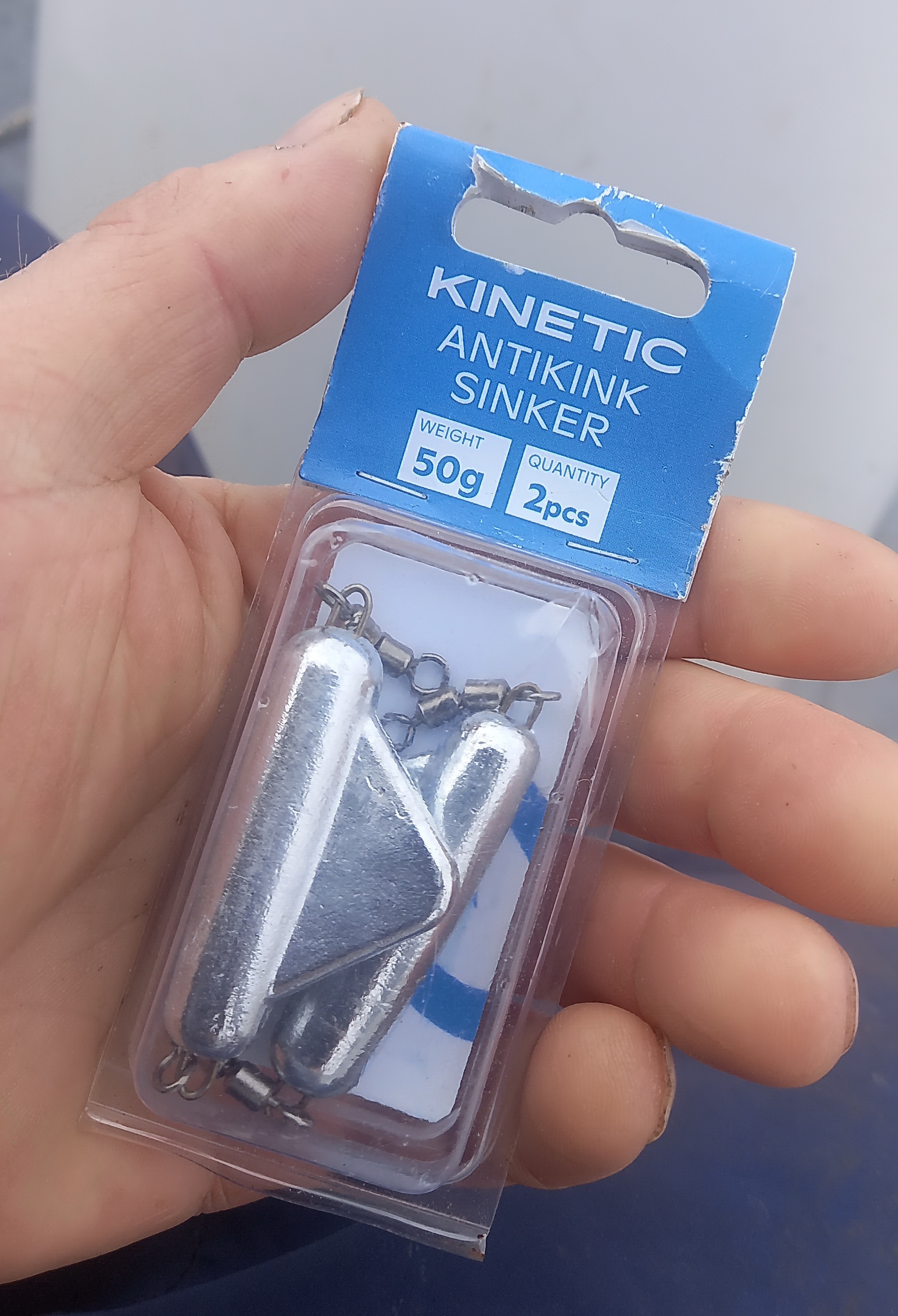 For this particular adventure, I had invested in a pair of planer boards. I wanted to use this trip to experiment and learn how to work them. Basically, to fine tune the method, which includes speed, distance from the boat, depth and rig set-up etc. There is an art in all this, otherwise the same group of lads in Ireland that have perfected this, wouldn't be so consistent in their catch results each season! They know what they're doing.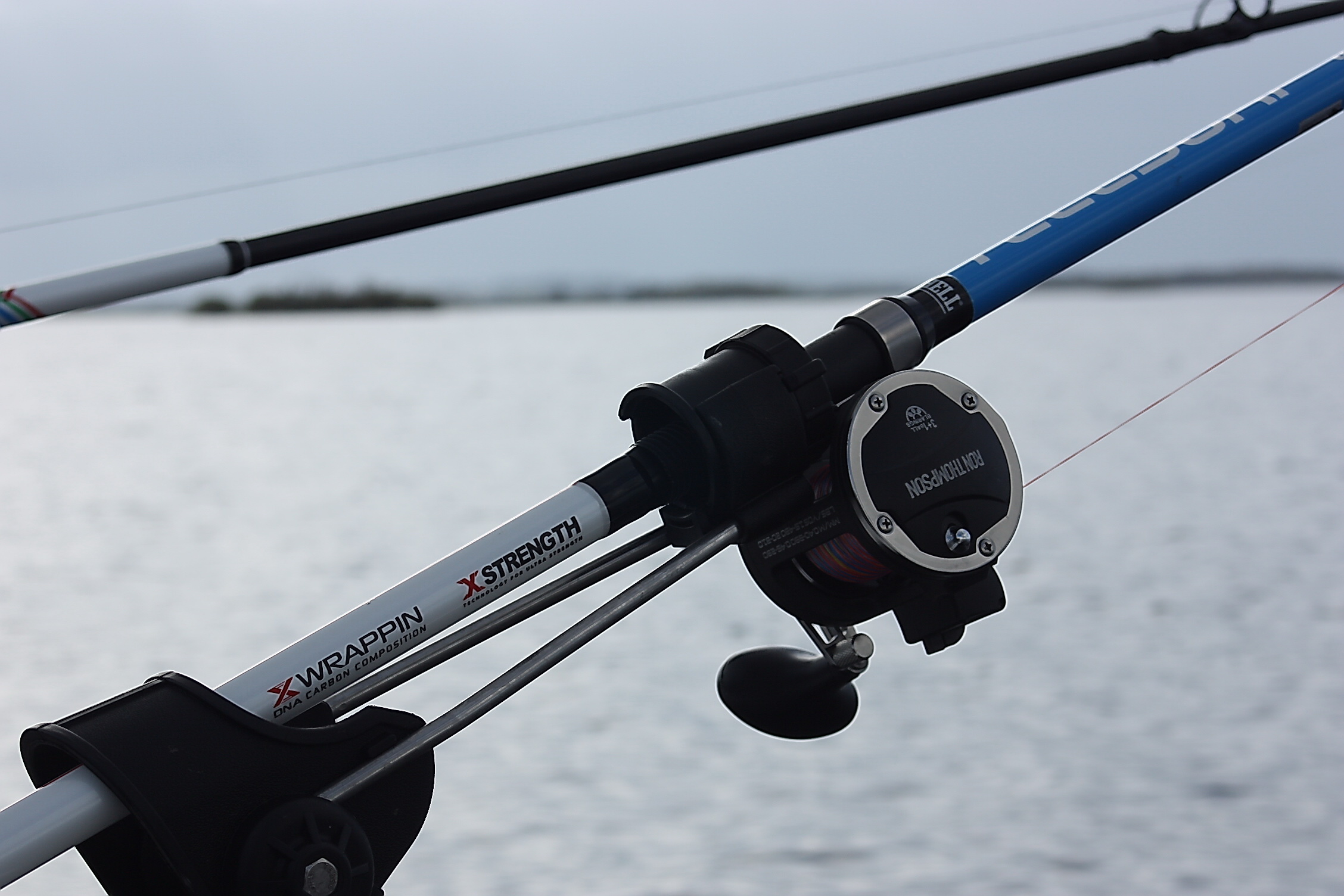 These long telescopic rods from Mitchell work extremely well for trolling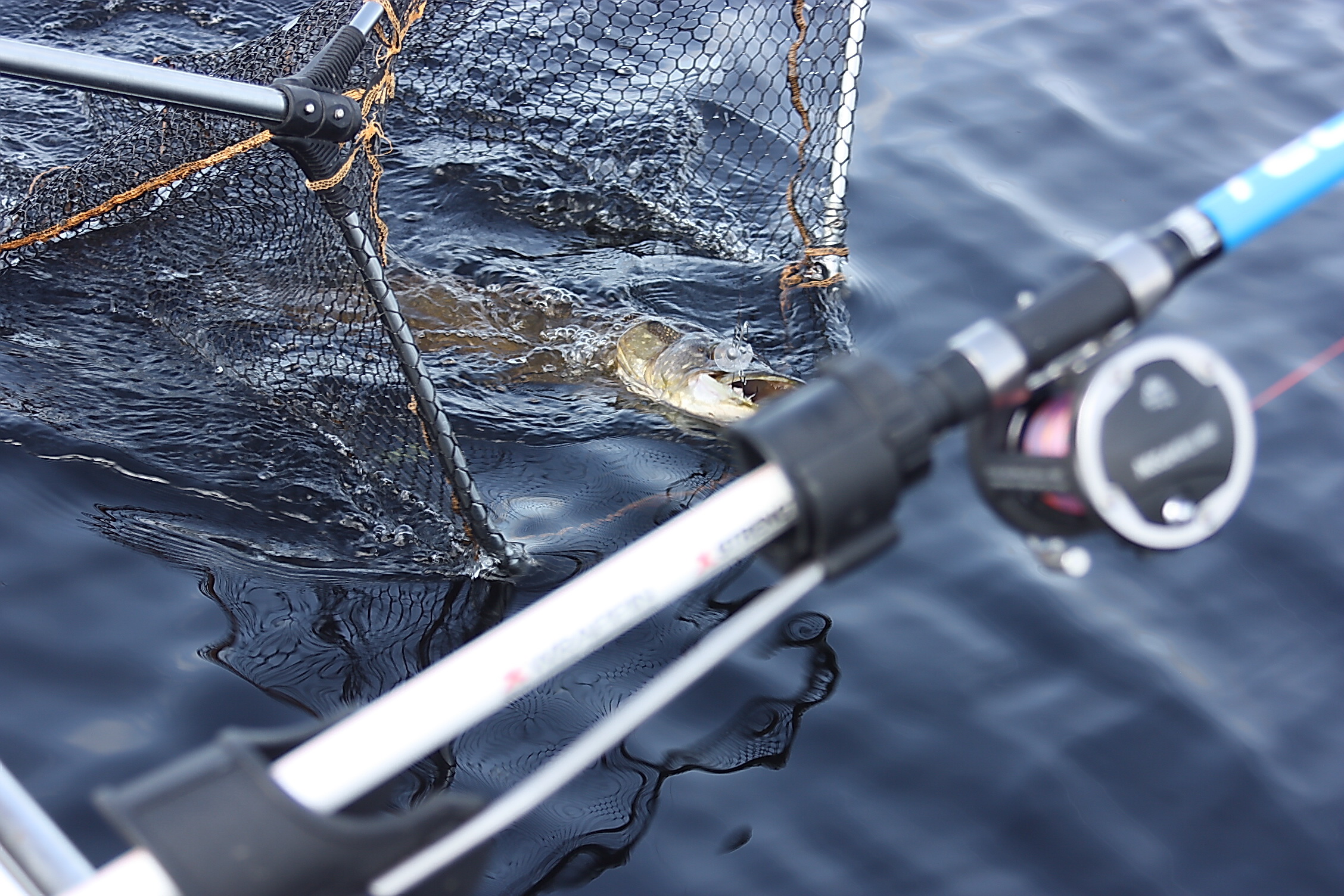 We connected with one and sometimes two fish per circuit
Boat launched and all safety checks carried out. Sid was the skipper today, it is his boat and as he had fished here before, he had knowledge of the areas that tend to produce. Steaming out to the start point gave enough time to set up the rigs. Planer boards will be set at six metres deep, one for port side, and one for starboard. They were soon out each side, easily twenty metres distance from, but parallel to the boat, and a good forty metres behind the boat. As intended, this places the baits well away from any disturbance. The fish mounts were working well, holding the dead-bait upright and imparting a little tail wiggle for realism.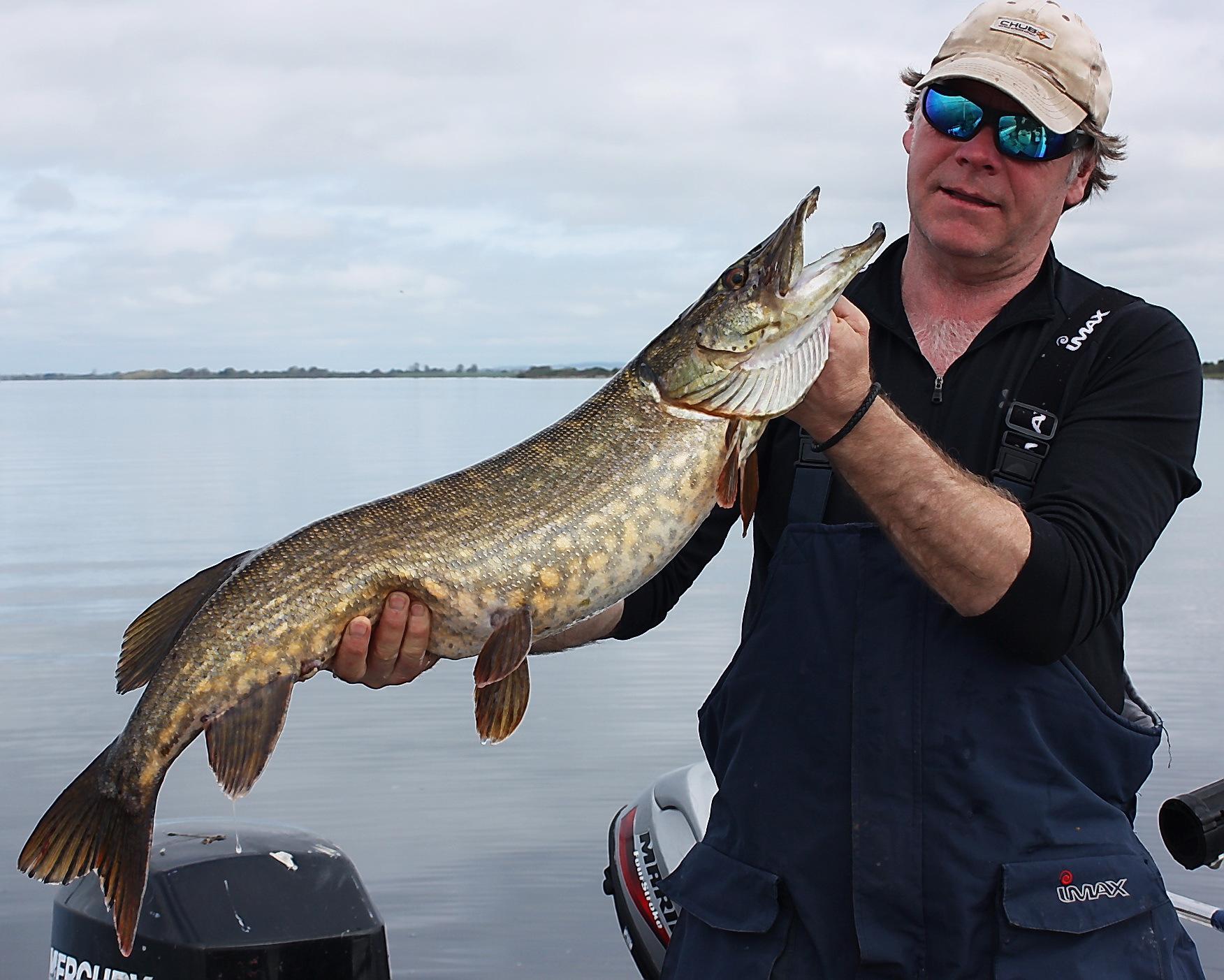 The weather was kind to us today making the trolling method a lot easier, without any constant bow slamming. On every circuit, which took approximately forty five minutes to an hour, we picked up one or two fish. Mostly small Pike, and an occasional small trout on the lure rod, but it kept the interest going. Chopping and changing between standard trolling or the planer boards, the boards definitely seemed to have the edge. Experimenting with depths and distances from the boat, and alternating between Roach, Perch, small Trout and Dace dead-baits, we seemed to be homing in on the trout, or simply perfecting the presentation.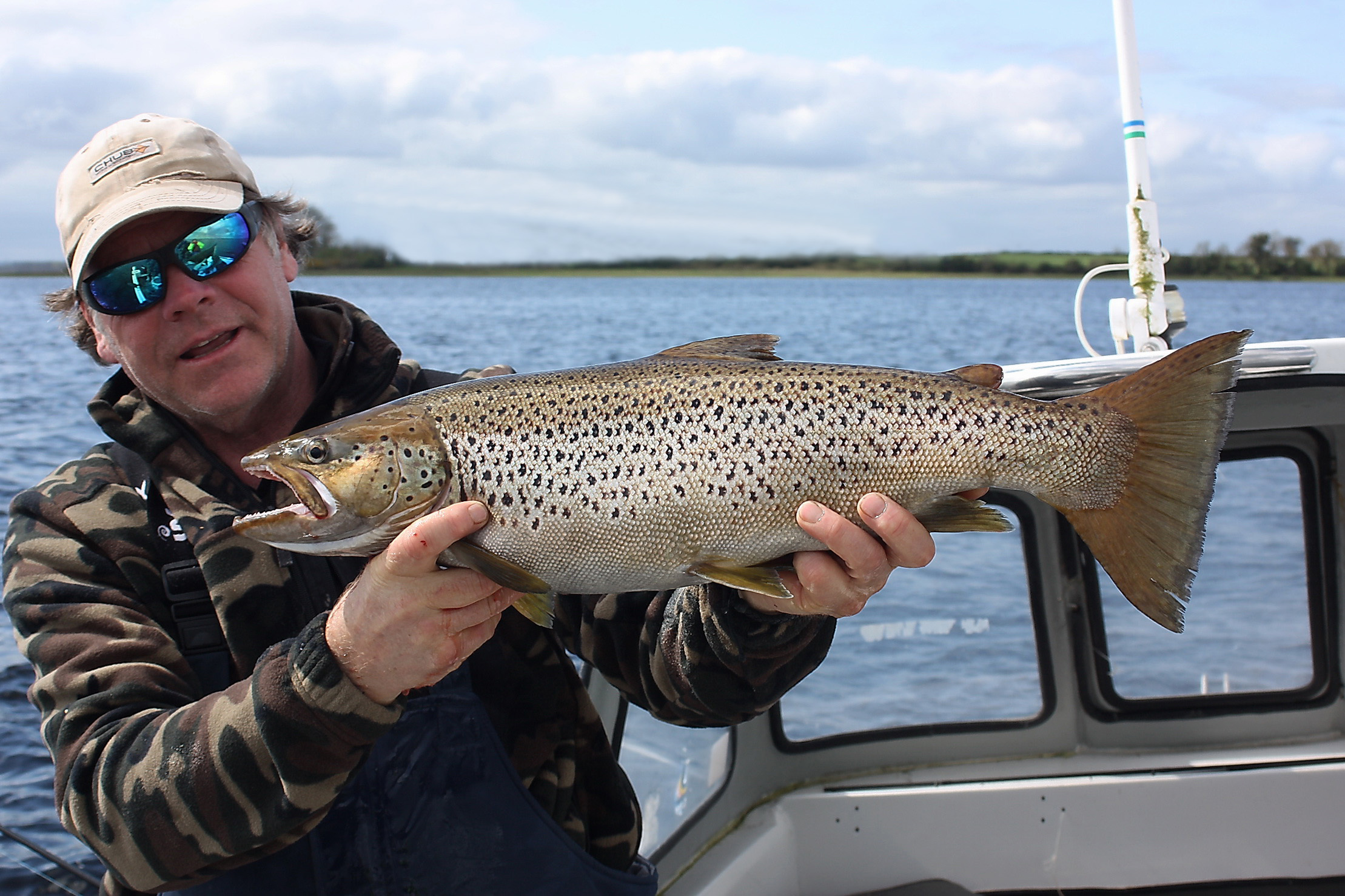 Stunning healthy fish, but not quite there yet
I am uncertain at this stage if it was constant "tweaking" such as this, or simply the Pike feeding spell slowed down, and the Trout took over, but Trout numbers "smashing" the dead-baits dramatically increased. One very good fish gave a fabulous account of itself, breaking the surface at distance, looking every bit a ten-pound plus specimen. Heart racing and fish safely in the net, we knew straight away it wouldn't be a contender.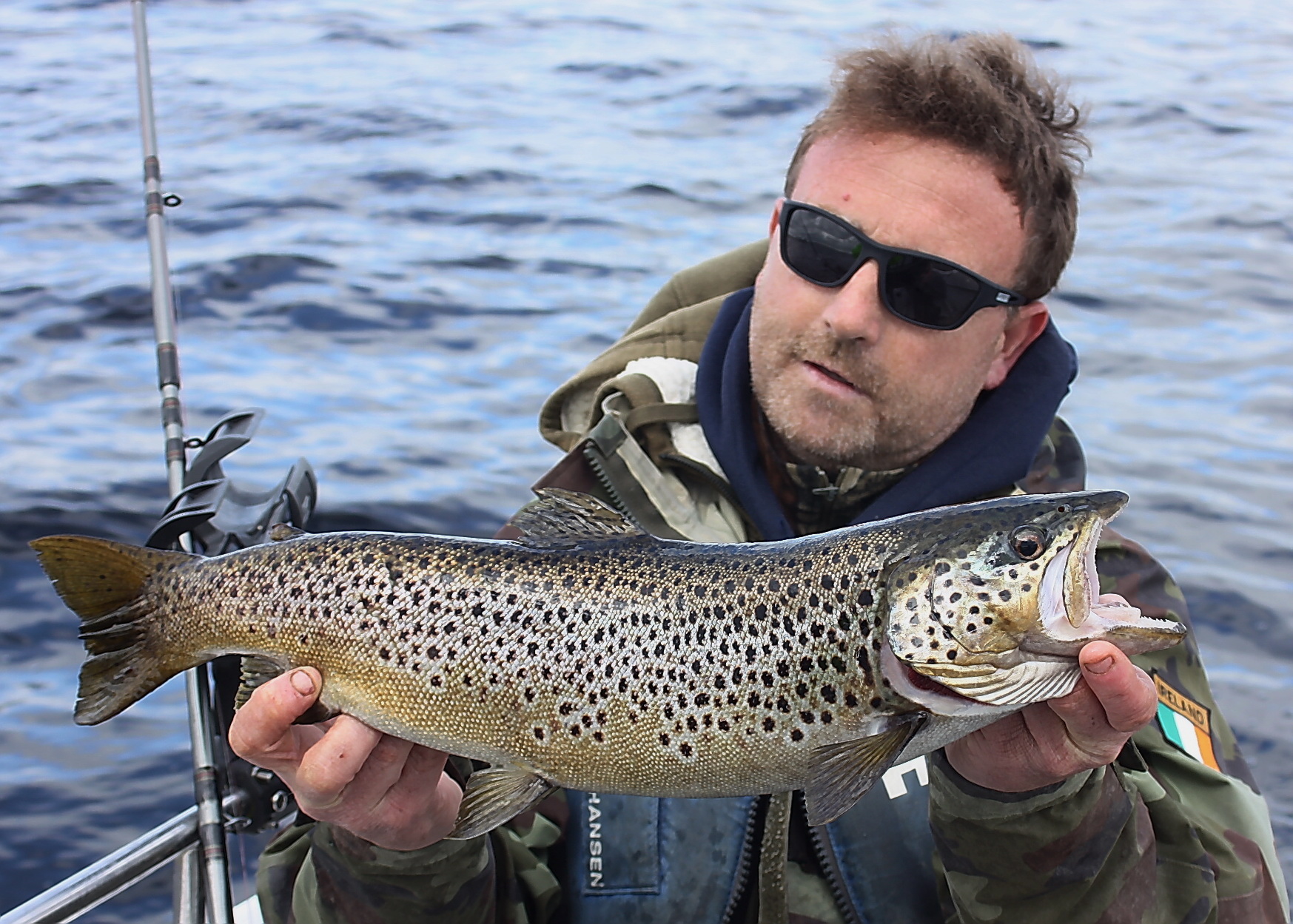 Short on the measure mat by a fair bit, and tipping the scales at seven and three quarter pounds, but how could I be disappointed at such a stunning, scale perfect creature. A quick photograph, and assisted release until it had gained composure, and strongly away. As the afternoon wore on, we had caught and released well over a dozen decent fish. Again, the Mitchell Telescopic Surf Rod buckled, with the quick release on the planer board disengaging, and line ripping off the multiplier.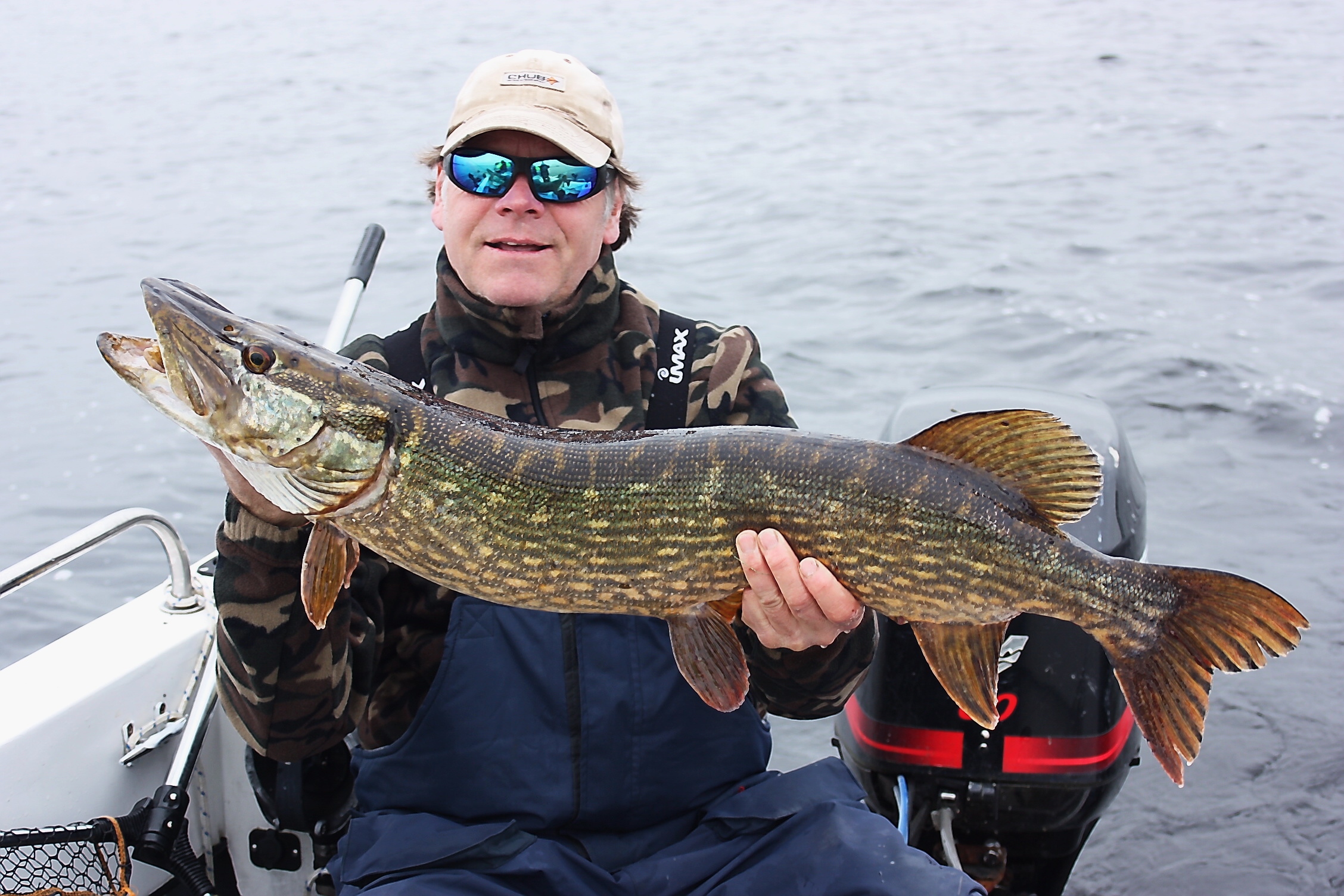 A good couple of minutes battle, with some heart stopping aerial demonstrations and the Trout slipped over the lip of the landing net. You finally have her shouted Sid, it certainly looked double figures easily. On the mat, a centimetre short of the length based seventy five centimetre specimen. To the scales then, it has to be ten pounds. With scales calibrated to the weigh sling, she nudged the dial round to nine and three quarters! Four ounces shy. I couldn't believe it. When you want something so bad, and it's a near miss, it cuts deep!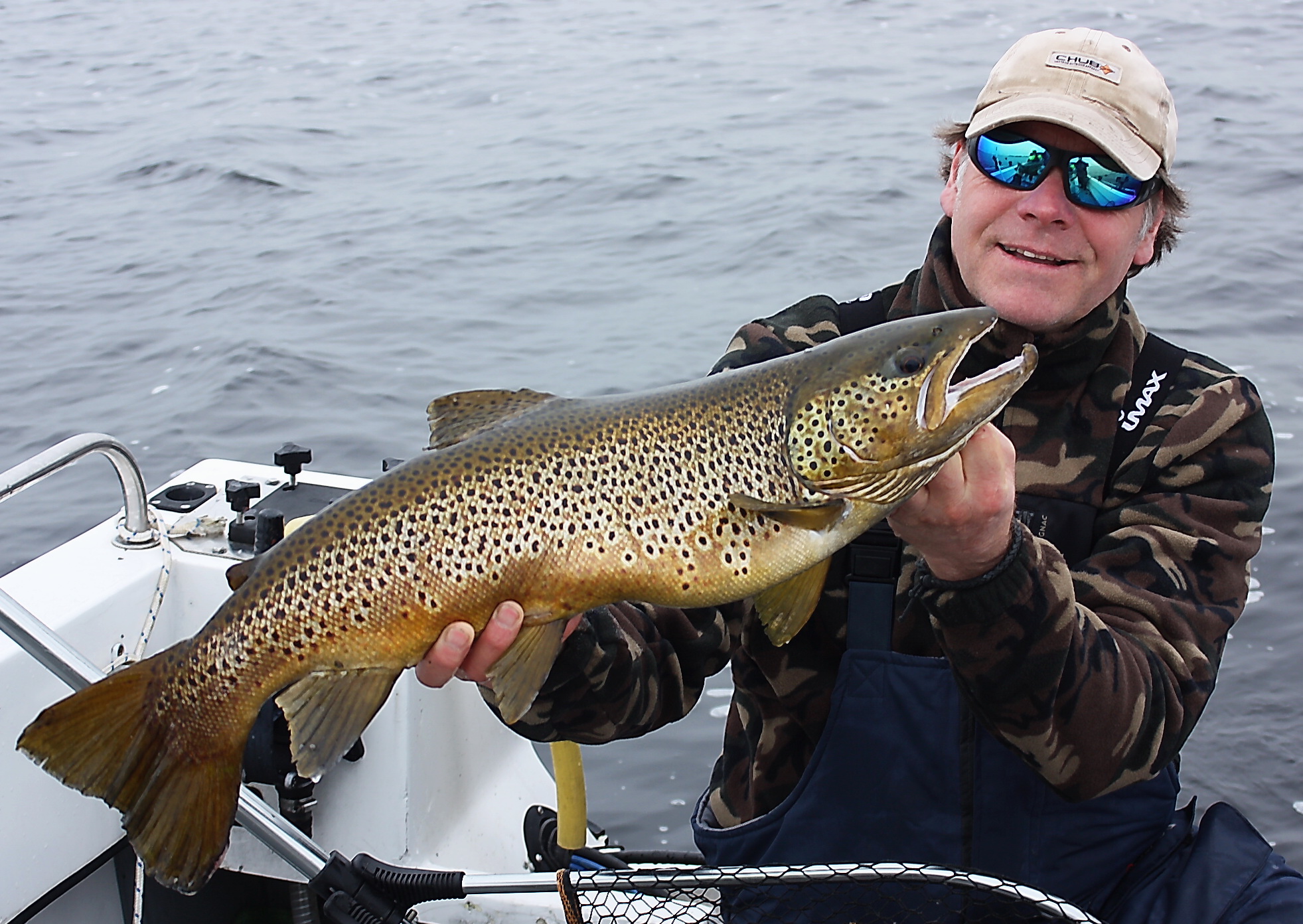 Four ounces short of ten pounds, but how can I be disappointed
Photographed and gently released, watching this stunning fish swimming away healthy, I had time to ponder my disappointment. But honestly, how could I be upset? We had fabulous fishing, with some decent low double figure Pike, and a respectable number of stunning Lake Trout. Most exciting of all, is I think we are beginning to nail down this trolling lark. My gear is tweaked and fine tuned to the point that I am pretty confident It is as good as I can achieve. I can hardly wait until the new season arrives, God willing, and I can get another shot at them. Watch this space, after twelve seasons of near misses, 2024 will see me with a ten pound plus. And if not, what of it! I will continue chasing that monster Irish Trout among some of the finest scenery in Europe, with old and trusted friends...how bad?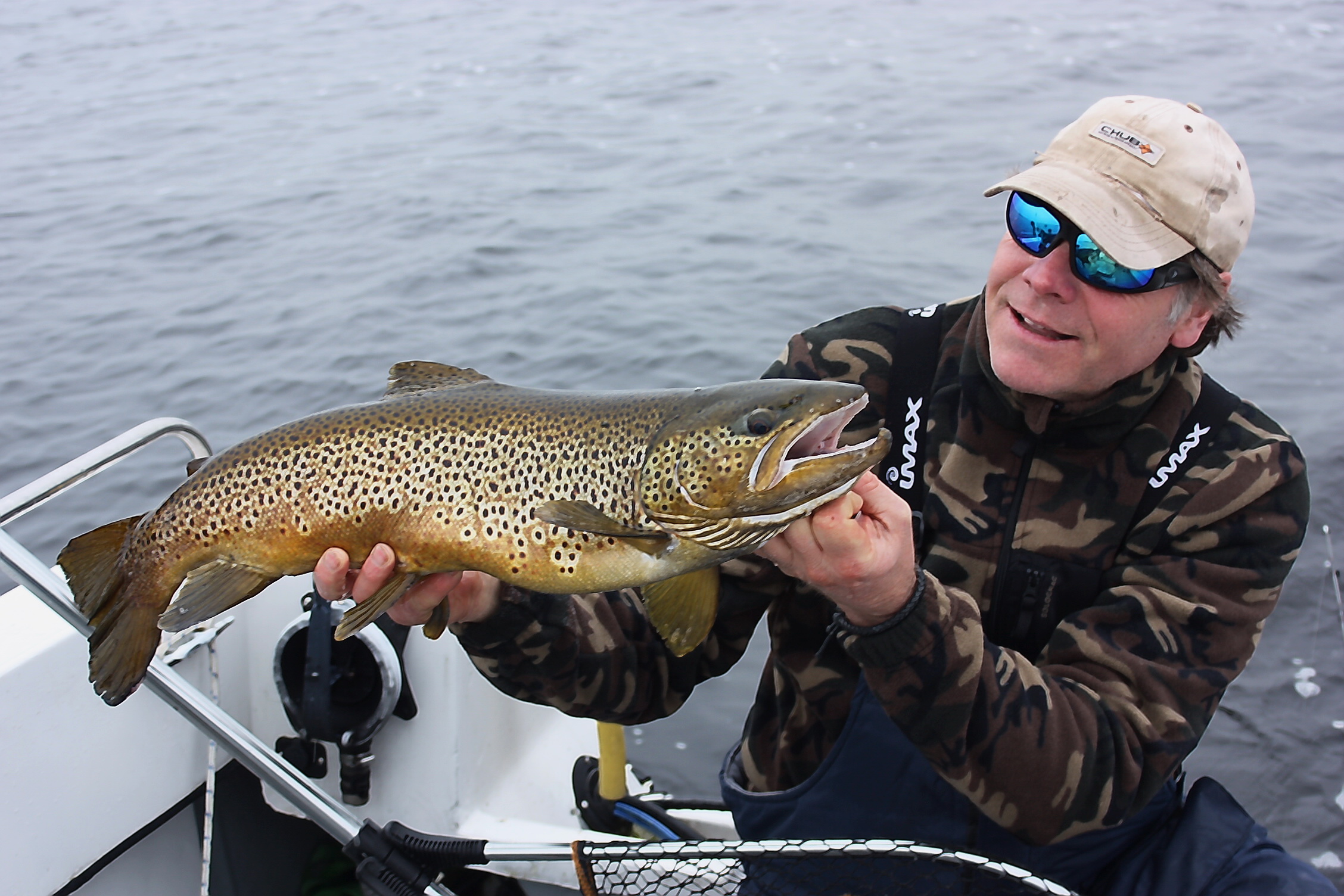 There's always next year!
Tight Lines
Back