Free Lined Peeler
Learning a new method
There's an old saying that goes "you can't teach an old dog new tricks". Well I am an old sea dog, and a recent trip to Kerry taught me a new trick when it comes to catching Bass.
I guess that, under certain circumstances, not all these old sayings ring true. I had planned a trip with big Phil to target Bass in the Waterville area, staying in Kevin and Chrissie's excellent accommodation in Waterville.
The idea was to locate some Bass, and, with Kevin there to guide us, try to catch one or two fish on the fly rod. In preparation, I had tied up a few rare looking fly patterns to look like fish fry and sandeel, as I always enjoy the chance to tempt a fish on one of my own creations, no matter how poorly it may be tied. We arrived at Kevin's that evening and settled in with a mug of tea and chatted about our plans for the following day. Although good numbers of Bass had been showing during the week, the weather had started to deteriorate and the chances of fulfilling my ambition of a Bass on the fly-rod looked less likely by the hour. We decided to numb the bad news by drinking some medicinal Guinness down the local pub, followed by a couple of medicinal Bushmills for good measure.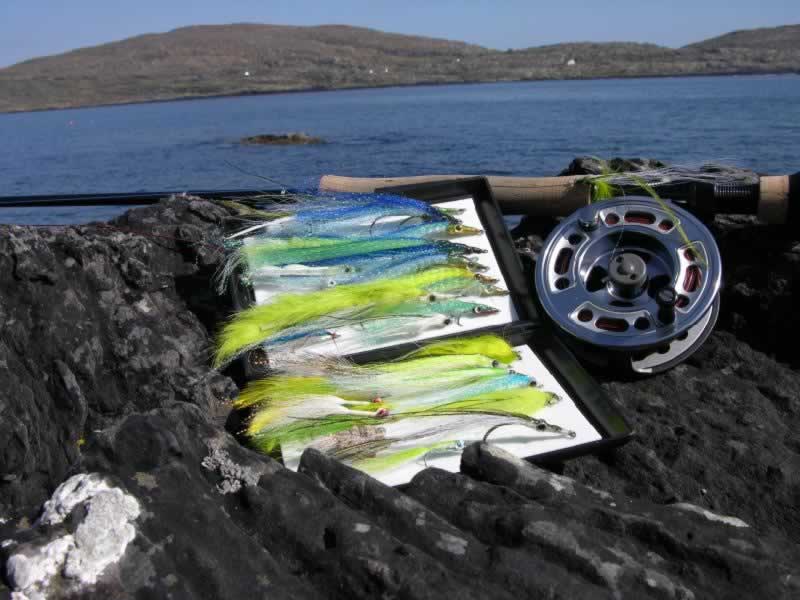 Unfortunately, Bass on the fly wasn't an option on this occasion.

The next morning proved that Kev's local knowledge was bang on. A reasonably strong south- west had developed and would make fly- casting quite difficult, but worse still; the surf had churned up the sea- bed, leaving the water a murky olive- grey colour. In this particular area, these are very poor conditions to target Bass on the fly. "Not to worry," says Kev as he notices the disappointment on my face. "I have a few peeler-crab back in the garage; you will get Bass on them". I knew he would suggest that, and, under these conditions, using a beach caster and a five ounce lead is fine, but I was really looking forward to a sporting fight on light tackle.
Peeler crab saves the day, as usual

This is when Kevin suggested the idea of free lining a peeler-crab. Luckily, I had brought my light carp rod with me, one that I usually use for plugging. Although I have taken Bass on free lined sandeel at Dingle, and had great fun with free lined ragworm taking Bass at Kilmore Quay, I had never really had the opportunity of doing the same with peeler-crab! Kevin nipped back to his garage while I set up the carp rod, fed the thirty pounds braid through the rings, attached a swivel, twenty inches of fifteen pounds nylon, and a 4/0 Aberdeen hook, as simple as that. Big Phil set up his trusty Zziplex and Mag Elite, and attached a pulley rig, his favourite Bass rig for rough ground marks. We had a chat until Kevin returned with a dozen prime peeler-crabs and we set about de-shelling a couple and whipping them onto the hooks with fine elastic thread. The thread serves not only to hold the crab in position, but also helps squeeze out oils and juices that Bass find so irresistible. What is surprising, is just how heavy a whole crab is when free lined on a light rod, and I was able to cast thirty to forty yards without any bother at all, well within the Bass feeding zone. Without all those bulky swivels, links and a lead weight attached, it is possible to cast a bait into the roughest, weedy and rocky areas, and expect to get the hook back on most occasions.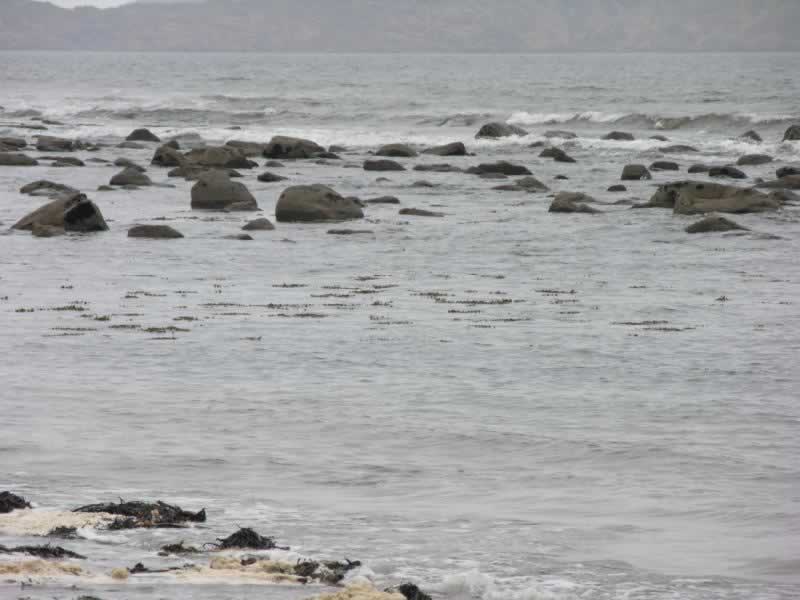 This is what I fished into, as the in-coming tide covered the rocks!

Phil did the same with his beach gear, and we sat back in anticipation. While waiting for a bite, Kevin set up a rod and similat to Phil, also fished a pulley rig. He threw down the gauntlet by saying "the bloke that catches the longest Bass, buys the drinks tonight". I thought this a little bit strange; surely the bloke that catches the shortest fish should suffer buying the drinks, but decided it must be a local Waterville custom.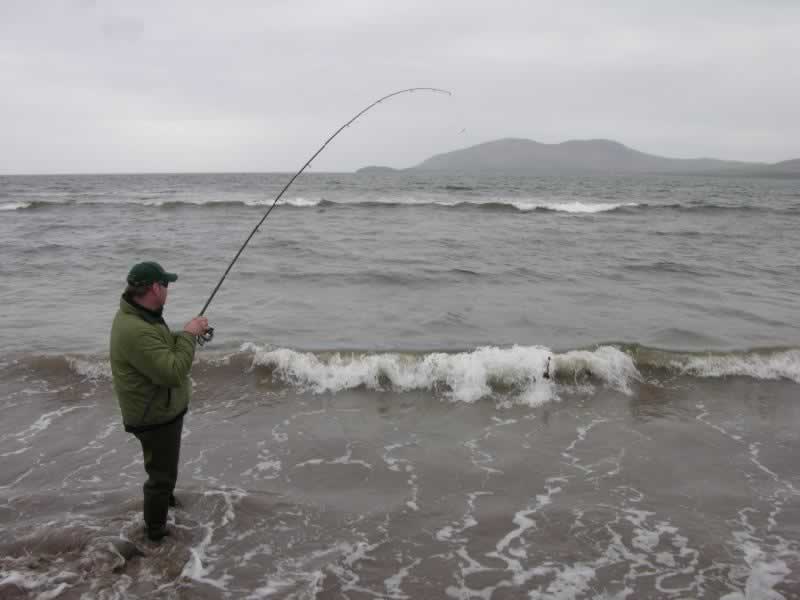 After fifteen bite-less minutes, Kevin intervened. He suggested I re-cast twenty feet to my left. I retrieved the crab bait that was un-touched, and gave it a little squeeze to help emit some more juices, then "flicked" it over the spot. I hardly had time to walk back up the beach when the rod tip dived forward with a vicious "take" that took me completely by surprise. I struck into the fish, which promptly tried to find every piece of weed and rock in the area. Looking back at Kevin, I could see that cheesy grin as he uttered his well-known catch phrase, "job done".
As I finally brought the Bass to the edge of the surf, I was surprised to see that it was only a schoolie of around three pounds in weight. They really go well on light gear, and gave just the sporting fight I had been looking for.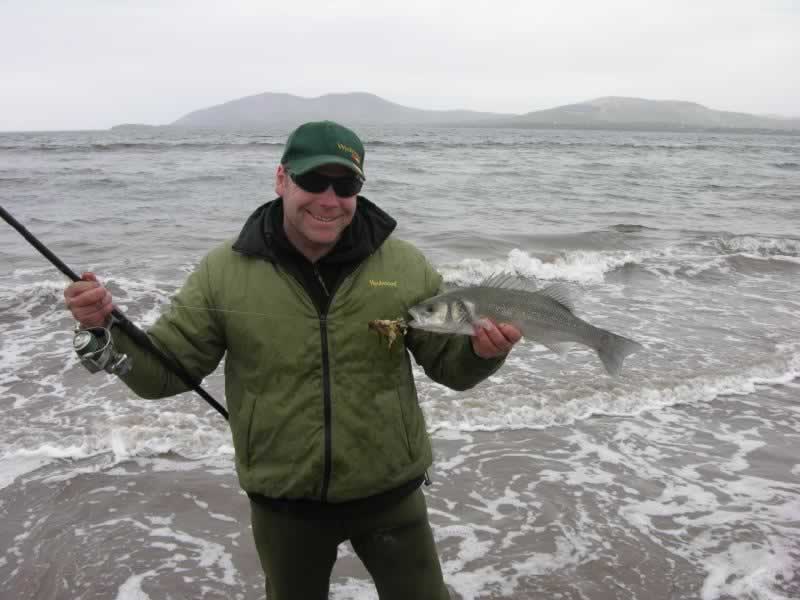 Superb fun on light tackle

Kevin insists on a catch and release policy when guiding, which suited me fine. In fact, signs erected around the area state that all Bass less than forty centimetres in length must, by law, be returned to the sea. In my opinion, this should be raised to at least forty-seven centimetres, as this will give the species a chance to spawn at least once, increasing the possibility of future generations. If I had my way, all Bass would be returned, and this, I believe, is echoed throughout most of the shore angling community. There is nothing more rewarding than to see such a fabulous fish returned to the sea. However, on this occasion, a quick process was undertaken. Two scales were removed from each side of the fish, along the lateral line and placed in a small bag. The fish was measured and photographed then safely returned to the sea. Kevin has been carrying out this survey for many years now, and has recorded a wealth of valuable information for Inland Fisheries Ireland, Dublin.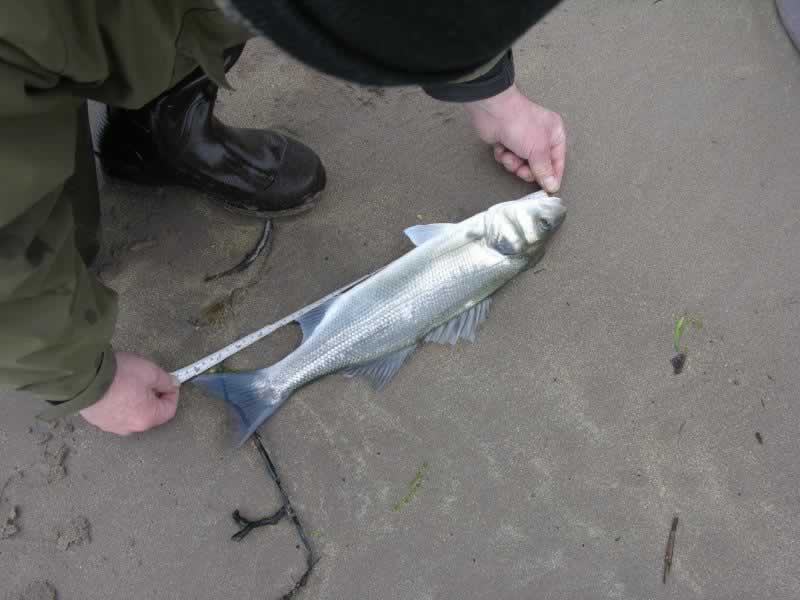 Data collection, part of an on-going Bass survey in Ireland

Looking as smug as humanely possible, I re-baited the hook and cast back into the previous gulley, just as Big Phil struck into his first fish of the day, on beach casting and pulley-rig tactics. Another couple of fish showed for me, out of the same gulley, before the tide turned. This is a high water mark and rarely fishes on the ebb, due to the shallow water over the rough ground, so with Kevin's advice, we packed up. I thoroughly enjoyed the sport those small Bass gave me on light tackle and could not wait to try again, once the tide had returned, and asked Kev if there were any low water marks that we could try, using the same method. He gave me directions to another hot spot worth trying, but not for another five hours, until the tide had reached its lowest level.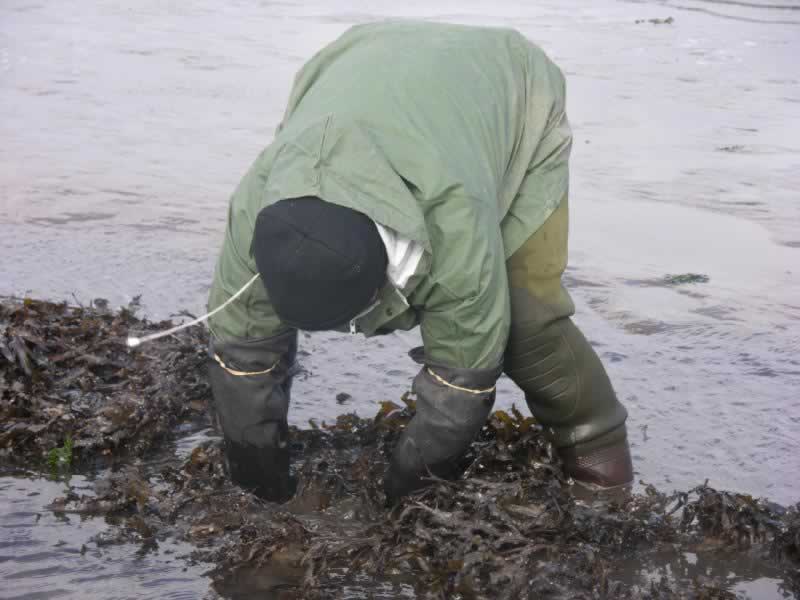 The arduous and back-breaking task of collecting peeler crab
This was quite clever on Kevin's behalf, as it gave an excuse to help him gather some more fresh crab from the multitude of traps he has secreted around the coastline. He took us to three secret locations, where I had to put on chest waders, a waterproof jacket, and industrial gloves tied up with elastic bands, the type that vets use to examine a cows backside! I am just glad it was isolated enough that no one could see me in that gear. We then headed knee deep into the thickest black mud I have ever seen, checking each trap in turn. By the end of the session I was thoroughly exhausted and covered in mud. I will never complain about the price of a shop bought peeler crab again. It was a welcome relief to return to Kevin's B&B and sample the delights of Chrissies home cooking, and another mug of tea.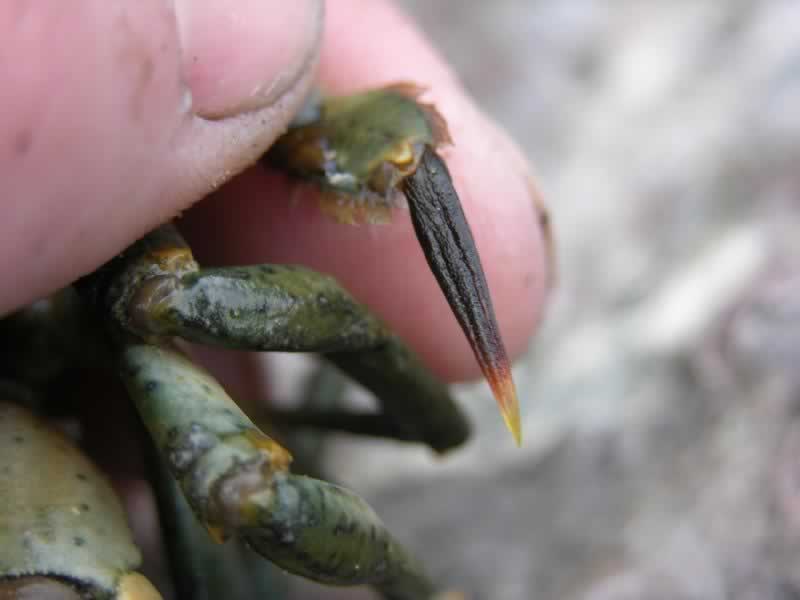 Soft leg of a peeler crab below the hard shell

After dinner, Phil and I headed for the new location. Personally, I was eager to try free lined crab again, not just for the sport but also to make sure the previous session was not a fluke. It was just coming on to dusk as we crept down to the isolated mark, and I cast the crab bait right in the middle of the weediest kelp bed on the beach. First cast saw the carp rod almost wrenched from my hands. Bass really hit violently on this method, it is little wonder the lads that catch them on fly tactics rant and rave so much about it. After a wonderful scrap through kelp and bladder wrack, and several clutch screaming runs along the surf line, I managed to land a slightly larger fish of four and a half pounds.
Bass really love peeler crab fished in and around the "snaggy" areas and respond so well to this excellent method. I can only imagine the power and fight involved with a double figure fish. Strangely, we never had another take; apart from a greedy little Rockling that had managed to swallow a whole, large crab bait along with the 4/0 hook. Big Phil pointed to a huge seal that had surfaced only twenty feet out from the shore, obviously looking for his share. Kevin has told us many times in the past, once a seal makes an appearance close to the shore, you may as well pack up and head home. We persevered for another forty- five minutes to no avail, he was quite right as usual. When we arrived back at Kevin's, we were reminded of the fish challenge he had set up earlier. Both Phil and myself equally managed to catch the longest Bass of the day, and with that big toothy grin, Kevin cheered and said "lads, you're both buying me drinks tonight".
Back