Kilmore Quay Harbour
Terry's Travels
Kilmore Quay Harbour
Back again after only twenty years or so!
I last fished out of Kilmore Harbour, it's crazy to say, sometime last century! Leading up to one of the Master Angler Boat Competitions. I think my old mate and Irish International Liam Longmore won it that year. Our club at that time, Parkview Angling, booked a couple of trips with top charter skipper in the area, Eamonn Hayes, in a bid to get a feel of the place. This was some time in the 1990's. I feel old....I am old!
We had a memorable experience with Eamonn, under his expertise hunting down Tope, Wrasse, Bass and Pollock among many species on offer at that time. I fished the Master Angler later that year, but have never returned to this popular venue. I guess there were just too many other fabulous destinations and species around Ireland that I wanted to see before I grew much older! As it turns out, I did just that.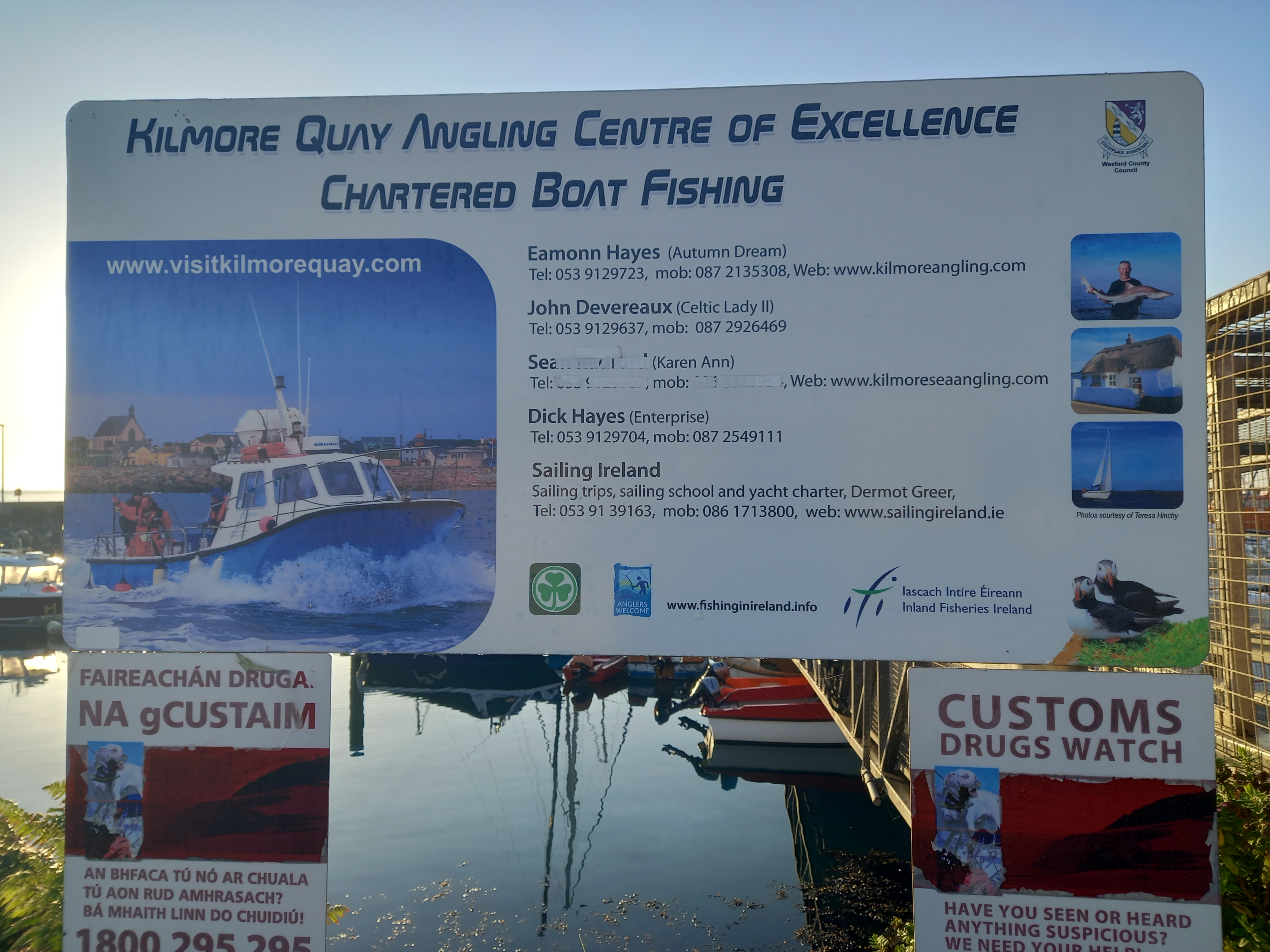 If you fancy a Kilmore Quay angling experience
Recently, a planned trip to Cork Harbour became "un-planned" at the last minute, when Sidney Kennedy rang to inform me of a kind invite by Martin Kennedy, proprietor of the popular tackle range "Shamrock Tackle". We were after large Bass, and Martin reckoned he could put us amongst them down in his "neck of the woods". It would be good to fish out of Kilmore again, I started to warm to the idea.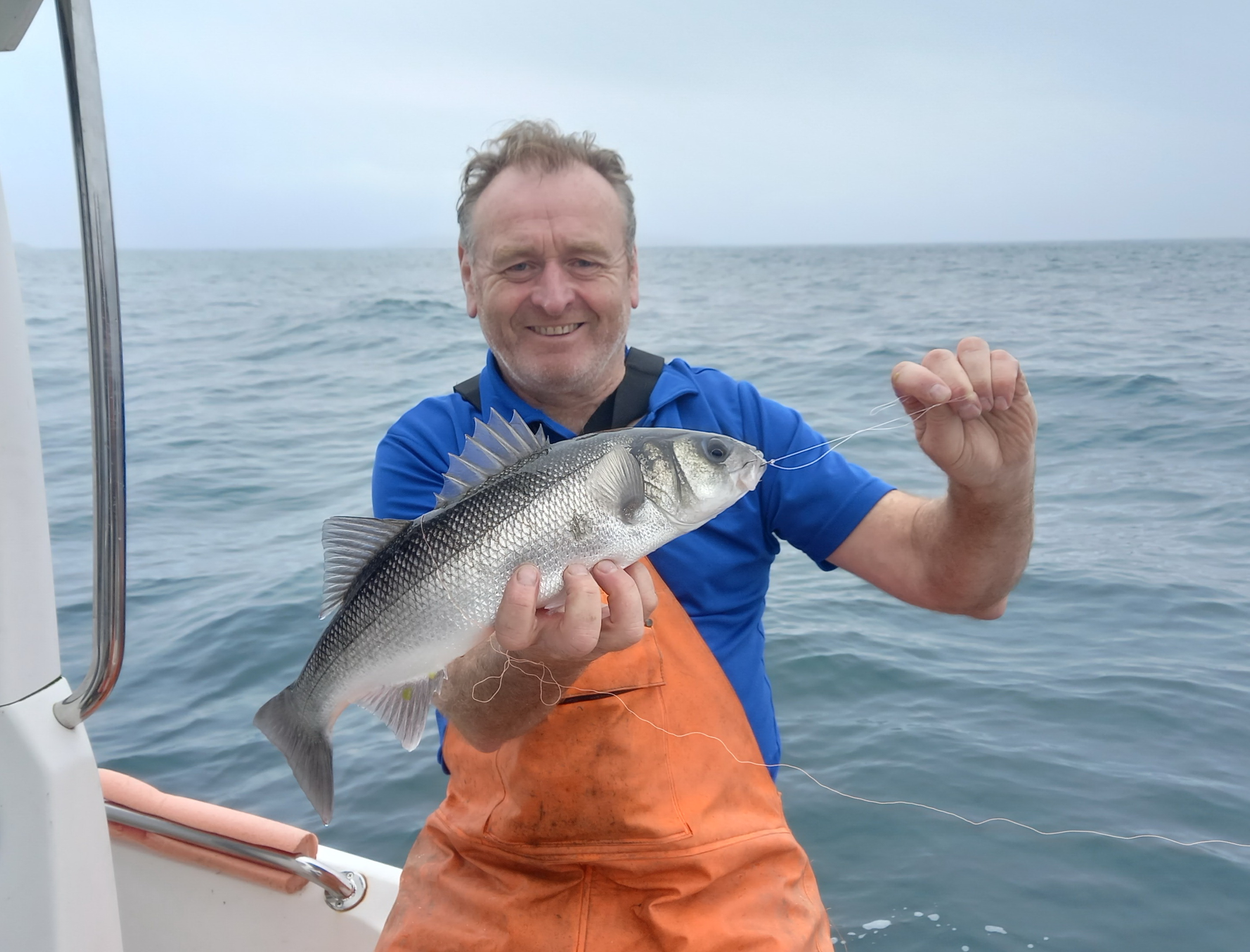 Martin Kennedy...AKA.Shamrock Tackle
We met up early that morning, lovely to see the harbour after two decades, hadn't changed much, and fabulous to finally meet Martin. He owns a well kitted out King Fisher, our vessel for the day. As bad, or mad as us, we found him sorting out his boat for the day ahead, whilst fishing for, and catching Grey Mullet below the boat. Unfortunately they were the "thick-lip" variety, he was hoping for "Golden-Greys" for a new species on his tick list!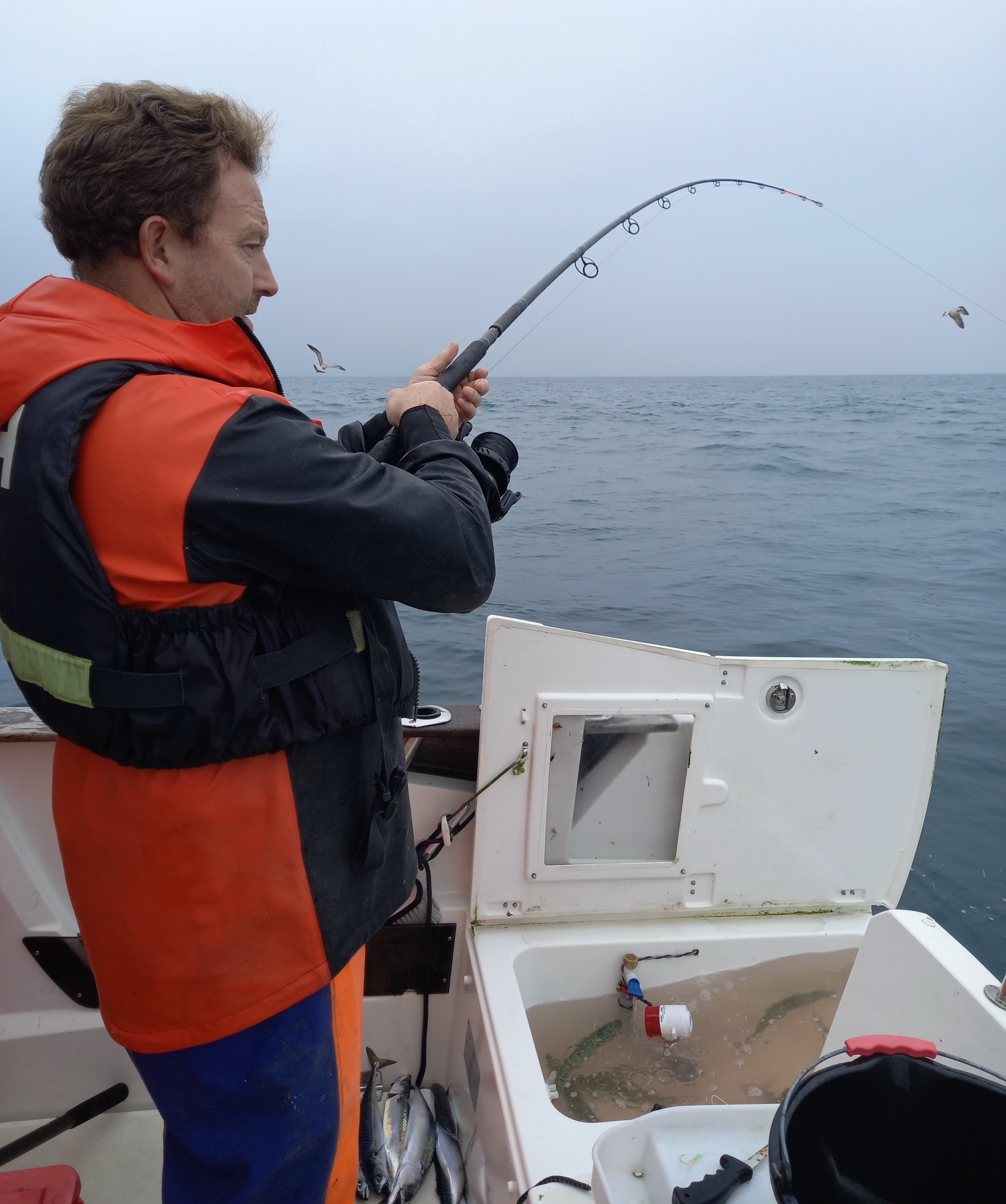 Doesn't take Sidney long to tempt a small Bass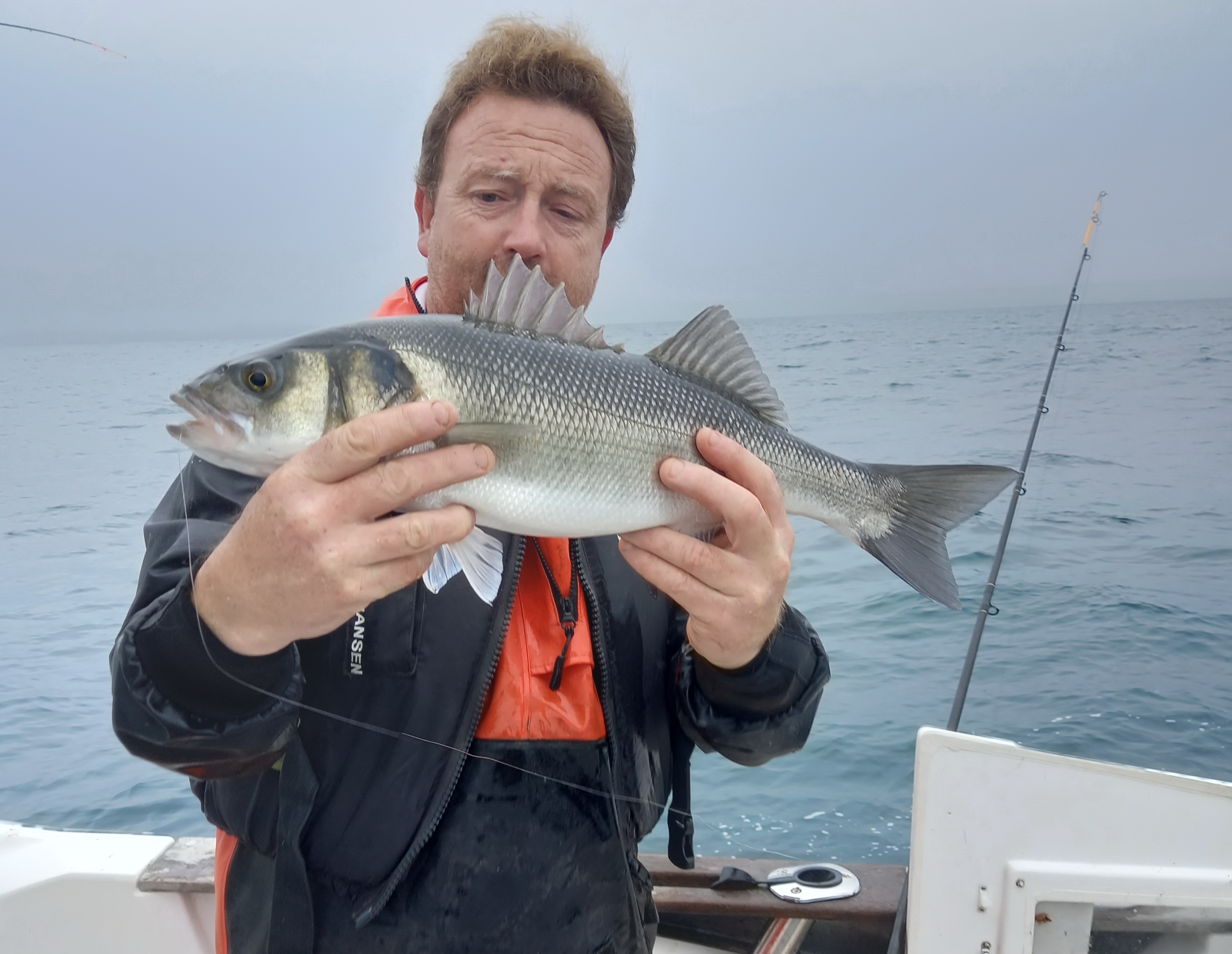 First stop, fresh Mackerel. In order to try and sort out the larger Bass specimens, we opted for live-baits fished under a float with the boat at anchor and up-tide of the mark. This would allow baits to be slowly and quietly introduced into the "killing zone" and is always an exciting prospect. With floats out well beyond the stern, we could also chuck lures in the hope of a bonus fish.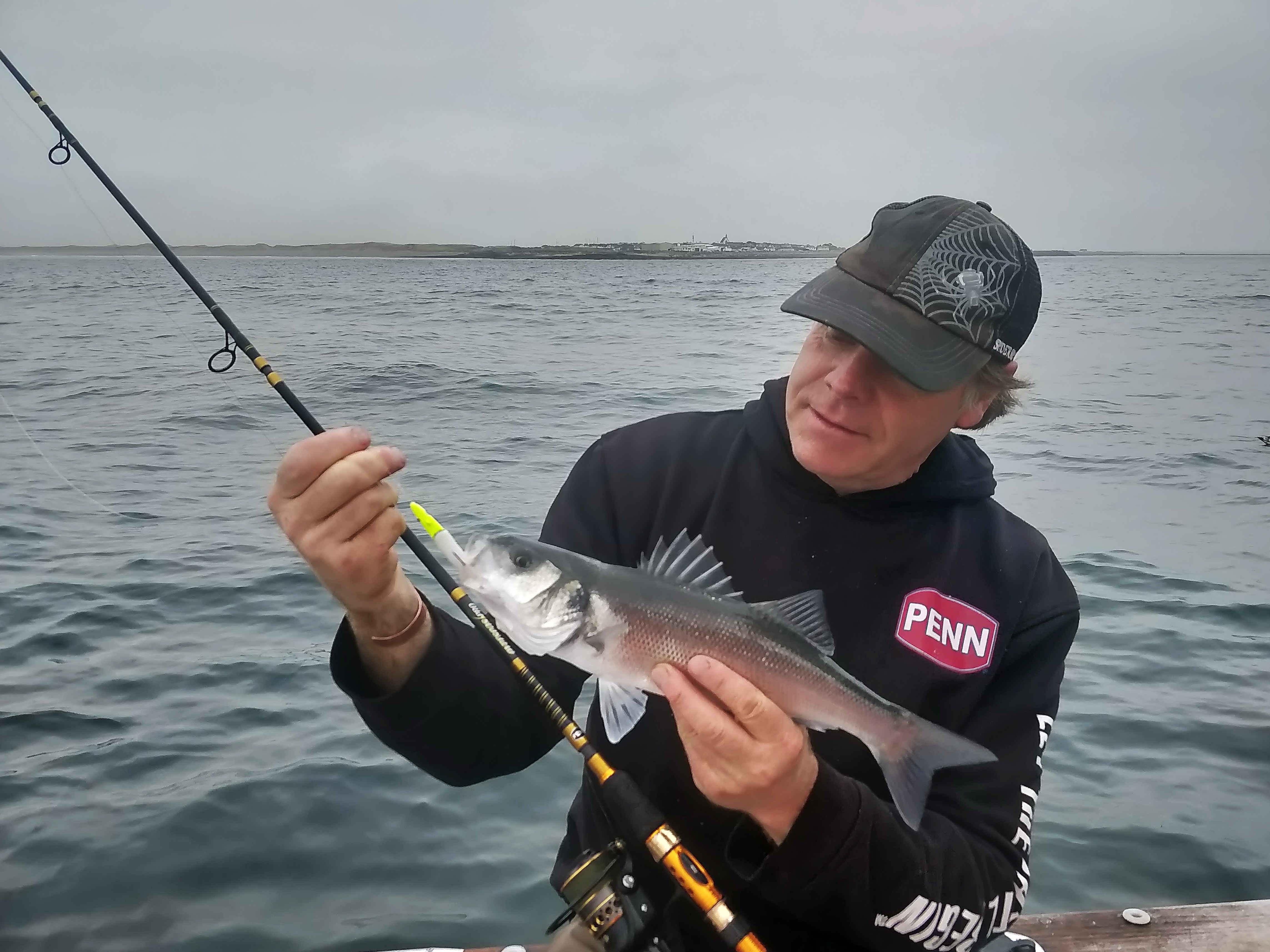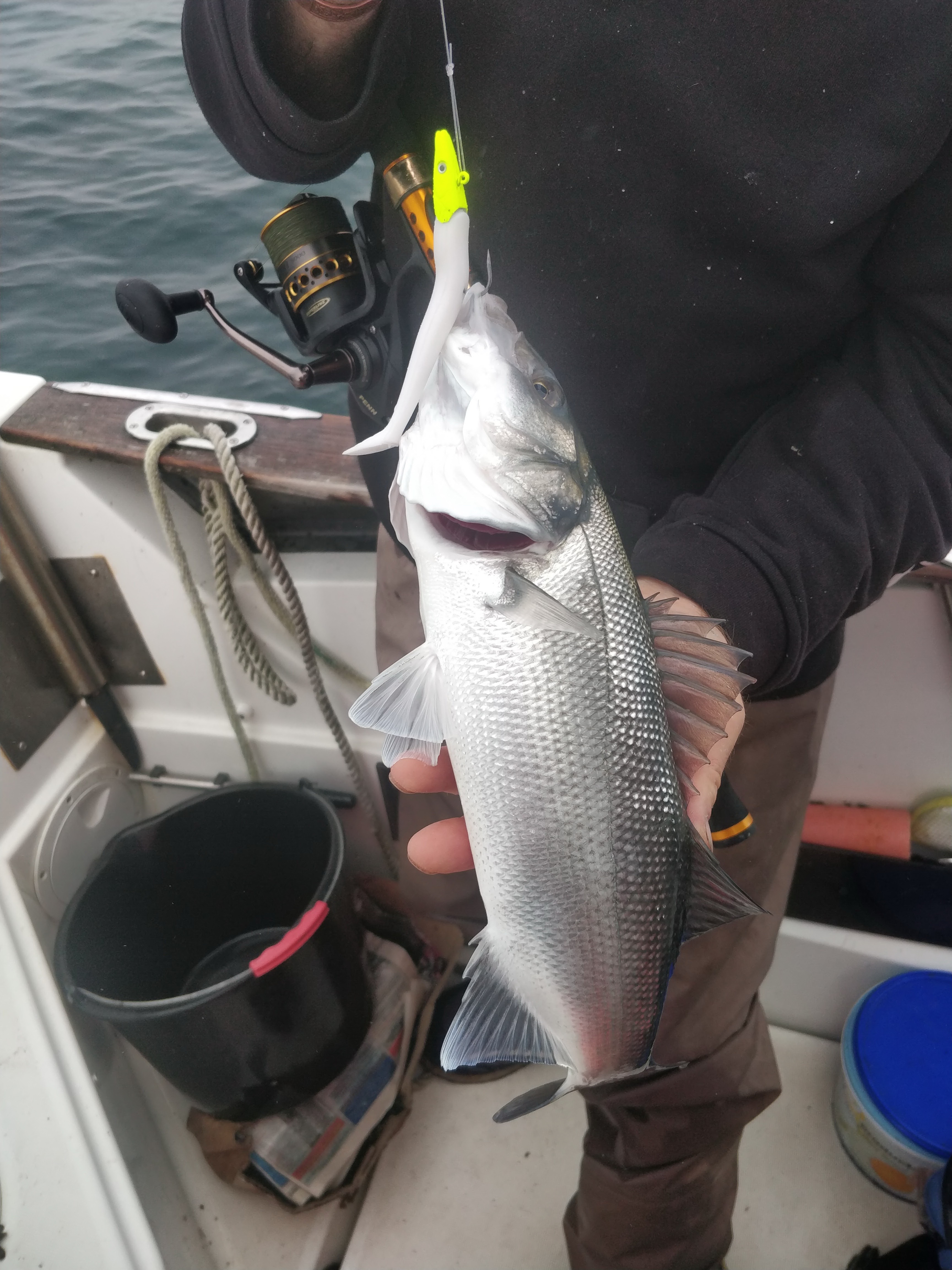 Good fun, but a bit on the small side!
There were a few Bass about, and some decent Pollock, but nothing pushing the specimen barrier of either ten pounds or seventy five centimetres in length. Surprising however, to see how small a Bass can be, to tackle an adult Mackerel! Towards the top of the tide, a blistering run stripped around one hundred yards off the Penn Spin-fisher, against a powerful clutch system, and as I tightened down ready to lift, the fish let go.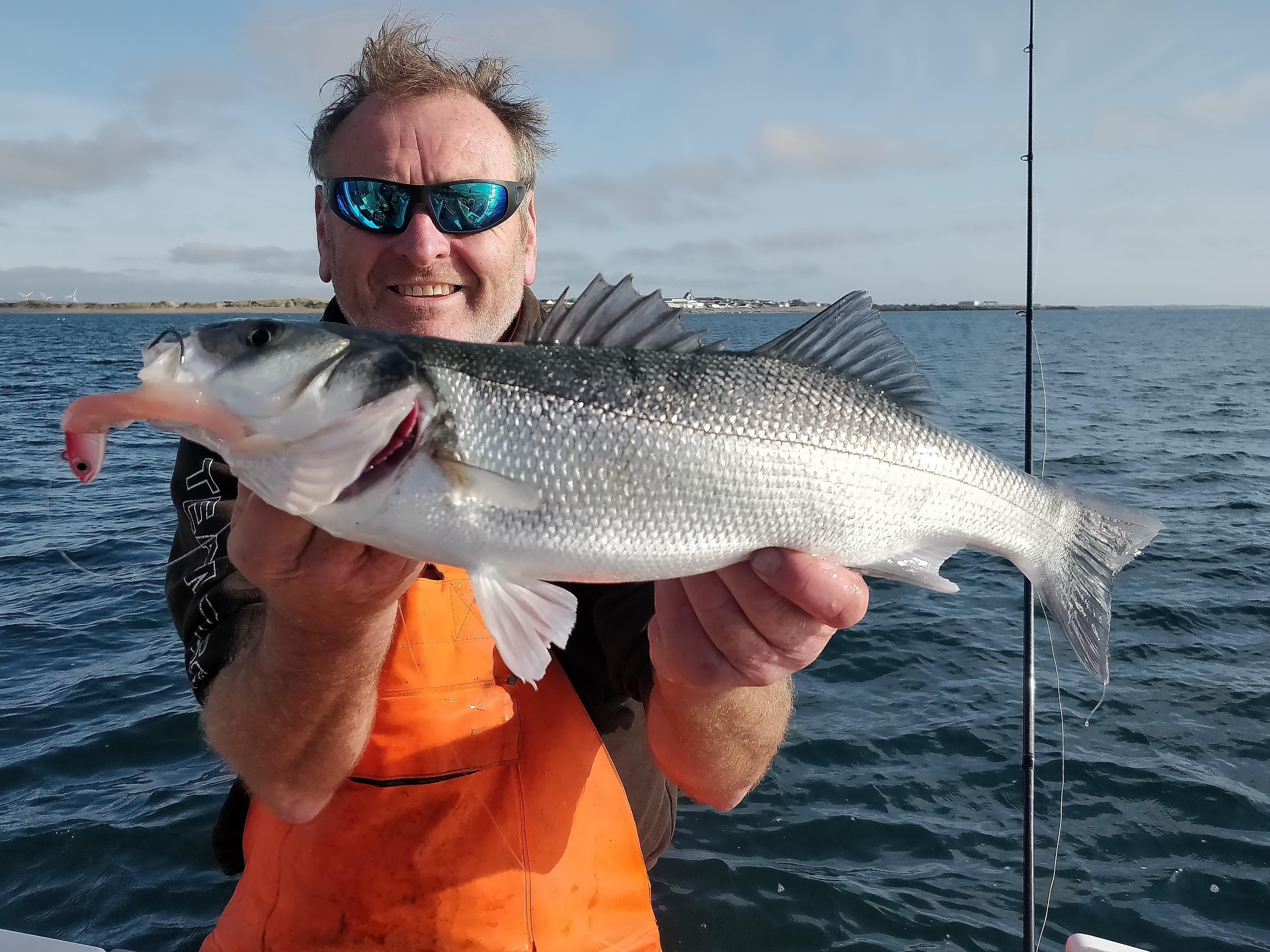 I got the usual banter from the lads, "that was your specimen Bass for sure". but if I didn't know any better, it had all the hallmarks of a sizeable Tope. An inspection of the bait, intact and with no visible teeth marks! Do large Bass really run that fast, that far?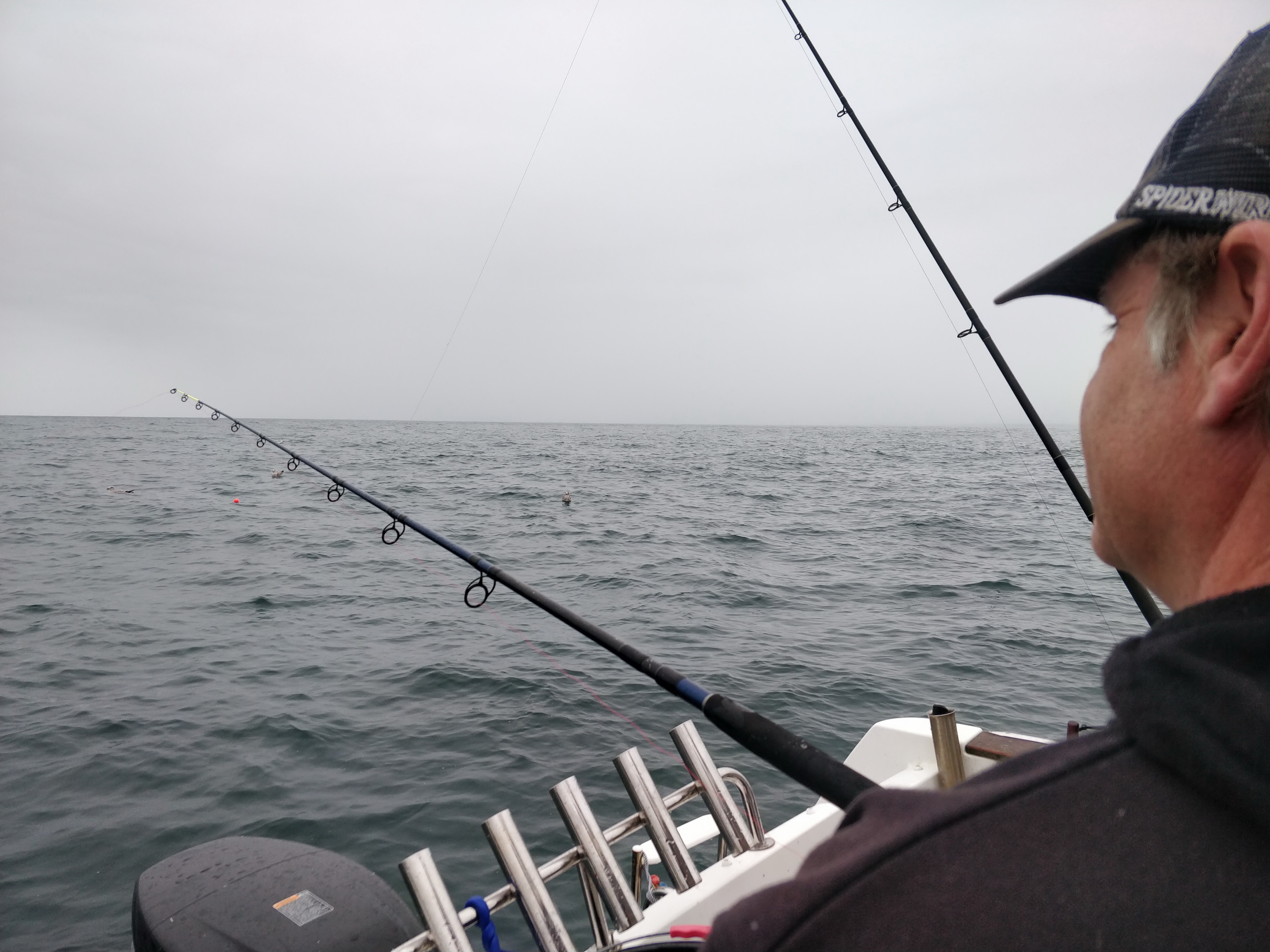 Greys Uptide rods, perfect for this type of fishing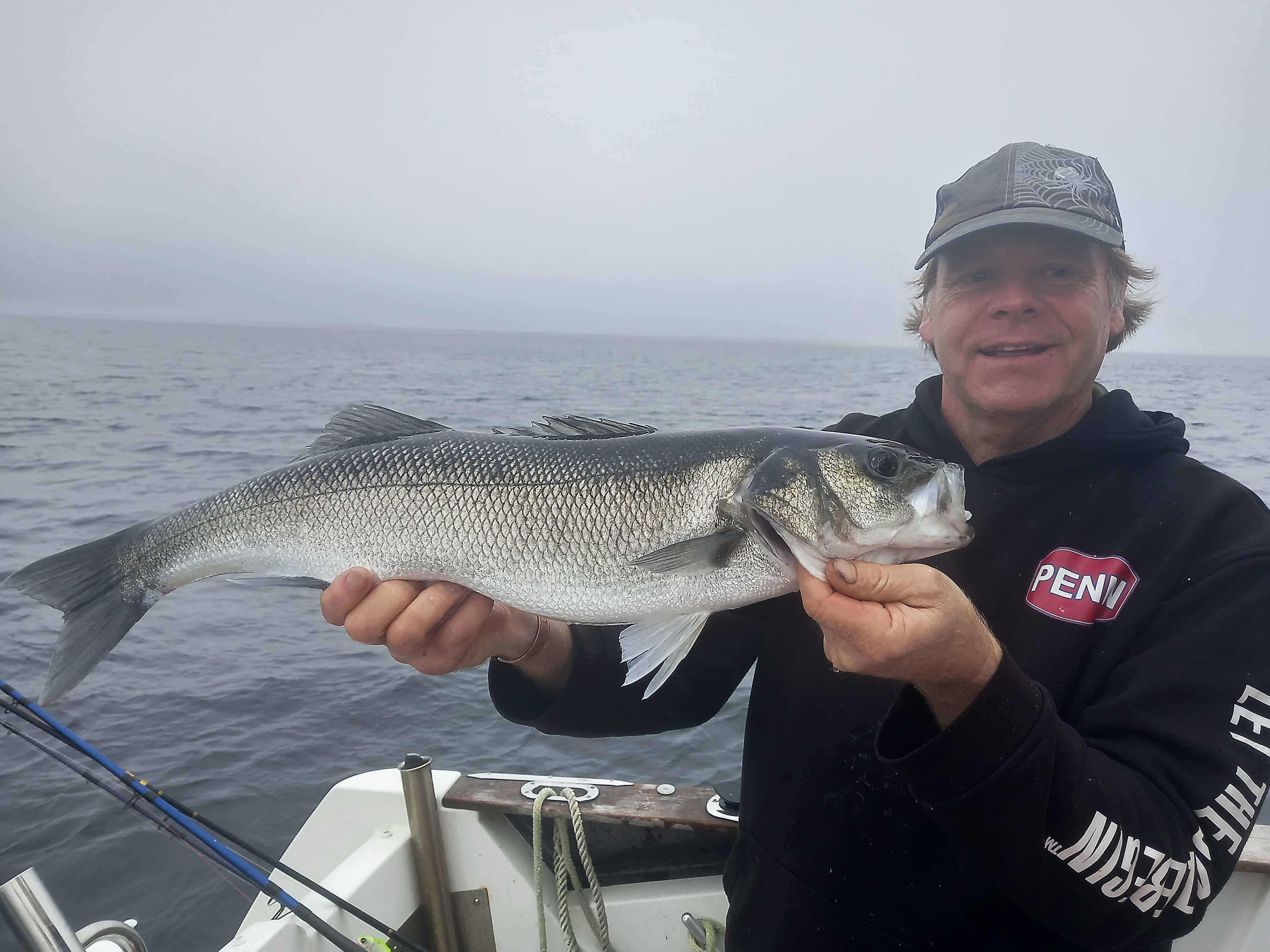 A bit better..catch, photo, release
A short while later, a sizeable Tope smashed the surface, a float buried and line ripped off the reel yet again, before biting through the 40lb hook-length in a split second. Now we knew, and concluded my previous fish had possibly been foul-hooked on a pectoral or tail fin to stay in contact for so long, and also to leave no tell-tale bite marks.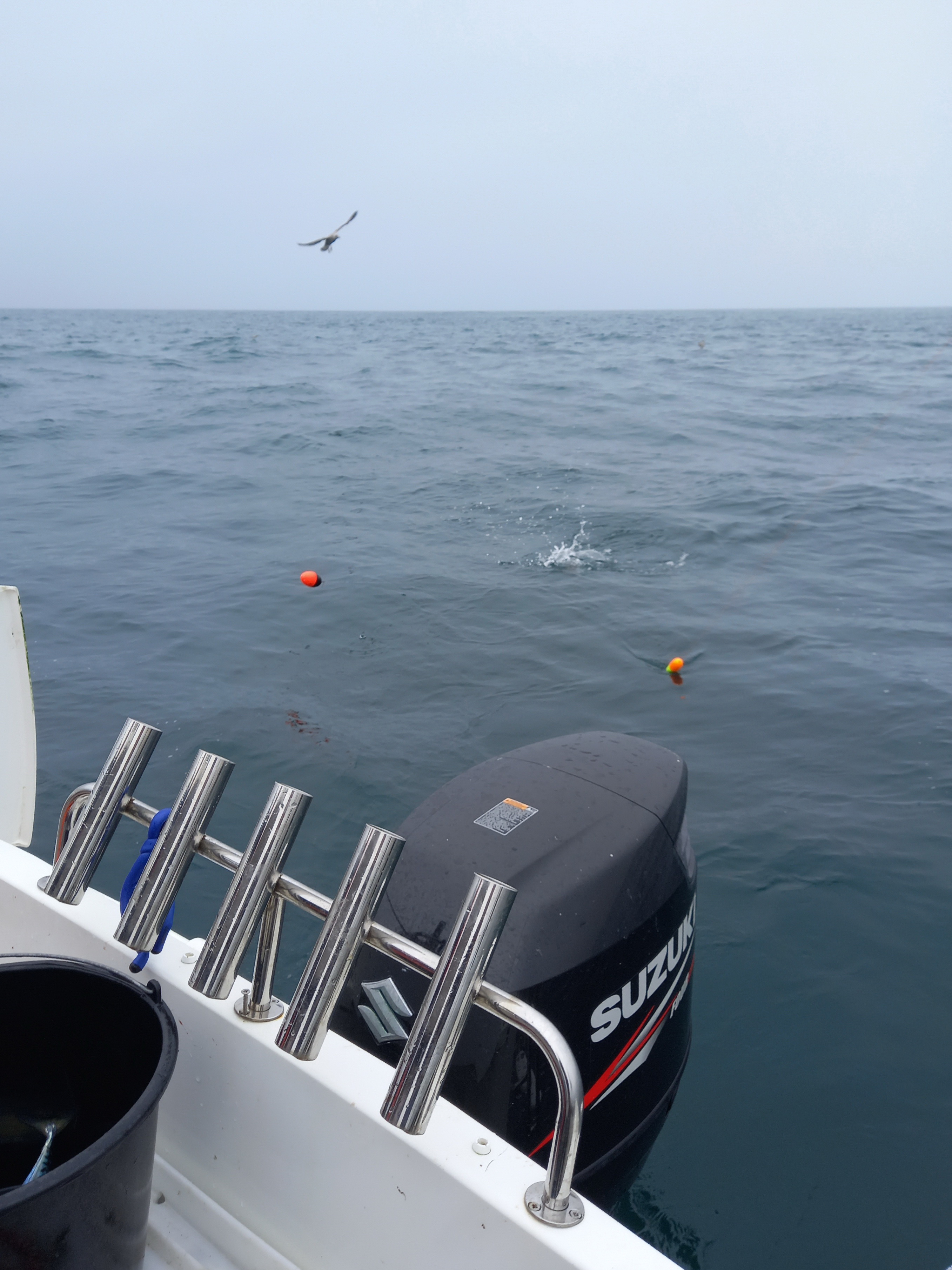 The day ended all too soon, an unfortunate consequence of Winter angling. There were plenty of fish about, along with a few larger predators that we weren't quite equipped for, but it's another day tomorrow. The forecast looked good, priority was still big Bass, but this time, if they refused to play ball, there were larger species to target, and we will be well prepared. For-warned is for-armed!
Back at the quayside, who was waiting to see how we got on? None other than the man himself, Eamonn Hayes. We haven't seen each other for over twenty years, but recognition was instant. Good to see our Kilmore skipper still fishing, and still chartering after all this time.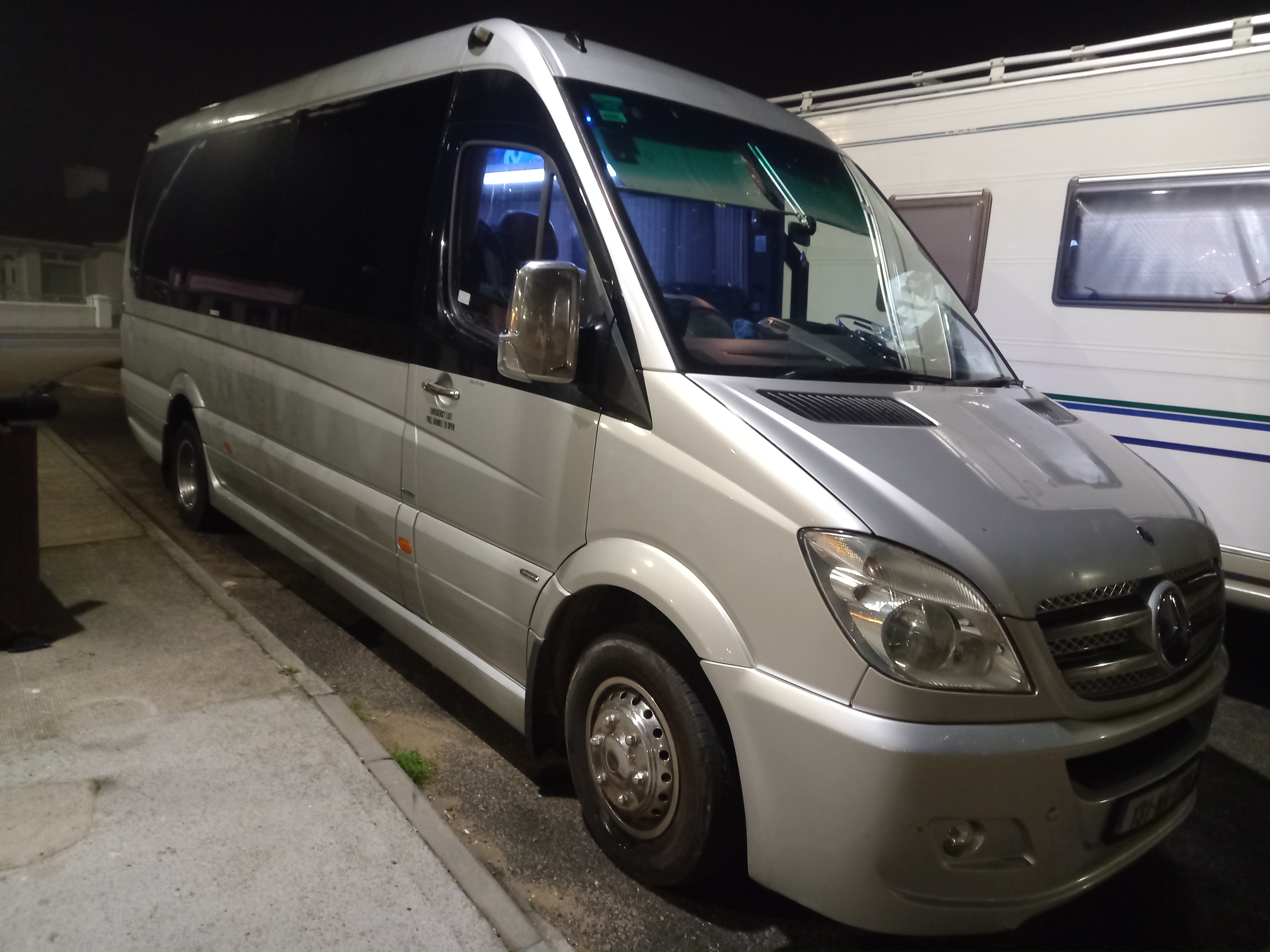 Hotel for the night!
I forgot to mention, Martin had previously arrived in his luxury three-berth camper van. The description campervan does it an injustice in all fairness. It is actually a luxury coach converted to camping-travel-angling by Martin himself, and a fine job too. We bought the chippy grub, he made the tea, and enjoyed a relaxing evening. Eventually "crashed" out in comfort under the gentle blue background lighting and country music over the speakers. My bivvy was never this good!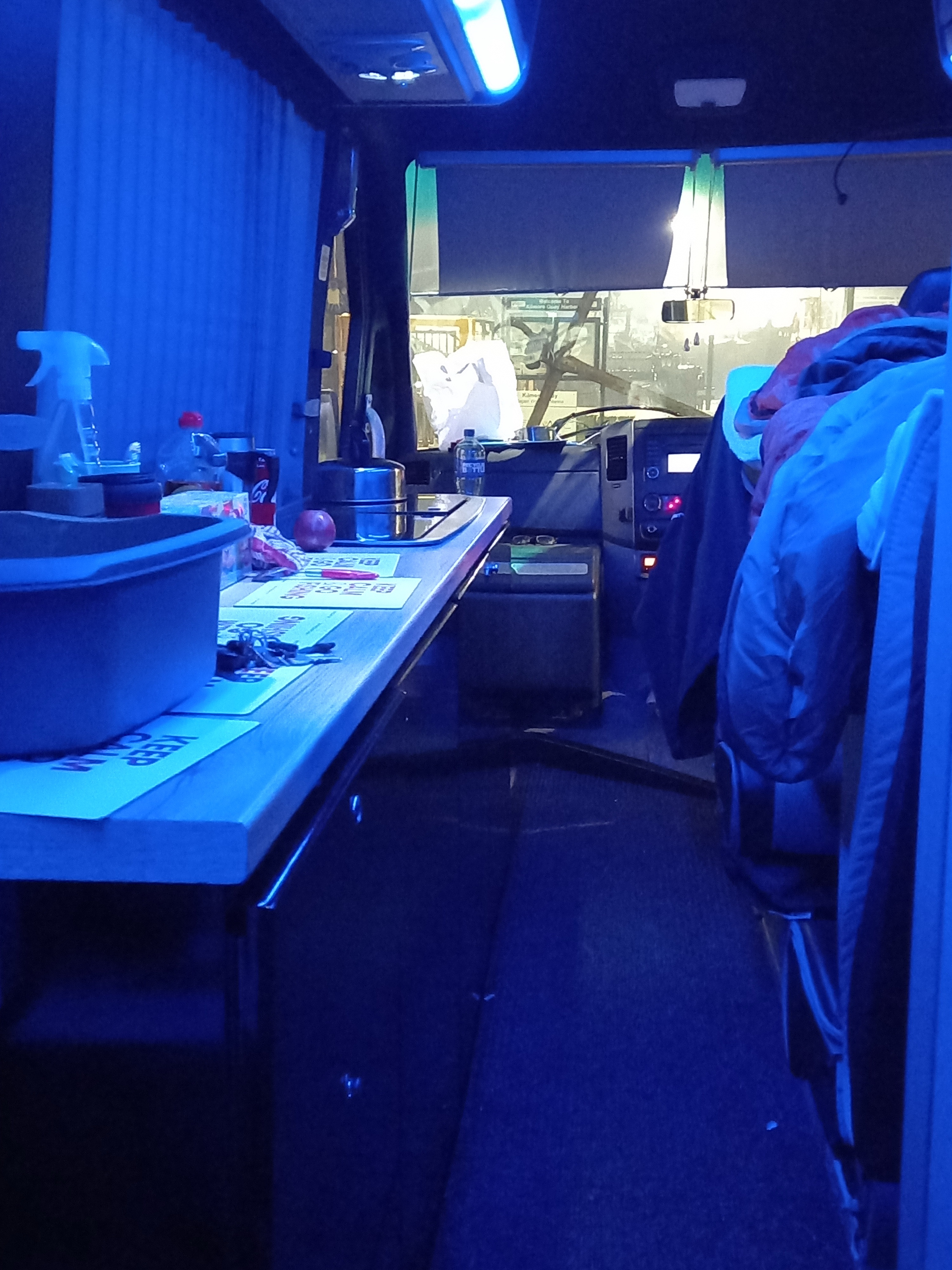 The following morning, awoken by the smell of fried bacon, mushrooms, sausage and eggs, we were raring to go. I think I would like to come back to this hotel! The sea appeared flat calm, and with the sun creeping up over the harbour, I took it as a good omen for the day ahead. Back to the Mackerel spot, and out to the Bass mark again.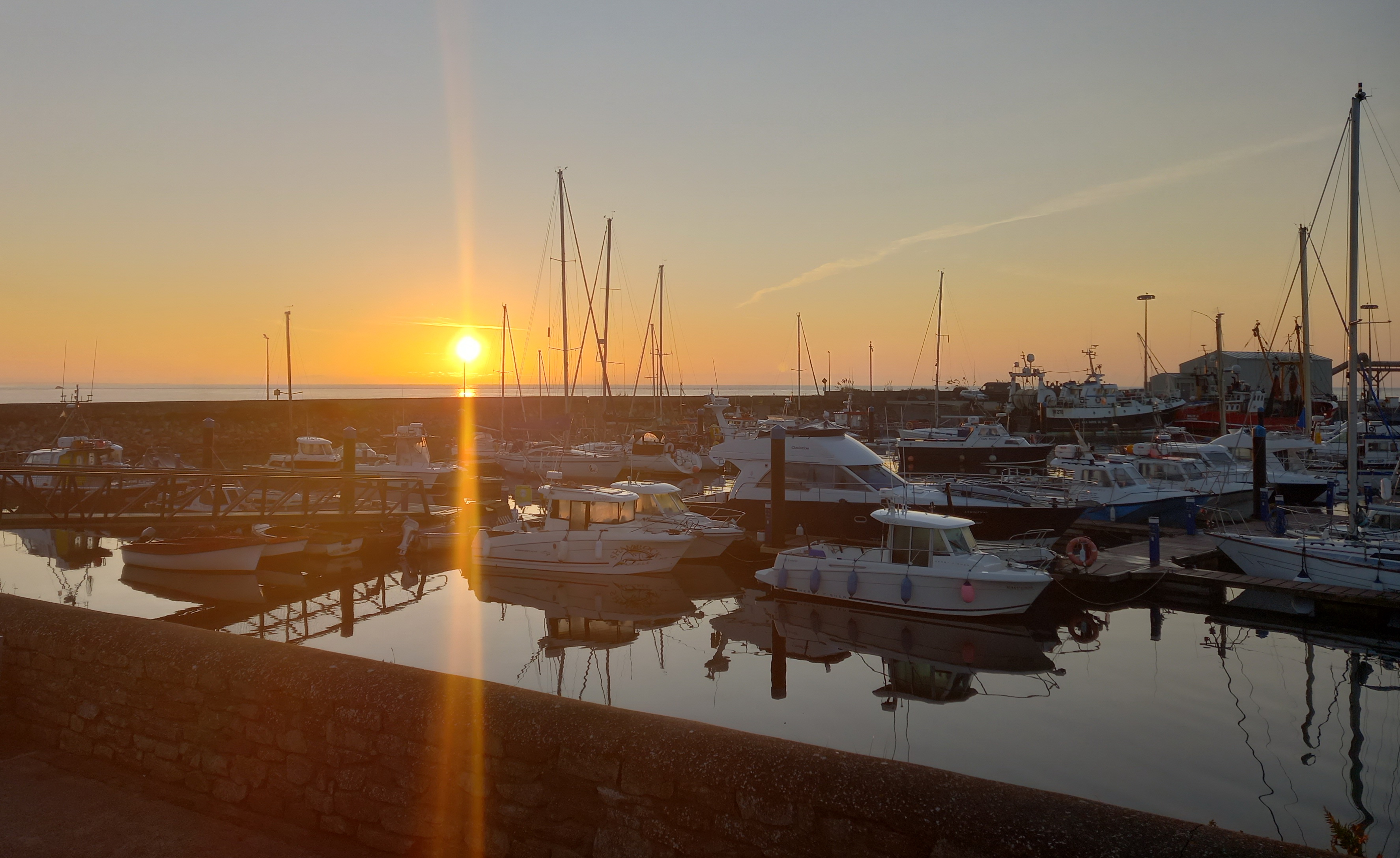 Sun peers over Kilmore Harbour
So much for the good omen, it seemed a totally different venue today! Apart from a couple of small "schoolie" Bass taken on lures, there was almost nothing about! We tried for those large Tope that casually destroyed our rigs the previous day, but to no avail. On hindsight, suffering from a touch of "Bass fever", we stayed on the mark longer than we should have. Martin tried hard to find us fish, moving to several known marks during the day, but nothing showed at all, very curious. There were a few seals about, I suppose they may have had some influence on proceedings, I'm sure they would appreciate a large Bass or Pollock. One particular fellow showed a lot of interest with Sid's Bass bait, almost stealing it on one occasion.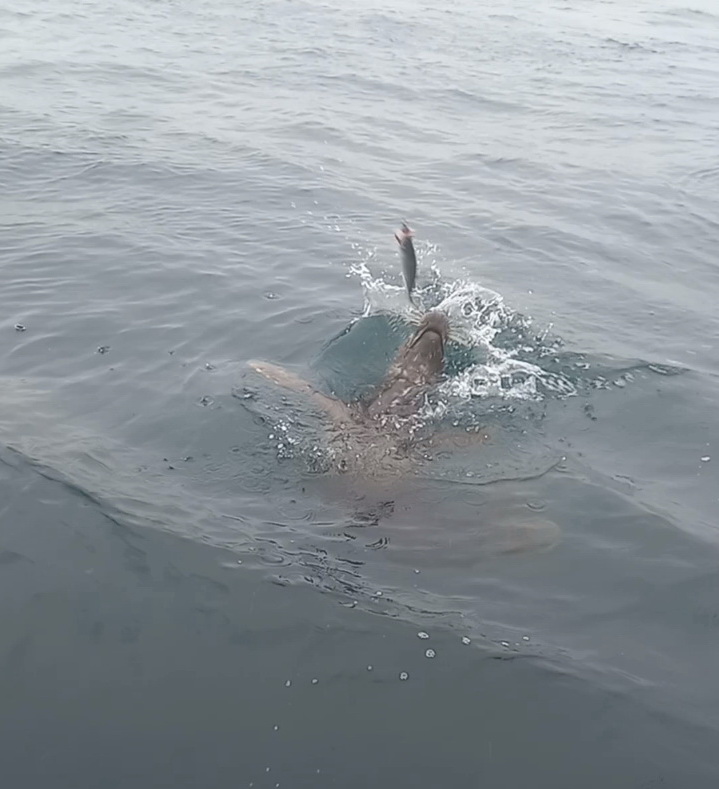 A couple of double-figure Bull-Huss, always a welcome addition
With a couple of hours left before sunset, Sid chirped up regarding the Tope. Martin suggested one mark that sometimes produced, and could be worth a try. So in a heart-beat, decision made, Bass rigs off, Tope rigs on. Off we went yet again, but a new target species in our sights, and only a very small window of opportunity to find them.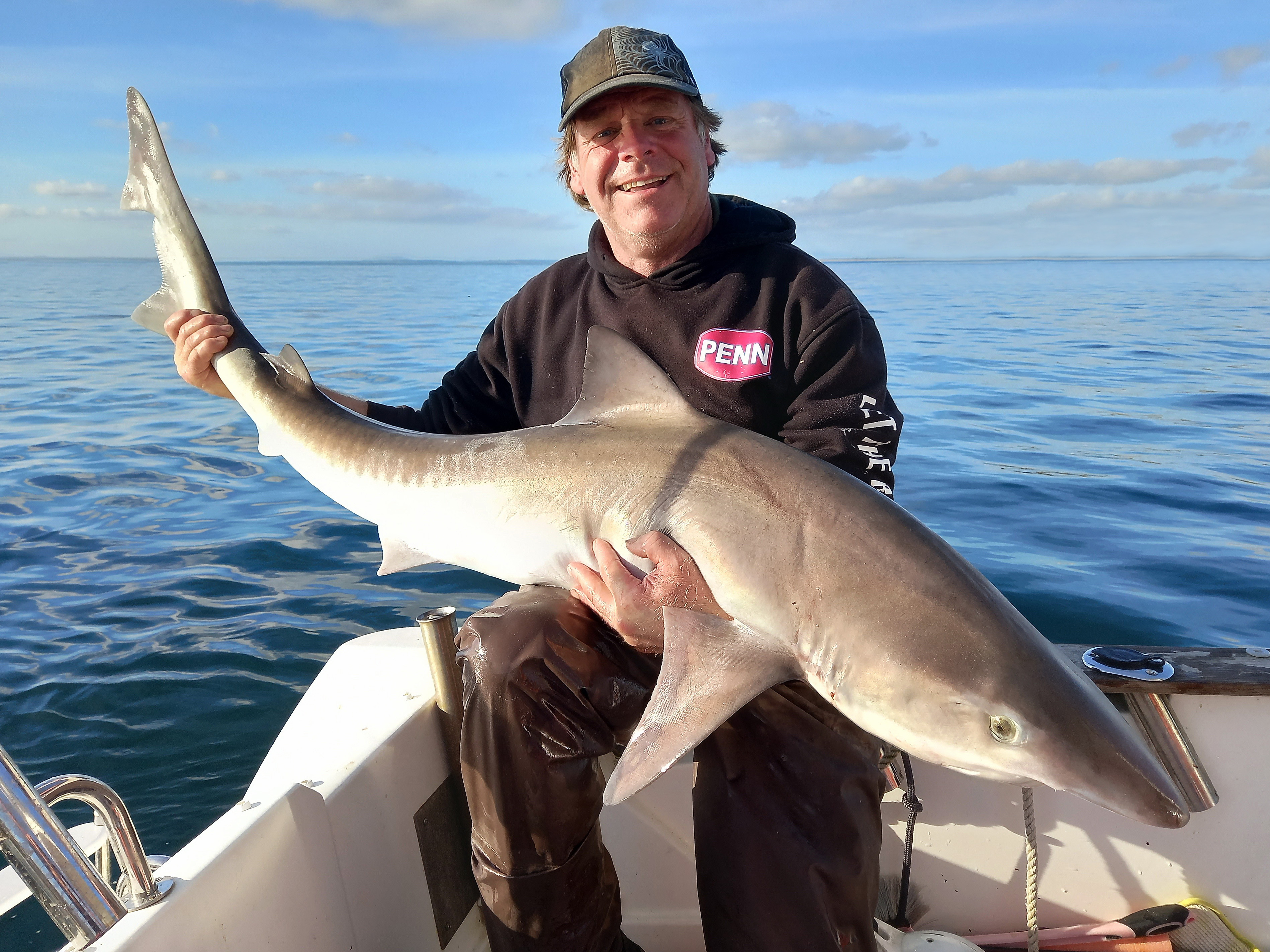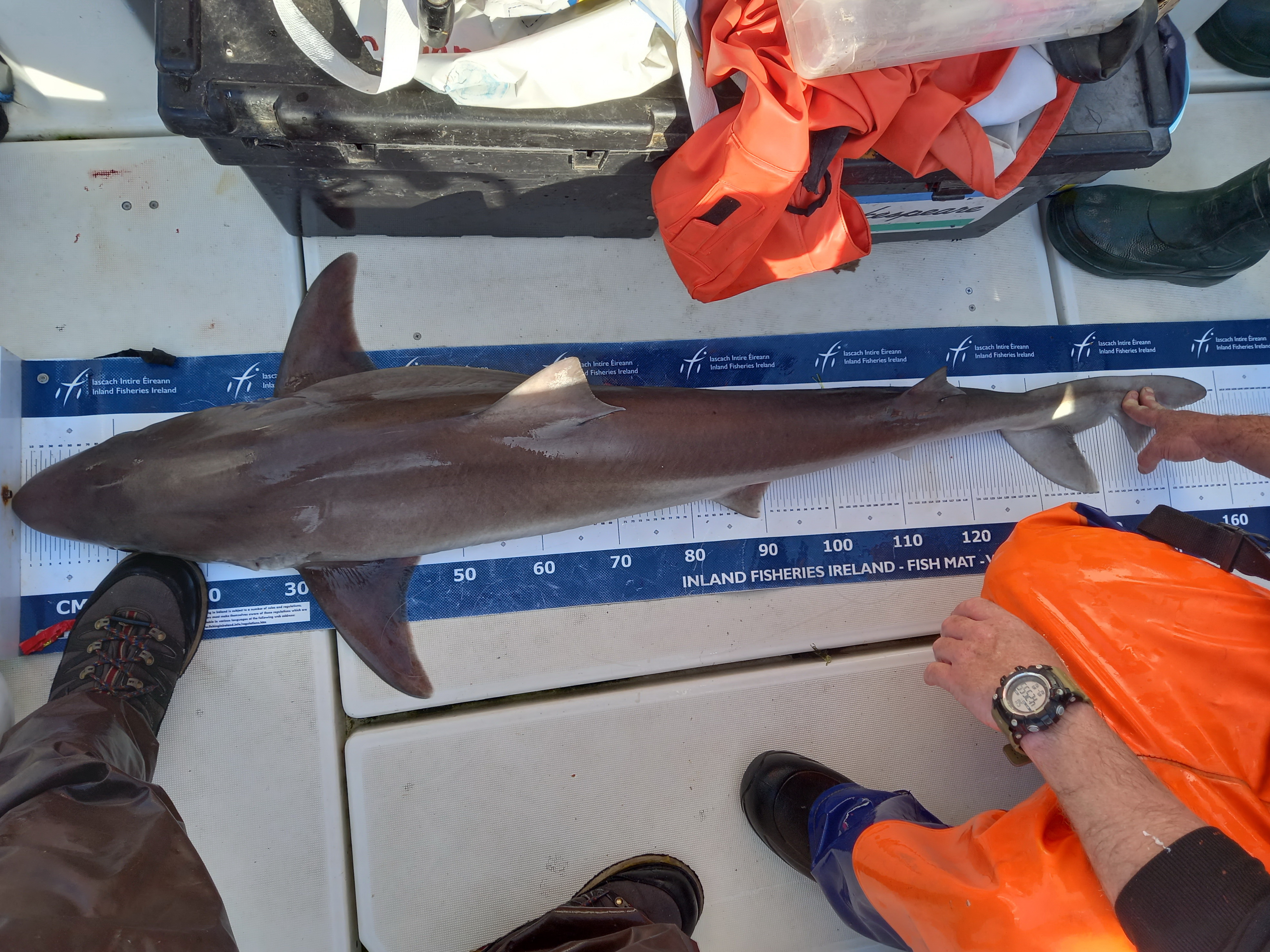 With the anchor in place, we opted for running ledger tactics. A stand-off type "tubi-boom", with around eight feet of 200lb mono "rubbing trace" and a wire "biting trace" at the business end. I reckon the baits were only down around ten minutes and ratchets were screaming, line ripping off reels. I was first into a sizeable fish, but had hardly managed to boat it when Sid's rod buckled over, with Martin also leaping into action to a blistering "run".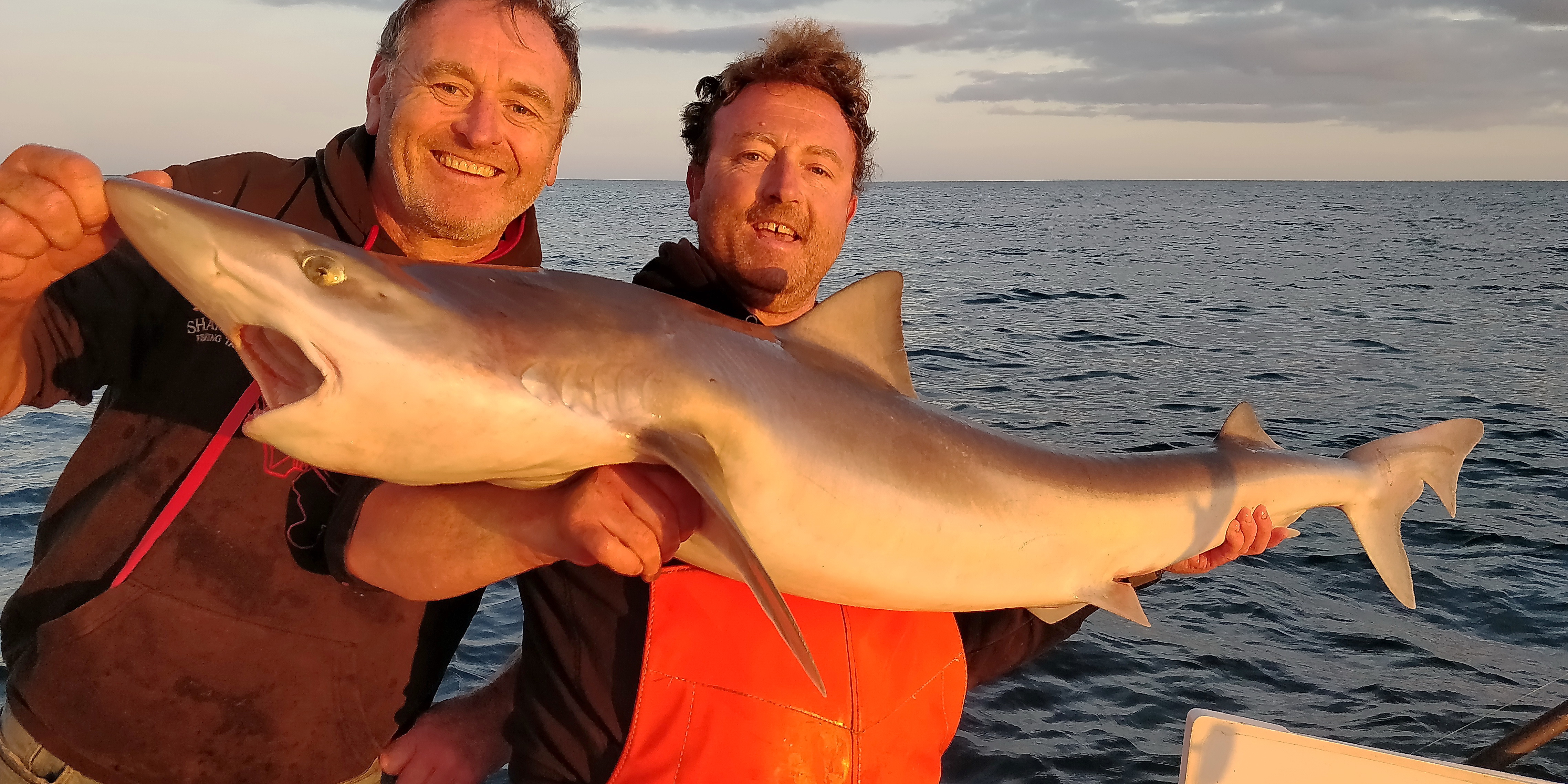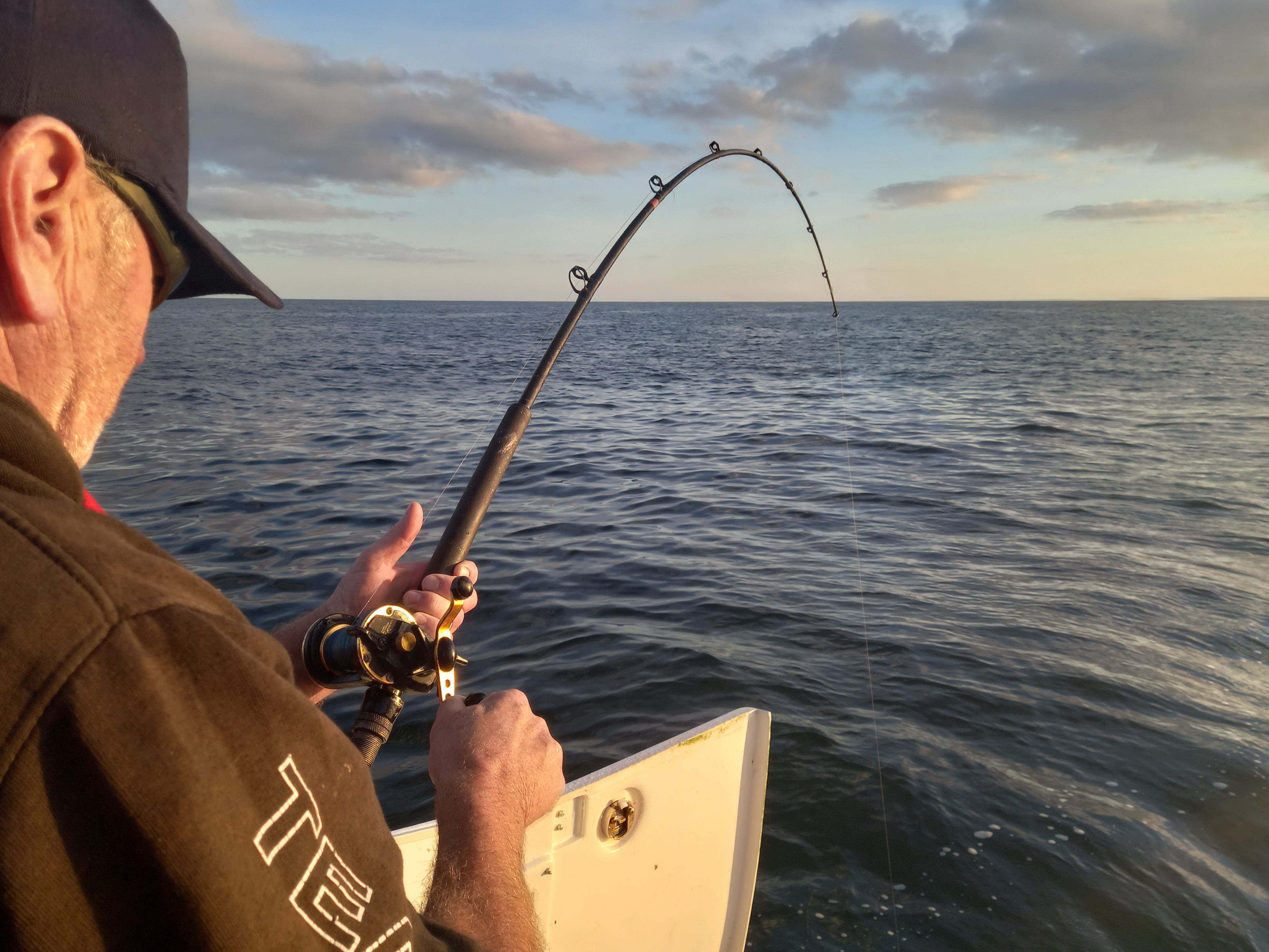 It took a bit of manoeuvring but with some effort, tangles were avoided, and all fish safely landed in sequence. I have had specimen Tope a few times now (fish over 40lbs or 155cm length) but I don't think I have seen six Tope landed in quick succession, and ALL specimen fish. A couple of Huss were brave enough to grab a bait inbetween Tope runs, also lovely to see. Such a fabulous stamp of fish, and such a pity our time with them was so short.
But it was a wonderful end to my two-day adventure. We came in search of Bass that didn't really make an appearance, but made up for it finishing the session with Torpedo Tope instead. Great to become acquainted with Martin Kennedy, and re-acquainted with Kilmore Quay.
Tackle Options
PENN Regiment III Uptide Boat Rod - Uptiding Boat Fishing Rod - Cod, Rays, Bass, Flatfish
PENN Spinfisher VI Long Cast Fishing Reel
Berkley Whiplash Crystal Superline 50lb, 0.17mm, 300yds
Triple Fish 200 lb Test Mono Leader Fishing Line, Clear, 1.50 mm/100 yd
Back