Lough Swilly, Inishowen Peninsula
Lough Swilly, Donegal
For many years, Lough Swilly has been a top venue for my own angling club bookings.
It is situated on the picturesque coastline of the Inishowen Peninsula, North Donegal, and offers the sea angler a wide variety of species in its shallow, sheltered waters.
The lough covers an area of over fifty kilometres in length with an average width of five kilometres containing a wealth of boat and shore marks to explore.
The relatively shallow water and fast tides lends itself well to uptide methods, although drifting and down-tiding will also produce excellent results. Primarily, Swilly is famous for Tope and Thornback Rays throughout the summer months, but local anglers will tell you that there is a great deal more on offer for the angler willing to hunt for other species.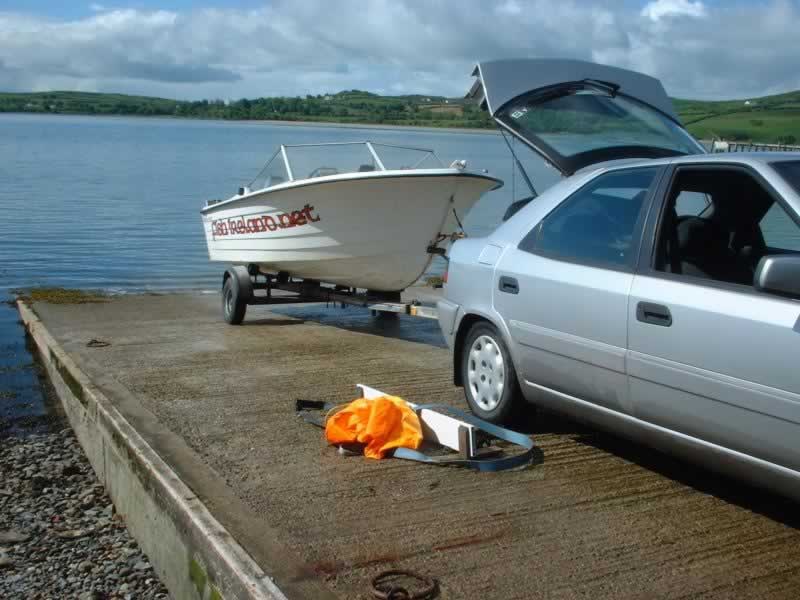 Launching at the tidal slip-way of Faughan Harbour
New regulations regarding health and safety at sea in Southern Ireland, along with the high cost of insurance, have put some local charter skippers out of action, and the remaining charters are very popular. Due to these circumstances, myself and a few angling pals were prompted to try a few of the loughs hotspots from our own small boats. After varying degrees of success last year, we decided on a return journey and recently towed our dinghies north, over the border of County Londonderry and into the sheltered haven of the Inishowen Peninsula.
Fahan is a small coastal village with a recently built marina; however, it has yet to be supplied with a decent slipway. The old slip can dry out at low water and could not be described as suitable. We ventured on towards Buncrana where the new public ferry is now in operation. Although this harbour has a suitable slipway, public launching is not permitted, but as we were running out of options, we bent the rules slightly, and quickly launched the dinghies between the hour or so gap it takes for the ferry to complete the round journey to Rathmullan and back. Hopefully, Fahan harbour will decide to build a suitable slipway in the near future.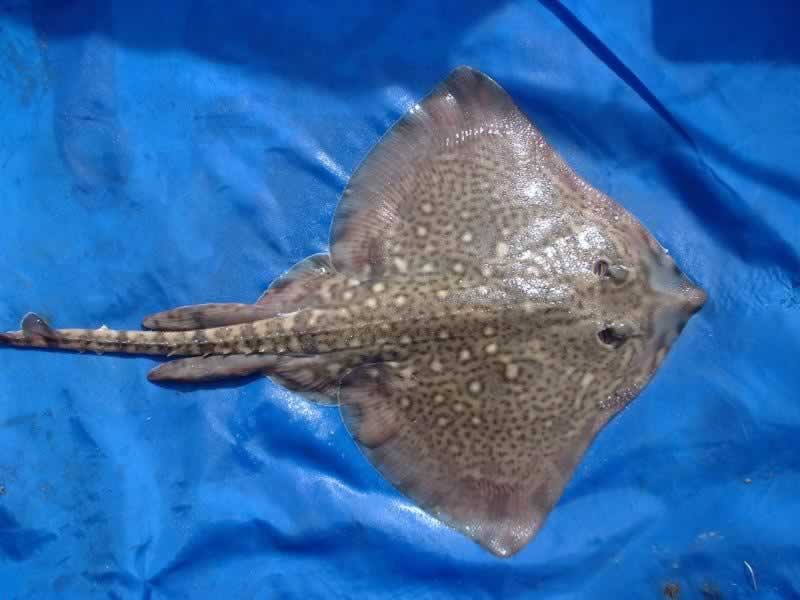 A typical Lough Swilly "Thornie"
As the tides were not quite right for the Tope mark, a decision was made to anchor on the edge of the main channel and investigate what smaller species were present. Once the anchor had set in approximately thirty feet of water, I hung an onion bag of rubby dubby over the gunnels, to send a large scent trail down tide and hopefully attract any nearby predators to the hook-baits. With one-rod set up for downtide tactics, and another cast uptide, it was not long before Dogfish and Thornback Rays made an appearance. The rays in particular seemed to cue up to be caught and were superb sport on light uptide gear. An interesting point regarding the Thornbacks was that about a quarter of all the rays caught on this trip had unusual colourings that I have not seen anywhere else in Ireland. These included black patches around the nose area and elongated blotches on the wings. I sent some detailed photographs to Ali Hood of the Shark Trust organisation based in Plymouth. The Trust has a vast amount of information on skate, sharks and rays around our coast and she has passed the pictures on to a ray expert to determine if it is some kind of pigment mutation.
After thirty or so rays, I decided to scale the tackle down somewhat, and constructed a running ledger with two small hooks set up wishbone style. Some beads and rotating spoons were added for extra attraction and this instantly produced Grey Gurnards, Tub Gurnards, Dabs, a Plaice and a surprise Flounder.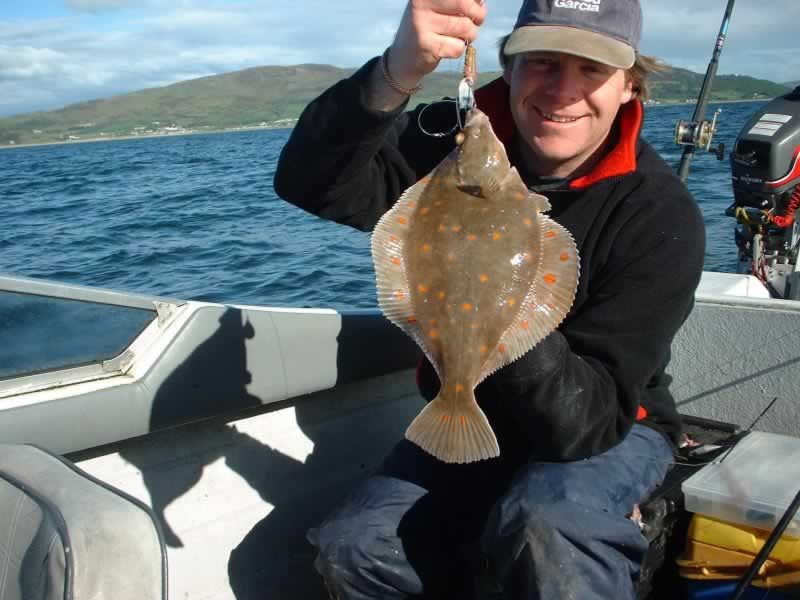 There are plenty of Plaice and Dab to be had on lighter tackle
These were great fun on light gear, and gave me a few hours of amusement until the tide was just about right to target Tope. The anchor had to be lifted, and we made our way up tide to the Tope mark. Once in position, and with the anchor set, a fresh bag of rubby dubby was hung over the side, and as the scent trail did its job, I had time to tackle-up the Tope rods. As before, shallow water and fast tides were ideal conditions for uptiding, and once the whole fresh Mackerel had been attached to the pennell rig, it was cast away from the disturbance of the boat and into the scent trail.
Darryl was first to score with a fine male fish of thirty-five pounds, and missed a dropped run shortly afterwards. Becoming anxious, I found myself giving the rubby dubby bag a few extra shakes in a bid to release more scent into the water, but this was un-necessary, as my reel ratchet let out a vicious scream almost immediately. I had forgotten just how hard these fish could scrap, especially on braided line and uptide gear, but my battle only lasted a few seconds before the fish broke the surface fifty yards behind the boat and shook the hooks free. As I re-baited, it was difficult to avoid the feeling of disappointment of losing my first Tope of the year.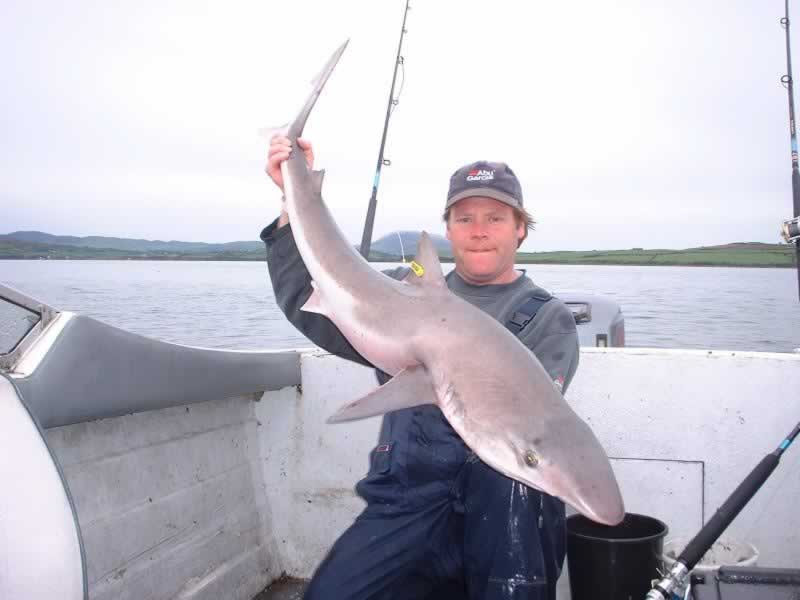 The main prize, a forty pound plus specimen Tope
Another two dropped runs later, I hooked into the fourth fish, and this time I was determined to see it safely in the weigh sling. It fought hard and stayed deep and ripped yards of line from the reel on several occasions, but after a fabulous fight, it spiralled up from the depths and alongside the boat. The best way to boat a Tope is to take a firm grip of the tail with one hand, support its belly with the other and lift into the boat. Length measurements of sixty-three inches with a girth of twenty-three inches made this the largest Tope I have caught to date, and the scales confirmed it, hitting the twenty-kilo mark, or forty-four pounds.
The last task before releasing the fish was to fit an identity tag to the dorsal fin. As private anglers, we are privileged to be allowed to tag species for the central fisheries board, Dublin, and this helps to build an invaluable record of information regarding the movement and growth rates of re-captured fish. Past records regarding Tope show that by the year two thousand and two, three thousand seven hundred and ninety one Tope had been tagged in this manner. Three hundred had been re-captured giving a return of almost eight percent. The days of liberty between release and re-capture range from twenty eight days to five thousand five hundred and thirty eight days, and have shown, thus far, to have travelled distances of up to two thousand one hundred and eighty five miles from original point of capture. These records are important in the study of species and we hope to continue tagging for many years to come.
Grant Cordiner took the last Tope of the day, a hard fighting male of twenty pounds, and as the tide had run its course, we packed up and steamed back to the harbour. Lough Swilly still has huge potential as a sea-angling venue and it is of great shame that many charter boats are now out of commission, but if a suitable slipway could be built, its sheltered waters and diversity of species would attract many private boat owners and angling tourists throughout the season.
SPECIES
Over recent years I have witnessed many species captured in the main channel, and boat anglers should expect to see Thornback Rays in abundance, Tope, Dabs, Plaice, Flounder, Mackerel, Sandeels, Grey, Red and Tub gurnards, Dogfish, Coalfish and Whiting. Towards the mouth of Swilly, in the deeper water between Fanad Head and Dunaff Head, expect all the above species along with Haddock, Codling, strap Conger eels and small Turbot. The rock marks around each headland will also produce Wrasse and Pollack and there have been a few Common Skate taken at anchor by anglers prepared to sit and wait. Rathmullan charters are the major charter boats in Lough Swilly, chartering a thirty eight foot, fully equipped Aquastar that is licensed and insured for twelve anglers, and can be contacted on Tel: 074-9158131 Mobile 0872480132. They offer all of the above angling, along with wreck and reef fishing and can also arrange accommodation.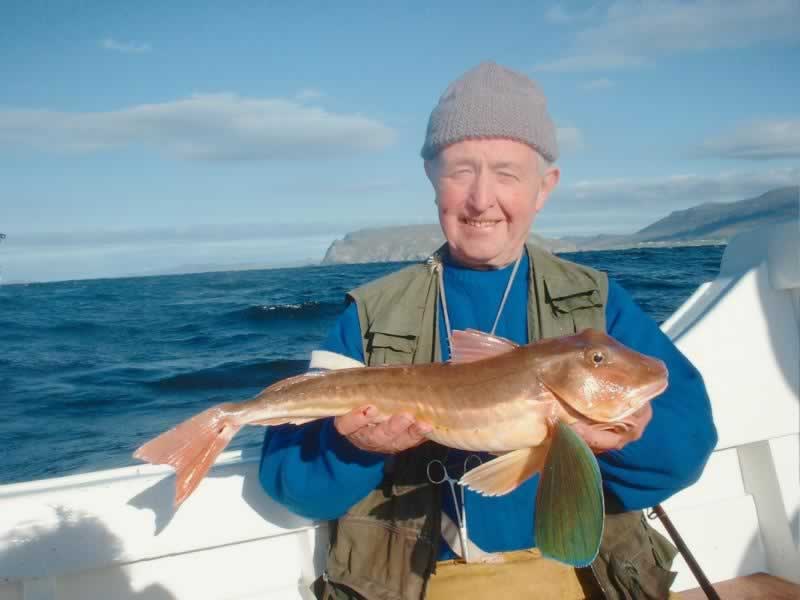 Jackie Ogle with a fine Tub Gurnard from the mouth of Lough Swilly
Back