Mullet Method Magic
Terry's Travels
Mullet Method Magic

The thing about specimen hunting, and particularly if targeting fish found in Irish waters, is that you can quite often apply tactics that have proven successful for one species, to make them work very well for another.
For example, I once fished Water-foot Pier on the Antrim Coast with a 10 metre Roach Pole and keep-net, freshwater match style, out of interest and a bit of fun.This was over thirty years ago by the way, and using a slim cigar-type pike float and drilled bullet, with a size 4 hook baited with bunches of harbour-rag. Somewhat reminiscent of being back on the Newry Canal match stretch I suppose back in the day, only scaled up a bit. I was a laughing stock for most of the day, until I lifted the keep-net with several hundred Flounder, Wrasse, Coalfish and Pollack in it, all released unharmed!
It's not a case of how clever am I !.... It's a case of experimenting, and adapting previous experiences from one discipline successfully to another, and making it work. This is second nature to some of the most successful anglers and big-fish catchers in Ireland it has to be said.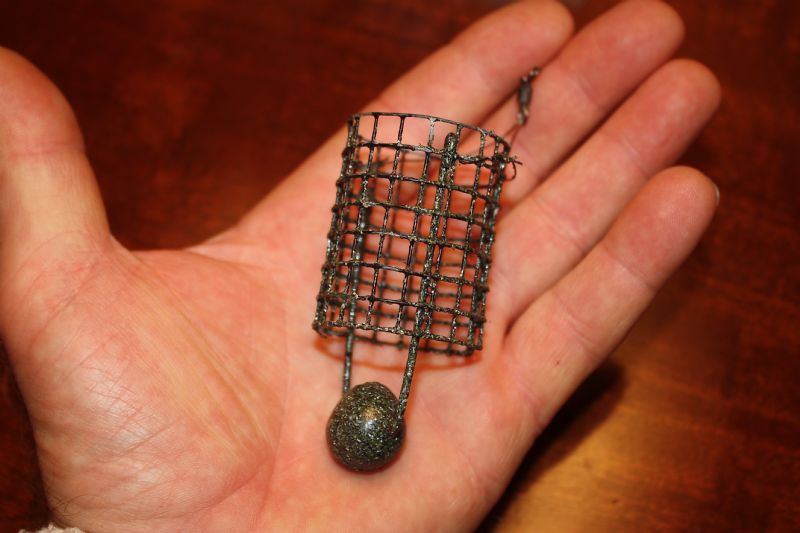 Home-made feeder for distance, but similar, or method feeders available in most tackle shops
Many years ago, Sid Kennedy and I discussed the merits of applying "Carp tactics" in pursuit of Mullet. Sid was a well-known Carp angler back then with the Irish Record to his credit. Our reasoning was, that both species have similar feeding styles, i.e. sifting through mud and silt, ploughing through dense numbers of shrimp or fish fry at times and even sipping floating food stuffs off the surface. They are both extremely wily animals, with shy tentative bites, and can be easily "spooked", although both may also have their carefree feeding sessions with total abandon. With this in mind, trying Carp style tactics as a potentially useful tactic for Mullet seemed a "no-brainer".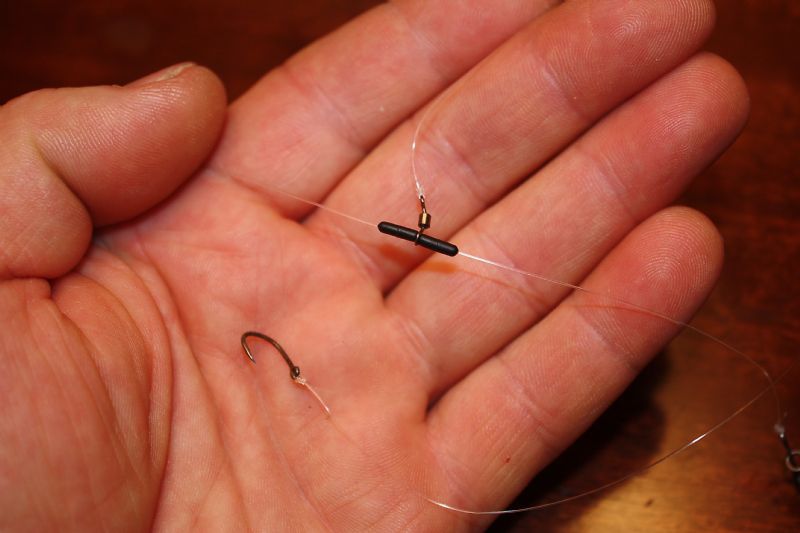 Short video on putting the rig together......click here
We set about implementing the idea and over time, were rewarded with many fine specimens throughout the years, and managed to keep it under wraps for quite a while! It's a reasonably well known method these days of course, but for those of you that dabble in Mullet or fancy targeting a new species and haven't tried this killer tactic, read on.
West Cork Mullet are drastically falling in numbers through legal and illegal commercial netting I am saddened to say, with little or no local control or policing policies it seems. This is a crying shame for such a stunning and hard fighting species and also a huge loss in local tourism revenue. When I first targeted Mullet in this area there were tens of thousands cruising the bays and estuaries of West Cork. Open your eyes Cork Council, protect and develop what nature has provided! Unfortunately Mullet are still commercially exploited all around the Irish Coast.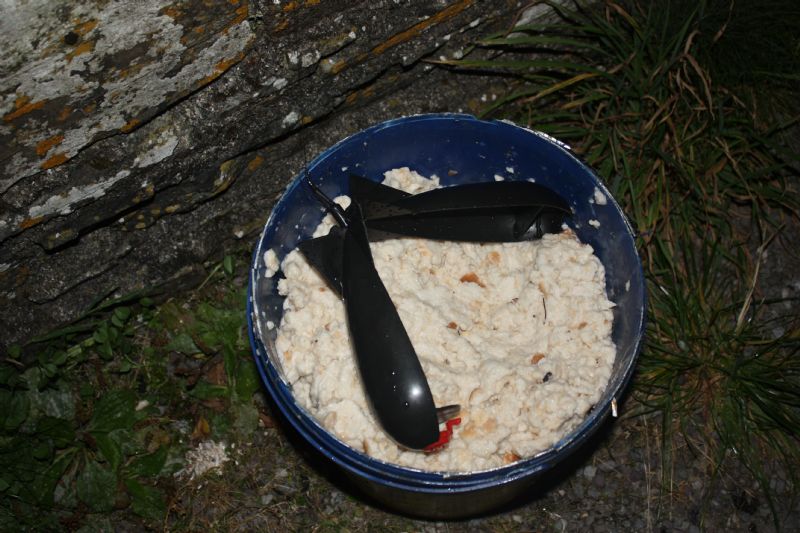 A "spomb", excellent for putting in an amount of "sloppy" feed quickly and accurately
Presently, you tend to find "pods" of tens and twenties and dropping numbers will only worsen unless effective protection is put in place. However, there are still just enough around each season to offer the chance of a bit of sport when conditions are suitable.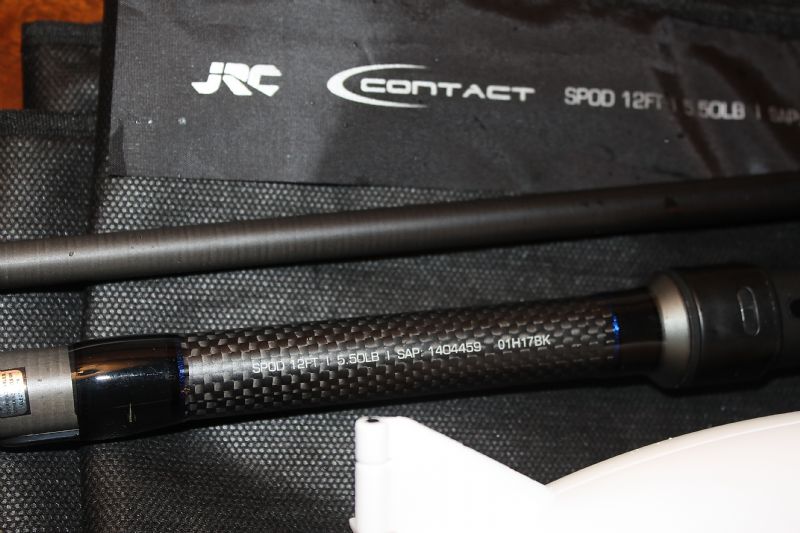 Spod Rods do NOT need to be expensive, this JRC Contact Rod is under £60
After our recent "hunt for a specimen Wrasse" session, and whilst in the local area, I changed tact and took a shot at the Mullet, joined on this occasion by Derrick O Brien. The first part of the plan was to drop a large amount of pre-mashed bread into the swim at a reasonable distance. This task was made considerably easier with a spod rod and "spomb", a kind of spod-bomb hybrid! A fantastically simple means of pre-baiting an area quickly and accurately.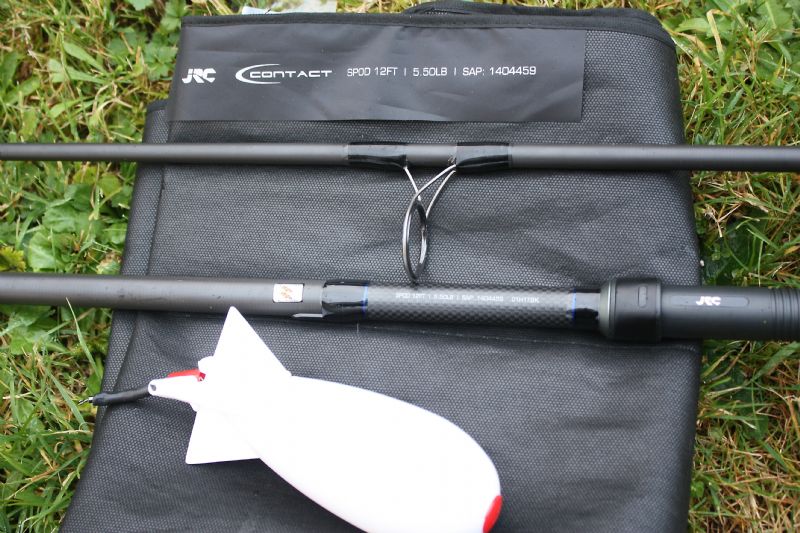 Dropping liquefied wet bread into the swim allows it to sink immediately, keeping nuisance seagulls and swans away from the feeding area, but in turn, draws the Mullet into the target zone. It is surprising how much oil is present in bread, and creates a decent scent trail and cloud effect. What you add to that is up to you, but we added a bucket of boiled, mashed up Mackerel to "spice" it up somewhat! Using the line clip on the reel allows complete accuracy to keep the "swim" reasonably "tight", spreading the feed in a controlled manner. I guess it's a left-over habit from the freshwater match days, and no bad thing really!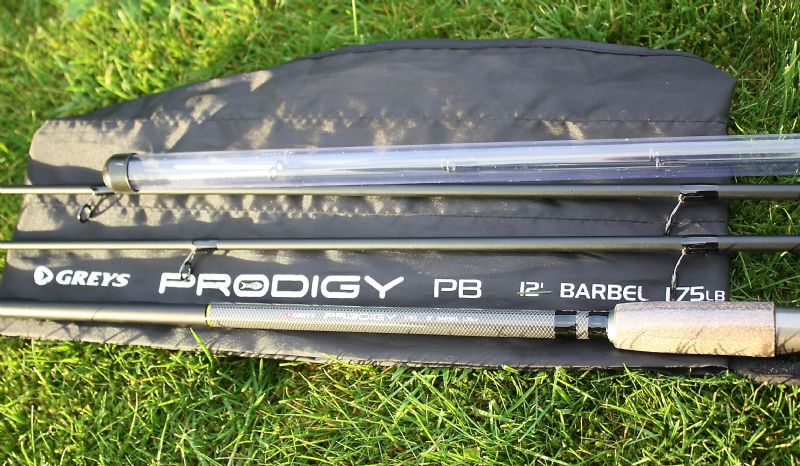 Greys Prodigy Barbel rod, almost designed for this type of angling, comes with two top sections, and three quivertips
A practice cast with the Greys specialist "Barbel" rod put the feeder into the same distant area with ease. This rod comes standard with two top sections. A "beefier"section, and a quiver-tip section including three strengths of inter-changeable quiver-tips. High quality and a lot of rod for the money. It has the power to punch out weighty end tackle, but sufficient forgiveness to play feisty fish on light line-small hook set ups. Teamed with a Penn Conflict Long Cast 4000 reel for perfectly balanced gear.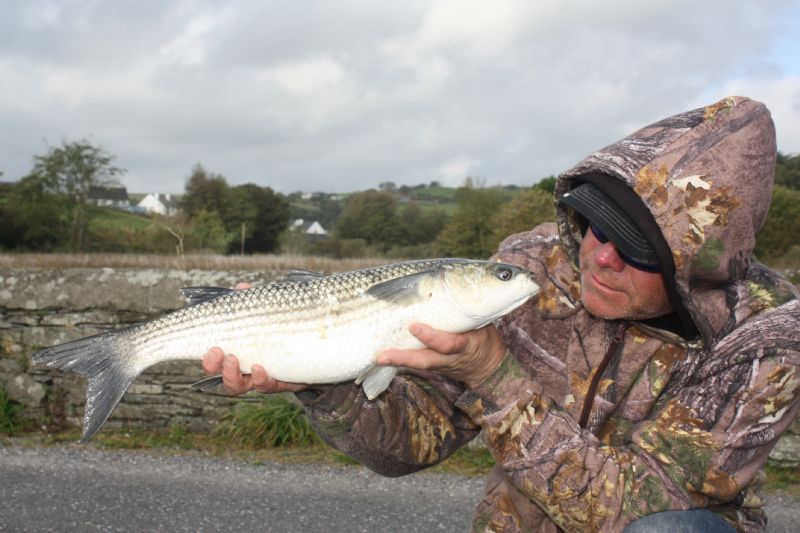 Nothing like a great fighting fish on a cold day to warm you up
An extra half a dozen turns of the handle allowed for any mishaps should a larger specimen pick up the bait and run for open sea, and line clip attached for accuracy. If you really wanted to, you could take another idea from the Carp world, un-clip the spom and attach a marker float for use as a target marker! After a few hours of casting and refreshing baits, finding the exact distance comes naturally anyway and the clip is no longer required. It didn't take long before the first "run" developed with rod-tip bouncing and buckling, there is no mistaking a Mullet bite! The result? A hard fighting Mullet safely in the landing net, and just under the Irish specimen target of 5lbs.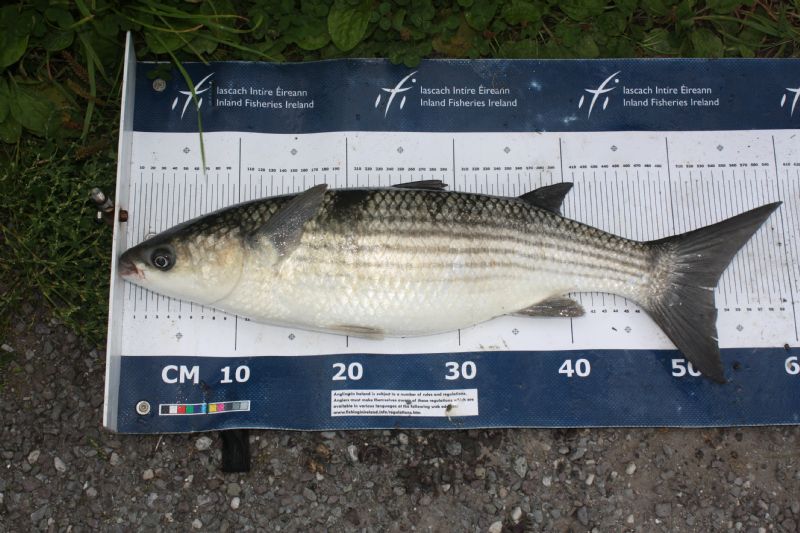 An official IFI measure mat gives accurate length measurements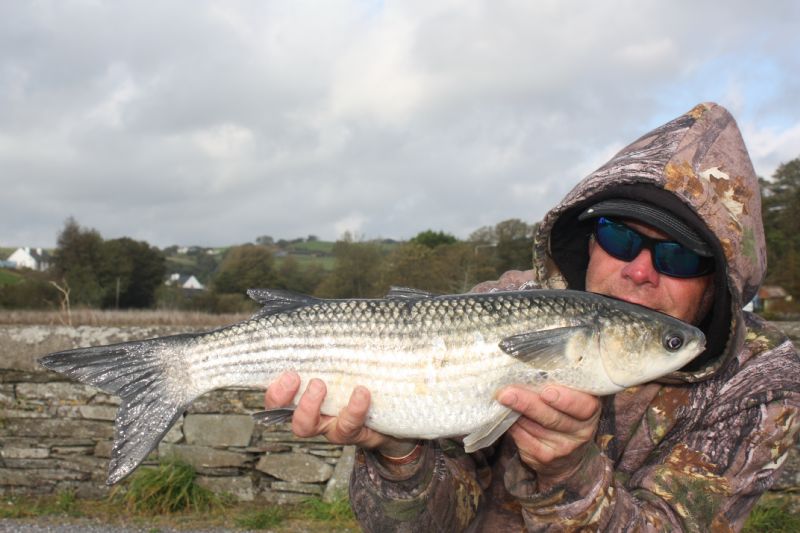 Clear photographs of the mouth area and underside are required to claim a specimen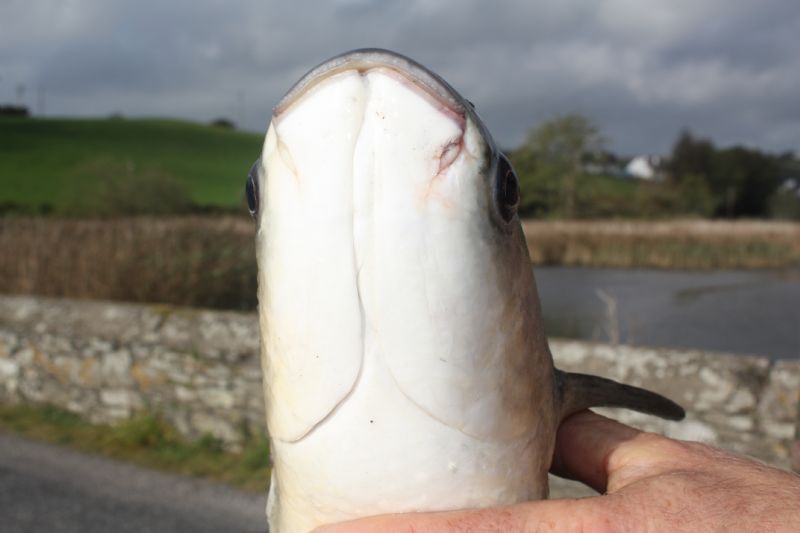 In the past, for identification purposes, claiming an Irish Specimen Mullet required submitting the actual body. Obviously this didnt sit well with anglers. These days, clear photographs of the mouth area and underside of the head allow for accurate identification. The Specimen Committee have made great changes in the protection of exceptional angling captures with identity and genetic finger-print methods and should be commended for it.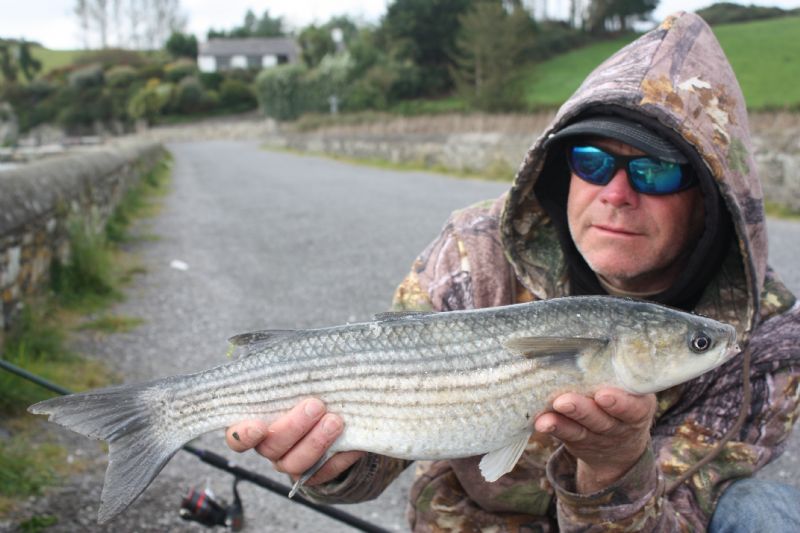 Lovely to find a few larger Mullet on a cold day
Float fishing under ideal conditions works just as well it must be said, but on occasions when the fish are wary, they will confidently feed just outside of average casting range, and with any on-shore breeze at all, this distance becomes extremely difficult to reach, never mind the annoyance of floating weed and surface drift. Ledgering overcomes most of these problems to a greater degree, allowing the angler to sit back and wait, and using the feeder, the added bonus is topping up the swim with more feed. If you want to be really flash, you can also use carp bite alarms to great success, as we did!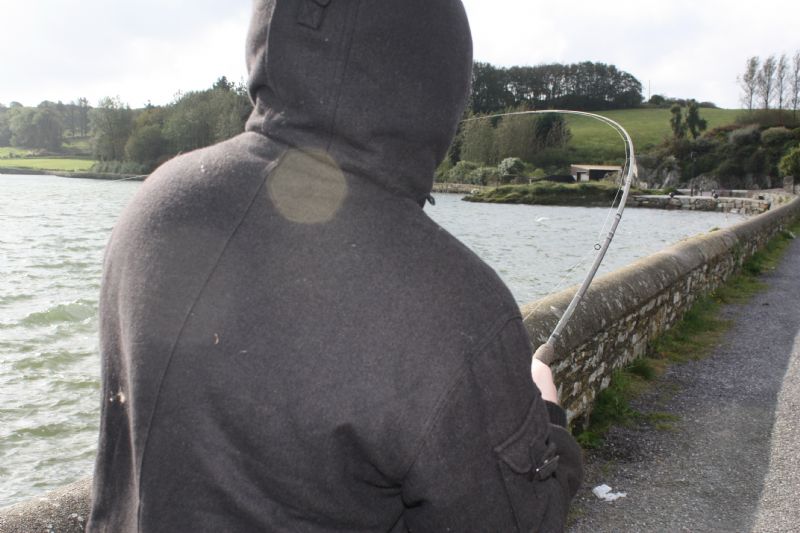 Derrick "coaxes" a specimen towards the shore
Derrick soon followed suit and after a lengthy battle I slid the net under a specimen fish. Although he failed to find a specimen Wrasse earlier in the week, this capture certainly went a long way to achieving specimen satisfaction!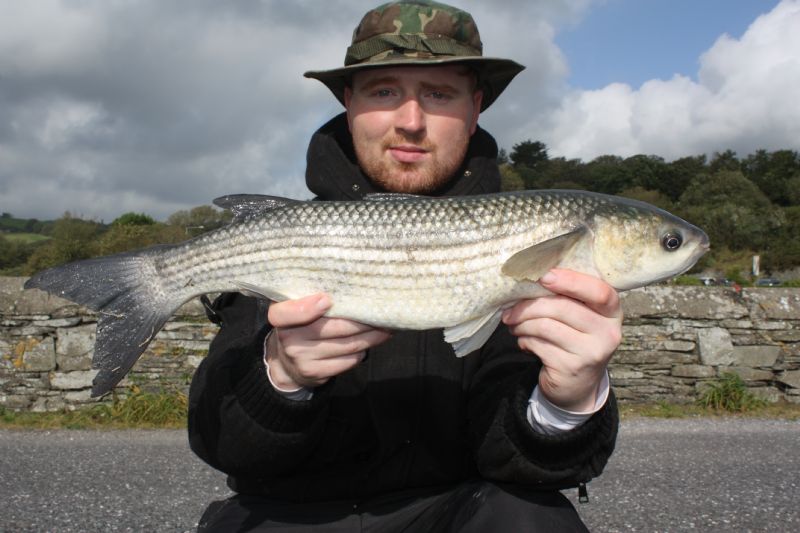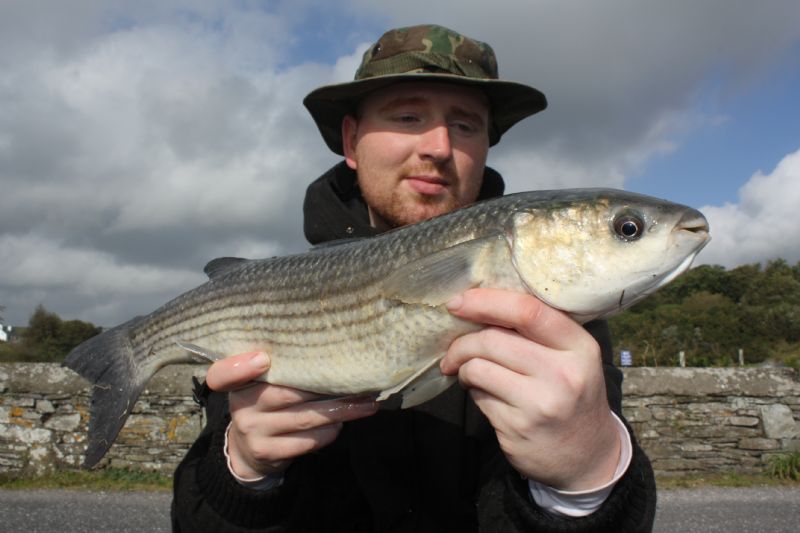 The Mullet were homing in on the freebies, and we picked a few more off throughout the day, until tide fell away and fish dropped back. Although breezy, and cold, the tally between us was eleven fish landed, including four Irish specimens over the 5lb barrier. A great result considering a float only approach most likely would not have worked under these conditions. It's always beneficial to have a plan B, or to coin an old phrase, another string to the bow, when targeting fish of any species! Or, as my Grandfather used to say, there's more than one way to skin a cat!
Check out local tackle shops for reccommeded gear, or see below
JRC® Contact Spod Rods
Penn Carp Affinity Fishing Reel, Default, 7000
PRODIGY PB 12FT TWIN TIP 1.75/2.25LB - 1374055
Penn Conflict II Long Cast Spinning Reel, Black, 4000
White Spod. Carp Fishing Spod Bomb, Rocket Spod, Spomb. Carp Fishing Terminal Tackle
Fox Impact Spod (Medium)
Croch Fishing Inline Method Feeder with Quick Release Mould for Carp Fishing Bait Accessories 15g,20g,25g,30g,35g,40g,50g,60g
Berkley Trilene Fluorocarbon Clear Line 12 lb, 0.33mm, 110yds
Berkley Trilene Fluorocarbon Clear Line 8 lb, 0.28mm, 110yds
Spiderwire Dura-4 Braid Braided Fishing Line, 125 yd, 15 lb, Moss Green, 125 yd/ 15 lb
Back