Porbeagle
SHARK ARTICLE
It has been three years since big Phil, and myself had decided to try our hand at shark angling on the north coast.
The problem with this area is that by time our coastal waters have warmed up enough to make it a viable option, the weather has typically begun to deteriorate.

This does not affect the larger charter boats quite so much, but the Atlantic can be a daunting and sometimes dangerous mass of water to the small boat angler.
A change in wind direction or tide can lift the sea state rapidly from a comfortable days angling to one where most of the time is spent trying to keep your balance, not exactly enjoyable! However, a break in the weather during September allowed us our first chance to venture out on the water in search of the ultimate Irish predators, Blue Sharks. With current information that local charter skipper Michael McViegh had had some success out of Downings during the week, it made sense to head there. As the venue is almost one hundred and fifty miles away we decided to travel up the day before. A cuppa at Phil's and a quick stop at a local supermarket for supplies and we were on our way.
After years of competitive angling I have finally learned how to relax and enjoy a week-ends fishing. Big Phil has been my main role model in this respect; he is so laid back these days we sometimes have to put a mirror under his nose to see if he's still breathing! We arrived at Downings Harbour by late afternoon and made our introductions to the lads. Hailing from Dublin, Monaghan, Ardglass, Donaghadee, Kircubbin and Belfast there was quite a melting pot of tribes going on. It is brilliant how angling transcends any social barriers we put up with in other walks of life.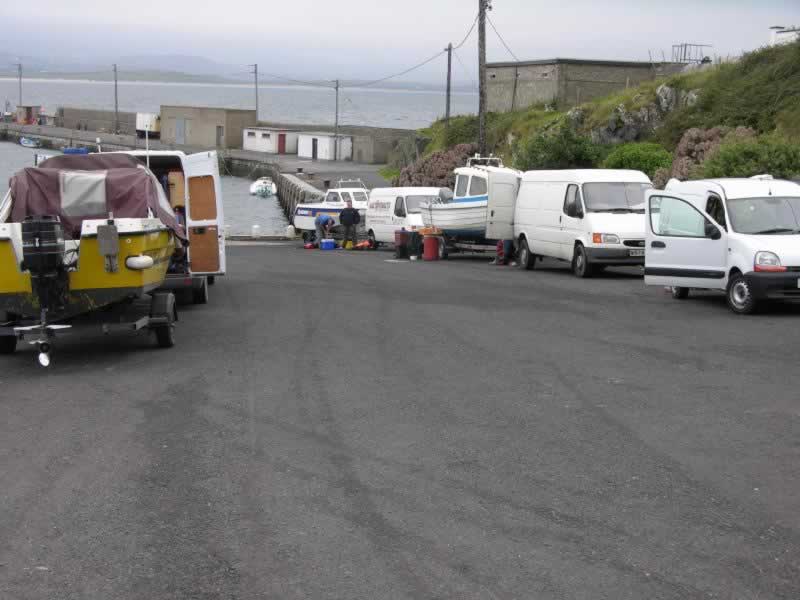 The slip-way at Downings Harbour
The idea was to launch all boats Saturday evening, ready for an early start but we had picked the highest tide of the year. Someone had said it was the biggest tide in over one hundred years and with high water only a few inches from the top of the pier it was safer to leave the boats on their trailers for the night. The evening was great fun. George had brought a makeshift barbeque and Big Phil got to work cooking sirloin steaks and bacon. It's fair to say a few drinks were polished off between us, and the conversation and friendly banter went on well into the night. I even managed to set up my bivvy and bed chair under the influence of excessive beer and wine, although this is not recommended! The following morning was hilarious as each groggy angler surfaced, squinting in the day-light. I realise booze and boating do not go together, unless you are sitting on a millionaire's yacht sipping champers. It is all too easy to get caught up in the atmosphere when on a relaxing trip with like-minded friends.
The southerly winds had eased slightly so boats were loaded and soon launched using the excellent slip facilities here. As with any shark trip, the main priority is fresh bait, namely Mackerel. Quite a few are needed to provide decent hook baits and a suitable "chum" trail, and typically they were proving difficult to find. We persevered, but time was wasting so after a few hook baits were caught it was time to head out to the marks. As it happened, we need not of worried. The waters further offshore were teeming with shoals of large Mackerel. I like to bring a few bags of frozen chum just in case there's a shortage, so I added this to the fresh stuff, along with plenty of bran and a cup of fish oil to give a superb, shark attracting slick.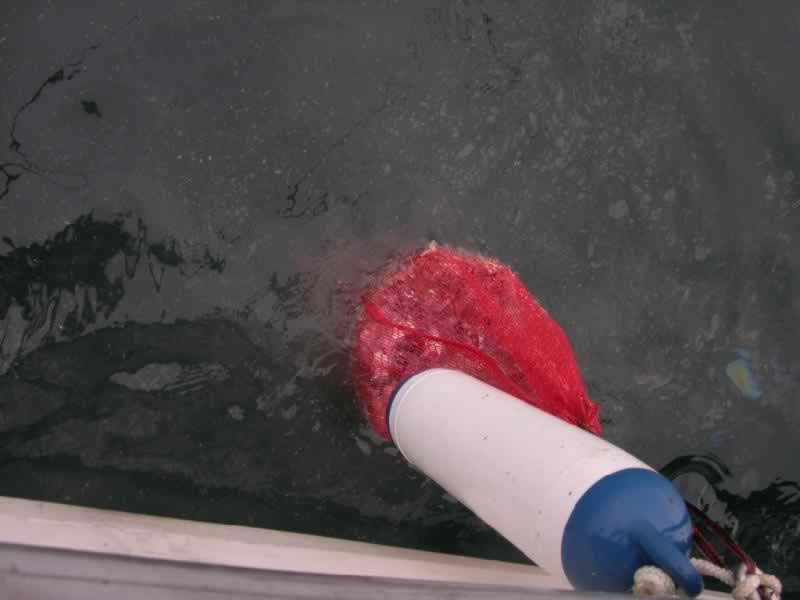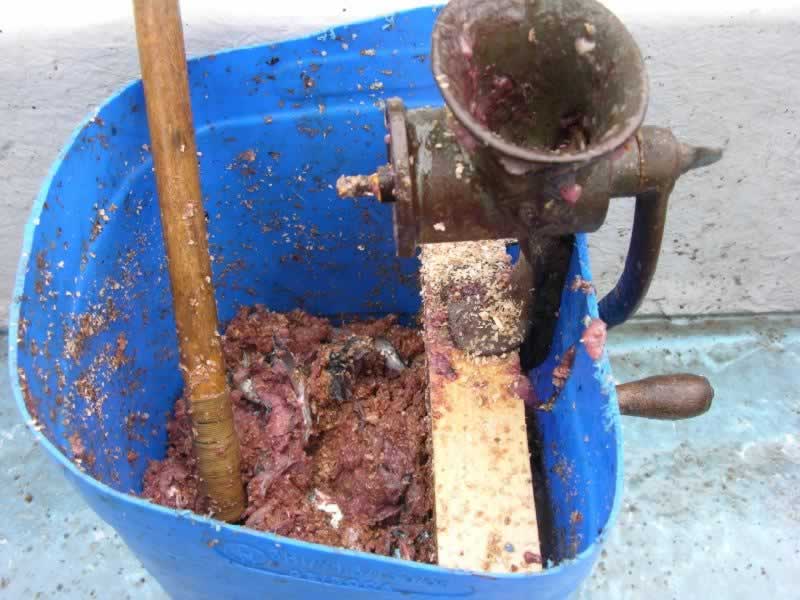 Portable mackerel mincer, then mix with bran and fish-oil, and hang over the gunnells
Many years ago, top Killybegs skipper Pat O'Callaghan showed me how to keep a constant slick behind the boat. It is important not to break this oily trail through-out the day so he would place an onion bag full of mashed fish and bran over the stern. When the scent trail looked like it was becoming washed out he would place another over the bow, then refresh the first supply. By alternating each onion bag during the day, a constant strong scent will continue, and more importantly, remain un-broken.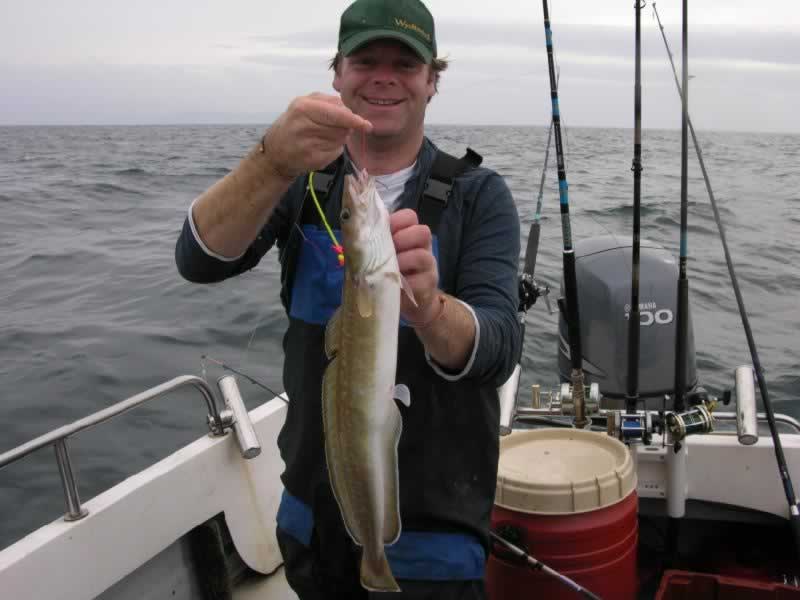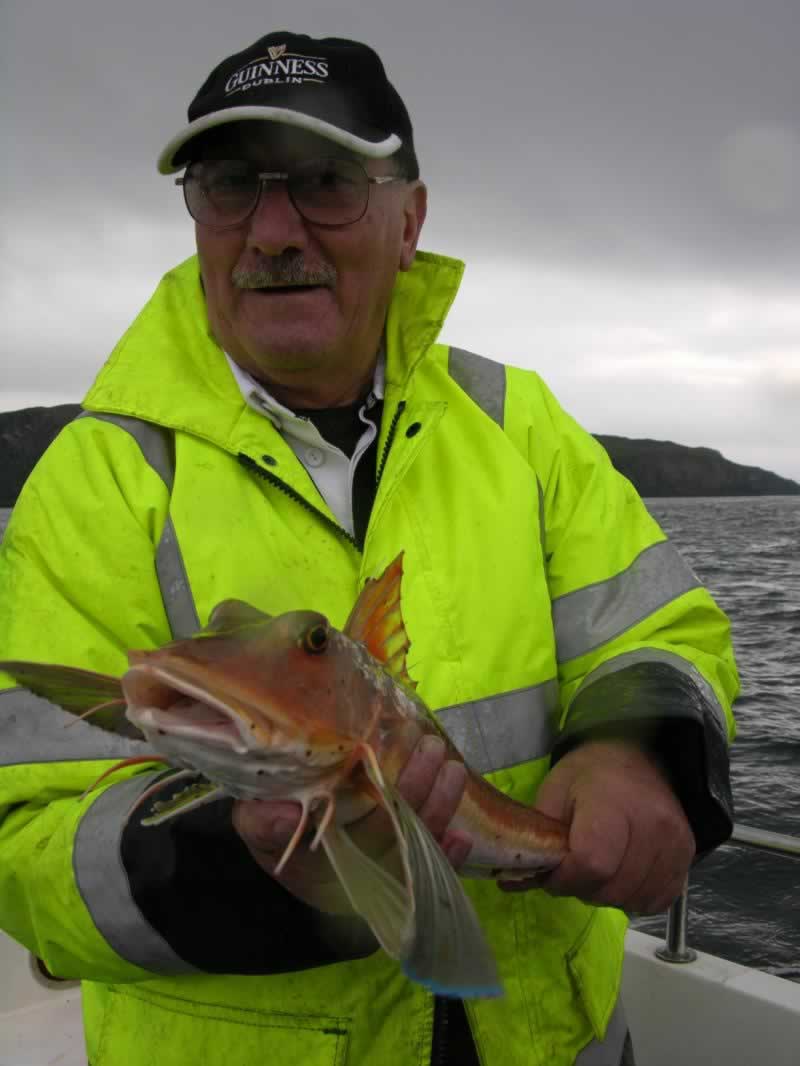 Other species can be targeted while drifting for sharks
All boats started the drift reasonably close together, but it was not long before the strong southerlies had pushed us at least a quarter of a mile apart. Dessy had great fun catching Gurnards, Ling and Dogfish on lighter tackle while Ryan and I set up the shark rigs. For any readers that have not tried shark angling, I will explain the simple set up required. A thirty- pound class boat rod, and 4/0 reel loaded with fifty pounds nylon will deal with most average sharks around our coastline. This will handle a shark quite well and still leave enough flexibility to enjoy the battle. My choice is a thirty class Berkley Fire Power rod teamed with an old Policansky 4B reel that carries five hundred yards of fifty pounds breaking strain nylon. I suppose braid can be used as a main reel line but I prefer the cushioning effect nylon provides when playing sharks. If larger sharks are a possibility, step up to a fifty class rod and 6/0 size reel.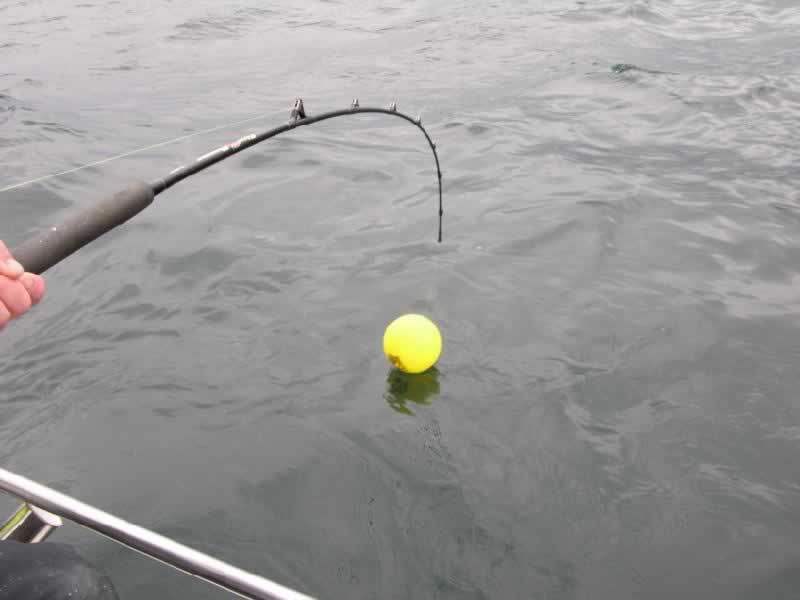 The Berkley Fire Power takes the strain of a powerful run
To construct the end tackle, slide on a bead followed by a small zip slider then another bead. The zip slider is really handy to attach the balloon-float required when shark fishing, but a link swivel will also serve the same purpose. Slide a barrel lead on next, or a drilled bullet of approximately two ounces or so. This helps to keep the baited hook down at the required depth and straightens out the set up.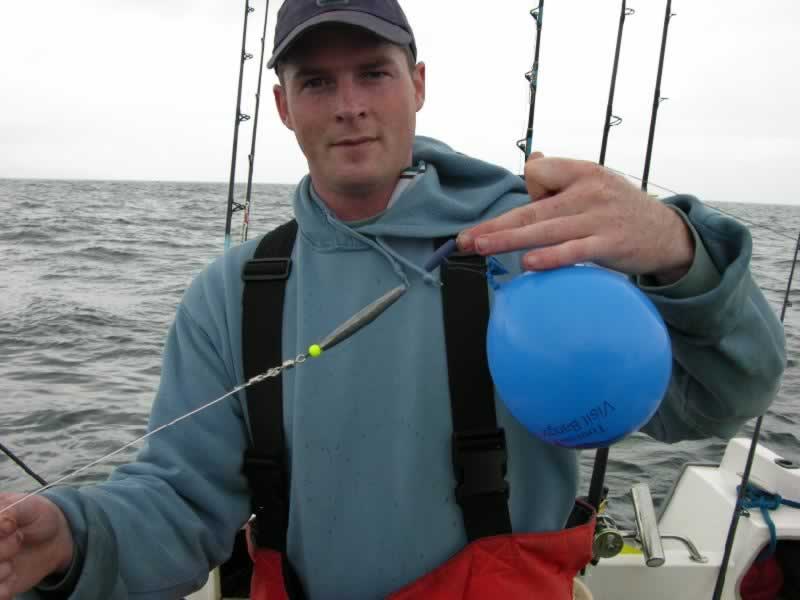 This is my shark set-up, it works for me!
Next step is to attach the shark trace itself. These can be purchased from most tackle shops but look for quality rigs as cheaper versions may let you down. I prefer to make my own in this case using quality Berkley swivels rated at two hundred and fifty pounds breaking strain. Start with a swivel and attach eight-twelve feet of heavy, clear nylon of at least two hundred pounds b/s. I always double the line through the swivel for added security, before crimping into position. This heavy nylon acts as a rubbing trace and prevents the rough skin of a shark from breaking the main line. Attach another swivel; following with twenty inches of two hundred-three hundred pounds b/s nylon coated wire. We all know large sharks have a superb array of extremely sharp teeth, this is the biting trace. Finish with a sharp 10/0 bronze O'Shaughnessy hook attached in the same manner, with double crimps. Hone the point of the hook with a file or wet-stone if necessary. It is important to use a bronze hook with sharks, as, in some cases, it is not always possible to safely remove the hook. A bronze hook will eventually rust and should cause no adverse affects to the fish. Simply cut the wire trace as close to the hook as possible.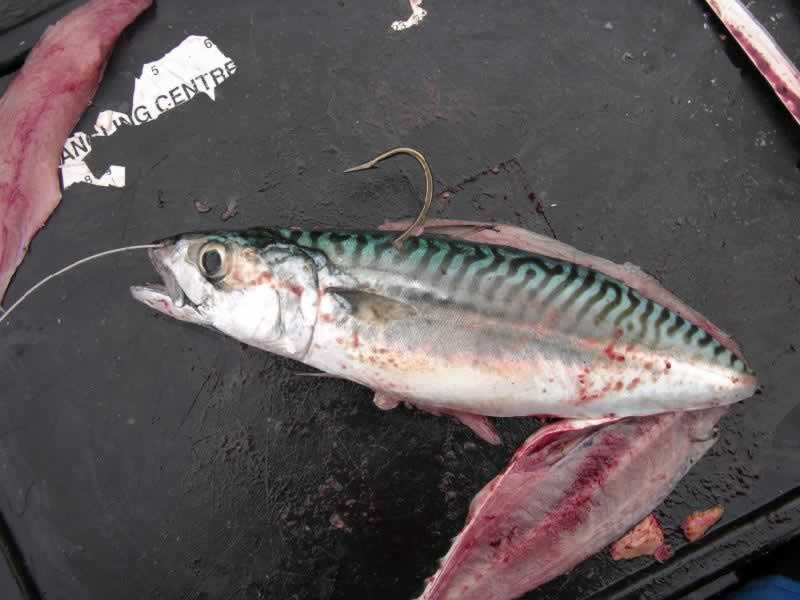 It is important that the hook-point is extremely sharp and un-obscured
With the rig almost complete, a large, fresh bait should be used. Arguably the best all round bait is a large Mackerel with the backbone removed, commonly known as a flapper. This will have movement and will ooze blood and juices required to tempt most predators, especially Blues. Do not be afraid to try two flappers for added attraction! The next problem is to work out the depth to fish. This is not an exact science, but here are some general guidelines that will help. The tackle that will fish furthest from the boat, say 100-150 yards, should be set the deepest, usually around sixty feet. Each consecutive rod, closer to the boat should be set gradually shallower. The theory is that the chum trail will deepen as it travels away from the boat and the scent trail widens.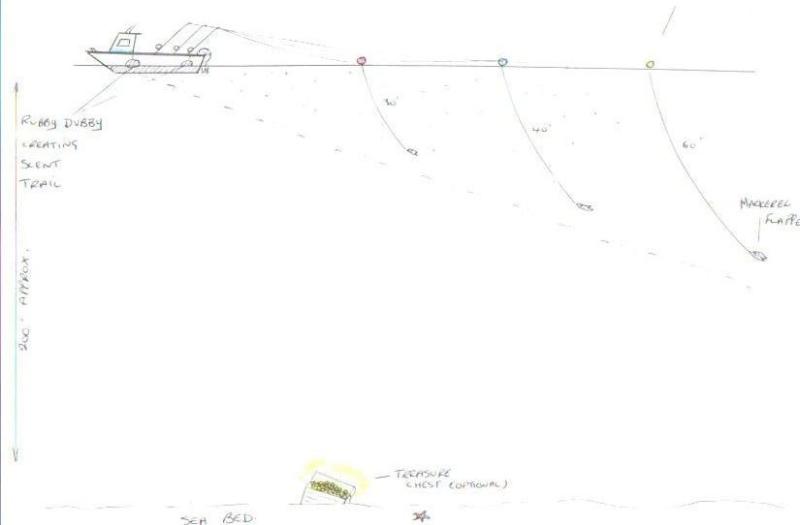 A rough diagram showing the depth-distance lay-out
As sharks happen upon this scent trail, they will normally follow it to its source, and hopefully encounter the hook-bait on the way. To set the float, allow the bait to sink to the estimated depth and tie a sliding knot. This will prevent the balloon from sliding any further up the line, keeping the bait at the required distance below the surface. Then, in free-spool, allow the first ballon to drift out a suitable distance behind the boat, set the lever drag so that line can be ripped off on a "take" and set the audible ratchet. Then continue with subsequent rods.
Ryan and I followed these same guidelines, and then joined Dessy in catching a few Gurnards to pass the time. After two, shark-less hours, George rang my mobile to tell me he had just lost a good fish. The link-swivel had opened, demonstrating how important it is to use high-quality components. As I quizzed him on bait and depths etc I had to hang up to the scream of the Policansky ratchet and my yellow balloon veering right, at an incredible speed. It is important not to panic when a shark hits your bait, but just to tighten down until there is some pressure and steadily lift twice into the fish to set the hook. What a fabulous scrap these beasts put out.
As the shark broke the surface, I realised this wasn't the target "blue"
For some reason the fish stayed high in the water rather than diving deeper, normally characteristic of a Blue Shark fight, and I mentioned to Ryan that it didn't feel like a Blue. A flash of grey under the boat made me think of a Tope, but it was too large and fought too hard. It wasn't until the fish came to the surface that I realised I had been fortunate to hook my first Porbeagle and what a fantastic looking, powerful fish it was.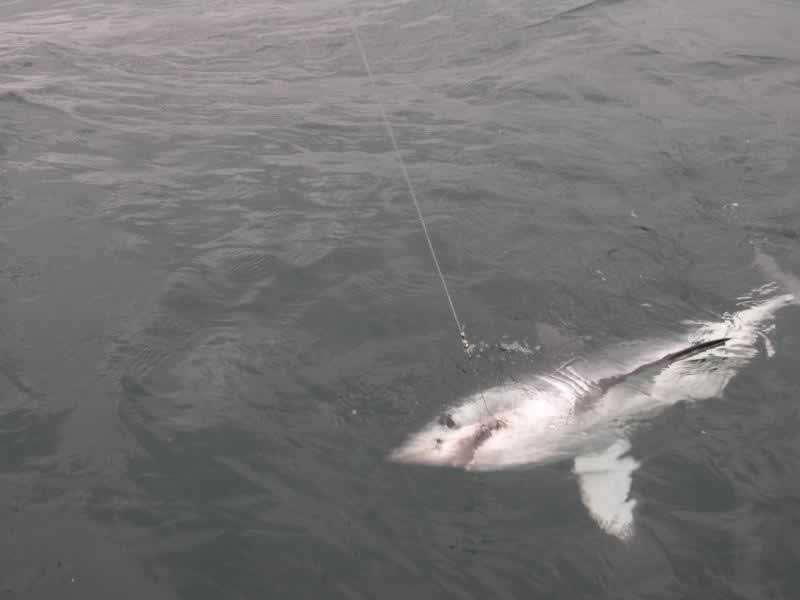 Awesome looking predator
As I tag fish for the Central Fisheries Board (Inland Fisheries Ireland), which not only involves tagging but also gender identification and measuring, I wanted the "porgy" aboard, but the fish was having none of it! Ideally sharks require support when being lifted out of the water to protect the internal organs, but this fella had other ideas. Eventually I had to lasso the tail with a soft rope and hang on until it decided to calm down. Soaked to the skin, we eventually lifted the shark aboard and placed a wet towel over its eyes to calm it down. These really are fantastic sharks when viewed up-close and personal.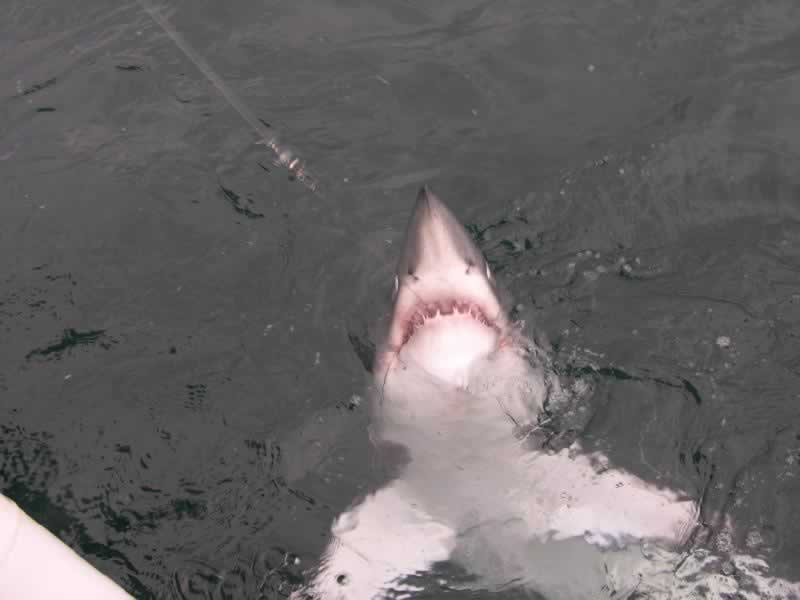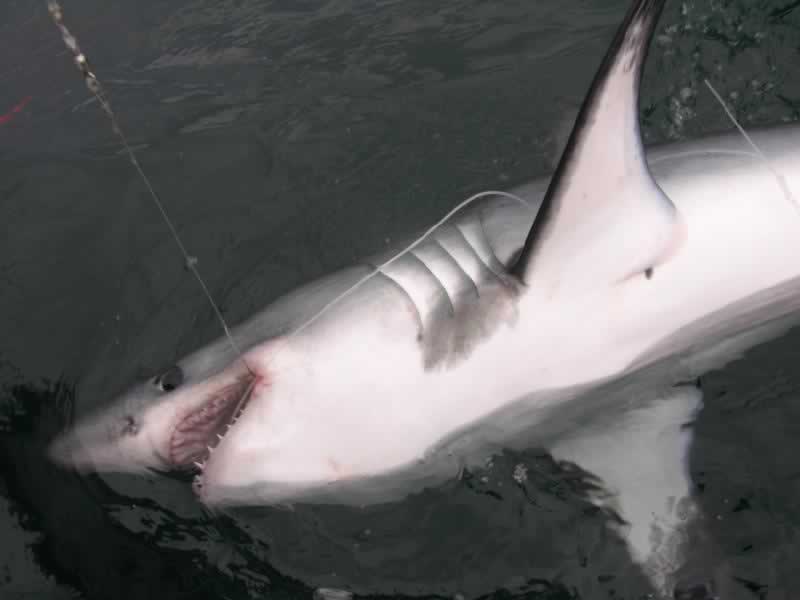 A second line can be seen trailing from this shark
Dessy had already prepared the tag applicator and paperwork while I had been playing the fish so it did not take long to tag and record all the details. We even had time to weigh it in my purpose built sling. At ninety pounds, he was not huge by shark standards, but stunning none the less. We soon noticed that the Porbeagle had a heavy nylon trace still attached, apart from my own. This turned out to belong to George, the one he had lost only minutes earlier! My shark had taken George's line at least a quarter of a mile away and managed to race across at speed, and then take my bait! You couldn't make it up! I quickly removed my hook, and then George's. Using the sling to return the shark, it instantly sped to the depths, as we sat and caught our breaths after what had just gone on, fabulous stuff! George later rang to say he had missed another run, followed by his father hooking into a typically stunning Blue. They decided to un-hook this shark, estimated somewhere between eighty and ninety pounds, alongside the boat, not before it sank its teeth into the rubber bumper rail. It left a few teeth still embedded in the rubber as a keep-sake! What a great weekend.
Back