Shakespeare Ugly Stik GX2 6ft kayak Rod
Product Review
Shakespeare Ugly Stik GX2 6' kayak Rod
A couple of winter seasons ago, I decided to target Three Bearded Rockling. As a specimen hunter, the qualifying weight for this species is 1lb 12oz.
This may seem like a small target but finding one over this size is quite a tall order for this mini-species.
I scoured the tackle shops and also on-line for a rod that would do the job, but had genuine difficulty in finding the ideal kit. This lead me to search the shed, hunting through old broken rods eventually coming up with a broken top two sections of a salmon rod. Re-whipped with a quiver-tip insert and a reel seat, I had made my own "LRF" Rockling rod.
This proved reasonably successful, being short enough to easily drop a baited hook between submerged crevices and gullies, controlling exactly where the bait ended up. I managed to find Rockling, including one over specimen size but soon ran into problems.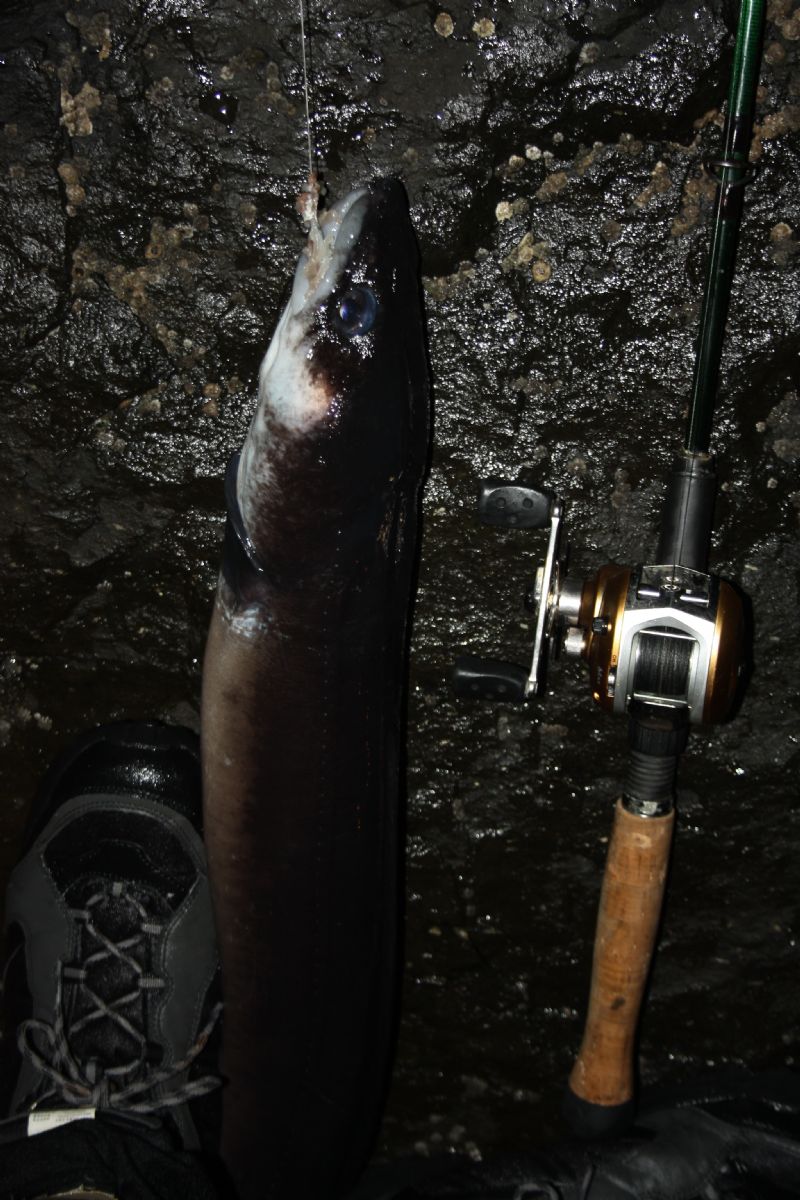 Medium sized Conger soon pushed my home-made gear beyond its limits!
Anything larger than my target species and I was in severe difficulty! A small Wrasse, a three pound Pollack, or a bonus Conger and my home-made kit struggled to cope. This culminated in a recent twenty minute battle of cat and mouse trying to extricate an eight pound Conger Eel from a gulley. This was exciting to say the least. So, it was back to the drawing board.
Flicking through the 2015 Shakespeare catalogue, I spied a new group of Ugly Stik Kayak rods, from the GX2 range, and lo and behold, this included a six-foot version! Having the opportunity to see this range at the Dublin Angling Show wet my appetite, I had to order one and give it a go.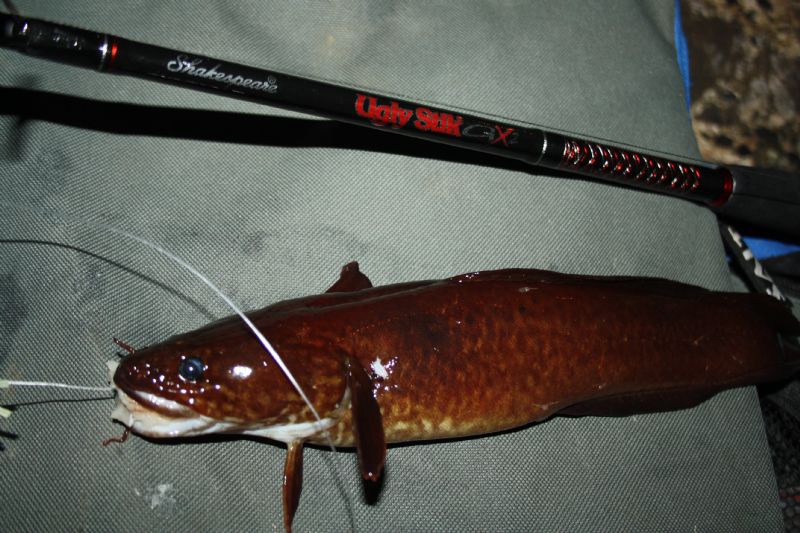 The GX2 six foot version, superb for this type of angling
My First Impressions
This rod is very well finished, looking great in matt black with high gloss whippings. The EVA foam handle (laser etched with the Ugly Stick name) is perfectly comfortable with a strong, quality reel seat. Guides are three-legged and strong, of the "Ugly Tuff" brand.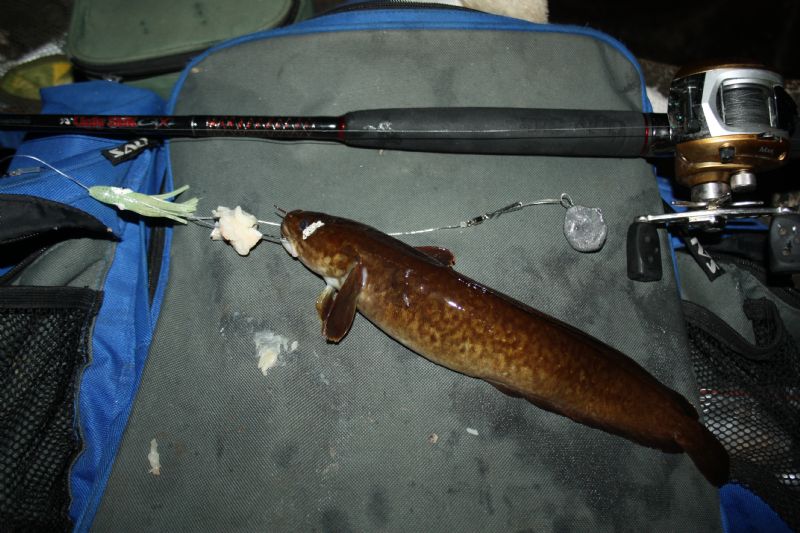 Comfy EVA handle, quality reel seat
This rod is two-piece, so obviously handy to transport. As a 12lb class rod, the tip is soft and great for bite detection, ideal for a range of smaller species, including my Rockling project. However, with a reel attached and line through the guides, putting a bend in this rod revealed its true power. It locks up about a third down from the tip, and you instantly realise that this will handle any fish in the sea, realistically up to Tope and even small Blue Shark size, should the occasion arise, I kid you not. What a great all-rounder for the Kayak angler.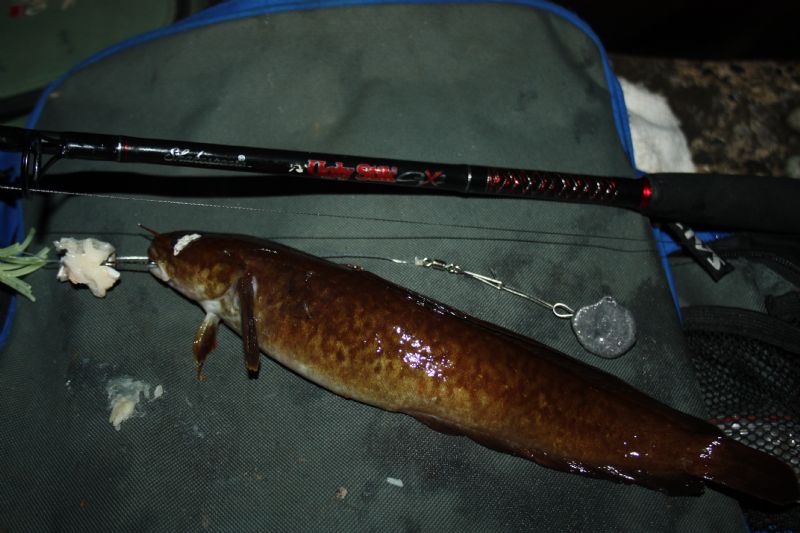 The GX2 has the back-bone to cope with much larger species sought
With my small bait-caster loaded with 40lb braid (the exceess line strength helps minimise tackle losses), I was eager to give this kit a try out, and headed for a local Rockling mark. The bite detection was excellent, soon lifting into small Rockling around the pound size. Unfortunately no Conger showed on this occasion, but I am absolutely in no doubt and fully confident this kit will handle anything that comes along while rock-hopping and searching the under-water gullies. I have found my new Rockling rod! Fabulous tackle at low cost. I will also use it when trolling a dead-bait for Pike off the back of my float tube whilst fly-fishing!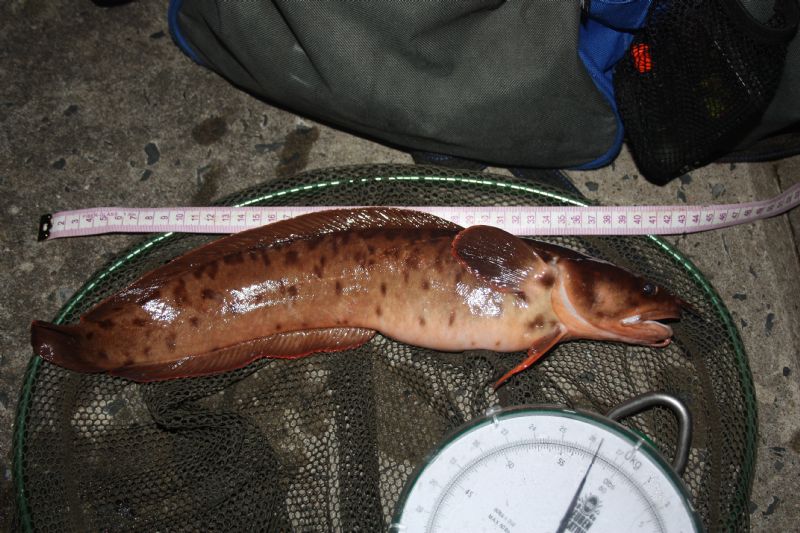 This is what I'm after, a fat specimen approaching two pounds
What the manufacturer says
Three Ugly Stik rods specifically designed for the Kayak angler. The 6' 12lb version (the one I tested) and the 6/12lb and 12/20lb models with a length of 7'6" allowing the angler to raise the rod high enough to work the line around the kayak's bow when fighting a fast running fish.
The rods give good bite detection, but concentrate blank power in the mid-section and stiff butt making it easy to fight big fish from a seated position. The shorter 6' 12lb class rod is designed for general kayak fishing when targeting a wide range of species. Again, it has a sporting long tip/short butt action allowing fun with smaller fish, but stiffens quickly to offer power when fighting bigger fish directly below the kayak. Features the world famous Ugly Stik blank technology, Ugly Tuff guides and light weight graphite reel seat. With a seven year warranty and superb spec, you cannot go wrong with this kit.
These rods are now available from all good tackle shops.
Retail prices
6ft Kayak 12lb class…. £49.99 more information....Shakespeare Ugly Stik Kayak 1260 Rod (2 Piece) - Black, 6 ft/12 lb
7ft 6 Kayak 6-12lb class…. £59.99 more information....Shakespeare Ugly Stik Kayak 276 Rod (2 Piece) - Black, 7.6 ft/6 - 12 lb
7ft 6 Kayak 12-20lb class…. £59.99 more information....Shakespeare Ugly Stik Kayak Rod (2 Piece) - Black, 7.6 ft/12 - 20 lb
Back