Smooth Operator
Terry's Travels
Smooth Operator
Taking a long-overdue adventure to the south-east inshore waters of County Wicklow, in search of hard-fighting hounds.
It must be at least eight years since I ventured to the Wicklow Coast, too busy exploring other fishy areas of this wonderful country. I felt it was time to rectify this, and although you rarely need an excuse to wet a line, I had three reasonably plausible ones.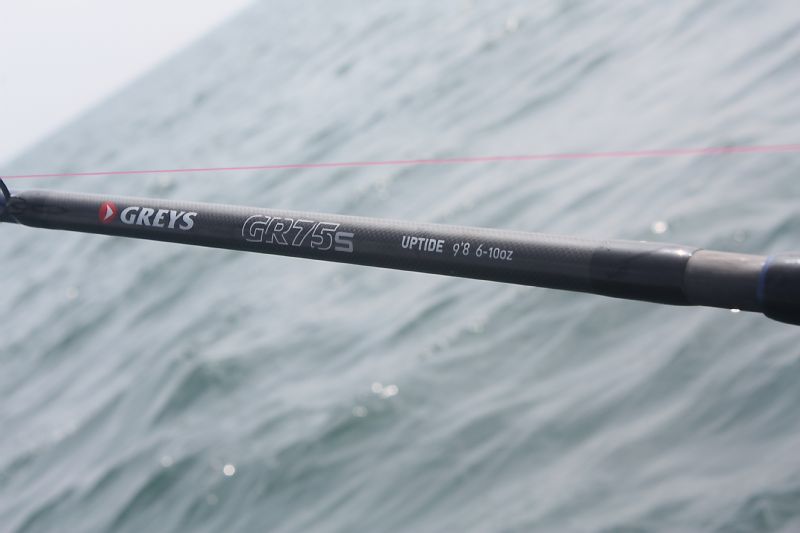 The Greys "Toreon" GR75s. Twin tip. Very useable kit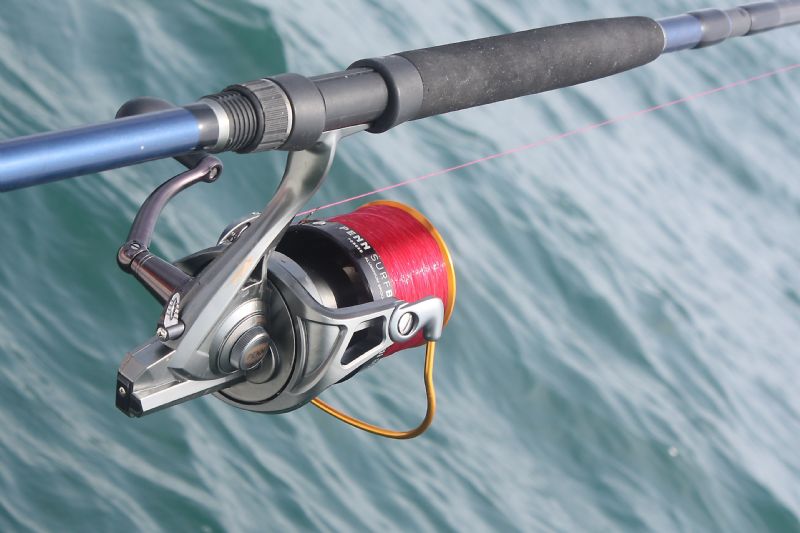 The Penn Surfblaster, a tough reel and perfect match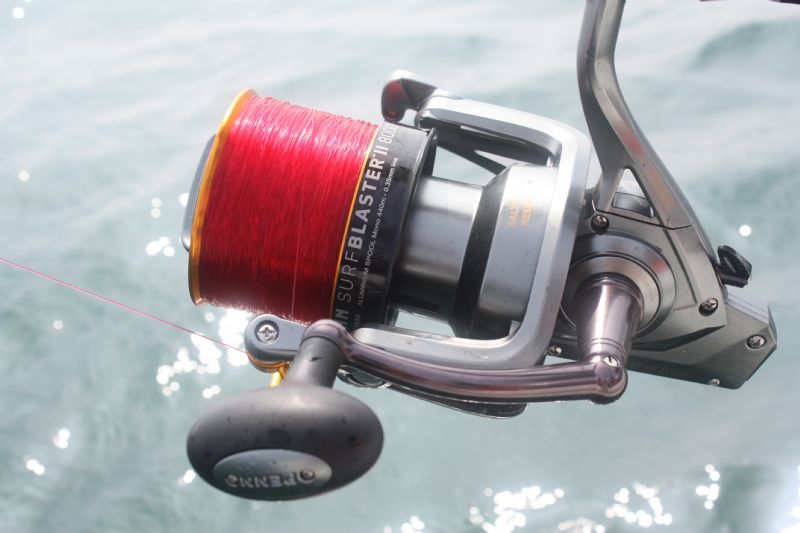 Loaded with Berkley XTS Saltwater Red
Firstly, Greys Tackle Company wanted to see a few fish caught on their stunning Greys Up-tide rods, the new Toreon GR75's. Teamed with a pair of Penn Surf Blasters to form a nicely balanced set up, I loaded them with 20lbs b/s Berkley XTS Saltwater Red mono. That in itself is excuse enough to venture out, but I had also promised two good friends, Sam and Michael, a chance to catch a species they had never seen before, namely the sleek, hard-fighting Smooth Hound.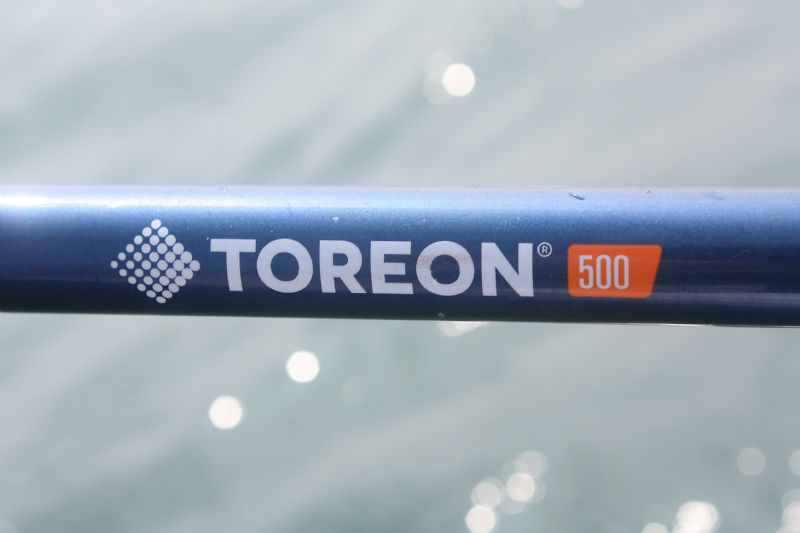 All the "Toreon" range from Greys are highest quality, very user friendly!
The third excuse was simply self-indulgence on my part. It's been a while since I landed my last specimen "smoothie", an extremely enjoyable experience, and I desperately wanted to repeat the performance, particularly with the new toys!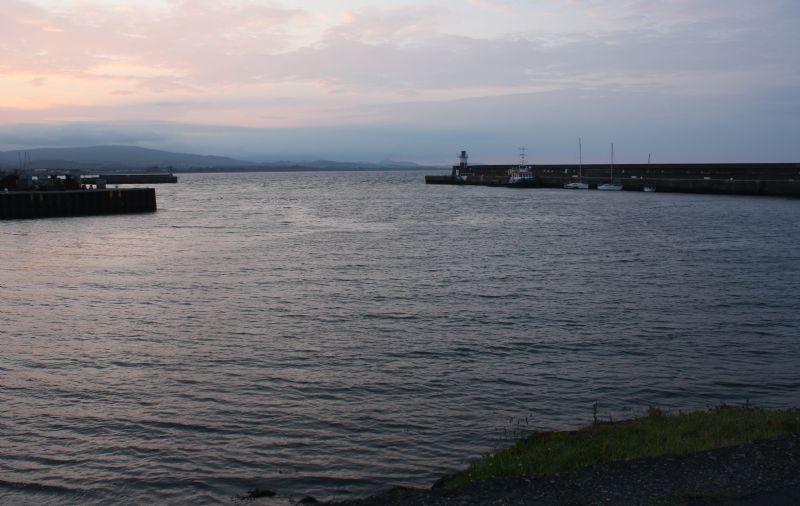 Wicklow Town Harbour. Loads of shelter and wall space to moor your boat
This would be a three to four day trip, to maximise the chance of a positive result, as the weather forecast was dodgy and it seemed we would lose at least one day due to strong easterlies. Dave Craig was to join me on the second day, and then Sam and Michael would tag along for the final two.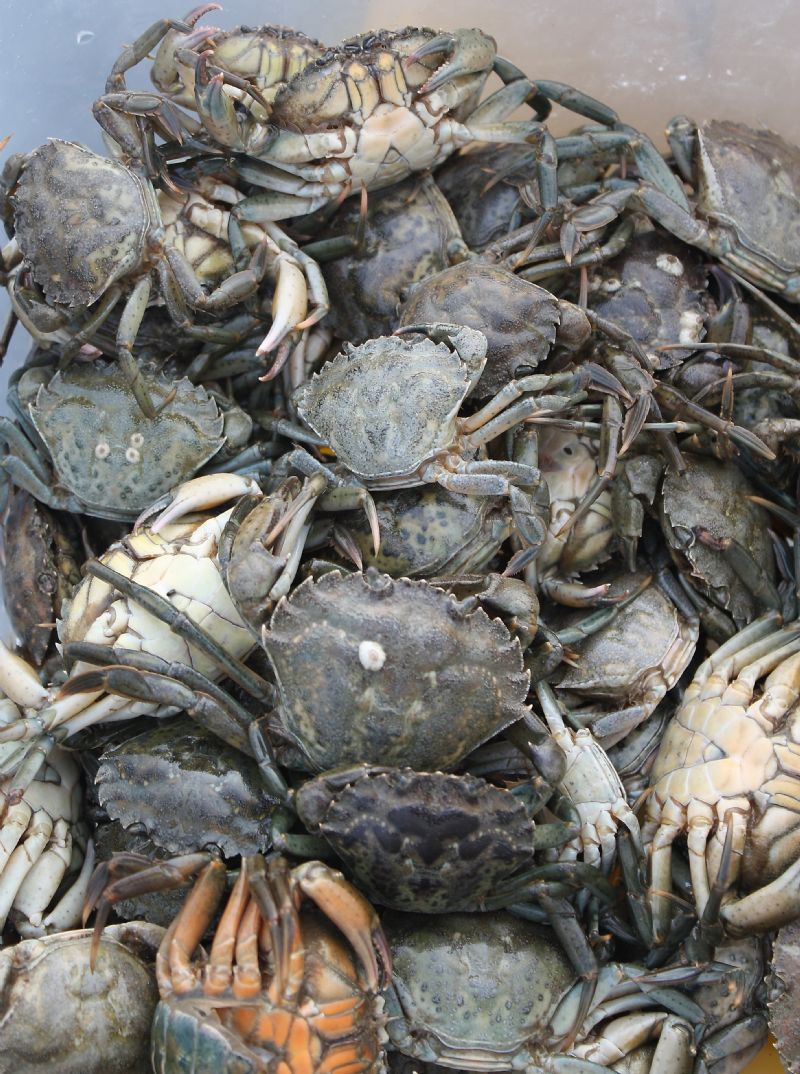 A neccessity for any Smooth Hound session. Quality live peeler crab.
Arriving Friday afternoon, the harbour and slipway were extremely busy. There is an active boat club right at the harbour(where you can buy a pint of Guinness in the evening and have a pee)! When it was clear to launch, I ventured out into safe water and scanned the chart plotter. I have no known marks here, and found a likely looking drop-off and anchored up-tide of it. Fishing was slow but Lesser Spotted Dogfish showed in numbers, interrupted by four small Smooth Hound. I was confident of my methods, just not of the area I had chosen.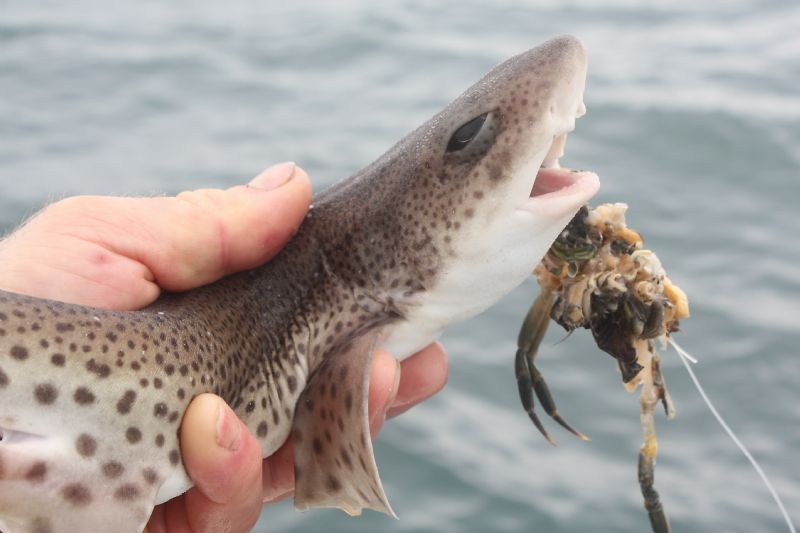 Almost everywhere in Irish coastal waters, you will find the Lesser Spotted Dogfish.
Sea Anemones. More unusual bait stealers!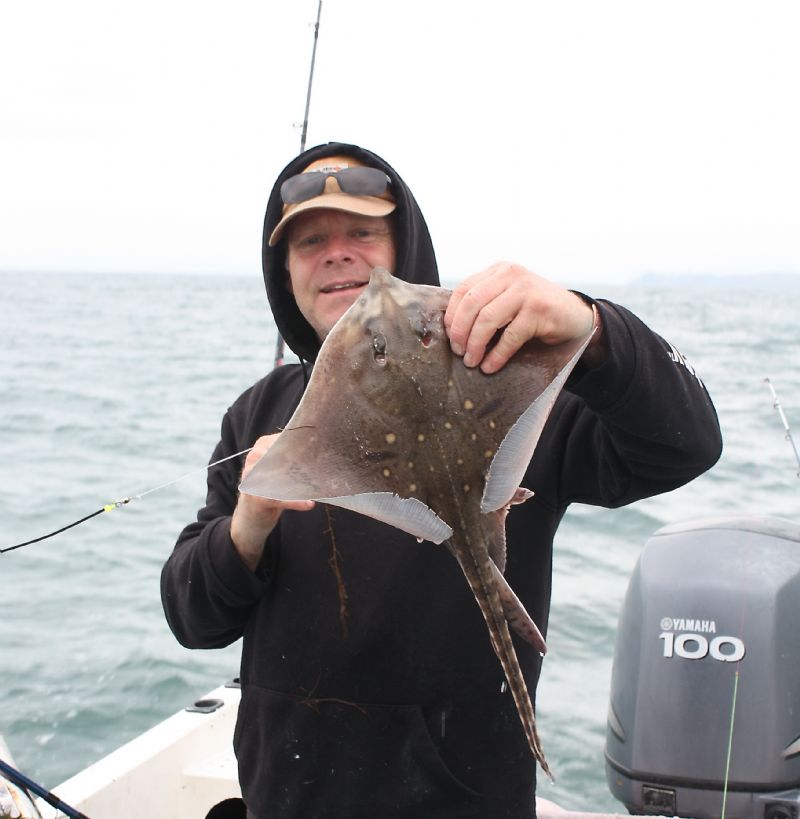 Great to see Thornback Rays are established here, although in small numbers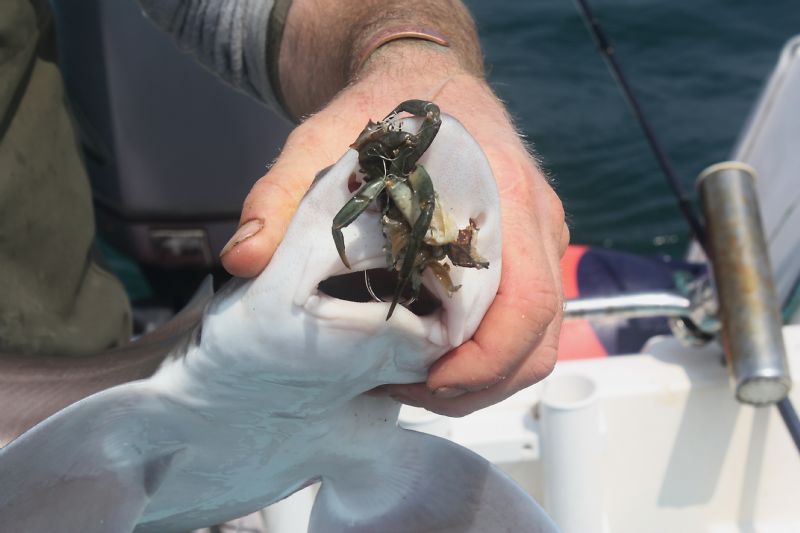 Target species, a young Smooth Hound, taken on a "softee" crab. Where's your big sister?
The following morning, whilst waiting for Dave to arrive, I chatted with local boat anglers. International angler Liam O'Callaghan, the gentleman that he is, gave me a few great marks directly off his chart plotter. With Dave aboard, we headed for one of the Smooth Hound marks, and soon realised Liam's trail was hot, as it was hardly a stone's throw from where top local charter skipper Kit Dunne was anchored!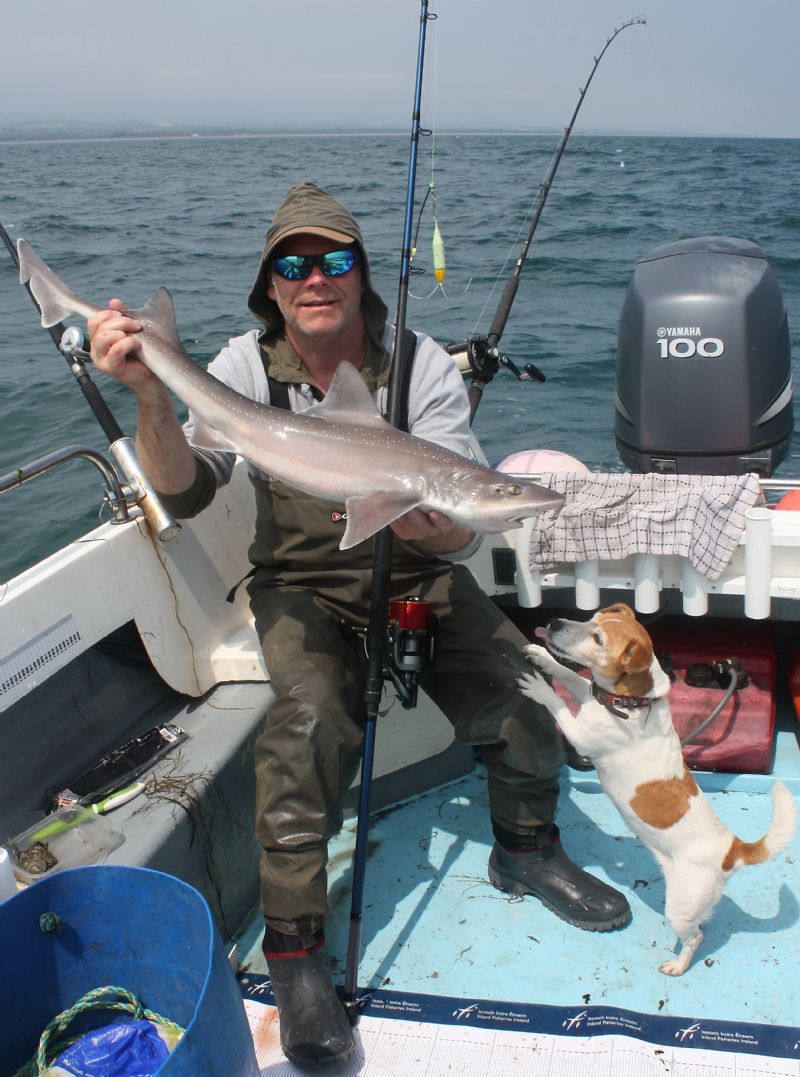 Double-figure specimen, that's better. Fun on the uptider. Skip wants a lick!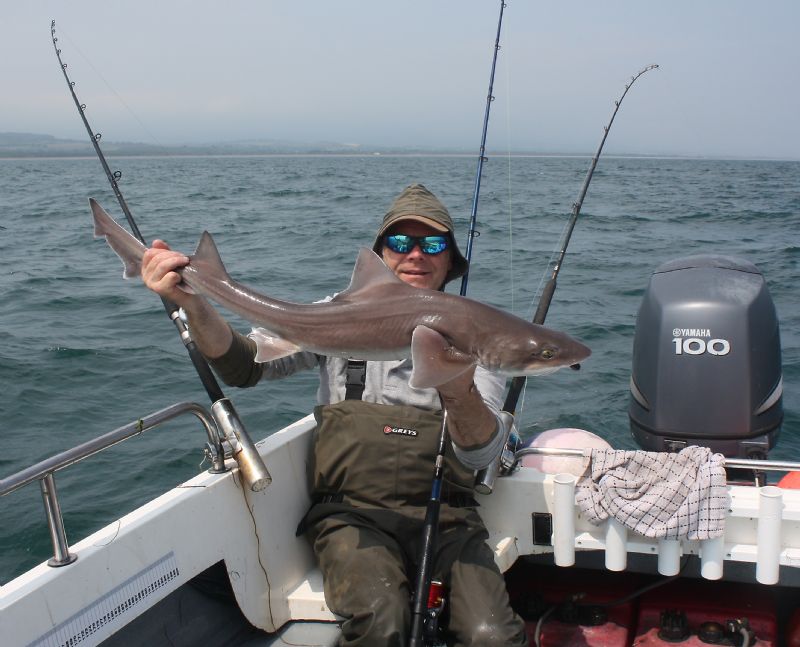 And another straight after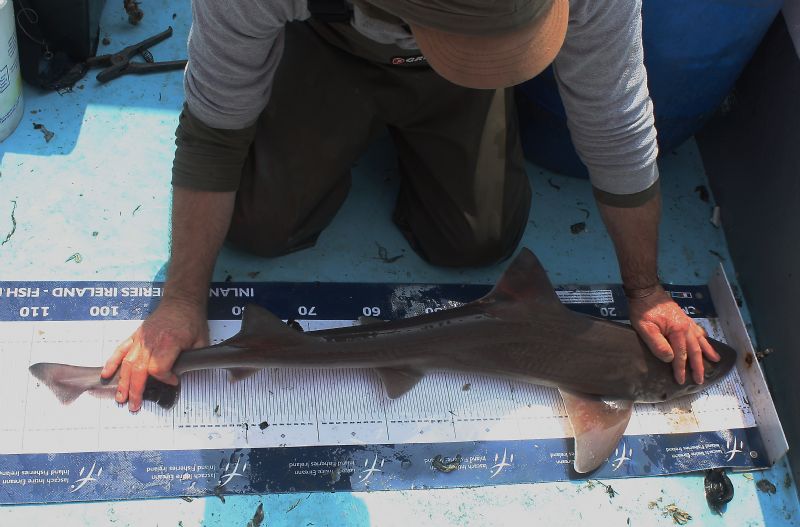 Length-based specimens must reach 100 cms
We dropped anchor around 500 yards away, it is always common courtesy to give other boat users enough space, not all are as obliging I hasten to add! Wind direction definitely had some east to it, and we were knocked about a bit, but not too uncomfortable to warrant packing up. Lesser Spotted Dogs queued to gorge themselves on our peeler crabs. It's always good to catch fish, but dogs can be desperately frustrating as they munch through your expensive peeler crab supply. But that's how it is, it seems. A numbers game until the Smooth Hound home in on the scent trail.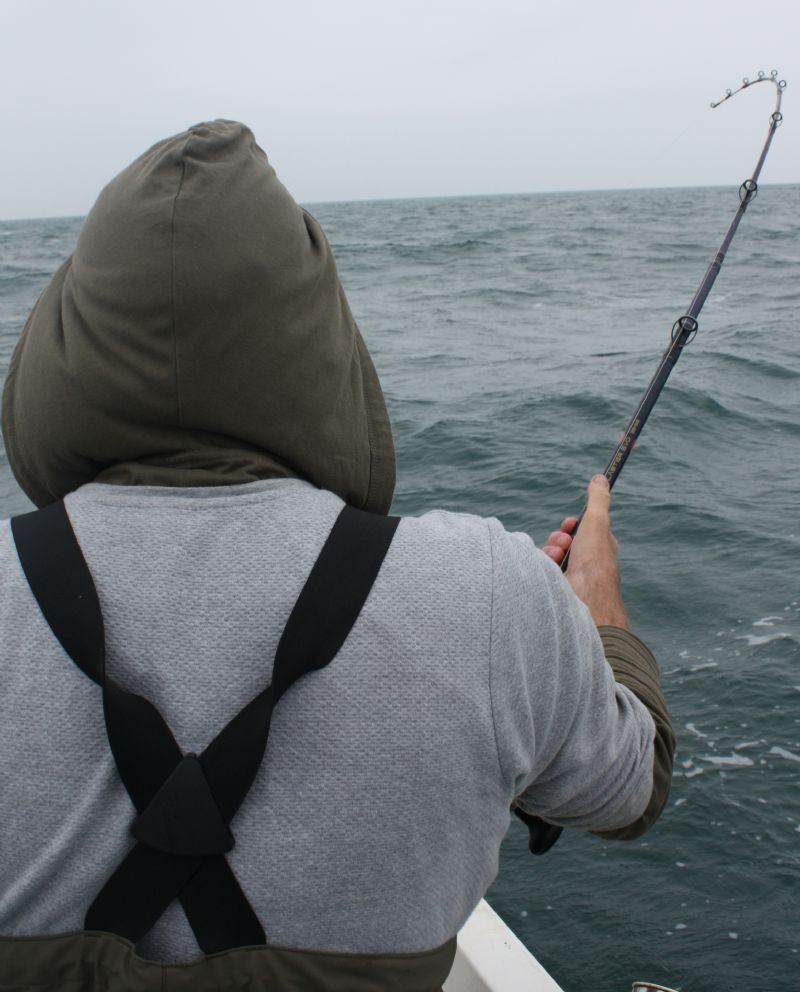 Not a Hound this time. Something flat I suspect!
A decent femaleThornback Ray
It wasn't long before the hounds found us, and with fish averaging 3-6 lbs, they were great fun on the up-tiders. I set up my trusty Penn Wave Blaster for a spot of down-tiding, baited with whole calamari to see what else was about. Of course, dogfish gorged themselves, but in between the hordes of LSD's, I managed to find the occasional Hound and bonus Thornback Ray.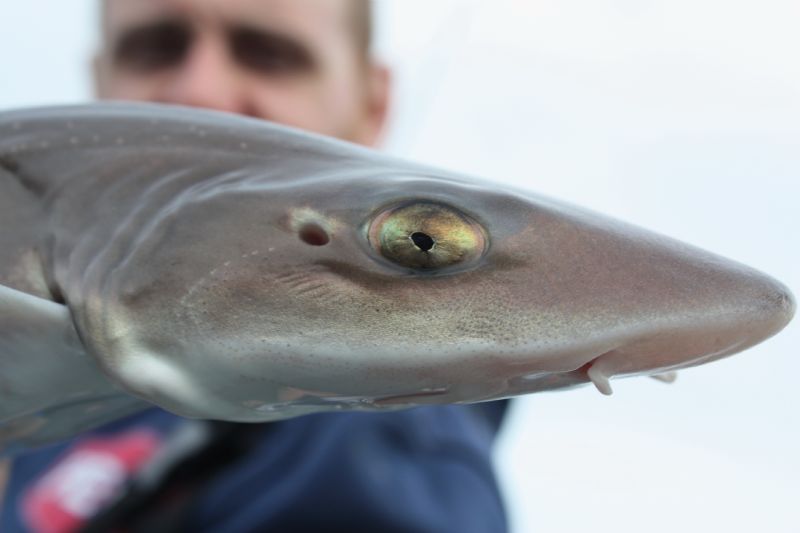 Mother Natures design, at her best when she created the shark species
We fished right through the filling tide, and close to slack water, an up-tider buckled, and after a feisty scrap, a specimen Hound thrashed on the deck. Easily over the specimen length of 100 cms, she weighed in at just under 13lbs. Job done. I gave her a tag in the dorsal and slipped her back over the gunnels as the second up-tider bent in two. Another specimen similar to the first that gave me the adrenaline hit we've all felt at some point, when a large fish breaks the surface. I think they must have been sisters out for a meal! A perfect end to my second day.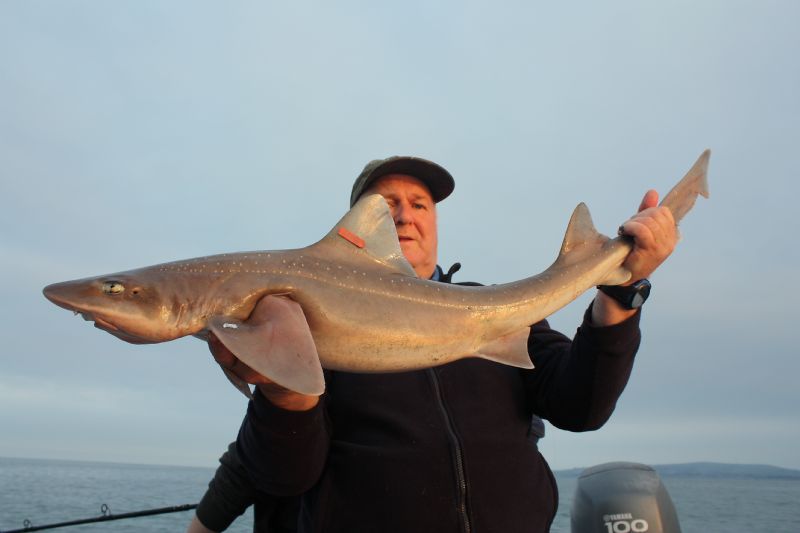 Today was Dave's day, with two fine specimens boated.
Samantha and Michael joined us on day three, and although the sea state was deteriorating, it was still safe to venture out. Back to the same mark, and I swear, the same Dogfish! It was a re-run of the previous day. A slow day but with enough action to keep us all interested. Sam soon had her first ever Smooth Hound, as did Michael, both delighted to tick another fish on the Irish species list.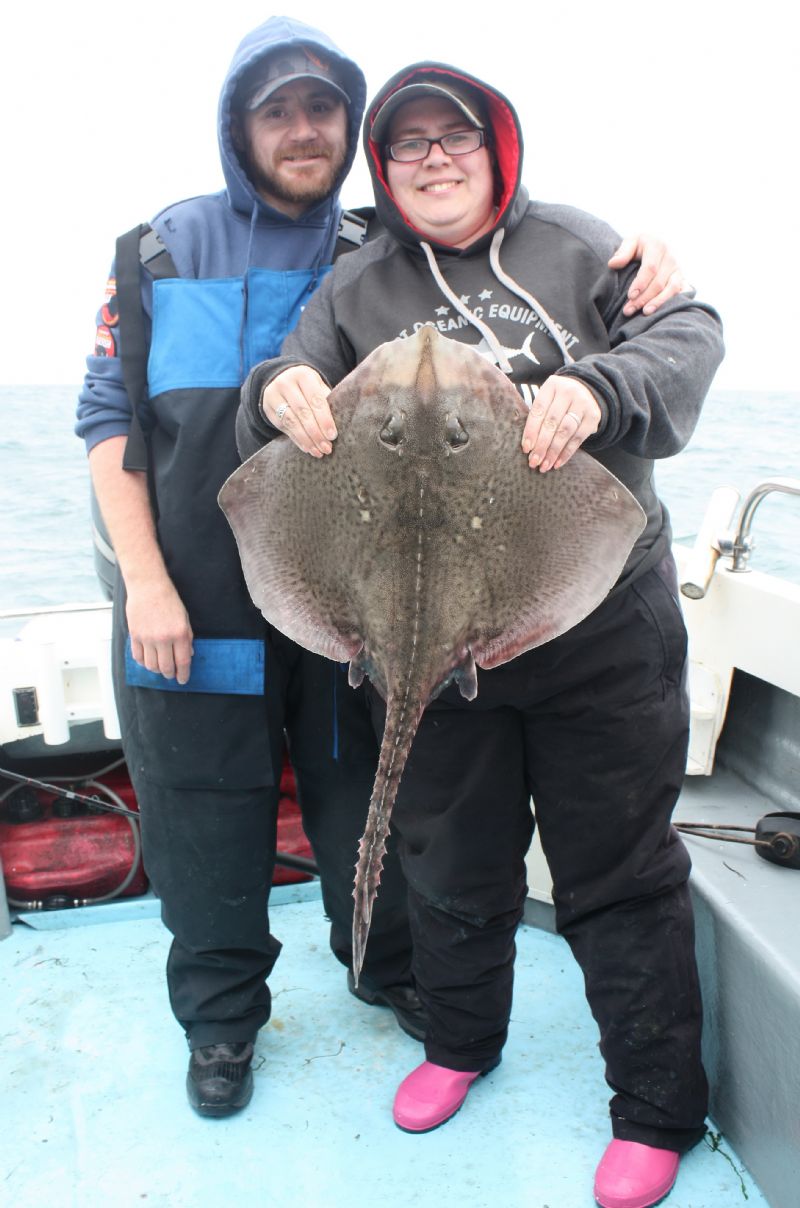 Another decent Ray, love the boots Sam!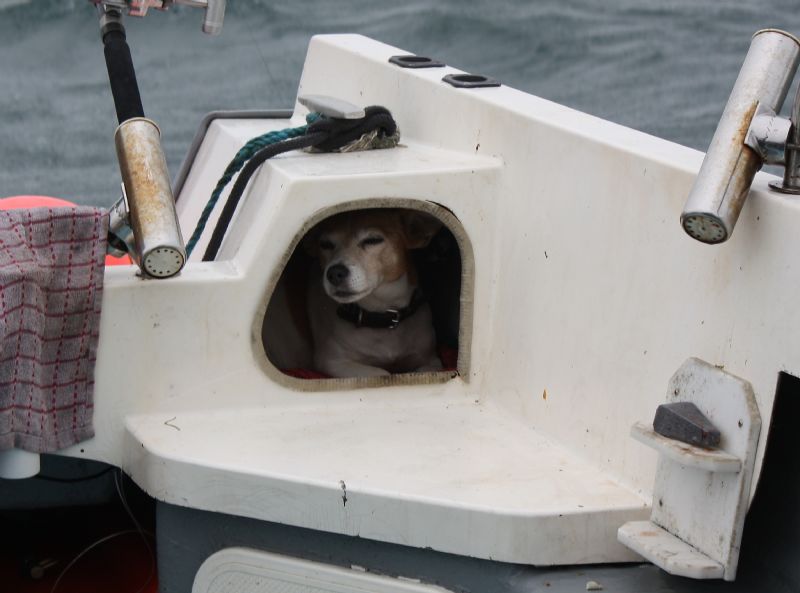 Skips no mug. When the weather deteriorates, she finds her bolt hole!
This was Dave's turn to find the specimens, landing an eleven pounder mid day followed by another towards the end of the tide. Not to be out-done, Samantha also tempted a specimen, her first ever, booking her trip to the Irish Specimen Awards next year. The following day was planned for Tope, as our crab baits were almost used up, and we had a box of fresh Mackerel to use, but Mother Nature decided we had had enough for one trip and sent those threatening easterlies our way. Never mind though, we ended the adventure with Thornback Ray pushing double figures, numerous dogs and Hounds, and five Irish specimens to boot! No complaints from this end!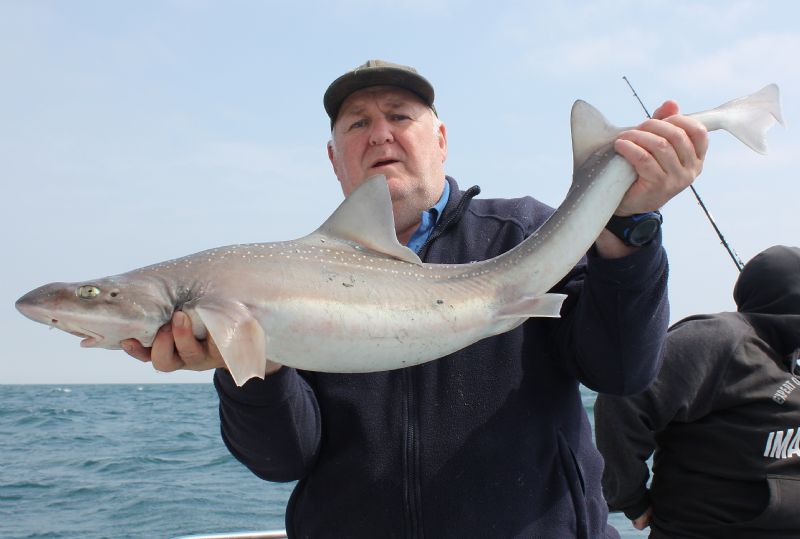 Specimen number two for Dave.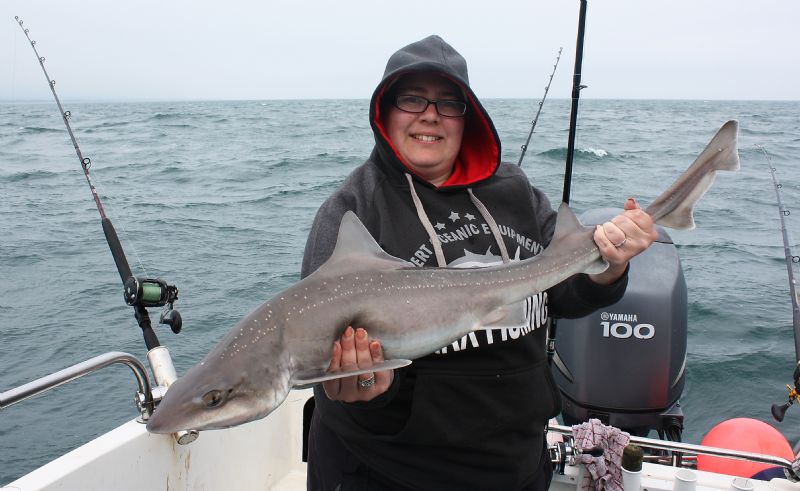 And Samantha's first ever specimen fish, a great way to start.
Tackle tips and pointers
Greys GR75S Boat & Uptide Rods 8ft2 6-12lb
Penn Surfblaster II 8000 Fixed spool reel
Berkley XTS Saltwater Red 20lbs
Gemini System 100+ Mould Kit for weight making and sinkers
Kamasan B950u Uptide Hooks - Size 3/0
Berkley Big Game Mono Leader Clear Line, 60 lb, 50m
Medium Bait Elastic 4 x 250m Spools Dead Bait Sea & Coarse Fishing Rigs. - Save Bait! Shrimps, squid, crab, fish etc.
Local Charter Skipper (recommended)
If you dont have access to a small boat, check out Kit Dunne, local experienced charter skipper. He will put you over fish with a high chance of finding the larger specimens. Details below.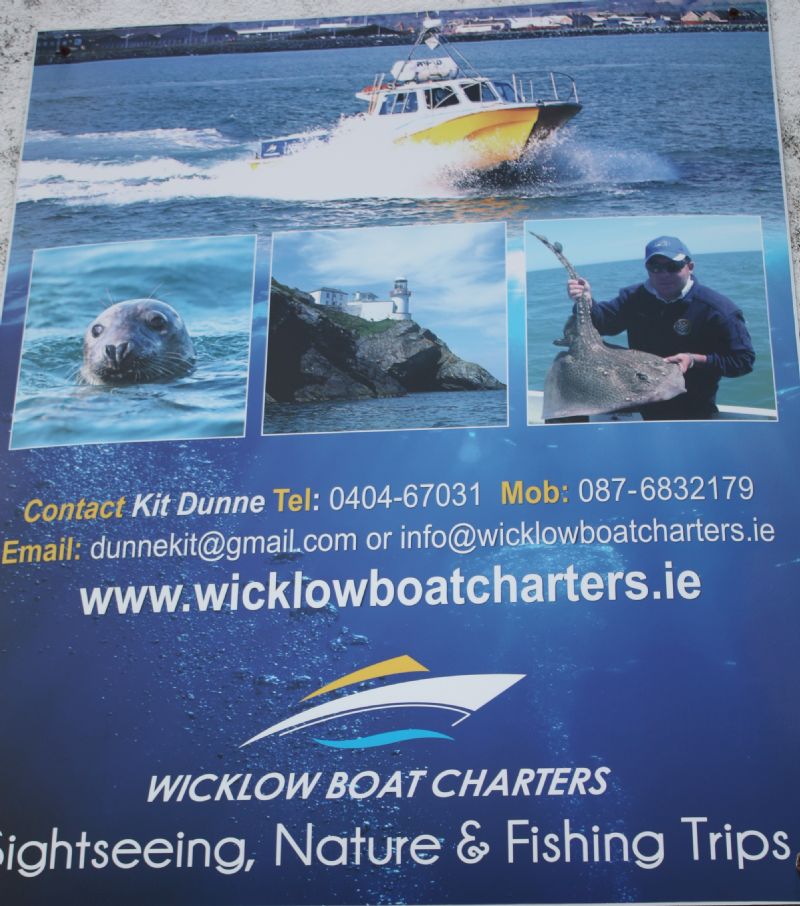 Back