Species hunt part 6 Thornback Ray
Thornback Ray
Fact file
Name Thornback Ray (fish ID info click here)
Latin name Raja clavata
Irish record 37 lbs taken on 28.5.1961 at Ling Rocks, Kinsale by M.J.Fitzgerald
Specimen weight 20 lbs or 9.072 Kilos
The trip
It can sometimes be quite strange how angling trips simply appear out of thin air. My wife does not believe this fact. She insists that I am far too devious, and that I secretly manipulate situations that end up with me either on the sea, by the sea or alongside some river or lake with a rod in my hand!
In my opinion this is totally unjustified, but I will leave the readers to decide for themselves regarding my latest adventure and target species. I received a telephone call from well-known shore angler, Sam Stirling regarding the long-term tagging programme run by the Central Fisheries Board, now the Inland Fisheries Ireland, based in Dublin. He has been catching reasonable numbers of rays, and thought it would be beneficial to become involved with the scheme. After an interesting chat, swapping angling info and basically catching up on the shore scene, Sam asked if I would be interested in joining him on a Thornback Ray shore angling session. So you see where was the manipulation there?
Of course, in the interests of safety, I agreed to go. It's not right to have a man shore fishing by himself! In reality, I had been pondering on my next target species, and rays had already crossed my mind. It would have been so easy to take my boat to Donegal and catch dozens of rays, as I have done many times in recent years. However, it couldn't exactly be classed as a challenge. Thornbacks from the shore would be a different matter, particcularly in the north of Ireland. Now that would be worthy of the title.
I remember my early shore angling days when my main ambition was to catch a ray from the shore. It took a couple of years to achieve but I finally managed it from a mark at Downings, taking fish up to eight pounds. Now, my ambition is to catch a Tope from the shore, and hopefully that will be realised sometime in the future. (If there are any readers that want to invite me for a day shore fishing for Tope, please feel free to drop me a line, hot spots will be treated with utmost discretion!).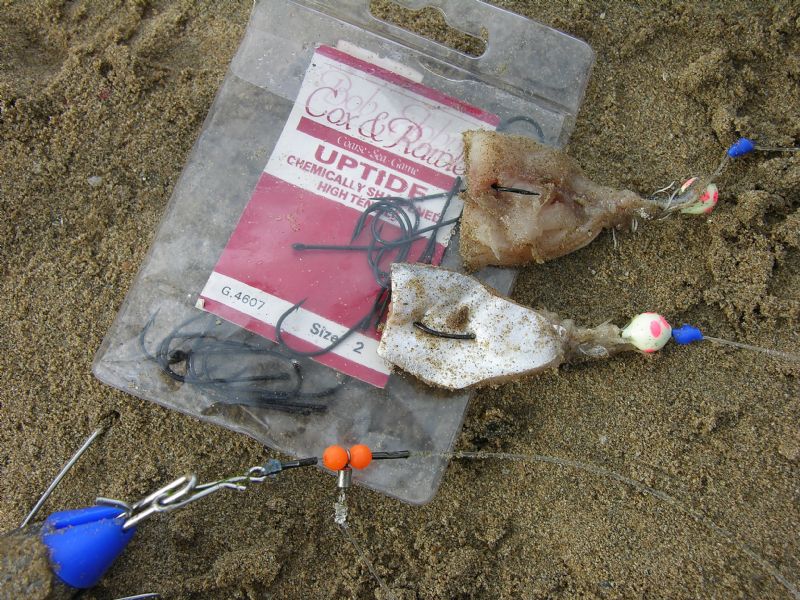 Dont always be tempted to use too large a hook or bait for that matter
But for now, it's back to the "thornies". Sam advised that Mackerel and Razorfish are the top baits on this particular mark, with Sand eel and worm baits excellent for Dogfish, Flounder, Gurnard and Dabs. As this was a spur of the moment trip, frozen Mackerel and Sand eel would have to suffice. Sam's tackle advice was as follows; suitable beach casting gear, 5oz grip leads, plain leads, and a couple of two hook paternoster rigs incorporating size two hooks. The choice of rigs and hook size surprised me, as personally, I would have opted for a single hook, up and down rig to allow a flowing trace set-up on the seabed, once the hooks had un-clipped, possibly combining this with a size 4/0 hook or two hooks, pennel fashion.
This is basically a reflection of my boat rigs, using large fillets of Mackerel or whole Calamari Squid. Apparently, as Sam wasted no time in informing me, this is where some shore anglers go wrong. From the shore, a reasonable amount of finesse is required, and large bait attached to oversized hooks is rarely productive. With Sam's 19 years of experience on this particular mark, it pays, I thought, to stop talking and start listening!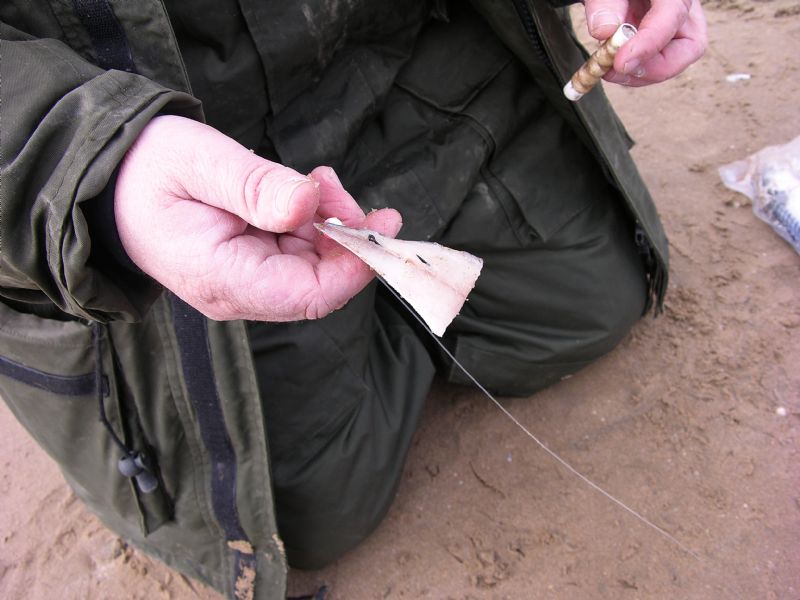 Sam showed me the perfect sized bait for this venue
We met the following day as per Sam's instruction, with the tide an hour from low water. This is the best chance for a result, as the rays move along the channel, hunting out small fish, marine worms and crustaceans. This gives a four-hour window of opportunity, as the in-coming tide will eventually push the angler too far up the beach and beyond casting range. Once set up, the first thing I had to do was remove the 2/0 Aberdeen's and replace them with smaller, but much stronger size 2 Cox and Rawle up-tide hooks. Sam then showed me the exact size of bait to use, and the correct way in which to attach it to the hook, securing with elastic thread.
Similar in fact to the tactics I use for dogfish. The old sight markings are gone now, but Sam uses new ones that line up certain houses, and points of land. Keeping to these, with a thirty-yard lob, usually puts your bait into the feeding zone. This demonstrates the importance of local knowledge, as any rays I have caught in the past whilst shore angling, usually involves blasting a single hook clipped down rig towards the horizon. Not necessary on this hot spot. Having been away from the shore scene for several years now, it is amazing how tackle has changed. My Century Tip Tornado seemed crude compared to the delicate fixed spool set up that Sam was using.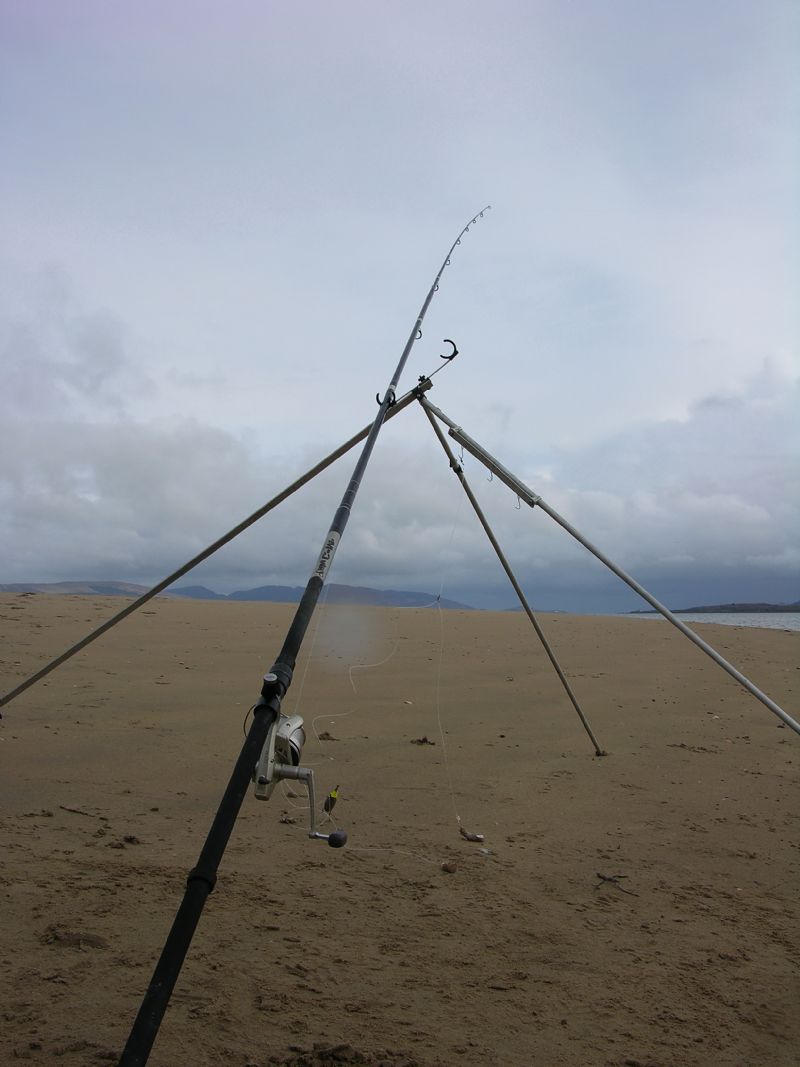 Rods are now much lighter, almost quiver-tip style
In the past, I would never have dreamt of using such fine gear for ray fishing, but advances in tackle now allow for lighter, stronger and a great deal more bite-sensitive rods, than ever before. As expected, Sam had the first bite, with a gentle nod on the rod tip, but rather than lifting into the fish, he let out a little line. This is important he informs me, as a possible ray can feel the tension and will shy away from the bait. Another nod and a little more line released. After a minute or so, a final nod and Sam lifted the rod, interestingly without striking, and played the fish in. Doubting that it was a ray, a common and ever-present Lesser-spotted Dogfish surfaced and was wound safely to shore. Although slightly disappointed, it is always encouraging to get a fish on the first cast, and not a bad sign, as is often the case when "dogs" appear. This mark produces dogs and rays together, so there was still a chance we may see the target species.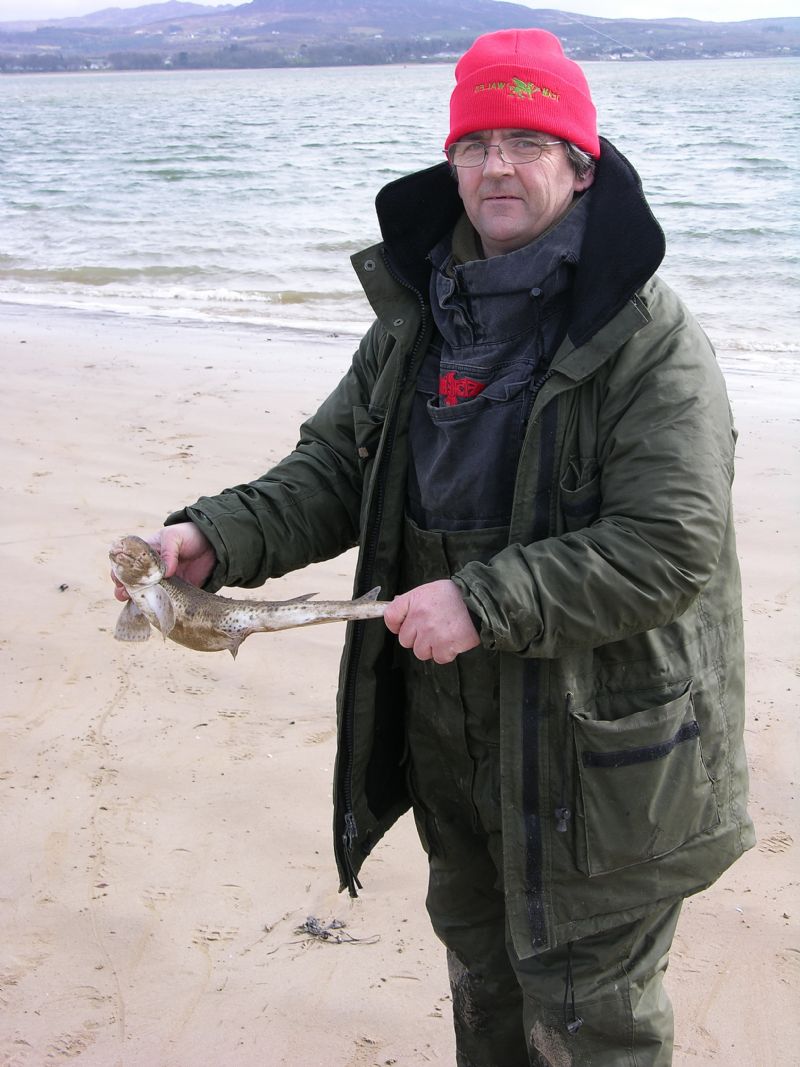 A standard "doggie", better than a blank I suppose
My rod rattled next, and, mirroring Sam's performance, I let out a little line so as not to "spook" a potential ray. By the third knock on the rod, I lifted and reeled, but thinking I had missed my bite, was pleasantly surprised to find a decent Flounder had "snaffled" my ray bait. Slack water came and went without incident, but as the flow strengthened with the in- coming tide, Sam's rod gave a delicate tap. He went through the same procedure as before, letting out a few feet of line and watching for the next indication, declaring that this time it WAS the target fish we were looking for.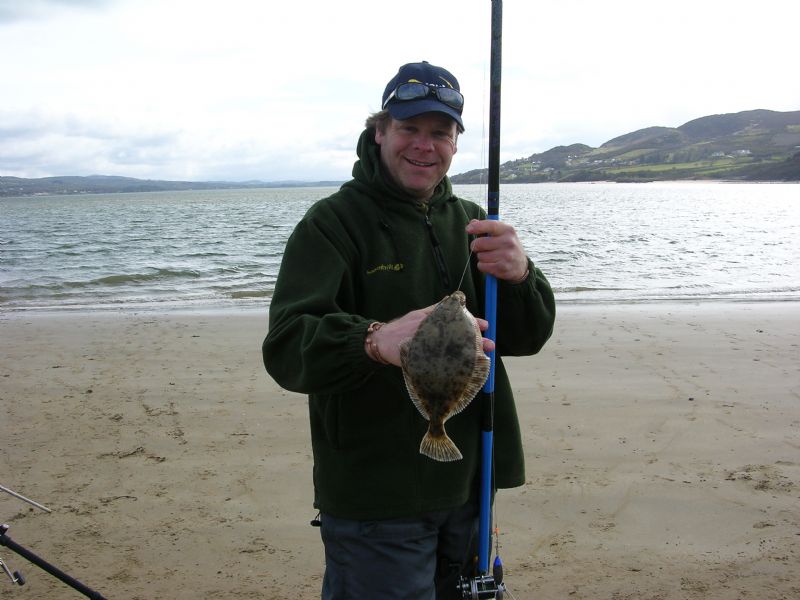 A Flounder for me, its a learning curve!
I would never have believed that these gentle bite indications were anything to do with a ray, going by the rod bending rattles I usually get when boat angling for the same species, and indeed at the same venue but Sam assured me that this was a Thornback. A third pull and he lifted into the fish, stating that I should grab the camera if I wanted the photographs I was after! Well, what can I say? The sensitive rod handled the fish without any bother whatsoever, and right on cue, a Thornback Ray appeared from the murky water for a photo shoot! Fair play to Sam, I was suitably impressed, and after a couple of quick pics, I ran back to the jeep for my tagging kit while the ray was quickly un-hooked.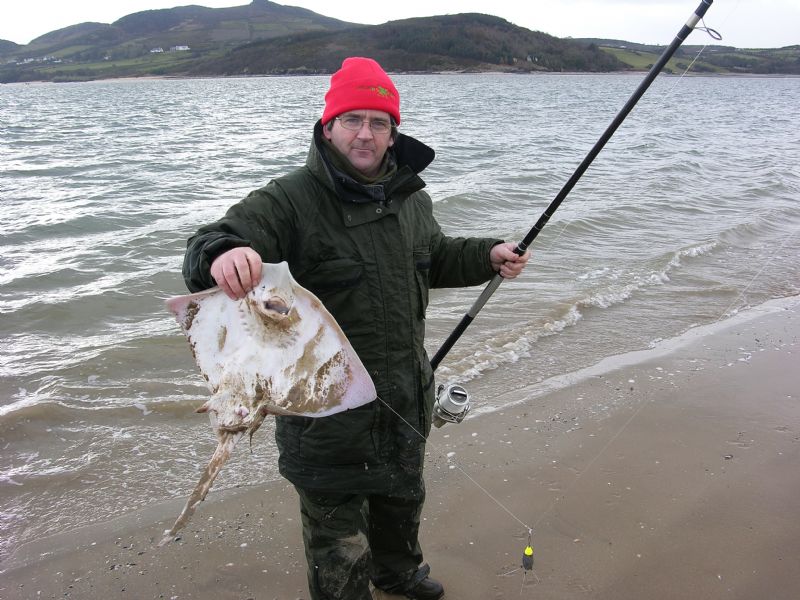 Sam shows how its done, successfully finding our target species
Maybe this time I could teach Sam something, and explained how to tag measure and record all the details required, letting him tag and gently release his catch. The tide pushed hard, it was springs after all, and it was time to get off the beach while the going was good. To sum up my day in Donegal, I suppose I failed to catch my target species on this occasion. However, I managed to find someone that could, and I learnt an awful lot, and when you can come away from a venue with added knowledge, then little is lost. It must be said that Sam gave me a few added tips that helped on that day. Unfortunately, I have been told to keep these close to my chest, and when I took a sneaky photograph of the inside of his tackle box, he insisted that I deleted it. Sorry readers, but with shore match anglers it seems, some things are deemed sacred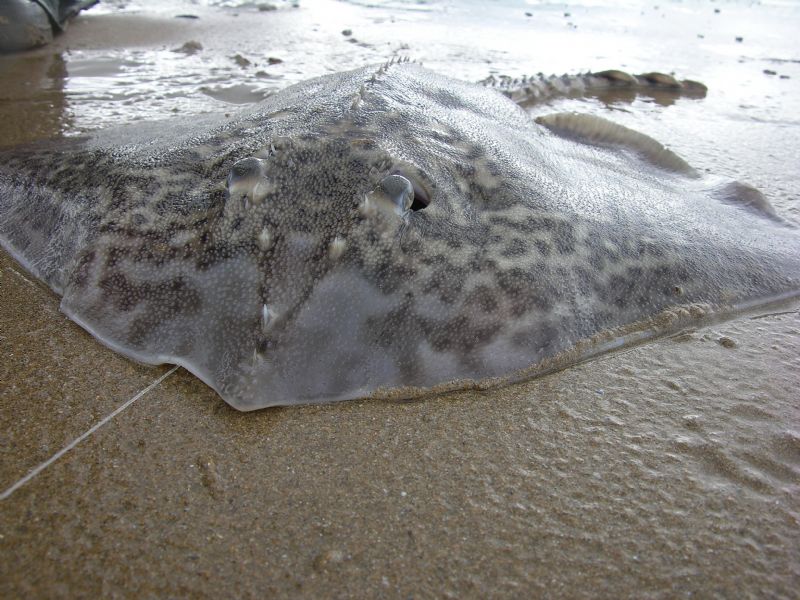 The convex shape of the body, designed to hug the seabed in strong current.
Bait
Thornback Ray will take a variety of bait offered by the angler. I have caught them on lugworm and ragworm, and even fresh mussel. Down the east coast, peeler crab and Sand eel are popular, but fresh Mackerel is generally the all-round favorite. Also consider Razorfish, and other fish baits such as Herring and Launce.
Tackle
Basic shore gear is all that is required, whether fixed spool or multiplier. Consideration must be given to local conditions and adjust the tackle to suit. On this occasion, a two-hook paternoster and a pulley rig were the rigs for the job. The main body consisting of approximately five feet, with each attached snood two feet in length. Obviously make sure the snoods are suitably spaced apart to avoid tangles. Hooks were size two, Cox and Rawle up-tides, but this will depend on the size and variety of bait you will use on a particular venue. As the ground at this venue was reasonably clean, I used eighteen pound b/s mainline, with a fifty pound b/s shock leader to safely cover the five ounce casting weight, bearing in mind there was no power casting involved, just an over head lob.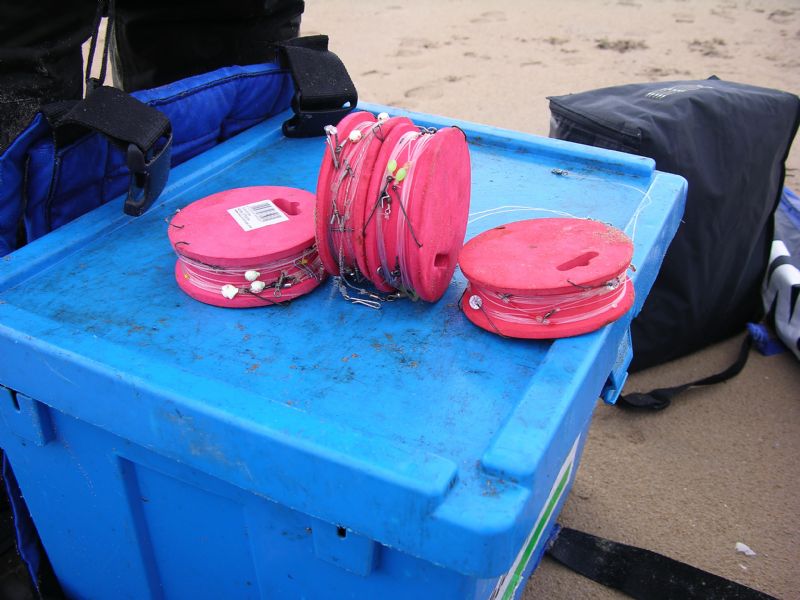 These handy rig-winders keep spare rigs neat and tidy, match tactics!
Tactics
If you can, always use local knowledge as a short cut to locating features and holding areas. These areas normally change over time or after severe storms. This will save many precious hours of groundwork and trial and error. This is obviously where local shore guides are worth their weight in gold! If this is not possible, contact local clubs that hold matches in the area. Regular matches held on a venue will soon locate the hot spots for a particular species. If you are lucky, a club member may let you in to a few secrets.
Other than that, check out the venue for yourself, by casting a lead about looking for channels and gullies. Fast tides in deep water close to shore can always be worth a try, or patches of sand and shell between fingers of rock that push out to sea are likely holding areas. Thornbacks will also venture into muddy estuaries in search of the vast numbers of large, green shore crabs that inhabit these areas. Common practice when using two hooks and even two rods is to try different baits on different hooks. This will quickly work out what is hot, and what is not on a particular day and venue. Also, modern technology via Google Earth allows you to see the layout of the shoreline, along with gullies and sand-bars, an extremely helpful addition when seeking possible fish holding marks.
Interesting facts
As you may expect, with the name "Thornback", its upper surface is entirely "prickly", being covered in a series of small thorns, including the tail. The under-side is white-cream, and the back is various shades of brown, with mottled patterns and blotches, including dark and light spots. The jaws consist of two bony, crushing plates that despatch any large shore crab with ease. Keep fingers out at all costs. Thornbacks are distributed in the Eastern Atlantic from Iceland and Norway, the North Sea, and down to Morocco and Namibia, including the Mediterranean and the Black Sea. They can be found in depths up to 300 metres, over sand, broken ground and muddy bottoms, feeding mainly on small marine animals and crustaceans. Thornbacks lay approximately 50-170 egg cases per year, over sand or muddy sea beds.
Crushing mouth-parts, tough ceramic-like plates, mind the fingers!
The capsules are oblong in shape, with pointed "horns" on each corner. Each purse measures 5-9cms in length, and 3-6cms wide. It is important to note that areas where Thornback Ray have been commercially removed and suffer over-fishing WILL NOT re-generate. I have witnessed this in my own, comparatively short angling life span. Belfast Lough in the 1970's was the finest ray mark in Ireland until factory ships removed them, and stocks failed to return. Commercial over-fishing in Deepwater Quay, Sligo has done the same, along with the once large numbers in Carlingford Lough and Larne Lough. Thornback stocks are gone in these areas, so take this as a warning. Work to protect your local areas, by pushing for marine protected areas (M.P.A's) to leave something for future generations!
Back