Specimen Roach and their Hybrids
Specimen Roach and their Hybrids
(Archive article for Irish Angler, 2010)
With the Predator Tour on Lough Derg taking up most of my angling time last month, chasing specimen fish and playing with new products were temporarily placed on the back-burner.
During this period, I had been asked to have a look at the Mitchell "Big Mouth", a no-nonsense, distance casting spinning reel from the Pure Fishing stable. Teamed up with the new Shakespeare Superteam Feeder rod, this appeared to be a formidable fresh-water ledgering set up. I was dying to try it out, and with the Predator Tour behind me for another year, I was able to get the thinking cap on for a venue and species that would do this new combo justice!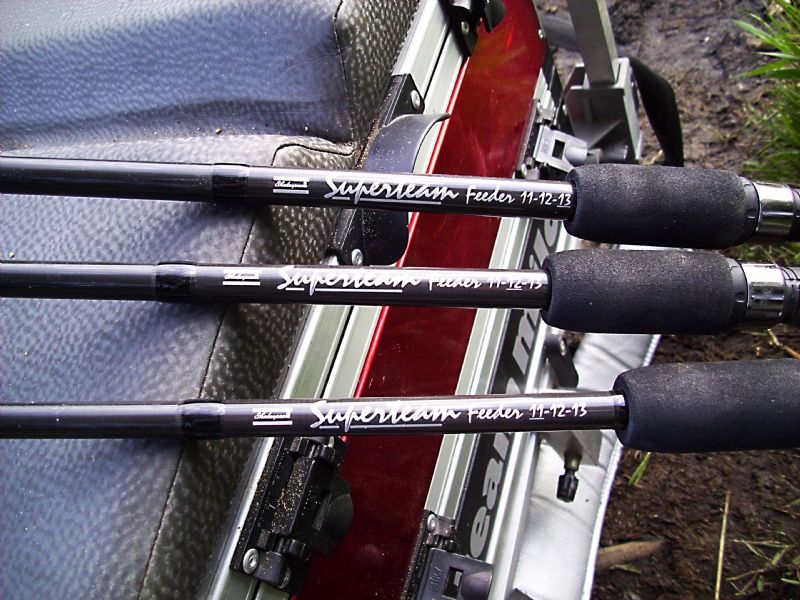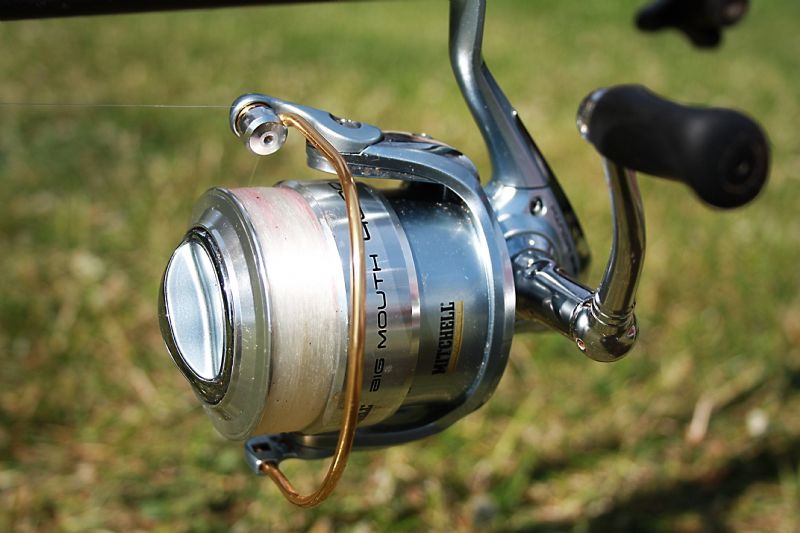 The Mitchell "Big Mouth" and the Shakespeare Superteam Kit, Still using them 5 years on!
Ideally, a venue that required a big "chuck" to find fish, in order to test the casting capabilities of both rod and reel, and hopefully find a few specimens large enough to put the new drag system under a little pressure. I came up with Monalty Lake, famous for large Bream and Hybrids, which suited fine as I was also hoping to extend my specimen fish tally for the season.
Now, I realise that Monalty is a temperamental water that requires exacting conditions, and fishing from shore rather than a boat somewhat limits the scope, but it was worth a try in a bid to connect with one or two of those hard fighting Rudd-Bream hybrids.
Once settled in, and particle bait "spodded" to the chosen area, it was a case of accurately and consistently dropping a feeder onto the mark, an effortless task with this kit. The Hybrids do not usually respond here until the hours of darkness, and clear, cold nights are definitely a "no-no". Heavy cloud cover was given for the border areas, and here's a free tip, although you are probably well aware, never bet your life savings on a BBC weather forecast! As I settled in for the night session, the clouds of course parted, and the temperature plummeted with a bright, full moon revealing the lake like a flood-lit football pitch. Unfortunately, it was game over before I had really even started!
"Spodding" , an accurate method to introduce particle baits to a swim
To prove a point, or maybe I'm just a glutton for punishment, I persevered through the night, and needless to say, ended without a single bite. At first light, a lonely four-pound tench obliged and saved a blank before I packed for home, somewhat dejected. On the positive side, the experience gave me a flavour of how well the rod and reel combo could perform when presented under the correct circumstances. It was these correct circumstances that I needed to find, along with a few decent fish! My second choice of venue may just be the answer.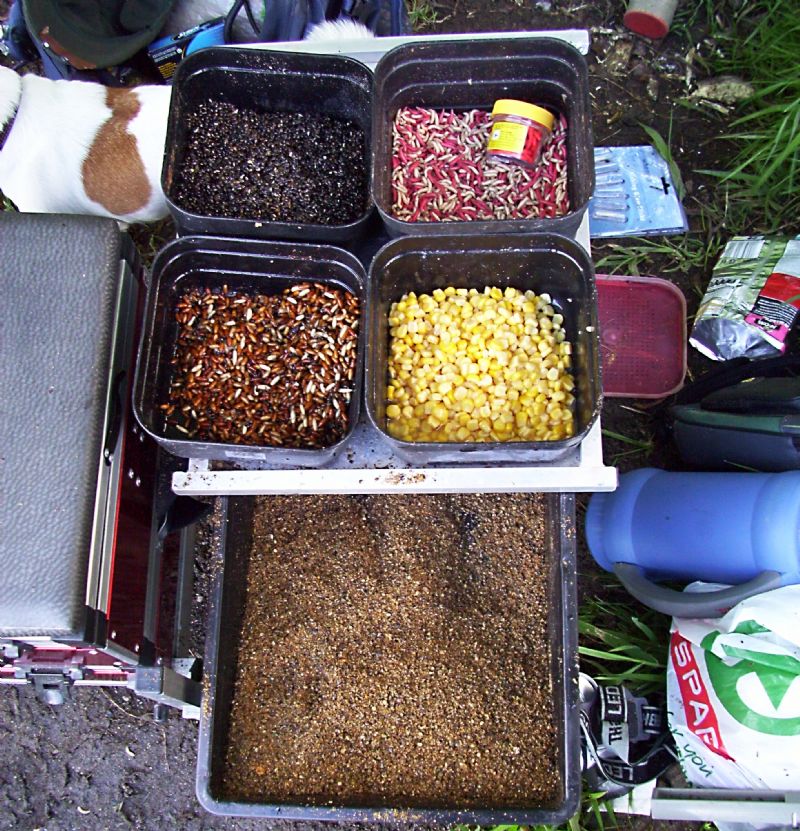 Plenty of selection for a Roach session
The area I had in mind is another distance casting venue, only the target species this time would be Roach. Fair enough, Roach won't match the size of Bream or their Hybrids, but this particular water throws up some large fish now and then and pound for pound, a specimen Roach fights every bit as well, if not better than most other coarse fish in Ireland. One particular secret is the need for accuracy over distance on this water, due to the extremely small feeding areas available. The greater the accuracy, it seems, the larger the reward. Random casts can, and usually will destroy any chance of picking out a decent fish. Many anglers say they can consistently cast onto a sixpence, but in practice, this venue usually sorts out the men from the boys!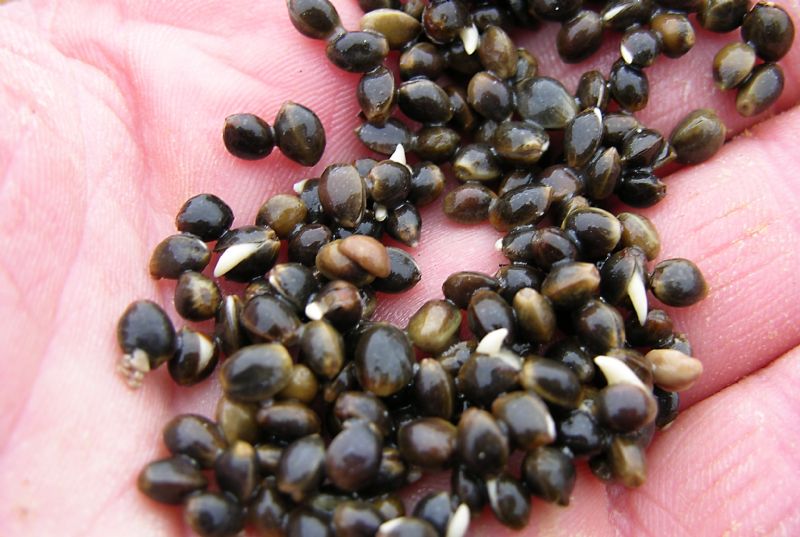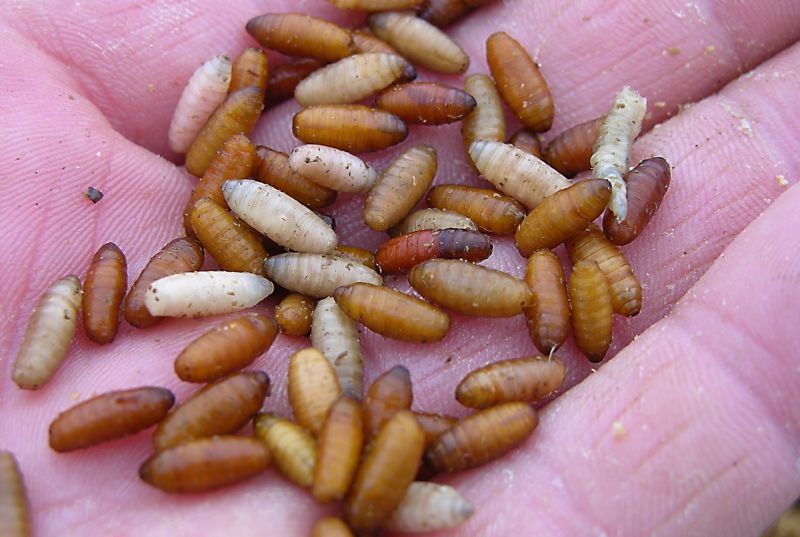 Fresh Casters and boiled Hempseed, silly to target Roach without these!
To aid the quest, angling buddy Andrew Wolsey helped out with a week of pre-baiting, including "spodding" several kilos of boiled hemp, pellets and sweetcorn over the small feeding area. I have heard it said that Roach do not respond to heavy pre-baiting tactics, but prefer the little and often approach. This may apply to standard six ounce fish that are present in almost every water in Ireland, but if you want the bigger brutes, bang in the feed! With the temperature remaining stable and decent cloud cover over-head, conditions looked favourable for a specimen Roach session. Fingers crossed!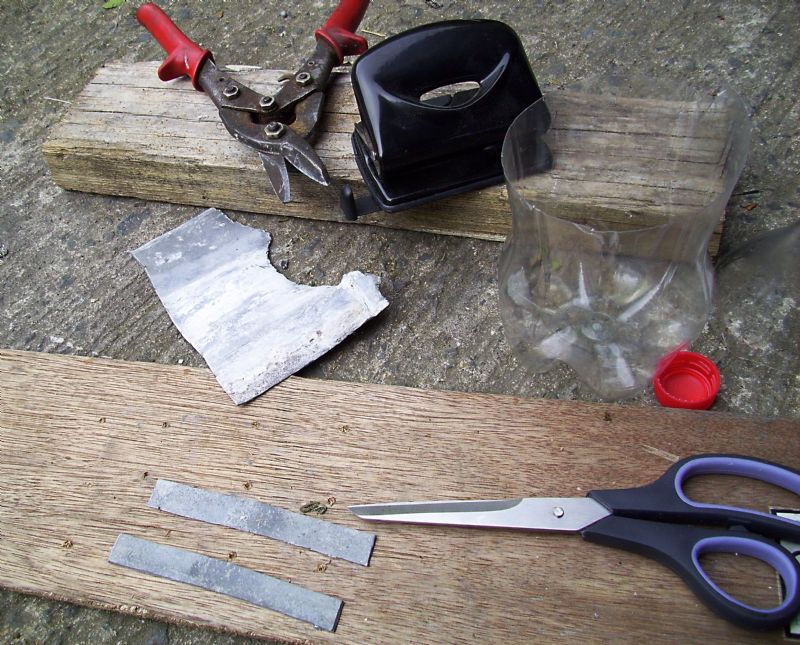 Home-made swimfeeders? This is all you need
Carrying out the usual check-list, including a pint of maggots, a pint of casters, two pints of boiled hempseed, sweetcorn, pellets and worms, plenty of finely sieved ground-bait and crushed hemp for the feeder, along with the usual array of gear, I realised that I was short of the right type of swim feeders. This venue has little flow, and a deep silt bed. I wanted something with large capacity to deliver the feed, but hardly any lead weight attached. With a ground bait mix that "exploded" almost as soon as it hit the surface, the feeder would need to gently settle rather than bury into the lake bed.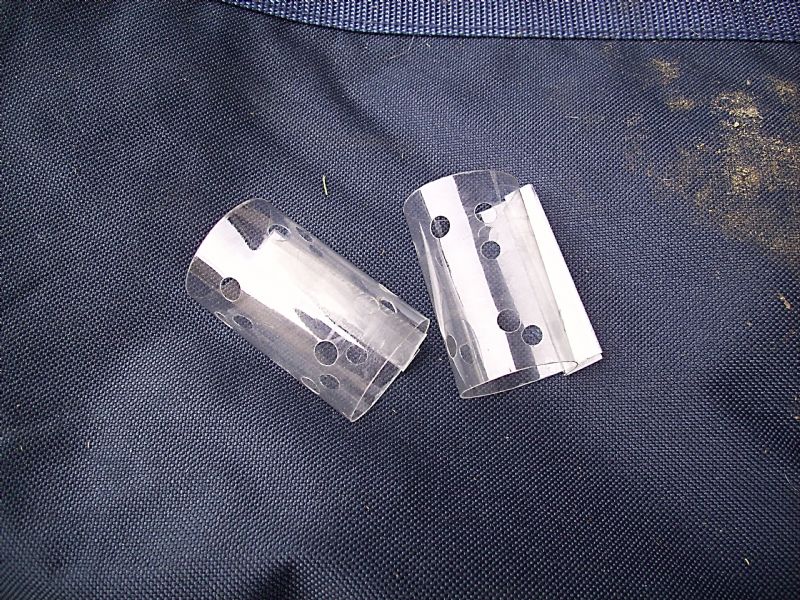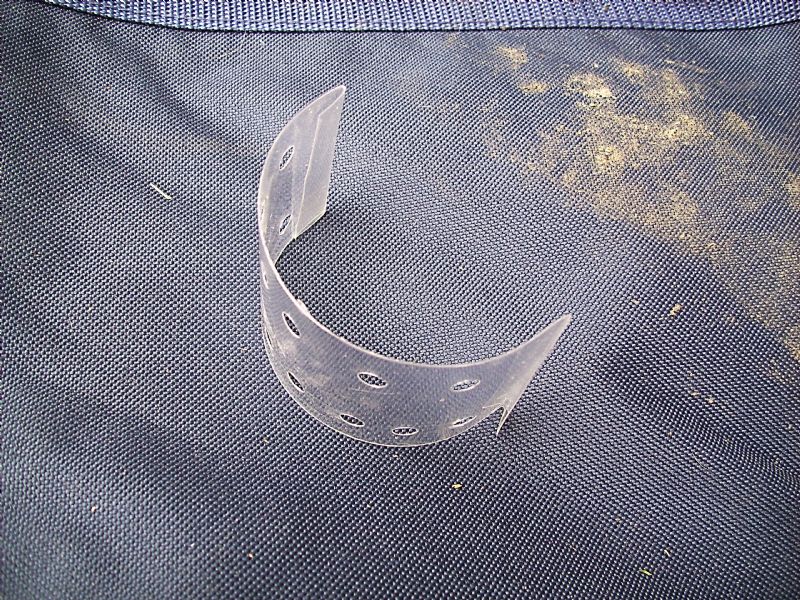 Fold the leading edges in opposite directions, they will clip over each other and hold
The problem was easily rectified in true Blue Peter style, with an old lemonade bottle, scissors, some small strips of lead and a paper punch!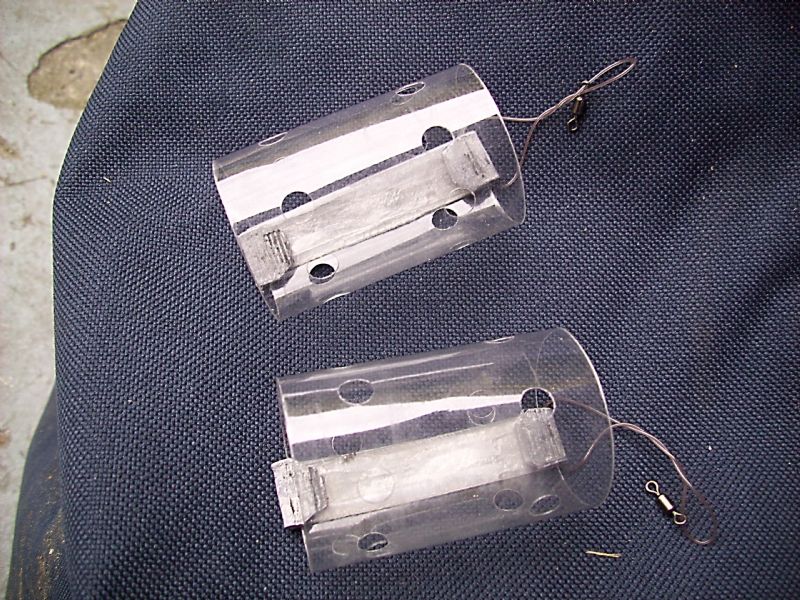 Made in minutes from a plastic bottle and a strip of lead
It's not that I'm a tight arse, I wouldn't have been able to get to a tackle shop in time, and it was no guarantee that there would have been that type of feeder available that I was looking for! If you get satisfaction from making your own tackle and it's right for the job, so much the better.
A "stand-off" boom avoids tangles, and slides on 24" of Power-gum as a shock-absorber when using braid main-line
Again, settled in to venue number two, with Andrew joining me on this occasion, we went through the process of dropping feeders out over the pre-baited area. The Superteam quivertip and wide arbor Mitchell accurately cast the large, home-made feeder with ease. All I needed now was something "lumpy" to reel in.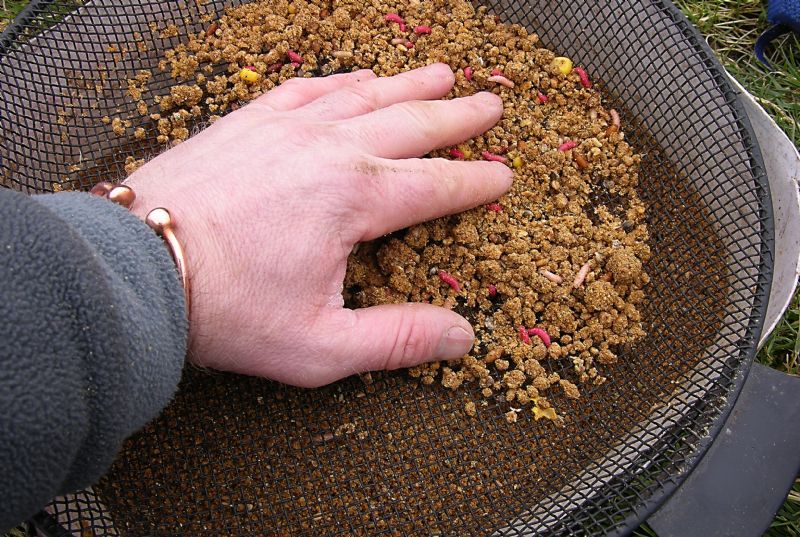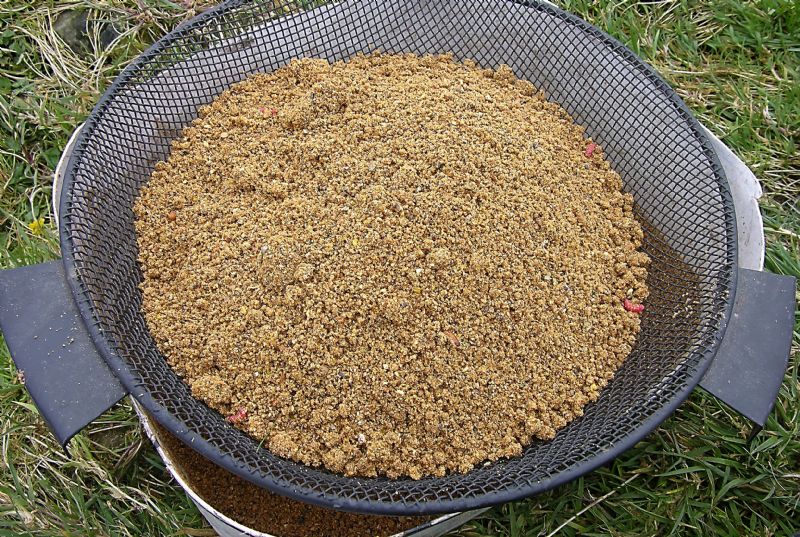 After mixing, sieve out any lumps and particles before adding crushed hemp to provide flavour and "fizz"
Carp style angling doesn't really work here, so there's no sneaking into a bivvy, dozing until an alarm screams out. Consistent, accurate casting every few minutes keeps the swim alive with explosive feeder mix, and the crushed hemp and particles create an active "fizz" that large Roach find irresistible. Its hard work and a concentrated effort is required, but this is necessary in order to feed off the smaller fish and draw in the larger specimens.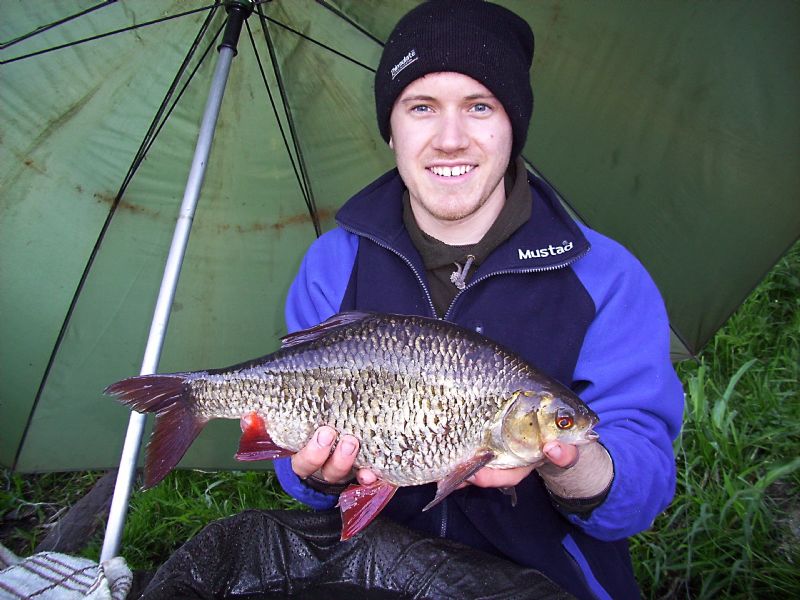 This is what its all about, a monster Roach (or possible hybrid) for Andrew Wolsey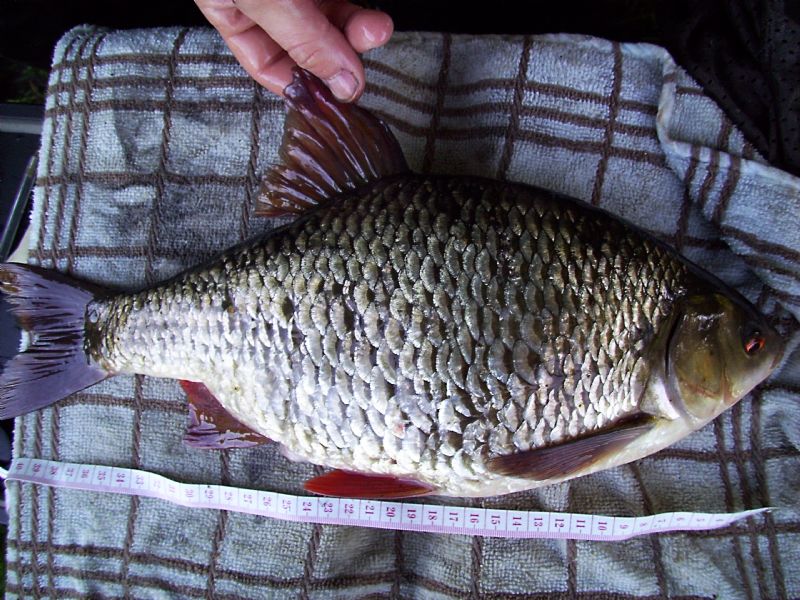 At over 40cms, these specimens are stunning, and dogged fighters
Andrew was first to find one of the big fish, and a cracker at well over the specimen limit. At this size, Roach take on a whole new look and are simply stunning. An hour or so later and he had a second specimen, equally impressive, although to be honest this fish looked more like a Roach-Rudd Hybrid. I began to worry that I'd lost my touch, or maybe Andrew had forgotten to pre-bait my part of the swim! Just kidding mate.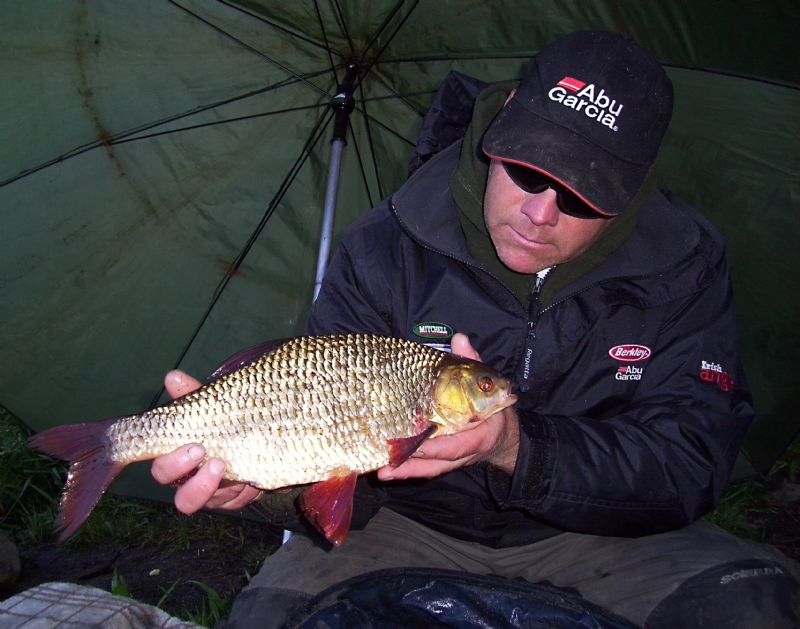 Definitely a Roach-Rudd Hybrid on this occasion
Perseverance paid off eventually as I bent into a proper fish, and enjoyed the rod and reel, not to mention the dogged fight, to the full. Once safely in the landing net, I could see that this fish had a vivid golden sheen to the flanks, definitely not a pure Roach or a Rudd, but almost certain to be a Hybrid of the two. It doesn't matter either way; these are stunning creatures to behold what-ever they turn out to be!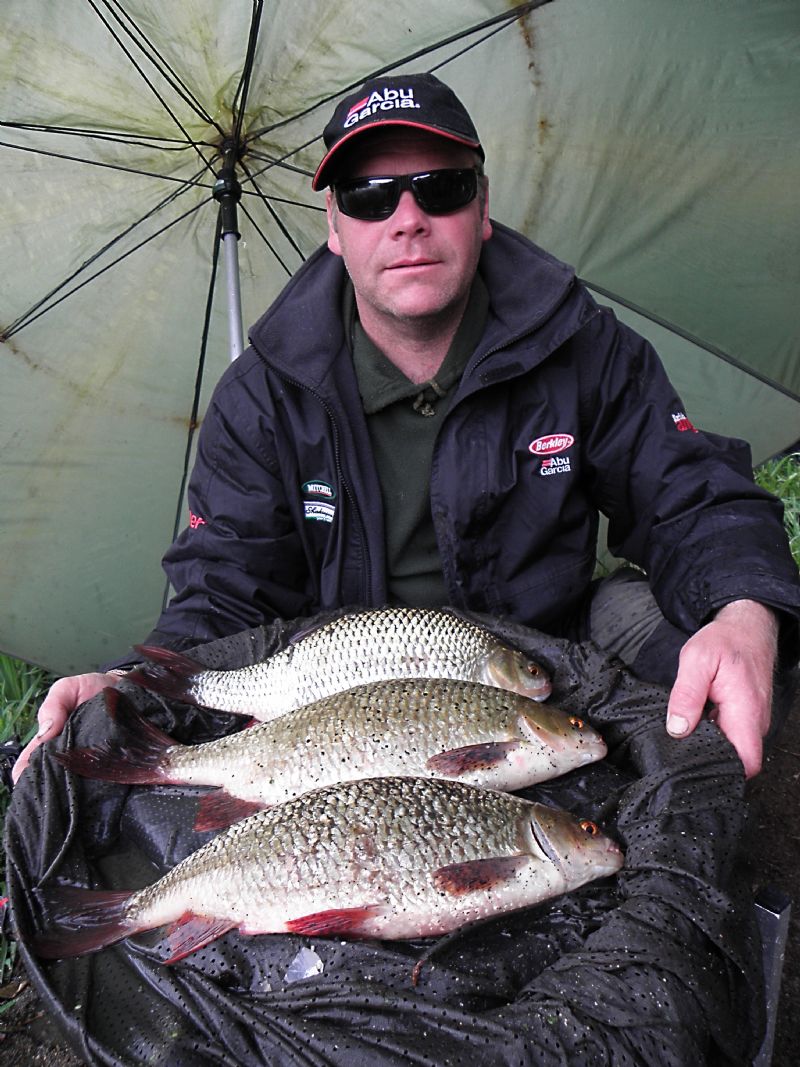 Roach and a Hybrid, the largest hitting 47 cms, the dislodged scale in the foreground would be sent for fish I.D
With the fish safely in the carp sack (through experience, carp sacks are superior to keepnets for safely retaining small numbers of large fish), a re-cast to the same mark produced another large specimen, this time looking more like a pure Roach. Another two for me and we finished on six "lumps" for this session between us. Bearing in mind that each fish would be considered a fish of a life time, I would consider that was a pretty good result! The rod and reel performed superb and I would not hesitate in recommending this combo for a wide variety of ledgering, distance fishing or otherwise, for Roach, Dace, Bream, Hybrids and Tench on all relevant Irish waters.
Back