Stingray Persistence pays!
Terry's Travels
Stingray
Persistence pays!
As a self confessed specimen hunter for many years now, it has always been a case that some specimen fish show up relatively easy, and some take a little more time. When I say a little more time, I have chased certain specimen species for weeks, months....and sometimes years to meet the challenge.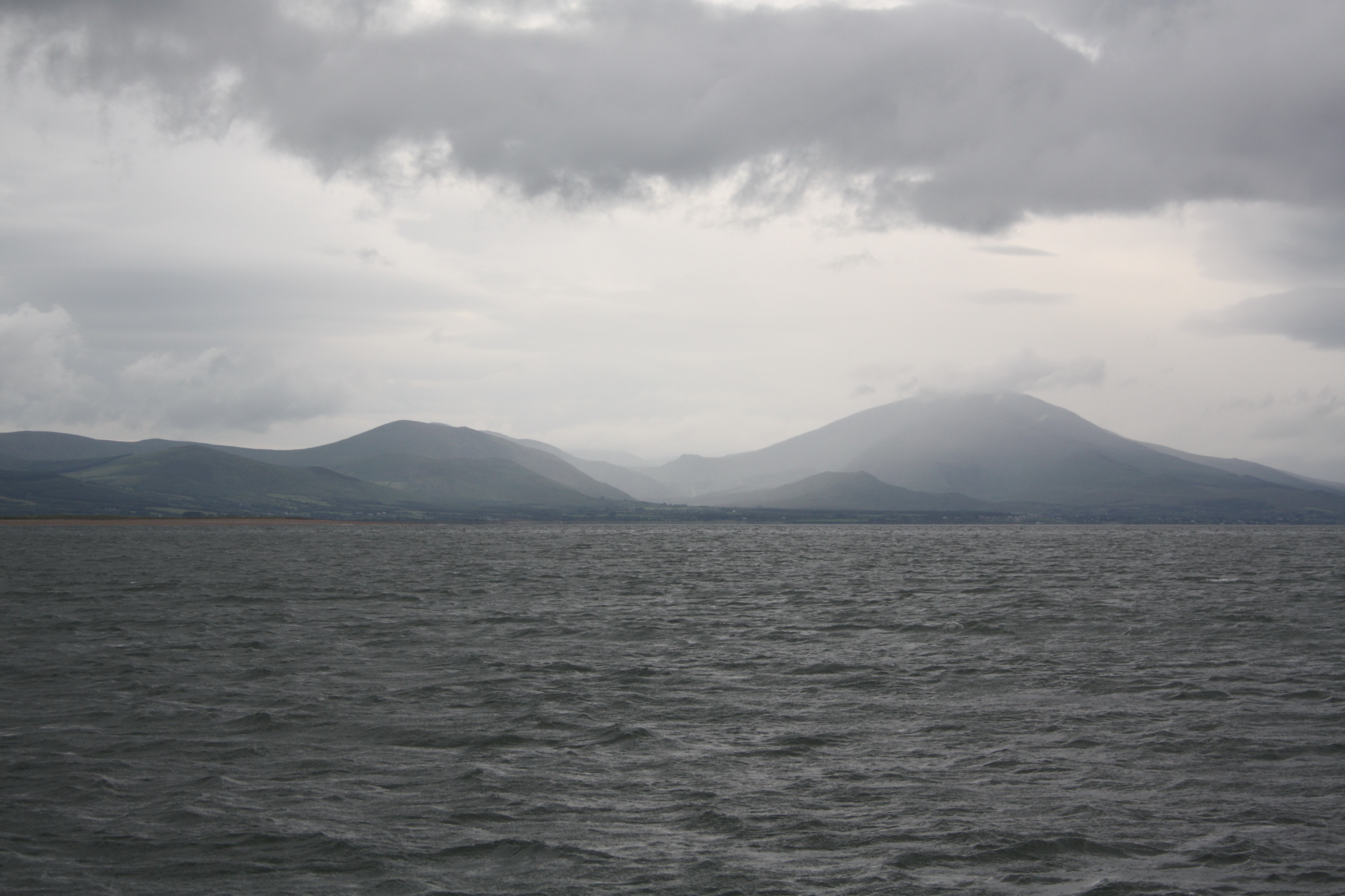 Always different, today, overcast and moody, but still awesome
Yes, you do the homework, and source out as much information as is humanly possible. It's all part of the interesting process. Probably best of all though, is to talk to anglers that actually catch the target species (if they will divulge such hard earned information and experience, that is!) There is no substitute for local knowledge and it can be a huge short-cut to success.
The aim of successful specimen hunting is to narrow the window of opportunity down to the best possible time frame, for the optimum chance to find that fish of a lifetime. This often involves particular seasons, water temperatures, specific tidal phases if targeting saltwater species, bait, methods and tactics of presenting a bait etc, etc.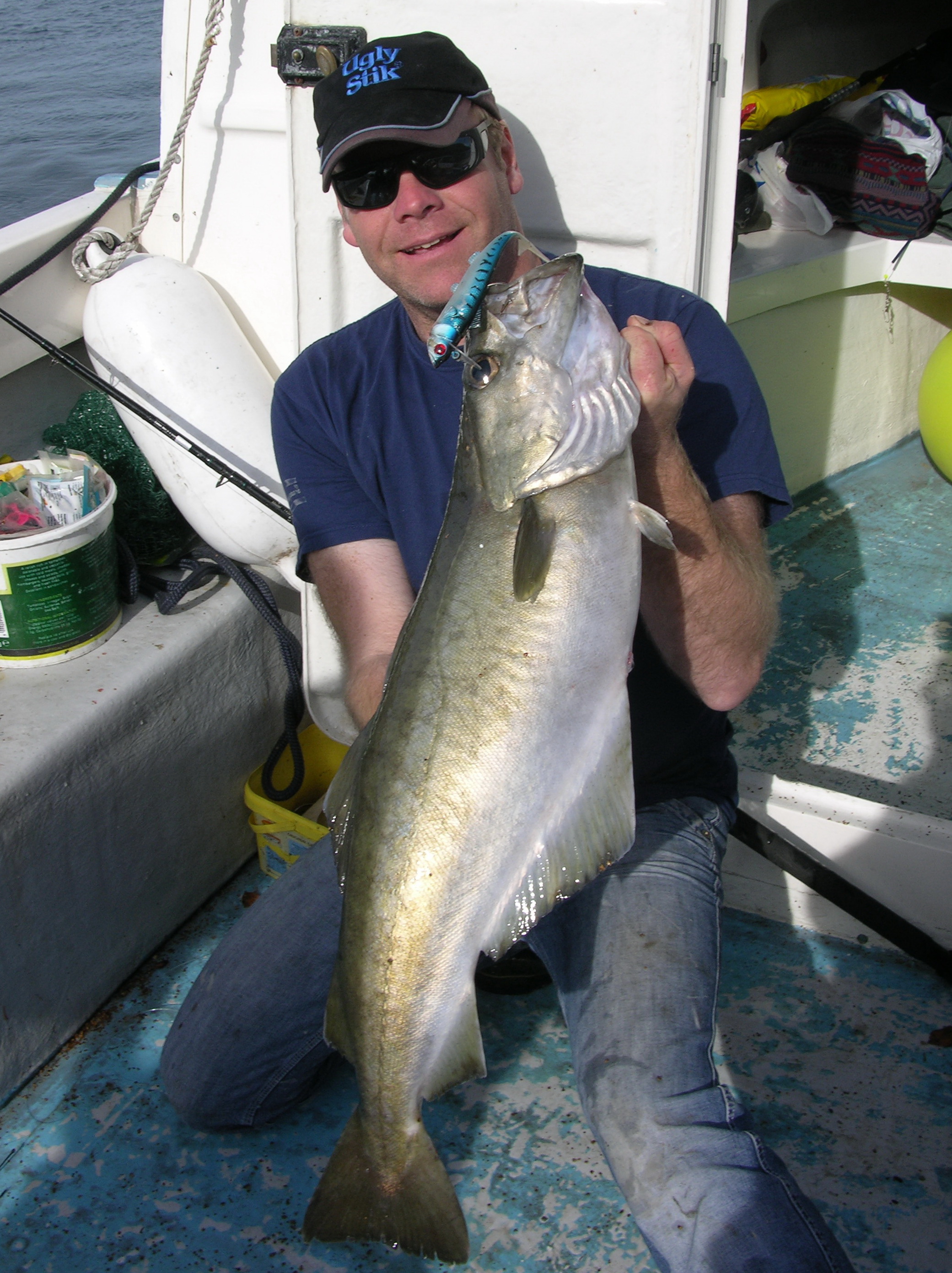 A close call, but no cigar! Maybe one day
There are two species over specimen size that I have spent more than enough time tracking down over the years, namely, Pollock and Stingray. I have hooked and landed countless Pollock, and nudged the specimen barrier of twelve pounds six times now, coming within two ounces of the magical mark twice! But that's another story for another day.
My first dedicated campaign for Stingray began in the Spring of 2016. I landed my first "Stinger" back then along with many more, and came tantalisingly close to achieving a specimen. The bitter pill to swallow is that three friends have all caught massive Stingray on their first visit, but specimen hunting can be extremely frustrating in this way.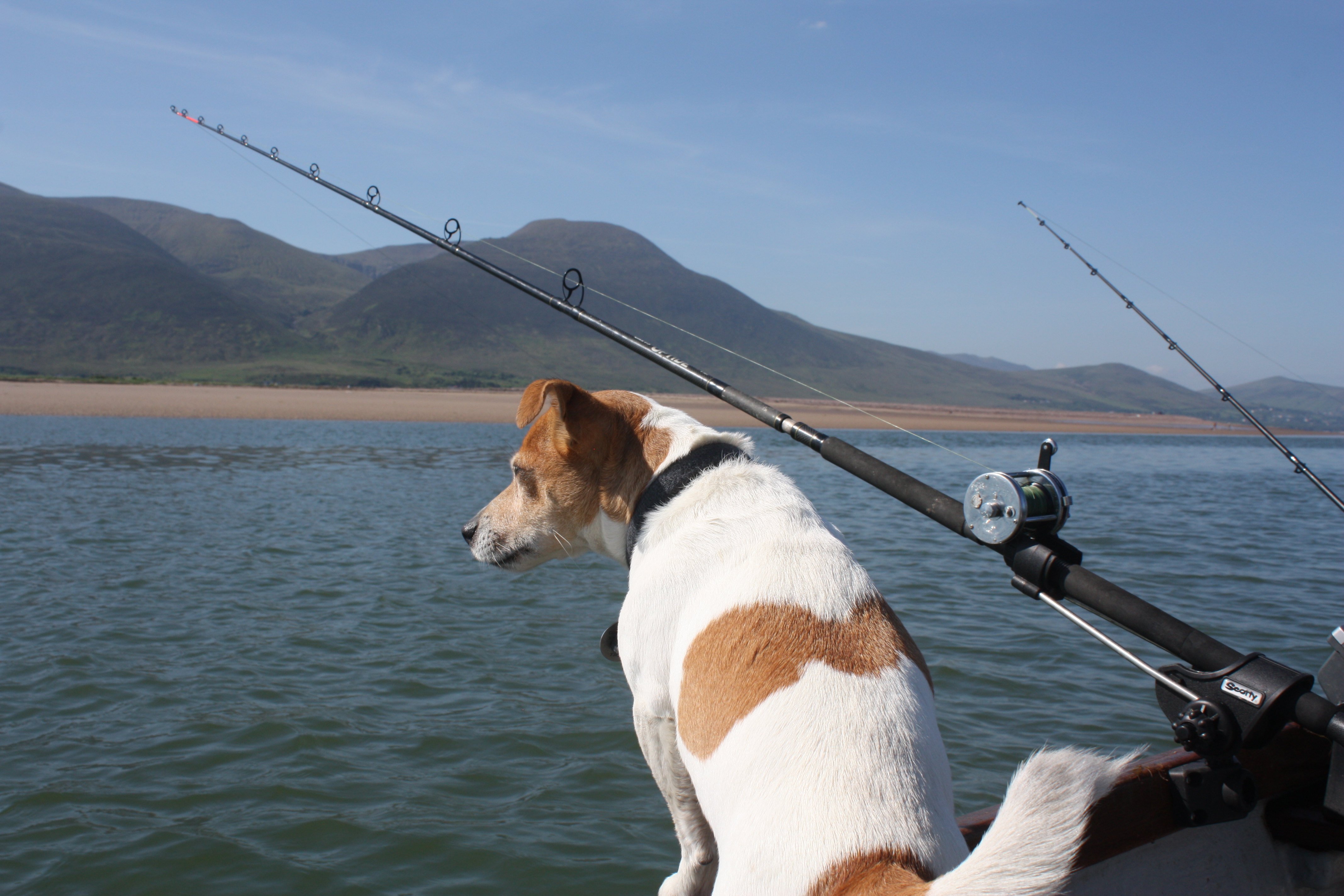 Back in 2016, me and Skip have been trying ever since
However, they are fantastic fun to catch and scrap harder than most saltwater species available, which gives the drive and enthusiasm to return year after year. It just makes the capture so much more sweeter when you finally achieve the goal......I tell myself!
So, this year, 2021, after a kind invitation from my mate Sidney Kennedy, I found myself on the long drive to Kerry yet again. Sid moors his boat in the harbour at Fenit for eight weeks of the year. It gives us scope to target "stingers" but also to check out new marks with a variety of potential new species available. It seems much of this territory remains relatively un-explored.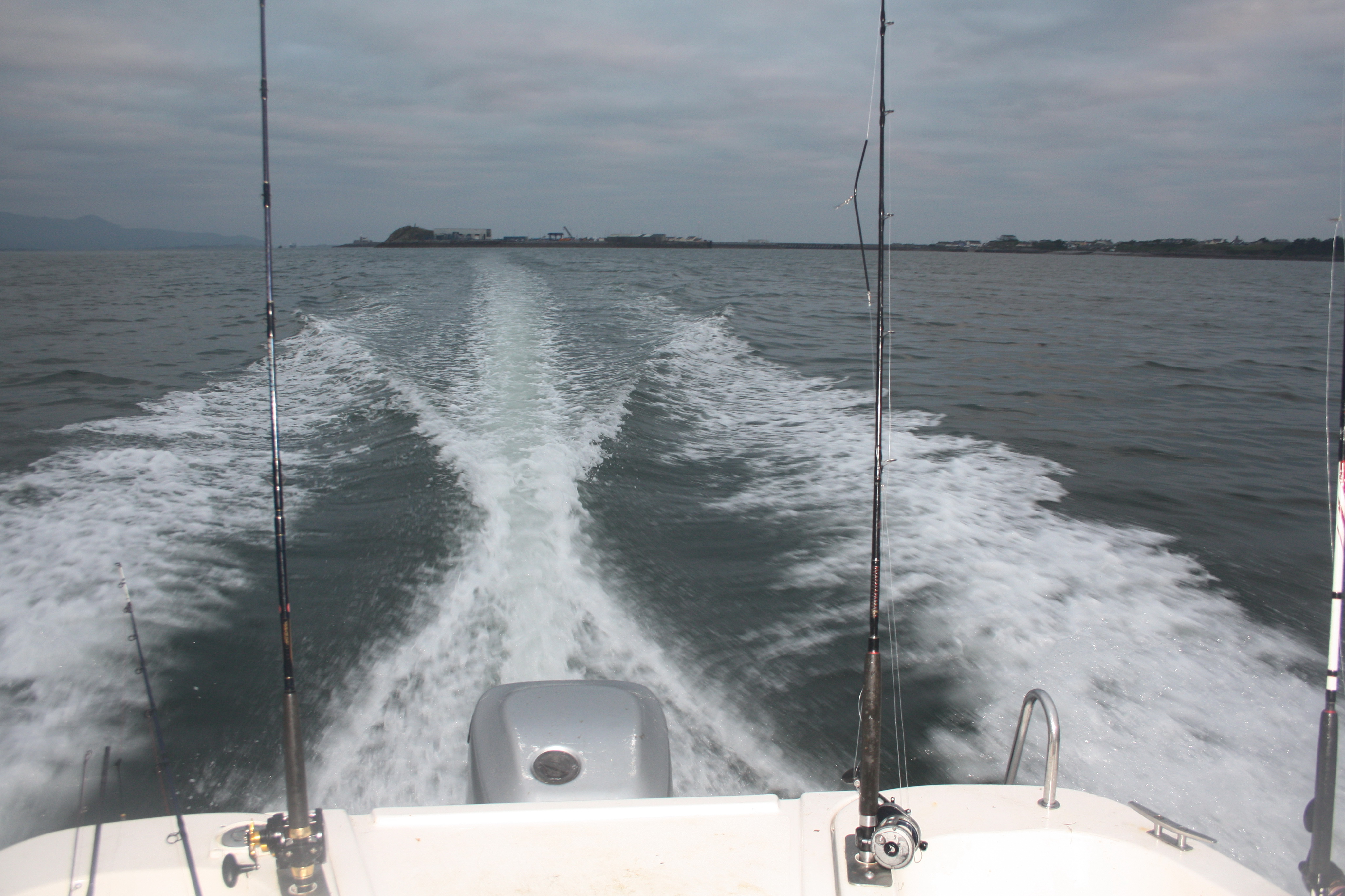 On our way to another adventure
With a crew of four, Sid, his daughter Amy, myself and Skip the old sea dog, we steamed out from the harbour towards potential good fishing. This was the day after some hectic Spurdog action. We had the good sense the previous evening to stop for fresh Mackerel on the way back, the Spurs had annihilated our frozen supplies! Stored in the cooler bag, they were in fine shape for the day ahead.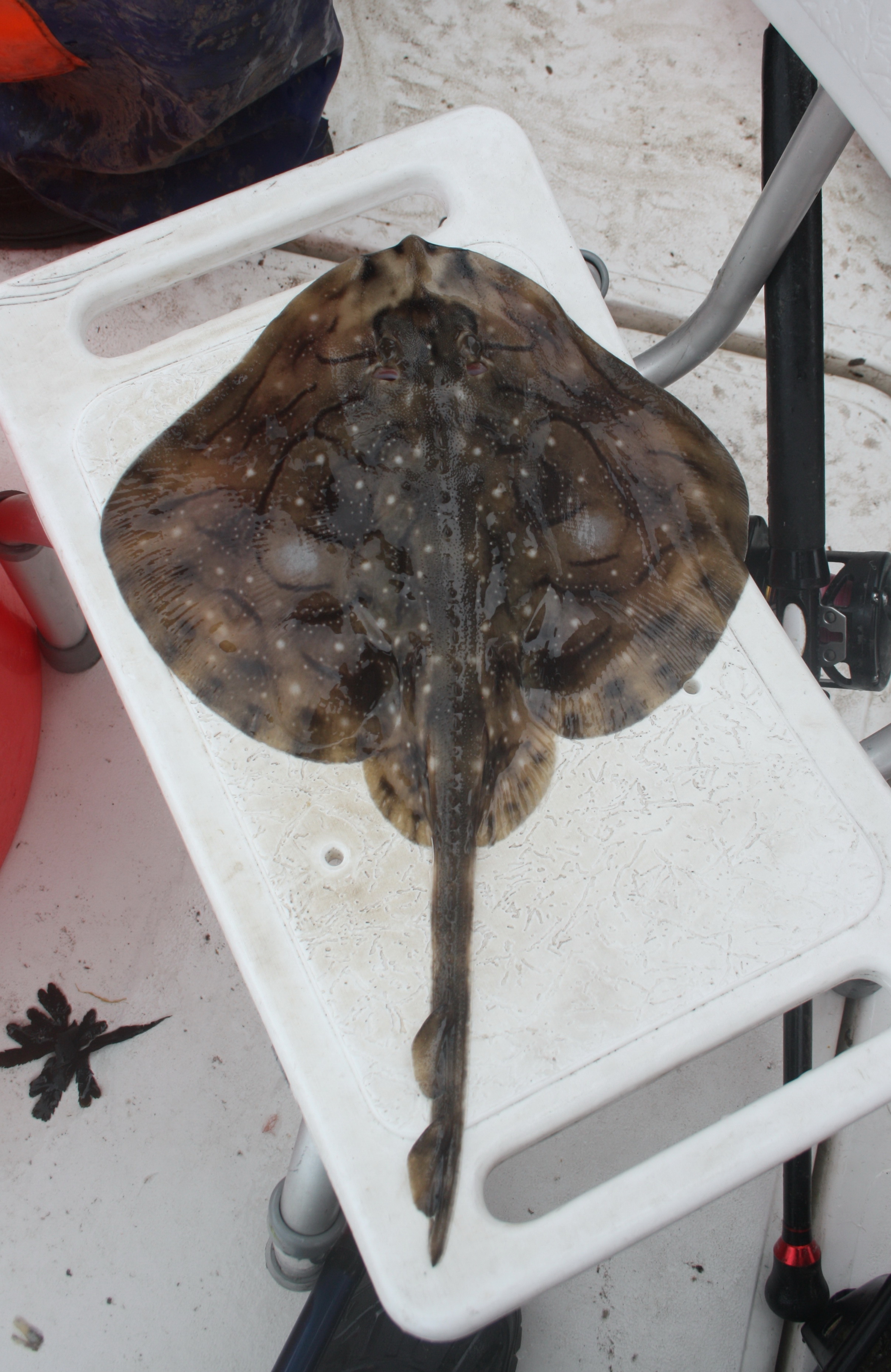 Undulate Ray are stunning with intricate patterns, no two the same
Soon after dropping the anchor, Sidney landed a small Undulate Ray, such beautiful wee works of art. This was quickly followed by our target species caught by Amy, and it just about made specimen size, putting her closer to the fifty specimens achievement. She made it look easy! I focused hard on regularly freshening the baits, like old match tactics, as Spider Crabs strip hooks in seconds. You won't catch a fish on bare hooks! I also put the request out there, to the Universe, "let this be my weekend!".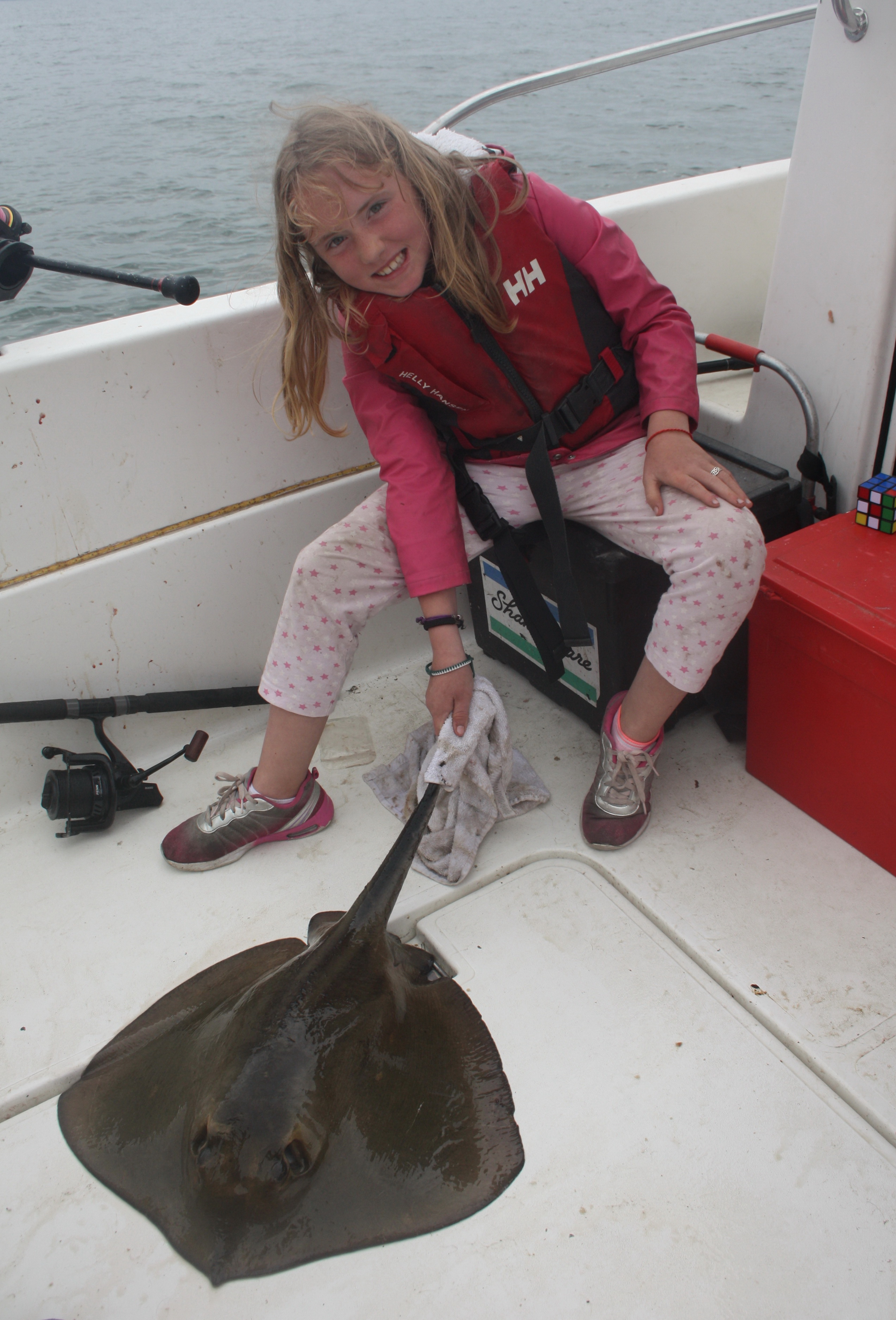 Amy makes it look easy!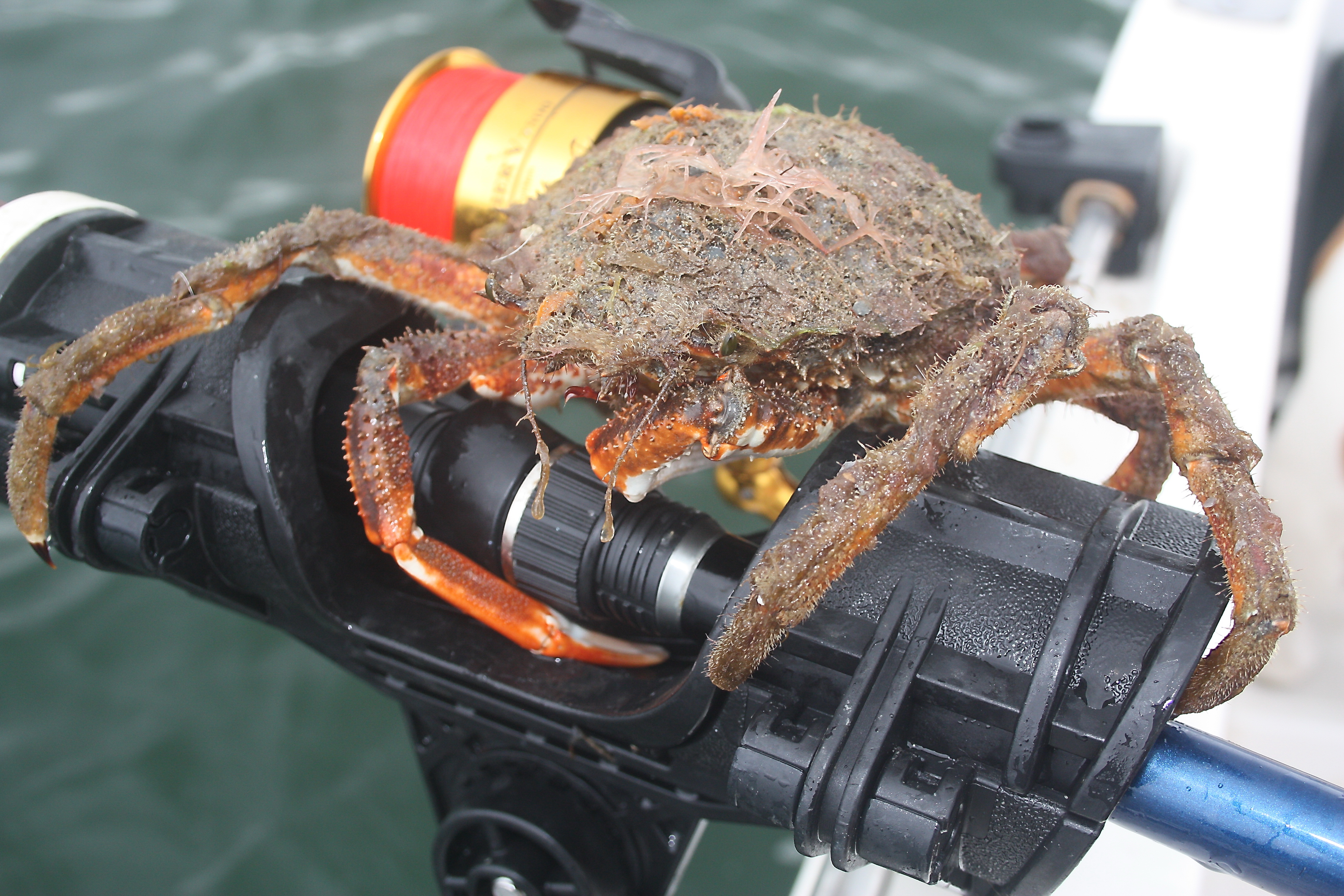 These guys strip your hooks clean in seconds
The Greys Uptider thumped, a hard fighting fish put a fabulous bend in the rod, could this be it? Unfortunately not, a small shoal of Smooth hound had made an appearance, and these were a good stamp. Maybe a little disappointed initially, but not for long. Sizeable "Smoothies" and their aggressiveness when hooked soon puts a smile on your face.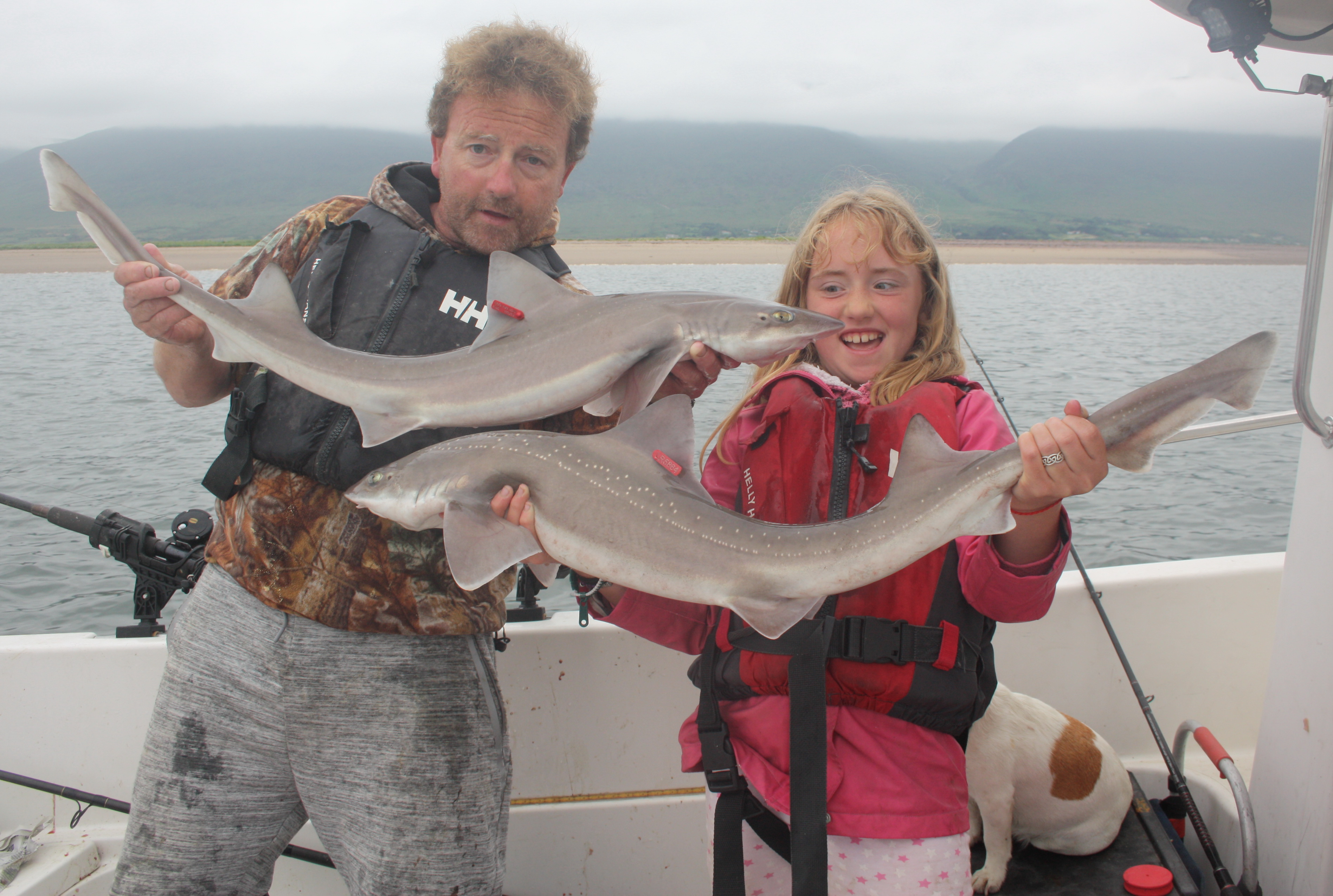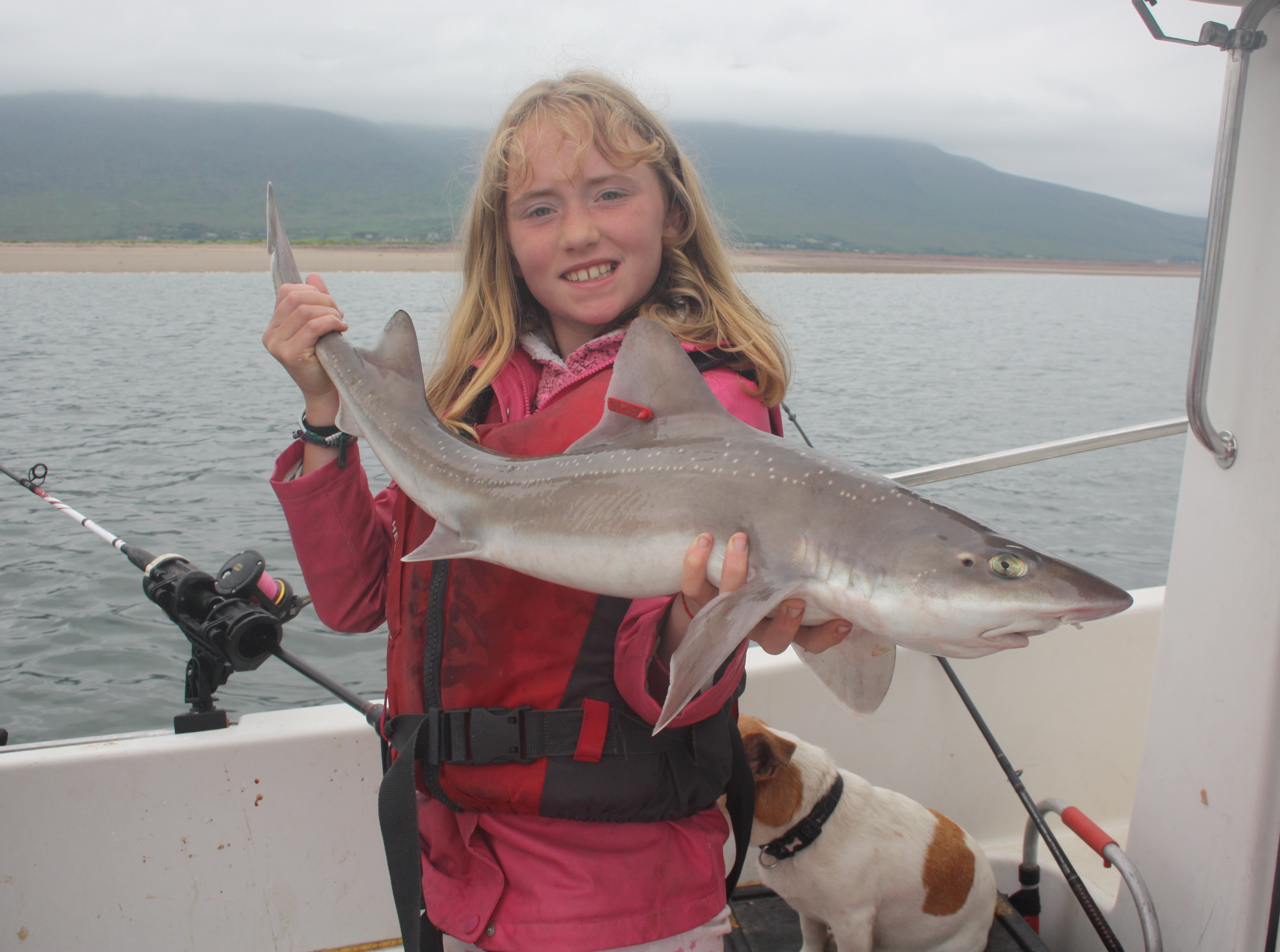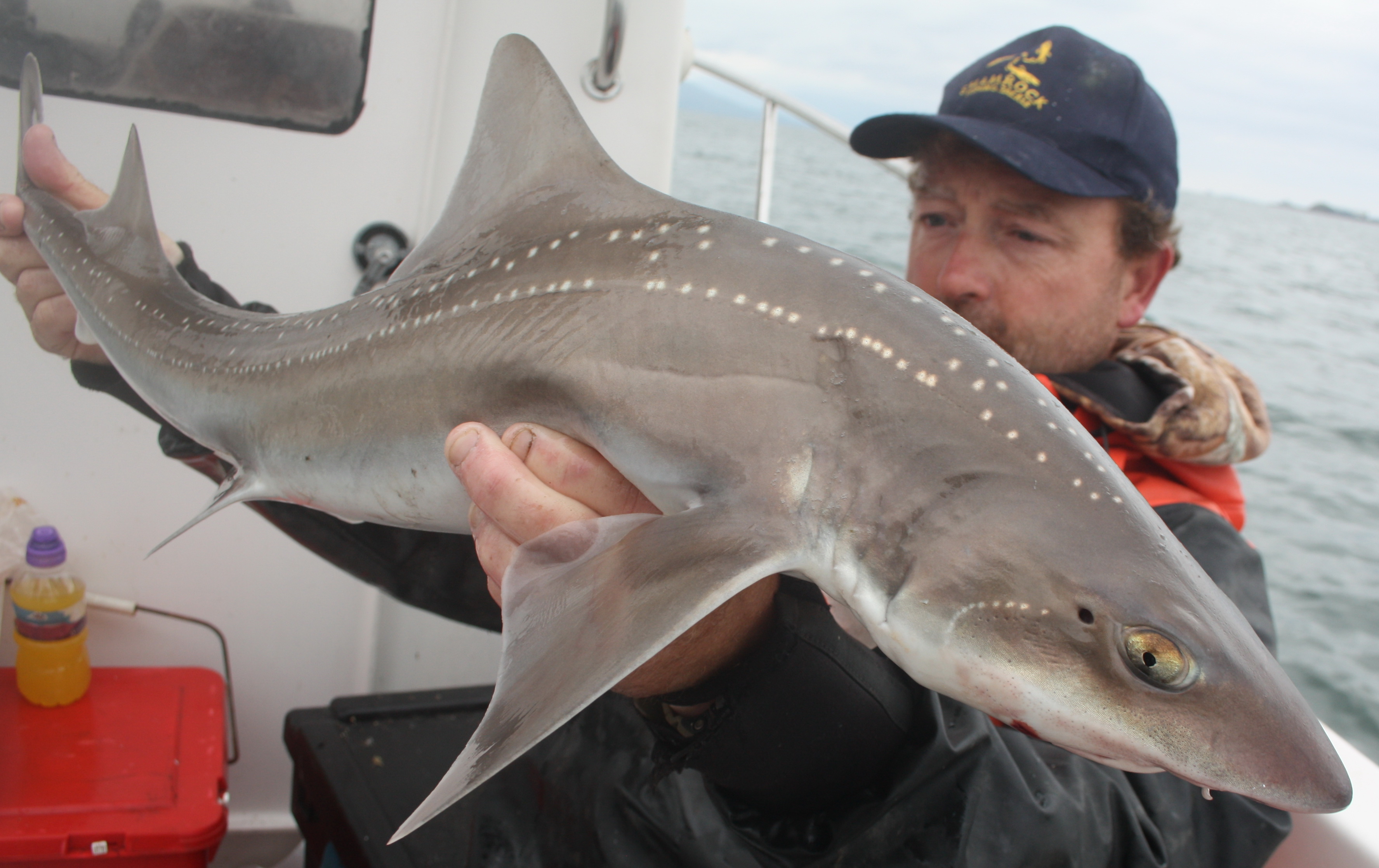 Amazing animals, long may they inhabit Irish waters
We fished through slack water, picking up the occasional decent Undulate, and as the in-coming tide picked up to a faster rate of knots, the Uptider buckled yet again, but a different battle this time. Certainly a ray of some kind, but I could make little headway with this one. It finally broke the surface fifty yards below the boat, and we could see the problem. It was a Stingray, and a decent one at that, but backwards and "kiting" in the tide.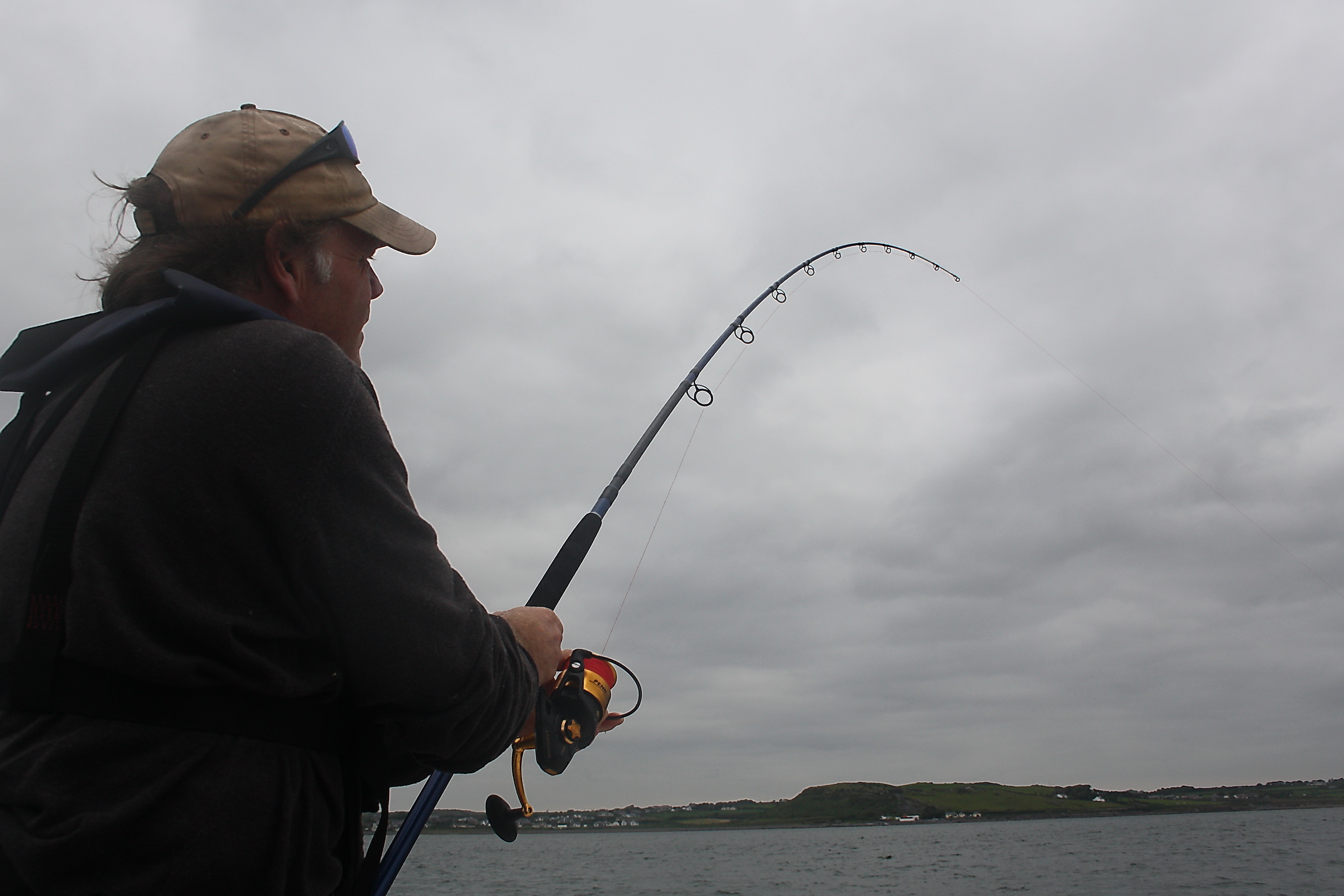 Greys GR75s and Penn Spin Fisher, perfect combo for this type of angling
If foul hooked, there was a good chance I would lose it, the adrenaline had now kicked in! Getting nowhere fast, as the tidal strength increased, we decided to let line off the anchor rope and drop the boat back towards the fish. An old trick I have used when playing huge Skate. This worked a treat as we moved closer. With stalemate broken, the stinger made a final dive, untangled itself, came to the surface and slid over the waiting landing net, expertly operated by Sidney.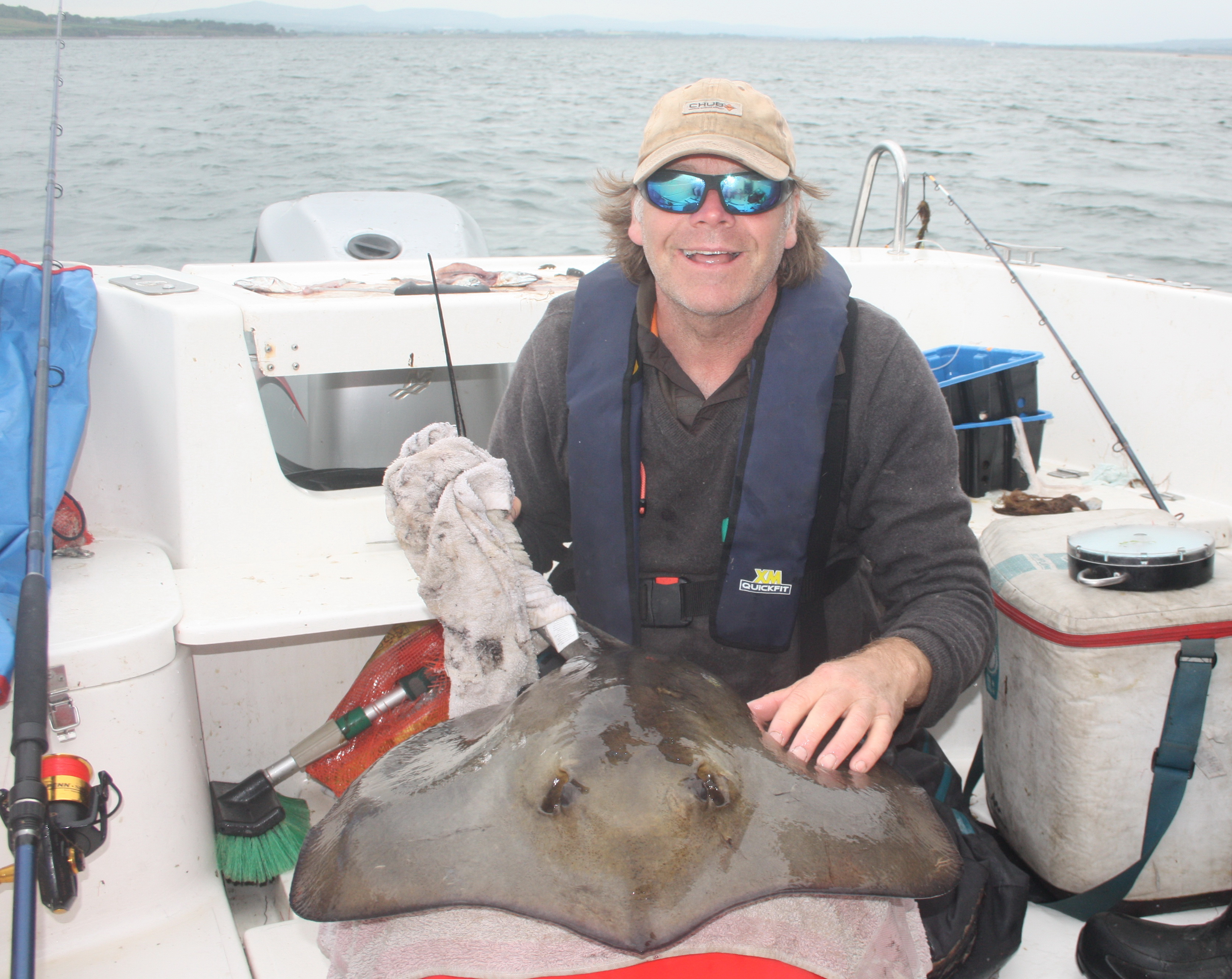 The stupid grin says it all, delighted
Like myself, when a good fish is hooked, Sid will always stop fishing and do everything required to see the fish successfully landed, it's called team work. There is envy of course, but friendship over-rides such nonsense, to land a great fish for the camera and safe release.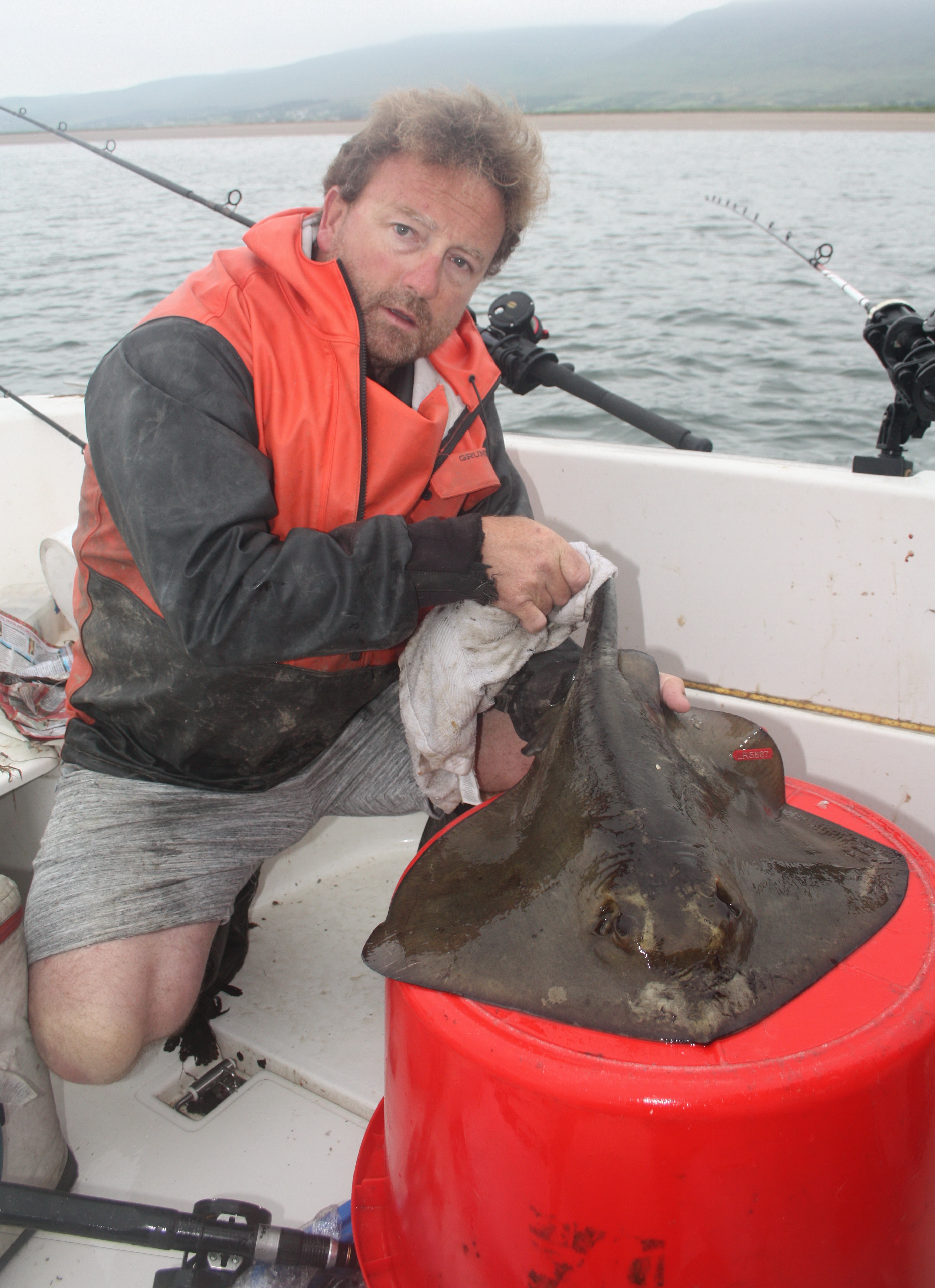 One for the ladies!
Every bit a specimen, and after six years, I had finally shook this particular monkey off my back! Such a great feeling to achieve the target having tried so many times thus far. The mileage covered, bait, fuel costs etc probably runs into three grand plus over the past six years, but none of that matters as I look down at the Stingray, well over the magical 90 cms on the measure mat. It's all been worth it. Amy and Skip broke out the celebratory apple pie!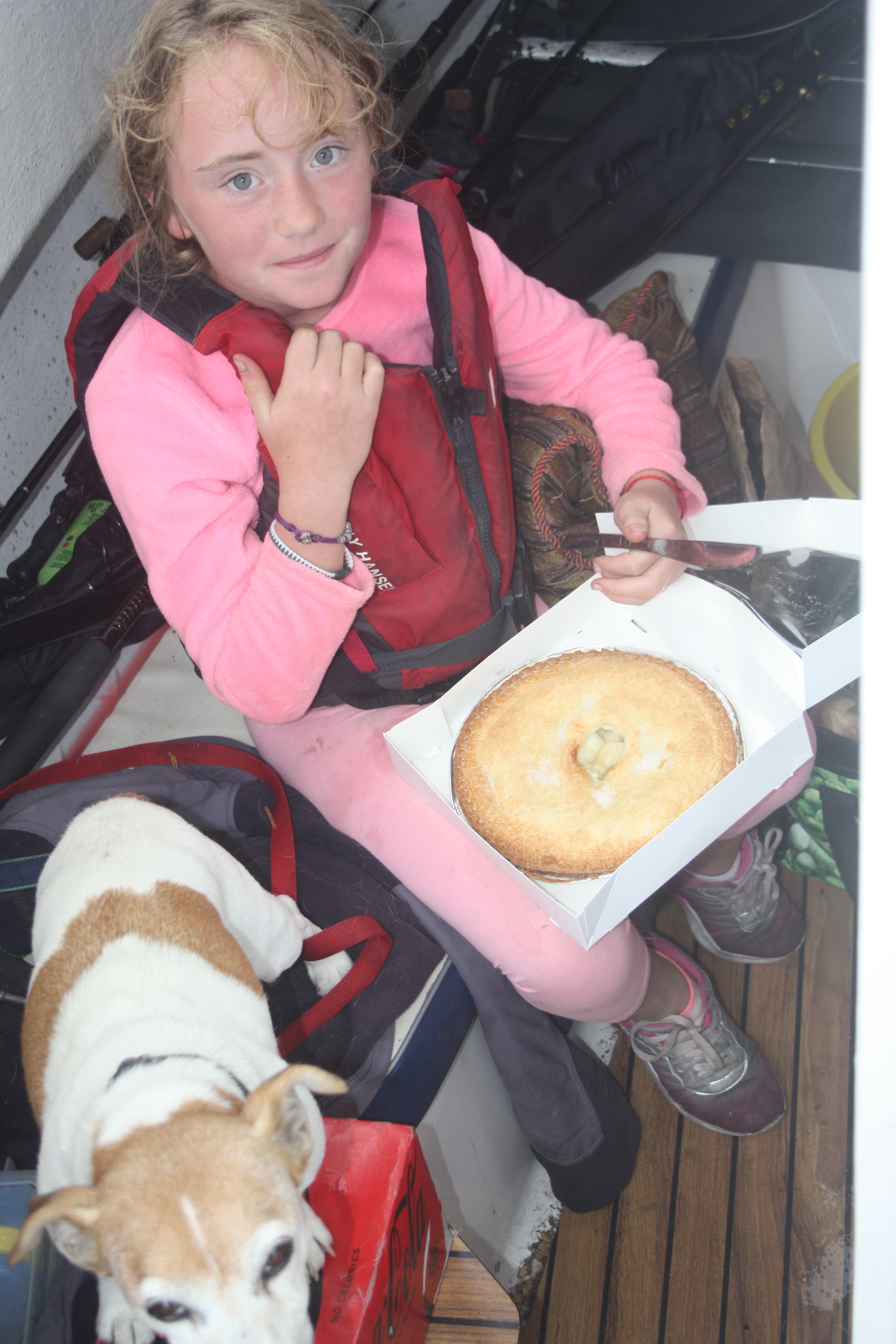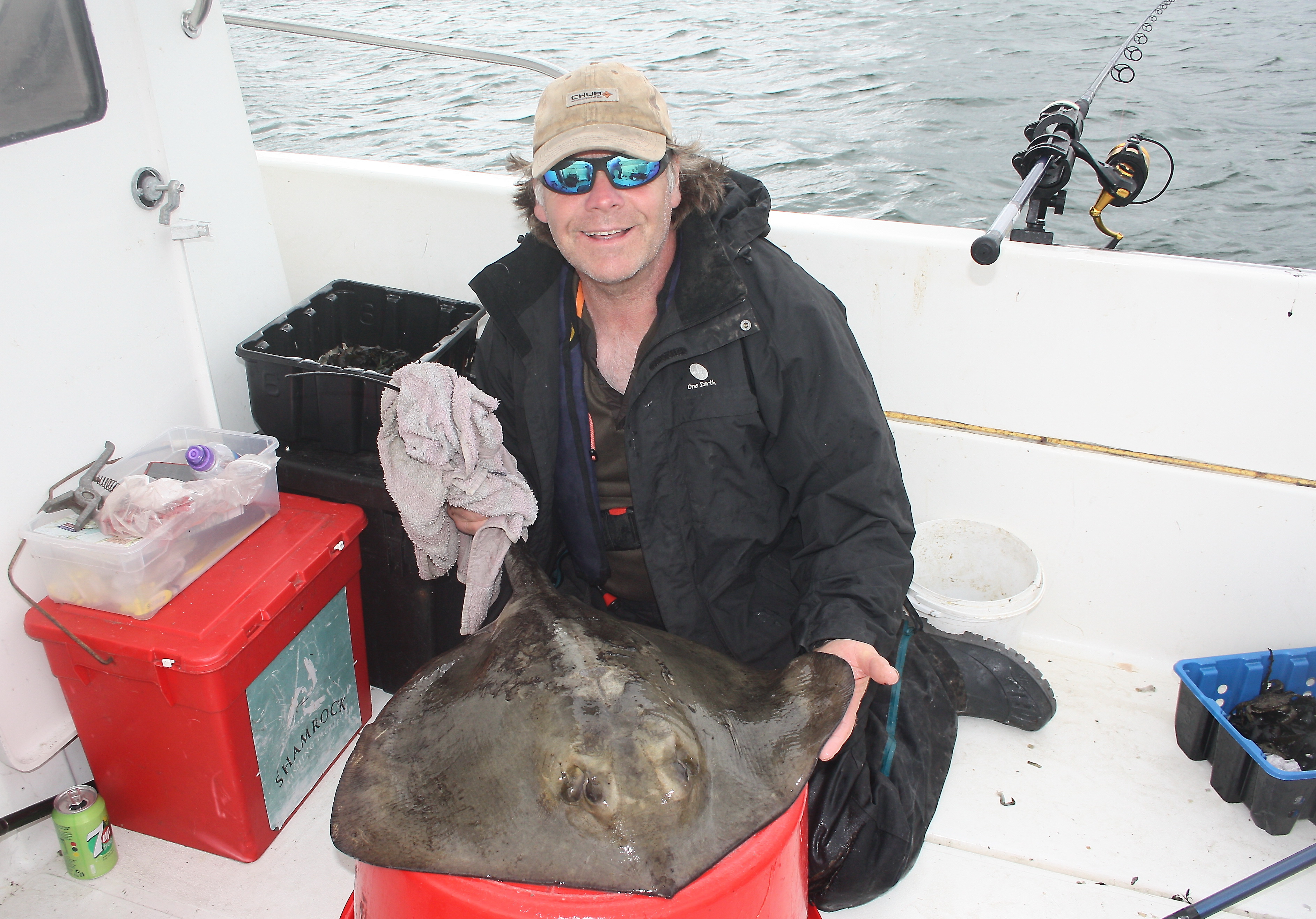 Another to be sure, to be sure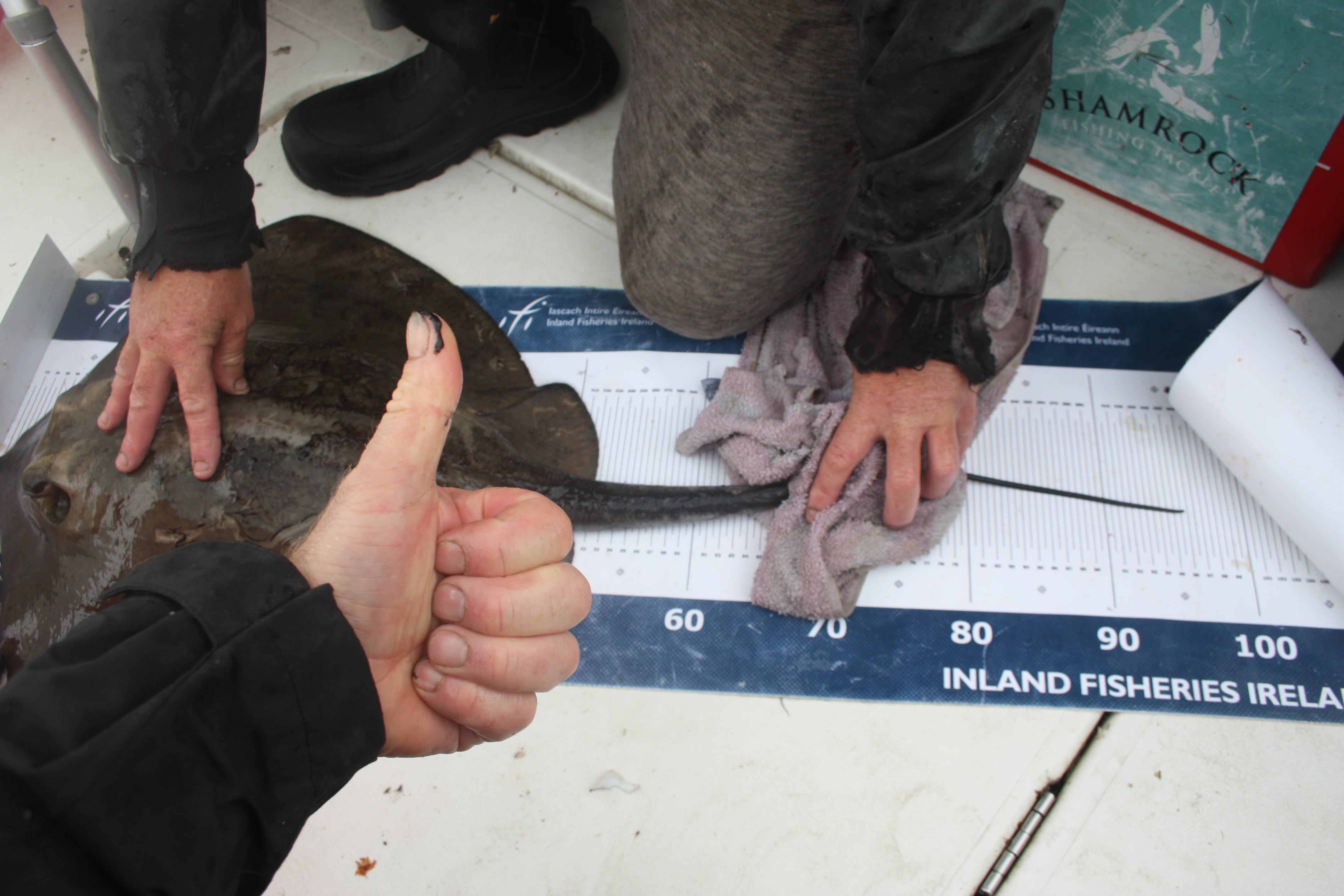 And, as typically happens, thirty minutes later I'm in to another. By this stage, Amy and Skip had retired to the cabin, two days of busy angling had taken its toll. Sid was ready and waiting with the net, no dramas this time, and safely landed. Another specimen for the book! This was my last good fish of the trip, but I am delighted to say I returned the favour, netting a fine specimen Undulate Ray for Sidney just prior to lifting the anchor.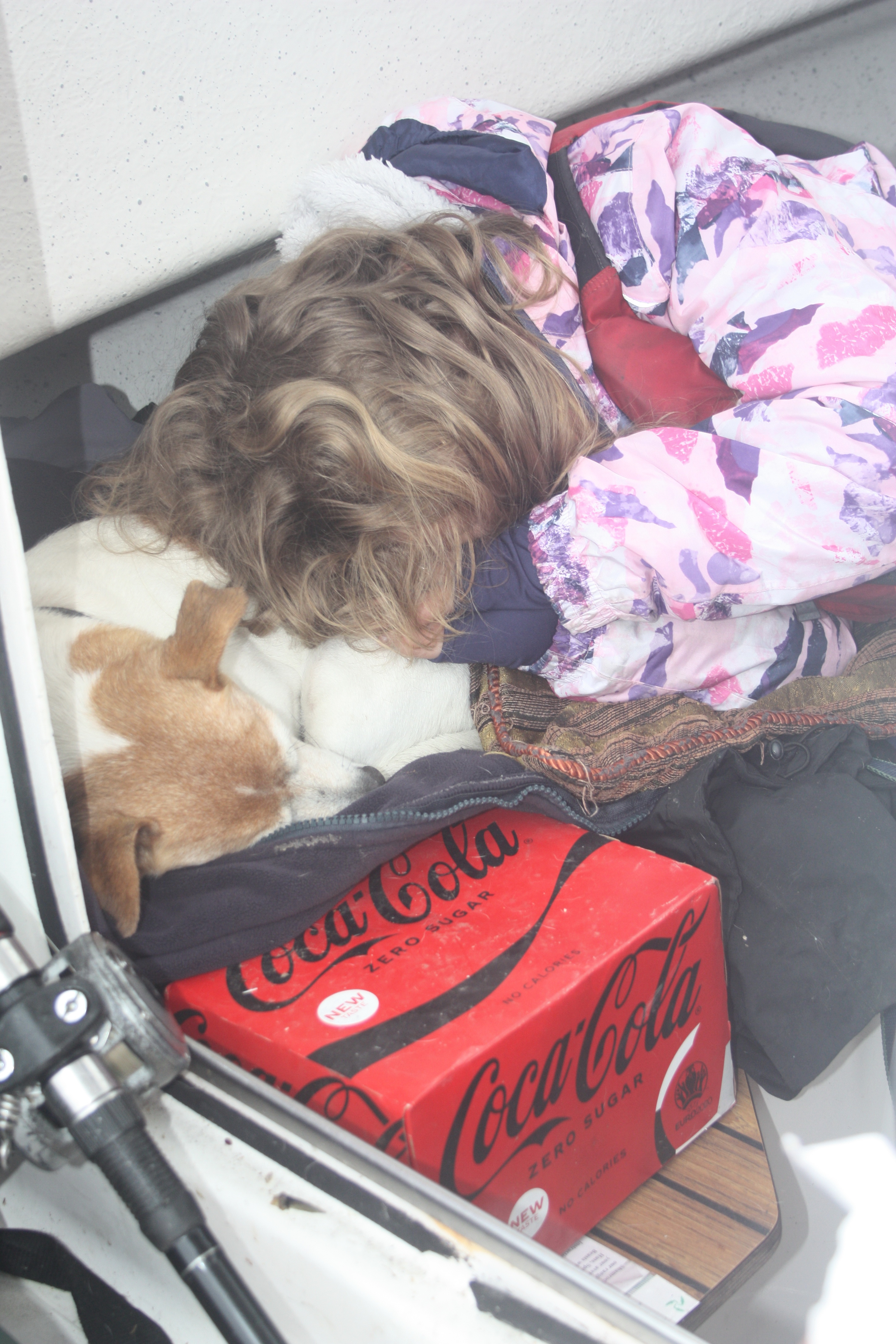 The kids are beat out
Two fabulous days down in the Kingdom of Kerry, only trouble now is, I have to return the favour! Tight Lines until the next one, T.
Check out Amy's brilliant video....click here
Bait and Tackle
Standard boat gear is fine, 12lb class up to 30lb class, a lot depends on strength of tide and how much lead to hold bottom. I prefer Up-tide rods, the Greys GR75s are fabulous, teamed with the super tough Penn Spin-fisher reels. Uptide rods allow greater coverage around the anchored area, especially in shallow water. Fished with suitable grip leads, you can place a bait almost anywhere around and away from the boat, the anchor rope and any disturbance.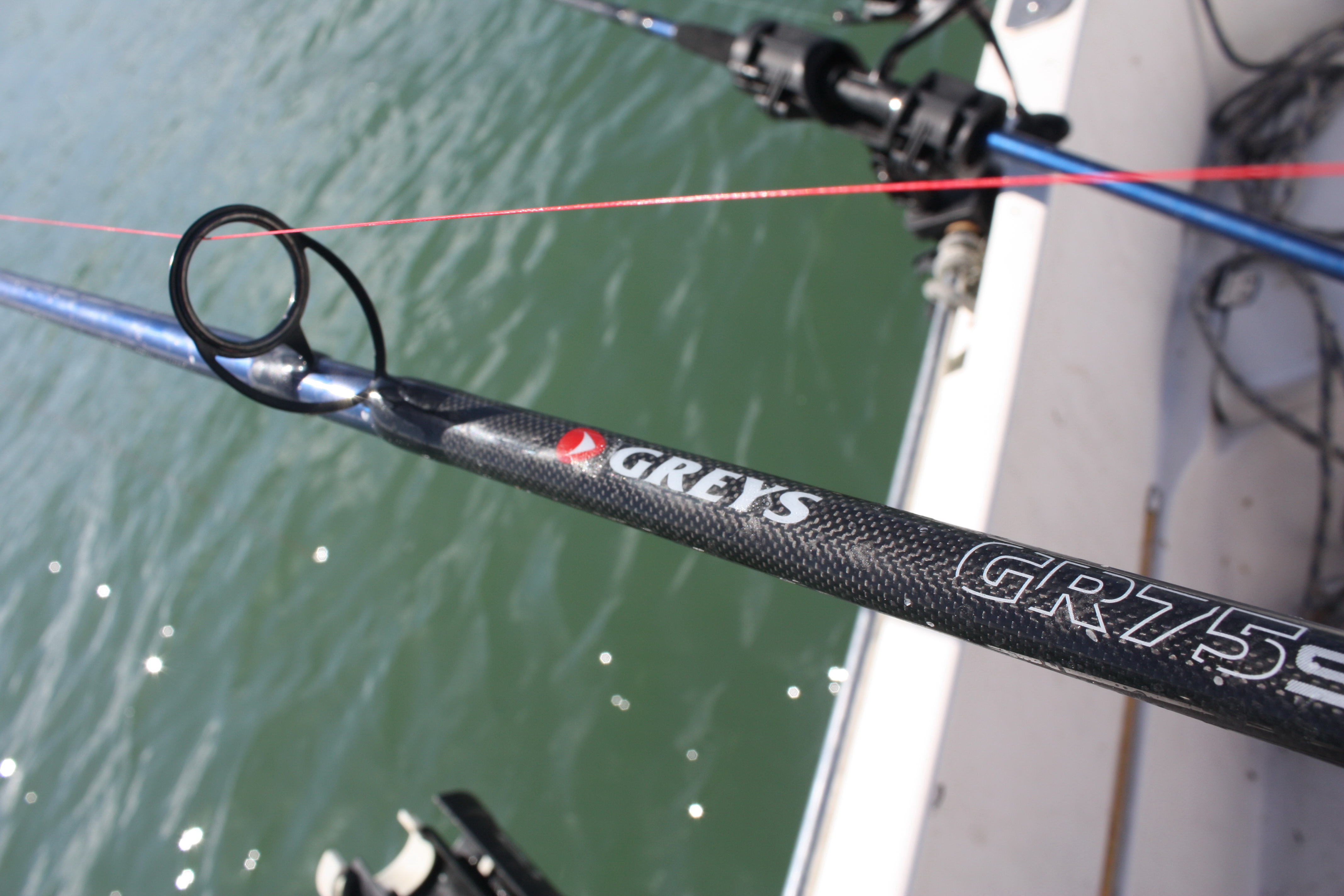 Earlier in the year, peeler crab seems to be more productive, but after May, fresh Mackerel strip can be deadly, or a combination of the two. I would like to try King Ragworm sometime, as this does well for Stingray around the UK coast. I use 50lb hook lengths, and strong gauge size 2/0 to 4/0 hooks, Stingray have a lot of power and a surprising turn of speed, even jumping clear of the surface on occasion. A wet towel over the "sting" in the tail keeps the dodgy end reasonably safe.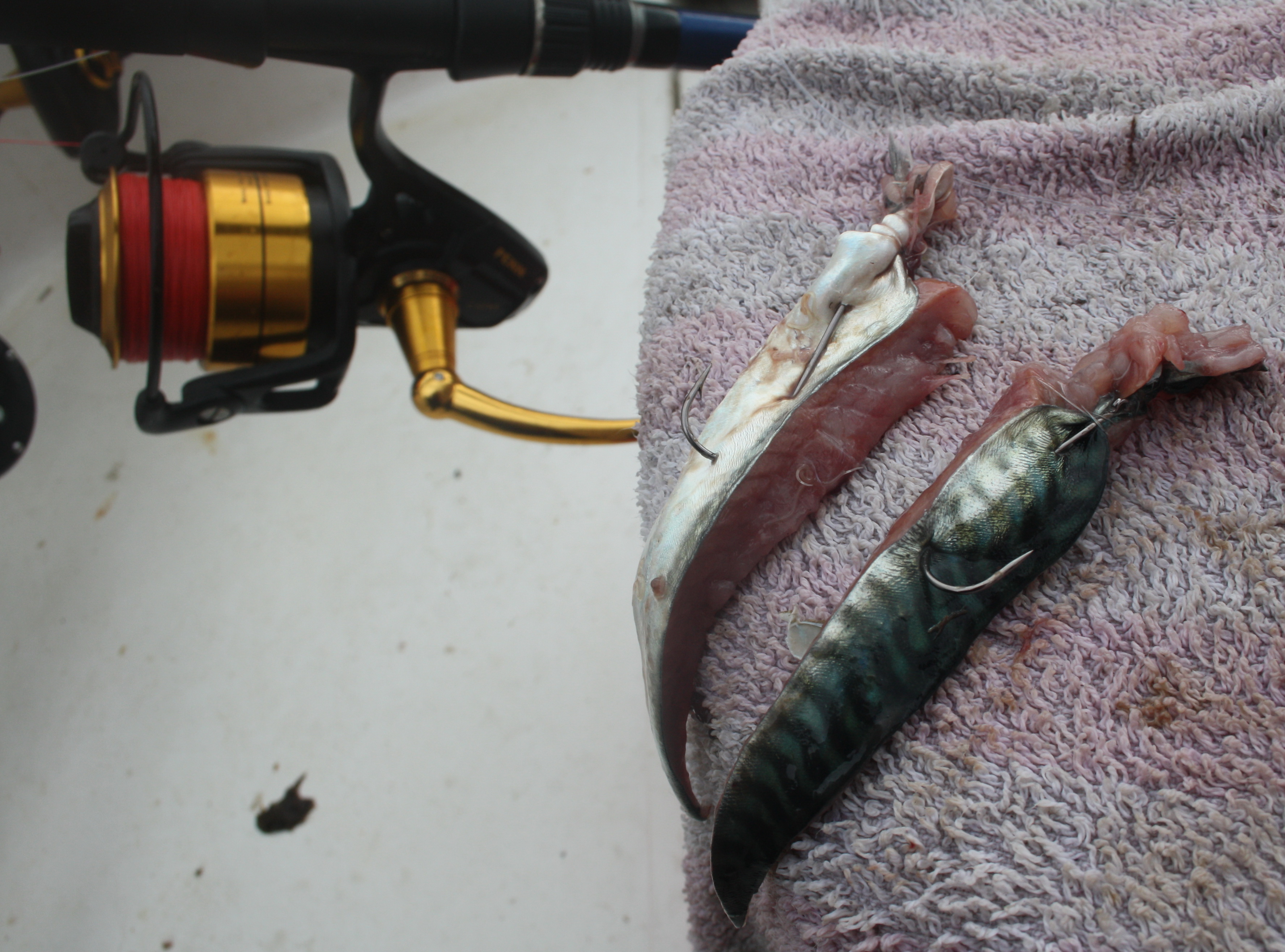 Fresh Mackerel strip can be deadly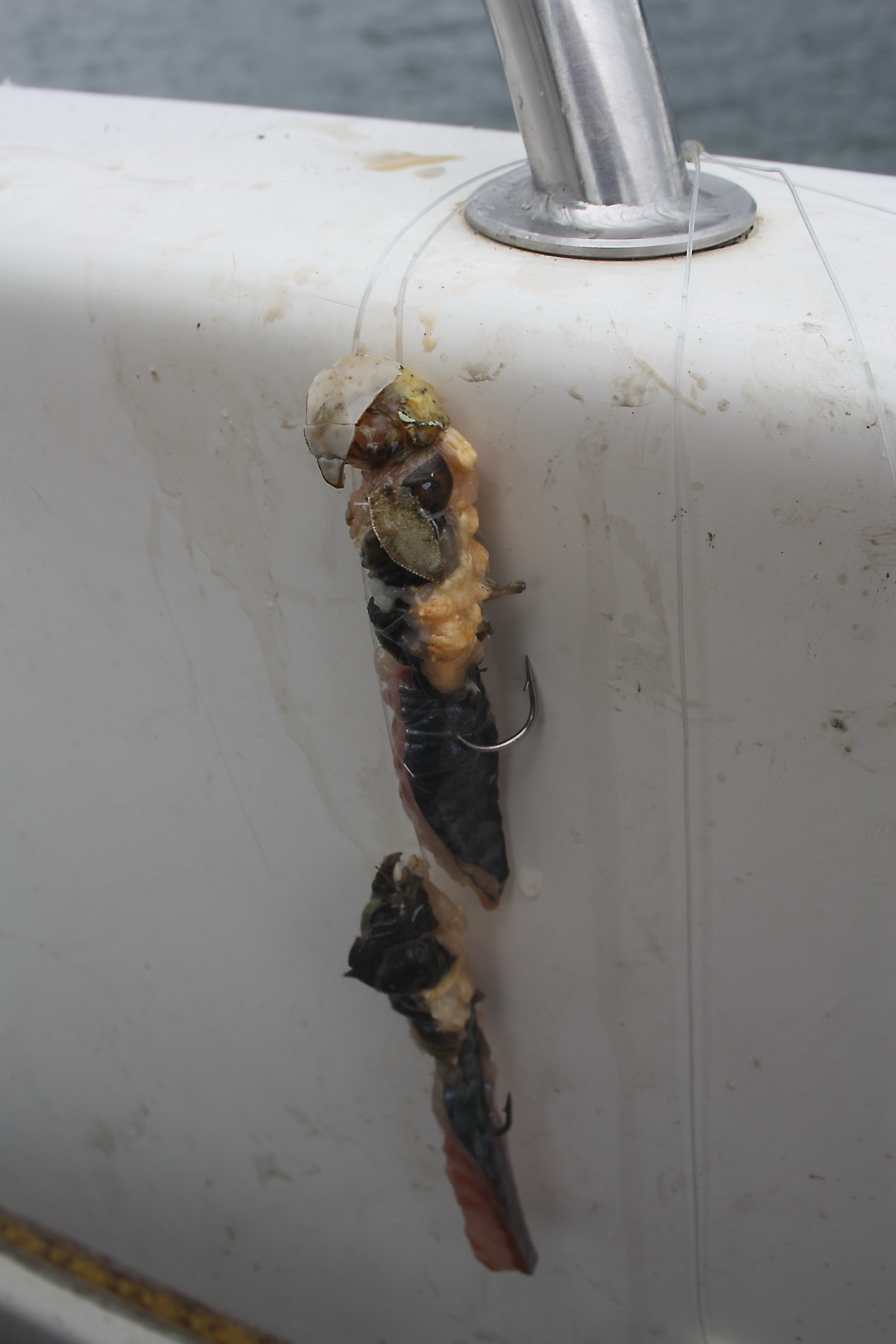 Or a Mackerel-crab cocktail
Tackle Options
PENN Spinfisher VI Spinning Reel
Berkley Whiplash Crystal Superline 50lb, 0.17mm, 300yds
Mustad Fishing NEW UltraPoint Ringed Chinu Hook - Size 1/0 - Pack of 10
Berkley Trilene Big Game Flurocarbon Leader Fishing Line -100% Professional Grade Flurocarbon
Back