Targeting Grey Mullet
Terry's Travels
Targeting Grey Mullet
Thick-Lipped Grey Mullet are one of four Mullet species that frequent Irish waters. Dogged fighters that are high on my angling honours list for fighting ability.
The other three species are the Thin-lipped, the Golden Grey and the Red Mullet. Although the latter may be targeted by shore anglers on occasion, they are more often found beyond reasonable casting range. In this short article, I will be looking at the Thick-Lipped variety.
I spent many years tracking down Grey Mullet around the shores of Northern Ireland, with reasonable success. Almost without exception, the small shoals encountered were wary and wily, easily spooked and notoriously difficult to tempt on a baited hook. However, I did manage it on almost every new venue I found, but I must admit, it took copious amounts of patience and stealth.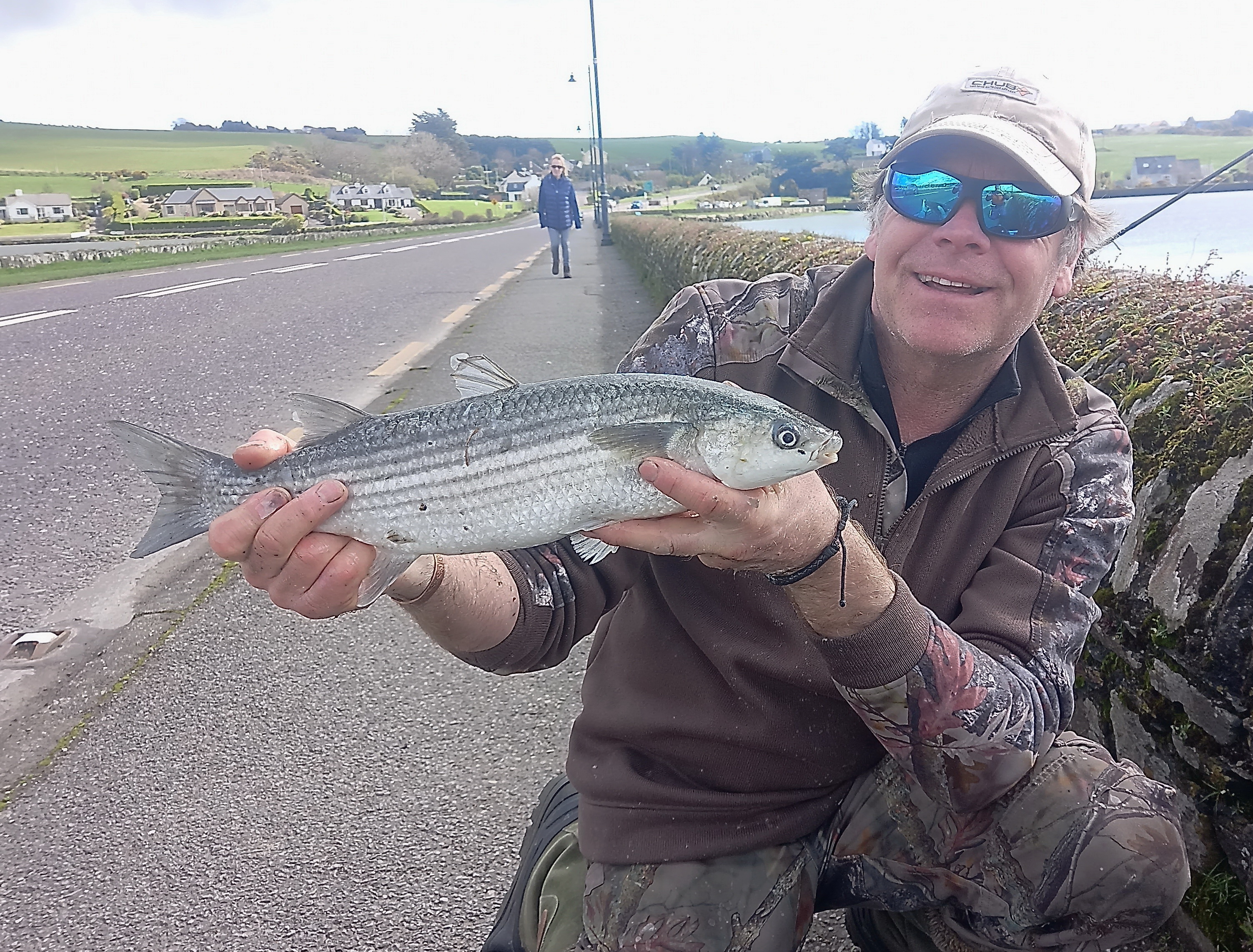 As a by-product however, this gave me valuable experience in the art of stalking fish, and honing tackle down to its minimal capabilities, simply to achieve a "take" to fool my wary opponent. Four pound B/S hook lengths, size ten fine-wire hooks and creeping around below the tree-lines like a sniper in battle! .....and then I discovered Southern Irish Mullet.
Obviously it was a great shock to be fishing with my good friend Sidney Kennedy, in his bright orange waterproof top, standing upright, talking, fifteen pound B/S hook lengths, size six hooks, and Mullet queuing to be caught! What the heck's going on? It puzzled me no end! I came to the conclusion that these particular Mullet were used to noise, to traffic passing, people regularly feeding swans and ducks, and maybe more importantly, the Mullet were in their thousands rather than small pods of threes and fours. They were by no means a walk-over, but a damn sight easier than what I was used to!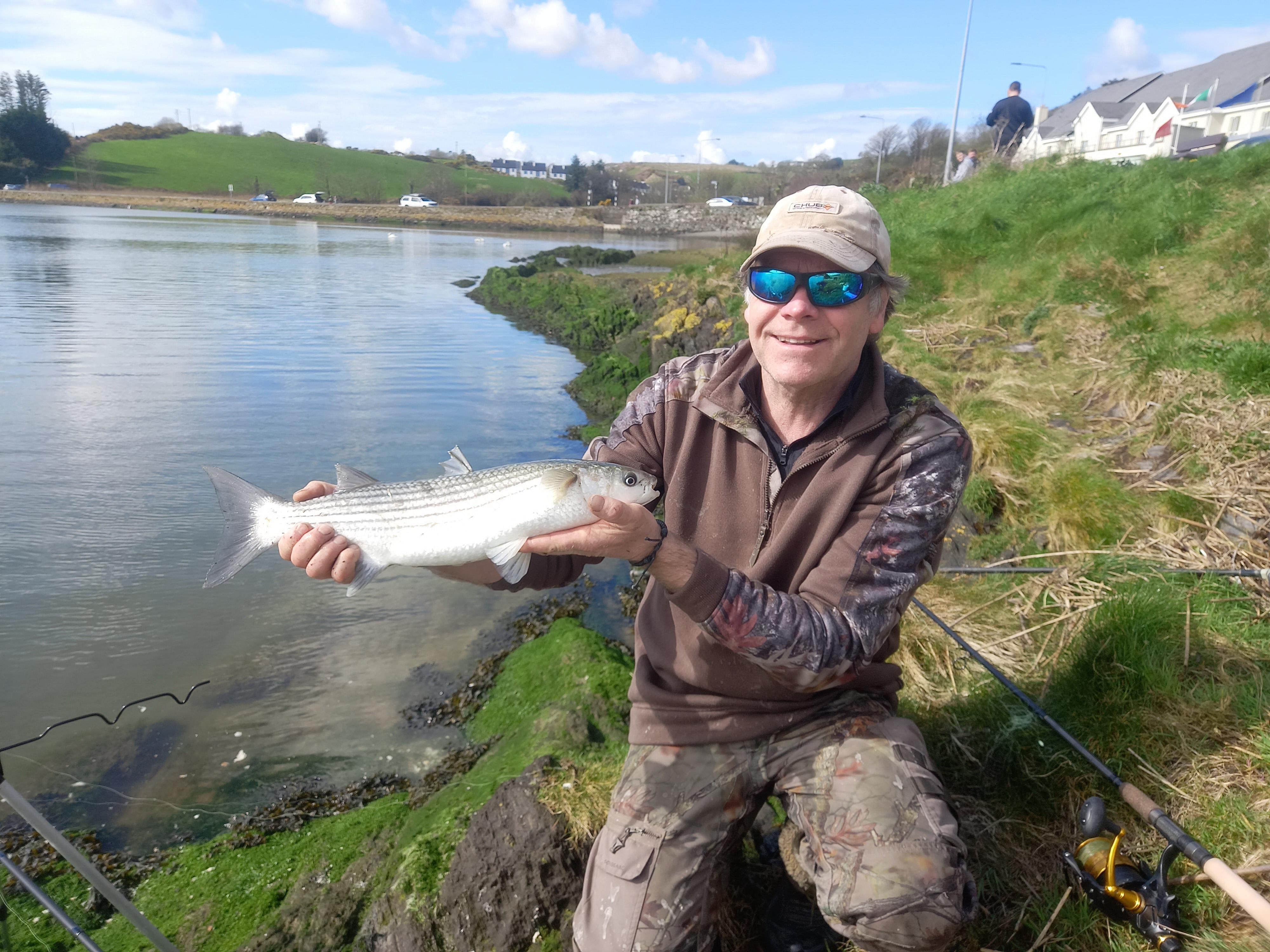 This initial experience was many years ago. Unfortunately, due to un-regulated commercial netting of in-shore and estuarine Mullet, numbers are a shadow of by-gone days, but let's not dwell there, it depresses me! They are thankfully still available in decent numbers for a realistic opportunity of landing a few fish in a session. Personally, if I want some Mullet fun, I head South of the border, If I want to test my skills with a tough challenge, I target the small pods in the North!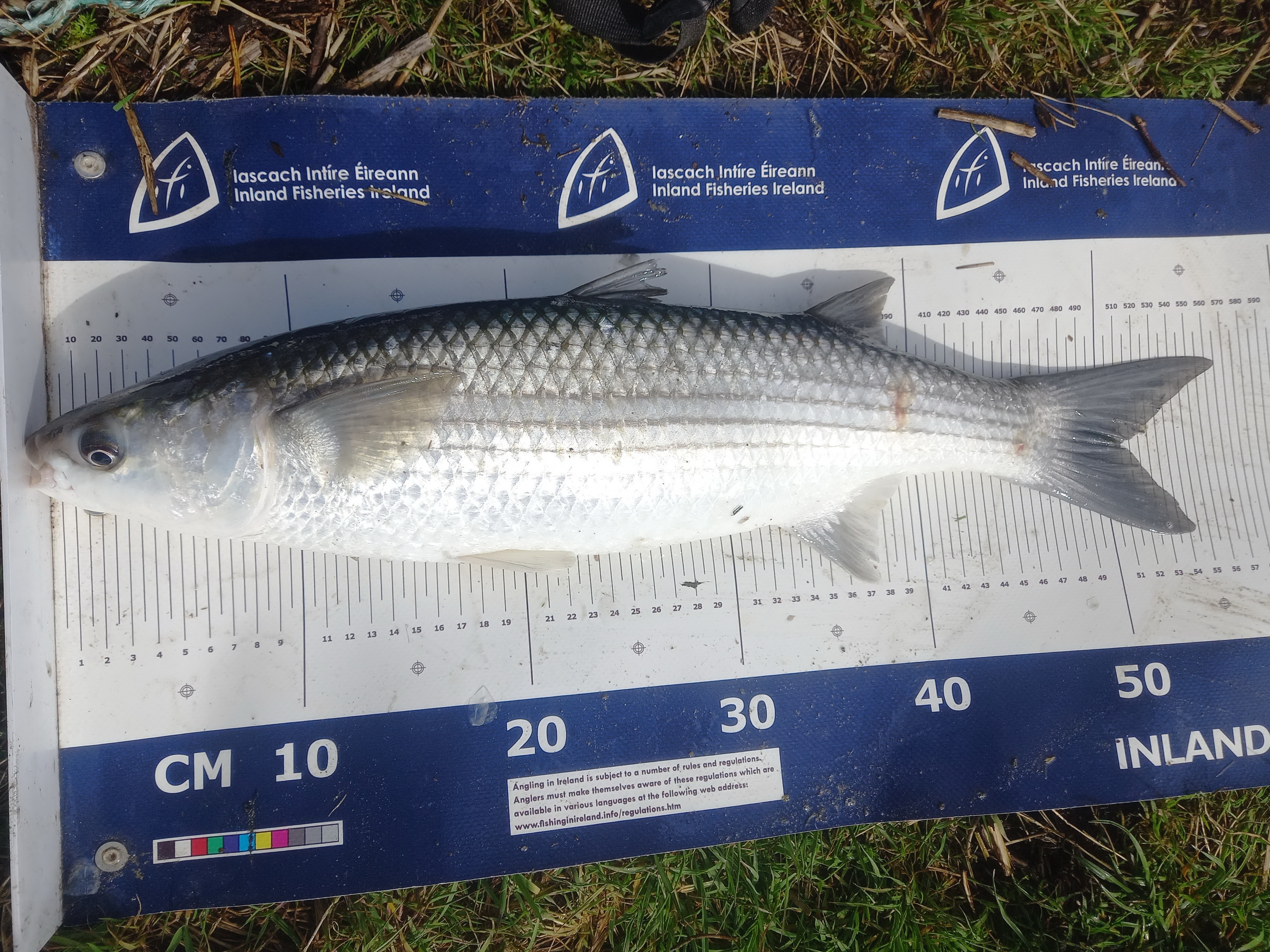 For the purposes of this wee piece, I headed South. It is never a "given" that Mullet will show up, or that they will be in the mood to feed, but the odds are without doubt a great deal more favourable if you wish to see a fish in the landing net.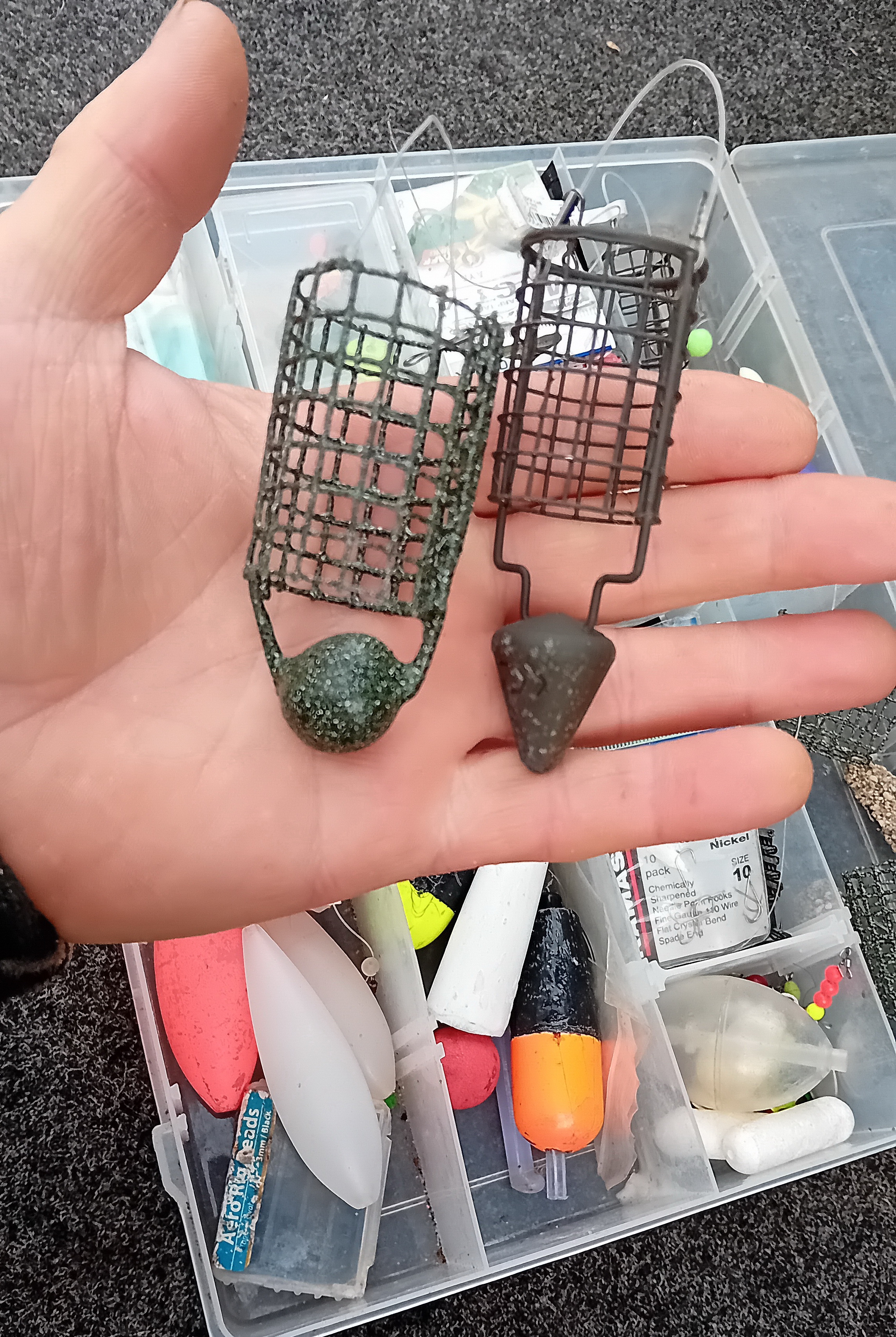 Home-made and shop bought swim feeders
Methodology
Mullet will eat most small natural food items available, but they can be choosy on these items and when they fancy them! For the angler, bread is a well documented tempter, along with grains of corn, Harbour Rag (maddies), fly patterns, fish flesh and innards, and even small chunks of dog-food! They feed primarily by grazing on algae found on rocks, pier stanchions and shallow sandy bays, but that alone won't get them to the half metre plus size that we are interested in. They are without doubt, opportunists.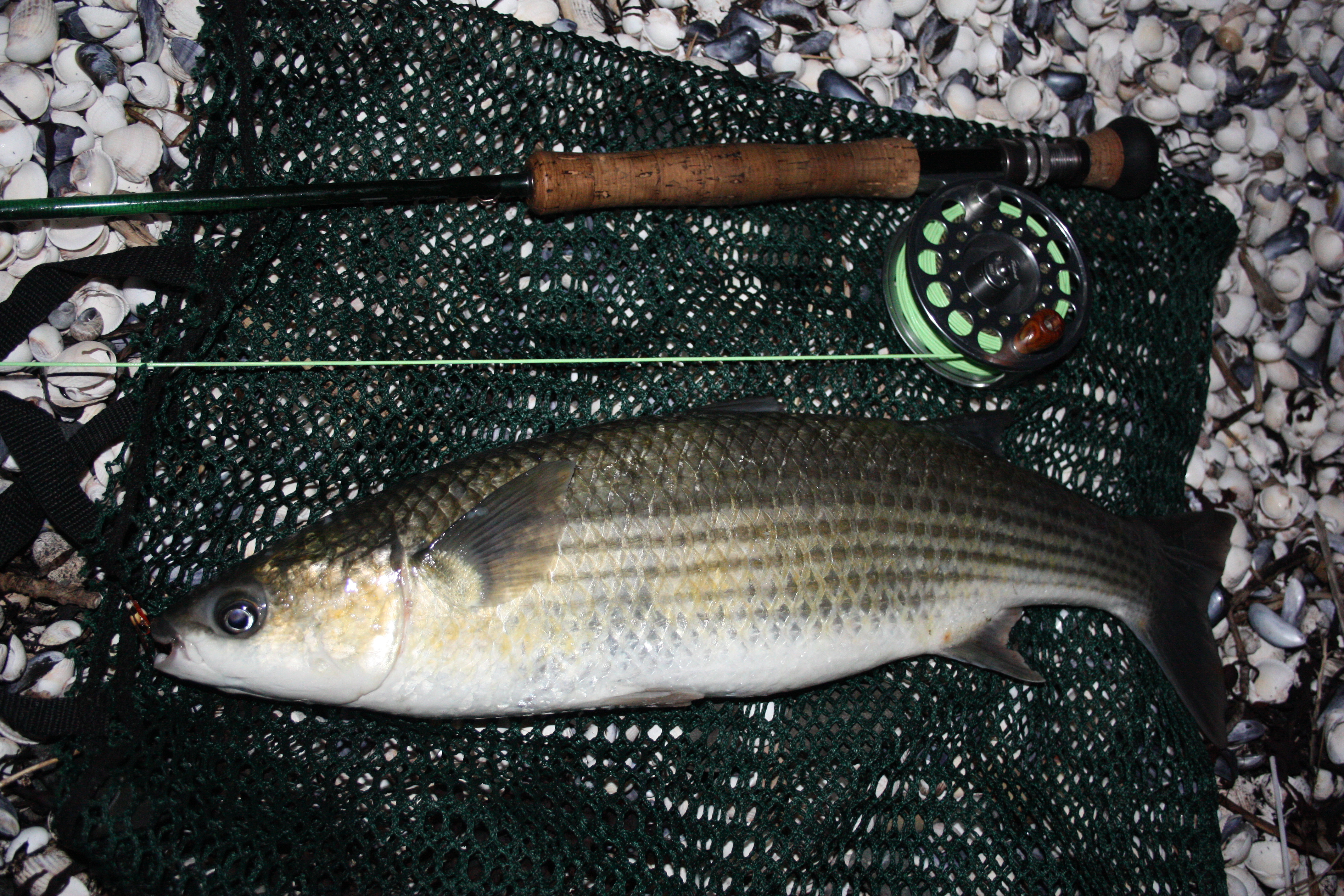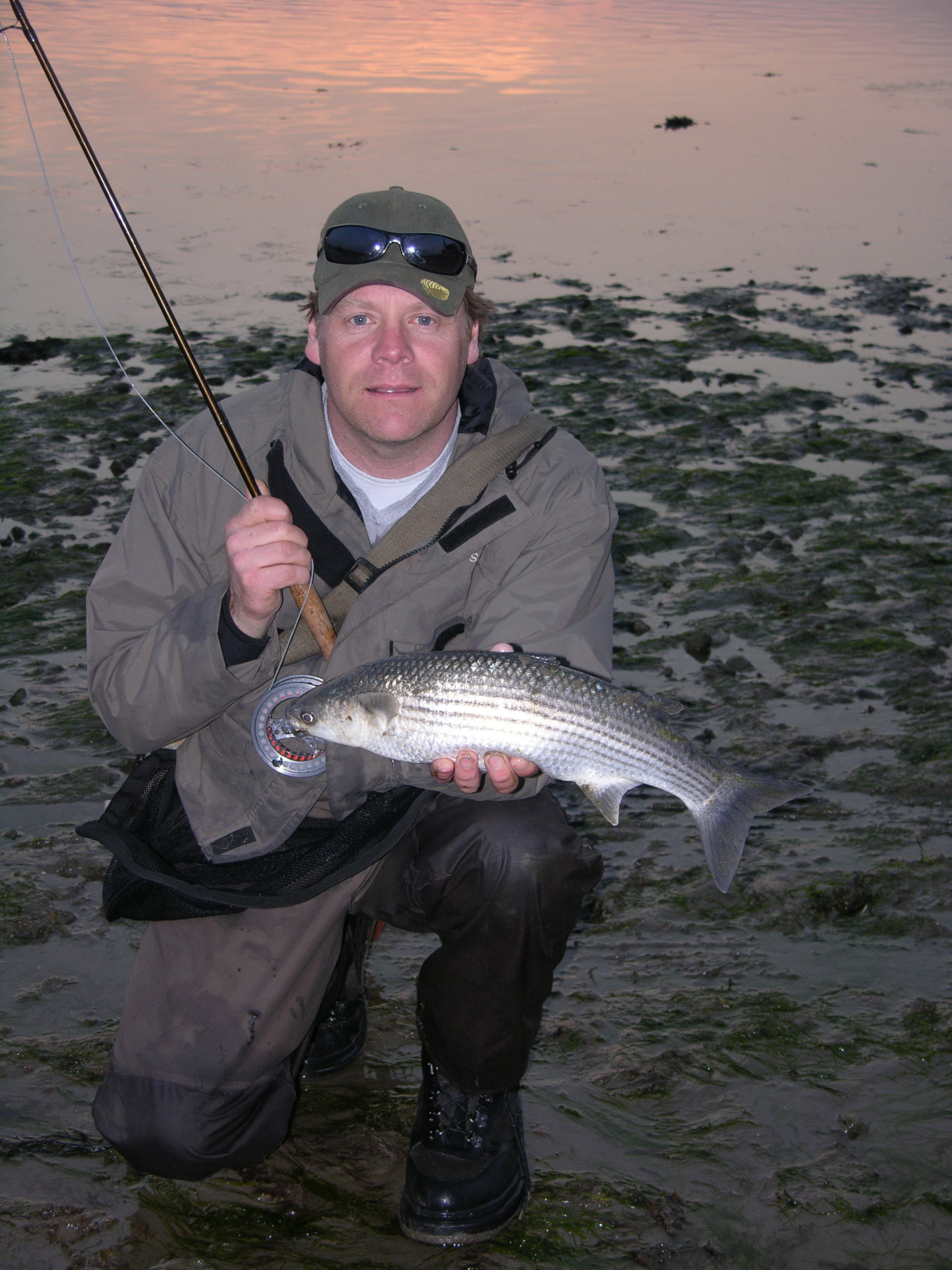 Fly caught Mullet are awesome fun
They will target a variety of shrimp species and fish fry, often herding and attacking with total abandon and pre-occupation. These are the rare days that the fly rod and shrimp or fry patterns can be lethal. I have only been in this "right place-right time" scenario with the fly rod a handful of times, but they are some of my most memorable Mullet sessions. A hard-hitting five pound Mullet on fly gear is truly awesome.
JRC Contact 5lb test curve spod rod and Mitchell 498 reel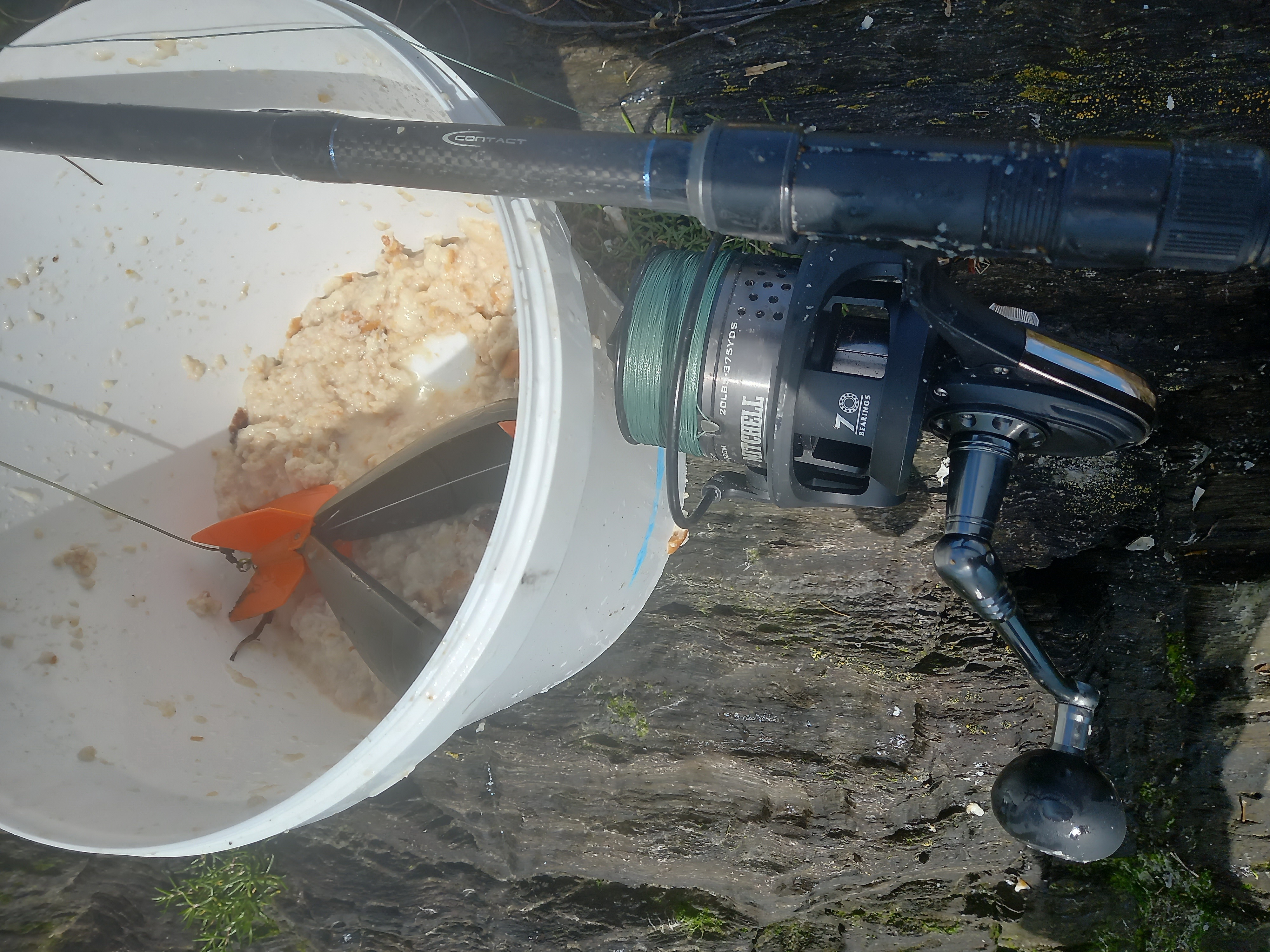 The good thing to know, is you can "switch" the Mullet on to a food source of your choice with a careful pre-bait regime, if you can afford the time. This will be my plan on this instance. A full bucket of soaked bread, mixed with half a dozen boiled and mashed Mackerel and "spodded" into a known feeding area, keeping it as accurate as possible. Fishing a swim-feeder over this area will give me the distance and sensitivity required, using a match angling, mini Carp style rig. It will also allow me the opportunity to relax in the sunshine, one eye closed, one eye on the rod tip!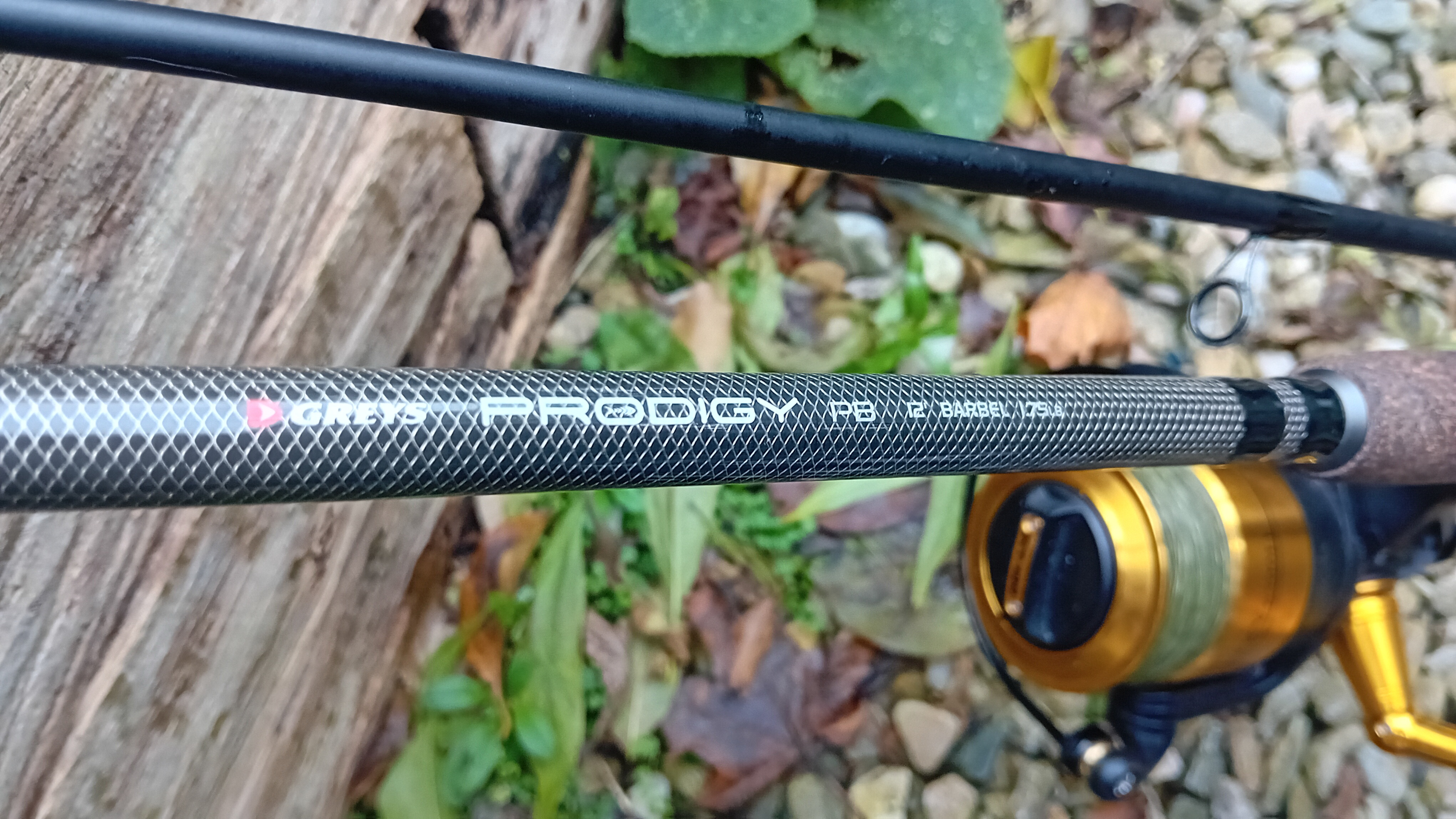 The best Mullet ledger rods available, in my opinion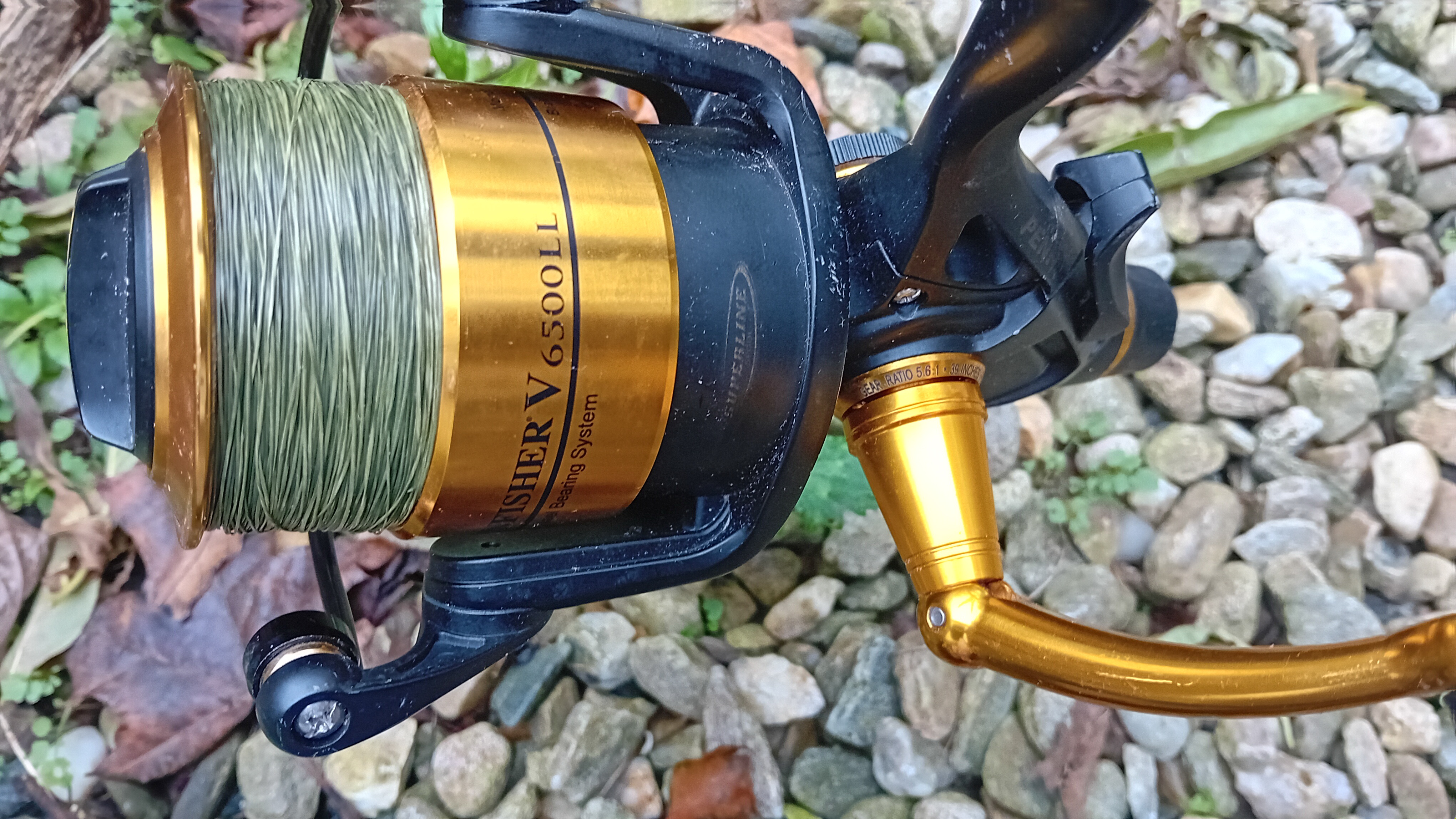 Ever reliable Penn Spinfisher
Having hooked and landed hundreds of Mullet over the years, I now have, in my opinion, the best feeder set-up available. These are a pair of "Barbel rods" teamed with Penn Spin-fisher reels. My particular rods are Greys Prodigy 1.75lb t/c and I find them absolutely superb for Mullet ledger fishing. Ample back-bone to launch a large feeder, sensitive for bite detection (not that it's a particular problem) and also to absorb the powerful "lunges" of a specimen. Most "beefed up" ledger rods will do, but Barbel rods, and in particular, the Greys Prodigy version are practically made for the job. Any good quality spinning reel will suffice but the Spin-fishers are bullet proof!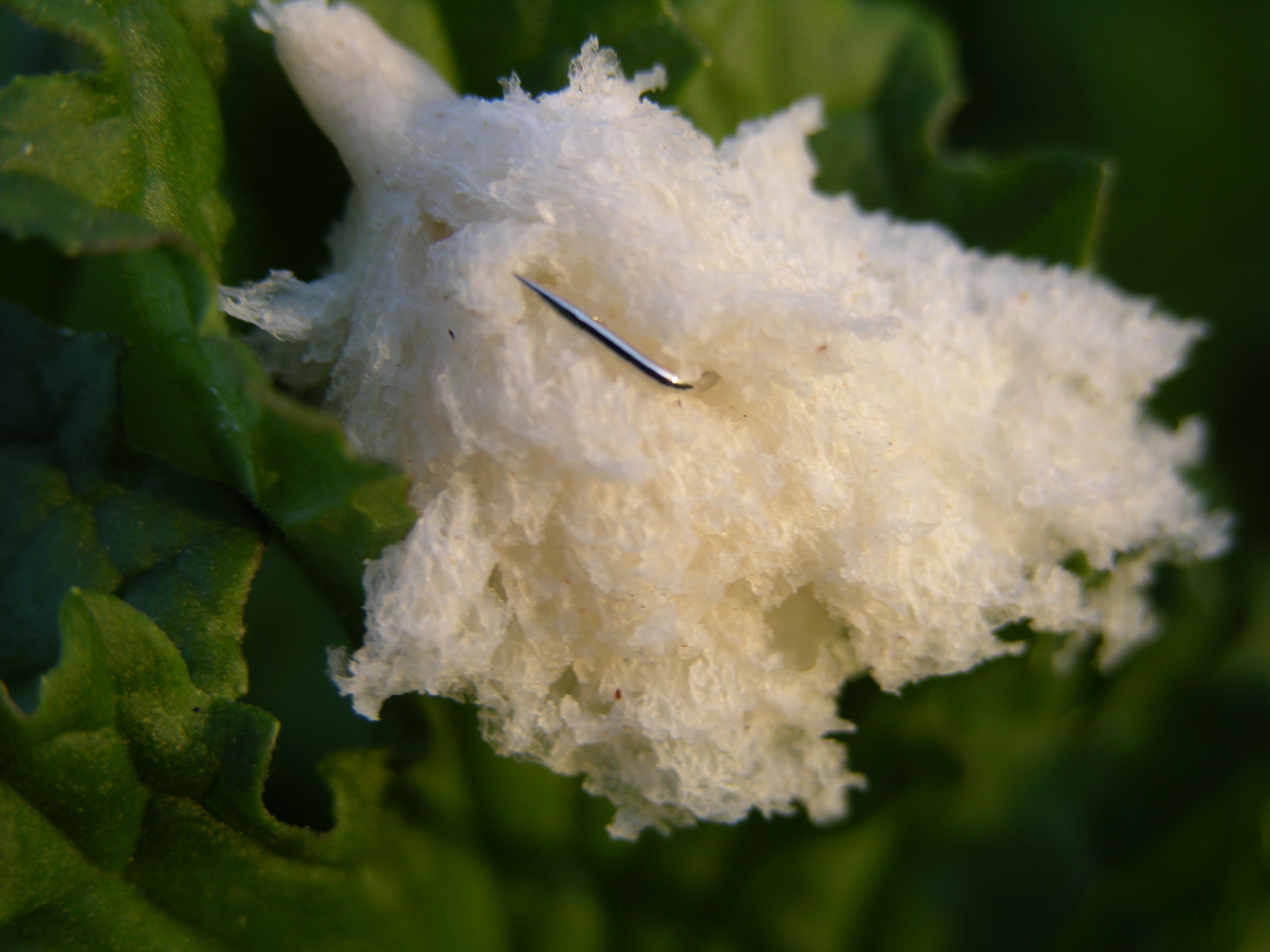 Bread flake, the "go-to" Mullet bait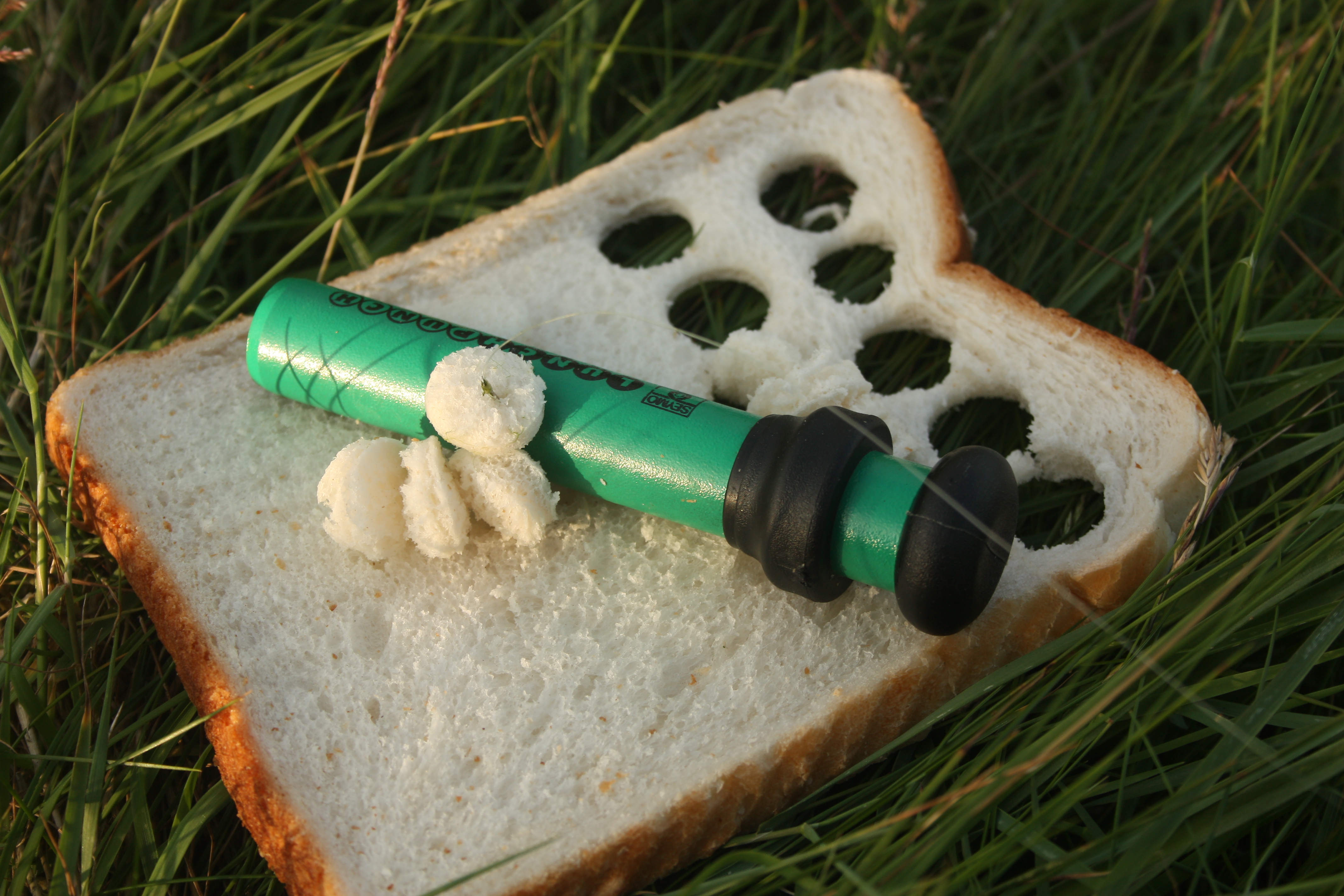 Bread Punch can be a useful alternative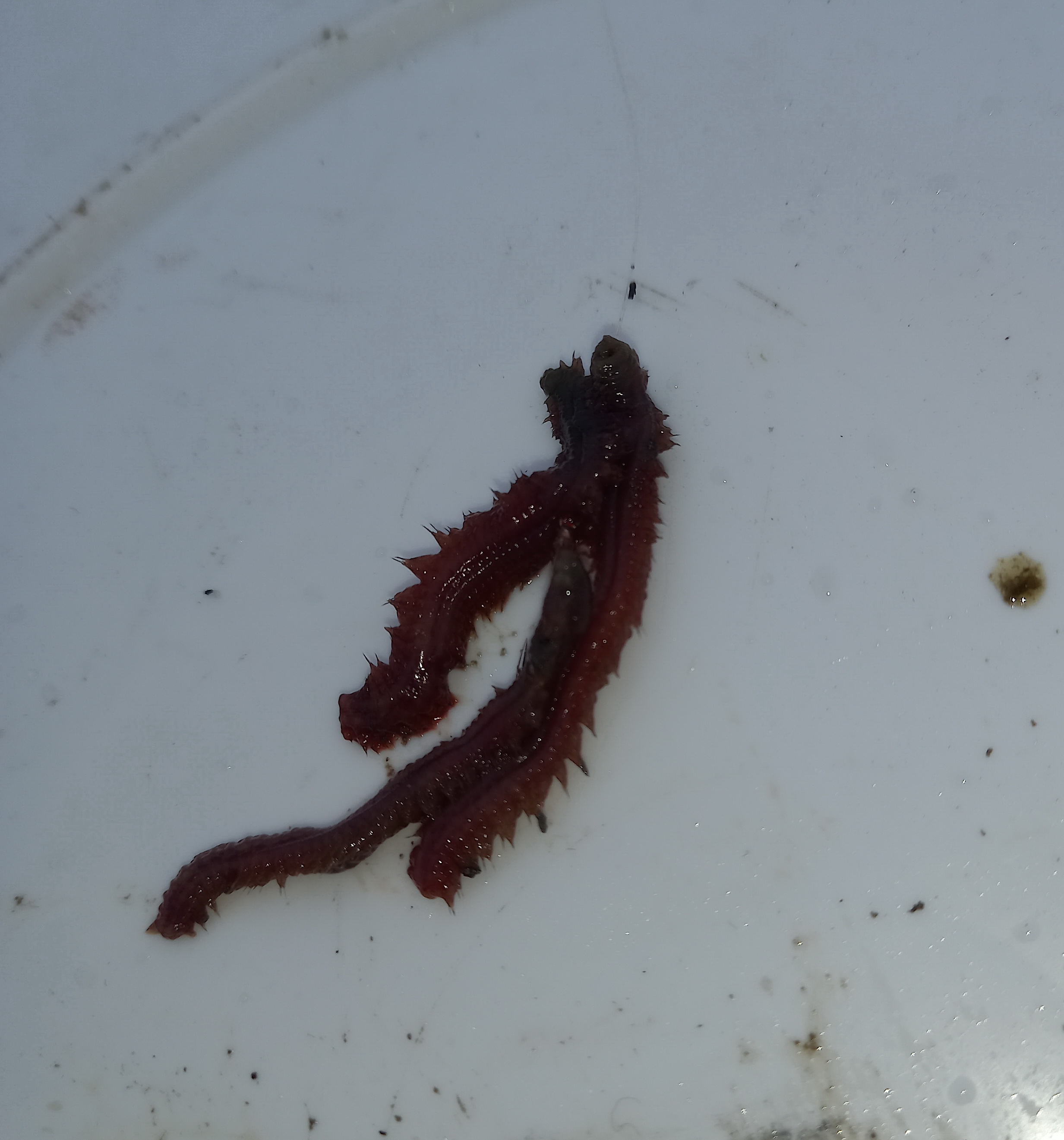 Harbour rag (maddies) can often be lethal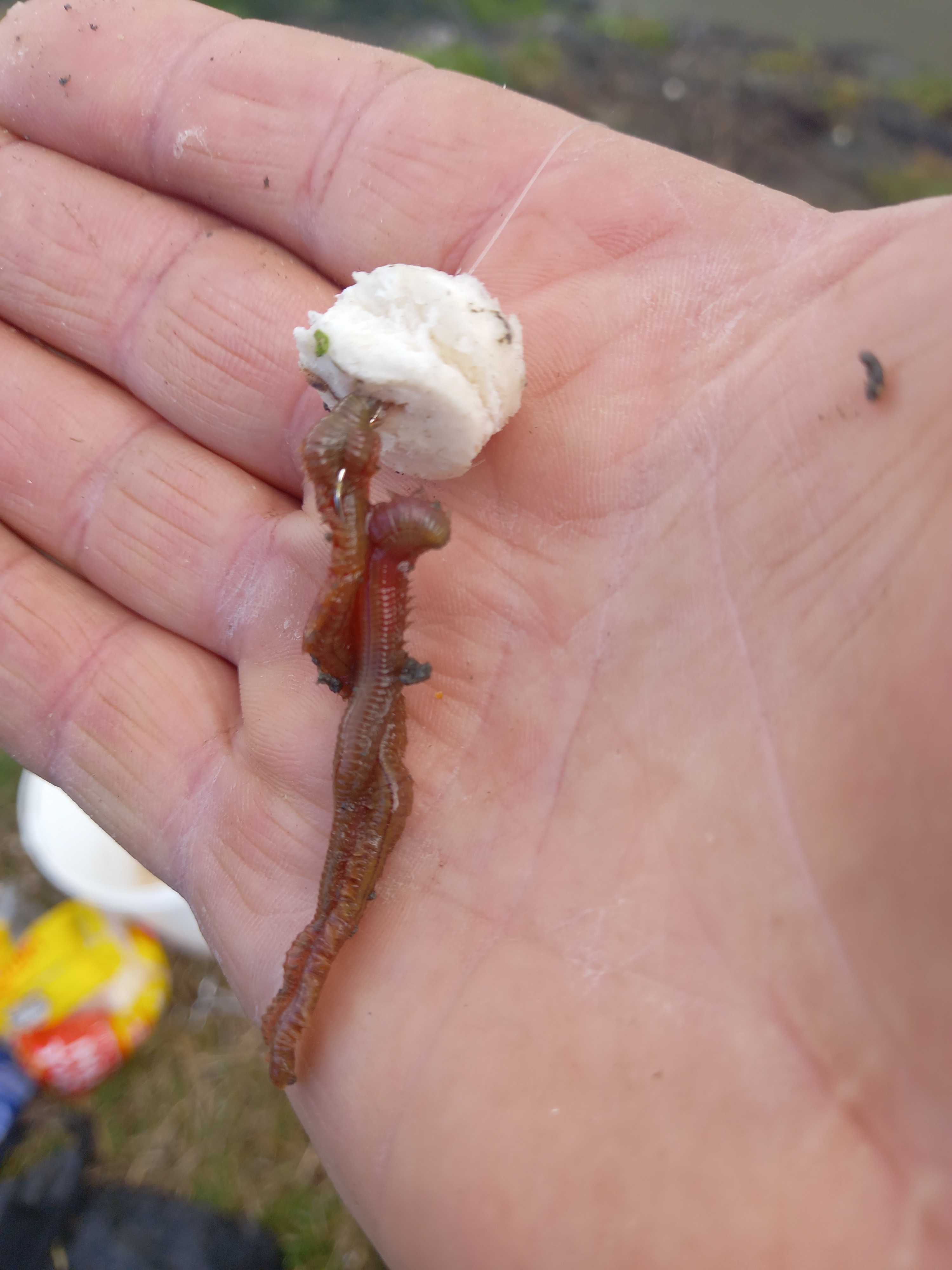 Or mix and match for a deadly cocktail
Hook-bait will be bread flake, bread punch, maddies, or a cocktail of either. I have total faith in bread flake, but maddies can be lethal if the fish are picky. Bread punch ( I use a Carp luncheon meat punch) is handy if you wish to "pop" baits up off the bottom. If there isn't too much weed about, two hooks can be handy to try alternate baits or various heights off the sea bed.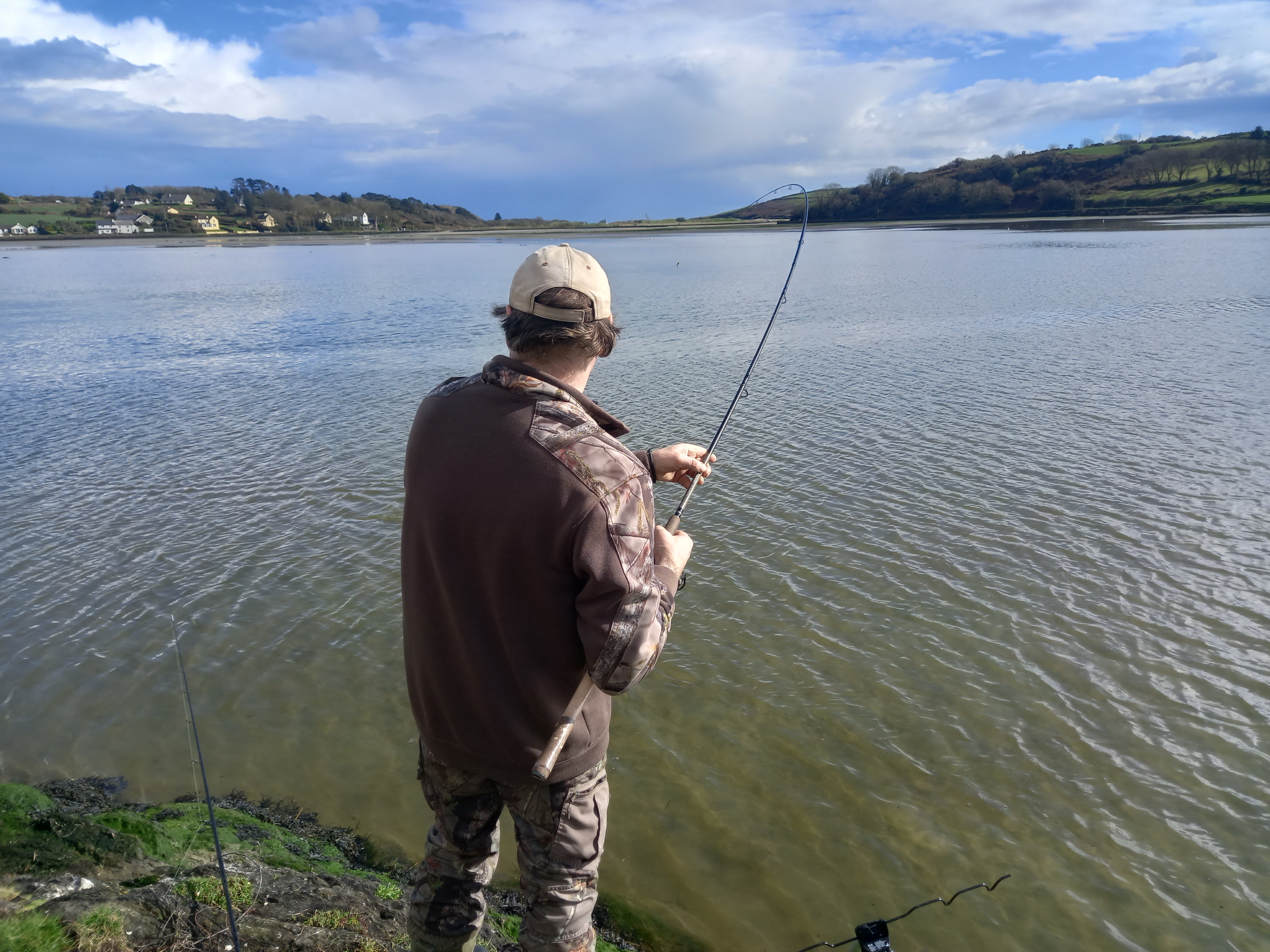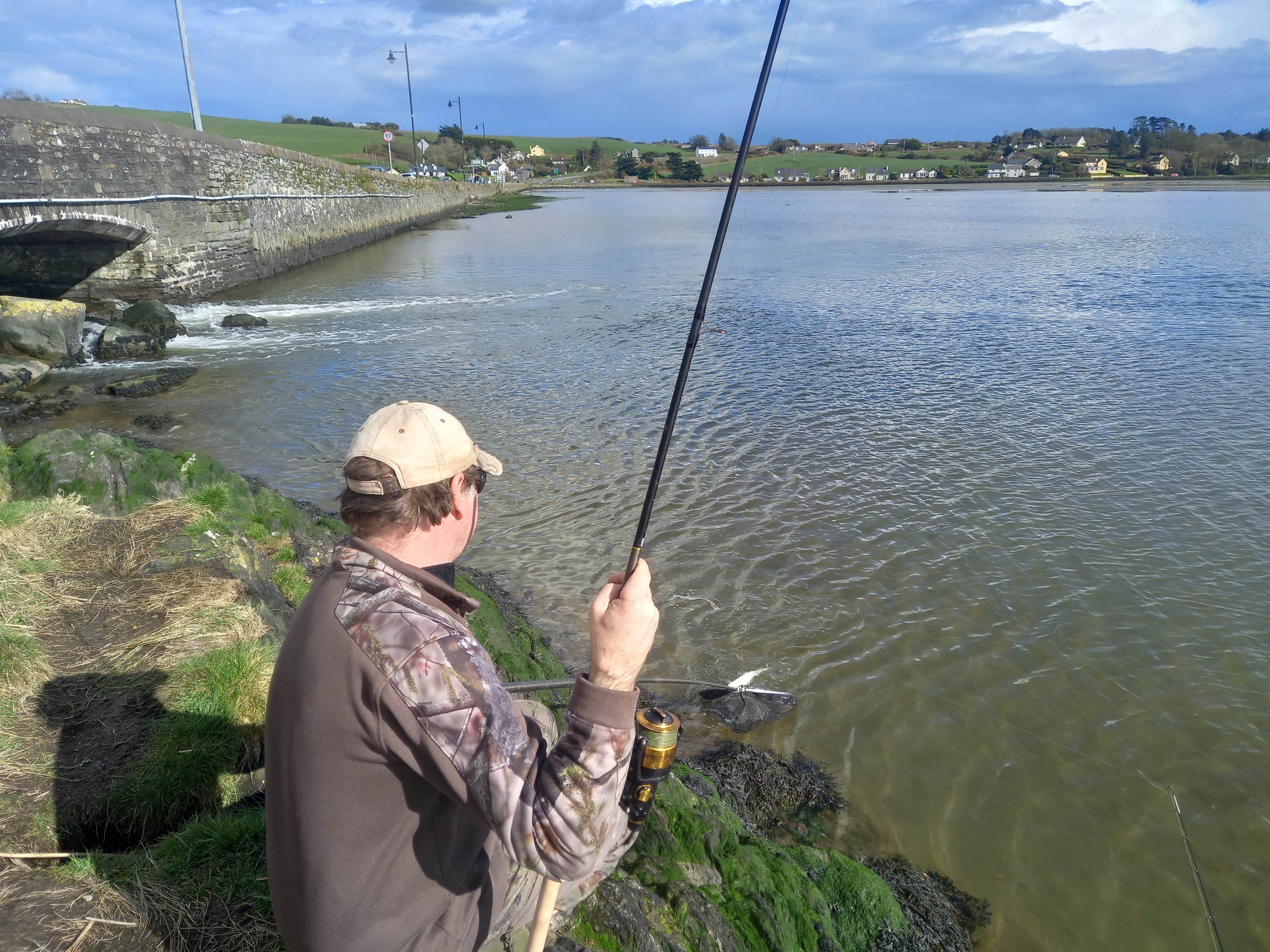 Greys Prodigy Barbel Rod, perfect balance of power and sensitivity
Happily, a few sizeable shoals came through, along their usual feeding routes, and stopped dead in their tracks at the bargain bucket of food particles I "spodded" earlier on their pathway. Heads down and tails up, mulling around and breaking the surface, it is only a matter of time before the quiver-tip bends in a smooth arc with line peeling off the live-liner, Penn's solid version of the bait-runner. Even at my age, having logged dozens of specimens, the heart races and adrenaline pumps, waiting for the explosion to follow....and it does!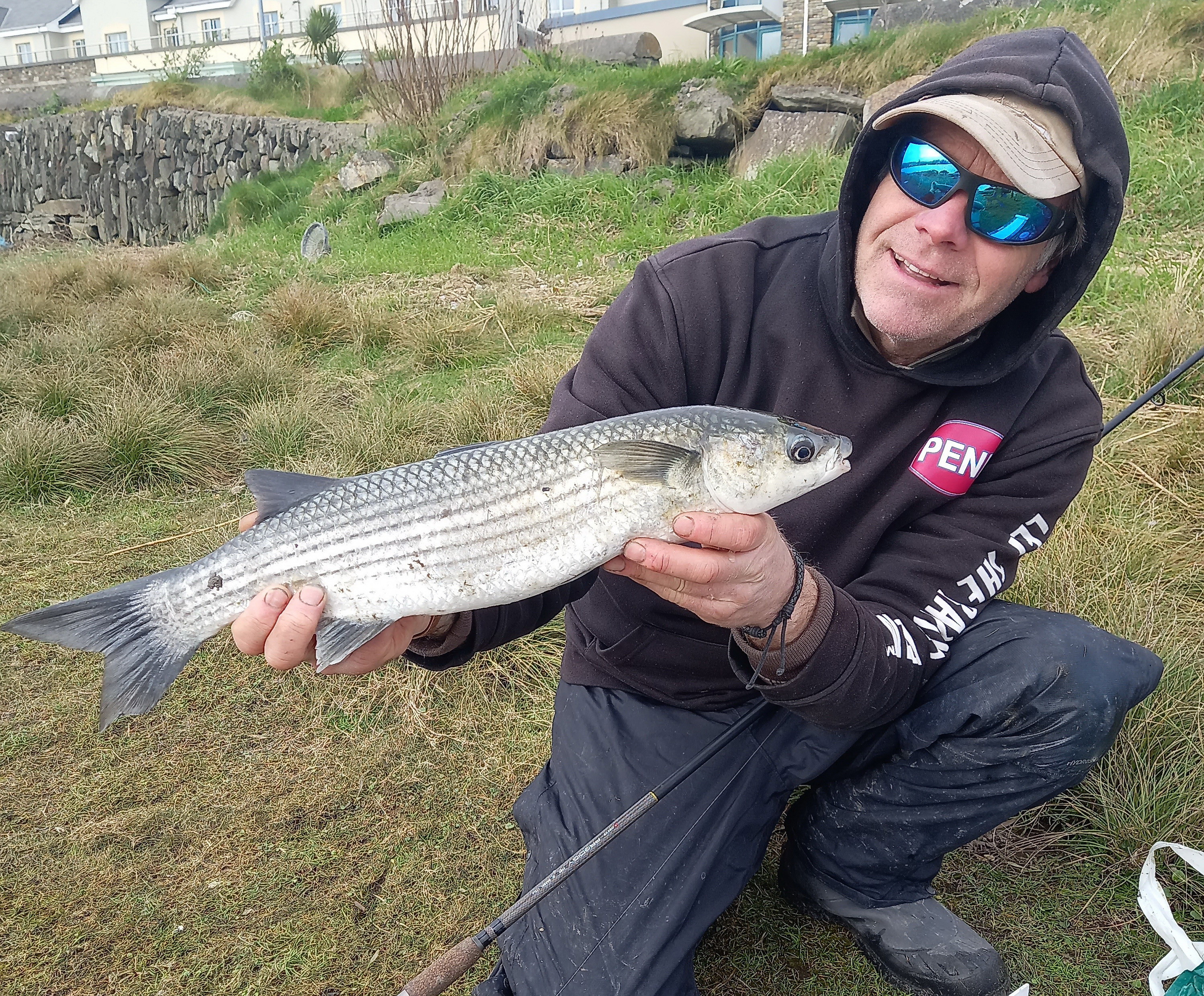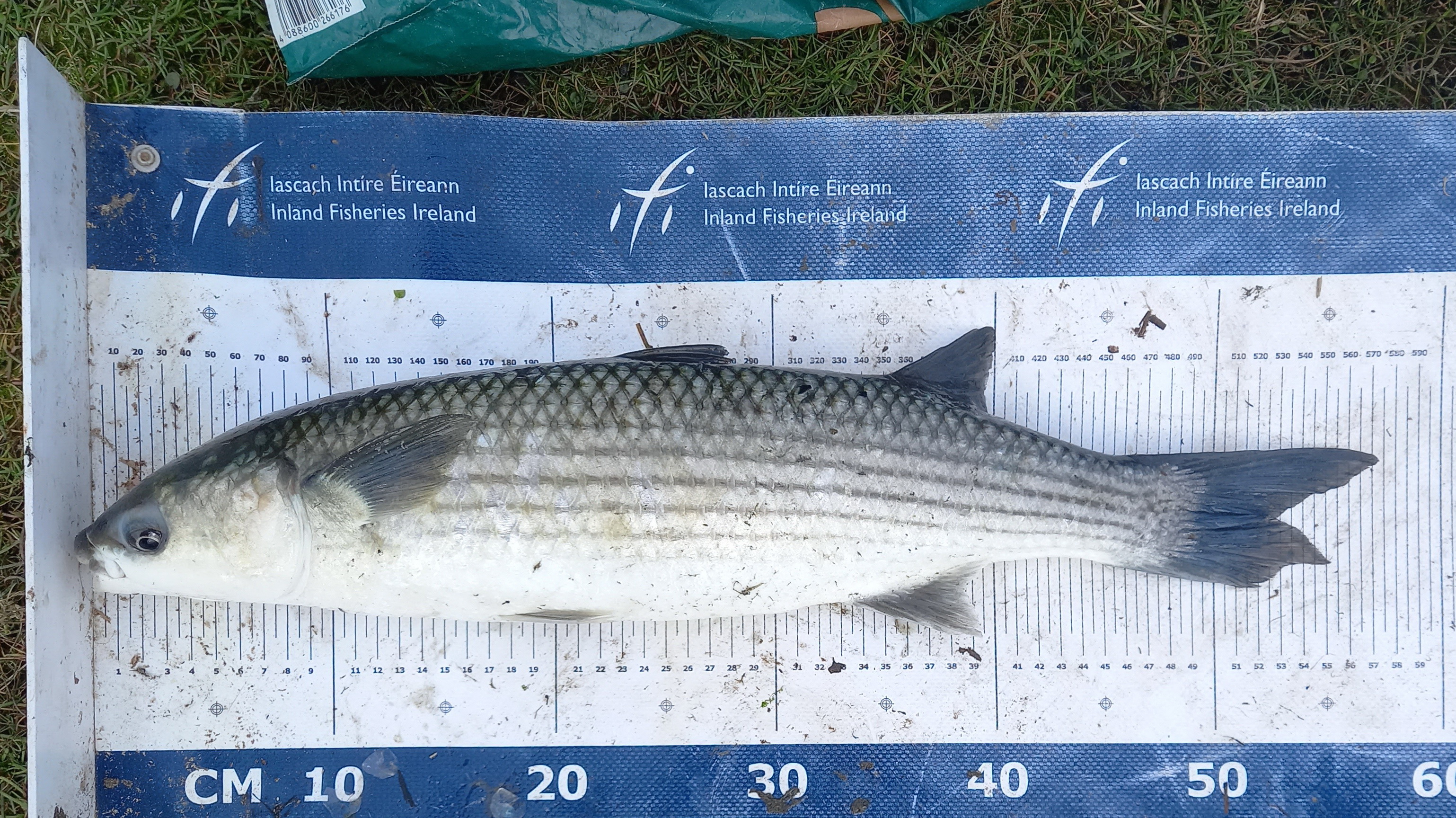 This is the best part. Line rips off the reel, and under tension, you let them run. No need to rush. You lose line, you slowly gain it back again. Standard fish play. Just writing this, I am actually yearning to be out on the water after them once again! With a little experience, you know if this is a feisty three-pounder, or the sought after five pound plus lump. If it is a long fish, and over fifty four centimetres, it can still be claimed as a specimen. The Irish Specimen Fish Committee are working their way towards all fish on measure board rather than weighing, to aid fish conservation.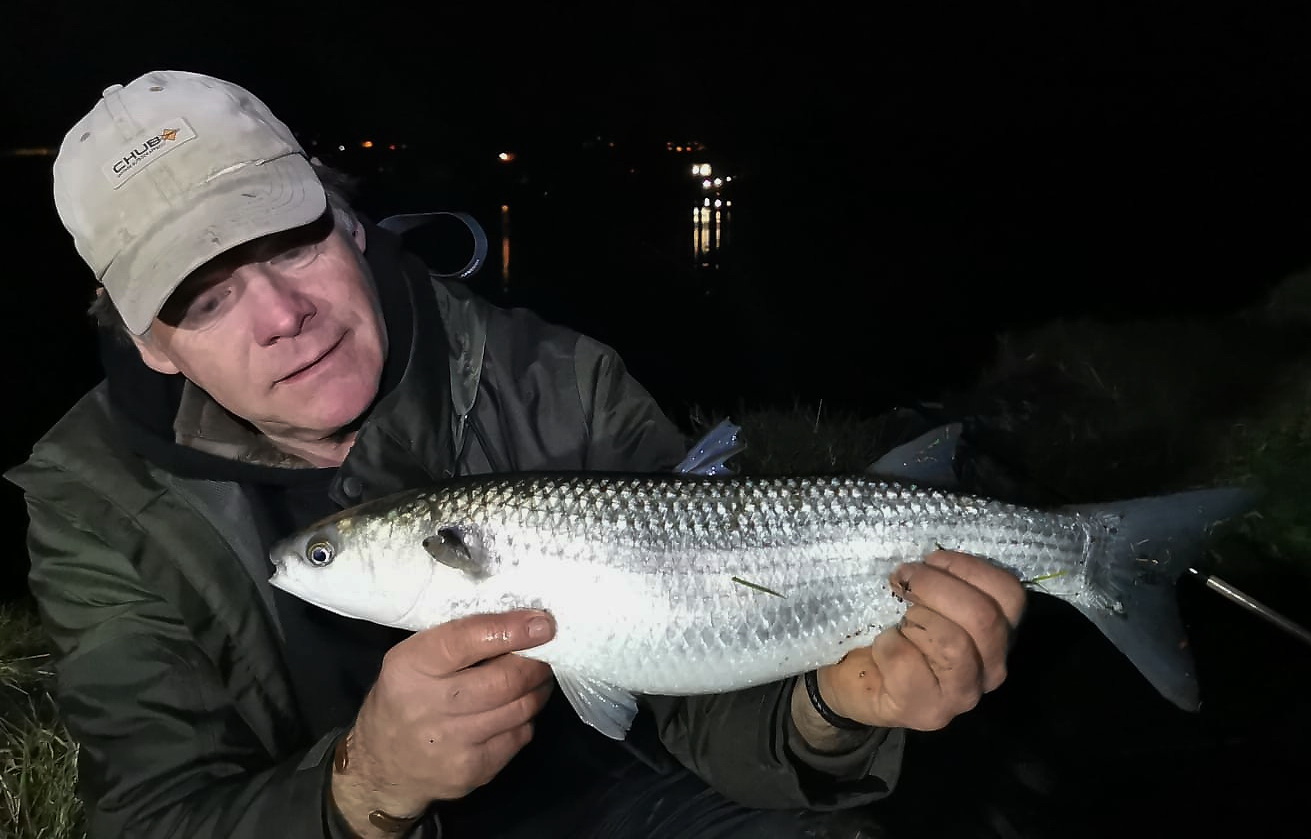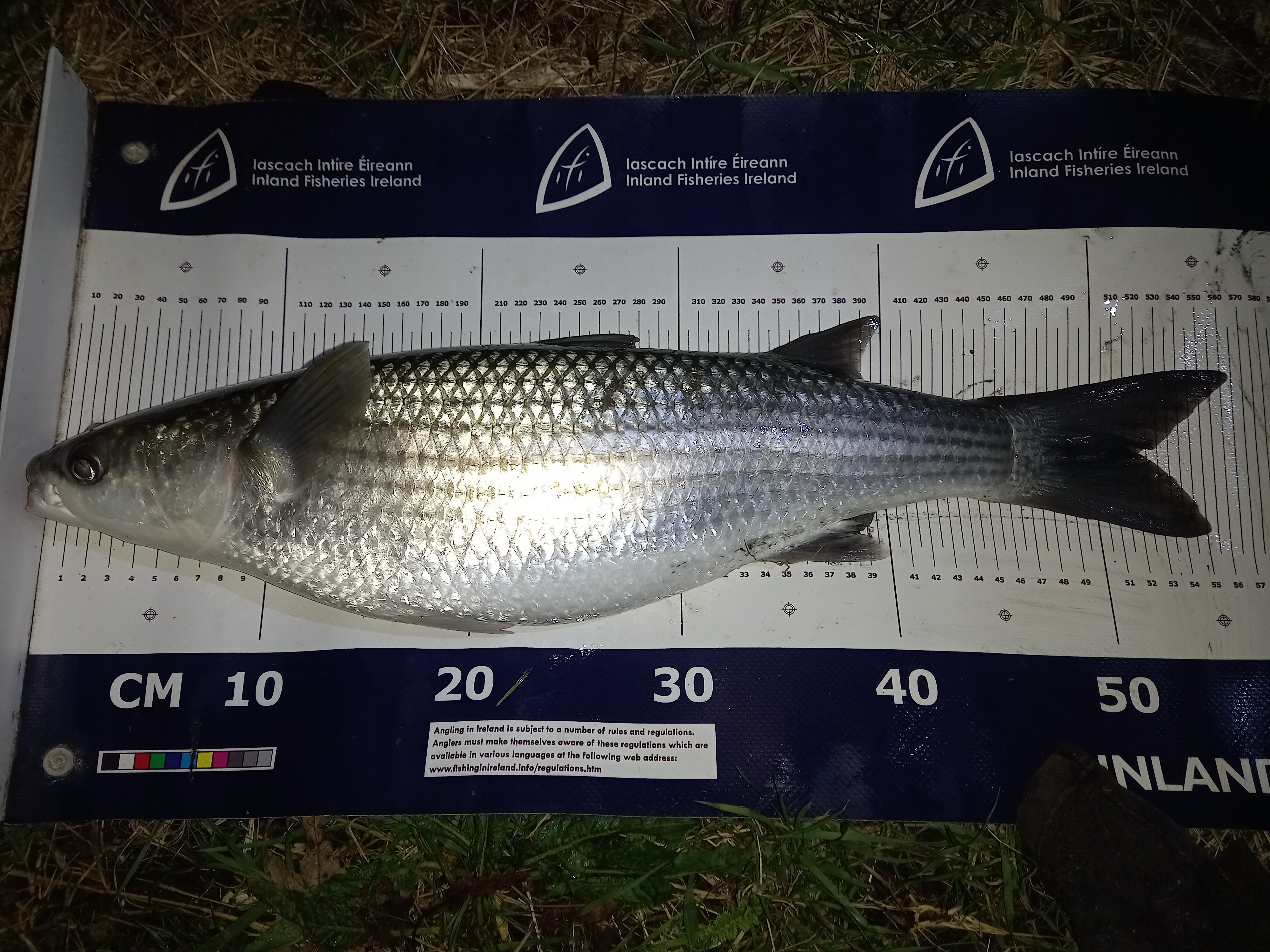 Safely in the net, and over fifty four centimetres on the mat, a documented specimen for 2023. They don't normally appear so easily! Having said that, if the tackle balance is right, and you have done the homework, and put in the effort, successful trips and excellent memories will eventually become a great deal more consistent than poor ones.
Tight Lines
Back