Terrys Travels Fintan's Northern Ireland Adventure
Terry's Travels
Fintan's Northern Ireland Adventure
Fintan Lawler is an angling buddy from way back. As a member of East Belfast Coarse Angling Club, I often met Fintan and the rest of the "Dubs" during angling matches throughout Ireland, typically on the tough Dublin Canals.
These were wonderful days that tend to evoke many fond memories, where I carved out whatever angling skills I now possess, against some of the finest "fish catchers" Ireland has produced. As I grow older, many are no longer with us, but it is always pleasurable to meet up, chat, or preferably spend a day fishing with the ones that still manage to wet a line.
Happily, Fintan and I managed to stay in contact over the decades, even spending the occasional day on the water hunting Pike or Trout. I often promised to introduce him to sea angling in the North, and after many failed attempts due to work commitments or inclement weather, an opportunity recently presented itself.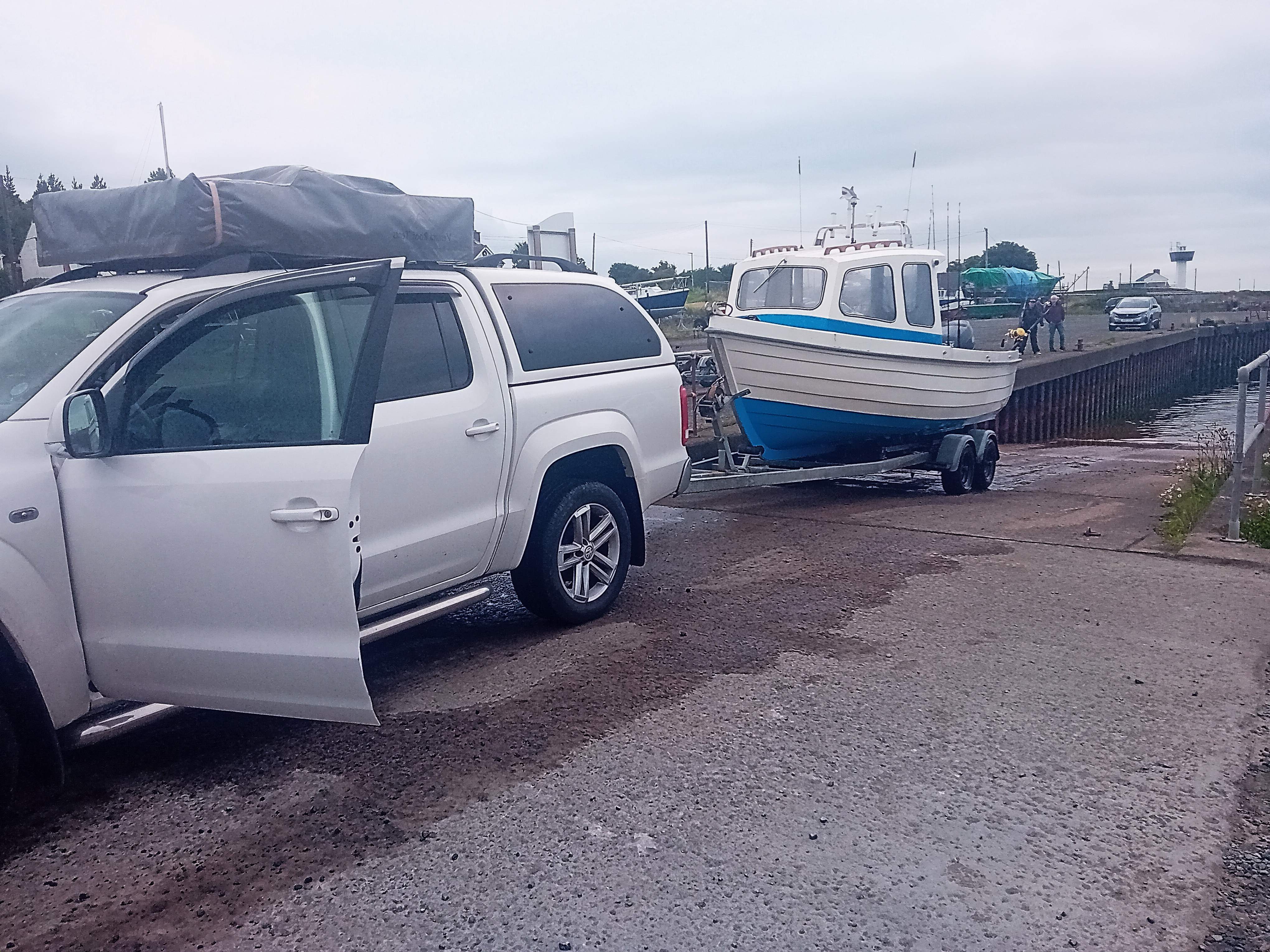 A quick launch and good to go
My boat is well kitted out with deep sea tackle, the only requirement I asked from Fintan was to turn up with sufficient clothing and a packed lunch. At the harbour, after hugs and catch up, and boat safely launched, we were back on yet another angling adventure. Target species today were Common Skate (not so common) Spurdog and perhaps a bonus Blackmouth Dogfish, three species my guest was yet to encounter. Even better would be for one or more to break the Irish Specimen barrier!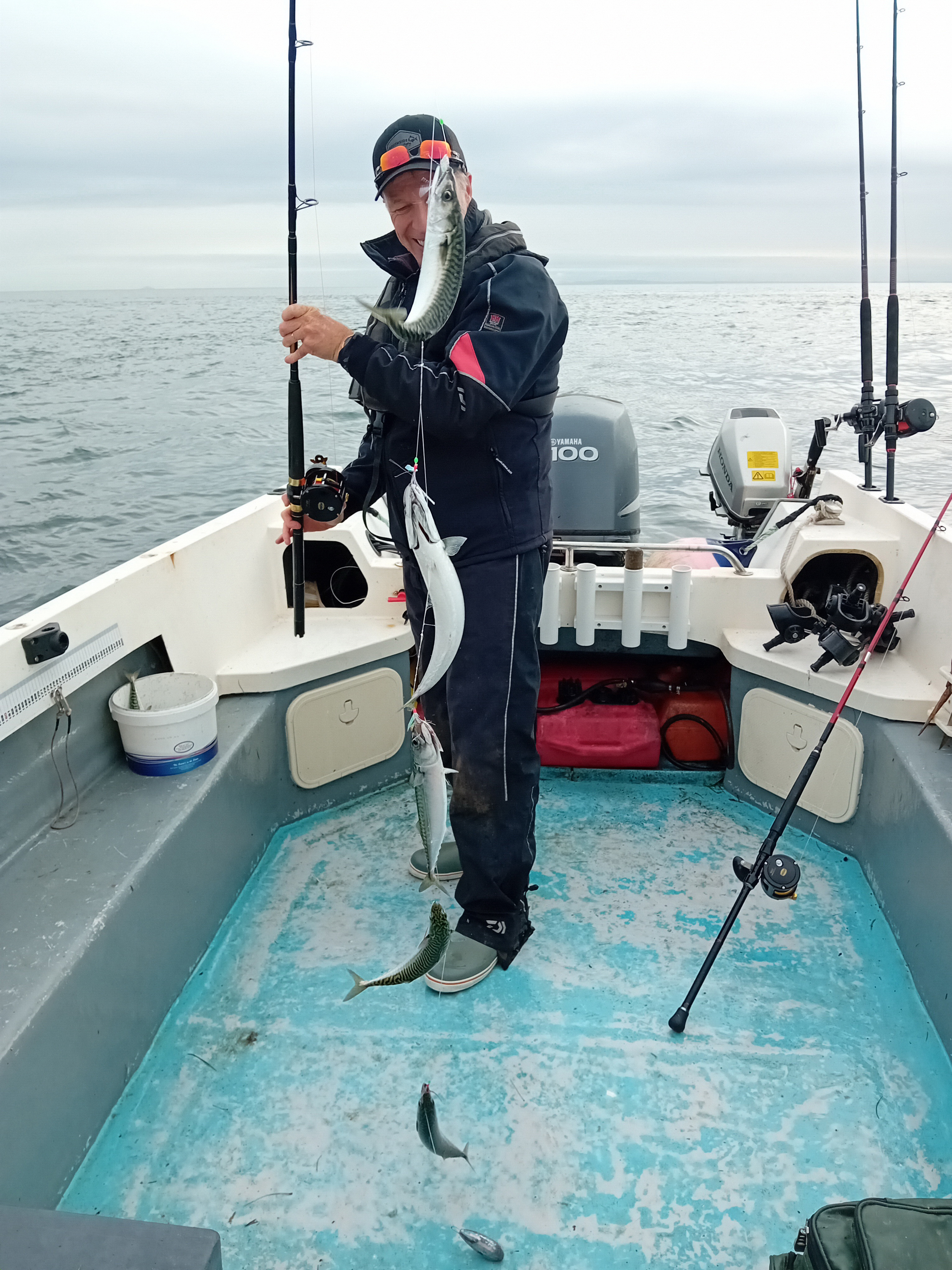 Always a relief to find fresh Mackerel
As usual, fresh bait when available is always preferential, and so a brief "bait stop" was required. Thankfully Mackerel and Coalfish were in reasonable numbers on this occasion. My "back-up" frozen bait from the previous year could now go in the chum bag. No time today to play over the offshore reefs, as the tide was perfect to drop an anchor in the deeps and see what may be on offer. Local information was "Spurdog plentiful" but little else about. As we are all well aware, every day is different in the angling world!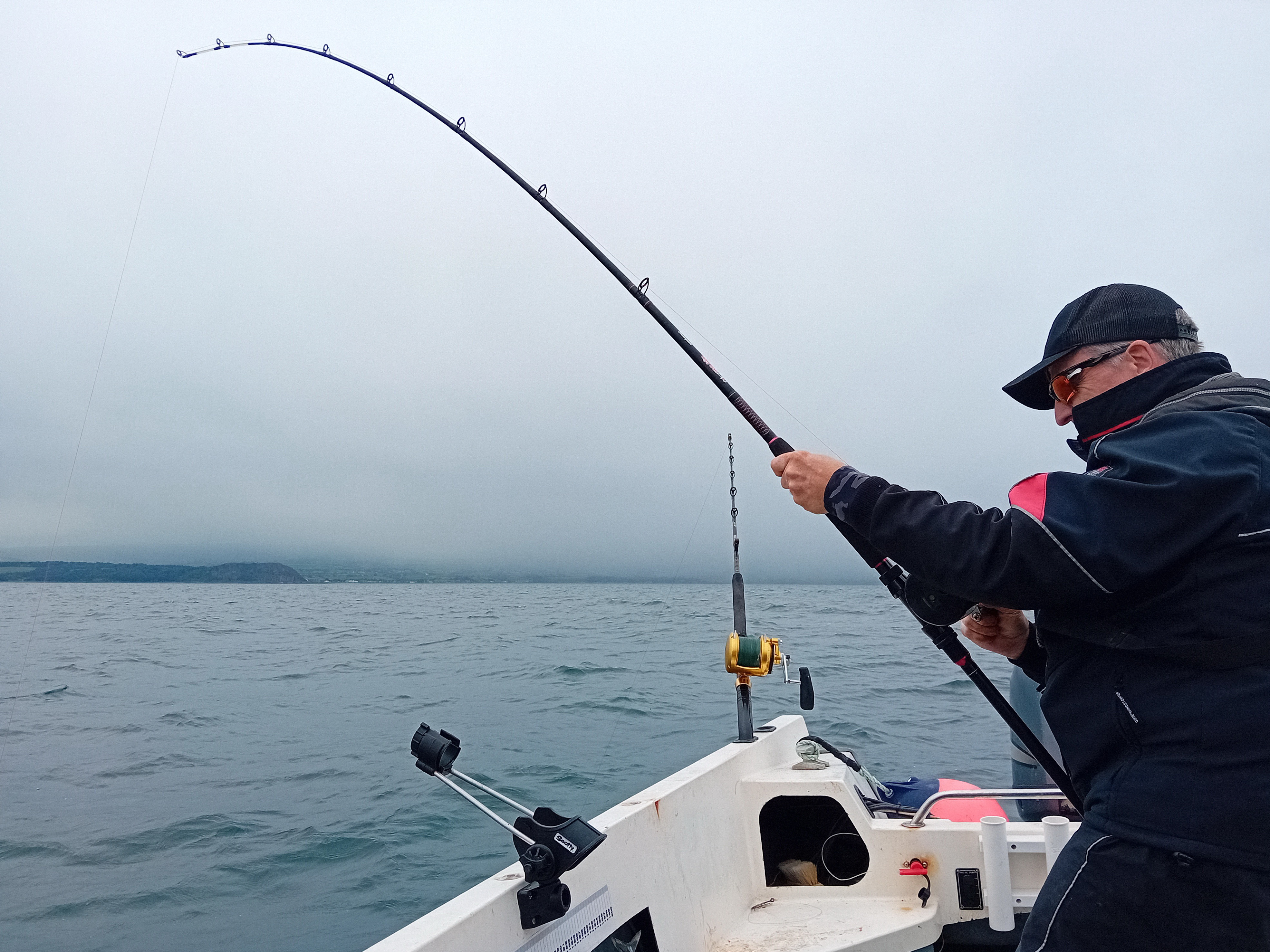 And we're in to a fish. The GX2 seeing action yet again
With the anchor set, my intention was to give Fintan "first shout" at whatever showed up, I wanted him to experience the fun that Spurdog offer on balanced tackle, or the awesome "tug of war" battle of a "ton-up" Skate. If we could manage these goals, I would join in later and hopefully pick off a few decent specimens for myself.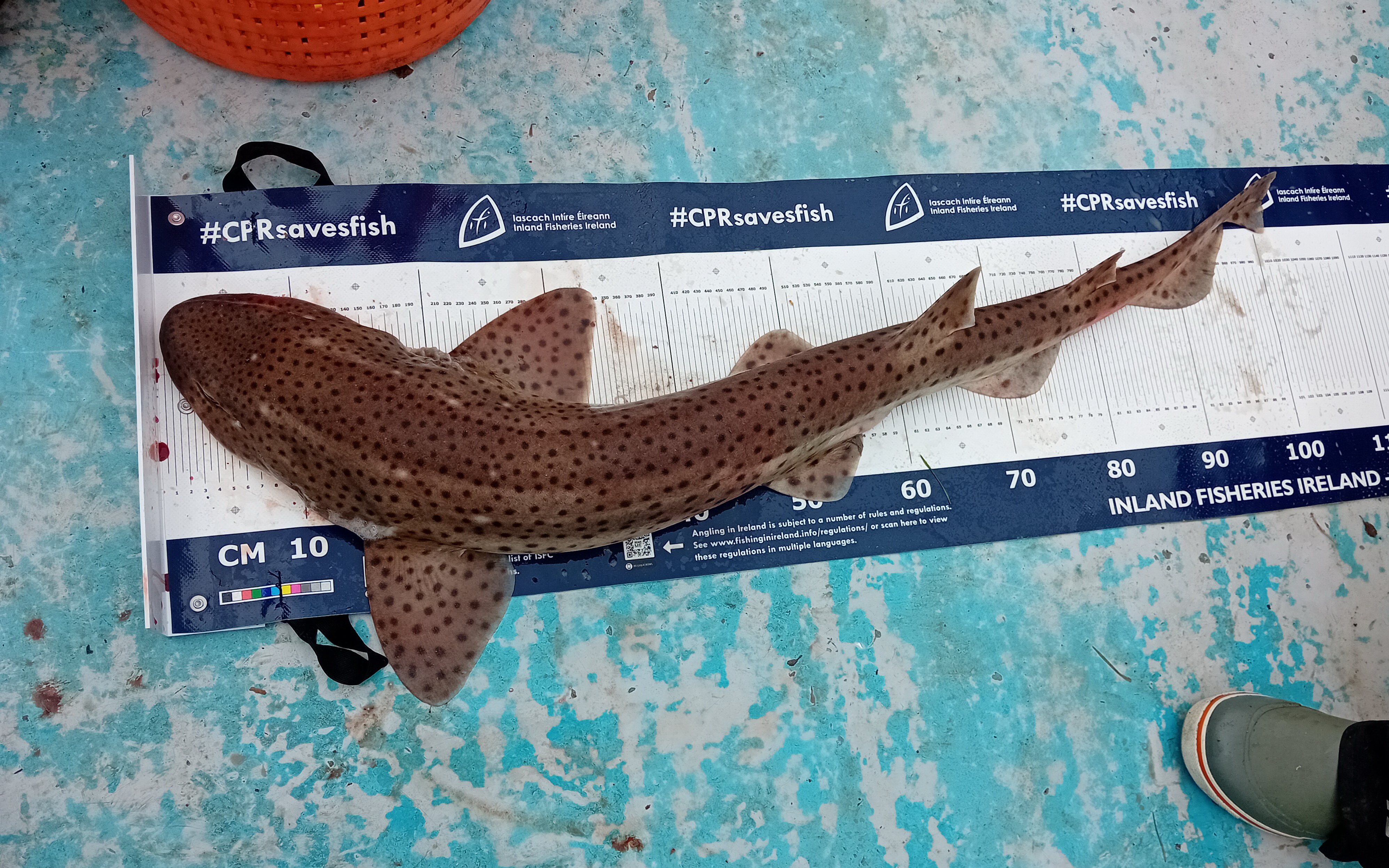 Decent Bull-Huss pushing double figures. Nice start!
Slack water before the flood can be interesting, and quite quickly, Lesser Spotted Dogfish showed up, but thankfully not in plague proportions. Vast numbers of these common mini sharks can make deep water angling extremely cumbersome! But it's good to see a few about, as they are fodder for the larger species. I mentioned to Fin, the turn of the tide can often produce decent Bull Huss, and no sooner were the words uttered, and he had one on, and safely over the gunnels. I forgot to ask if this was a new species for him, but he definitely seemed impressed. They are in my opinion spectacular fish, always with a snarling attitude and those amazing, golden cat-like eyes.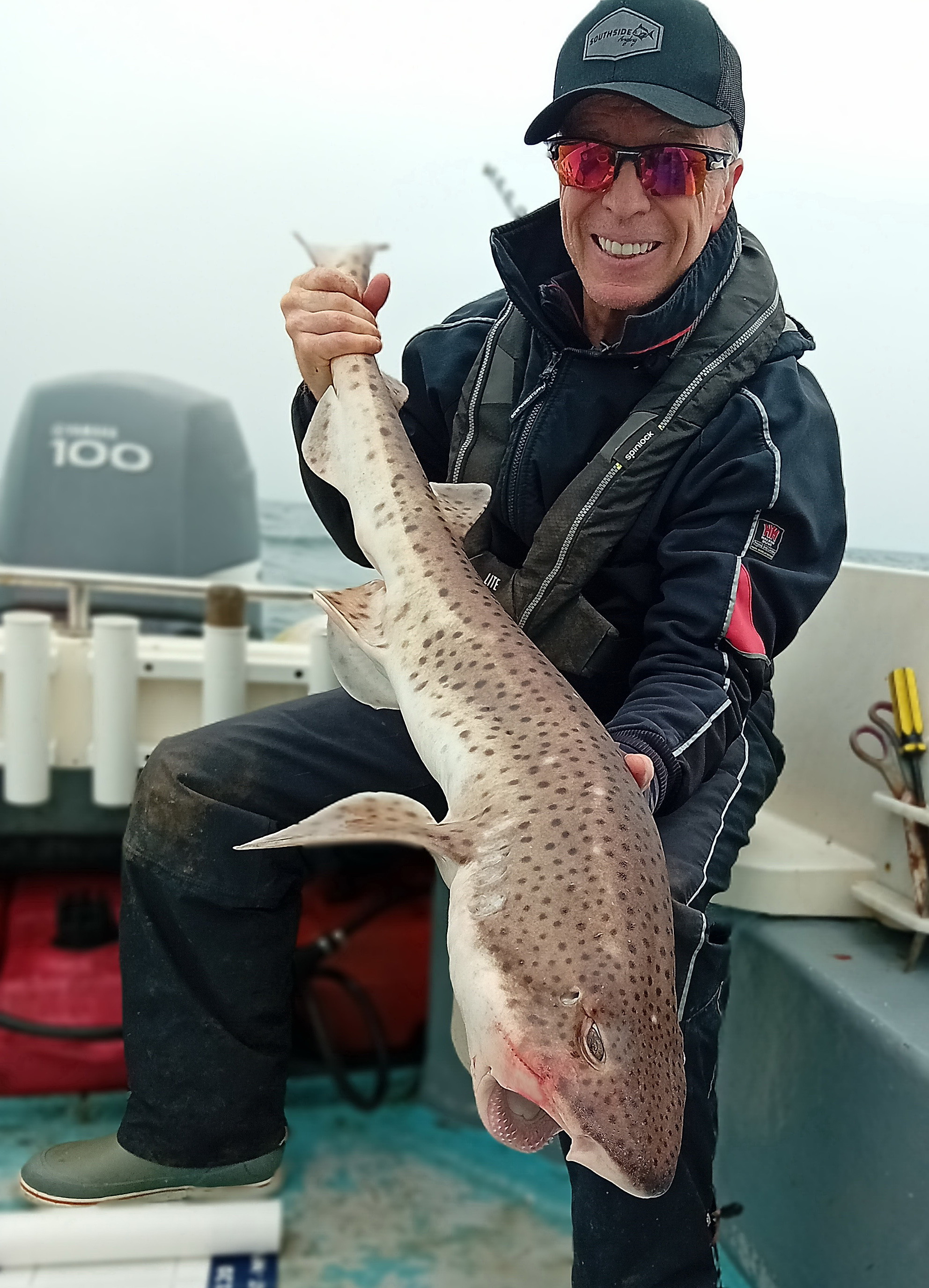 I have tagged and released dozens of Huss over the years, including specimens over sixteen pounds, so I was delighted that Fin plucked this one out, but a little envious when the rod tip nodded soon after. A smaller species this time, but Black-Mouthed Dogfish have become quite scarce over the past three years. This was a large female, and well over the specimen threshold. I was hoping, even expecting to see one, but certainly not expecting a specimen, an absolute cracker for sure.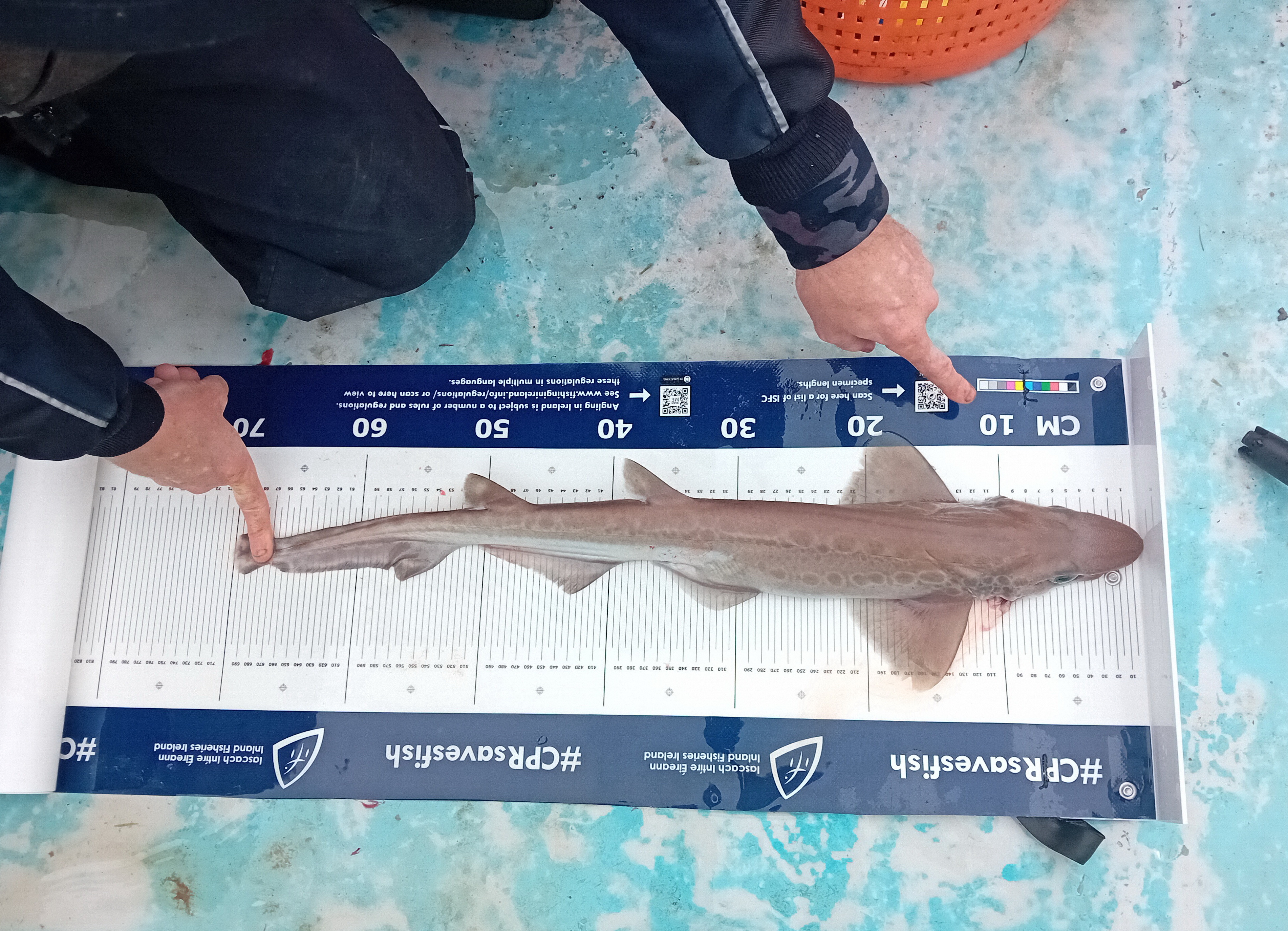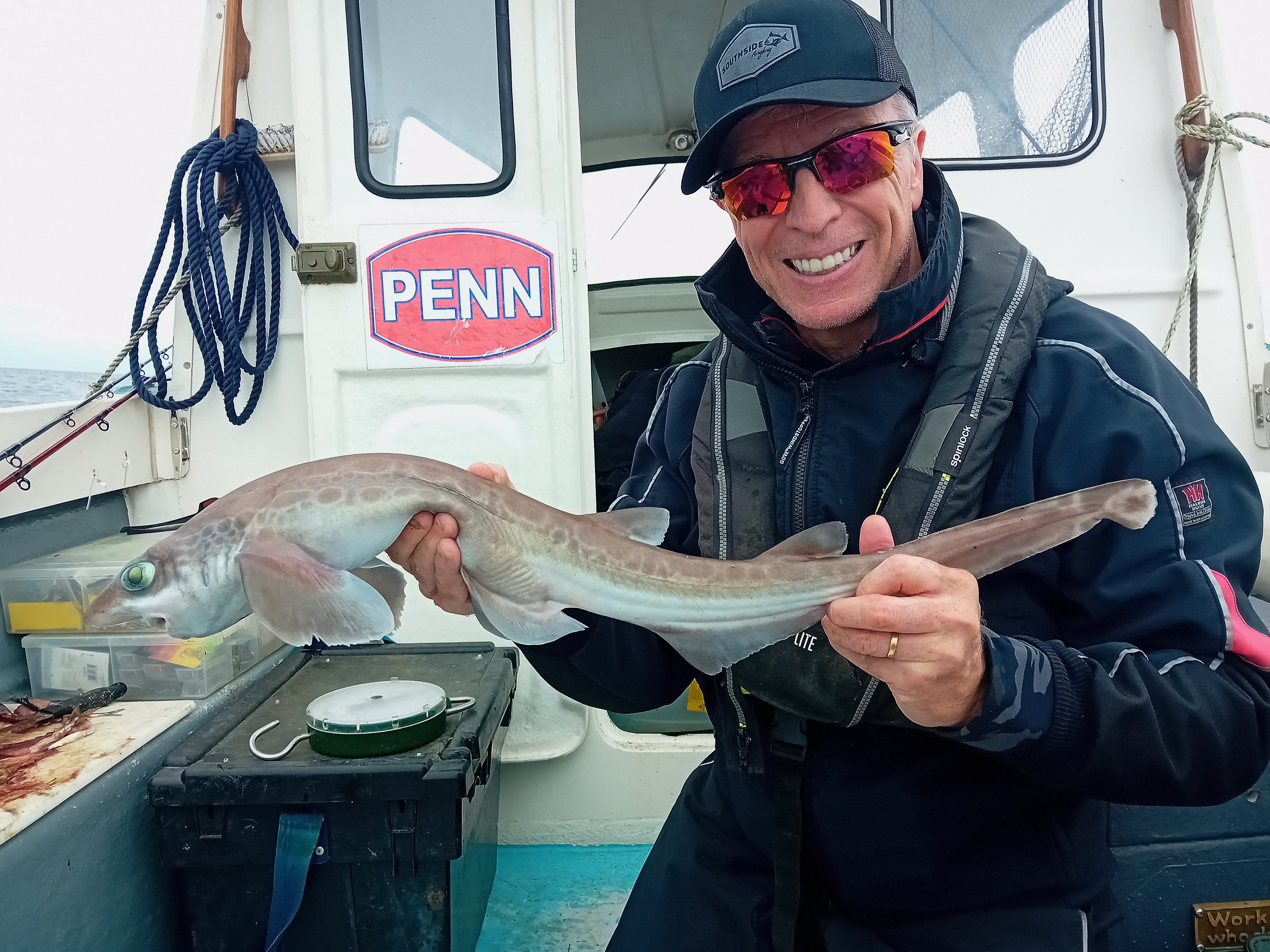 Specimen sized Black-Mouthed Dogfish are a rarity these days
The tide picked up speed during the flood, and consequently bites slowed right down, but nothing to worry about. The chum trail will do its work, and as the tide slows towards high water, some more predators should make an appearance. Notably though, no sign of the spurs so far!
The GX2 Ugly Stik thumped over, and Fintan was now into something a little "lumpier". Hard to tell when simply watching from the sidelines, but possibly a large Spur at a guess. You really never know what may show over the deeps on this mark. I stood by with the landing net, and eventually a feisty Tope broke the surface. We were knocking up a good list of species, with Pout, Poor Cod, Mackerel, Coalfish, Pollock, Huss, Dogs, Black Mouth and now a Tope to add to the tally!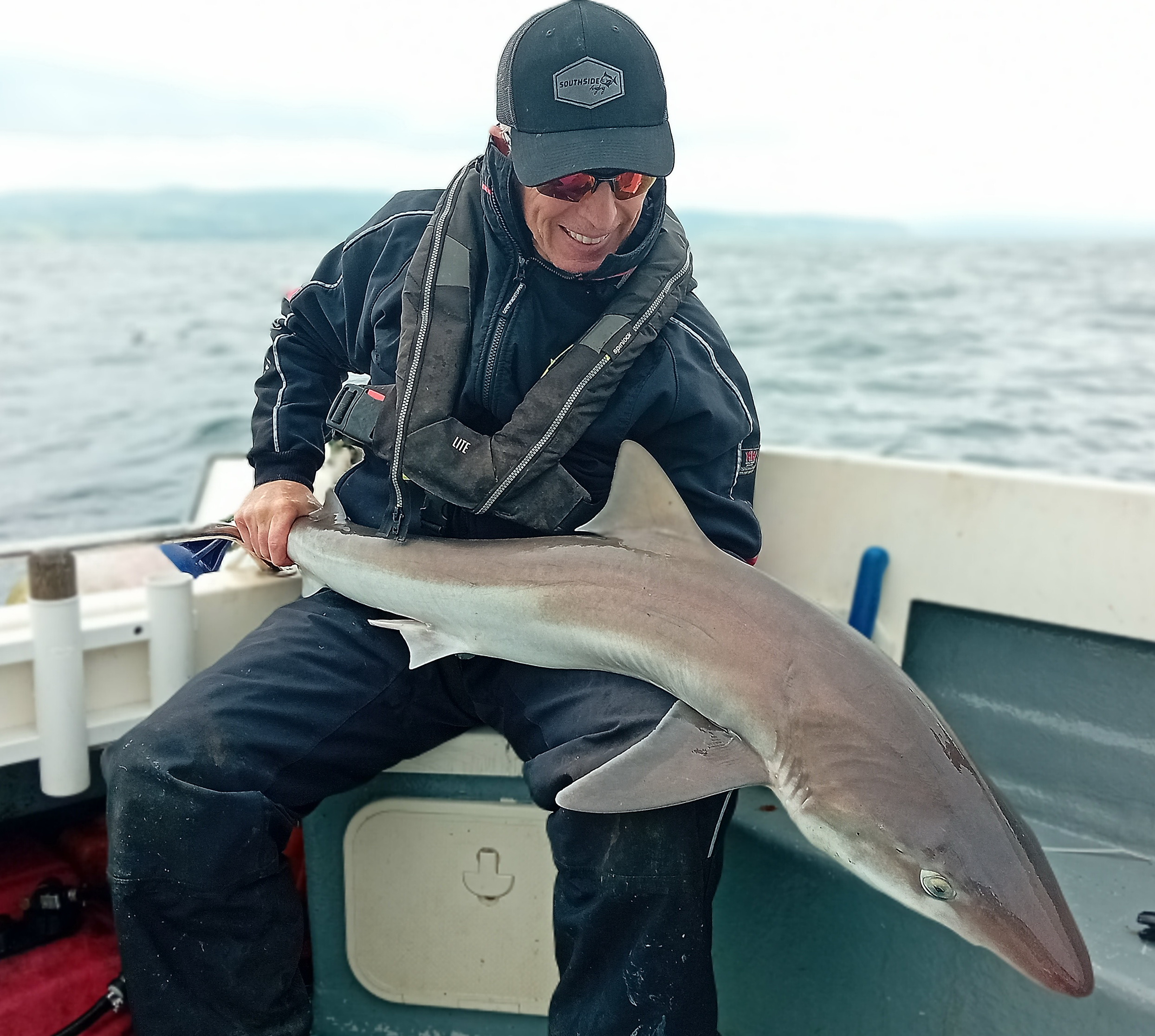 Another new species makes an appearance
I "tailed" this one by hand, careful to support the internal organs, and a quick tag beside the dorsal, length measurement and trophy shot before gentle release, head facing up-tide. It is vitally important to handle all our species with care, but particularly the larger shark species. Internal organs are obviously normally supported by the water around them, out of the water is a different story. My own tagging data with Inland Fisheries Ireland over many years has proven that carefully handled sharks, Skate and Rays suffer no lasting injury, with many recaptures of tagged fish appearing from distant seas over extended time spans.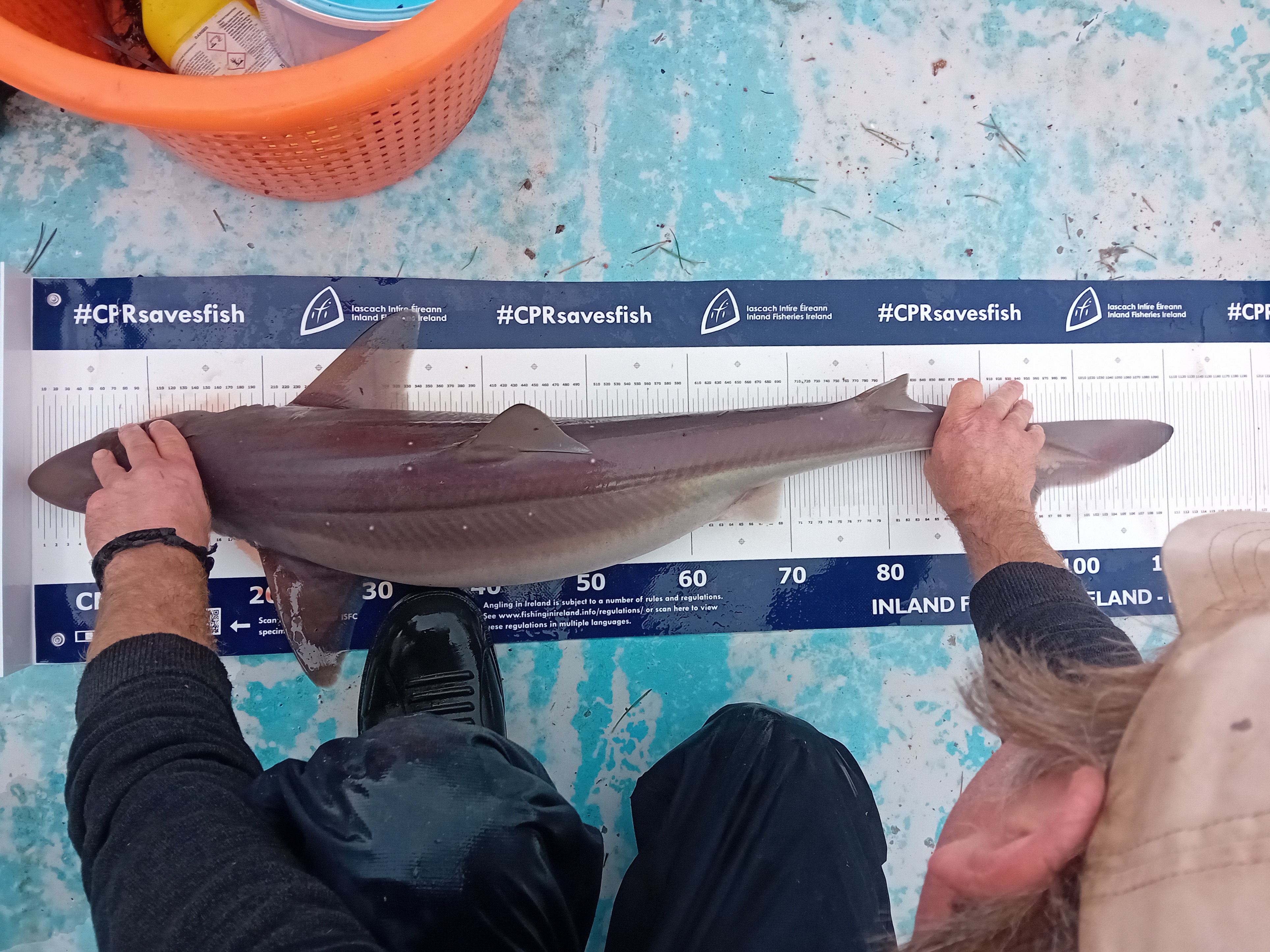 Well over the 105cm specimen length
I could take no more torture, ha ha, and to be fair, Fintan had seen enough action in my opinion. So, my reliable Penn Ally-Penn International combo was set up, and a Shakespeare GX2 thirty class with Penn 15kg twin speed, both kits firmly dedicated to ME! The big gear for Skate, the lighter kit for Huss, Spurs etc. This proved a good call, quickly tempting a Specimen Spurdog on the GX2. Perfectly balanced gear for this species.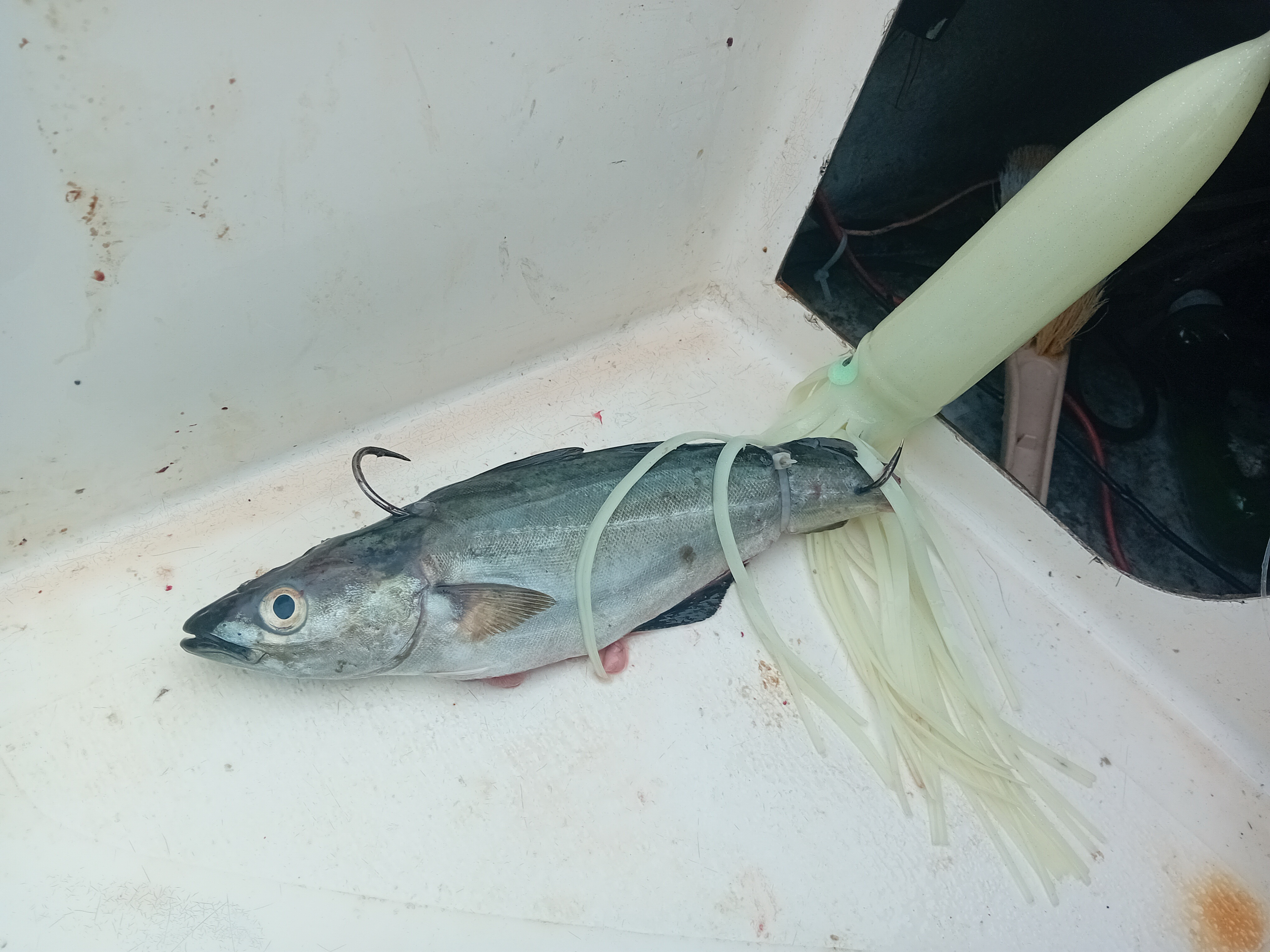 A "small" bait will suffice if there aren't too many Spurs or Dogfish about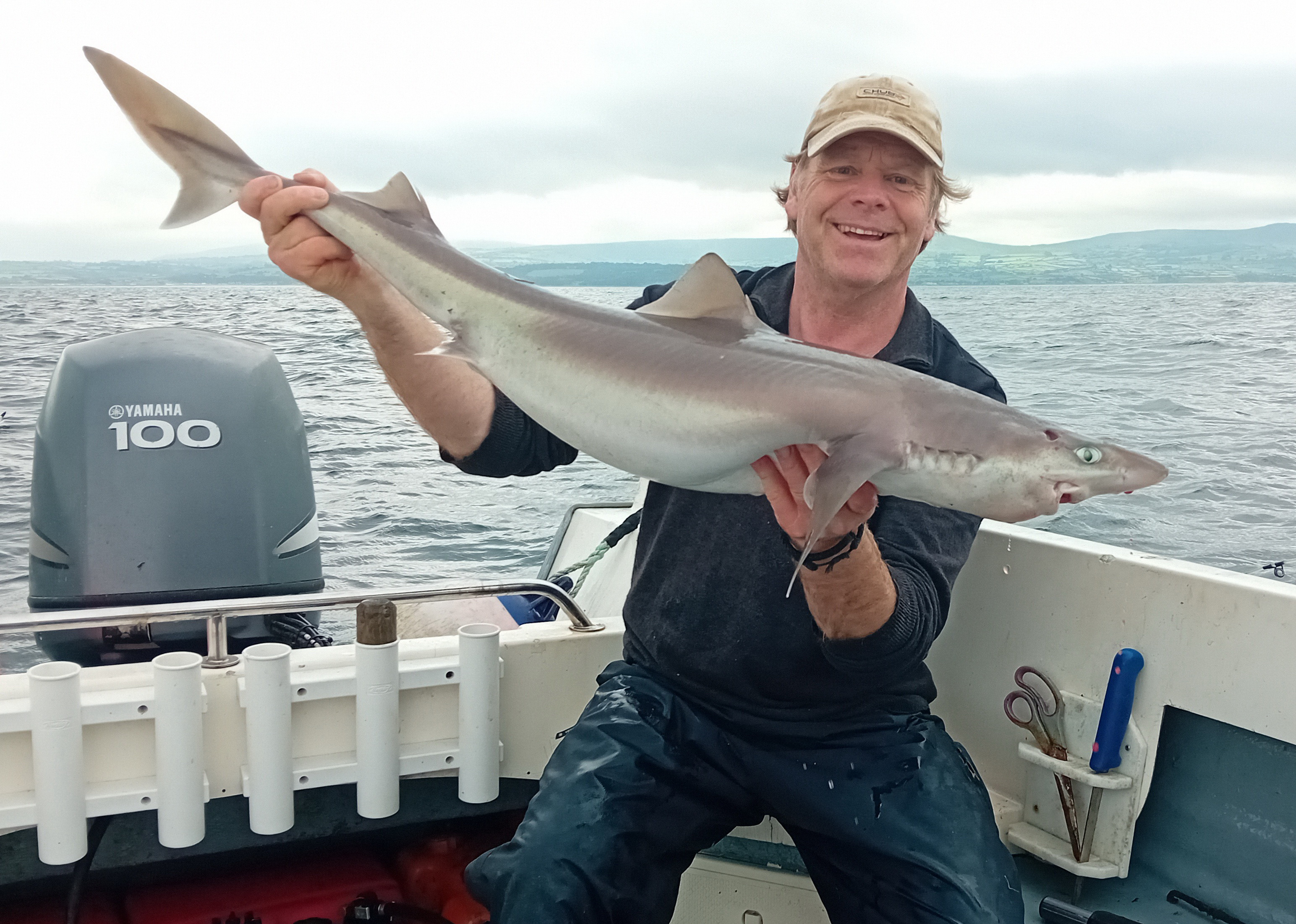 The big gear showed some interest next, a rod tip nod or two, followed by gentle pressure. I offered it to Fintan but he declined. "Your gear, your fish...I want to try and catch one on my dedicated rod". That was fair of him, and I didn't offer any argument, lifting into the now familiar feel of a "barn door" some four hundred feet below the boat. The Penn Ally 50-100 lb class has to be the ultimate Skate kit. Simply built for the job. Unfortunately it is no longer in production, but the Penn Carnage range looks even better to pair the International 50 with!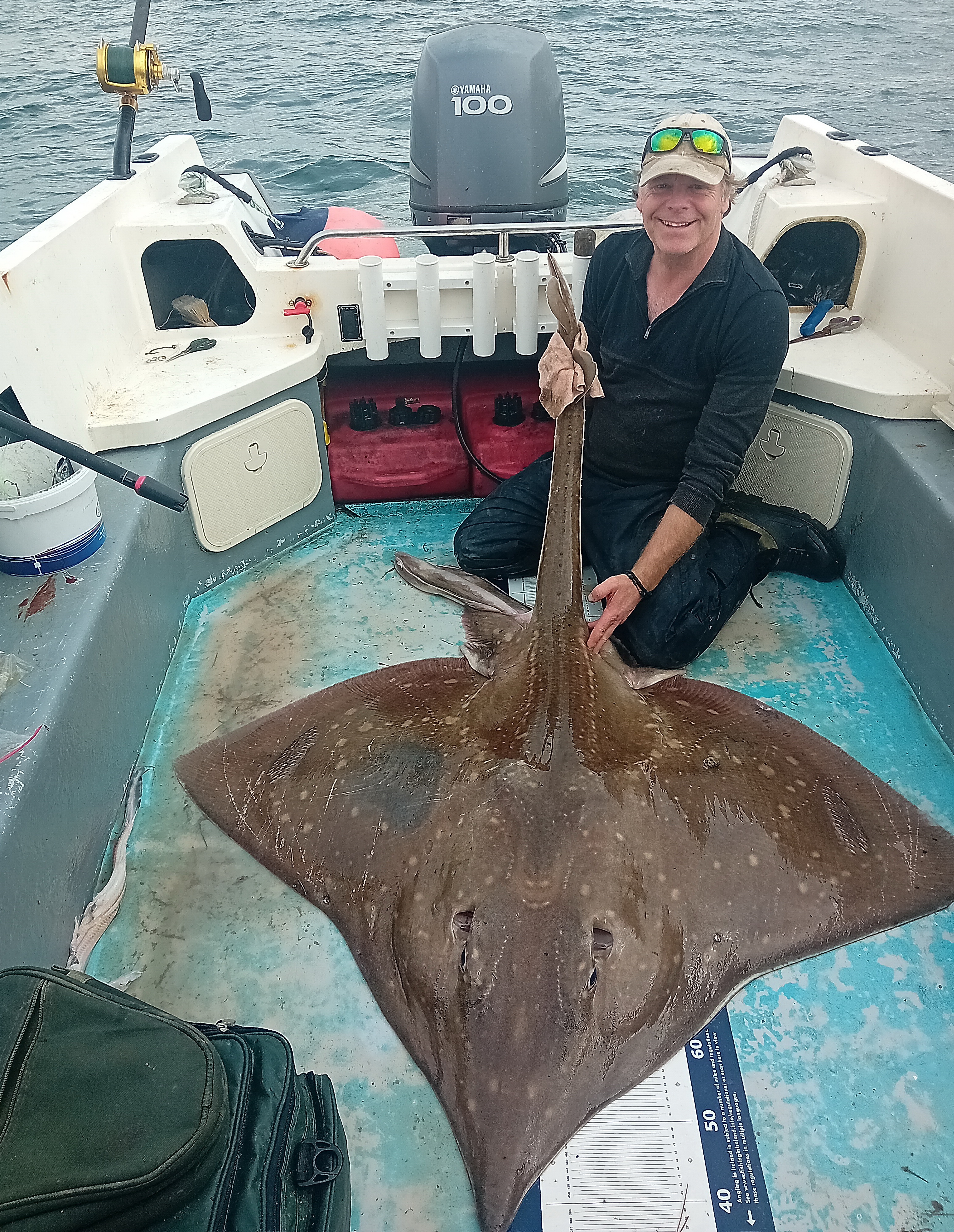 Well over the 180cm specimen length, the photograph says it all, my big cheesy grin. Shuffling the big fella into a purpose made sling, he was slipped back over the gunnels, with an added arrow tag in the wing for future reference. Certainly our trip was a successful venture by this stage, but we weren't finished just yet. A Huss next, and soon followed by another Specimen Spur, as the tide slowed down towards slack high water.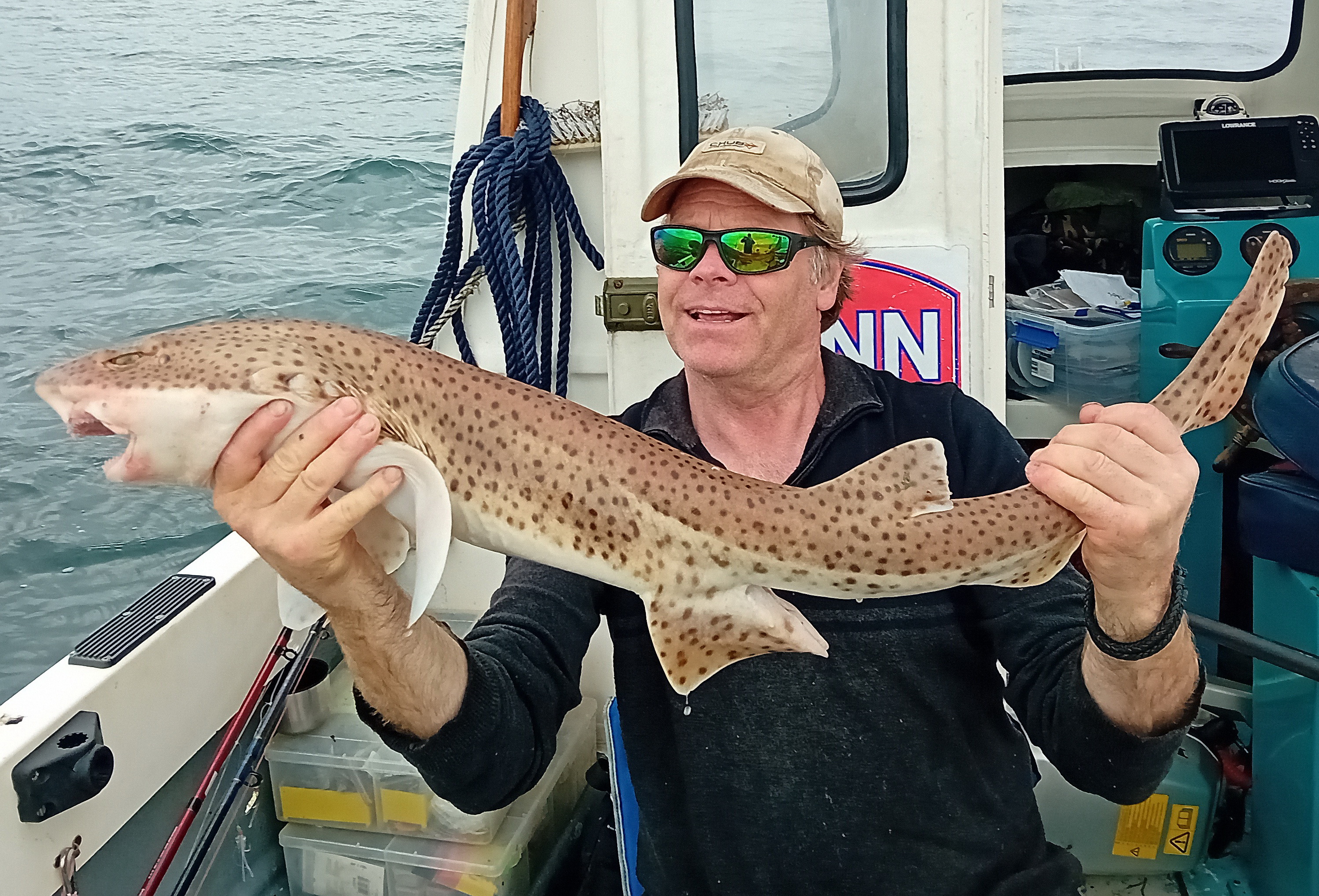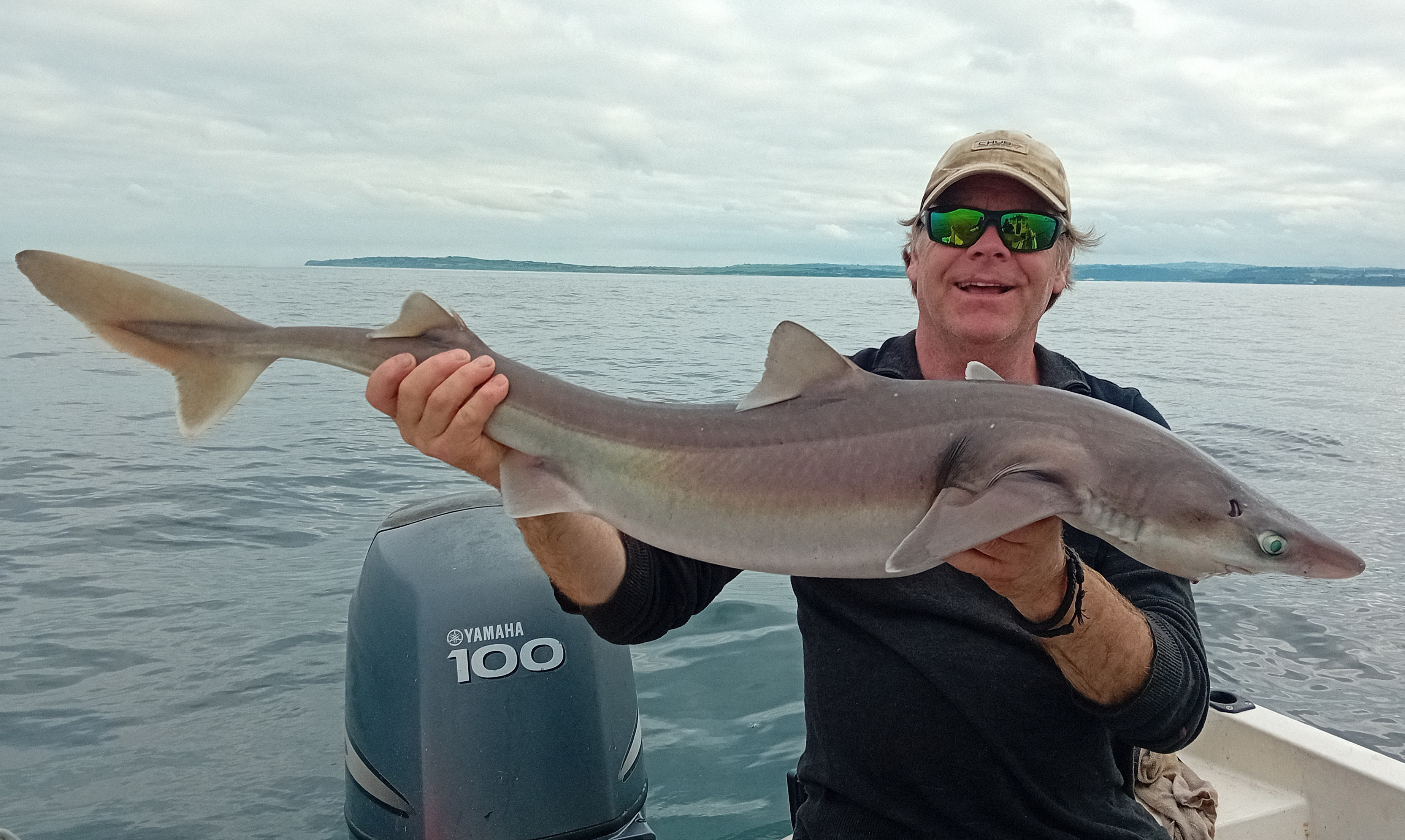 Fintan persevered, you can't keep an old match-man down, and also managed to tempt a Specimen Spurdog, absolutely delighted with his new species. This left me nosing ahead three-two on the Specimen tally, but with the day wearing on, and high tide threatening to slacken and turn to the ebb, it was time to think about lifting the anchor and head for harbour.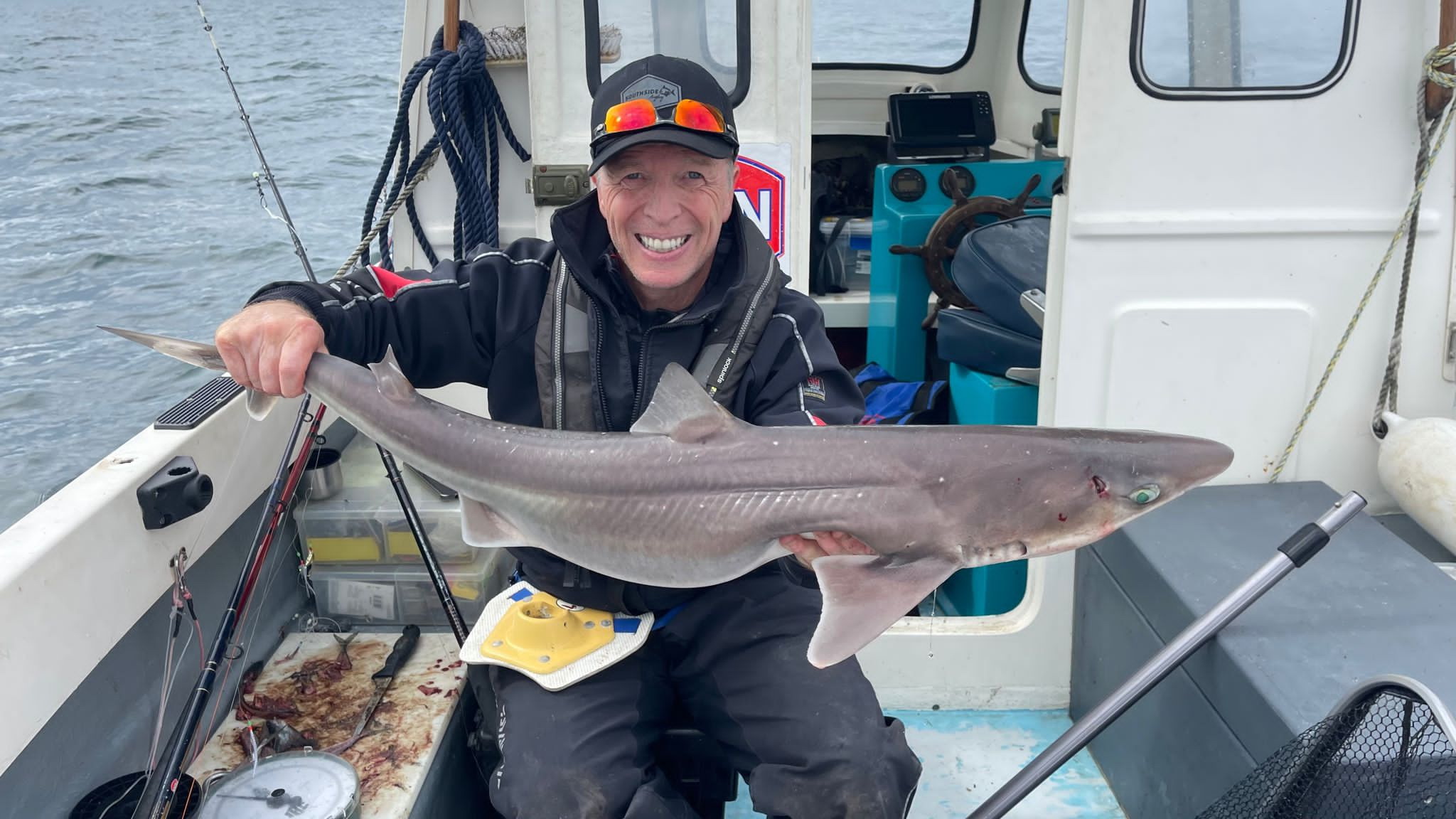 Time for one more bait freshen and drop over the side, down through the depths, as with all anglers, there has to be the last cast! I began the clearing up task, packing gear away, washing down the deck etc. Fin's Penn Ally buckled over...happy days, another Skate had made an appearance, and just in the nick of time!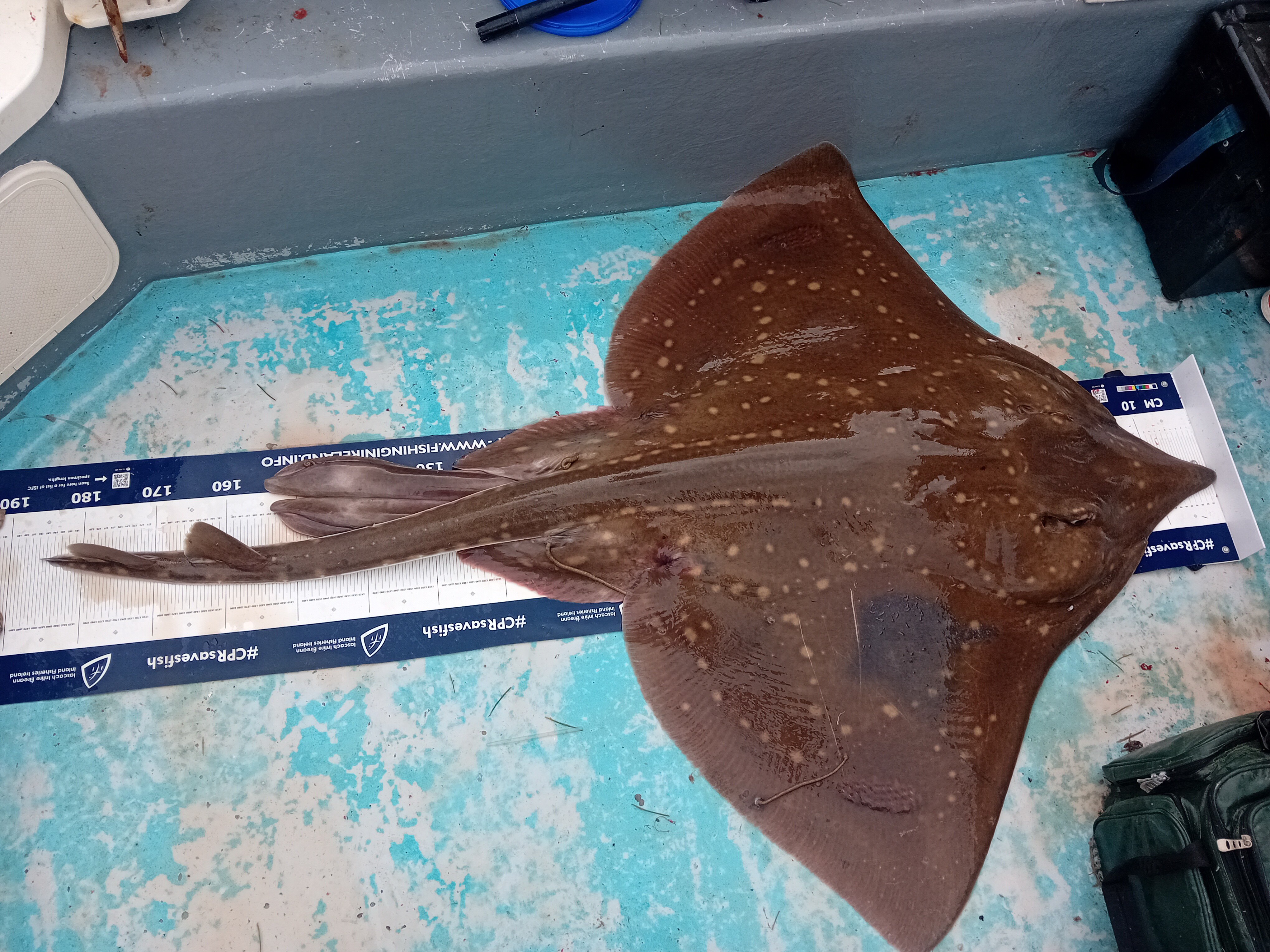 With the harness on, he could play the fish to the surface at his leisure while I carried on with the tidy up. The 50 International twin speed makes this task a pleasure. "I can see a bit of colour" he calls, and on inspection, not a monster Skate but a decent size for sure. Over the gunnels and on the measure board, at over 180cms, another specimen, and a perfect end to an extremely enjoyable and successful trip. Three specimens each, I will take that any day of the week!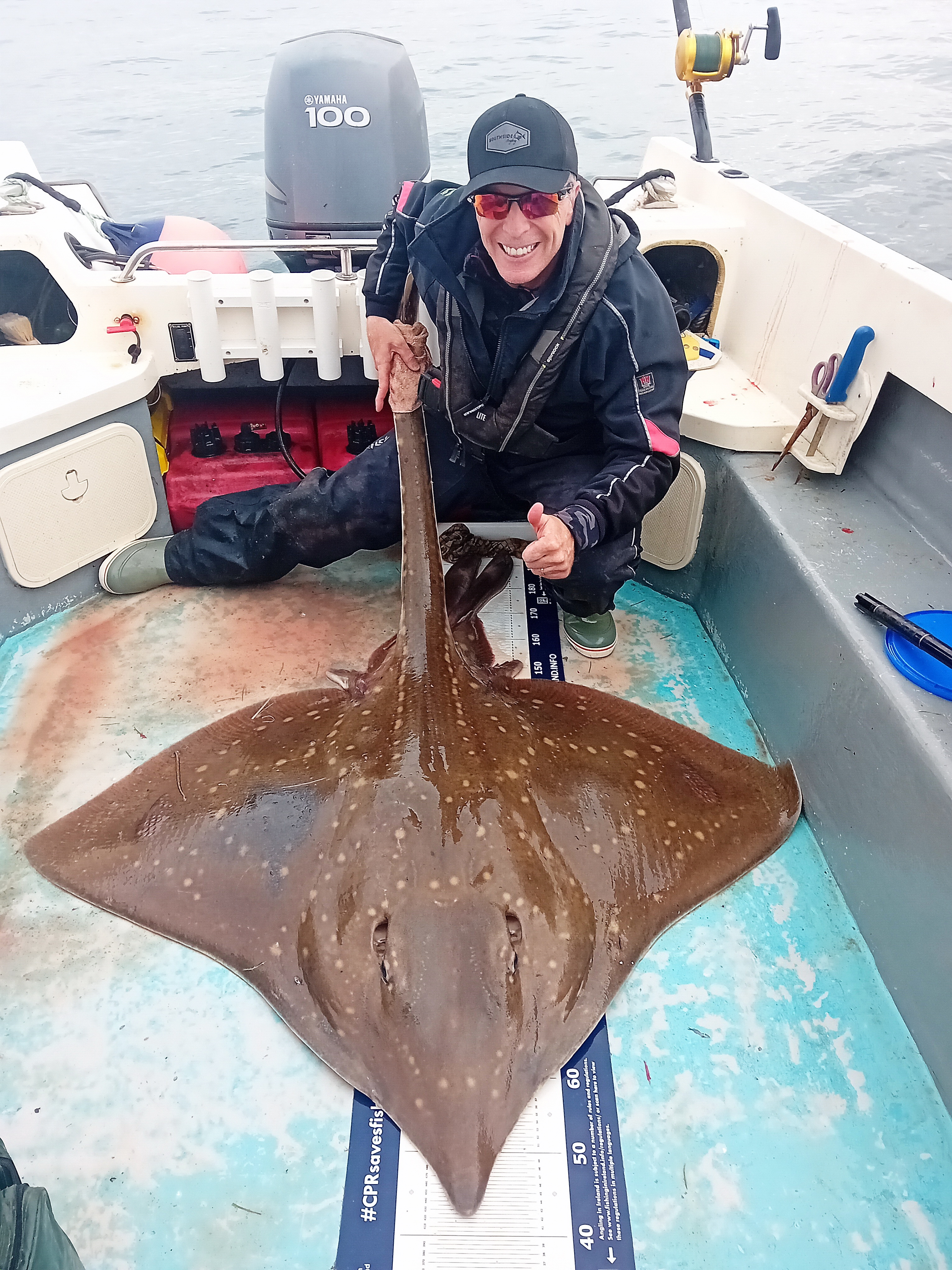 Safely back on dry land, we chatted about the day, and said our good-byes. I didn't forget to reiterate a previously sworn agreement...."you still owe me a specimen Ferox Trout, Fin". "That's a given" he replied. Watch this space, hopefully, if we're all still alive and kicking by early 2024, I can collect the debt, and tick the Ferox Trout specimen box!
Back