The River Barrow at St Mullins
Terry's Travels
The River Barrow at St Mullins
I have written short stories regarding Shad on the River Barrow numerous times, here is another.
It's almost thirty years since I first sampled the delights of Shad angling on the mighty River Barrow, in the County of Carlow. Fortunately, I have been lucky enough to return to St. Mullins almost every year since, becoming somewhat of a tradition on my seasonal angling calendar.
Annoyingly, I am well aware that I rattle on too much about the stunning locations and superb angling on offer in and around Ireland. Consequently, my partner insisted I should introduce her to some of these favourite Irish getaways. I suggested a short camping trip if the weather proved favourable, and surprisingly, she enthusiastically agreed, with a "get-out" clause, basically a ticket home if it wasn't up to scratch!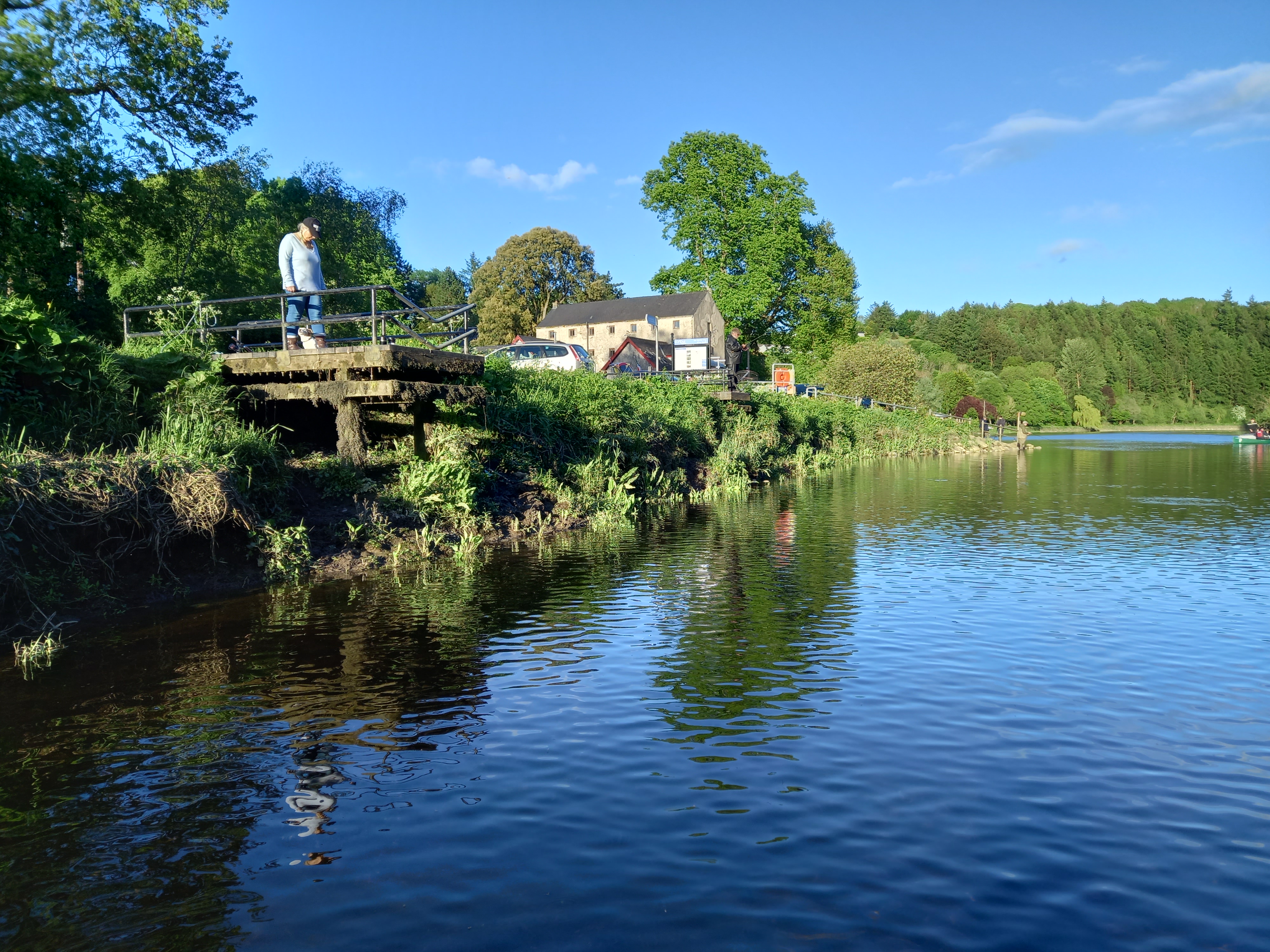 Looking downstream, car-park section
It is well documented that the month of May is generally the optimum season to target Shad on the River Barrow. Being tidal, weather and temperature dependant, May offers the peak seasonal migration of Twaite Shad from saltwater to river to spawn, returning to open sea when the task is complete. A remarkable feat really, when you look into the aquatic complexities of transitioning from one environment to another, and back again.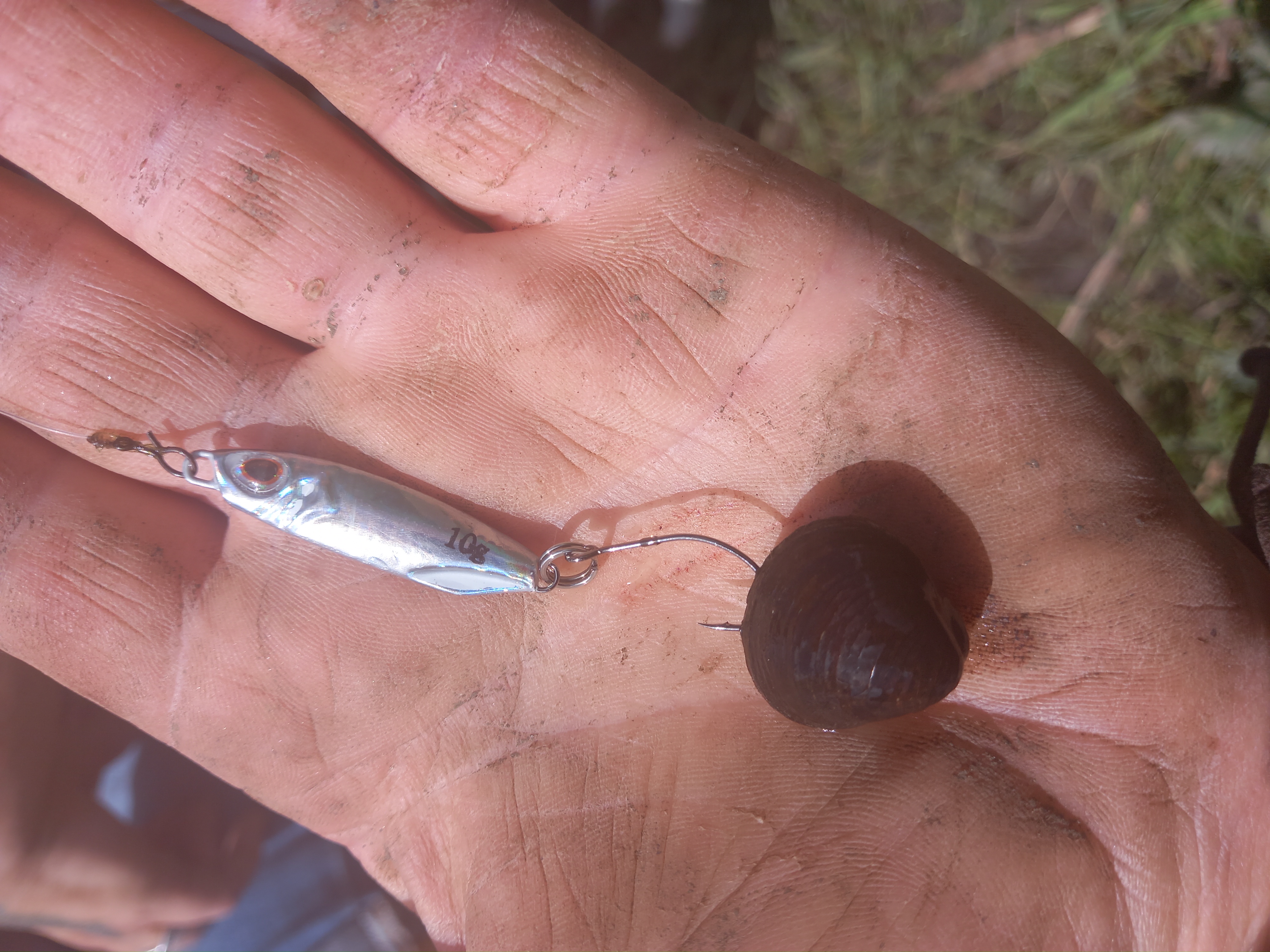 One major change to the Barrow River, introduction of Asian Clam (invasive) only time will tell the consequences of this
May soon arrived, along with all the ingredients required for a potentially decent trip. With the jeep loaded, and new roof tent fitted, we hit the road on the four hour, two hundred and fifty mile journey, to my own personal sanctuary known as St. Mullins, in the Barrow Valley. Over the past thirty years, this section of river has seen little development I am pleased to say. A small amount of commercialism in the form of a river-side cafe, and there is also the long-established and historic Blanchfield's Bar for entertainment and a pint. Over my three decades of happy aqquaintence with this venue, little has changed, and therefore, personal peace of mind may still be achieved.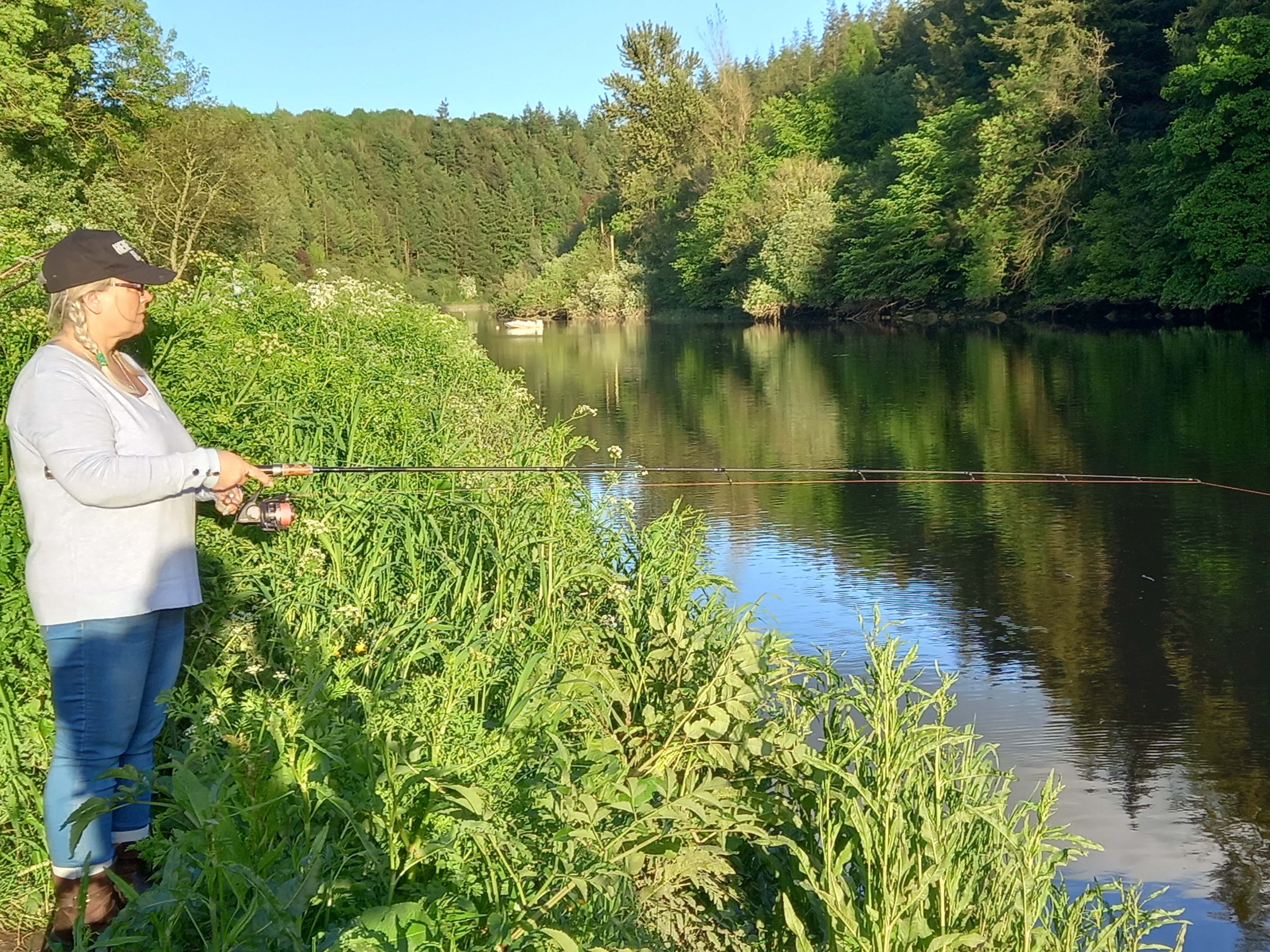 As always, driving down the valley, and up the hill towards the ancient Mote and Bailie, I feel the weight of modern life lift from my shoulders. Whether I catch is not so important these days, I know I will always return home healthier in mind and spirit from the experience. As I mentioned earlier, little if anything has altered since my previous visit a year before. During this time, millions of gallons of water have passed over the weir. Salmon and Trout have run the gauntlet of nature and humans. Roach, Bream and Dace have worked their way up and down the stretch from here to New Ross. Hopefully, once again, Shad will be responding to their natural urge to spawn, which in turn, also attracts much appreciated tourist revenue to this small hamlet from anglers near and far.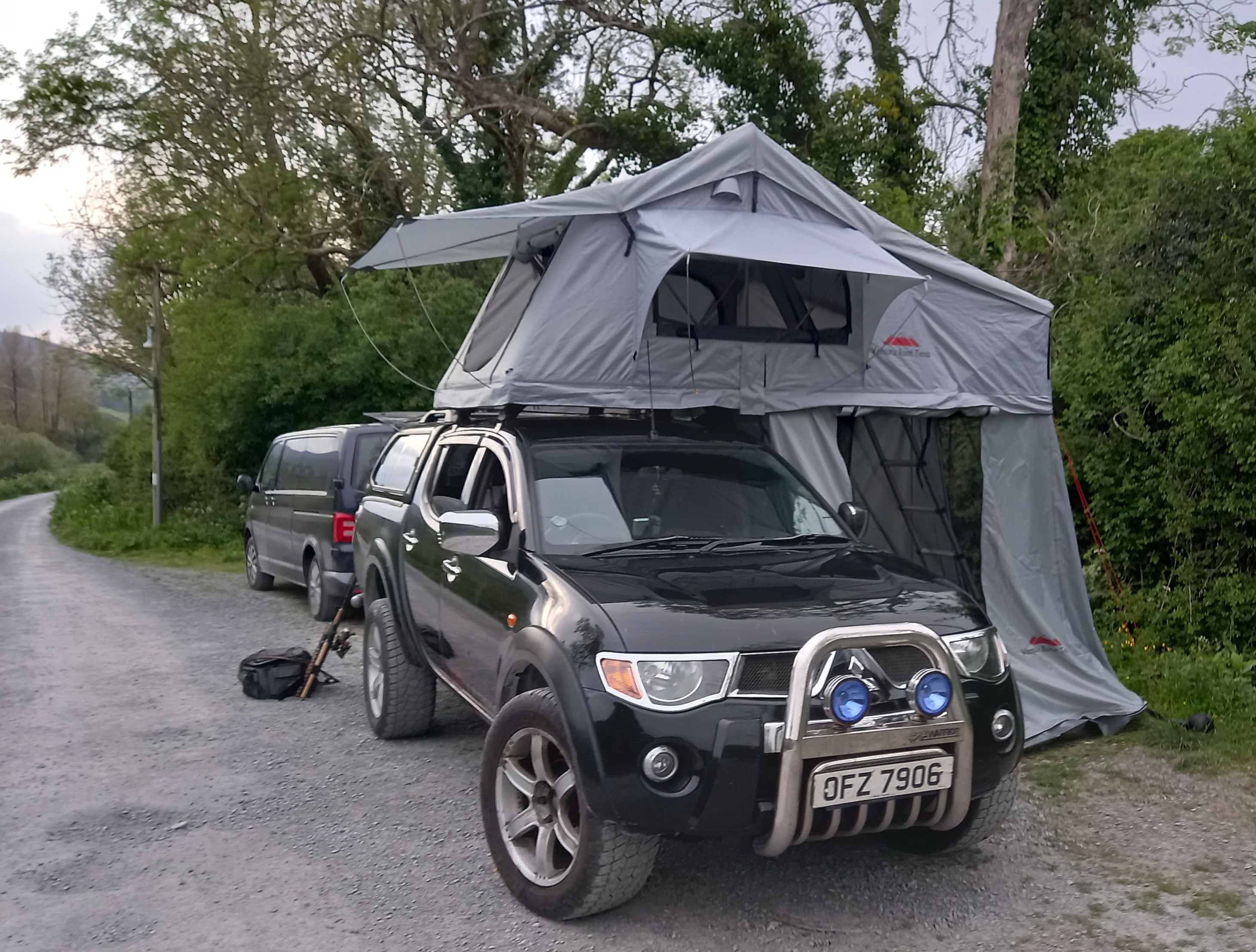 Base camp organised
On arrival, all is how it should be. The gravel road full of pot holes, the gentle almost non-existent breeze. Blue skies and copious greenery reflecting off slow moving water, amid a "mini-Canada" style back-drop. I could now breathe freely once again. Without need to ask, I could tell Michele was pleasantly surprised with my choice of venue. This is where the roof-tent now comes into its own. A room with a view, and you get to pick the view!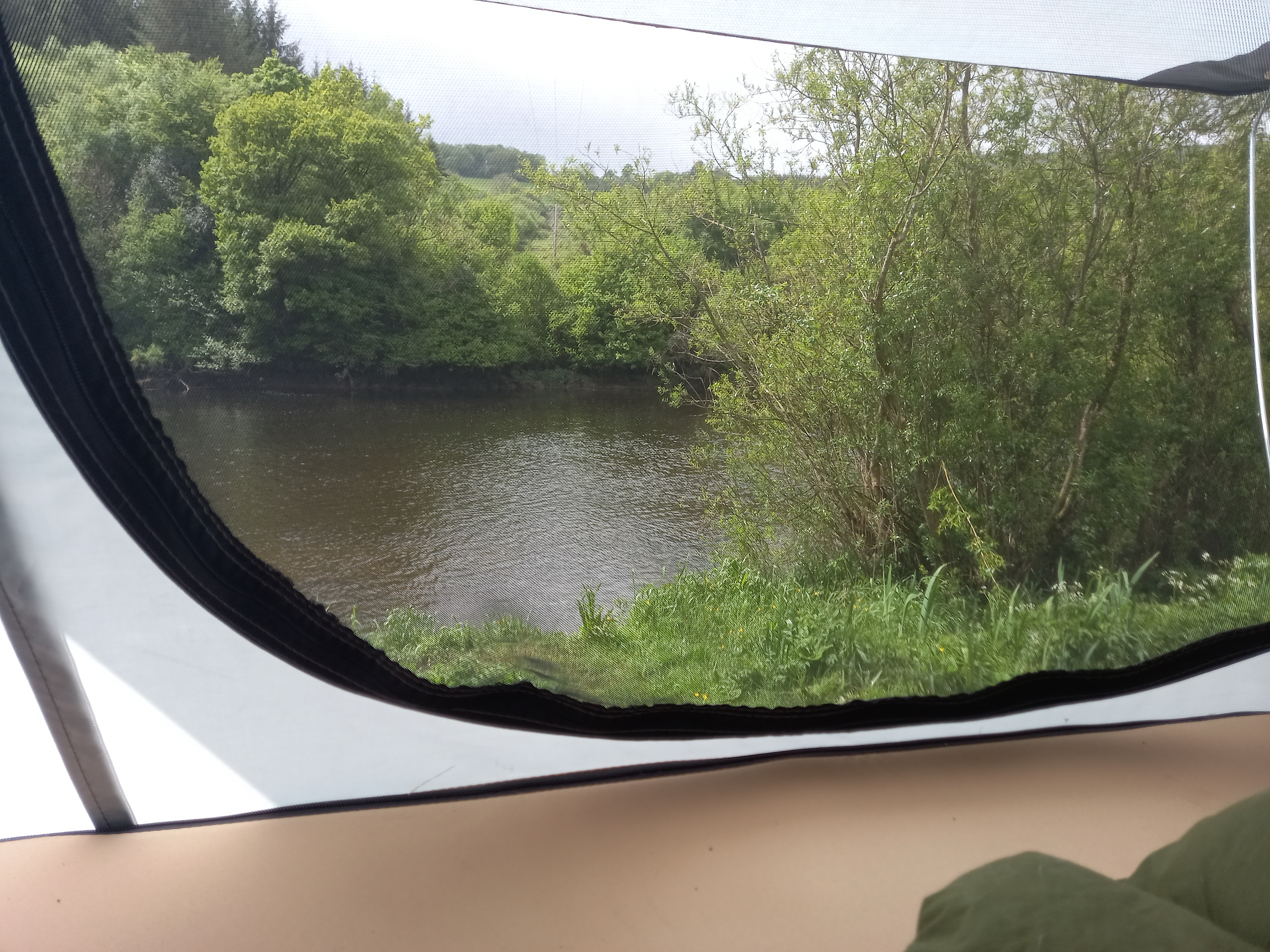 View for the next couple of days, not too shabby!
Prior to this trip, I spent some time in researching and pricing a roof tent, and opted for the Ventura brand. It is one of the cheapest on the market, and of very good quality. It packs away reasonably neatly and without fuss, and can be set up in a few short minutes, opening quite easily, much like a "pop-up" book.
With base camp established, there was enough daylight to give Michele a crash course in casting a lure. She took to it like a duck to water, and soon had her first ever fish landed. The soft action of the Berkley Fireflex is a perfect a compliment to the dogged fight of a Shad. It is a light, user-friendly wee spinning rod, and seemed fair to let her keep it, her first ever fishing gear!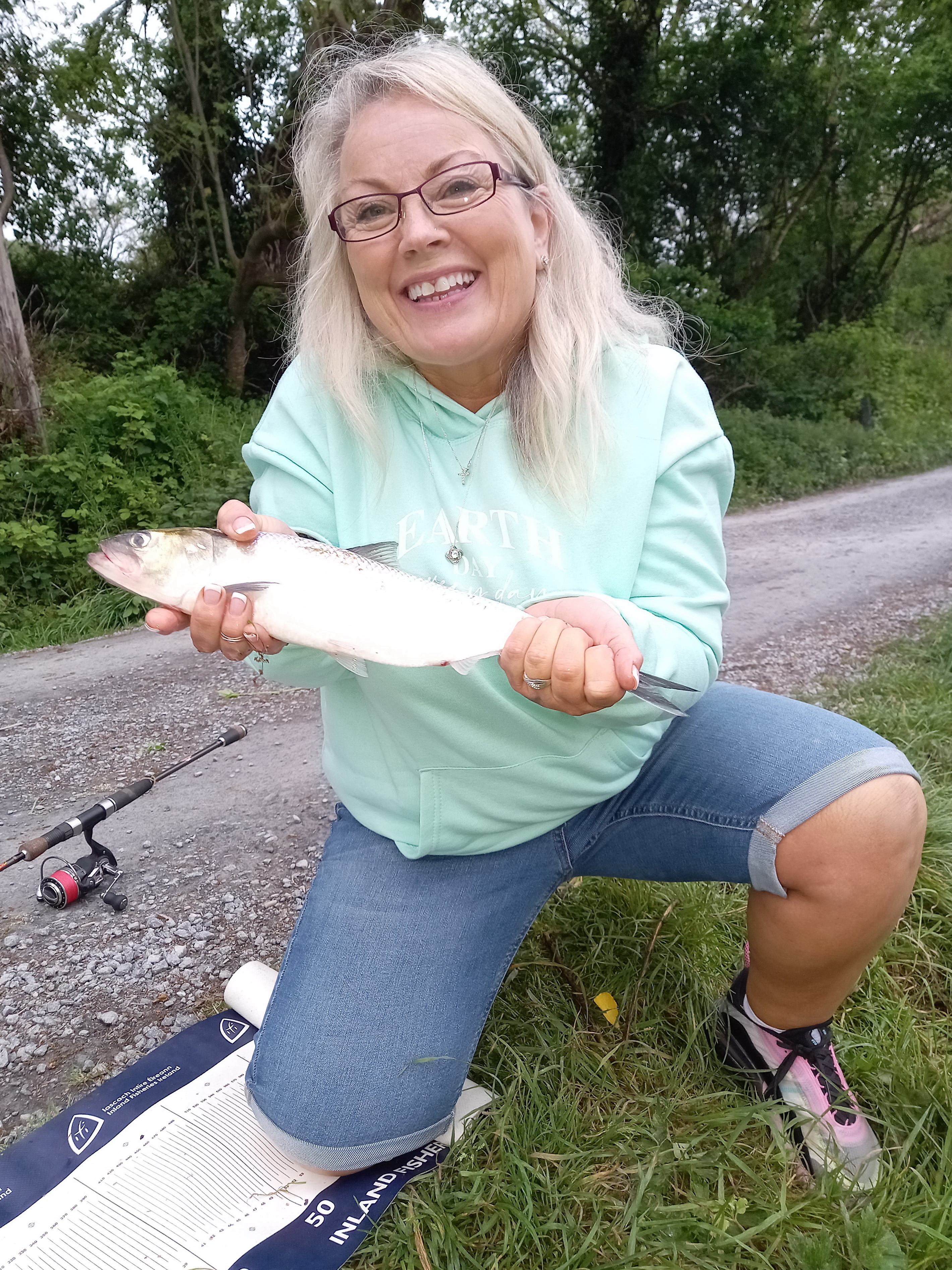 The following day, I set out in earnest to catch myself a specimen. Specimen weights had been recently adjusted by the Irish Specimen Fish Committee. Weighing a fish other than a potential Irish Record is no longer permitted, with length-based specimens now the new target. This is in a sensible bid to reduce any un-necessary handling, thus returning a fish quickly and safely to the water. Set at fifty centimetres, not an easy target to achieve, but then, Specimen Hunting for that fish of a lifetime is supposed to be a tough challenge!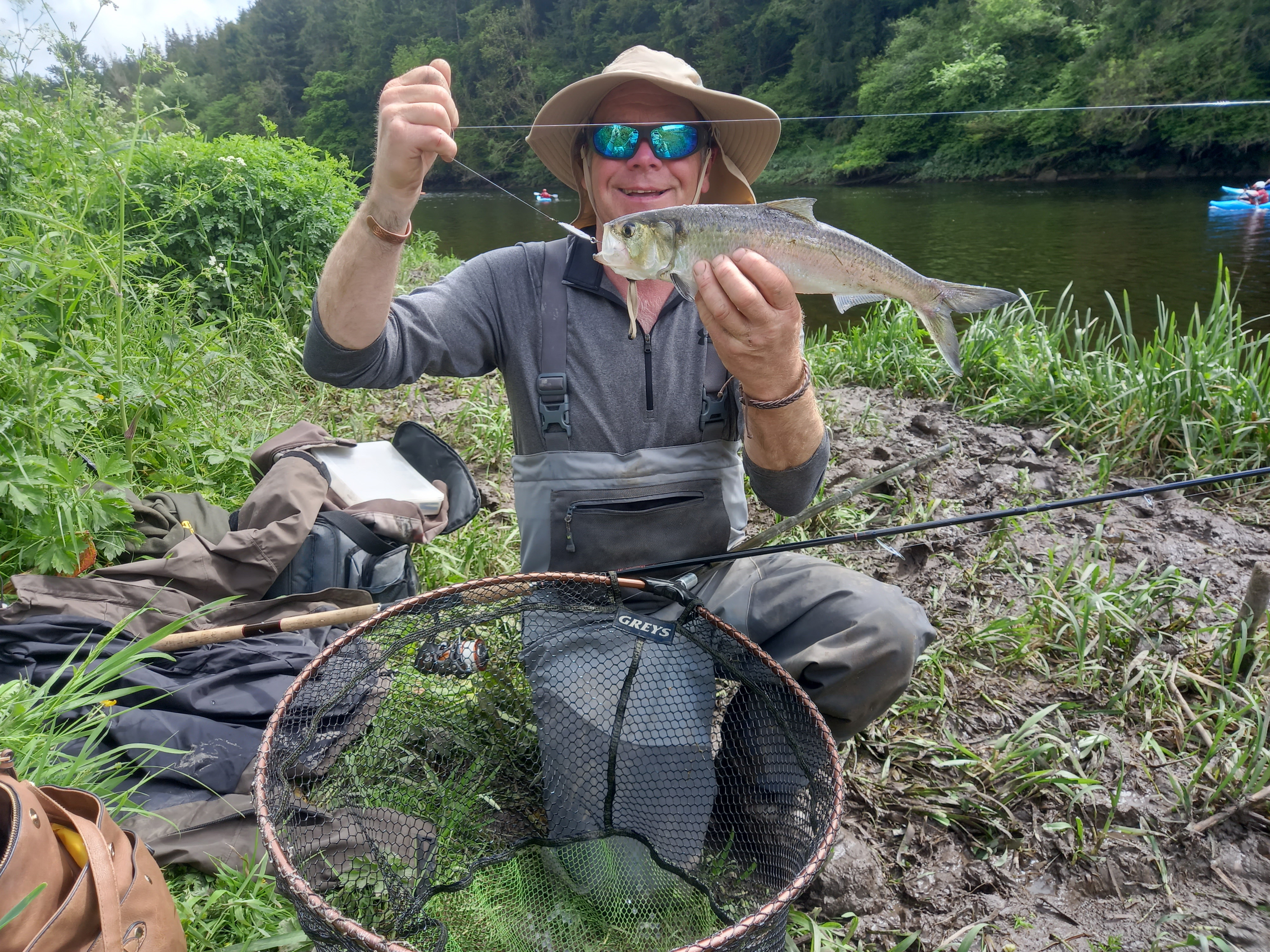 Apologies for the hat, but I'm now officially an old person and need to look after myself
I fished hard all day, from sunrise amid the dawn chorus, to sunset, stopping only for lunch, tackle changes, or to net a fish for Michele. By dusk, and a tally of over one hundred Shad landed and released, none were even close to the specimen mark. I could see this specimen challenge would not be easy, but what an enjoyable day none the less. Superb fishing, wonderful scenery and good company.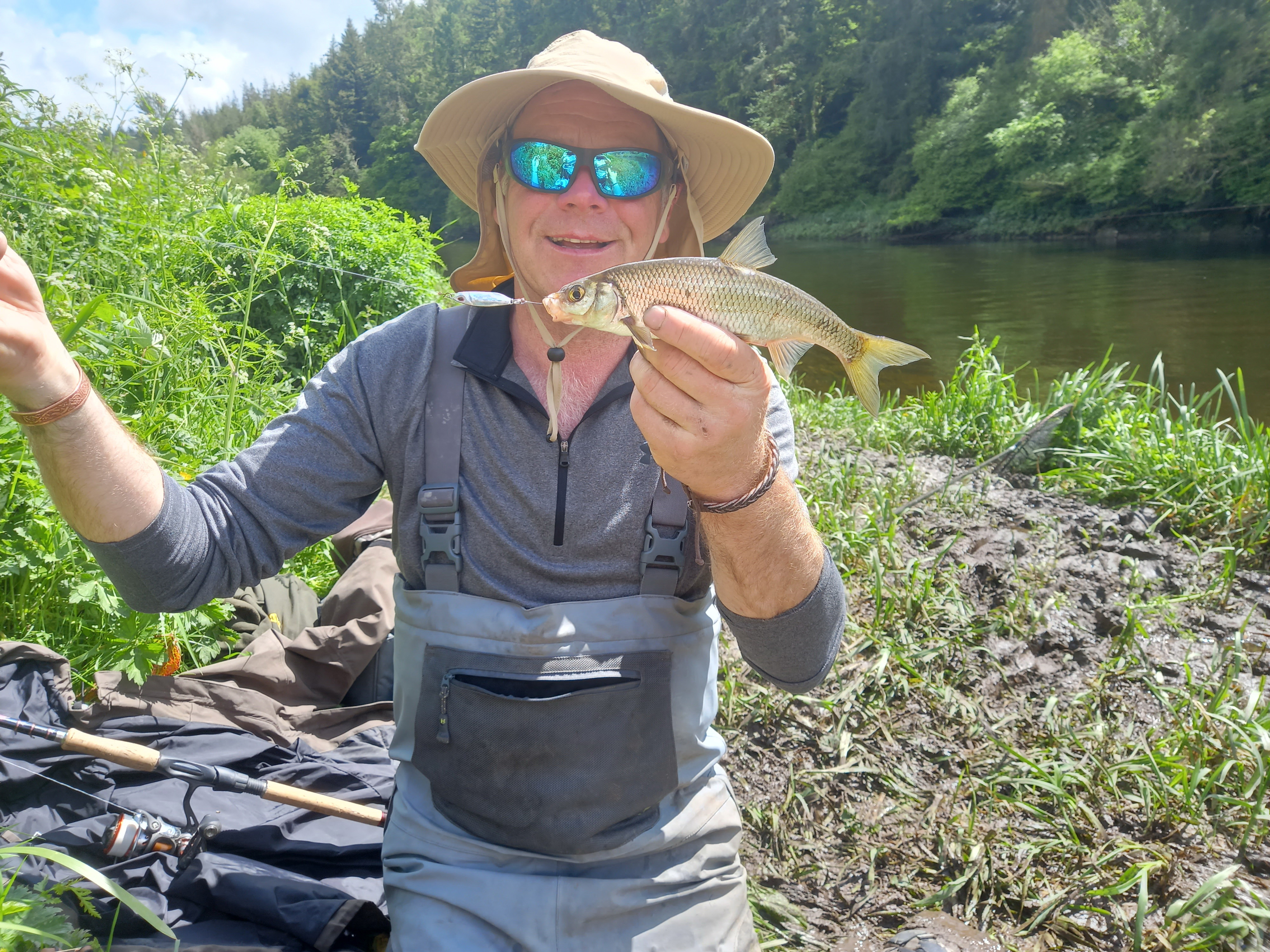 Even mild-mannered Dace will smack a lure now and then
The following day, sun now in full glory, our camping-fishing trip had becoming a delightful holiday break. The weather was playing ball, and so were the fish, running the river in healthy numbers, but nothing anywhere near the magical fifty centimetre bench-mark. By late afternoon, I had given up on the specimen challenge, with similar numbers caught and released as with the previous day. Michele was gaining experience too, landing, un-hooking and carefully returning her own catches.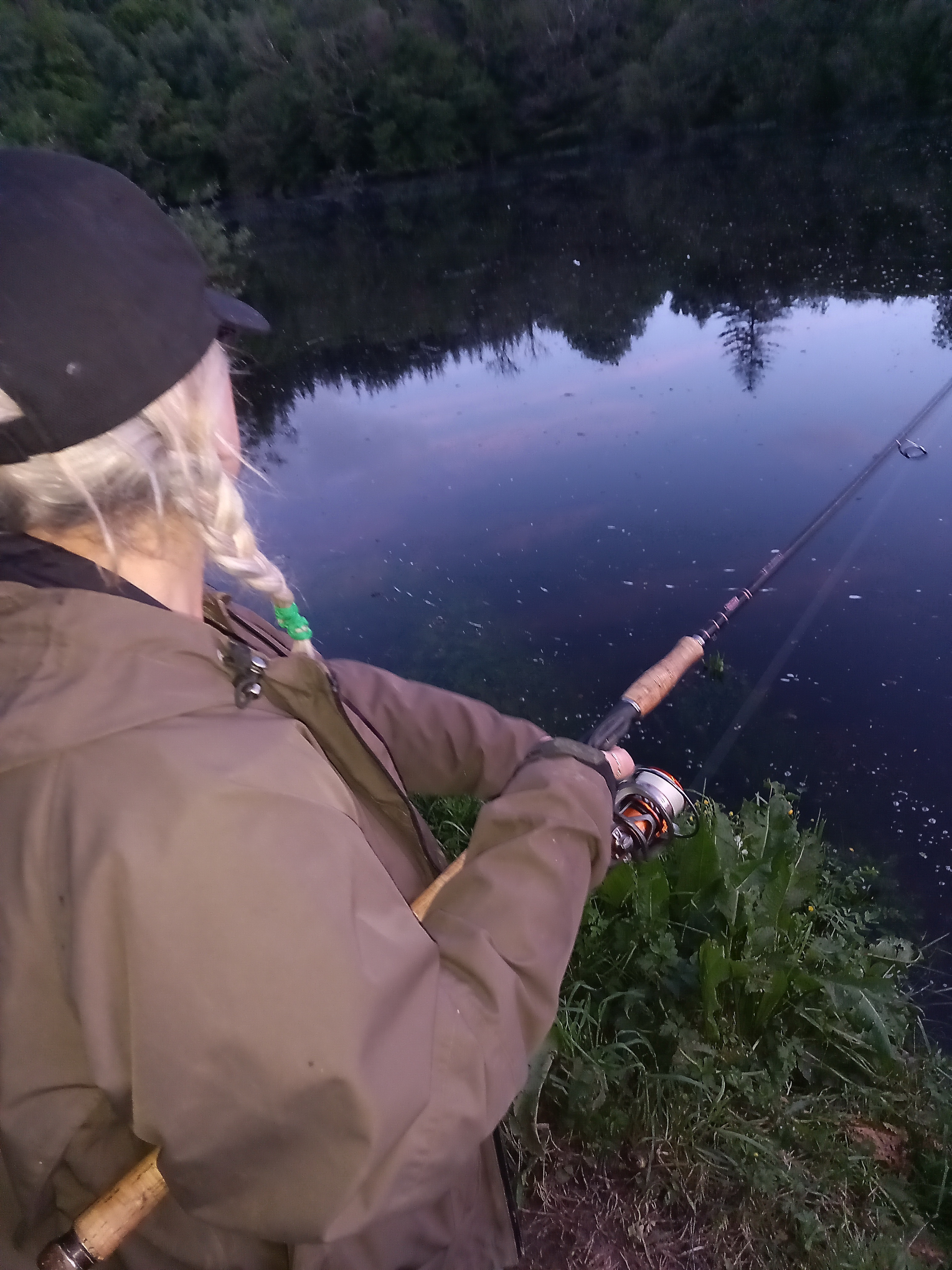 Lost her lure, and stole my kit!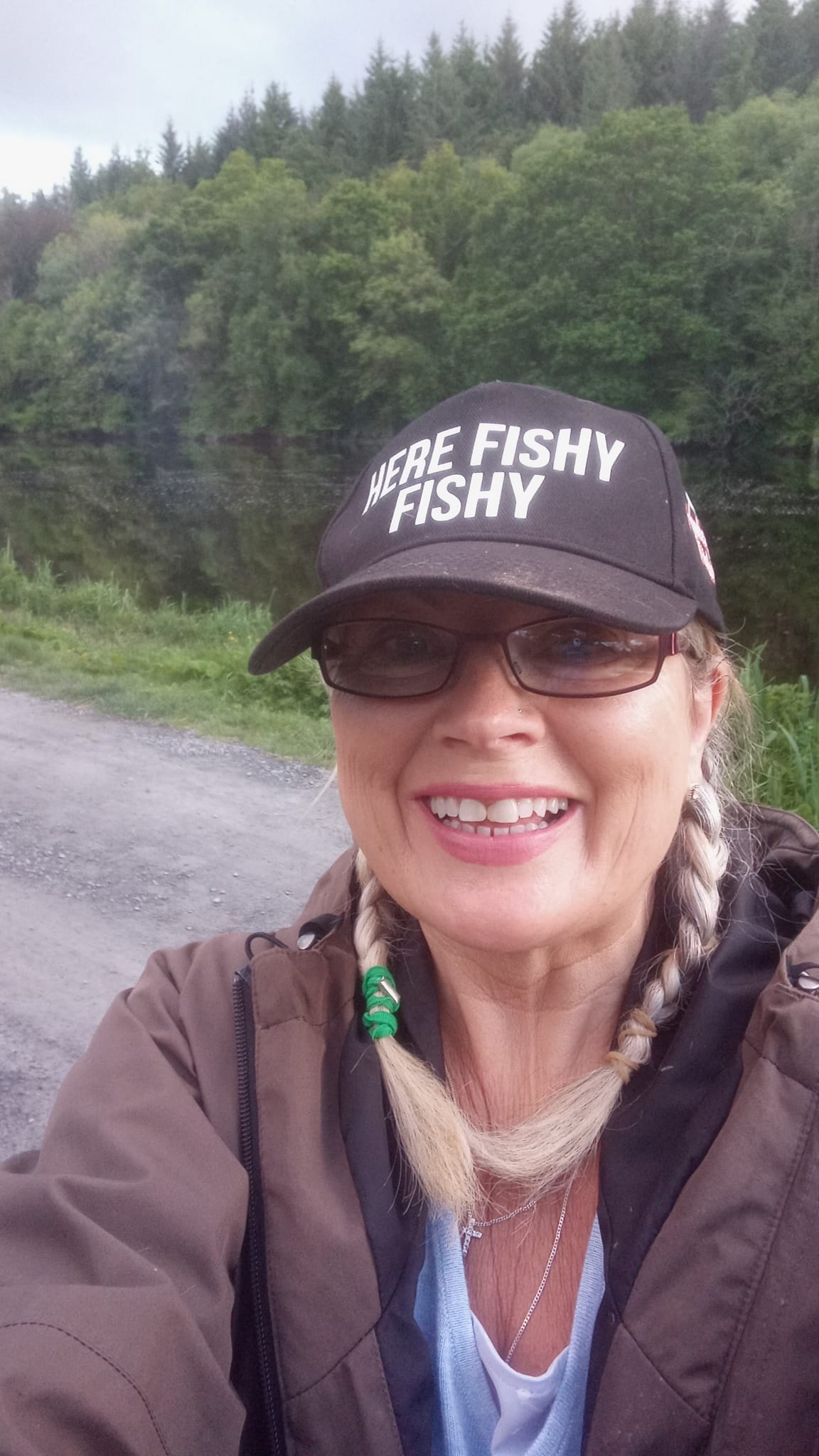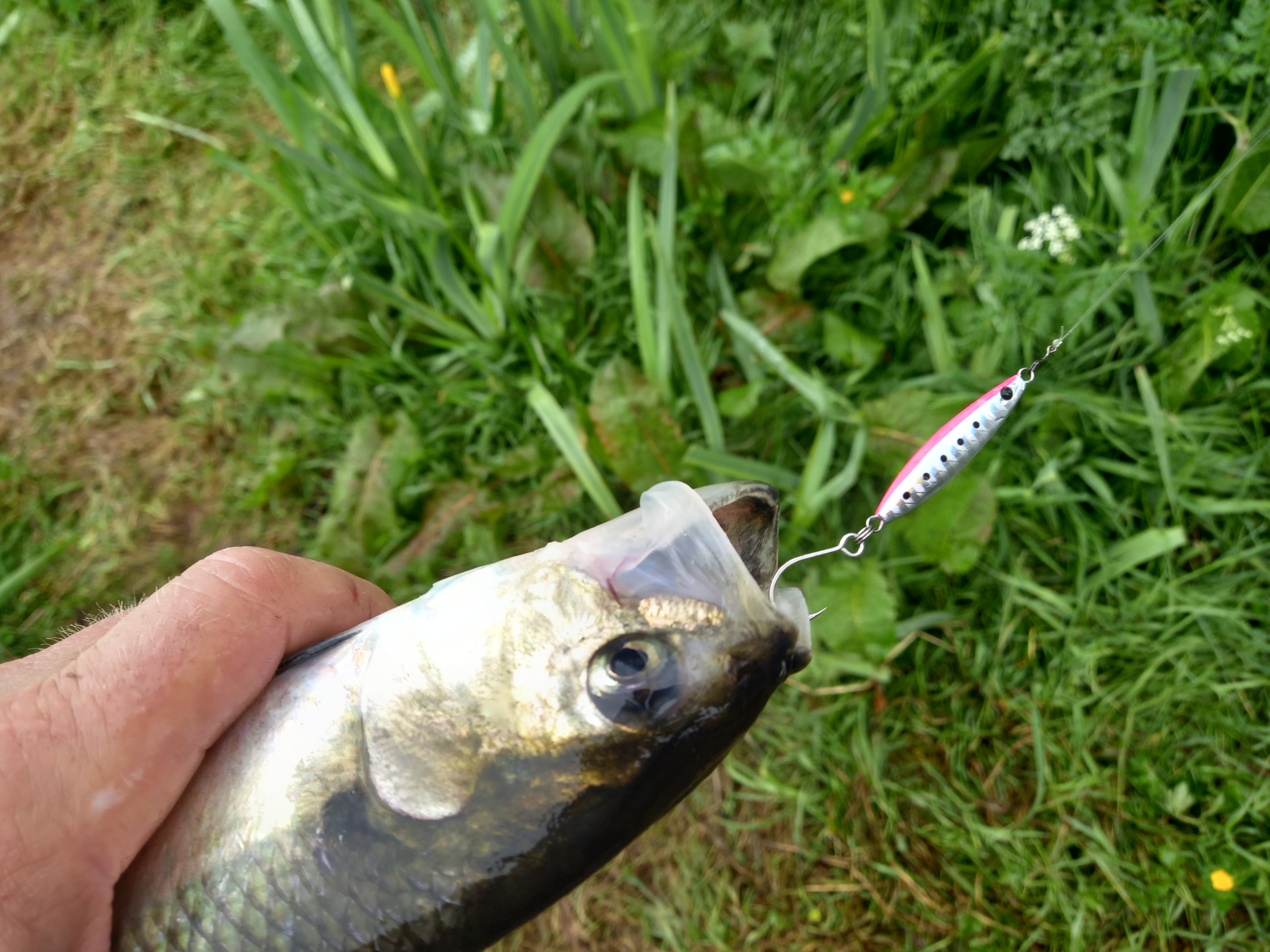 Savage Gear Psycho Sprat....awesome lure
Day three, another perfectly warm spring day, and I felt the urge to push the challenge in a different direction. With large shoals heading upriver on each flood tide, I wondered just how many shad could be caught in a day, under these conditions. My average being around a hundred per day or thereabouts, what if I actually focused on a numbers task. Fish came steady through the flood, and I followed them upstream to the canal, and back down to the car-park on the ebb. Prior planning had allowed for a double flood tide in the day. Persevering at low water, normally a slack time, I managed to pick off a few bonus stragglers until the second flood tide arrived.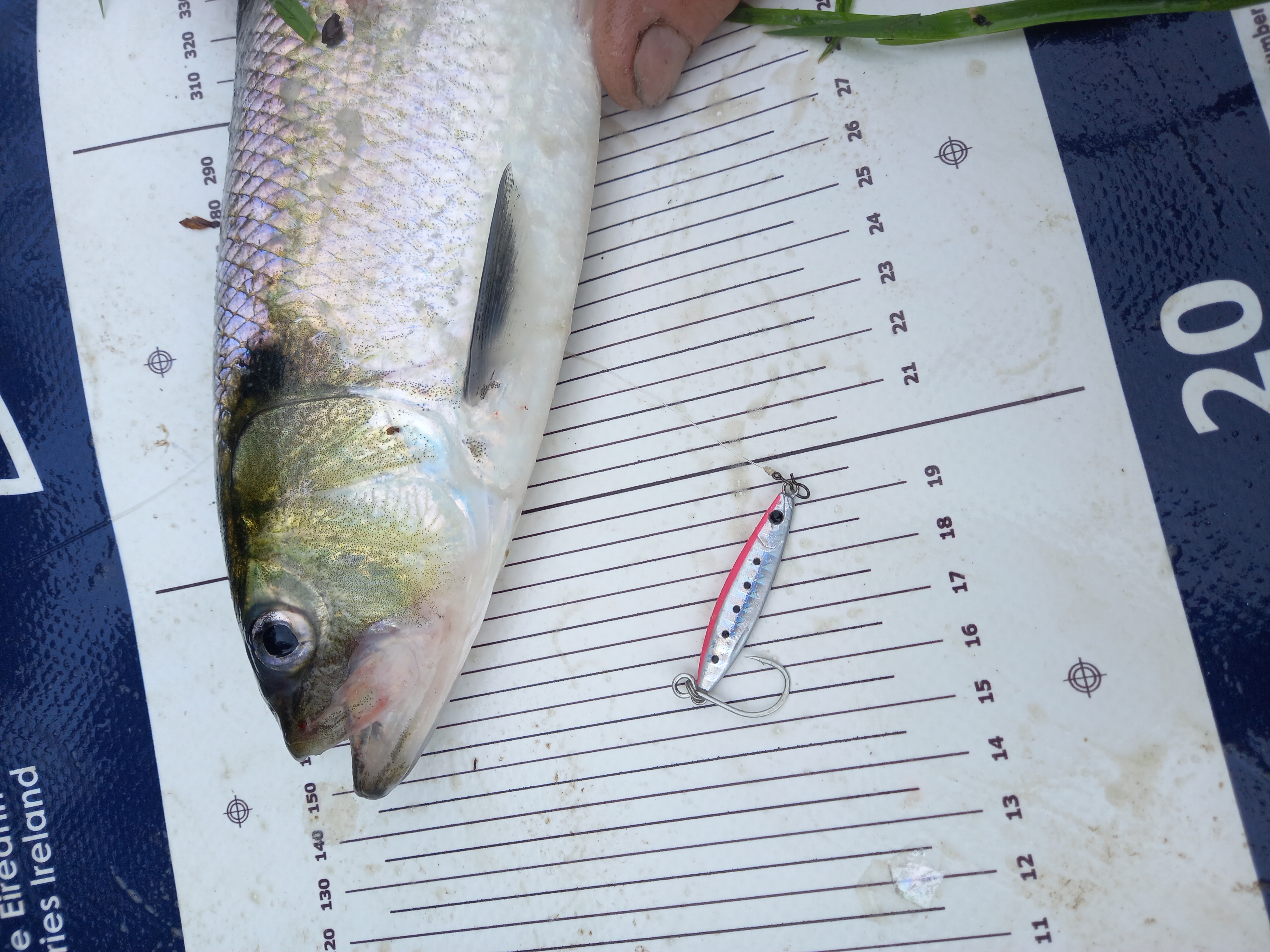 Savage Gear "Psycho Sprat"...Lethal mini-jig lure
Wading all day up to my thighs, any hooked fish were easily un-hooked in the water within a couple of seconds, without the need to actually touch the fish, which also sped up the catch, un-hook, re-cast rate. I had grown quite "cocky" by this stage and flattened the barb on the hook. By early evening, my tally had reached one hundred and seventy landed (not including around eighty escapees). I bumped into Marty Harrison, a popular and regular angler to these parts, and we chatted and walked upriver, sharing a couple of welcome lagers from his cooler box.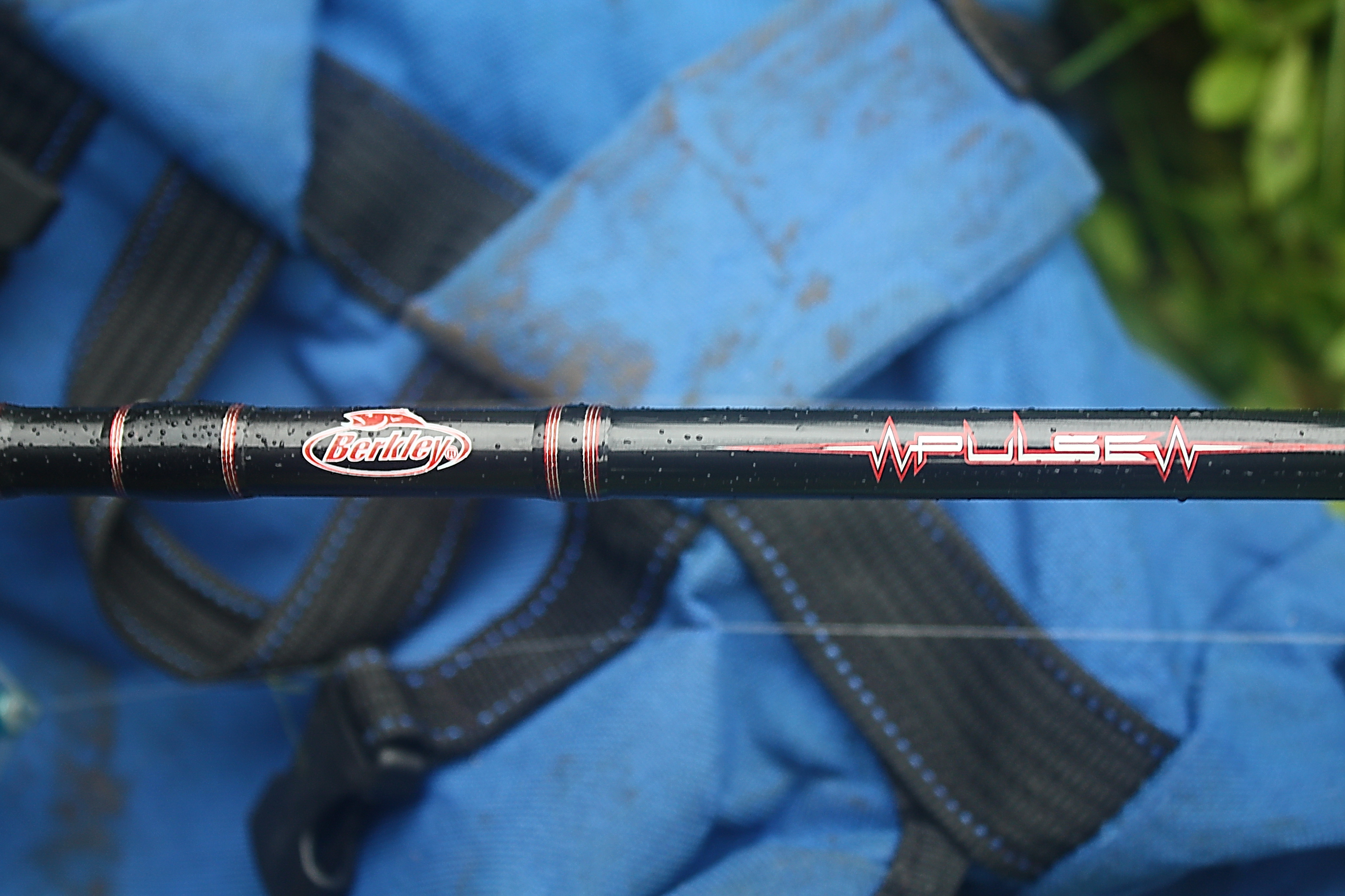 Fabulous spinning rod for Shad
I mentioned it would be a personal record for me to land two hundred shad in a day, and I set my sights on seeing if it was actually achievable. Thirty to go! With light now fading, it seemed unlikely. We chatted away, and fished on, picking off the occasional fish and keeping count. The light had almost gone by this stage, and it seemed I was destined to halt at one hundred and ninety nine, having lost three in a row, and "takes" now ceased. Temperature had dropped dramatically, and our evening meal was calling, but the old "refuse to give up" attitude finally paid off with number two hundred landed for a quick photograph and return.
Number two hundred for the day, a small milestone, but very enjoyable
I'm sure others have broken this numbers barrier but that was a landmark angling session for me, and I knew in my heart that a specimen would not be on the cards this year. The following day would be a short session, it was another beautiful day, but rain was on its way. We had a relaxing time, catching Shad, and even Dace on lures. An old angling buddy, Noel Darcy showed up which is always a delight. We treated him to a coffee and choc ice down at the river-side cafe, before packing up camp and heading home. My tally ending with five hundred and eleven fish landed. It is heartening to see that over my thirty years experience, numbers returning each season remain reasonably consistent for this species.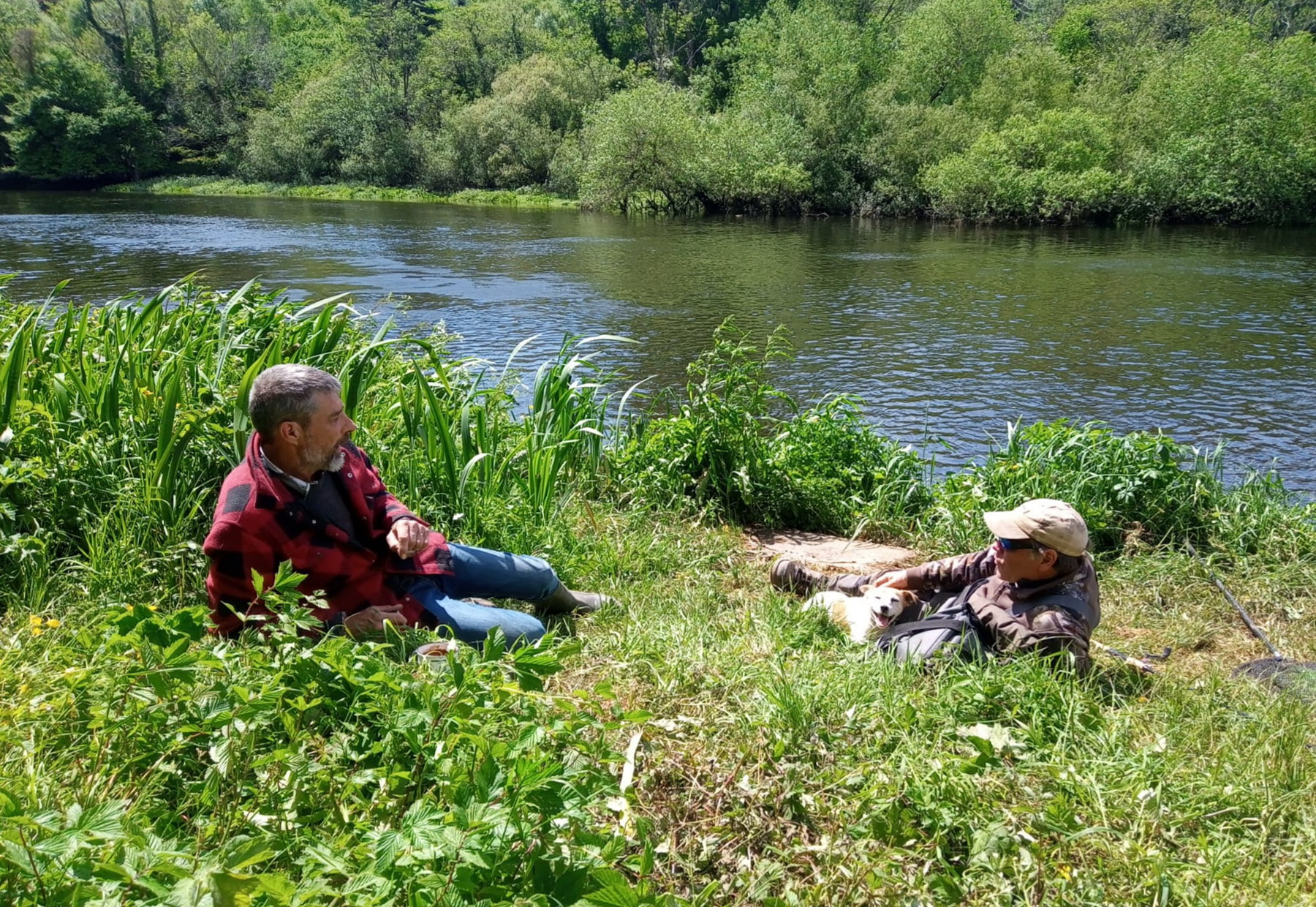 Relaxing in the sunshine, with my old mate Noel Darcy
No specimens from St Mullins this year, but a wonderfully relaxing few days by the river with good friends, great scenery and spiritual healing once more. Oh! and the "get-out" clause wasn't needed I hasten to add, only heading home due to supplies running low, and a likely change in weather!
Tackle
My "go-to" rod these days is the Berkley "Pulse" spinning rod. This is light and powerful with a forgiving tip section, perfect to absorb the head shakes and aerial displays that Shad are known for. Teamed up with the Mitchell Mag-pro and loaded with 10lb b/s Berkley Whiplash braid gives a balanced kit that is a pleasure to use, particularly over long sessions.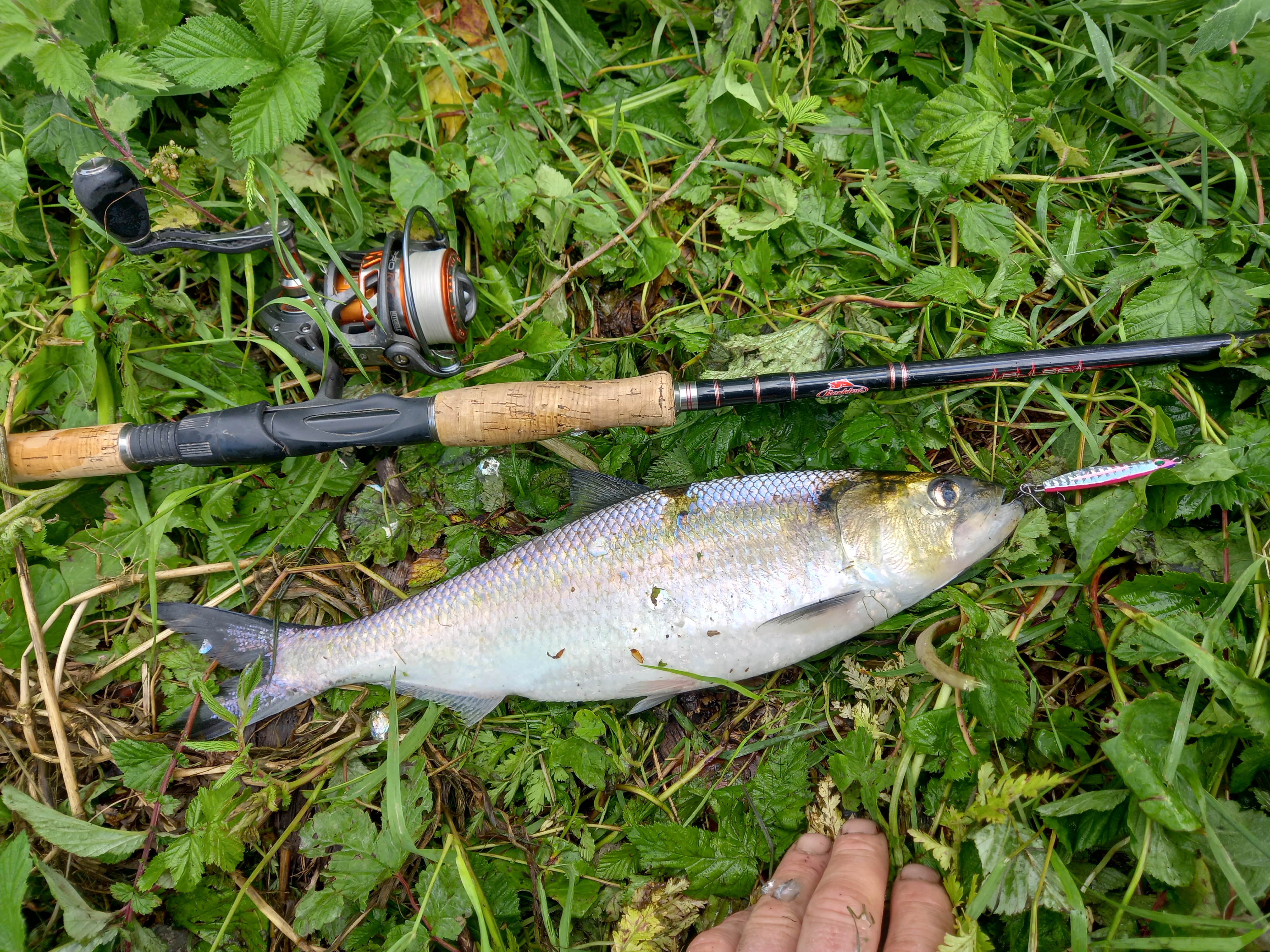 The Berkley "Pulse" spinning rod, excellent kit
I add a few metres of 6lb b/s Berkley fluorocarbon, both for its low visibility and shock absorbing properties with a quick change link-swivel for easy lure attachment-selection.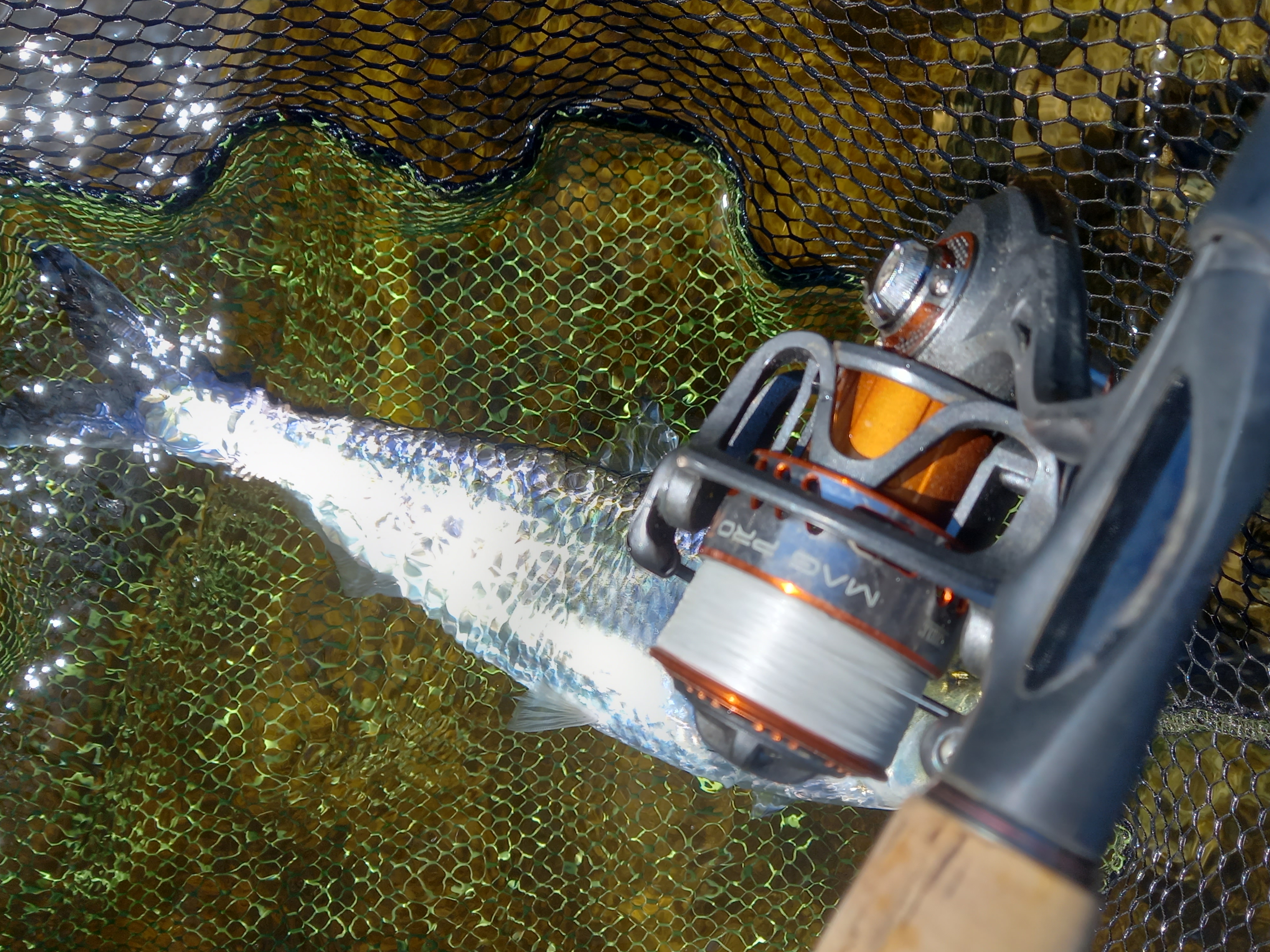 Teamed up with the Mitchell Mag-Pro, reliable smooth reel
Historically, lures were almost always a variable colour selection of "Tazmanian Devils", but small metal jig-type lures have proved lethal over recent seasons, with Savage Gear "Psycho Sprats" an invaluable addition to the lure box.
Back