Youghal Harbour, for a wee look about
Terry's Travels
Youghal Harbour, for a wee look about
I have fished Youghal Estuary successfully from the shore many times over the seasons, it was high time I had a taste of boat fishing to see if anything was about!
Following yet another invite from Sidney Kennedy, I found myself en-route to Cork City. Stopped over at his for the night, always great to see him and Mandy, and the god forbids, along with the fabulous hospitality they offer me.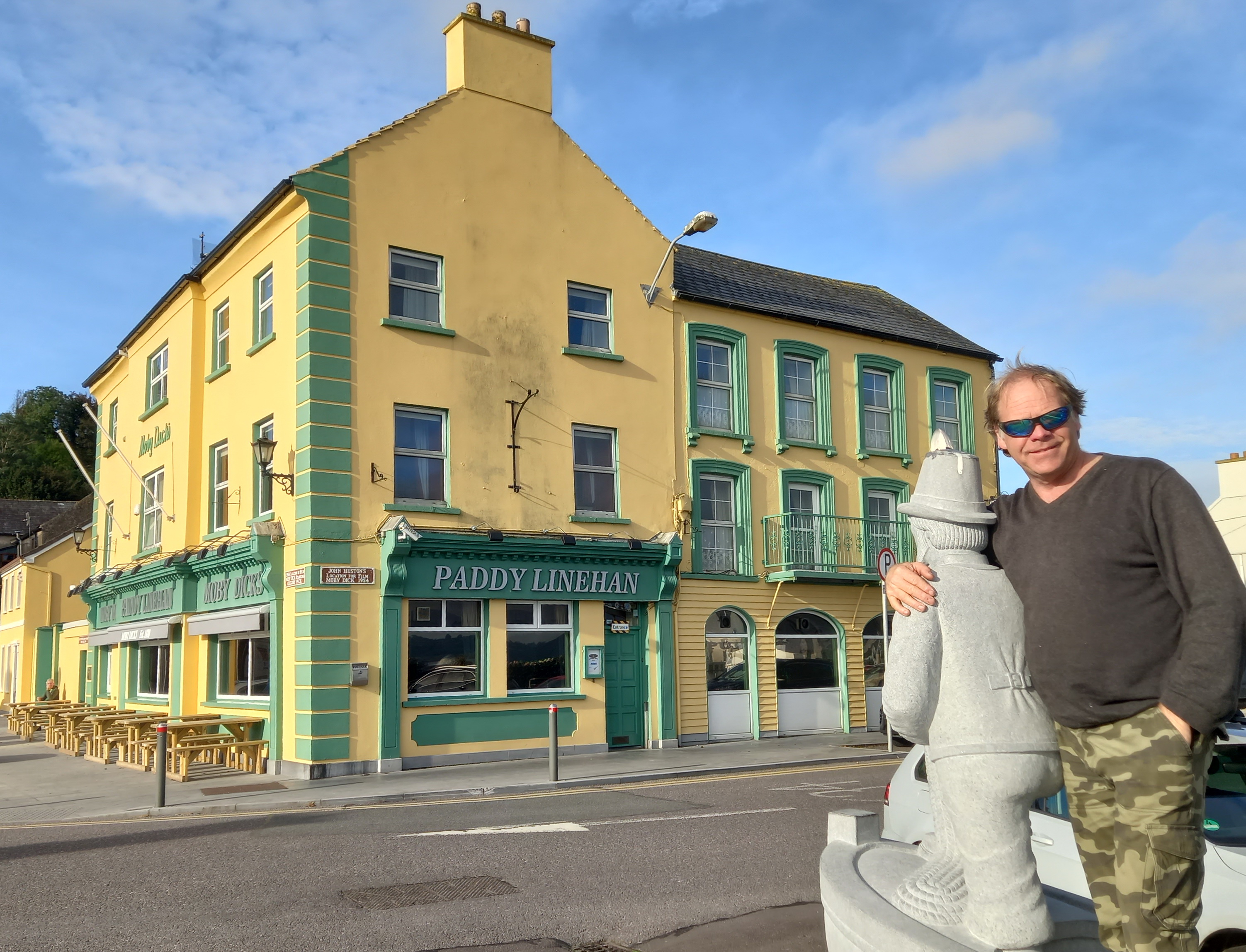 The Moby Dick pub, once frequented by Captain Ahab aka Gregory Peck
We made our way to Youghal early the following morning with a selection of fishing gear packed into the jeep, enough to suit a range of options. Dependant on favourable weather, this would dictate our choice of target fish on the day.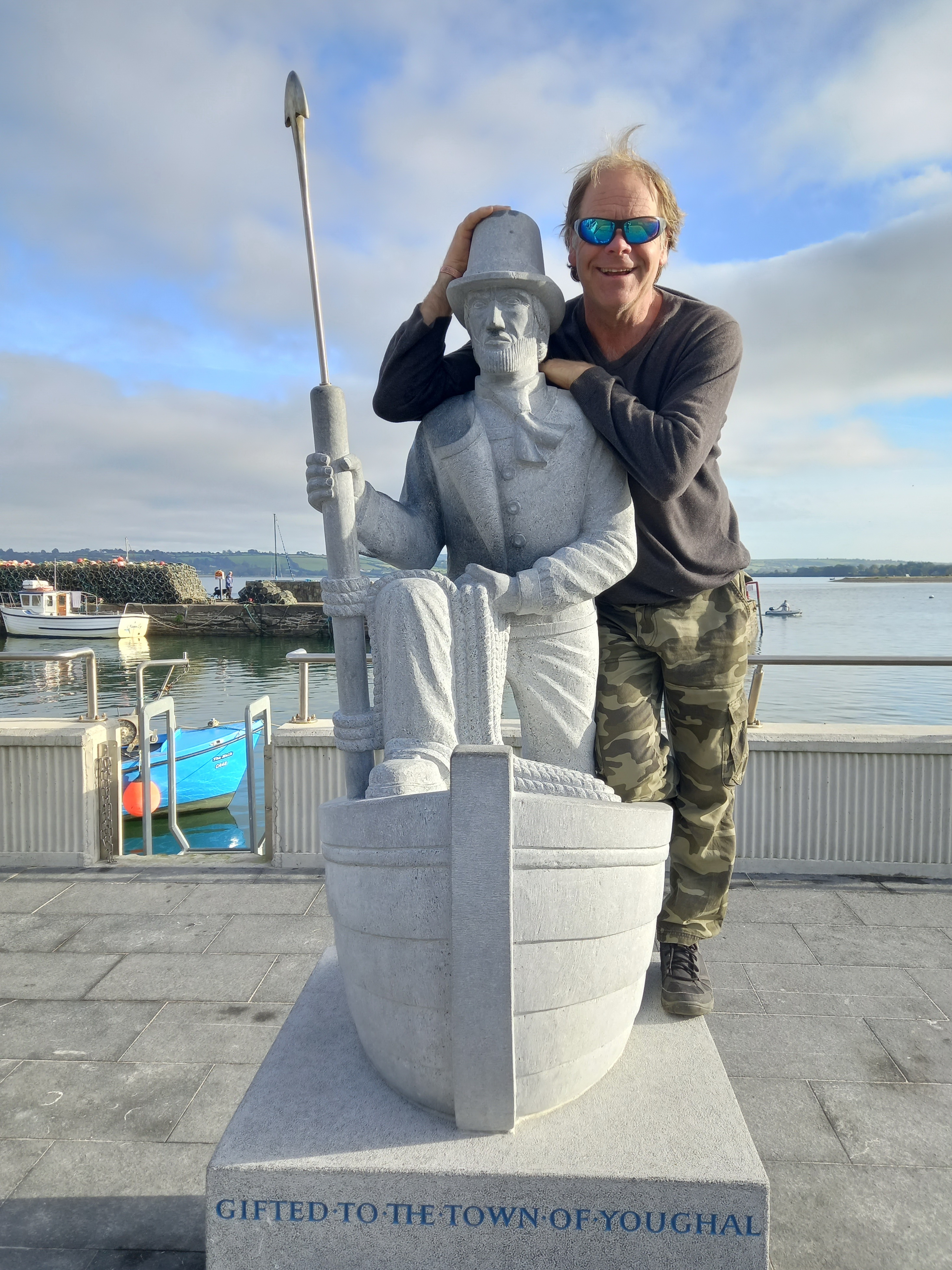 I think I'm better off with Captain Sidney
The slipway is at the foot of the Moby Dick pub, Sid tells me that's where some filming of the famous film took place. Gregory Peck sat in this bar having a pint, but as it was too early in the morning for open doors, I settled with a selfie holding on to Captain Ahab himself.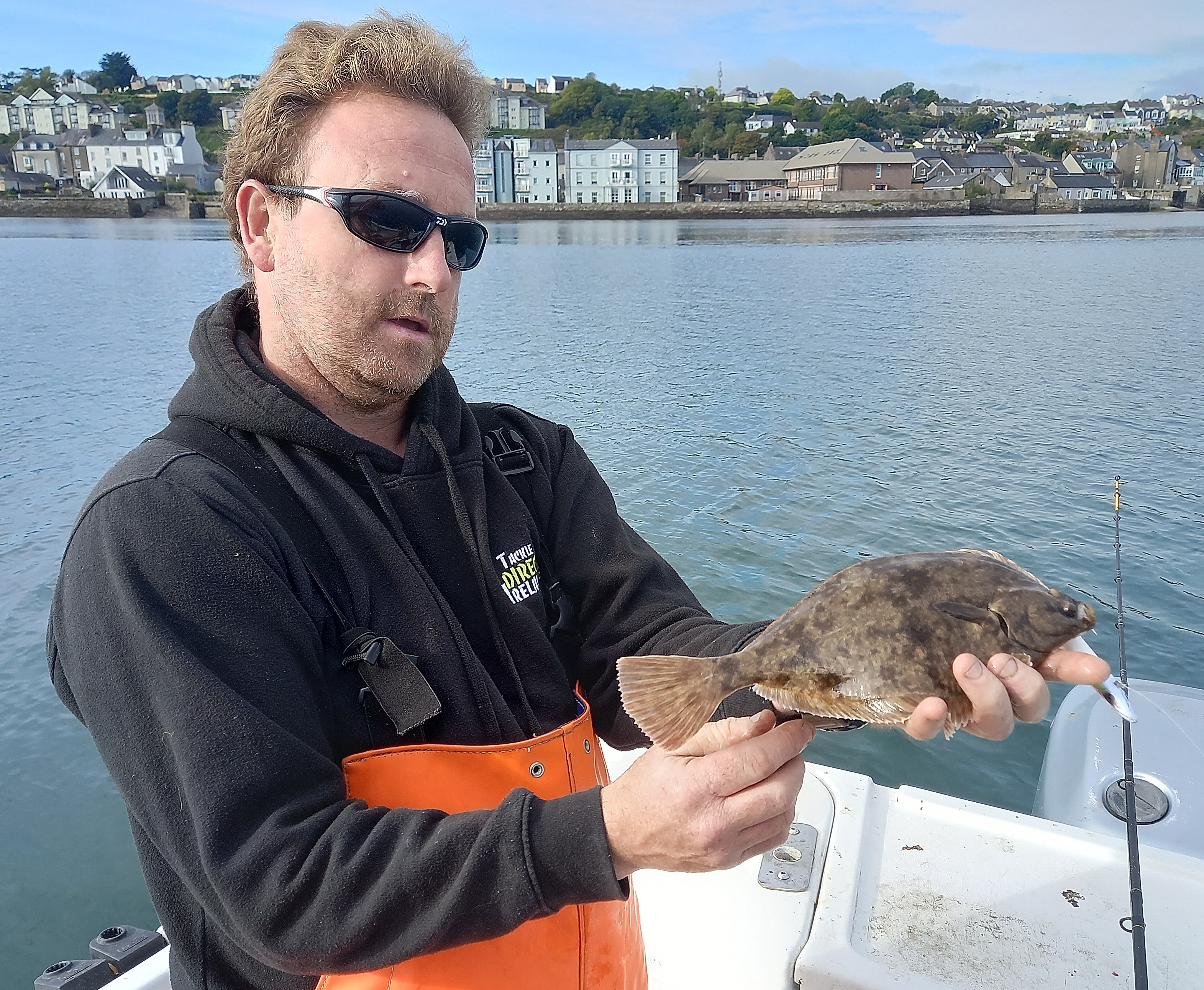 Trust Sid to catch a Flounder whilst spinning for Bass, I'm Just surprised it's not a specimen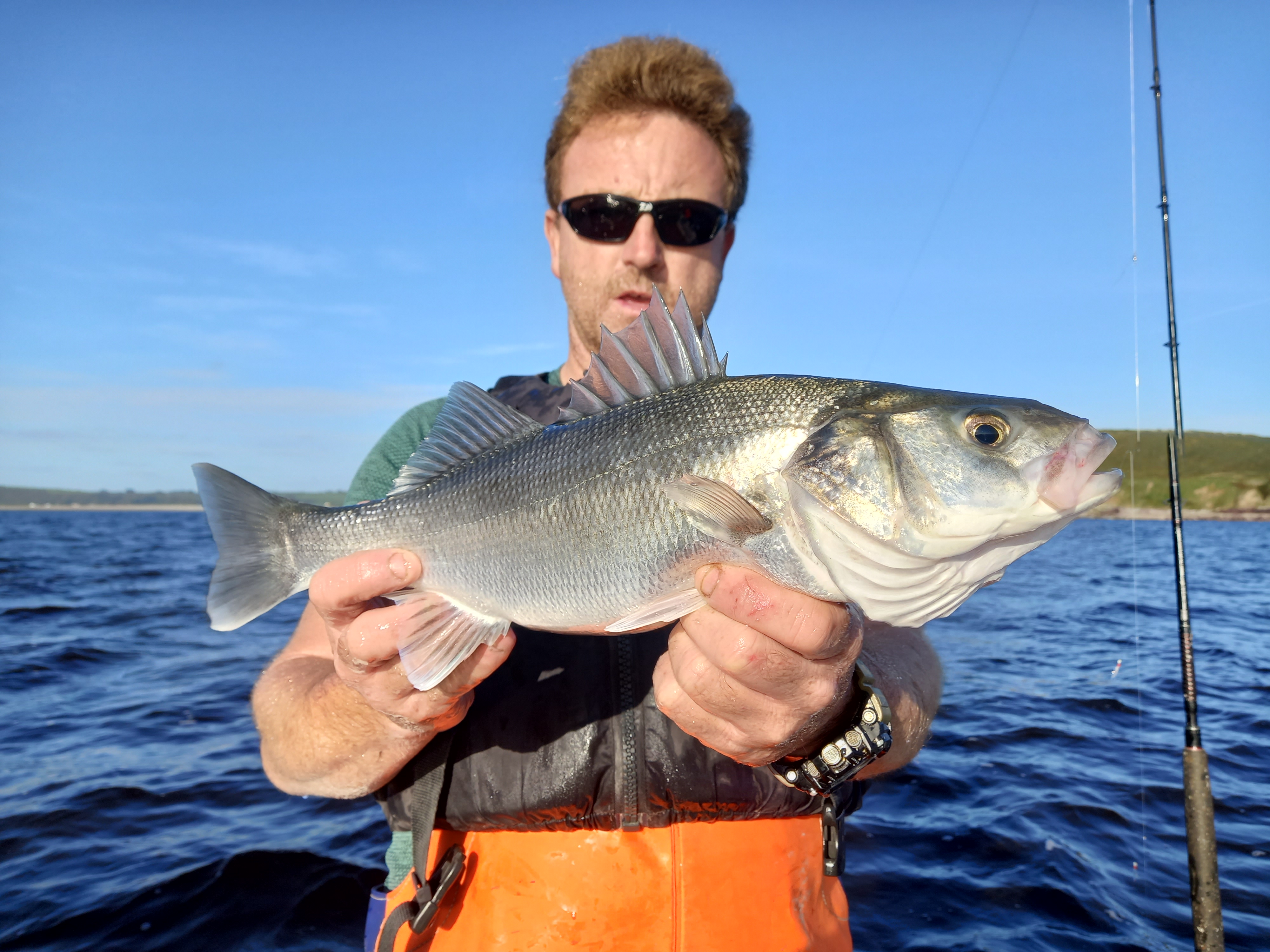 More like it, but bigger please
Our preference was for a bit of Bass fishing, and in particular, possibly trying live-bait Mackerel to seek out some bigger specimens. The only problem with this was we had missed the best tides, so we were well aware that it will be unpredictable at best.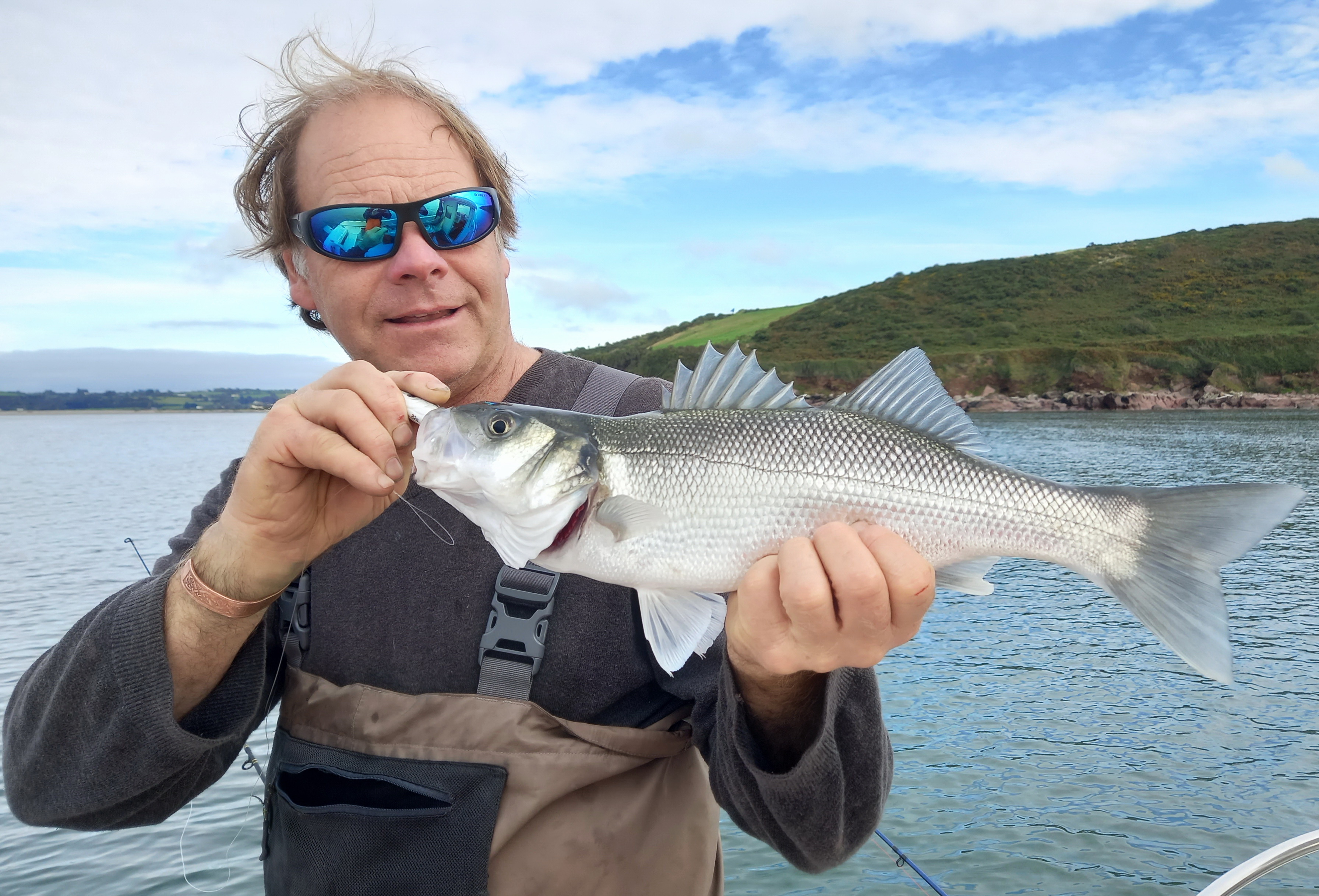 A quick photo and release
With roughly a dozen Mackerel in the live-bait well, we picked a suitable drift in the light breeze and dropped the floats well out behind the boat. I have always wanted a crack at this type of Bass angling, pity the tides weren't a little more suitable. With a float-fished bait each well back from the stern, we could keep an eye on them whilst casting and jigging a selection of bass lures on the spinning rods.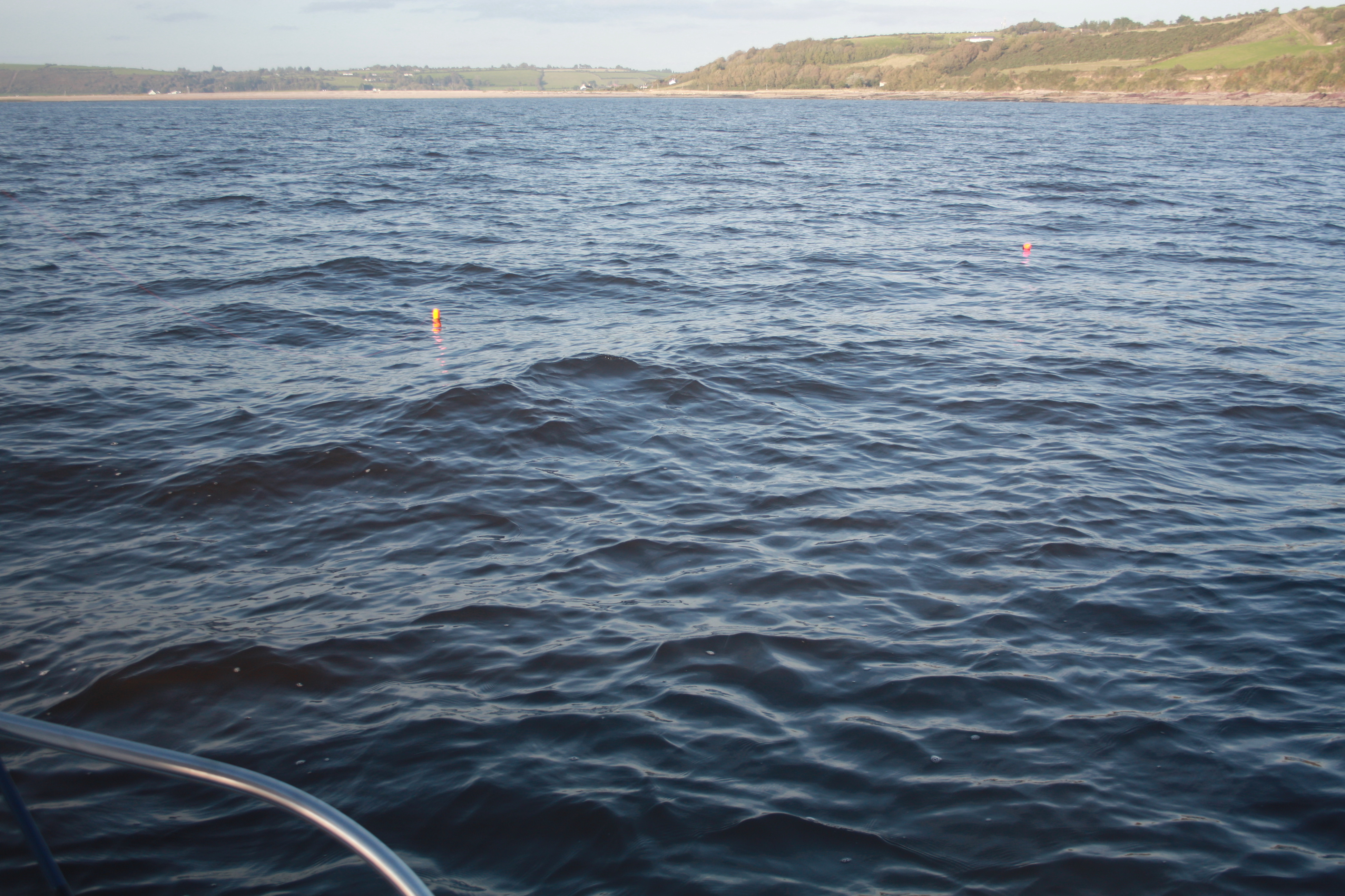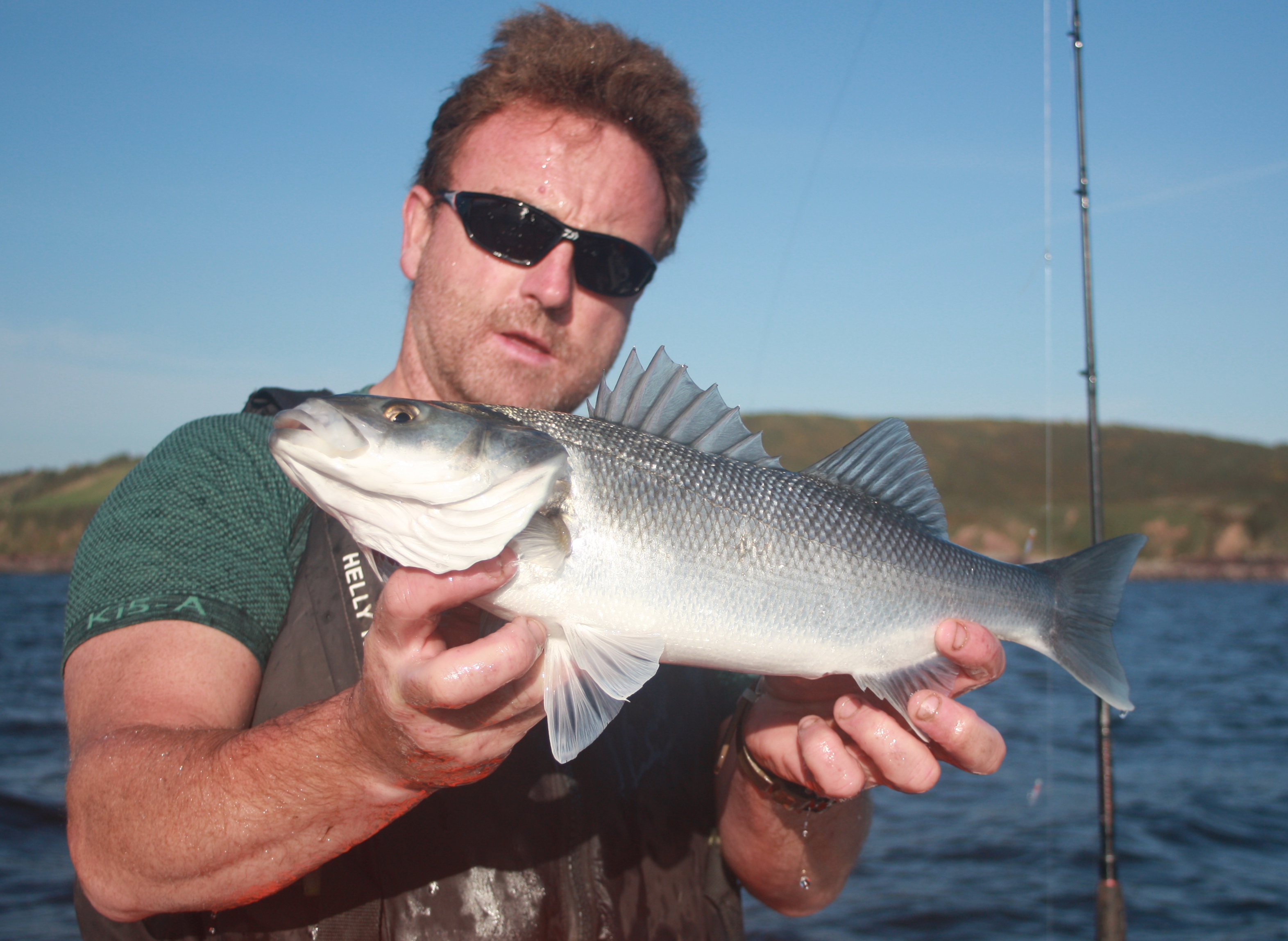 Becoming obvious they weren't going to get much bigger
As the day progressed, it was soon obvious any larger Bass were absent or refusing to play. The lures on spinning gear picked up a few pristine Bass, but mostly "schoolies", with nothing showing over five pounds. On a positive side, the breeze had died away to nothing, sea like glass, and it was still only mid day.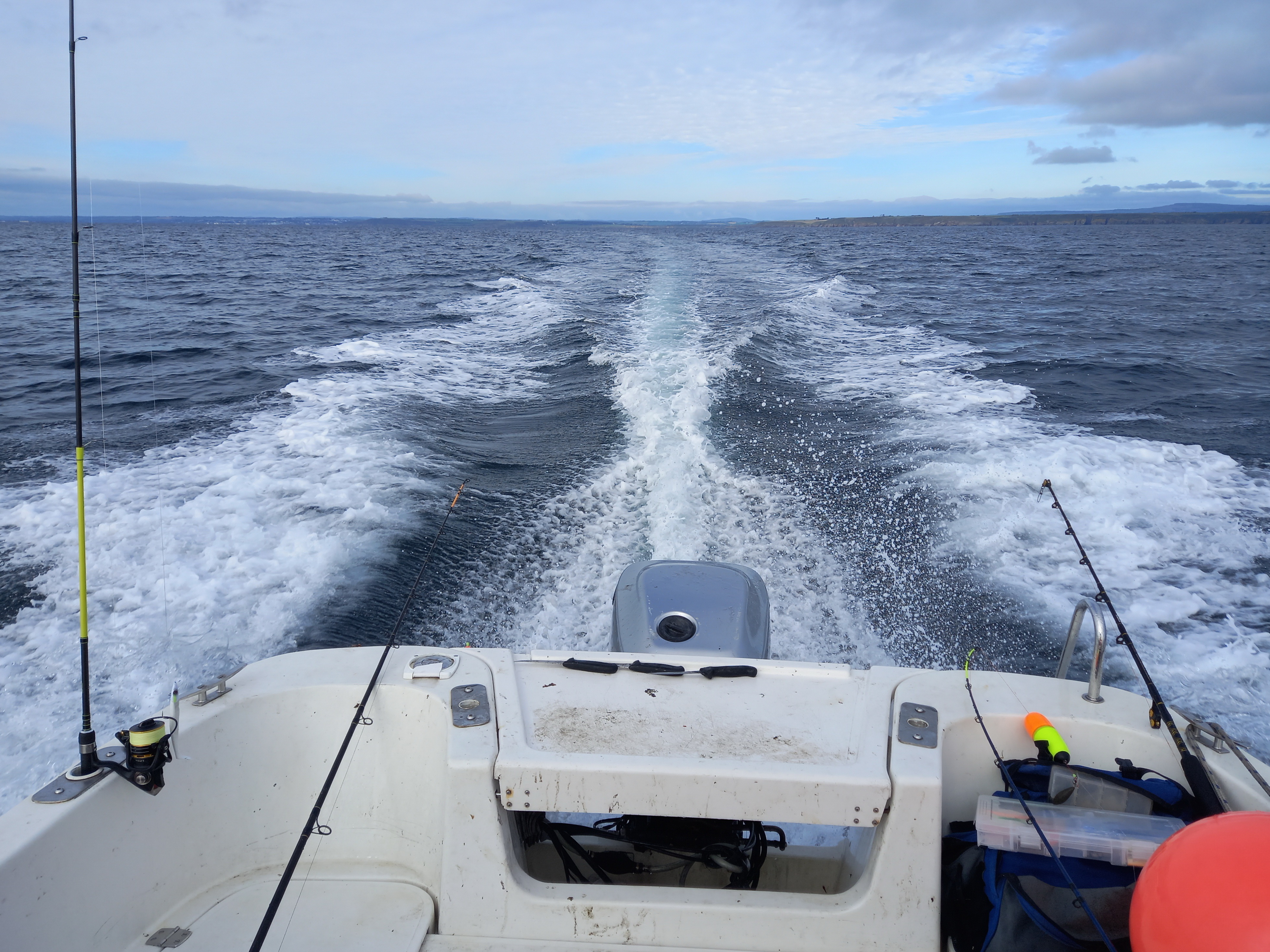 Time to try further afield
A plan was hastily hatched. Sid had a decent off-shore wreck mark to try for Conger, and it sounded promising. The last time we tried to get out to a wreck a few weeks ago, the weather and horrendous easterlies forced as back inshore. We settled for "scratching" around the headlands. It was a bit disappointing, but a shoal of Trigger Fish brightened an otherwise poor day. Hopefully, today will prove more productive.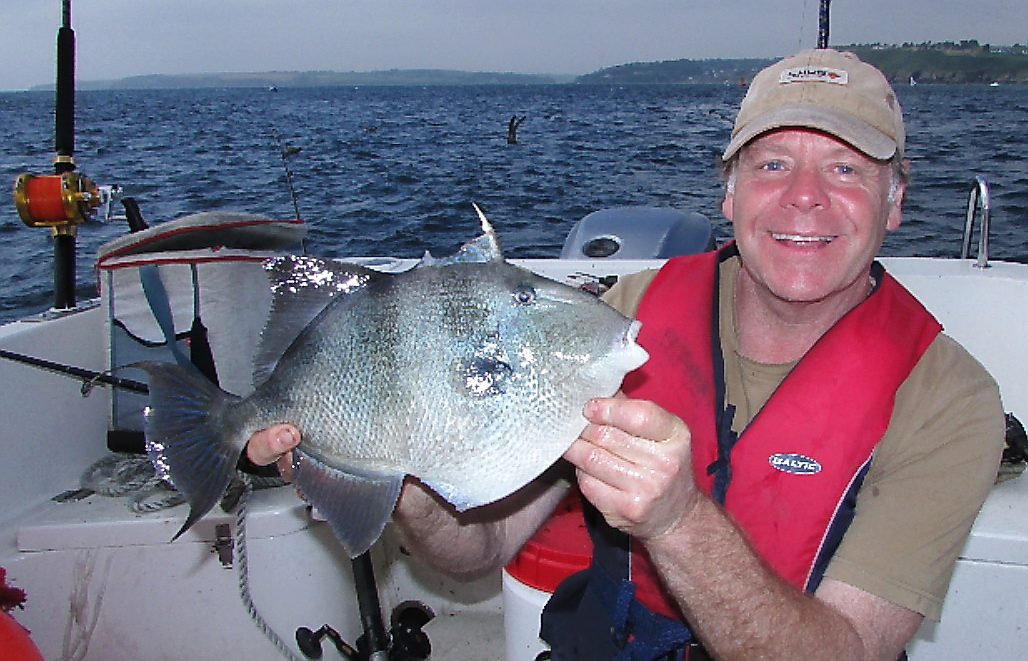 A bonus Trigger Fish on a previous adventure
Although a bit of a steam to our chosen wreck mark, pleasurable in calm seas. With the anchor dropped, we sat directly above two large portions of the broken wreck below. It seemed a perfect vantage point to tempt a few large eels. As always, with the main rods down and safely in their holders, we could try the lure rods, armed with jelly worms, sandeel and fish imitations.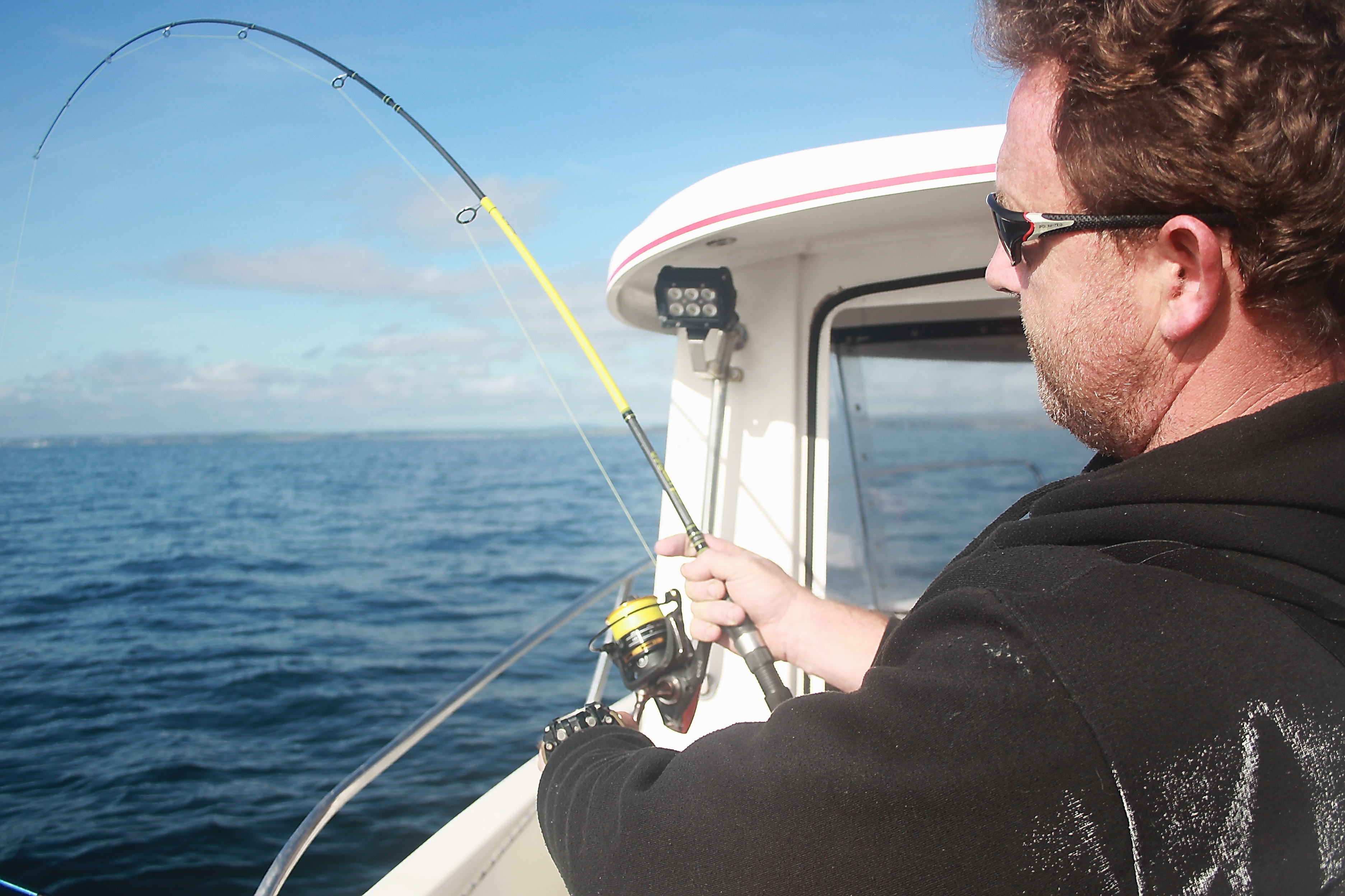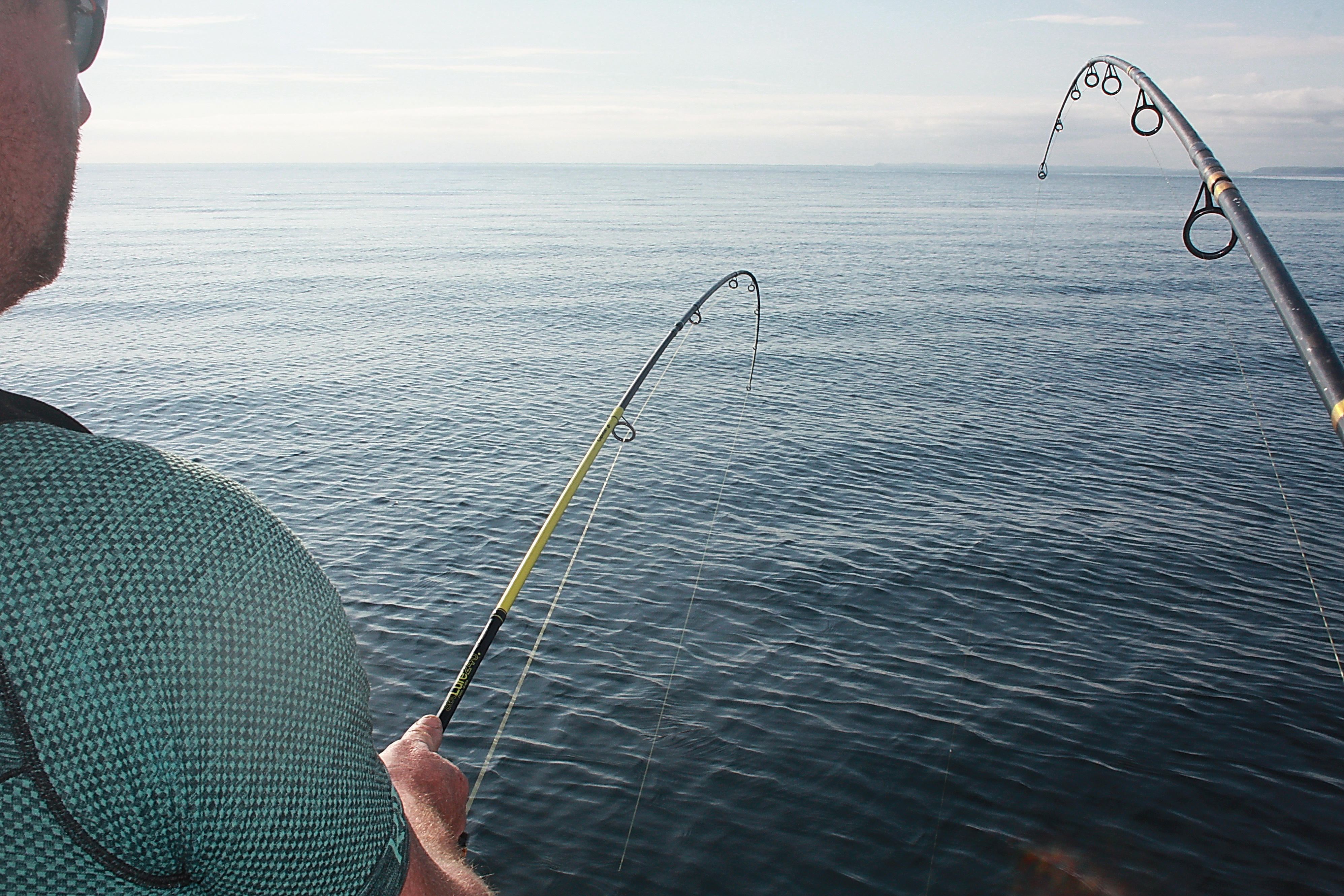 The Penn Travel rod getting some action
The Conger rods remained ominously quiet, very strange as this wreck is known for good numbers of eels. Hopefully it hasn't been commercially targeted, and simply quiet due to lack of tidal flow. I don't have enough experience with wreck fishing or this area to come up with an accurate answer.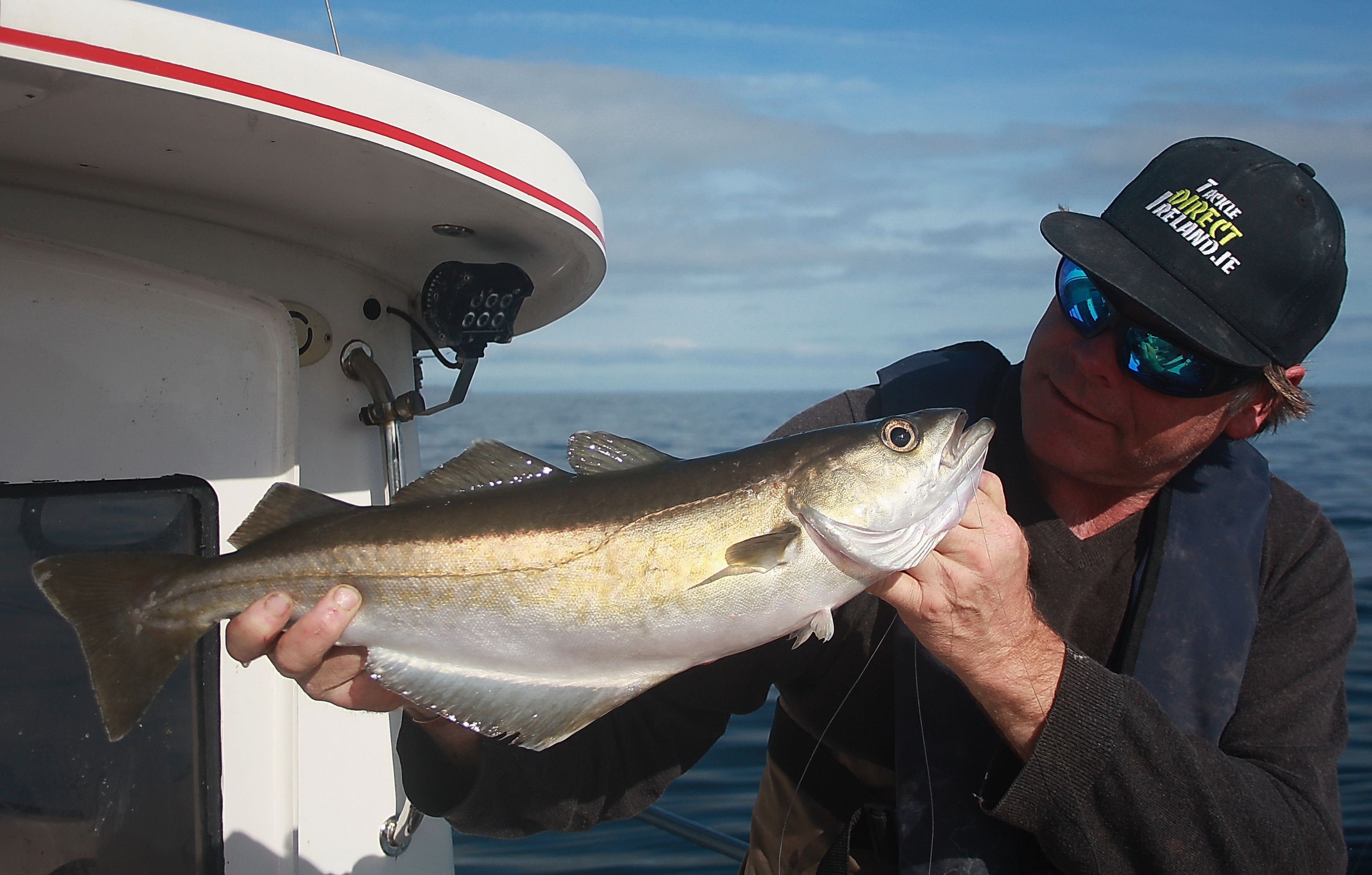 A wee advert for Dan's Tackle shop, Halfway Angling Lol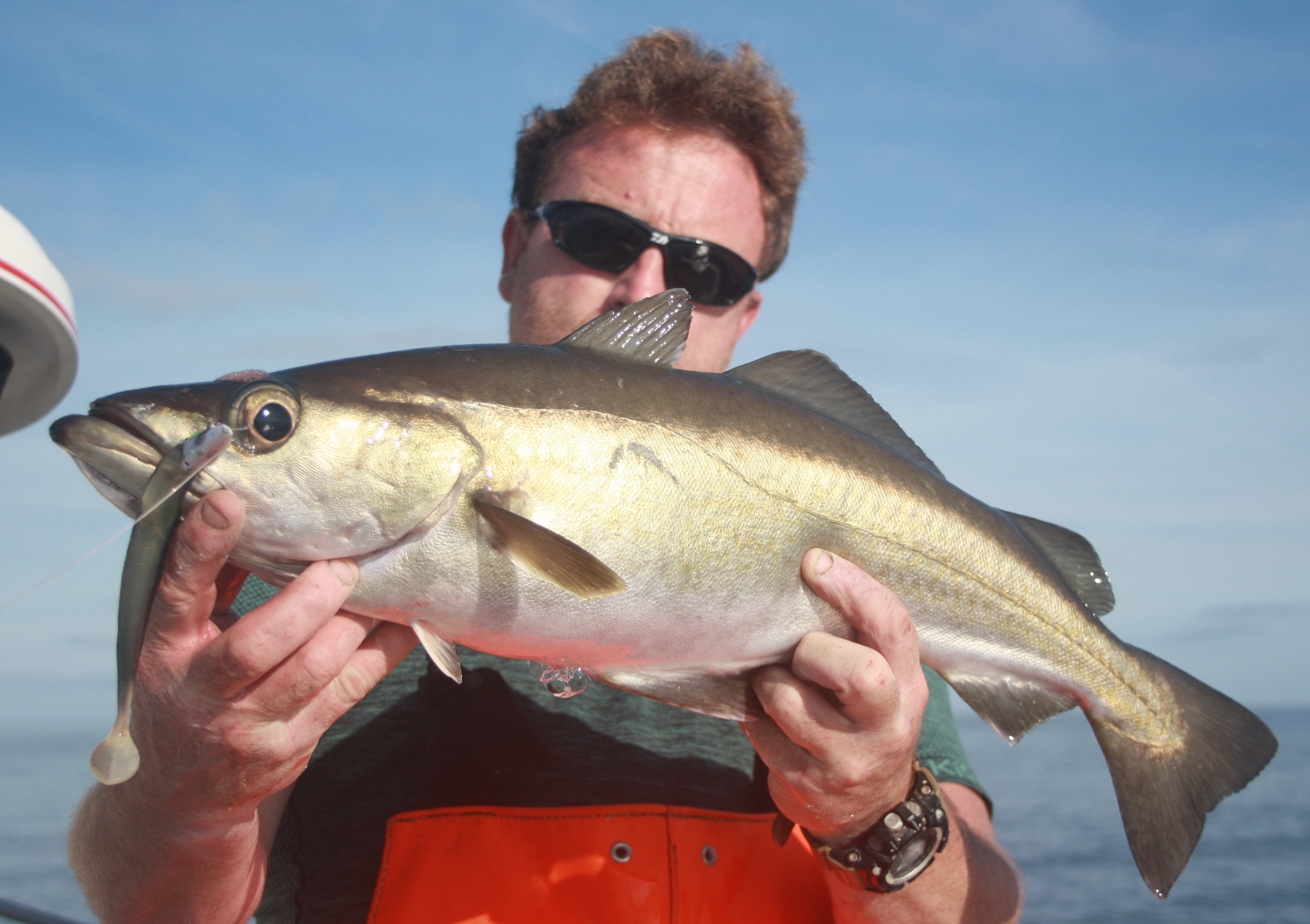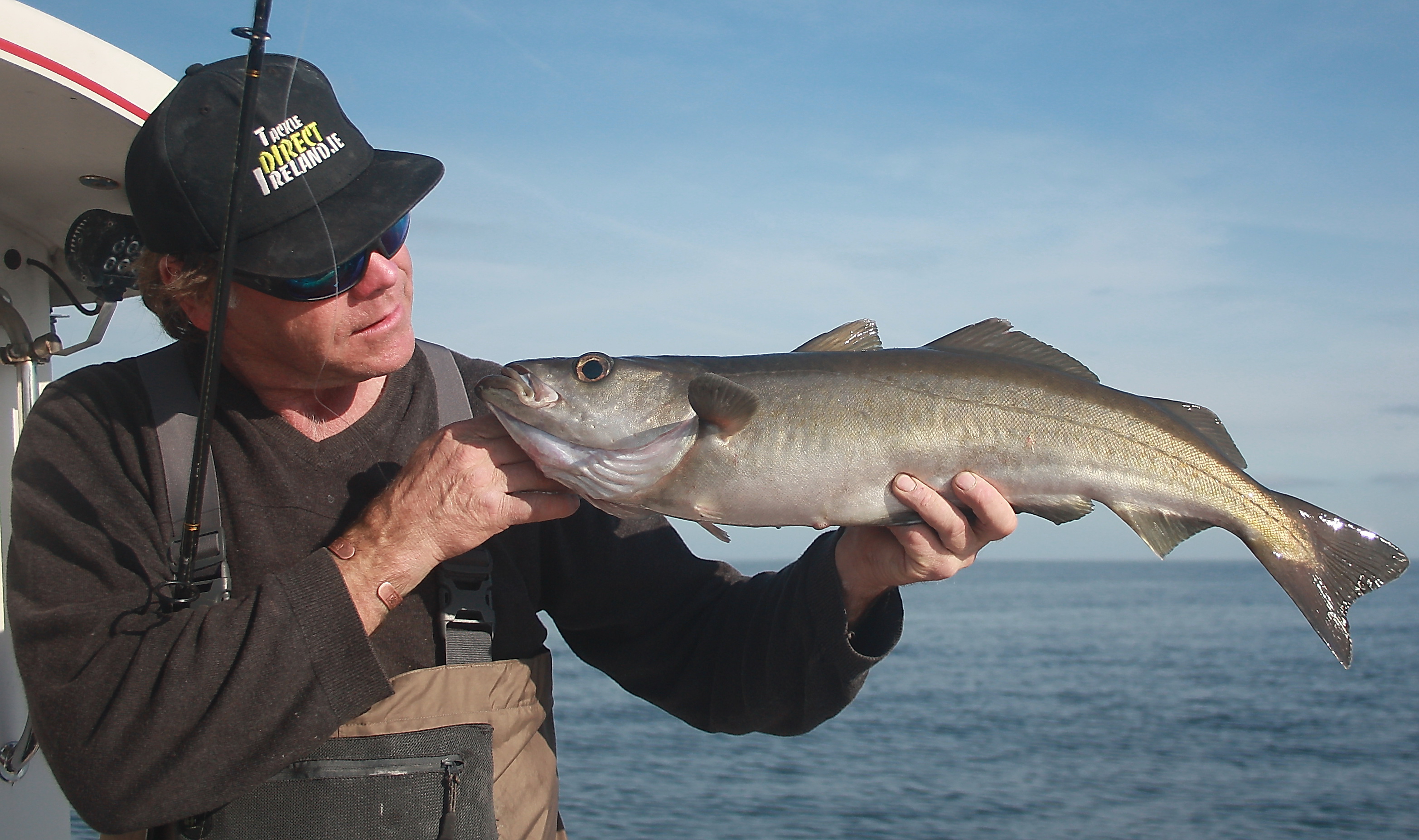 The lure rods on the other hand were phenomenal! Almost every cast, both rods buckled, with Sid and I playing fish simultaneously most of the afternoon. I learnt all I know back in the Killybegs days, some thirty years ago, under the expertise of skipper and friend Pat O'Callaghan. I thought those days were long gone! It was like a trip down memory lane, as almost every cast produced a line ripping thump on the rod, with hard-hitting Pollock averaging 4-7 lbs rattling the lures, putting a decent bend on the Penn Overseas Pro, and an ear to ear grin on my face. No easy task!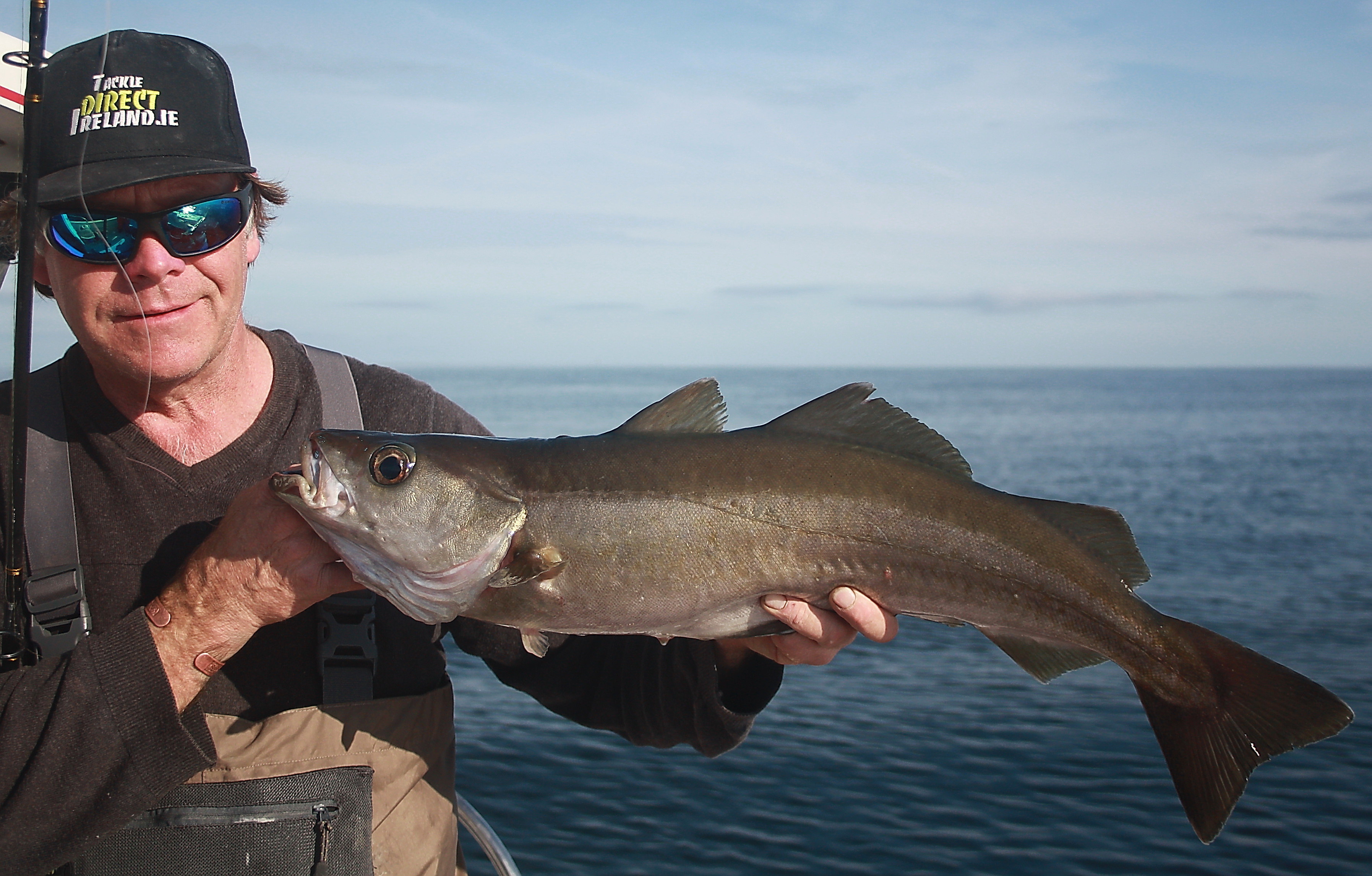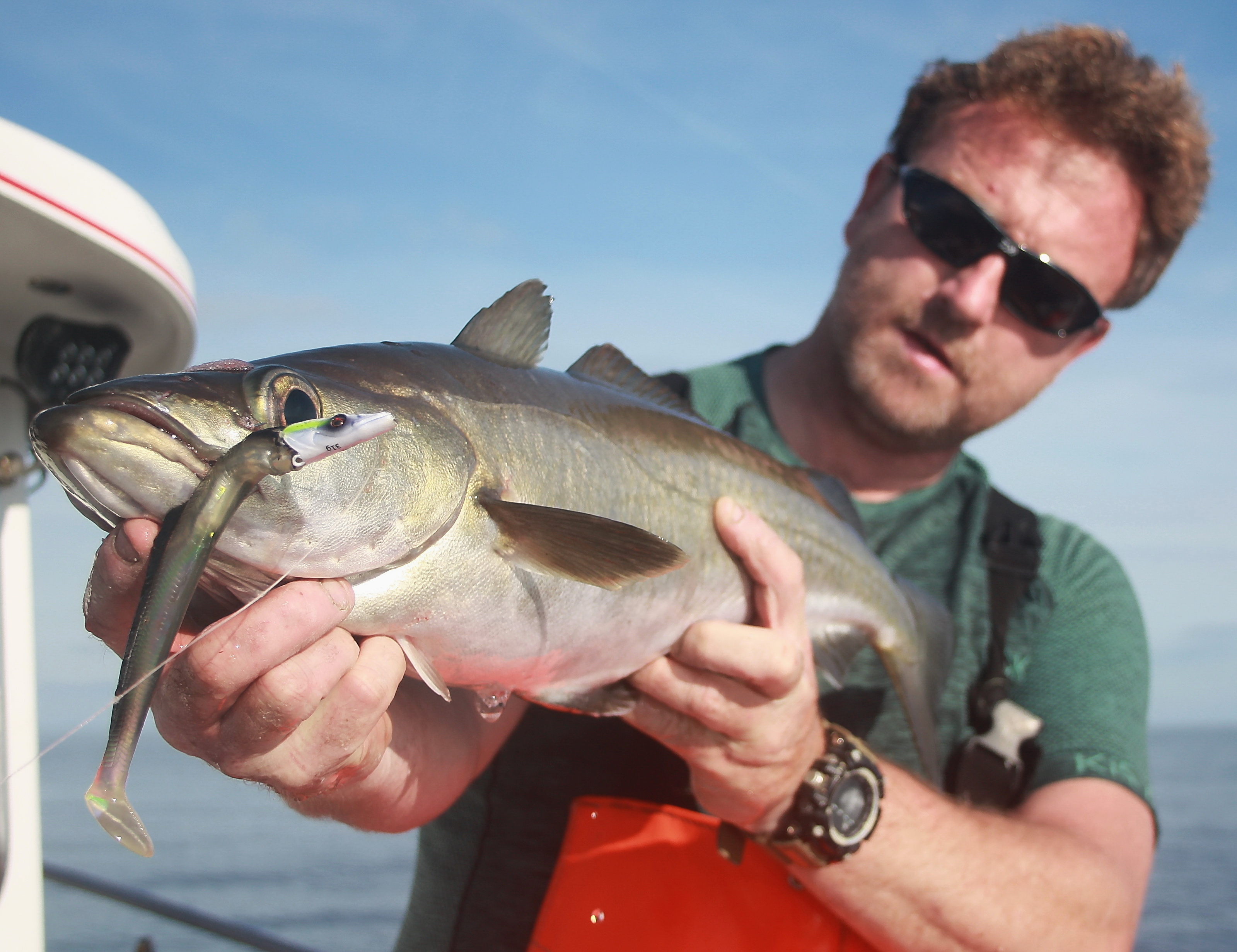 The Conger rods never twitched, even with fresh Pouting on the hook. But for the time being, it didn't matter. The Pollock just kept coming. We actually moved and relocated the anchor and boat position on three occasions, searching out the wreck hoping a large eel would show. Not a touch, but still...Pollock aplenty.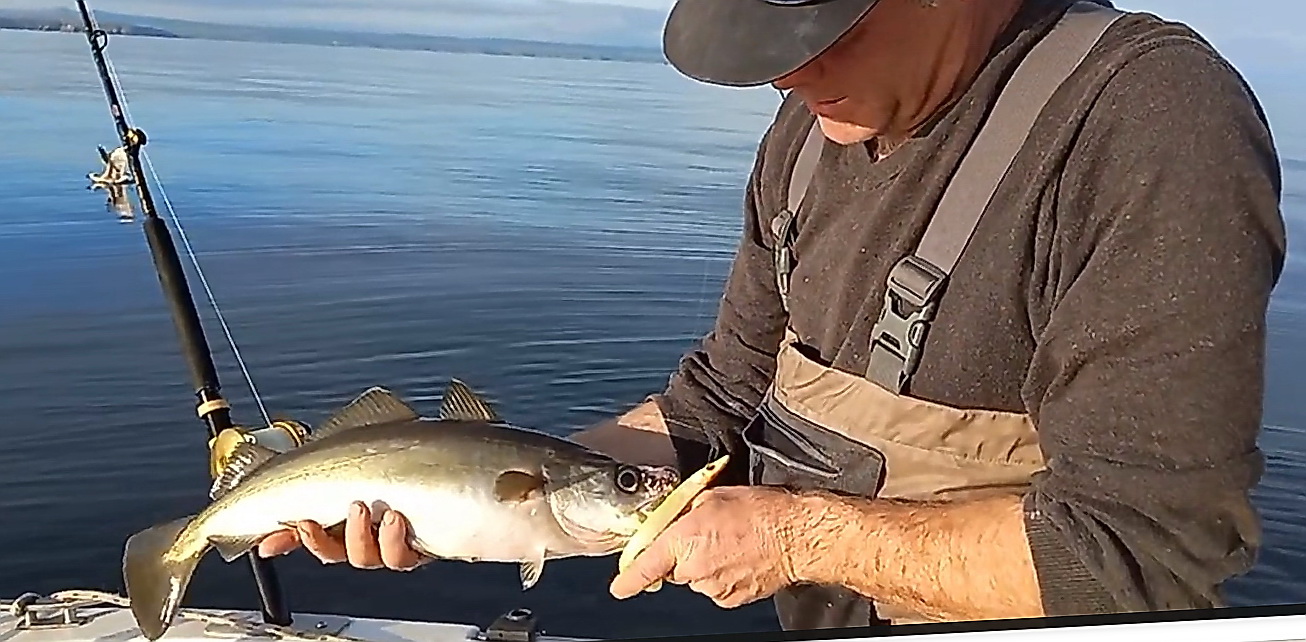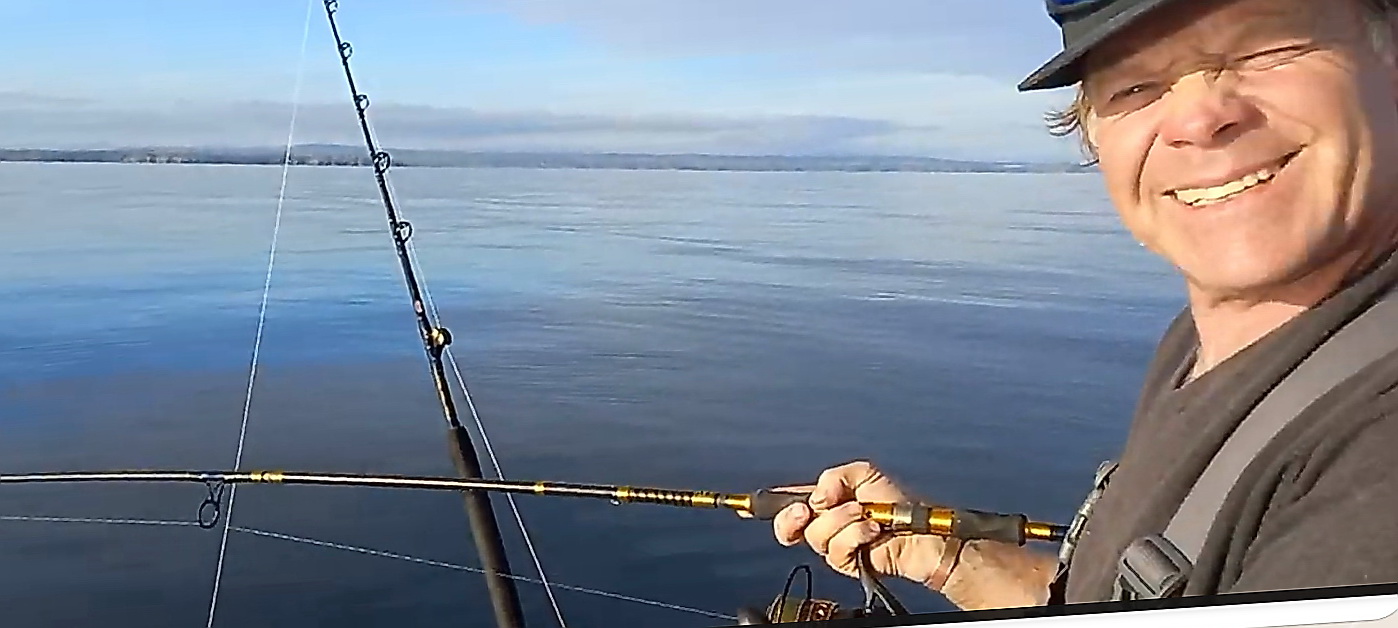 Not often you find seas as flat as this
In fairness, we retrieved every fish to the surface as slowly as possible, not to cause damage, and most went back extremely well. The odd fish that succumbed to the depth change was dispatched, and kept for future dinners. Every fish is respected and waste kept to absolute minimum.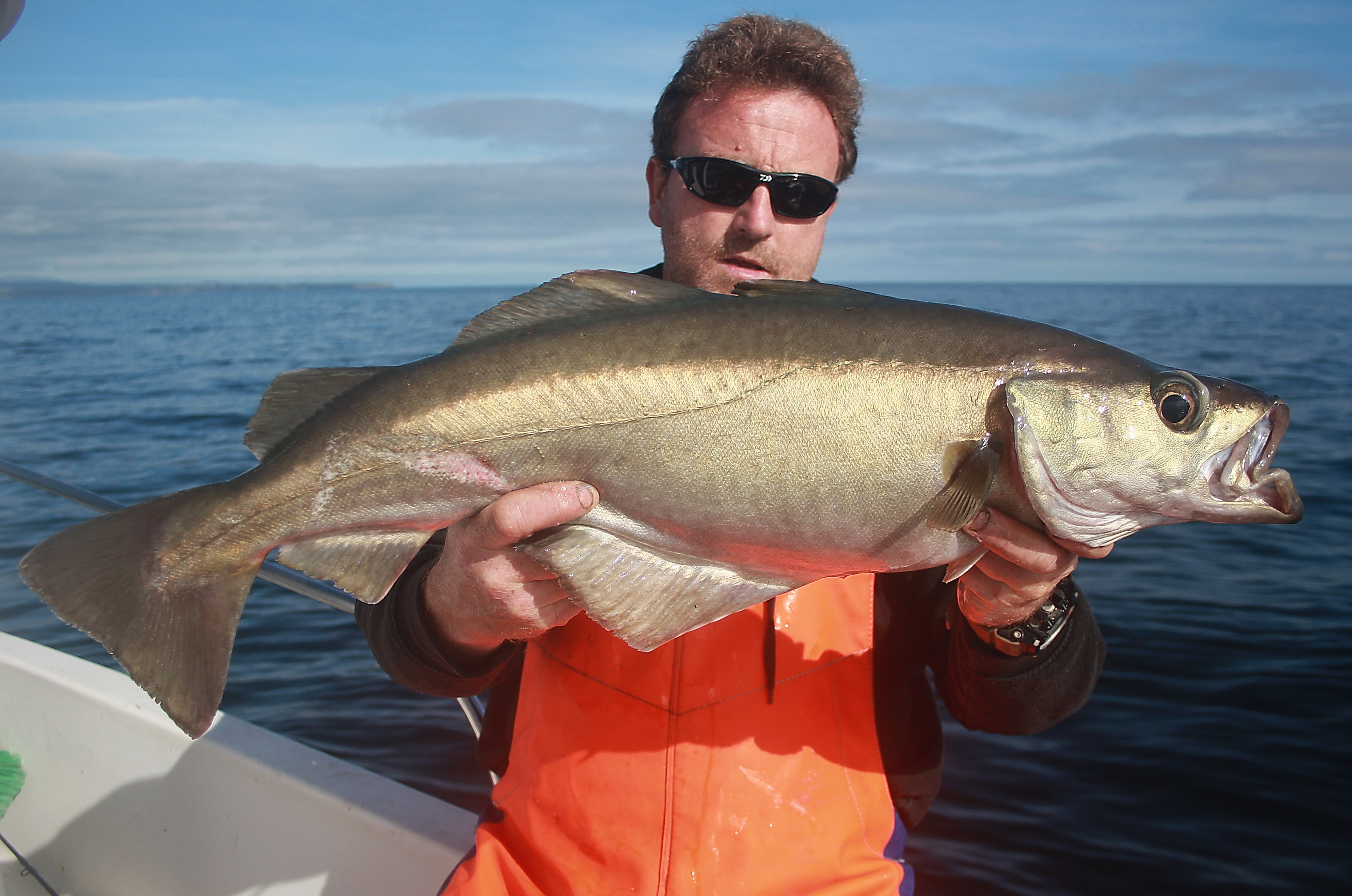 Only a couple of mm's shy of length based specimen, tough luck
Every now and then, a better stamp of Pollock showed as we picked our way through the large shoal. Maybe our wee trip has moved in a different direction, any day with a specimen landed is a very good day indeed. A couple of the "lumpier" fish deserved a measure on the mat. Sid was very unlucky, missing the specimen length by a few millimetres. No new specimens today.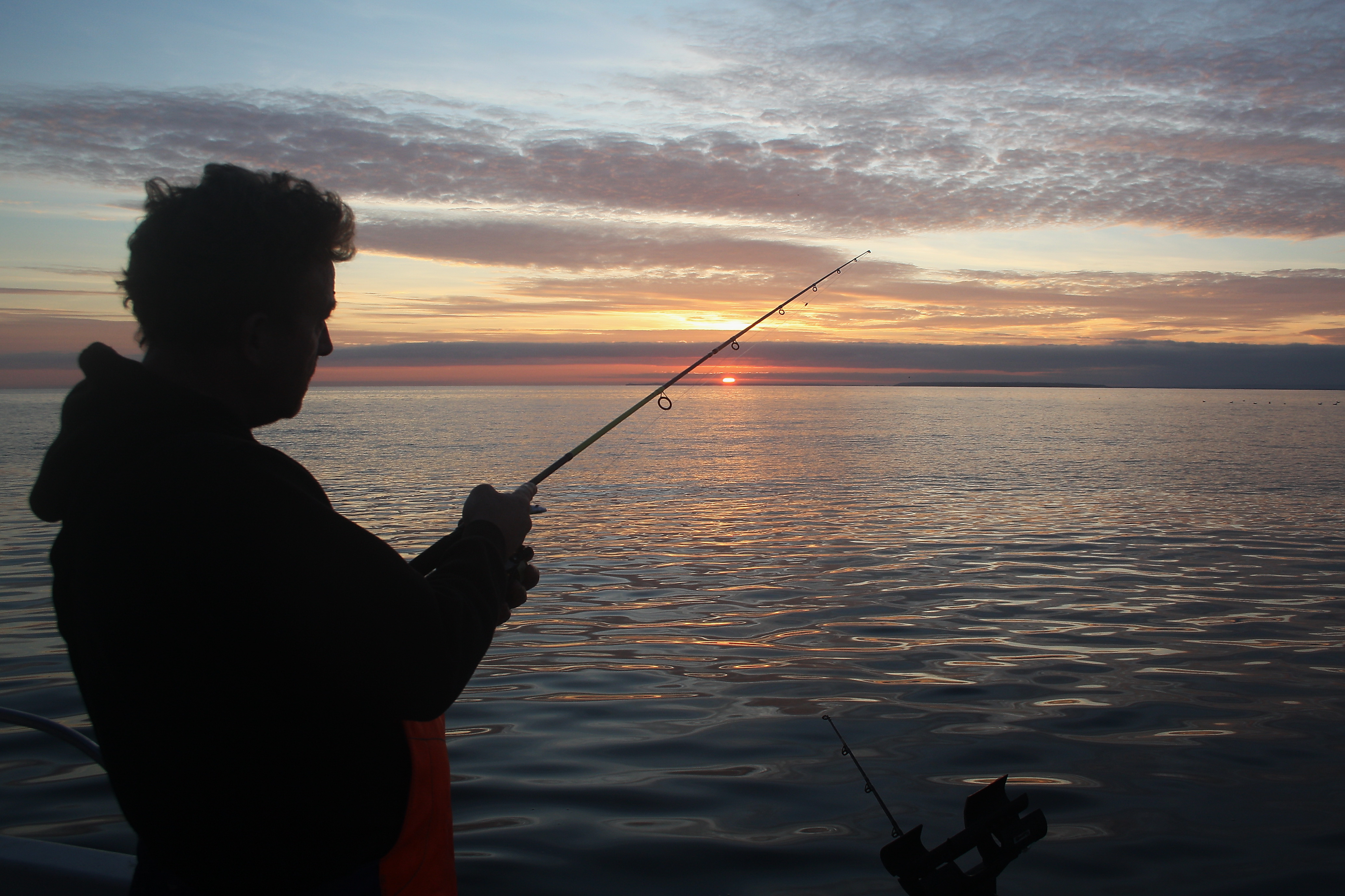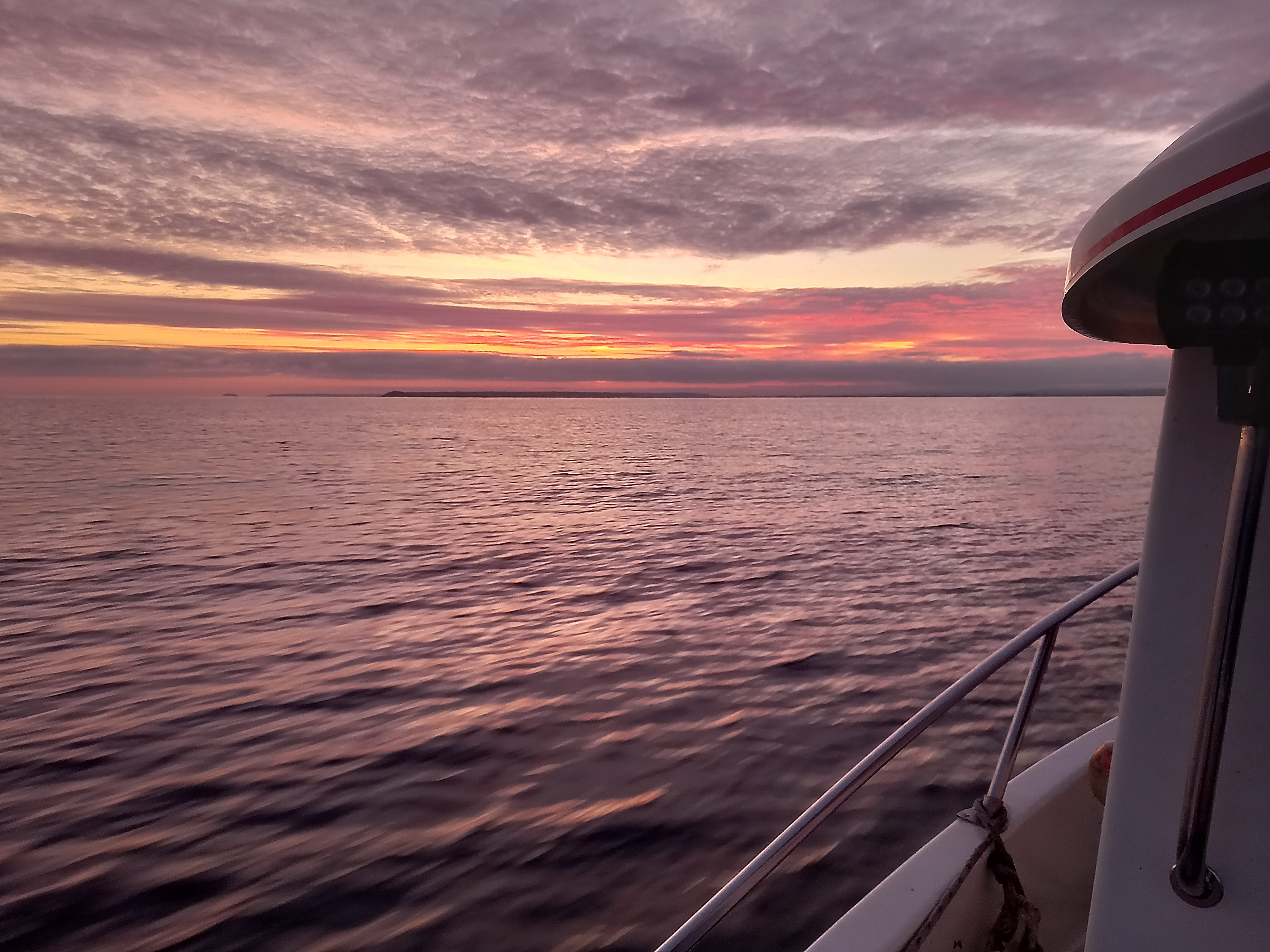 Another satisfying angling adventure for the memory banks
When a day on the water is so productive, and weather conditions perfect, hours pass by like minutes. The late Autumn sun sat low on the horizon by this stage, a look from Sid and I knew it was time to draw a line under this session and begin tidying up. Our plan didn't quite go the way we thought, but no regrets whatsoever. With back-up plans always at hand, many poor days can be turned around to create long-time memories. This was one such day. Until the next one....Tight Lines, T.
A wee video clip....click here.
Tackle Options
PENN Overseas XT Labrax Fishing Rod - Travel Lure Spinning Rods for Bass, Seabass - Fuji Alconite Guides, Protective Carry Case
PENN Battle III Spinning Reel - Rugged, Saltwater Spin Reel for Lure and Bait Fishing - Bass, Pollack, Cod, Mackerel, Wrasse
Berkley Whiplash Braided Line - Blaze Orange, 40 lb / 300m
Berkley PowerBait Power Worms , Blue Fleck Firetail, 7" (13 Count)
Westin Sandy Andy - KIT 5g / 7g - 4 Bodies - 2 Jig Heads - SOME COLOURS (Tobis Ammo 5+7gr)
Berkley Dam Deep Jig Head - Fluoro Orange/Yellow 3/4oz
Berkley Big Game Fluorocarbon Leader Line Clear 30 lb, 90m
Back