Dont forget the C Word
Don't forget the "C" Word!
As an "all-rounder" specimen hunter in Ireland, when I hear there are sizeable fish being caught on a venue somewhere in the country, it is extremely frustrating that I cannot drop everything immediately and hit the mark! And I realise that all anglers suffer from the same complaint. (For further info..click on highlighted subjects throughout this blog)
Only last week for example, large Spurdog were showing locally, but angling opportunities regarding weather windows, and matching appropriate tides with available time slots were so small, it was impossible to get out there and over them. During this current week of suitable tides, there was one possible day where just maybe, the sea would be comfortable enough (and safe enough) to venture out.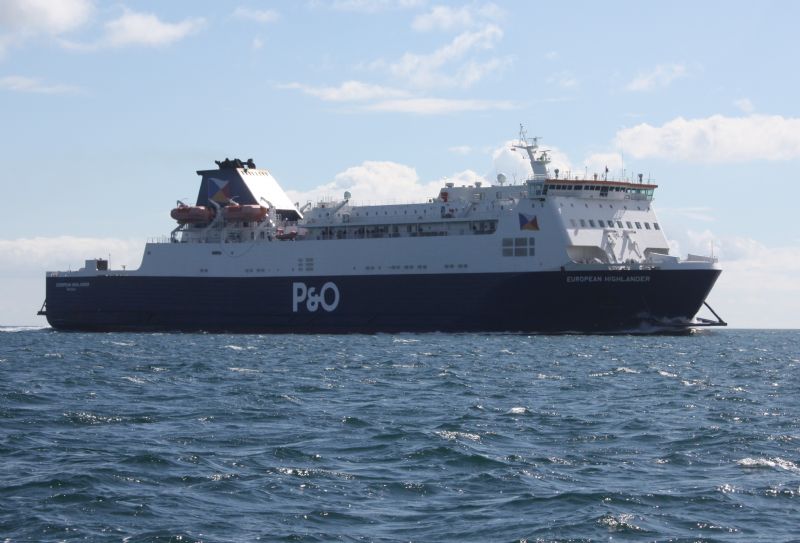 When navigating shipping lanes, these guys usually have the right of way!
Yesterday at the last minute, I took that chance. Conditions looked "do-able" and although quite breezy, the sea had flattened off enough to launch the Fast Fisher. My boat can take a fair bit of punishment it has to be said, and is extremely sea-worthy for a small boat, but there has to be a cut-off point somewhere in the decision making. Angling is meant to be pleasurable and not a test of endurance, but there is often a fine line between safety and danger that is easily crossed, once the commitment to launch has been made. Suffice to say, it pays to be cautious.
Once out on the water, Mackerel were first priority. The importance of fresh bait cannot be over-stated, and thankfully they were in abundance. I toyed with the idea to try the off-shore reefs for smaller species as I had ear-marked a potential hot spot back in April, but the tide was at this moment right for anchoring the deep water and large Spurdog were the order of the day.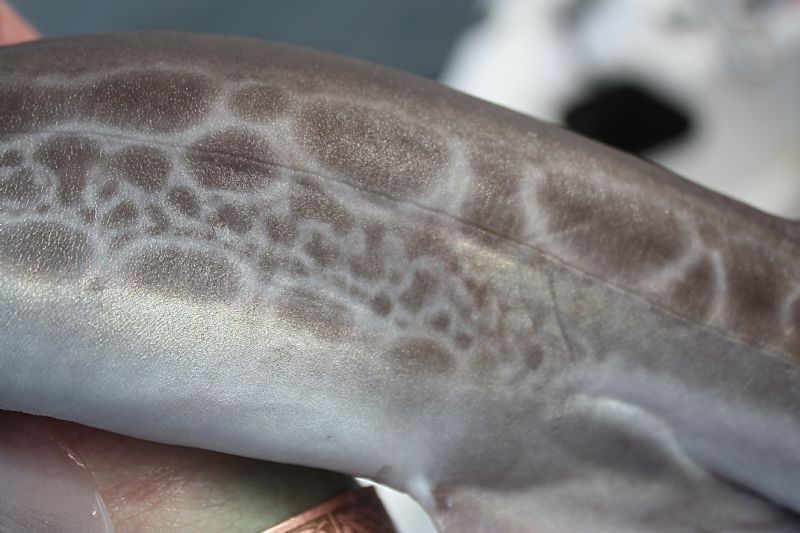 Standard dogfish can be a curse at times, but its always a pleasure to land a Blackmouth Dogfish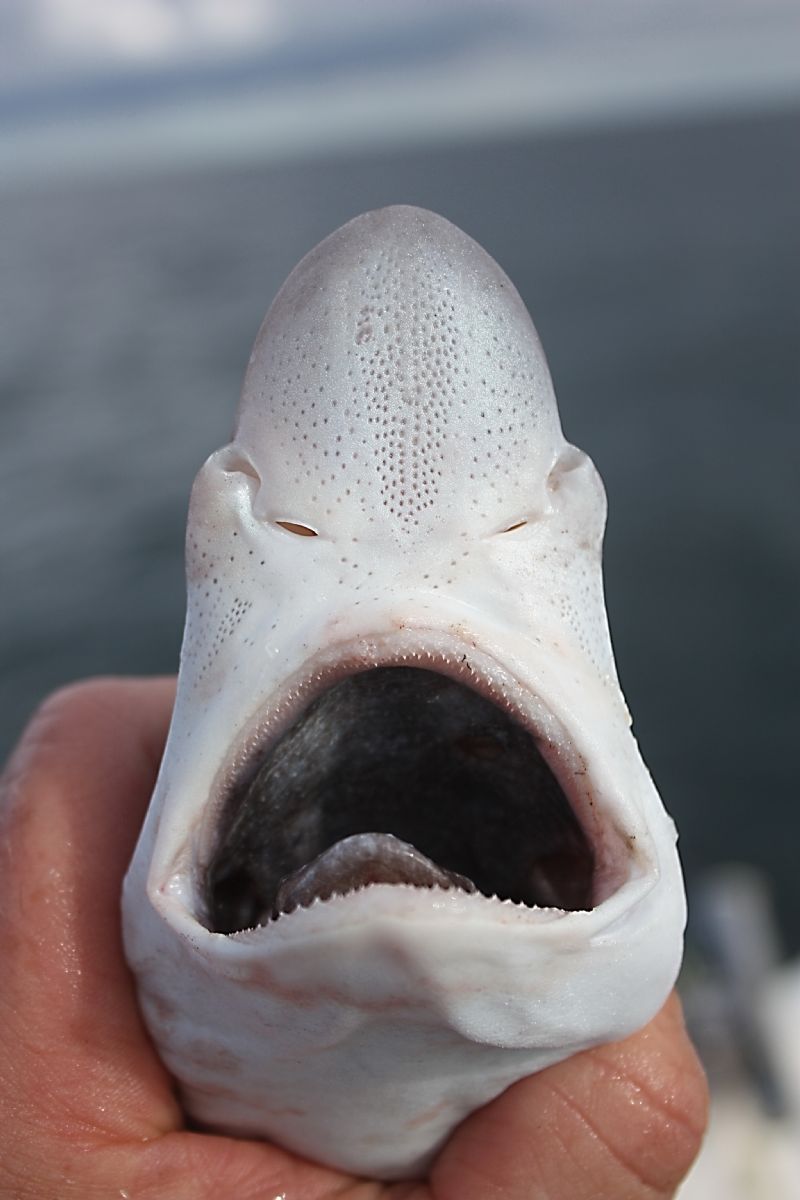 Unusual looking deepwater catcharks, note the array of sensors on the snout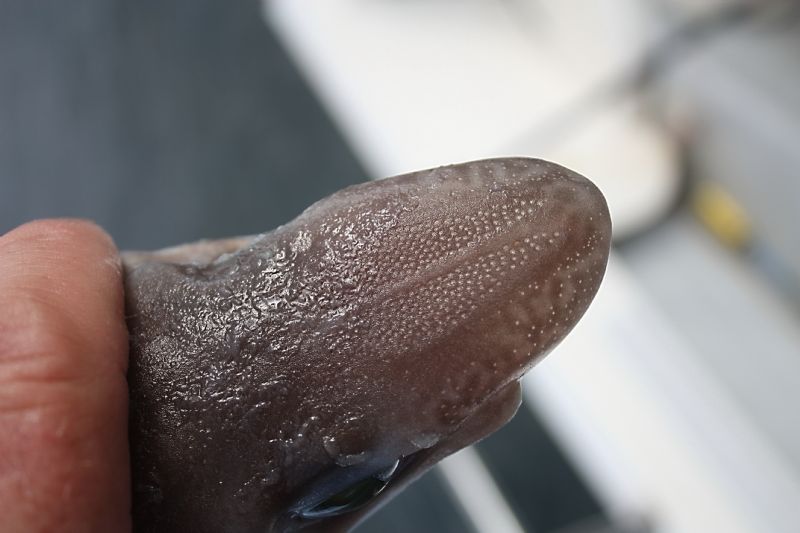 And on the top-side as well
First species to rattle the rod tips were Lesser Spotted Dogfish, ever present, but seemed to be quite a few about. This usually signals trouble, and so it was. Dogfish, in double hook-ups became monotonous, not mentioning exhausting, dragging lumbering mini-sharks and two pounds of lead up through four hundred feet of water.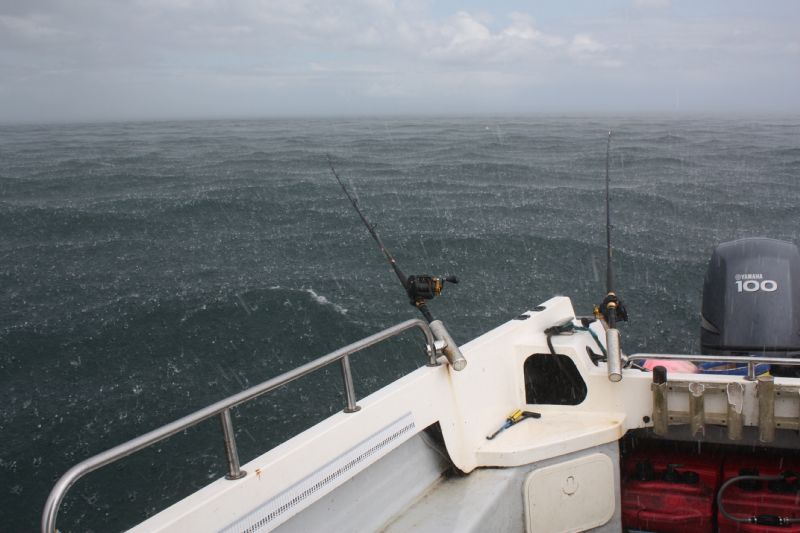 The first of three stormy squalls that pummelled the boat
Squalls were rolling off the land and heading my way, and they struck with vengeance. A nasty mix of thunder and lightning, rapidly increasing wind speed, and torrential rain. During these moments I was glad of the cabin shelter, is it possible to get hit by lightning in a boat? I'm not sure but took no chances, leaving rods in their holders! I got knocked about something shocking during these spells, but held my ground having faith in the forecast that this was supposed to be temporary.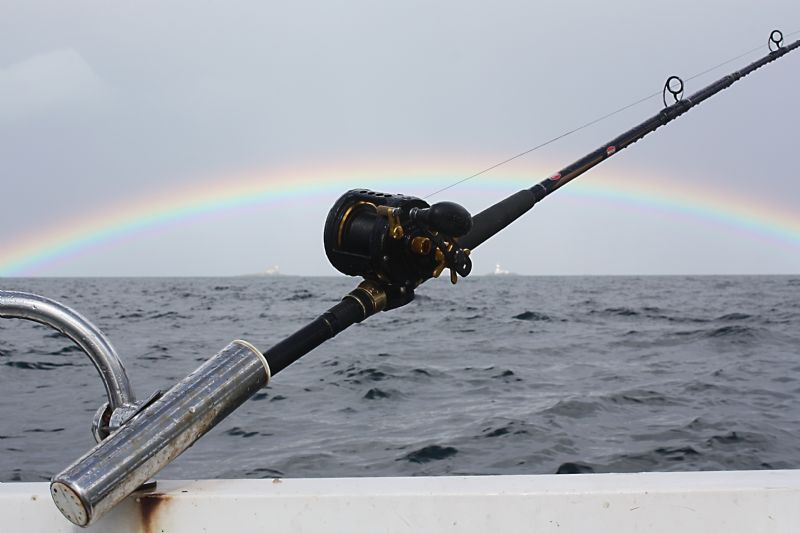 A sign from above...go and fish the reefs Terry!
After six hours I had lost count of the LSD's, with only two Blackmouth Dogfish and a Whiting to brighten the session. At least I had survived the weather onslaught. It was clear that the Spurs had moved on since last week, an opportunity missed, but that old "C" word would now come in to play, no…I'm talking about a Contingency plan!
It's what no angler should be without, as it's a rare occasion when an initial plan comes together, and on more times than I care to remember, a bad days angling session has been salvaged at the last moment with a change in tactics. With sea state now calming, I made for the off-shore reefs.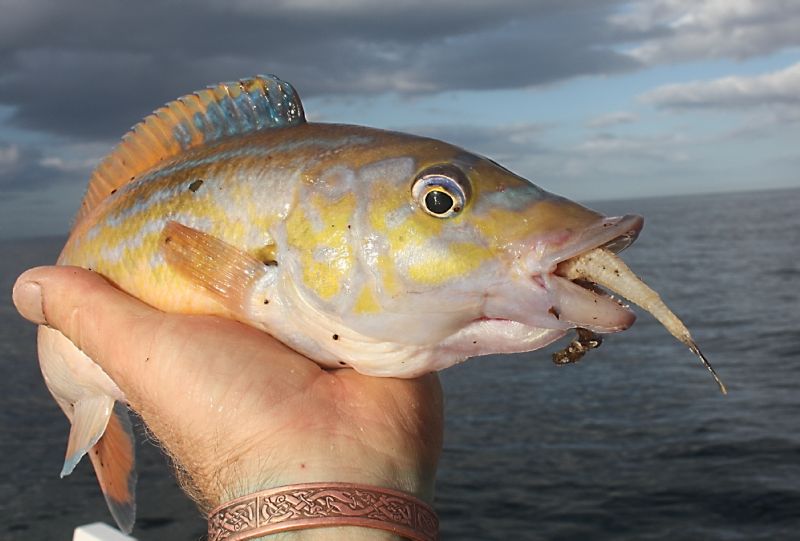 In case you ever doubted that Cuckoo Wrasse are a fiersome mini-predator
Following the contours of the reefs, and switching tackle tactics to lighter gear, baited traces, I could "feel" my way along the under-water shelves and gullies, carefully lifting over snags and tackle-grabbing weed beds. Braid and a sensitive boat rod are a necessity here to avoid tackle losses and maximise angling time. First drop and the bait was savaged, producing a cracking Cuckoo Wrasse at 1lb 10oz, an Irish Specimen.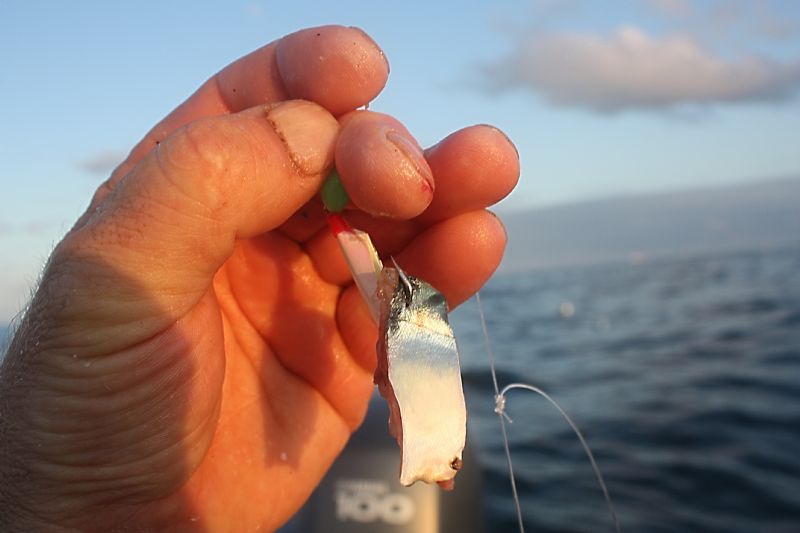 Keep it simple, killer rigs from Shakespeare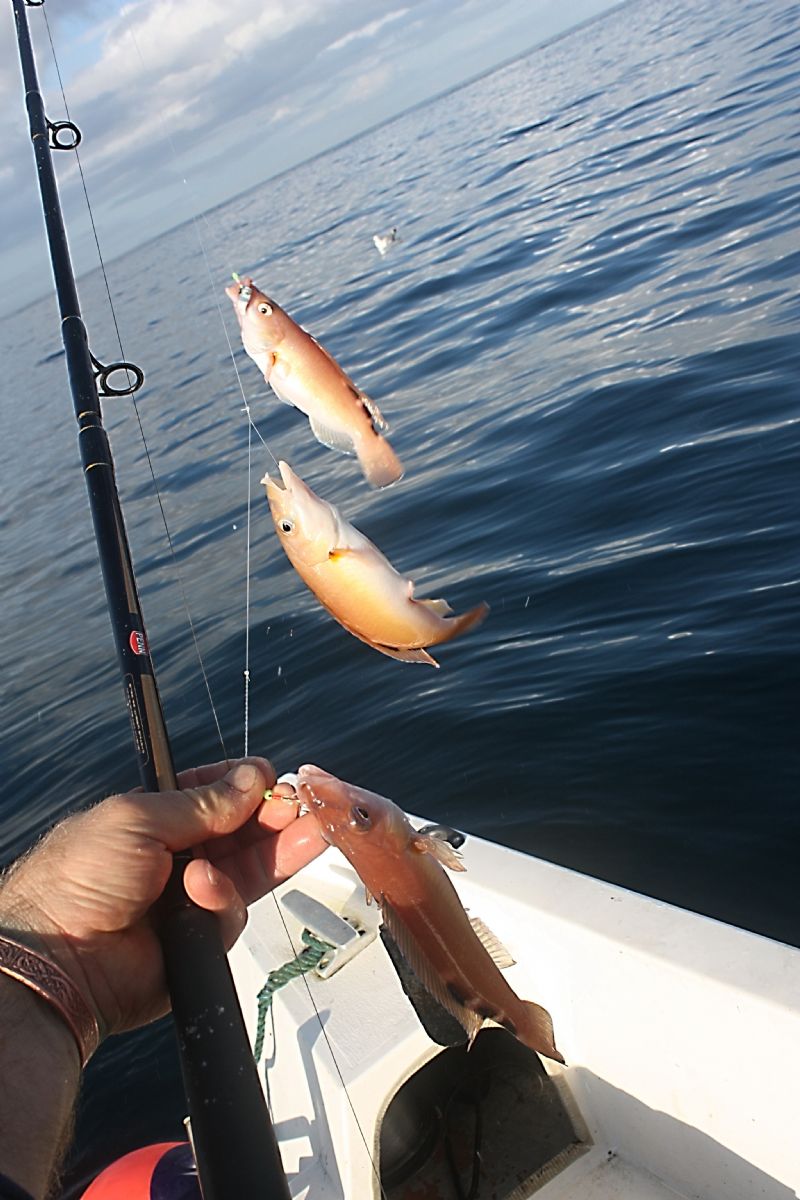 I've found the pretty ladies, just need to find the larger males
How amazing angling can be, six hours of being beaten from one side of my boat to the other, struggling to reel in small dogfish under horrendous conditions, and now, calm seas and spectacular fish throwing themselves at the hooks!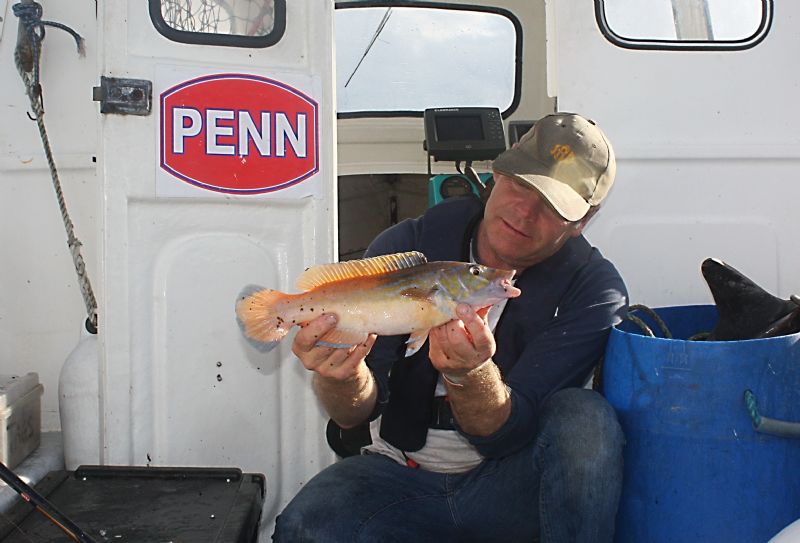 A smashing Irish specimen at 1lb 10oz
With two hours before sunset, and the forecast for wind speeds to drop completely, it was lovely to relax at last, and begin to enjoy angling again. If you are into the challenge of specimen hunting, you can submit three of each species to the Irish Specimen Fish Committee, and at 1lb 4oz, the Cuckoo Wrasse is a mini-species. They do not do well when reeled up from the depths, so try and reel them up slowly to avoid or minimise pressure damage if possible.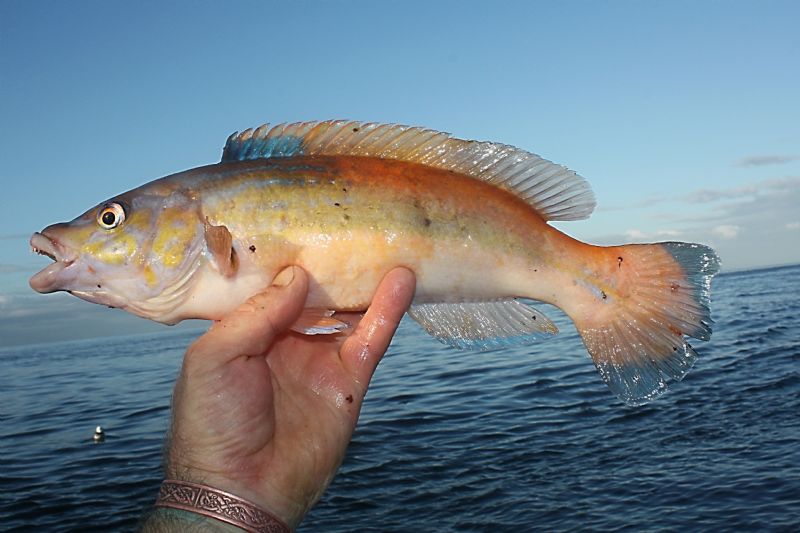 And another larger male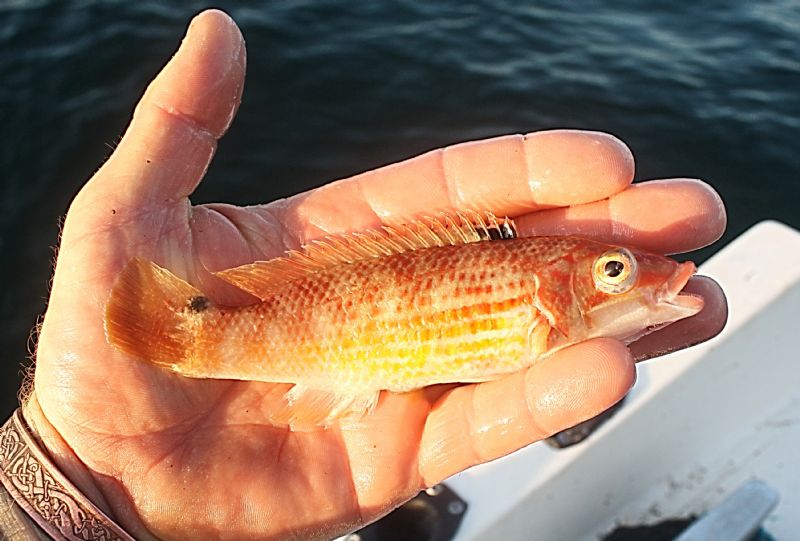 A tiny Goldsinny this time
Over the final two hours I managed four fish over specimen size, a few near misses, and also lost a couple of powerful fish. In between the Cuckoos, it was lovely to find rod-wrenching Pollack to 6lbs, Cod to 4lbs, Mackerel, Launce, Pouting and Poor Cod, and a gorgeous wee Goldsinny Wrasse.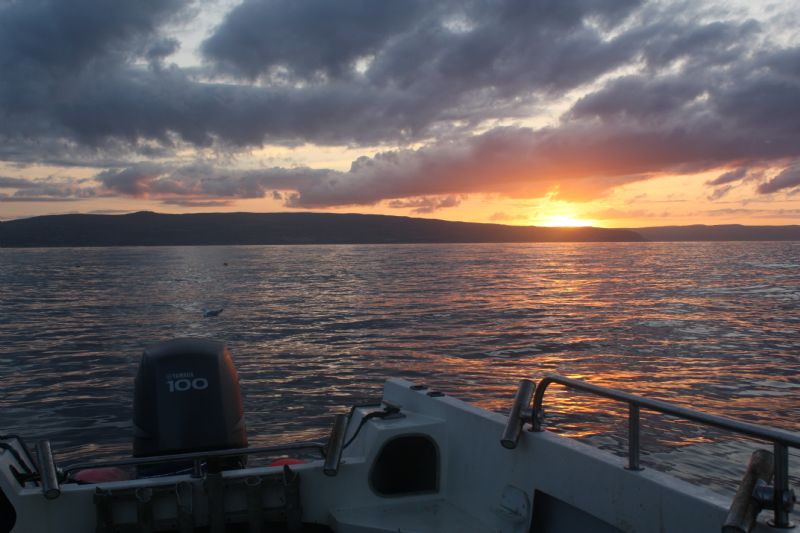 Time to call it a day, having salvaged some credibility and enjoyment
Heading back to harbour in flat calm conditions, with the sun setting over the hills, I was thankful of the contingency plan. It turned a tough day that I wish to forget into an enjoyable angling experience that I will always remember, and continued in helping to restore my flagging faith in Irish angling. Looking forward to the next adventure, Tight Lines, Tel.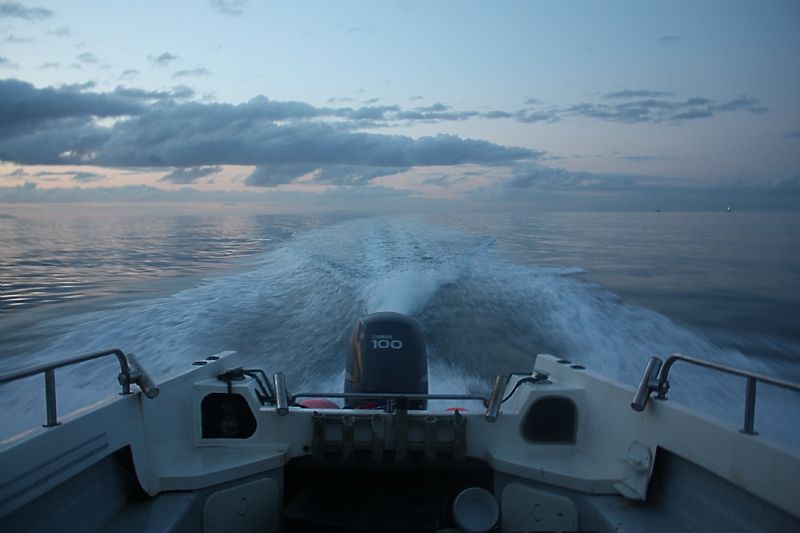 Back