Wrasse, Cuckoo
Cuckoo wrasse (Labrus mixtus)
Irish Record 2lb 7oz taken on 15.09.1998 by Brian McLoughlin at Causeway Coast.
Specimen 1.25lb, or 0.567 kilo
Identification
The shear vividness in colours is the main indication that you are looking at a Cuckoo Wrasse. The male fish are extremely colourful with vivid blue and orange markings and are usually larger than the female. The female tends to have a peach-pink colouration with black and white patches on its back, towards the tail fin. Some wrasse captured are in mid-colour transformation, as Cuckoo Wrasse have the ability to alter sex from male to female and vice-versa, should numbers in either sex become low.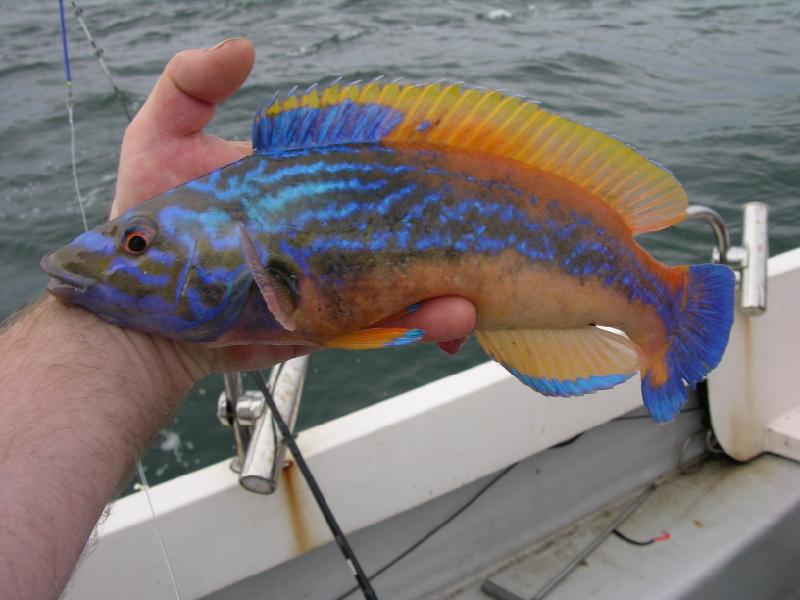 A male Cuckoo Wrasse in all its finery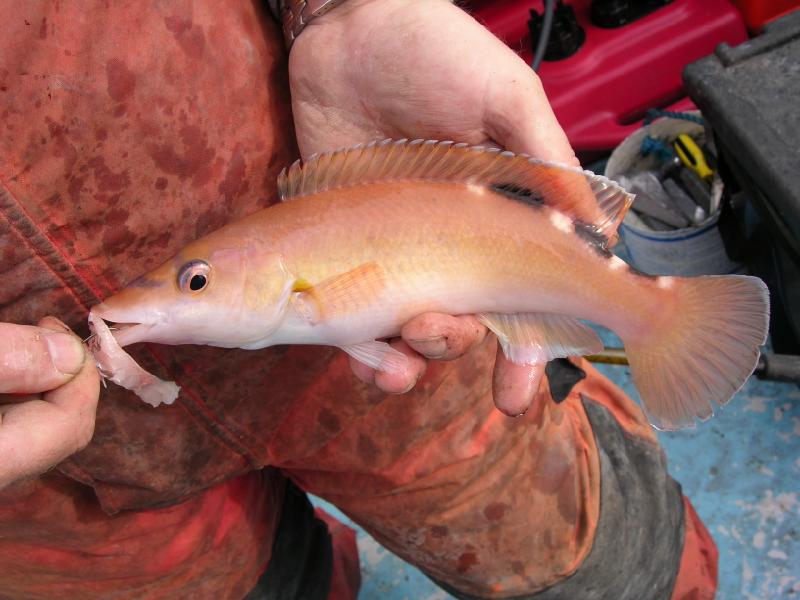 And the peach-coloured and usually smaller female
Where to catch
Cuckoo Wrasse are normally found in extremely "rough", snaggy areas such as off-shore reefs and pinnacles of rock in depths of water ranging from six metres to one hundred and fifty metres, but usually thirty to fifty metres, and around much of the Irish coastline. However, it is fair to say that the North-east of Ireland produces the greatest proportion of specimens. Excellent marks such as The Pinnacles west of Rathlin Island, The Laconia Bank north of Rathlin, most of the Antrim Coast head-lands, the deep waters of The Maidens and The Klondyke Reef off the Larne coast, Reefs and headlands on the west coast, in particular Downings and Killybegs, and numerous off-shore reefs out of Cork Harbour.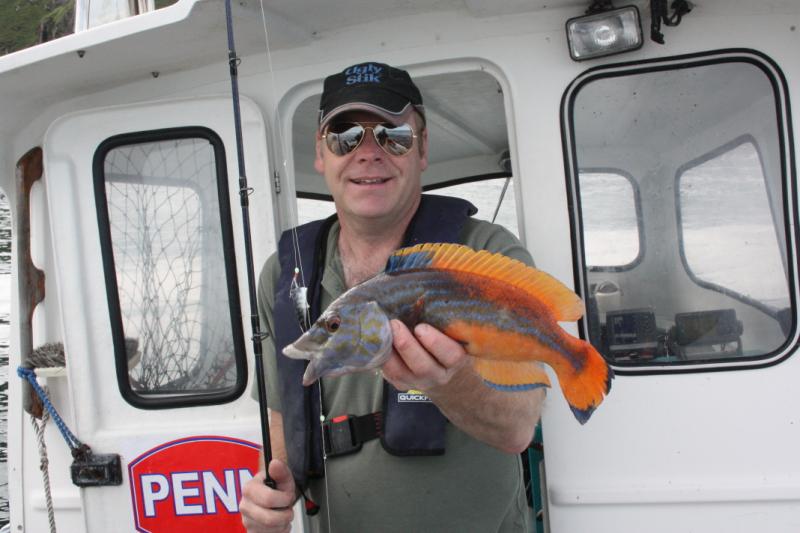 An Irish Specimen male Cuckoo Wrasse
When to catch
Although this depends mostly on current sea temperatures, July generally heralds the arrival of the Wrasse fishing season, and this will extend through to October. Of course, this will vary between the north and south of Ireland, with sea temperatures warming sooner and to a greater extent around the southern shores.
Bait
Despite their wonderful colouration and small size, Cuckoo Wrasse are ferocious predators, hunting the reefs for sandeel and small bait fish, and defending their chosen territory. Their fondness for feathers baited with Mackerel strip reflects their feeding habits. Crustaceans are on the hit list, and peeler crab if available, works well.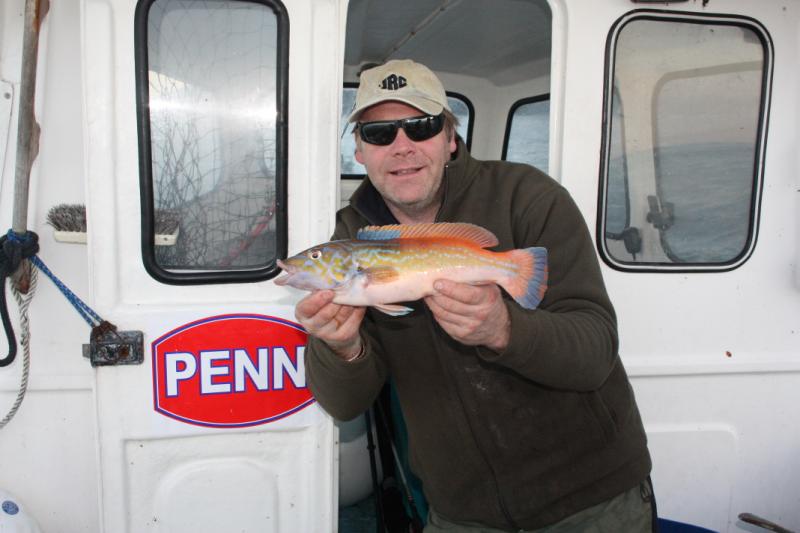 Methods
Baited feathers, "Hokai lures", luminous beads and small flicker spoons all work well. A size 1 hook is more than sufficient coupled with 20lb breaking strain snoods as Cuckoo Wrasse rarely exceed 2lb in weight. A light boat rod, in the 6-12 lb class is ideal if you can get away with it, and although rigs tied with flicker spoons etc work well, the kelp and jagged reef habitat tends to make short work of these artistic rigs! On most occasions, a set of three herring lures is just as effective and with a weak link tied to the lead weight, you will avoid too many tackle losses. It is important to get the baited hooks down into the depths of the gullies, over-hangs and kelp beds to target this species, which will inevitably cause some tackle losses. Although Cuckoo Wrasse have no sporting qualities their dazzling colours make this an interesting target species.
Articles
http://www.angling-ireland.com/in_search_of_a_specimen_cuckoo_wrasse
http://www.angling-ireland.com/fulfilling_a_promise
http://www.angling-ireland.com/species_hunt_part_8