Specimen Three-Bearded Rockling
Specimen Three-Bearded Rockling
What a start to 2016! Gale force winds and torrential downpours leaving many of our lakes and rivers un-fishable and little chance of hitting the deep offshore marks at sea. So what options are there for a specimen hunter?
There are always options if you look hard enough. Locally, through these bleak months, there is one species I am able to dedicate some time to, the vividly coloured Three-Bearded Rockling.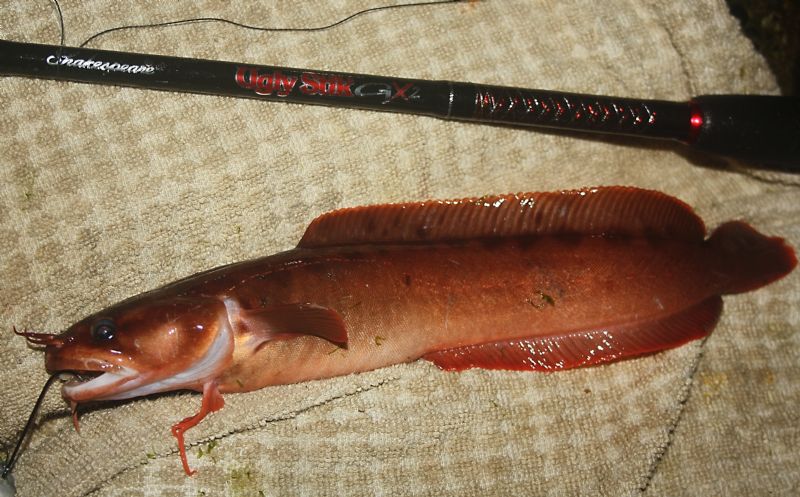 Shakespeare GX2 product review, range and prices, click here
What is a Rockling?
There are several species of Rockling available to the sea angler. The standard Shore Rockling (Gaidropsarus mediterraneus) which most anglers will have encountered at some point, the Four-Bearded Rockling (Enchelyopus cimbrius) and the Five-Bearded Rockling (Ciliata mustela). There are also two other quite rare species, namely the Bigeye Rockling (Gaidropsarus macrophthalmus) and the Northern Rockling (Ciliata septentrionalis).
However, as a specimen hunter here in Ireland, it is the larger Three-Bearded Rockling (Gaidropsarus vulgaris) that we are interested in, as this is the only listed eligible species to target. Easily recognised by its vivid colouration, usually terracotta-orange with mottled spots and stripes, and the three large barbules (two on the upper jaw, one on the chin) they reach a maximum weight of just over three pounds. Having said that, the qualifying specimen weight being set at one pound and twelve ounces is certainly a challenge for any specimen hunter!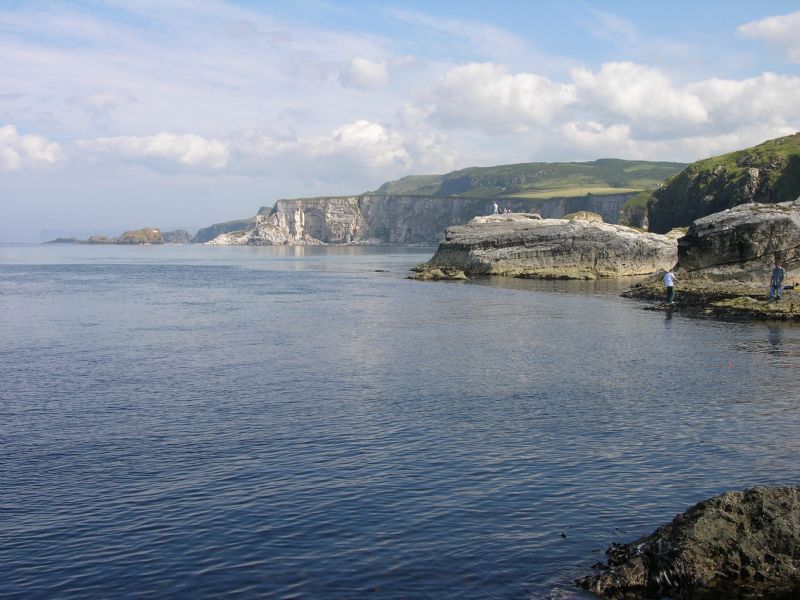 The Antrim Coast shoreline. Rock, reef and kelp beds, natural Rockling habitat
The best advice when targeting this species is to choose a suitable venue and take a survey at low water. This will give a superb insight into the layout and potential hunting grounds normally covered at half-tide and upwards. Not only will it allow the angler to see possible haunts and vantage points for the Rockling, it will also give some perspective on where to drop a baited hook with minimal risk of tackle loss.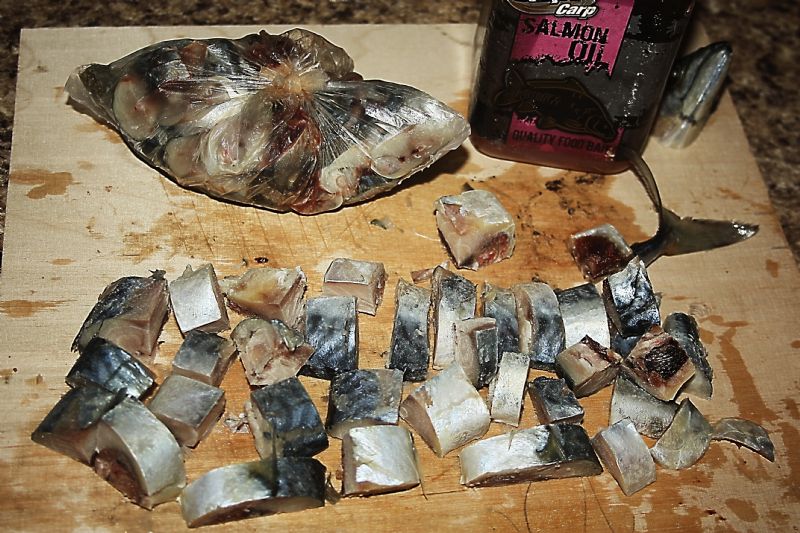 Pre-cut "chunks of Mackerel hook-bait and a bag of free samples to entice a wary Rockling
There is no doubt that Rockling will be somewhere in the vicinity (they inhabit most of our in-shore coastal waters) and you may be lucky in finding a specimen relatively quickly, but normally a Rockling challenge will take time and patience over a series of evenings, and sometimes weeks! One definite method to push the odds in your favour is to add a small bag of chopped fish throughout each session, either through feeding free samples or attaching a small onion bag of "chum" creating a scent trail.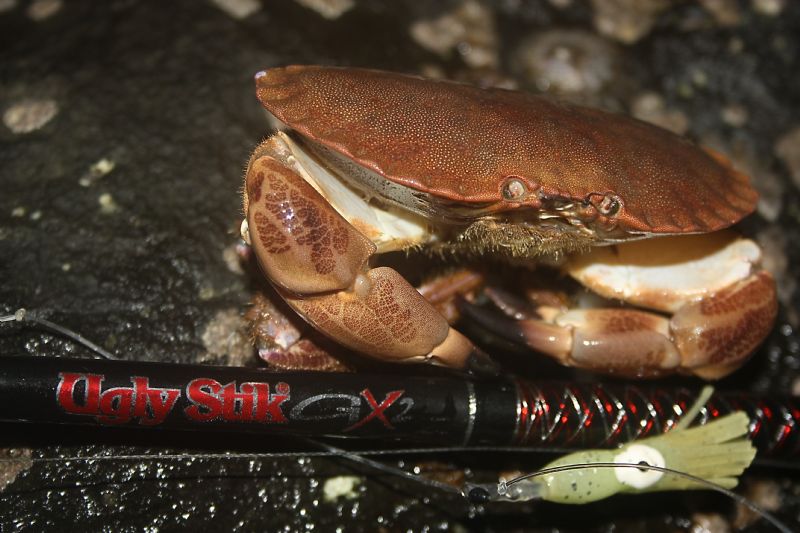 Scent trails will also attract un-wanted visitors. Carefully release a few yards away!
Over the last few weeks, fishing three-hour evening sessions over a filling tide and introducing free samples, an array of interesting mini-species graced me with their presence. There were "Poor Cod" in abundance, juvenile Coalfish and Pollack, Long-Spined Scorpion Fish and standard Shore Rockling. Persistence prevailed, finally landing a striking terracotta-cream Three-Beard; unfortunately well below the specimen qualifying weight. But, with this result, I knew I was on the right path, and the following night my persistence was rewarded with a stunning specimen an ounce below two pounds.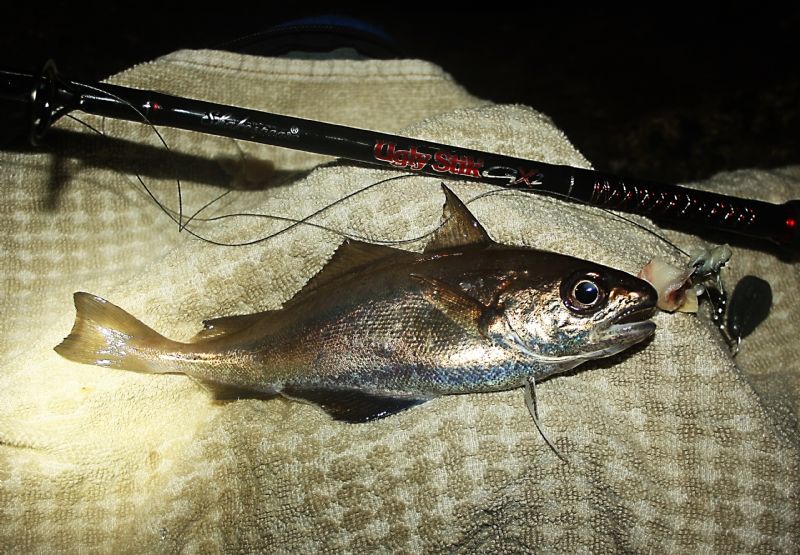 Plenty of Poor Cod enjoy the same habitat as Rockling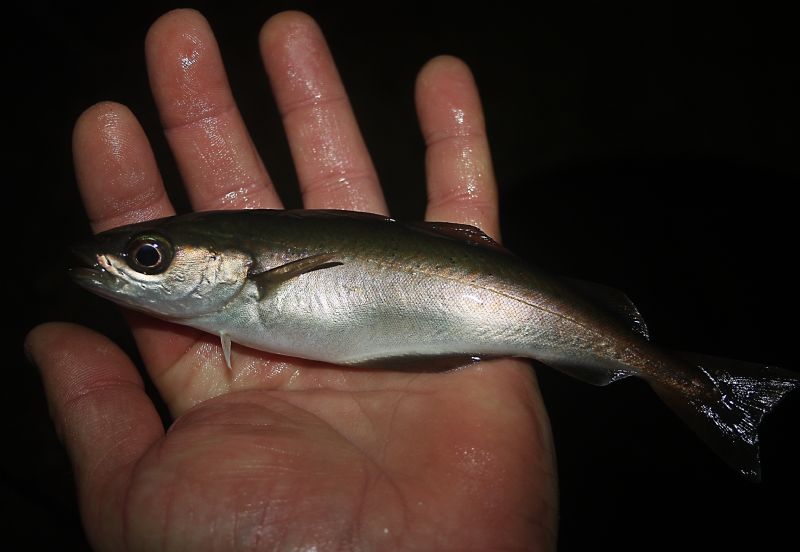 A juvenile Coalfish, lovely to see, but not our target species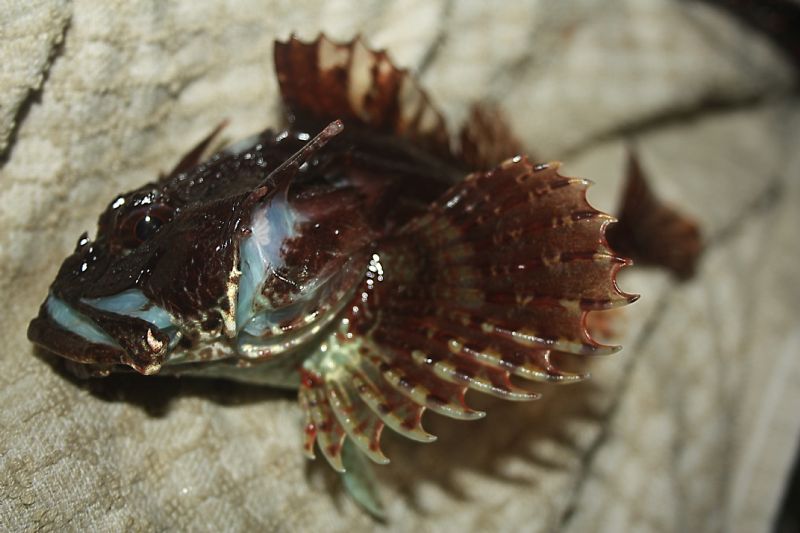 A Long-Spined Scorpion Fish, harmless and amazing looking species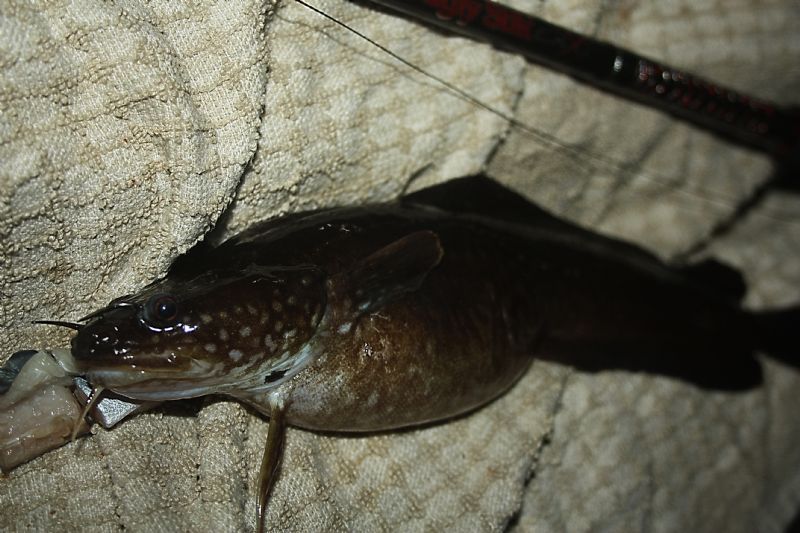 A standard Shore Rockling, obviously taking advantage of my free samples!
Habitat
Although Three Bearded Rockling are sometimes caught over rough ground off-shore, most are encountered by the shore angler whilst seeking other, larger species. Rockling have the capacity to engulf a large bait and many are taken by accident when targeting Conger Eel.
So, when thinking of Rockling, think also of typical Conger haunts. Down the side of pier walls, kelp beds around rocky outcrops and harbour breakwaters all have the ability to produce a bonus specimen.
Bait
Almost any oily fish cut into bite sized strips or chunks will appeal to a Rockling. The larger specimens are obviously wily predators. This is only an educated guess on my part, but take a closer look at a Three Beard. The barbules are used to detect prey and most likely "home in" on scent trails. Mouth parts and throat are large for gulping prey whole and the stomach capacity is huge. As part of the Cod family, they have the similarity of a "bucket" mouth and large attached gut, eat anything attitude! They are also equipped with an impressive array of needle-like teeth to inflict damage and grasp live animals such as small fish and crustaceans.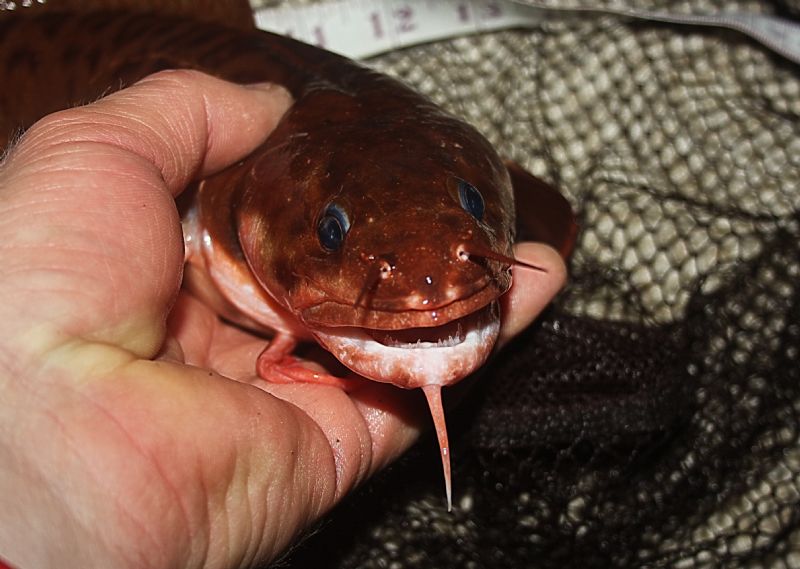 The three "barbules" and needle-like teeth make this species an efficient hunter-predator
Tackle
Until recently, there wasn't any realistic options for "off the shelf" rods to suit this type of angling. A rod needs to be reasonably short, making life easier when dropping a baited hook into gullies and crevices. I made my own "mini-quiver tip rod" from old broken rod sections which worked fine for these mini-species until I hooked a small Conger of around eight pounds! I managed to land it eventually but realised quiver tips and "LRF" rods weren't man enough for the job in this case.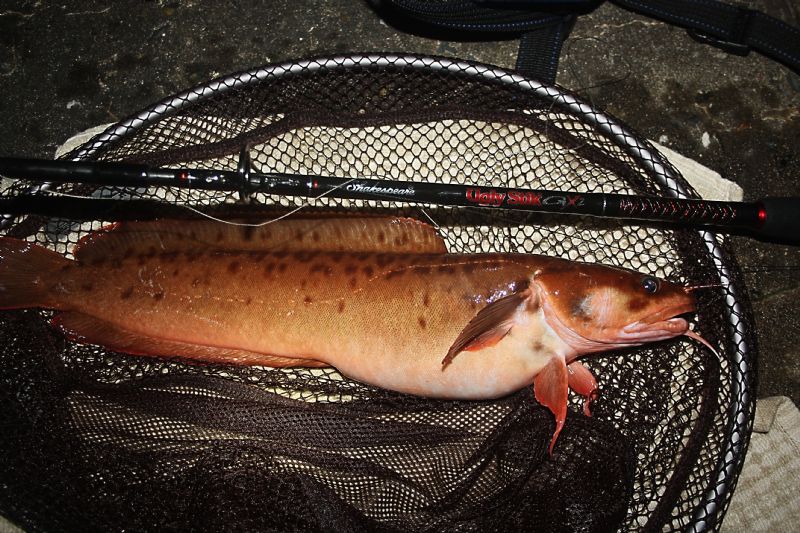 Specimen Rockling and Shakespeare GX2, a perfect combination!
Luckily, Shakespeare had recently brought out a range of Kayak rods, the Ugly Stik GX2 and I opted for the shorter 6' version. To be honest, this could have been made for Rockling fishing (and consequent larger species encountered) and fitted the bill perfectly, I'm still using it a year later!
I use a small bait-caster reel as it is neat and un-obtrusive, loaded with 40lb B/S braid. By using reasonably heavy main-line, tackle losses are at a bare minimum. As for end tackle, locking a snood between sliding float rubbers allows a little slippage should the hook "snag" and I find often allows the hook to free itself. Keep the snood short and attach a size one hook. Also, add a weak link (say 10-15lb B/S) between the rig and the lead weight, as these weights or "sinkers" should be considered "sacrificial" when fishing amongst such inhospitable territory!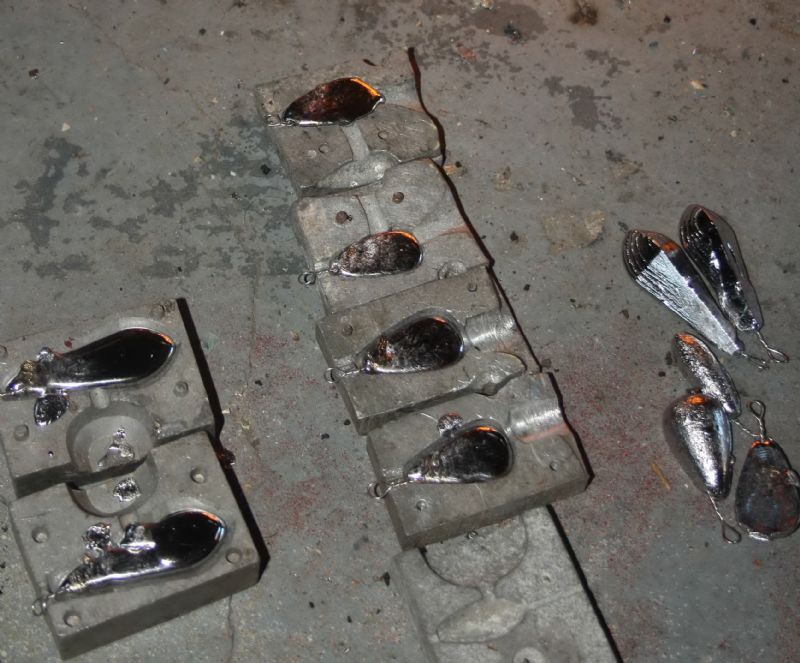 Cheap, home-made lead weights or "sinkers". Expect to lose a few!
So there you have it. Check out this awesome mini-species, it is stunning to look at and fun to target, but above all, take care as health and safety are paramount.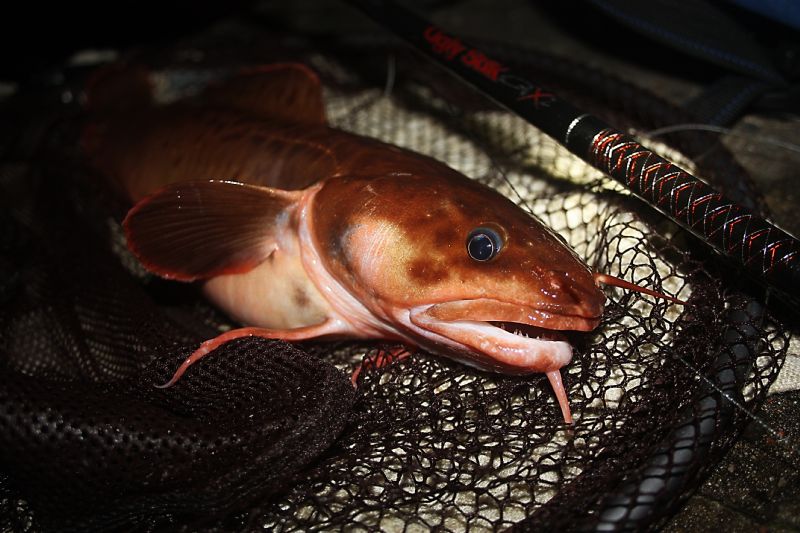 Back